The Ring Road, also known as Route 1, should be number one on your Iceland travel to-do list. Travel through the best of Iceland and hit all the highlights including South Iceland, the East Fjords, North Iceland and Snaefellsnes Peninsula. Driving around Iceland on the Ring Road is the top way to see the best landscapes in Iceland.
---
Facts About the Ring Road
Distance: 1332 kilometers (828 miles)
Speed Limit: 90 km/h (55 mph). 50 km/h (31 mph) in populated areas.
Condition: 98% paved.
Lanes: Two lanes in general, but there are some single-lane bridges.
Maintenance: Maintained year-round, but occasional road closures can occur.
Winter: 4X4 vehicles and experience driving in winter conditions required.
Minimum Time to Complete: At least 6 days in summer or 12 days in winter.
Ideal Time to Complete: 10-14 days in summer or 20-25 days in winter.
---
Guided Iceland Ring Road Tours
---
What you can't miss on the Ring Road
Traveling the Ring Road in Iceland will let you see a great variety of unique Icelandic landscapes. You will get the chance to explore the land of fire and ice from all directions as you complete the full loop. 
Most people choose to drive around the Ring Road in Iceland with one of our expert-guided Ring Road tours. Travel to the best spots along the highway for an epic small-group experience!
---
Ring Road Iceland Map
---
The Distance of the Ring Road
Iceland's famous Ring Road is the 1332-kilometer (828 miles) route which encircles Iceland, with the exception of the fjords in the West and North, and the Snæfellsnes and Reykjanes Peninsulas. If you want to explore these two areas, you'll need to travel a bit further.
How long does it take to drive around Iceland?
It's possible to drive around Iceland in 2-3 days. However, we recommend planning to tour the entire country for 5-7 days, minimum. There is so much to be seen that you could easily spend a month exploring the Ring Road!
---
Self-drive Ring Road Tours
---
Iceland Ring Road Itinerary
There is much to be seen along the Ring Road. To give you a sense of how much there is, we've laid out the best highlights in each Ring Road region in Iceland:
South Iceland Highlights
The landscape is incredibly varied along the entire Ring Road, but it is especially fascinating on the South Coast. If you decide to start your Ring Road trip on the southern coastline, you will first witness volcanic foothills and moss-covered lava fields.
You will drive past active volcanoes covered by thick glaciers. Traveling along the South Coast, you will drive past Europe's largest glacier-national park with countless thrilling glacier tongues cascading from the ice caps to touch the ground. 
---
South Coast Itinerary
Seljalandsfoss Waterfall

Eyjafjallajokull Glacier Volcano

Skogafoss Waterfall

Reynisfjara Black Sand Beach

Dyrholaey Cape

Vik i Myrdal

Skaftafell Park

Jokulsarlon Glacier Lagoon & Diamond Beach
---
Seljalandsfoss Waterfall is a very unusual fall where you can walk behind the cascade in summer to admire the breathtaking view from behind the waterfall! The water drops 60 meters (197 feet) with intense power.
Right next to Seljalandsfoss you will find its hidden neighbor – a magical waterfall inside a gorge called Gljúfrabúi! 
In good weather and visual conditions, you will able to see the infamous, 1651-meter (5,416 feet) tall Eyjafjallajökull glacier-volcano from the road. Eyjafjallajökull erupted in the spring of 2010, causing air travel to be severely disrupted across northwest Europe for six days.
Just a short drive from Seljalandsfoss, another majestic waterfall comes into view. Skógafoss waterfall is 60 meters (197 feet) high and 25 meters (82 feet) wide. You can climb up to the top to enjoy the incredible panoramic view from there.
Continuing towards the east, you will soon arrive at Iceland's most famous black sand beach. The beach is covered with pitch black volcanic sand and stretches over 5 kilometers (3 miles) between a scenic mountain and a group of spectacular cliffs and sea stacks, called Dyrhólaey.
The famous Reynisfjara Beach is the highlight of this area. It has absolutely stunning basalt columns, hair-raising sea stacks, and even a columnar basalt cave. This is probably the reason why Reynisfjara has been ranked as one of the most beautiful beaches in the world.
On the other side of the mountain sits a tiny, charming village, Vík. It has its own black sand beach with a stunning view over the Reynisdrangar sea stacks. With a small church on a hilltop covered in purple lupin meadows, Vík offers idyllic photo locations for Iceland enthusiasts.
As we continue east, the landscape starts to change a lot. In good weather, you will probably see the Mýrdalsjökull Glacier under which rests one of Iceland's most furious volcanoes, the notorious Katla. 
After driving through endless plains and desert-like areas caused by past and present glacial floods, you will soon arrive at Iceland's most beautiful glacier wonderland, Skaftafell.
This stunning valley between gigantic glacier tongues is a famously beautiful hiking area. Skaftafell is also the best place to go for a safe, guided glacier hike.
The next natural wonders that will surely blow your mind are the famous Jökulsárlón Glacier Lagoon and the Diamond Beach. These unique sites offer otherworldly views of stunning icebergs as they drift across a lagoon towards the Atlantic Ocean.
These wonderful icebergs of all shapes and sizes break off from the glacier as it retreats and floats into the lagoon. This thrilling environment is constantly changing and never looks the same.
It is well worth taking a kayak or boat tour on the lagoon to get closer to these icy wonders as well as the main inhabitants of the lagoon, the seals.
---
East Iceland Highlights
As you leave the southern coast and the Vatnajökull Glacier behind, you will soon arrive in a totally different landscape. The eastern region is beautifully varied and peaceful.
After driving through desolate glacier flooding areas, arriving in the town of Höfn feels as if you are entering a metropolis. Höfn is often referred to as Iceland's lobster capital, so make sure you stop for a taste.
Continuing on your way, you will arrive in the East fjords area where you might be able to spot some wild reindeer. 
---
East Iceland Itinerary
Vestrahorn Mountains at Stokksnes

Egilsstadir – "Capital" of the East

Seydisfjordur & its blue church

Djupivogur Fishing Village

Lake Lagarfljot

Borgarfjordur Eystri – Puffin and Elf Paradise
---
The Vestrahorn and Eystrahorn Mountains are worth a stop. The bay that is surrounded by these scenic mountains is an amazing playground for amateur and professional photographers as well. 
There are some adorable fishing villages along the coast on the road to Egilsstaðir. Djúpivogur and Seyðisfjörður are absolutely worth a visit. Seydisfjordur is also locally known as a bohemian "artists' haven."
Visiting some of these villages will take you off the Ring Road, but they are well worth a couple of hours' detour!
The town of Egilsstaðir is located on the shore of Lagarfljót Lake. The town is most famous for its surrounding landscape and its favorable climate.
Lagarfljót is one of the longest lakes in Iceland at 53 kilometers (33 miles) long and 112 meters (367 feet) deep. On the southern shore of the lake, you will find Iceland's largest forest. As there are not many trees in Iceland, this forest is a national treasure.
If you visit Iceland in summer, Borgarfjörður Eystri is the absolute best spot to see the cute puffins up close and personal. Although it is an hour detour from the Ring Road, this region is truly a hidden gem and well worth the visit.
Locals know Borgarfjörður Eystri for its matchless natural beauty and amazing hiking trails. 
---
North Iceland Highlights
North Iceland is a wonderful region packed with natural beauty. The landscape and atmosphere are entirely different from the rest of the country.
Here the arctic characteristics are stronger. The area gets more snow, darkness, and Northern Lights in the winter than any other region in the country.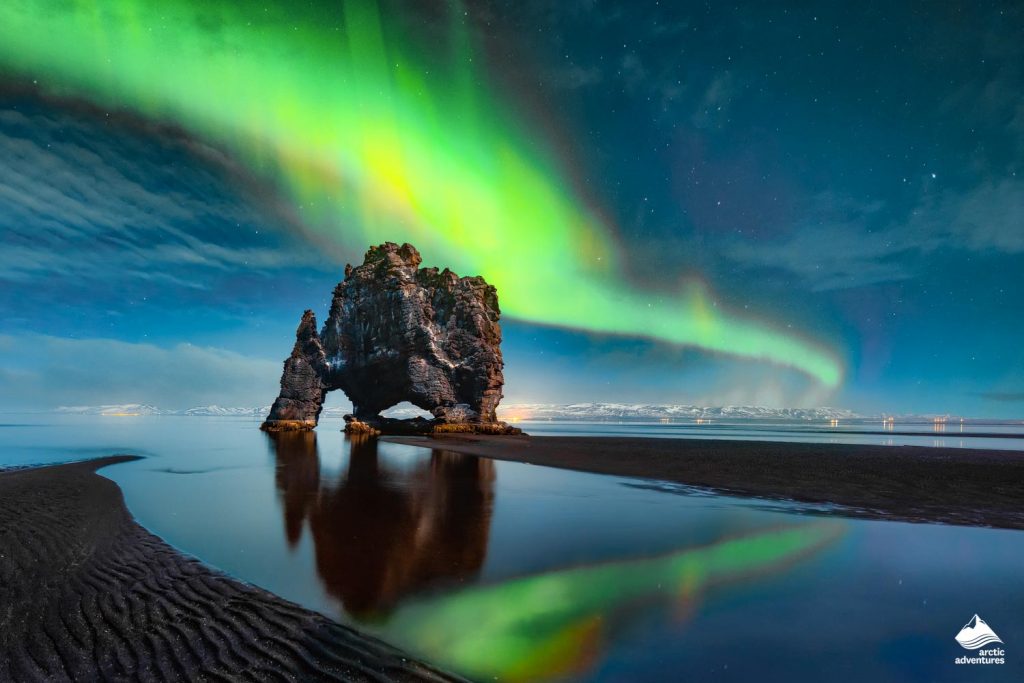 North Iceland is full of contrasts. Active geothermal fields and dramatic volcanic landscapes, colorful villages, age-old turf houses, whale-filled bays, and some of Iceland's best waterfalls are also found here.
---
North Iceland Itinerary
Asbyrgi Canyon

Dettifoss Waterfall

Lake Myvatn

Namaskard Geothermal Area

Myvatn Nature Baths

Godafoss Waterfall

Akureyri, "Capital" of the North

Dalvík Fishing Village

Glaumbaer Turf Museum at Skagafjordur

Hvitserkur Rhino Rock
---
Ásbyrgi, a very rare geological formation, is a forest-filled canyon requiring quite the detour from the Ring Road, but it is well worth it.
Ásbyrgi is a horseshoe-shaped canyon with its walls measuring up to 100 meters (330 feet) in height. The whole canyon is approximately 3.5 kilometers (2.17 miles) long and over 1 kilometer (0.6 miles) wide.
It is divided through the middle by a distinctive, 25-meter (82 foot) high rock formation. A magical woodland of birch and willow offers an absolutely unique hiking opportunity.
Another recommended detour from the Ring Road is Europe's most powerful waterfall. The Dettifoss fall is 100 meters (330 feet) wide with a 44-meter (144 foot) drop.
The Lake Mývatn region lies directly next to the Ring Road. The fourth largest lake in Iceland has countless tiny islands and is surrounded by volcanic scenery. The site is famous for its very interesting geological features, the so-called stratovolcanoes or Skútustaðagigar. 
Massive lava eruptions occurred in the nearby Krafla Volcano multiple times during Iceland's history. You will see fascinating lava rock sculptures, tunnels, and bridges in the Dimmuborgir lava park while steaming fumaroles and boiling hot springs can be found in the Námaskarð area.
The beautiful Mývatn Nature Baths – often called the Blue Lagoon of the North – await visitors with its milky-blue, mineral-rich geothermal water. 
The stunning and historic waterfall, Goðafoss – the waterfall of the gods – is also located right next to Route 1. 
The water drops 12 meters (39 feet) over a width of 30 meters (38 feet), forming a crescent shape. No wonder Goðafoss is one of the most popular photo locations among visitors.
Akureyri, the capital of the North, lies next to the Ring Road as well. Even though it is a very small town with a population of fewer than 20 thousand people, Akureyri has a vibrant atmosphere and rich culture.
Dalvík Village and the Eyjafjörður Bay are just a short detour from the main road, but very a worthwhile one. The fjord holds some of the highest success rates on the whale watching tours in the whole country.
Whales are abundant in the bay year round, but especially in summer. During tours, the sighting success rate exceeds 95-99%!
If you would like to see an authentic Icelandic turf house farm, make sure you stop at the charming Glaumbær. The farm has 13 tiny, age-old houses that are made of layered turf blocks. Not only the roofs but all of the walls are beautifully grassy. 
Another short detour from the Ring Road is required if you want to see the totally unique rock formation called Hvítserkur. 
---
West Iceland Highlights
West Iceland is mostly famous for its Golden Circle. This tourist route, however, is not located on the Ring Road but is a detour that we absolutely recommend. 
The western region offers plenty of amazing extra day tour options. 
---
West Iceland Itinerary
The Golden Circle

Grabrok Volcano Crater

Borgarfjordur

Deildartunguhver

Krauma Geothermal Baths

Hraunfossar and Barnafoss Waterfalls

Langjokull Glacier

Glymur Waterfall

Mt. Esja
---
On your way back to Reykjavík, you can stop for a refreshing hike up a scenic volcanic crater called Grábrók. The crater was formed approximately three thousand years ago along with two other picturesque craters and a seven square kilometer lava field. 
Borgarfjörður in West Iceland offers a few amazing detour options. Deildartunguhver, Europe's most powerful hot spring, is just a 15-minute detour from the Ring Road. The hot spring is strong enough to provide heating and hot water for the local communities within a 65-kilometer (40 miles) radius.
From here, it is only a 30-minute drive to get to the very unique waterfall of Hraunfossar. The specialty of this particular fall is that its water comes out of the ground and ends up falling into the river that flows under the falls. This very special phenomenon lasts over 900 meters (984 yards).
Another few kilometers from Hraunfossar is Húsafell, a fabled recreational area among locals. Here you can join a glacier or an ice cave tour on Iceland's second largest glacier, Langjökull.
The area is a gem which features a nice forest and good hiking trails that lead to spectacular views. A swimming pool, summerhouses, and great facilities await visitors here.
As you approach the capital area, there is a tunnel you can take to shorten your trip. 
One of Iceland's most beautiful day hikes starts at the tip of this fjord. It takes about 3 to 5 hours to explore Glymur, Iceland's second-highest waterfall. The trail that takes you up to this 198-meter (649 foot) high fall is moderately difficult but outstandingly beautiful.
Just before reaching the capital, you will drive by a beautiful mountain range called Esja. This is the scenic mountain that provides a breathtaking backdrop to the capital. 
The highest point of Esja is 914 meters (2998 feet) above sea level. Climbing it is moderately challenging in summer and requires crampons in the winter. 
---
What to Wear on a Ring Road Trip
Dress in at least three layers and wear warm, comfortable clothes. Wear something that is completely waterproof and windproof as an outer layer. You will experience rain and wind almost every day.
In winter, pay extra attention to your insulation layer. A warm, waterproof, and windproof down jacket will do you good in winter. Meanwhile, in summer, a raincoat, windproof softshell jacket, and a warm polar or knitted wool sweater is enough.
It is important to wear comfortable, non-cotton, long-sleeved undergarments. Choose a good, fast-drying fabric (such as fine merino wool, for instance). Wear comfortable and waterproof boots. Leave your high-heeled boots and sneakers at home.
Gloves, scarves, and hats are necessary for winter and may be necessary for summer as well. Having reusable pocket warmers in winter is a good idea. Do not forget your swimsuits!
---
Hiking Options Near the Ring Road
There are plenty of amazing hiking options near the Ring Road. Here are a few great examples: 
Fimmvörðuháls Pass:

Starting out from the majestic

Skógafoss

waterfall, one of Iceland's most thrilling hiking trails goes along a breathtaking canyon with countless waterfalls up to the highlands. 

Hiking on a glacier is something that you must do in Iceland if you want to explore the most unique Icelandic landscapes. You can hike on Mýrdalsjökul Glacier

near Vík or

Vatnajökull G

l

acier

in Skaftafell. 

Skaftafell Nature Reserve is a famous hiking area with an amazing network of well-maintained hiking trails. The most popular hike is the 5-kilometer (3 miles) loop to visit one of Iceland's most unique waterfalls, Svartifoss. 

The unique natural scenery around Lagarfljót Lake in East Iceland, along with Iceland's largest forest, an absolutely unique arboretum, and the famously stunning

Hengifoss

and Litlanesfoss waterfalls offer some amazing hiking options which we highly recommend you try.

The Borgarfjörður Eystri area in East Iceland has matchless natural beauty. The area features a dense network of well-marked hiking routes as well as some exemplary facilities for hikers.
Ásbyrgi

, the horseshoe-shaped canyon in North Iceland is a true gem for hikers. Its walls measure up to 100 meters (330 feet) in height while the whole canyon is approximately 3.5 kilometers (2 miles) long and over 1 kilometer (0.6 miles) wide. 

Another great option in North Iceland is to hike through the quite fresh lava field that is created by an eruption by the Krafla Volcano only two decades ago.

Húsafell in West Iceland is a well-known hiking area among locals. 

One of Iceland's most beautiful day hikes is located only 60 kilometers (37 miles) from Reykjavík. The exceptionally beautiful

Glymur

, Iceland's second-highest waterfall, will be the prize for those who hike this trail. It takes about 3-5 hours to explore completely.

Esja Mountain, 20 kilometers (12 miles) from Reykjavík, is probably the most frequented hiking area in the country. 
---
FAQ and Practical Information about Ring Road Tours
Planning on driving the Ring Road?
There are plenty of great ways to drive the Ring Road. Whether you want to explore the best hikes in Iceland or are planning an epic sightseeing tour, there is something for everyone on Route 1.
Many driver's go on a self-drive tour of Iceland. Travel at your own pace and get access to a detailed, day-to-day itinerary as you drive around the Ring Road. Accommodations and car rental included!
The Ring Road in Summer or Winter? How do I choose a season?
Summer is the definitely best time to travel to the Icelandic Ring Road. The most reasonable driving conditions can be found in June, July, and August. The roads can still be icy in May and September, particularly in the north and the east. 
In winter, which falls between October and April, the chances of the safe road and visual conditions are much lower than in summer. During your road trip, you'll likely encounter challenging conditions along the way. Risks include snowstorms, icy surfaces, strong winds, road closures, short periods of daylight, and long bouts of darkness. 
If you are not comfortable or experienced at driving under such conditions, we highly recommend that you come in summer or join a guided Ring Road tour. The local driver-guides are trained to drive in the harsh Icelandic conditions and have a lot of experience doing so.
What type of car do I need to do the Ring Road in Iceland?
In summer, you can travel the Ring Road in a regular or small car. You will not need a 4X4 or a Jeep. In winter, however, it is highly recommended to rent a 4X4 car, which will be safer in the challenging winter conditions. The Ring Road is under constant maintenance, but huge amounts of snow can fall in a matter of hours, especially in the northern part of the country. 
We recommend getting full insurance for your car, regardless of which time of year you will be traveling in Iceland. The harsh and unfamiliar conditions can challenge even the most experienced drivers. Even if you are confident in your driving skills, you can never know what to expect. Strong gusts of wind and sandstorms can occur even in summer and can cause expensive damage to your car.
If you want to know more about Icelandic car rentals, read our guide on renting a car in Iceland.
Road Conditions and Important Traffic Regulations
How much time will I spend driving? When planning the time you will spend driving, remember that the maximum speed permitted anywhere is 90 kilometers (55 miles) per hour, in residential areas the limit can be as low as 30 kilometers (18 miles) to 20 kilometers (12 miles) per hour.
Speed limits in Iceland. You may find that Icelandic roads are a bit different than what you're used to. Spectacular mountain scenery may come with dramatic twists, turns and sometimes sheer drops. Speed limits in Iceland are clearly marked and should never be exceeded. You may find it necessary to travel well below the speed limit. 
There are unpaved parts of the Ring Road in East Iceland. The speed limit there is 80 km/h (50 mph), but you are advised to drive even slower if you do not have much experience on unpaved roads.
Never go off-road. All roads – even the unpaved mountain roads – are very clearly signed. Driving off-road is strictly forbidden in Iceland and is subject to very high fines. Even if you see tracks in the dirt, never go off the road and never follow the off-road tracks if they are not clearly signed! Driving off-road can cause serious, permanent damage to the Icelandic flora and landscape.

Always be safe and legal. It is illegal and very dangerous to pull over on the side of the road where there is no designated resting place or shoulder. Deadly accidents have happened when travelers pulled over to watch the Northern Lights or to check out a sheep or a reindeer. Even if the road seems empty, always find a place with a rest area to park your car safely and legally.
What about Gas Stations and Grocery stores on the Ring Road?
There are plenty of gas stations along the Ring Road. Most of them are located in towns and there are a few stations in between in remote areas. Gas stations offer refreshments, snacks, and hot dogs. They sometimes offer basic groceries or more substantial meals as well.
Gas stations in Iceland accept credit or debit cards. Gas is not cheap. In 2018, it costs approximately $2 USD per liter ($7.50 per gallon). (See up-to-date prices).
Read more about up-to-date Prices in Iceland. 
Where to eat on the Ring Road?
In the larger towns, you'll have your choice of cafés, restaurants, and supermarkets to stock up on provisions. In the countryside, there are cafés, country restaurants, and sometimes hotels that offer meals to non-guests. Finding places to eat, to buy food, or to cater for yourself is not difficult.
In the more remote areas – particularly between Egilsstaðir and Lake Mývatn – the distances between facilities is greater. If you stay at a farm, a country hotel, or a guesthouse, an evening meal can often be arranged.
Cash-Free Country: cash or card?
All stores, gas stations, hospitality, and catering facilities accept credit or debit cards. You basically do not need to have any cash with you in Iceland except perhaps a small amount, just in case.
Before heading to Iceland without cash, make sure that your bank will not block your foreign spending. It's also good to check your bank's currency exchange rates and fees.
How is the 4G, 5G or Cell Signal on the Ring Road?
As a European Economic Area (EEA) country, Iceland is part of the roaming-free area for citizens of the European Union. For other travelers, it's a good idea to buy a prepaid Icelandic SIM card. Vodafone, Síminn, and NOVA are equally good with good network coverage around Route 1.
You can buy SIM cards at the shopping malls in Reykjavík and at the larger gas stations around the Ring Road.
Where to Stay on the Ring Road?
Planning your overnight stays in advance is fairly essential if you want to stay in cheap guesthouses or hostels. Traveling with a tent or using a campervan, on the other hand, is fabulously flexible. There are camping areas all around the Ring Road. You do not need to book in advance at Icelandic campsites. They are inexpensive and you get to use their facilities.
Campsites are plentiful in Iceland. Most open in May and close in September. A few campsites remain open year-round to accommodate campervans. However, we do not recommend camping in Iceland in winter.
It is important to note that spending the night in a campervan, motorhome, or any type of vehicle outside of designated campsites is illegal in Iceland! The new law came into effect in 2017 after local authorities had had enough of beautiful Icelandic spots littered with food wrappers, toilet paper, or worse.
For the same reason, camping in the wild with a tent is also forbidden along the entire South Coast, and, basically, along the entire Ring Road. Remember, when traveling in Iceland, you should leave no trace and take all waste materials away with you.
How is the Ring Road Weather?
Always allow for the fact that the weather can change, causing your journey to take longer. Make sure that you have enough snacks and drinks for your group. One of the great things about the Ring Road is the opportunity to stop in unexpected places, so allow enough buffer time in your plan to visit extra attractions.
Even in summer, storms and hazardous travel conditions can occur at any time. You will need to check out the weather forecast and travel information every day. When alerts are posted, it is really important to never ignore them. It is good to always have a Plan B in case you are facing hindering conditions.
Does the Ring Road cover all of Iceland?
No. The Ring Road is a 1332-kilometer (828 miles) long route which encircles Iceland with the exception of the fjords in the west and north and the two large peninsulas in the west and southwest. If you want to include those as well, you would need to add another 1200 kilometers (145 miles).
Is the Ring Road the same as the Golden Circle, or is it included?
No, it is not the same. The Ring Road does not include the Golden Circle Route. The Ring Road leads around the island while the Golden Circle is one-day round-trip from Reykjavík.
The Golden Circle route consists of three main stops: Þingvellir (Thingvellir) National Park, the Geysir Geothermal Area, and Gullfoss Waterfall. All of these stops are located in the interior of the country while the Ring Road goes mainly around the coast of the island.
How long does it take to drive the Ring Road?
Technically, the complete Ring Road can be driven in less than 24 hours without stopping. But, of course, we do not recommend that to anyone.
With stops at the most beautiful natural highlights along the way, it takes approximately 6-7 days to complete the Ring Road in summer. This can, however, be doubled in winter due to the lack of daylight. If you want to travel comfortably and not spend too much time in the car, allow 10 to 14 days to complete the trip.
What is the road like?
The Ring Road is well-maintained all year round. There are unpaved parts in East Iceland, though. Even with the most careful upkeep, road closures can occur at any time. This is more common in winter (too much snow, storms, and blowing winds) but is not unusual in summer either (sands storms in Southeast Iceland, glacial floods, strong winds).
What kind of car do I need to drive the Ring Road?
You can travel the Ring Road in a regular or small car in summer. In winter, however, it is highly recommended to rent a 4X4 car which is safer in the challenging winter conditions.
When is the best time to travel on the Ring Road?
Summer (June, July, and August) is the best time to travel the Icelandic Ring Road. Summer offers good road conditions, endless daylight, and probably the most favorable weather conditions.
Ring Road Iceland: Clockwise or counterclockwise?
This is up to you to decide! There is no wrong way. Whichever way you choose, the panorama is equally fascinating in both directions!
---