If there ever was a good reason to establish a settlement, the picturesque mountain of Kirkjufell would be it! It rises tall out on its very own peninsula framing in the low land and gives anyone who visits impeccable views.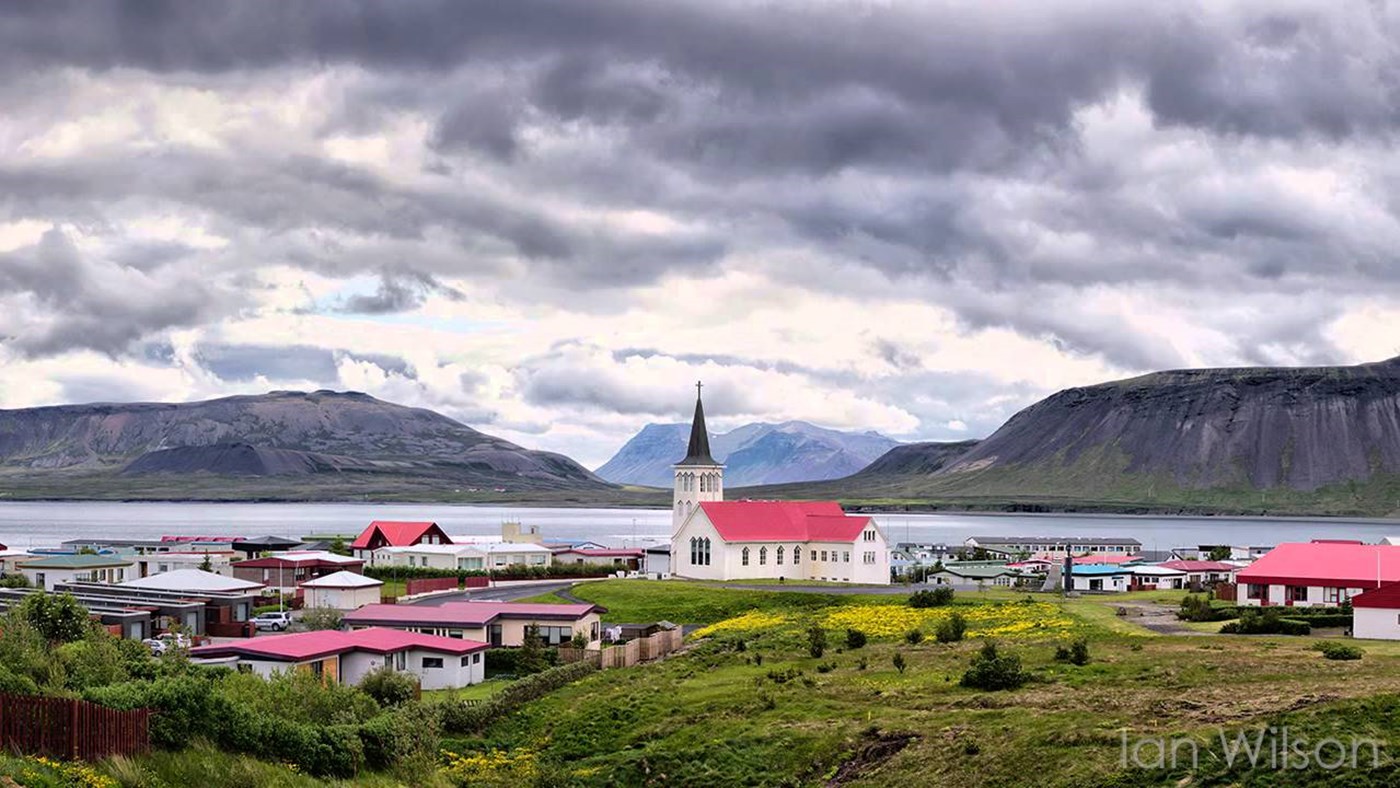 Grundarfjörður is a relatively small town on the Snæfellsnes peninsula with a population little under 900 people. It is a fishing town and until the tourism boom in the 21st century, the majority of all employment in town was linked to fisheries.
Today the town is commonly recognized as the town of Kirkjufell, the church mountain, which is so conveniently located right above it. The town is vibrant with colorful houses – many of them surrounded by the corrugated iron.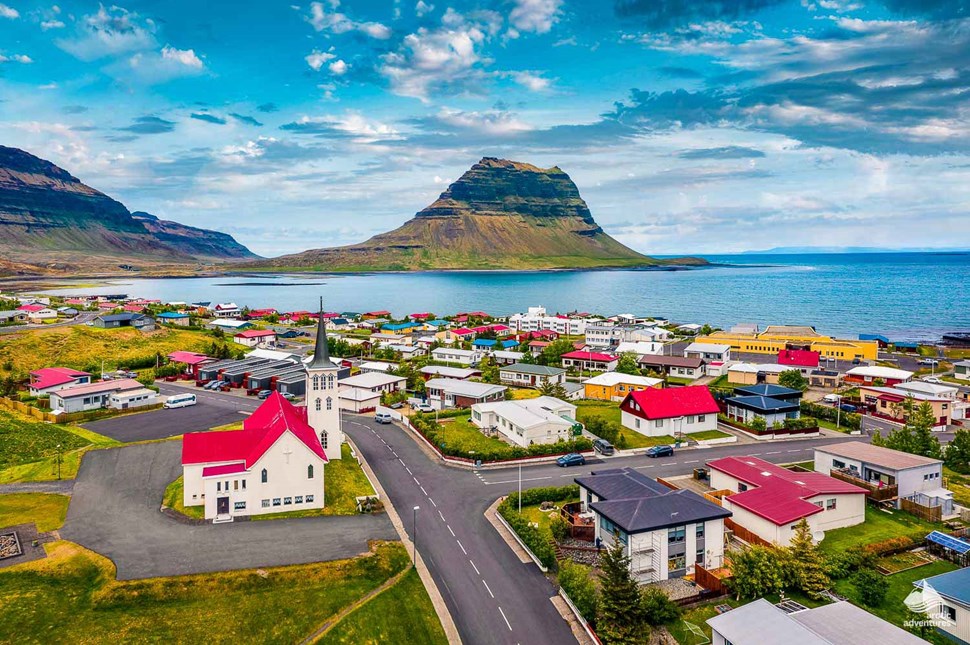 Many of the townsfolk are great nature lovers who love to be surrounded by the mountains, ocean and fantastic hiking and horse riding trails surrounding the settlement. There is also a fantastic golf course, Vestarr, right at the brim of the town's border.
Where is Grundarfjordur located?
Grundarfjörður is located at the northern point of the Snaefellsnes peninsula, West Iceland. It is right between the towns of Stykkishólmur and Ólafsvík near the fjord, Kolgrafarfjörður. The distance between Reykjavík and Grundarfjordur is 177 kilometers or 110 miles.
GPS coordinates of Grundarfjörður: 64.9247° N, 23.2604° W
How to get to Grundarfjordur?
Getting to Grundarfjordur is quite an easy task but will require some driving. You can easily get to Grundarfjordur by hiring a rental car, joining one of our many tours to the place or by catching the public bus.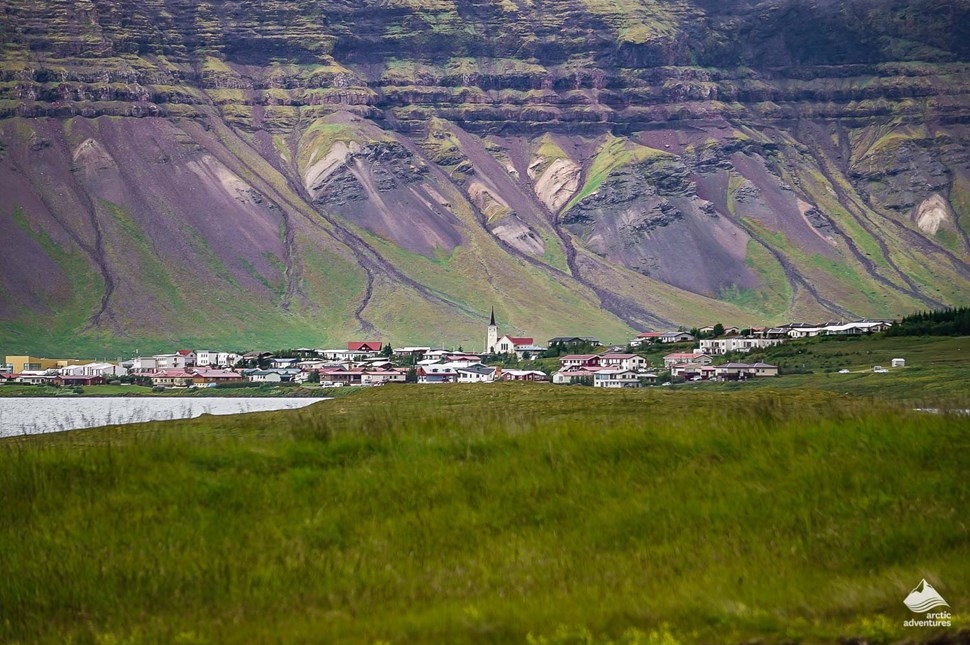 Driving from Reykjavík to Grundarfjordur will firstly take you along the Ring Road 1 out of Reykjavík in a northerly direction. You will pass Reykjavík's renowned Mt. Esja, go through Hvalfjardargong, and continue following Road 1 until you reach the town of Borgarnes.
At the last roundabout, turn towards Snæfellsnes onto Road 54. You will continue on this road until you have the options to turn left for Grundarfjordur or right for Stykkisholmur (you cannot go straight). Take a left and the road will take you into Grundarfjordur!
What to do at Grundarfjordur?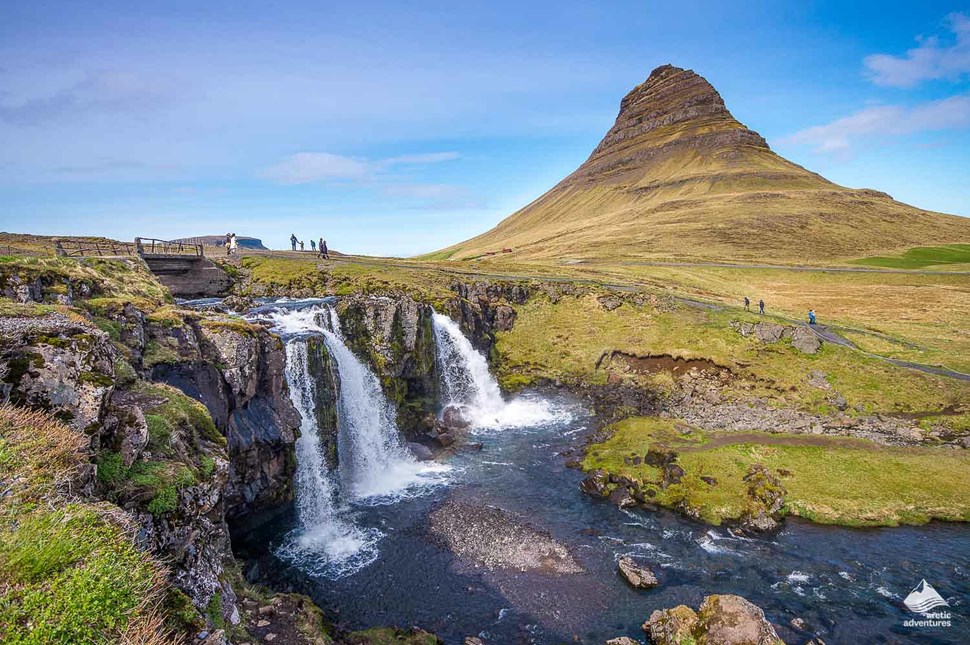 Admire Kirkjufell and Kirkjufellsfoss.

 

Most of those travelers who visit Grundarfjordur are there to take in the magnificent Mt. Kirkjufell and its neighboring waterfall. It can be enjoyed from several viewing points around town or an expert-guided hike. 

In Summer, join a Whale Watching tour. G

et to know the giants of the ocean in their natural habitat. Grundarfjordur is especially great for spotting Orcas (or Killing Whales).

Take a dip in the local swimming pool. No

 

matter how small the fishing village, you will always find a swimming pool in Iceland. Luckily, Grundarfjordur is no exception.

Visit Grundarfoss Waterfall. 

This water-charmer drops in a straight line down the stunning cliffs that surround Grundarfjordur. Its vertical falling is very unique and well worth the road trip.

In summer, join a sea kayaking tour under Kirkjufell.

 

It's a

 truly new way to explore the popular mountain. Let's get paddling!

Check out the Shark Museum. 

At Bjarnarhöfn you will get to know everything there is to know about the Greenland Shark.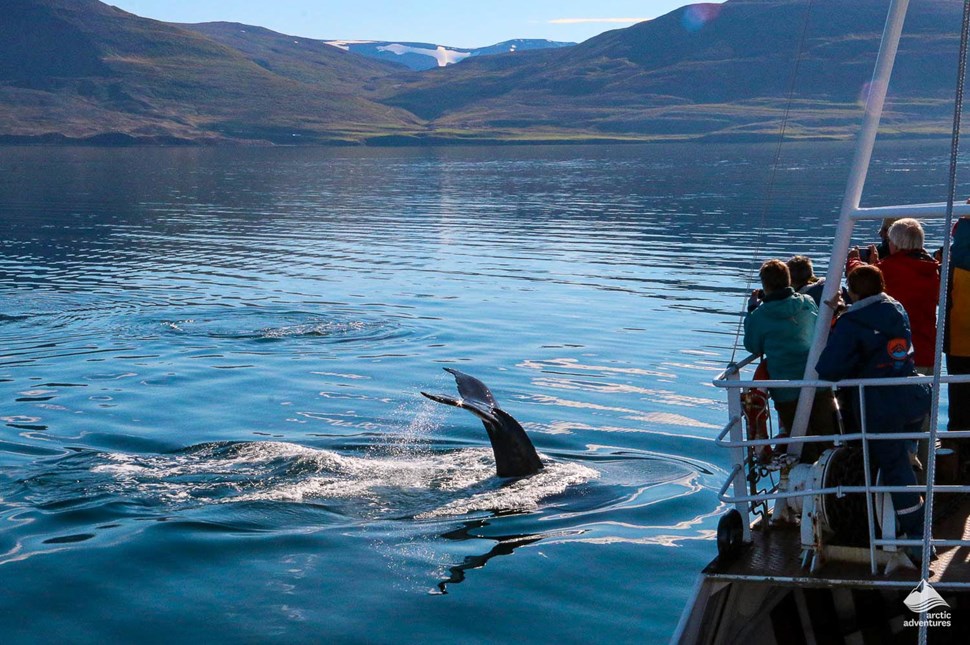 Where to eat at Grundarfjordur?
Bjargarsteinn Mathús

 – the best-rated restaurant in Grundarfjordur and possibly even the best in Iceland. The ambiance, interior, views, quality of the ingredients, local dishes and presentation all get 5-star ratings. (Vegetarian, Vegan and Gluten-Free options)

Café Emil (at the Information Centre) – grab some delicious coffee and a slice of cake with your travel info. (Vegetarian options)
Laki Hafnarkaffi 

– great local food, such as the Plokkfiskur "Fish Stew" with rye bread. If you're less adventurous, their pizzas are to die for! (Vegetarian and Vegan options)

Meistarinn Food Truck 

– only open in summer, but offers some good deep fried hot dogs and other comfort food.

Kaffi 59 – a typical diner bar where you can get the basics. Hamburgers, Fish and Chips, soup, the traditional Icelandic meat soup and other tasty treats. Good for families!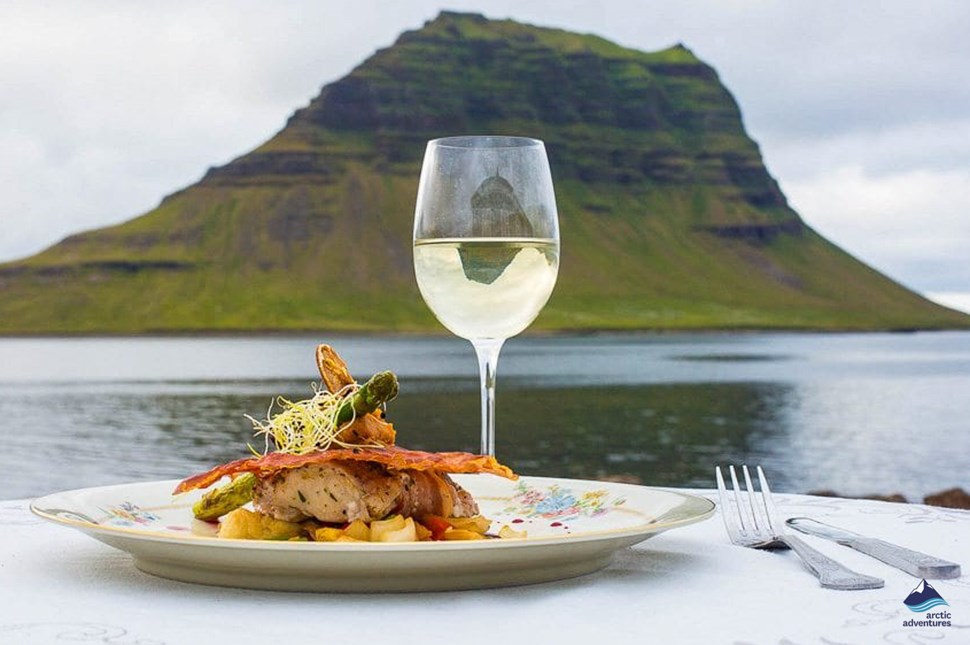 Where to stay at Grundarfjordur? | Grundarfjordur Accommodation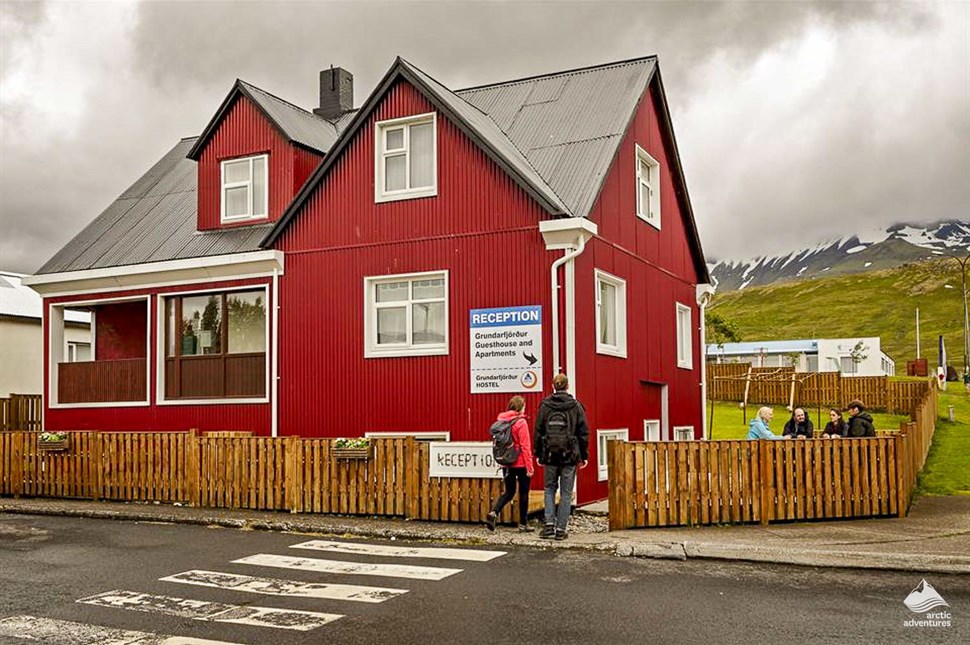 Guesthouses, B&B and Farmstays
H5 Apartments

G4 Apartments

Kirkjufell Guesthouse

Bjarg Apartments

Guesthouse 43

Hamrahlíð 9 Guesthouse

Grundarfjordur Guesthouse and Apartments

Hellnafell Farmstay

The Old Post Office Guesthouse

Jf Comfy Stay

Grund í Grundarfirði

Dis Cottages

Skjolsteinar

Sæból
Camping near Kirkjufell
Camping in Grundafjörður will give you a fantastic opportunity to view the glorious Kirkjufell mountain day in and day out.
The campground is located right next to the local swimming pool and offers great wheelchair accessibility and electricity. Further information for the campground is given at the swimming pool's reception.
Open: From the 1st of June until the 7th of October.
Address: Borgarbraut 10, Grundarfjörður.
GPS POINTS: N64° 55′ 17.494″ W23° 15′ 31.988″
Grundarfjordur in winter
Grundarfjörður is a great place to visit in winter, the mountains get covered with snow and the town somehow becomes even more peaceful and wonderful. It's also less busy so you might even have the mountain to yourself!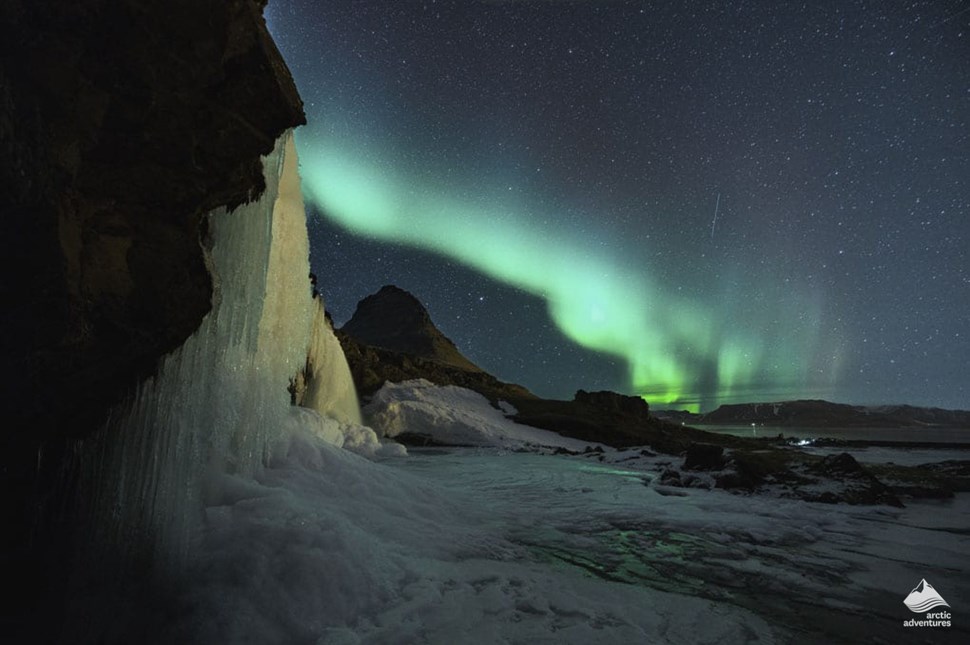 Grundarfjörður, due to its size and very limited lighting, is a fabulous place to witness the Northern Lights in winter. You might have to stay a few nights to see it but when they start dancing behind Kirkjufell it will all be worth it!
Interesting places near Grundarfjordur
Snæfellsjökull 

National Park

Kirkjufellsfoss Waterfall

Berserkjahraun Lava Field

Ólafsvík Town

Stykkishólmur Town

Hellissandur

Lýsuhólslaug Swimming Pool

Hellnar

Bjarnarfoss Waterfall

Bjarnarhöfn Shark Museum

Djúpalónssandur Black Pebble Beach

Búðir

Búðakirkja Black Church

Eldborg Crater

Rauðfeldsgjá

Ytri-Tunga Seal Beach

Lóndrangar Stacks

Berserkjahraun Lava Field

Vatnshellir Cave

Söngvellir Cave

Gerðuberg Basalt Cliffs