How Do Iceland's Lava Caves Form?
Iceland is located on the mid-Atlantic Ridge, a geological hotspot. Due to its location, the country has 30 active volcanic systems that form Iceland's lava caves. After a volcanic eruption, a river of hot lava flows on the Earth's surface. The stream gradually cools down and the outside of the flow forms a crust. The sub-surface stream of molten lava continues to flow, leaving behind a hardened crust in the form of a tube.
Lava tubes are often multi-layered because multiple rivers of magma flow through them, depositing various minerals. This way the tunnels get reshaped. As a result, every lava tunnel in Iceland is different. The flowing lava splashes, and when it cools down and hardens, it creates stalactites of all shapes and forms. 
Lava Caves in Iceland
Raufarhólshellir Lava Cave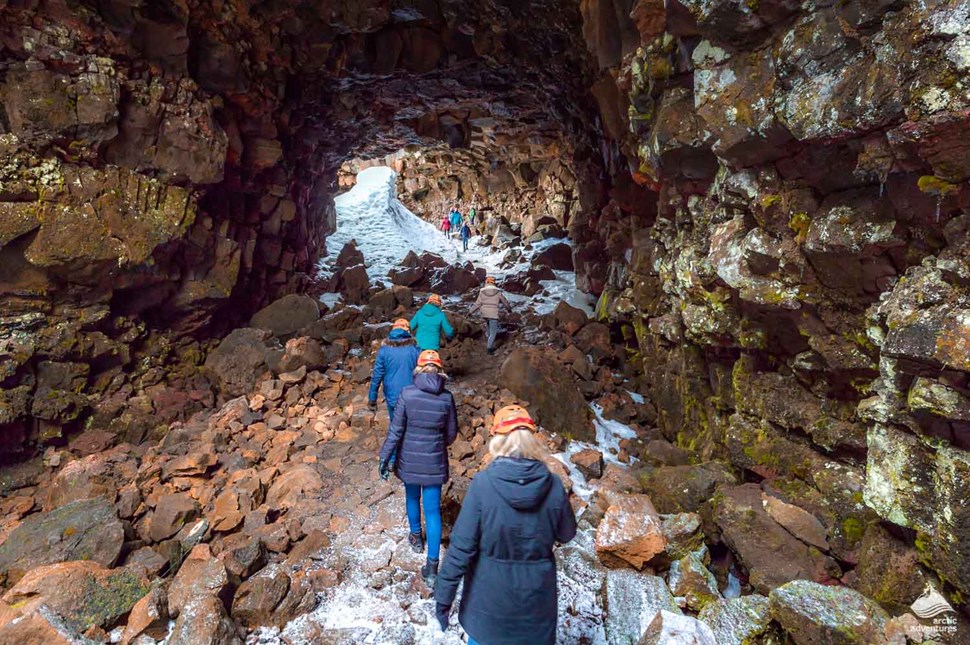 One of Iceland's best known and most awe-inspiring ice caves is Raufarholshellir lava tunnel. Located only half an hour from Reykjavik, this cave features an array of stunning colours, as moss-covered lava and rock formations fill this incredible space.
In winter it changes appearance and shape, with the arrival of icicles that conduct the light, bringing more colour and wonder to this already extraordinary space.
Raufarhólshellir Lava Cave is one of the longest lava tubes in Iceland. It spans 4,462 ft (1,360 m), with the main tunnel running for 2,953 ft (900 m). The ceiling of the tunnel reaches up to 10 m (33 ft)! The lava tube formed after the Leitahraun Volcanic Eruption around 5,200 years ago. However, it was only discovered by geologists in 1950. Impressive rock formations used to decorate the tunnel's ceiling, but unregulated visits to the cave caused damage to the lava formations. The tunnel is now only available on guided tours, so join our day tour and explore Raufarhólshellir Lava Cave with an experienced guide.
Thrihnukagigur Volcano Cave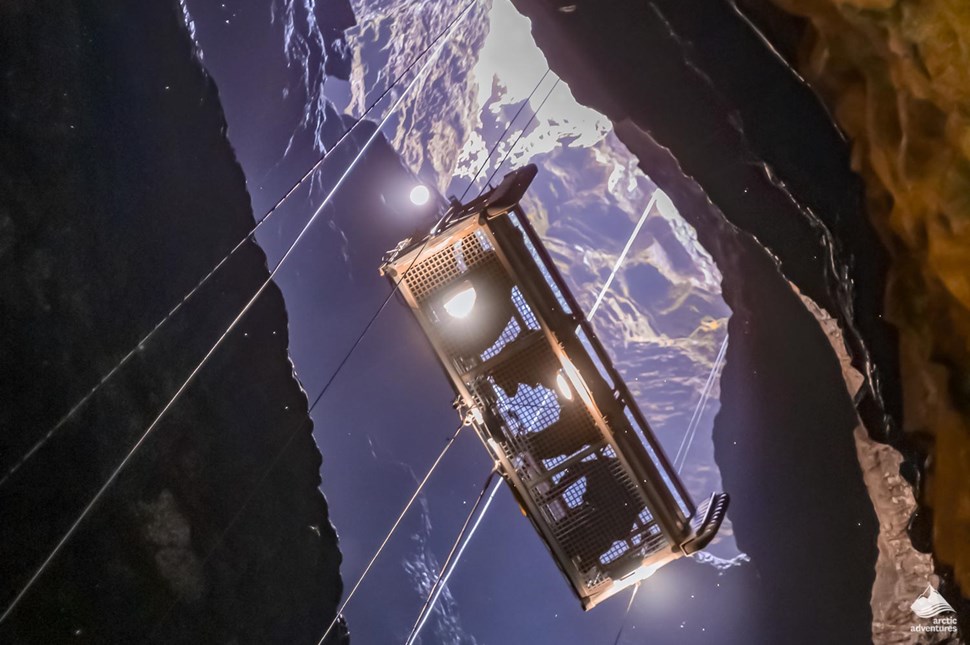 Thrihnukagigur Volcano Cave has been ranked one of the must-see places in the world by CNN Travel. The dormant volcano is accessible through its top crater. An open elevator lowers visitors 400 ft (120 m) to the bottom of the volcano's magma chambers. The inside of the volcano is covered in enchanting green, red, and brown colors due to minerals deposited by the last eruption. Standing inside the massive Thrihnukagigur Volcano is a truly unique experience, so join us on a day tour and explore the inside of the volcano!
Lofthellir Cave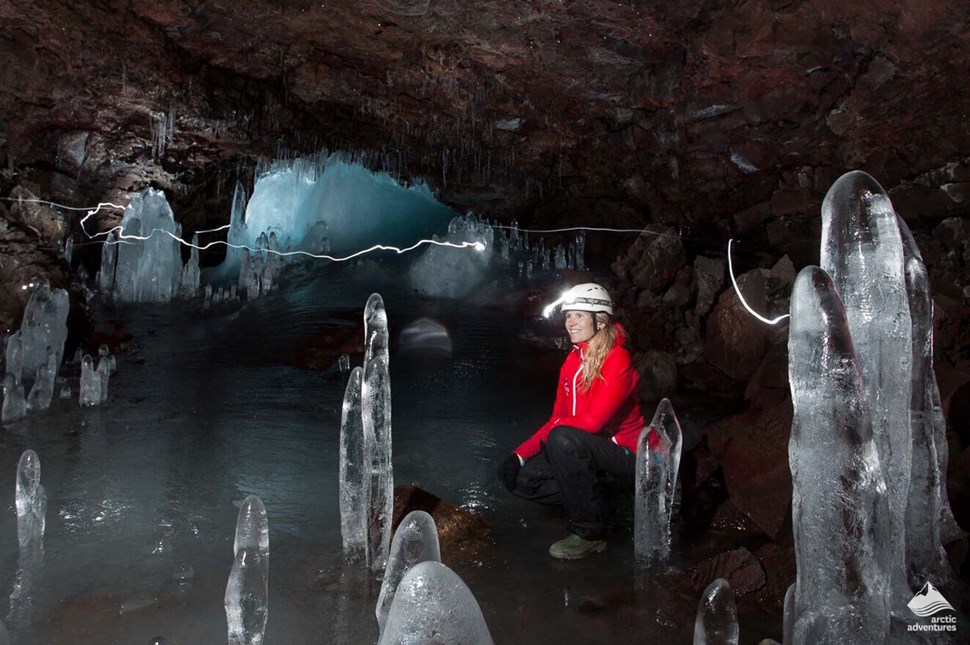 Lofthellir, near Lake Myvatn, is a captivating lava cave and home to the largest known natural ice sculptures found in any lava tube in Iceland. This is the culmination of thousands of years of incremental influx of water into zero-degree centigrade air space. As the light captures the ice sculptures, they resemble frozen, translucent, beautiful ice stalagmites.
This lava cave was discovered in the 80s after an earthquake when part of its roof collapsed, revealing the wonderland below, first noticed by a plane pilot flying above the massive hole in the ground.
Now this magical 3,500-year-old lava cave is available to visit on a guided day tour from Akureyri or Myvatn.
As you might imagine, a cave filled with ice sculptures can get chilly, so wear something warm!
Vatnshellir Cave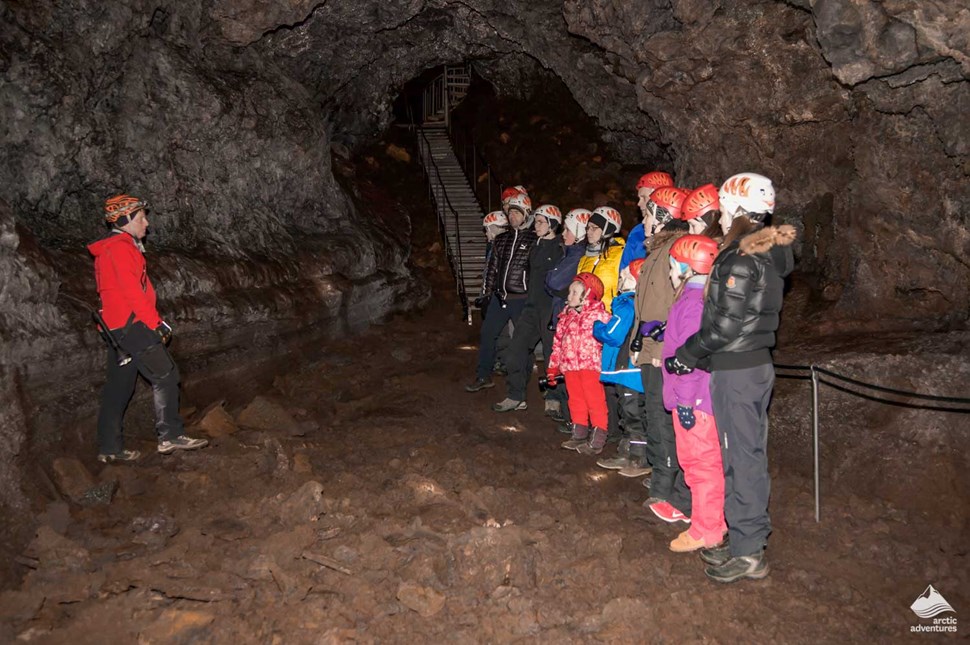 Vatnshellir Lava Cave lies in the depths of Snæfellsjökull National Park. Formed during a volcanic eruption 8000 years ago, the cave now is 114 ft (35 m) under the surface of the Earth and stretches about656 ft (200 m). Surrounded by vast lava fields, the entrance to the cave is not always noticeable, yet the cave is definitely worth a visit!
Once you reach its depths, you'll be stunned by the cave's raw beauty, lava formations, and many layers of hardened lava. Watch your step to protect yourself and the cave from any accidents!
Leiðarendi Cave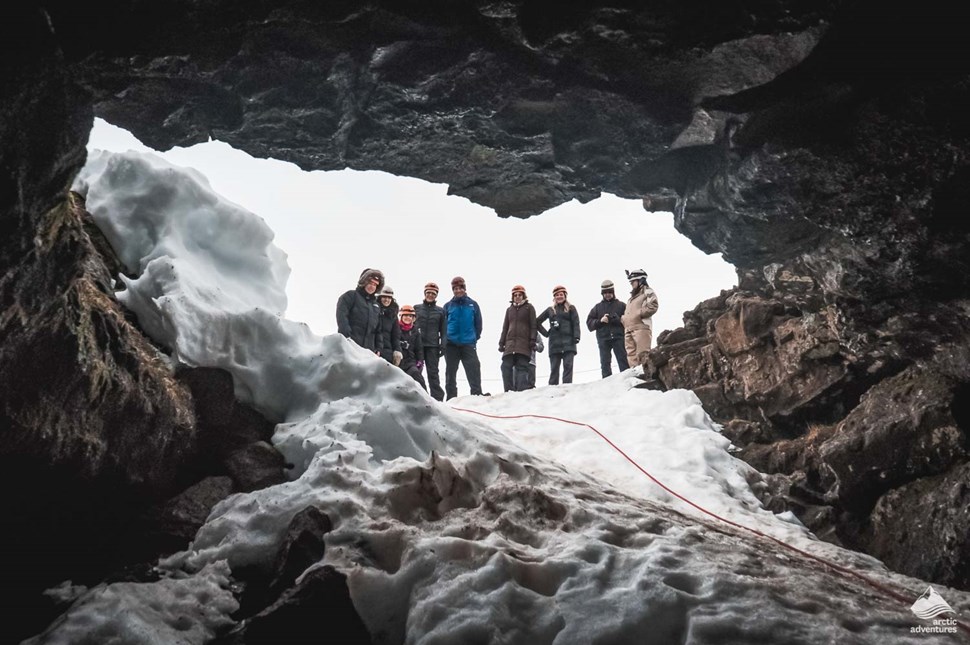 Leidarendi Cave consists of one long tunnel cave that separates out into smaller chambers. This one is famous for its rich colours; iron deposits created its reds, then there are shades of yellow from sulphur, and dramatic shades of green from copper.
No two lava caves are the same, because each one was created in different circumstances. In this case, Leidarendi formed as the result of two separate volcanic eruptions, a thousand years apart.
The name 'Leidarendi' means "the end of the road", which it was for a poor ram who was found in a dark, deep corner here.
You'll find this ice cave just 30 minutes outside of Reykjavik.
Vidgelmir Cave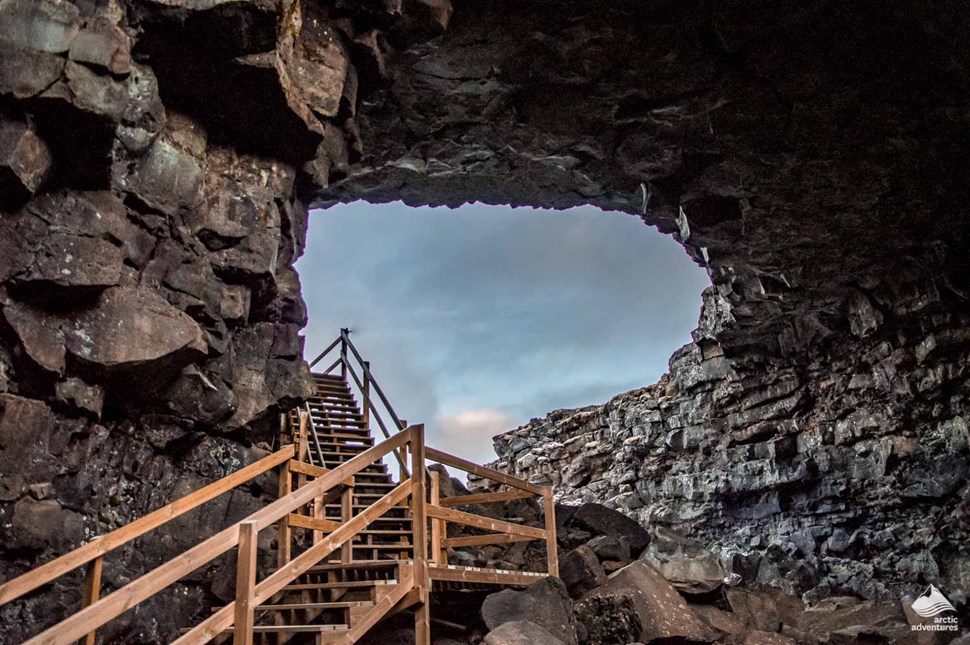 A quintessential Icelandic attraction, Vidgelmir Cave was forged by lava to create something unique and wonderful.
Vidgelmir Cave, was created by a massive eruption in 930 CE and spreads over a 78 sq mi (200 sq km) area, making it the largest lava tube cave in Iceland. It's part of the Hallmundarhraun lava field in the west of Iceland. Visitors can expect to see fascinating rock formations in bright colours. These colours were created by mineral deposits brought by the flow of lava thousands of years ago.
In 1993 during archeological excavations, Viking remains and jewelry were found and preserved. Now the cave is only accessible through guided tours.
Today, it's an accessible space, with two large entry points and stairwells, walkways and artificial light. Natural light breaks through from above in some points.
Iceland's largest lava cave sits in the Snaefellsnes Peninsula, in Borgarfjörður in West Iceland, and you can visit Vidgelmir on our Snaefellsnes Tour.
Grjótagjá Cave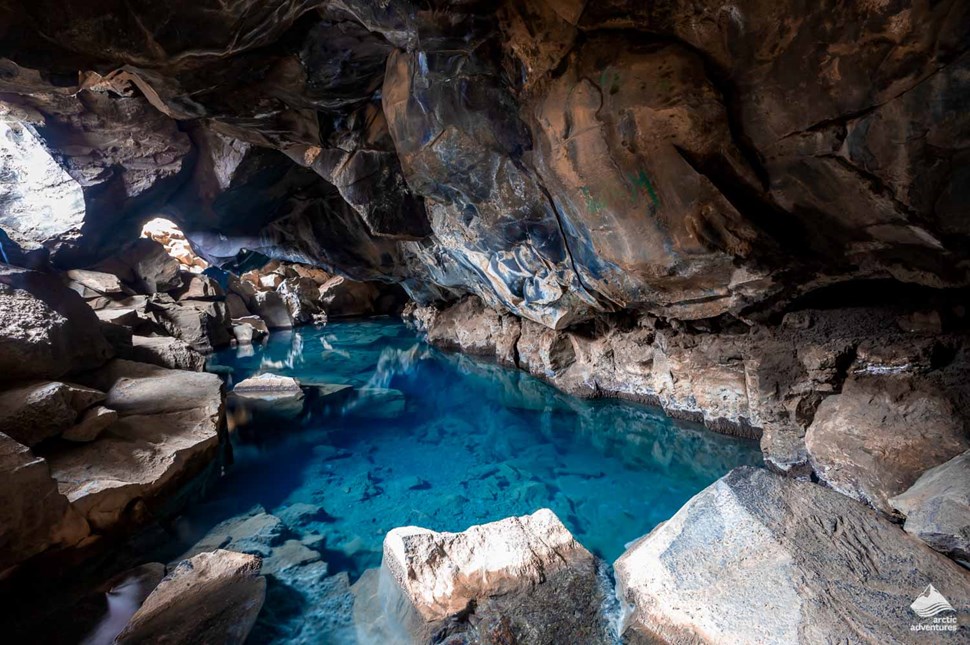 Grjotagja Cave is one of the few caves in the country with a hot spring inside. Back in the day, the caves were feared by Icelanders and believed to be inhabited by  trolls. In reality, the caves were a hiding place for outlaws. A famous outlaw named Jón Markússon lived in Grjótagjá for a long time and would bathe in its hot spring.
In more recent times, the cave has become a popular hangout for Icelanders. After more than a dozen eruptions in the 1980s, the water in the spring became too hot to bathe and now it's only suitable for caving. The cave was featured in an episode of Game of Thrones.
Buri Cave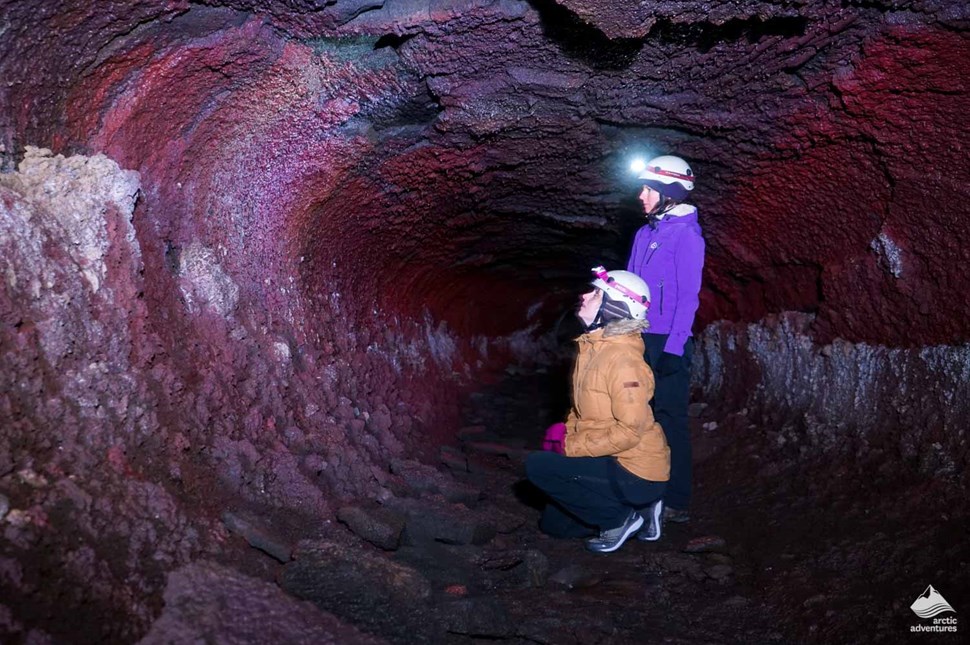 Buri Cave is one of the most breath-taking lava caves in Iceland and it is located under Leitarhraun Lava Field.
The first 131 ft (40 m) of Buri Cave were discovered in 1992. The cave was created around 5,000 years ago by a raging lava river. The river was so fierce that it burnt a 55 ft (17 m) deep vertical lava pit.
Buri cave's chambers are decorated with various lava rock formations, stalagmites, and stalactites. During the winter, ice freezes in unique patterns and creates a stunning vista that changes every year.
Gjabakkahellir
Also known as Helguhellir or Stelpuhellir ("Girl cave"), Gjabakkahellir is over 9,000 years old. This one is unusual in that it has an easy-access entrance on both ends, so you can traverse the whole cave from entrance to exit.
Highlights of this cave include the imtimidating, 'shark-tooth' stalagmites that hang from its roof and its many lava formations.
While it's a relatively easy journey through this ice cave, you will have to use your hands and feet to negotiate this uneven terrain.
This cave is located in Þingvellir National Park, so is very accessible from Reykjavik.
The Best Lava Caving Tours in Iceland
Lava tubes are often affected by natural events such as earthquakes. No matter how stable lava tunnels in Iceland might look, one can never be certain of how natural forces have affected the ancient rocks. That's why Iceland's lava caves should only be visited with a guide. Our guides are experts, ensuring that everyone has a safe, secure and fun time.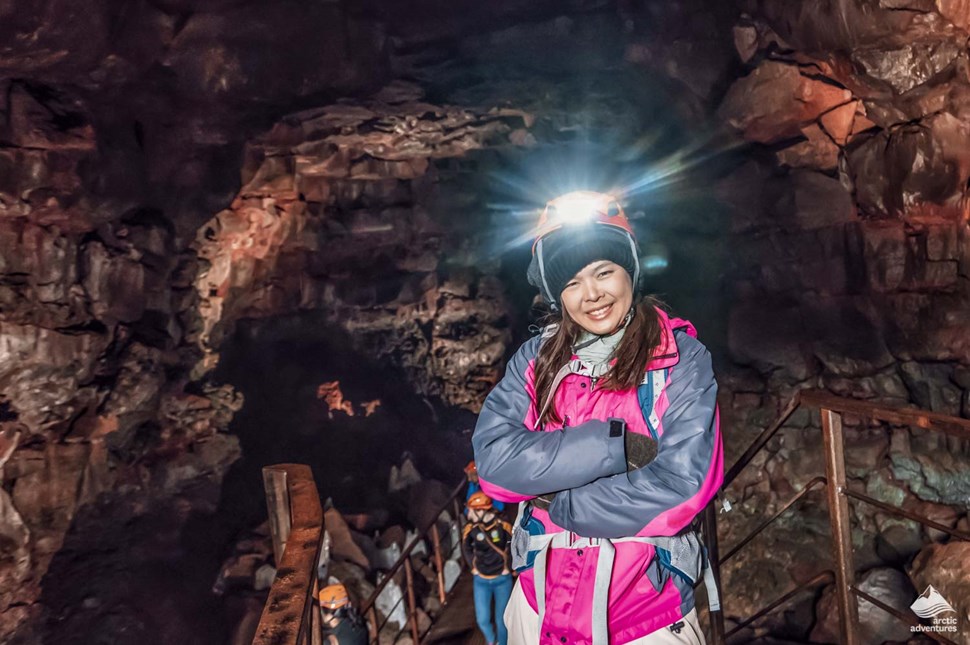 Combo Tours with Lava Caving in Raufarhólshellir
Lava caving is a fun activity on its own, but you can also combine it with another tour and turn it into a full-day adventure.
Visit Raufarhólshellir Lava Tube and see the highlights of the iconic Golden Circle in one day! Thingvellir National Park, Geysir Geothermal Area, and Gullfoss Waterfall are important natural sites that everyone needs to visit in Iceland. If you're traveling in winter, add a hunt for the Northern Lights for the ultimate Icelandic experience!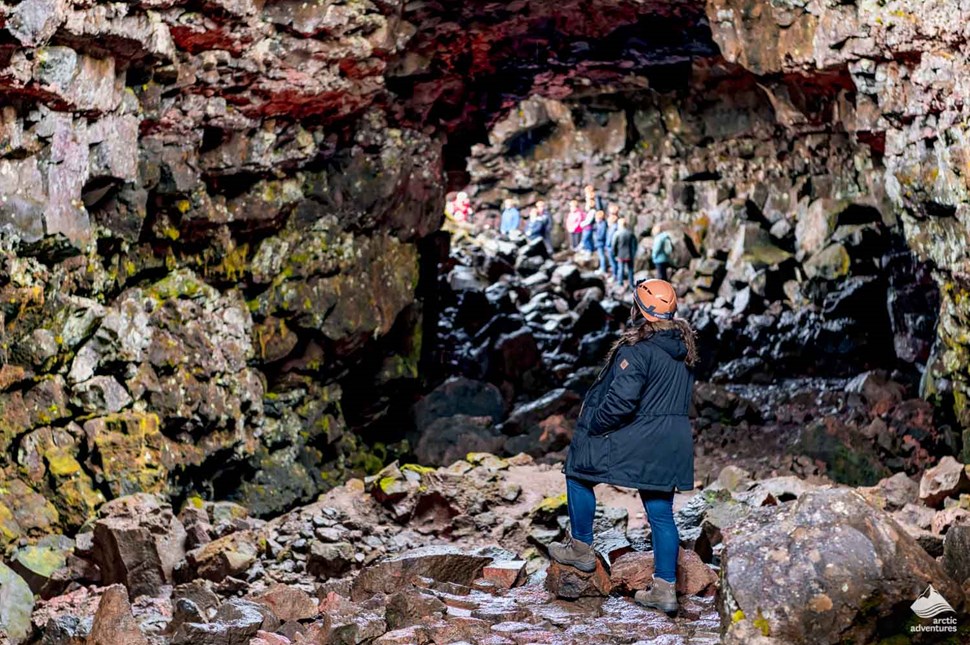 If you've already visited the Golden Circle, then join a Raufarhólshellir and Northern Lights Tour to enjoy the best Iceland has to offer both under the ground and in the sky.
Snorkeling in Silfra Fissure is another unique experience on offer in Iceland. Snorkel between two tectonic plates and explore the underwater world! Combine snorkeling with lava caving and visit Raufarhólshellir on the same day, or even add a Northern Lights tour to your itinerary!
You can visit Iceland's lava caves and the Blue Lagoon as part of a single itinerary on our Lava Caving & Blue Lagoon Tour from Reykjavik and enjoy the healing powers of Icelandic water.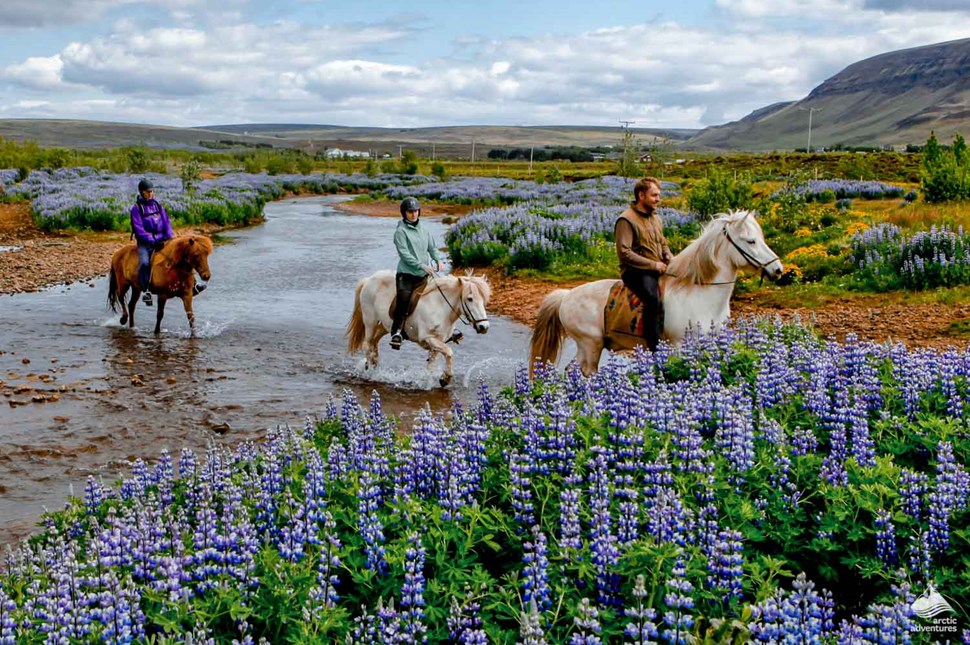 You can also try a combined lava cave and horse-riding tour and meet charming Icelandic horses! The purebred horses are friendly and intelligent. Children love them!
If you're looking for an extreme experience, try out a caving and ATV tour! Ride quad bikes across vast lava fields and then explore the same fields from a completely different angle: under the ground!