Kerlingarfjöll is a beautiful mountain range located in the centre of the Icelandic Highlands. Also known as 'Old Lady Mountains' this range is the third largest geothermal area in Iceland stretching over 100-140 square kilometres.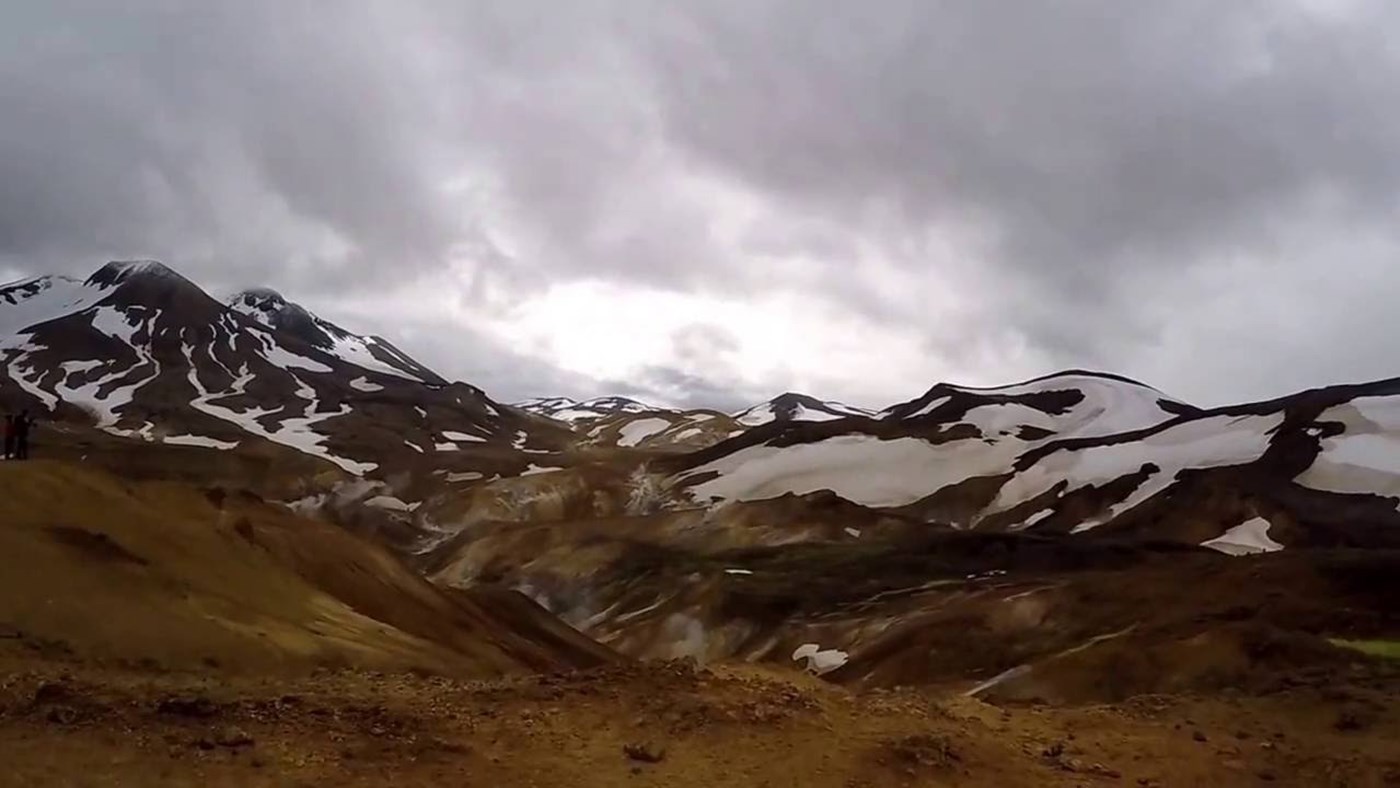 Steam surrounds the area and many hot springs are found where visitors have enjoyed bathing for centuries. This alluring area isn't just a geothermal hot area, but also home to a few glaciers that gracefully rest on the tops of the volcanoes and mountains. Making the area even more special.
The highest of the mountains situated in the area is called Snækollur mountain. The thing that makes this mountain range so magical is the rhyolite, dark and bright tuff stones which constantly change colours depending on the season.
The weather and light affect how the colours change making Kerlingarfjöll extremely unique and photogenic. Minerals have been found emerging from the hot springs in various colours including green, red and yellow.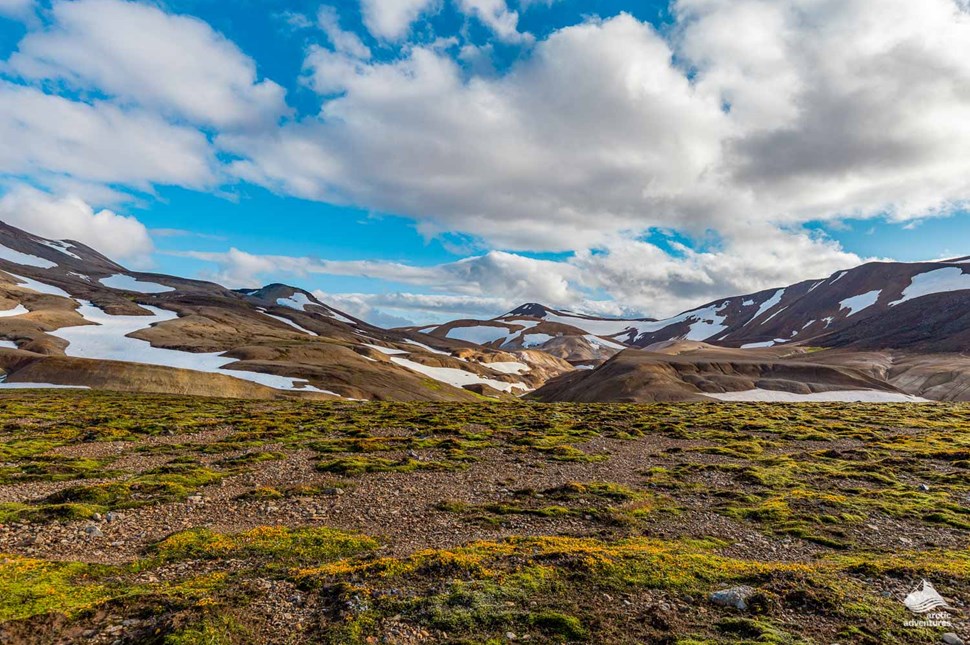 The mountain range is only about 10,000 years old and there has been no earthquake or volcanic activity, which is very uncommon in Icelandic nature. Kerlingarfjöll is made up of several peaks, the tallest one has a height of 4876 ft.
History behind Kerlingarfjöll
The range takes its name from a 25-meter high dark pillar name Kerling e. Old Lady that rises high in the area. Legend says that a female troll named Kerling was walking in the area when the sun came up and she turned into stone.
For centuries Kerlingarfjöll was seen as a remote and unwelcoming place. This is because it was thought to be of a place that outlaws would flee to. Furthermore, it became known as the 'Bad Weather mountains'.
These factors meant that Kerlingarfjöll was an unvisited place for a long time. This is far from the truth as it has blossomed into a well-known tourist destination.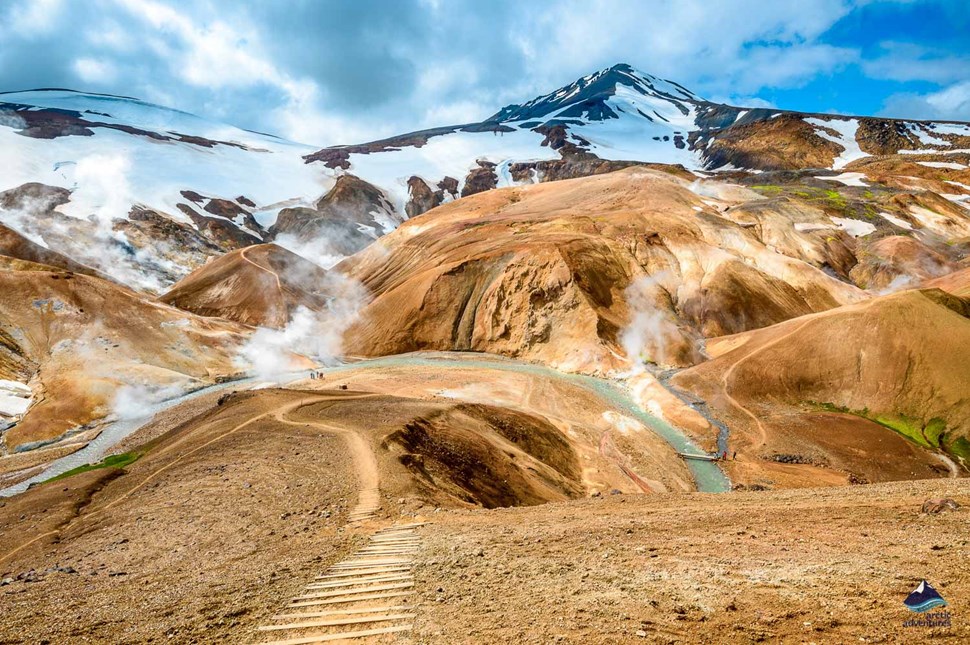 This snowy paradise used to be a skiers dream. This was stopped in the year 2000 because of the rising temperatures in Iceland. Because of this, there just isn't enough snow on the mountains to maintain as skiing facility. It is possible to ski down two of the summits called Fannboug and Snækollur, however, there are no ski lifts left.
Therefore, you should expect a very demanding hike if you really want to ski. Not to mention you should be experienced in skiing and hiking if you want to even attempt to challenge this summit.
What to expect when visiting Kerlingarfjöll
The hike from Kerlingarfjöll resort to Hveradalir, which is a geothermal area, is around 2.5 miles. It is not marked, but the road can be clearly seen. In the summertime, the road is free from snow but this doesn't mean it won't be in the winter months. Walking sticks are recommended and depending on the weather crampons could be advised when walking the hiking trails.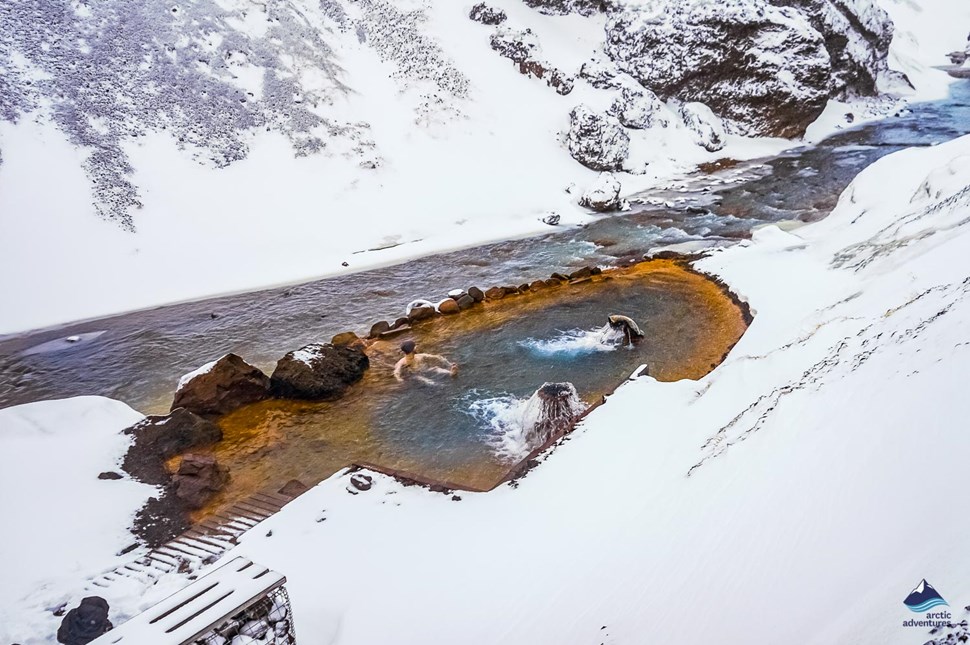 After reaching Hveradalir you will become mesmerized by the colours and the landscapes that surround you. The steam rising from the geysers mixing with the cold air creates sensational sights everywhere you look. Here you are greeted by the many options of where to hike next.
If you are wanting to take a few days to explore the area then there is a 30-mile hike that will allow you to see in depth, the beauty, that the range has to offer. There are many summits that you can climb and hike. There is also a 2-mile route that circles the geothermal area.
Climbing the highest peak of Snækollur may be the perfect opportunity to challenge yourself. Although demanding, the sense of achievement at the top will be overwhelming. Furthermore, depending on the weather conditions, if you are lucky enough to have clear skies then you may be able to see both the north and south coast.
If you are not an experienced hiker then it is advised that you join a tour. This will ensure that all the equipment you could need will be provided. Not only this but as you must have heard by now, the weather in Iceland is very temperamental and a guide will know exactly how to handle any weather condition safely.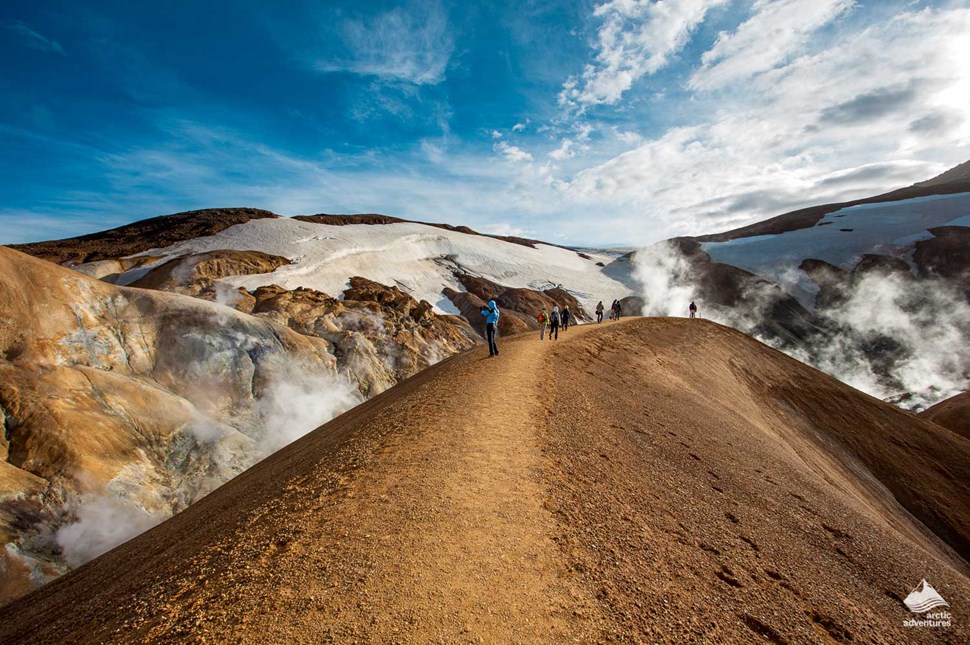 Whilst you're in the area of Kerlingarfjöll you can expect to see more than just mountain ranges. From mud pots, glacier streams, to a geothermal hot pool there is lots to see and do. If you came to Iceland to be immersed in fire and ice, then this the right place for you.
Kerlingarfjöll hot springs
In the year 2002 locals started to drill the area for hot water and because of this, they found the wonderful naturally heated geysers and pools that we see today. The pool has been named Borhola and has a strong reference to the English words drilling hole. The local's original plan was to use the water to heat guesthouses close to the area, but the pools and hot springs have remained untouched.
Where is Kerlingarfjöll located?
Located in the highlands of Iceland between two glaciers named Langjökull and Hofsjökull, is the mountain range of Kerlingarfjöll. The mountains rise roughly about 600 metres above the central highland plains, so prepare to be wowed. In the western part of the highlands, the mountain range is easily accessible whether you're coming from the north, south, east or west by bus or car.
GPS coordinates of Kerlingarfjöll: 64.6366° N, 19.2694° W
How to get to Kerlingarfjöll
It is highly recommended that you don't try to reach the area without a 4×4, especially in the winter months. The mountain range can be reached from route 35 from both the north and south of Iceland. However, if you are coming from Kjölur road then the easiest road access is via F347.
If you are travelling from Reykjavik then it is about a 3.5-hour drive, which gives you plenty of time to take in the sights of the highlands on your way. Coming from the north will take you slightly longer, expect a 5.5-hour drive if you are heading down from Akureyri.
You may choose to use public transport, this is only an option in the summer months. The company Sterna runs buses that travel in both directions from north to south.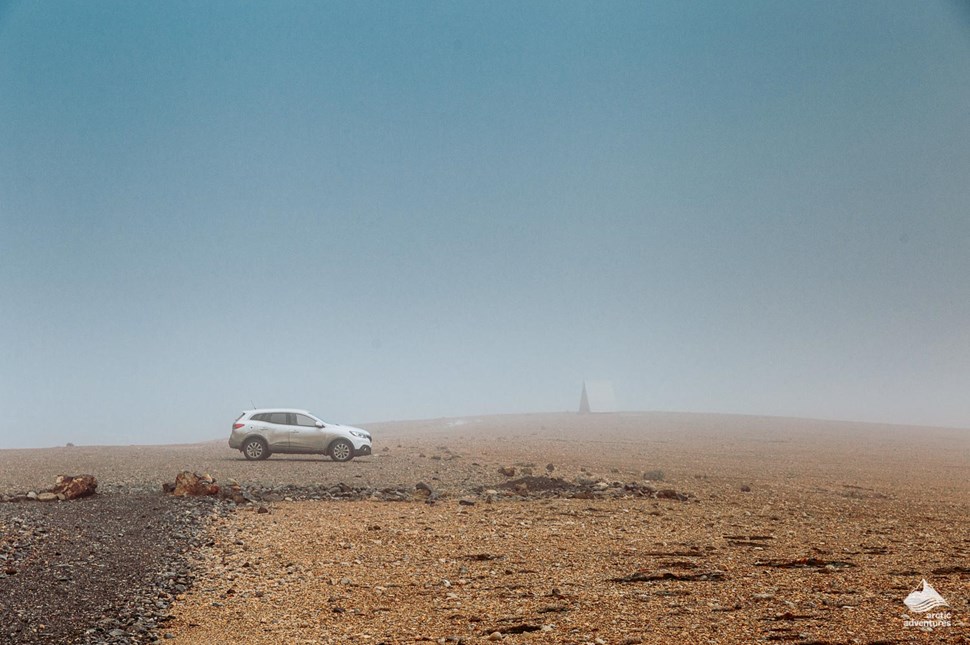 Accommodation at Kerlingarfjöll
There is accommodation in Kerlingarfjöll that is operated as a highland resort. It is situated in the Ásgarður valley. There are many options at the resort. Private rooms are available with bathrooms. There is also the choice of chalets, sleeping bag facilities or camping amenities.
A kitchen is accessible for you to cook any food that you may wish. Some rooms have a private shower, but if not there are warm water bathrooms available. There are food services with a restaurant that is open for breakfast, lunch and dinner.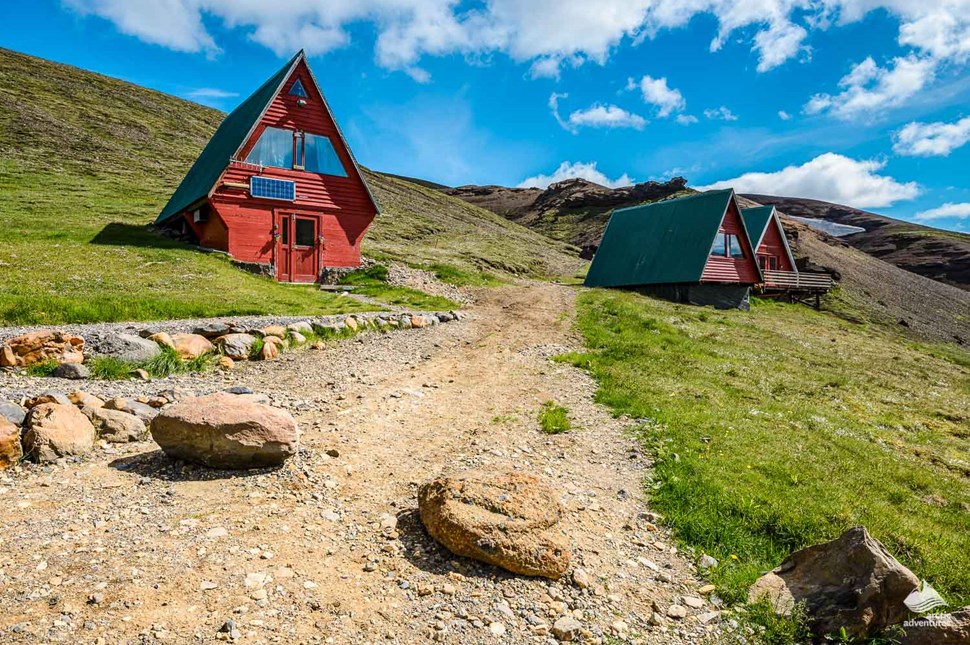 Camping at Kerlingarfjöll
Camping here is available for tents and caravans and no reservation is needed. There is hot showers, toilets and a shared cooking space. It is very much recommended to bring a wind and waterproof tent due to the low temperatures and unpredictable weather.
Expect nothing less than to be woken up to beautiful views.
Tips for visiting Kerlingarfjöll
There is a small shop on site that sells basic supplies.


Hiking boots are an absolute must!


Bring warm clothes, you are in the highlands of Iceland.


If you want to bathe in the geothermal pool make sure to bring a swimsuit.


Crampons aren't a necessity but if you're wanting to climb the highest summits they may not be a bad idea.


Any map of the mountain range would be an added bonus.


If you are traveling from a larger city then it may help to buy snacks and food from the larger supermarkets, it's more cost-effective and choice will be scarce the further inland you get.


It's worth being aware that some rental companies do not insure cars that are going to travel along Route 35. Just make sure to check your insurance policy if you are going to rent a car.


Parking is free of charge.


As always, don't forget to pack a camera, these are memories you won't want to miss capturing.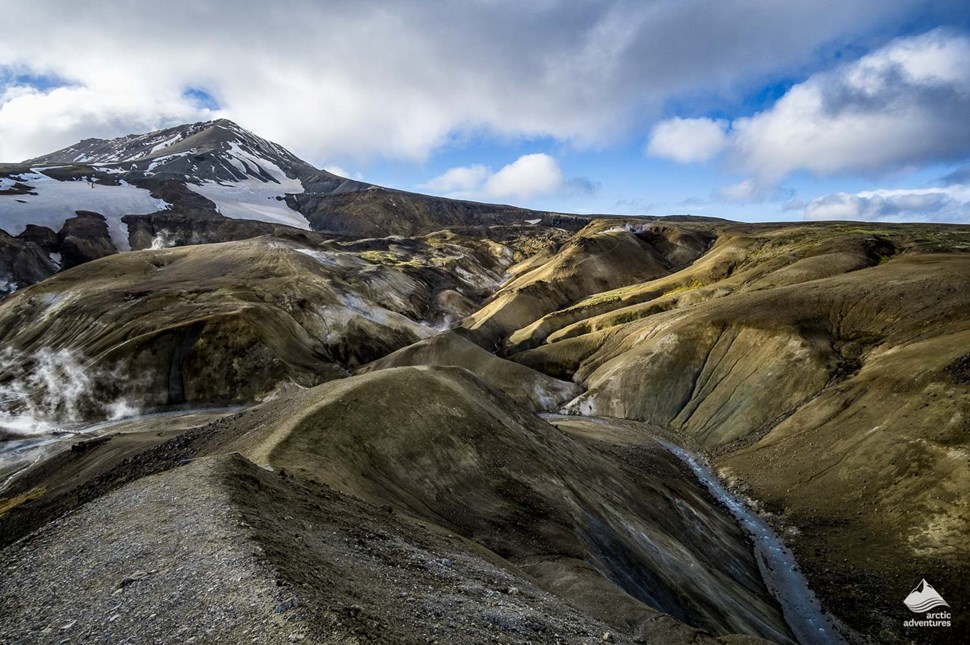 Kerlingarfjöll in winter
No matter what season you decided to visit Kerlingarfjöll in, you are not going to be disappointed. In the deep snows of winter, the mountains are only accessible by super jeeps or snowmobiles. Any snow activity is perfect here!
From sledging, snowshoeing, snowmobiling and of course hiking in the lower areas. Hiking is not an option if you are wanting to go quite high up in the range. The snow is too think and deep.
This area is away from any big towns and therefore crowds are the least of your worries here, especially in the winter.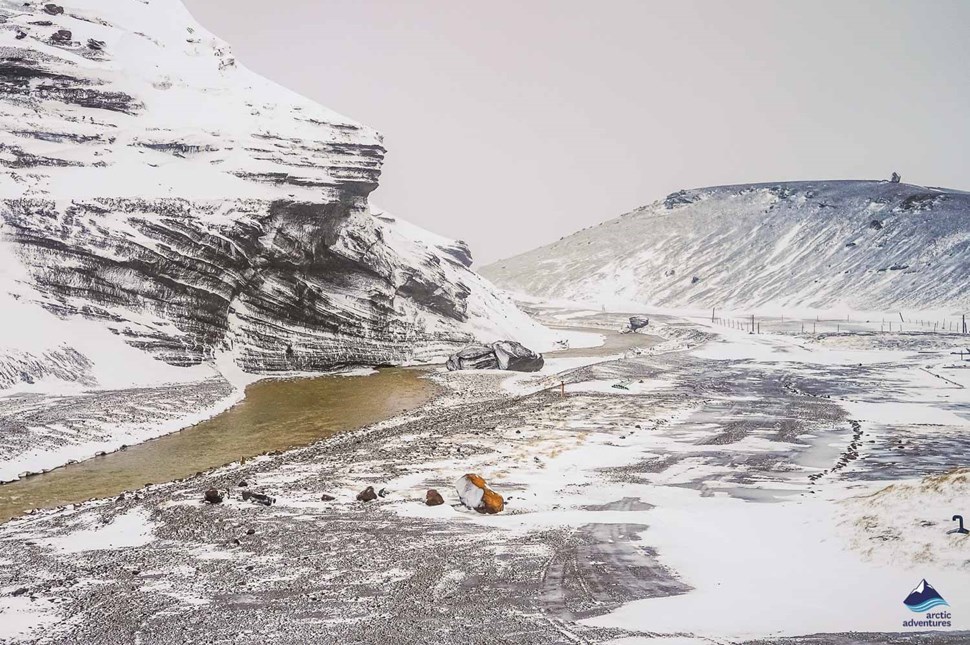 The experience is a world away from what it would be in the summer. The biggest difference is that you are in a great spot to see the northern lights. Being away from light pollution gives you a chance of seeing them a lot more clearly.
On top of this, bathing in the geothermal pools whilst the landscape is covered in snow is a very unique experience. Finally, in the winter months, you will be able to explore the inside of the glaciers that are on offer. This should be done with a guide for very obvious safety reasons.
The weather at Kerlingarfjöll
Being 700 metres plus above sea level means that the weather conditions are slightly harsher than closer to sea level. Anticipate all types of weathers, no matter what the season as you never know what will be thrown your way. Downloading a weather app may help to gage what sort of day it will be, but you should never rely on what it says.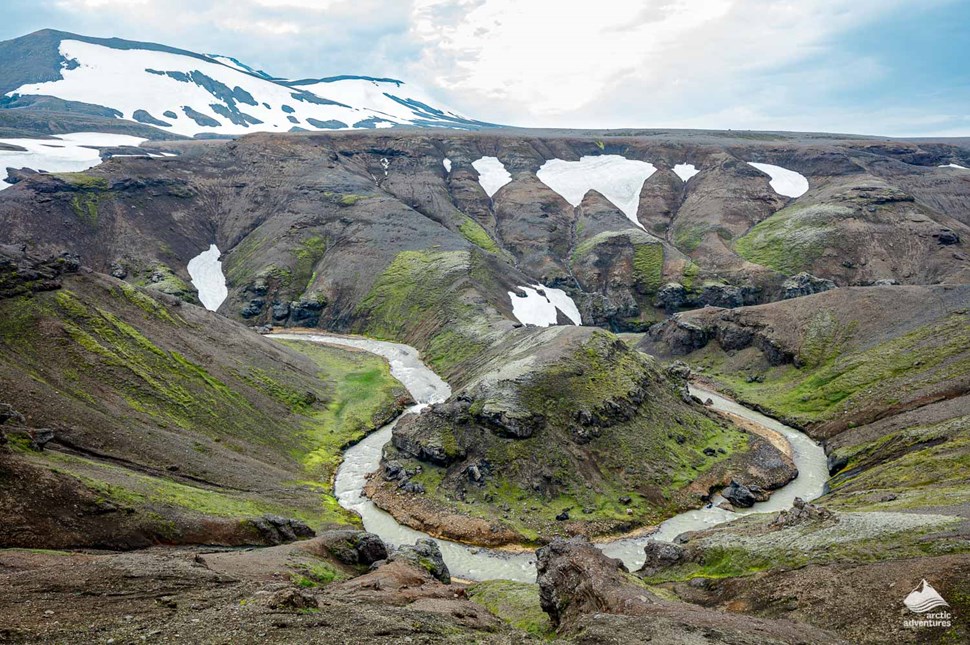 Summer tends to start in May and carries on until September, this is when there is the most amount of daylight hours in Iceland. This is a really amazing time as it means there are no limitations on when you can go hiking. You may also want to take the opportunity to bathe in the geothermal pools in the midnight sun.
Interesting places near Kerlingarfjöll
Lake Þórisvatn
Kjölur F35 Road
Hofsjökull Glacier
Eiríksjökull Glacier