---
---
The Golden Circle is the most popular day tour in Iceland and driving the Golden Circle will take you to the most unique and greatly different locations that should definitely be on your Iceland bucket list!
Thingvellir National Park is one the most historical sites you will find in Iceland, located in the middle of a lava field it is also where the two tectonic plates meet and where you can actually snorkel or dive in between them. It is a place of great natural beauty and important historical events. Next stop on the Golden Circle is at the incredible Geysir geothermal area, home to the famous rocketing Geysir and his fabulously active baby brother Strokkur who's water bursts shoot multiple feet into the air every 4-10 minutes. The area is smoke filled and mysterious but there are great paths and marked viewing points so it is perfectly safe to explore.
The third stop is the grand finale, nothing like the other stops and truly one of Iceland's most popular tourist spot. Gullfoss waterfall, or the Golden waterfall is an exquisite phenomenon to witness. Dropping two stories down into a glacier-carved gully the meltwater changes color often so the waterfall never completely looks the same. The meltwater runs from the second largest glacier in Iceland Langjökull glacier which also feeds the stunning waterfall Hraunfossar in Borgarfjörður.
Þingvellir National Park
GPS 64.2558° N, 21.1299° W
The history of Iceland and the Icelandic nation is not as evident in any location as it is at Þingvellir. It is where the parliament Alþingi was founded in the year 930 and where people gathered to make laws and big decisions all the way through 1798. Many of the nation's greatest moments have taken place at Þingvellir and for most Icelanders, Þingvellir holds a place in their hearts. Þingvellir is a UNESCO protected heritage site and in Icelandic laws, you can read that Þingvellir's land will and should always be a mutual property of the Icelandic nation and under the protection of the parliament.
Studies in recent decades have led to the conclusion that Þingvellir National Park is a natural wonder on a global scale and that lake Þingvallavatn and Þingvellir's ecosystem form a unique whole. In lake Þingvallavatn Icelanders have watched new creatures come to life and active earthquakes have completely reformed the area frequently through centuries. The reason why the Þingvellir area is so volcanically active is that the continental plates, the North American and the Eurasian meet at Þingvellir and the rift between them runs right through the National Park. You can visit the meeting of the tectonic plates in many different locations at Þingvellir and even go snorkeling or diving in between if you join a tour in Silfra fissure.
The Þingvellir area is home to rich history, to the alluring Law Rock and Almannagjá but also a place of great beauty, waterfalls, and a birch forest. You can't and shouldn't miss it!
---
Geysir and Strokkur
GPS 64.3104° N, 20.3024° W
Geysers and hot springs are among Iceland's most remarkable features and with more than 700 such sources, there is no shortage of hot water. The heat which shoots up from the earth's molten core creates unique formations in a fascinating array of shapes and sizes one of them being the Haukadalur hot spring area, home to both Geysir and Strokkur geysers.
The most famous Icelandic geyser is the Great Geysir, the king of all geysers, and the word geyser in the English language is taken from this particular geyser. The name Geysir originates from the Icelandic verb að geysa or to gush and is very fitting as the Great Geysir has at some point in time spouted up to about 170 meters (557.743 ft). Today Geysir has gone quiet but when it did it seems as if his baby brother, Strokkur, gained the power Geysir lost and now shots into the sky every four to ten minutes with great applause from the audience present.
---
Gullfoss
GPS POINTS N64° 19′ 38.220″ W20° 7′ 8.135″
Gullfoss or the Golden Falls is usually the last stop people make on the Golden Circle route. It is a stunning and powerful waterfall located in the glacial river Hvítá which originates in Langjökull Iceland's second largest glacier and is a true totem of Iceland as it is one of Iceland's best-known landmarks. In early 190 the plan was to turn it into a power plant but with the resilient fight of a local farmer's daughter Sigríður Tómasdóttir the plans ended up not going through. For this, we are eternally thankful as the mesmerizing two story drop fall entertains and truly takes the breath away from anyone who visits.
About one kilometer above Gullfoss waterfall the Hvítá river makes a sharp turn to the right and then flows down going into an extremely wide curved three-story gorge that then abruptly plunges into a much higher two-story valley that is the home to the actual waterfall. The first drop is 11 meters (36 ft) and the second is 21 meters (69 ft) making the waterfall exceptionally impressive. The average volume of water falling down the waterfall is 140 cubic meters (4,900 cu ft) per second in the summer and 80 cubic meters (2,800 cu ft) per second in the winter. The greatest flood ever to be measured contained was 2,000 cubic meters (71,000 cu ft) per second.
---
Golden Circle Winter vs. Summer
The Golden Circe is easily doable all year around. The distance from Reykjavík to the first stop from is only about 45 minutes meaning you will not be going far into the highlands and that the roads are quite good.
In the summertime, the roads are all clear and you can expect to see young lambs and ponies playing in the farm fields surrounding the stops. The grass is beautifully green and yellow flowers grown all around. The steam from the hot springs surrounding the area is bustling and more options are to add adventure tours to the Golden Circle experience such as River Jet or River Rafting.
In wintertime, you might have a harder time driving on the roads around the Golden Circle as they can get slippery, but the area surrounding the Golden Circle is a true winter wonderland with snow-covered grounds, furry Icelandic horses and the arctic fox scoping around. The overall look is like something out of a Christmas card and you come to see why we named it Ice-land.
The look of the circle is very different depending on the season and many have described it as two very different planets. You simply must experience both!
---
FAQ about the Golden Circle
How long does the Golden Circle tour take?


This will always depend on the weather, if you are looking to do additional activities, and where you are planning to end up (in Reykjavík or at another location). The standard Golden Circle route from Reykjavík and back with a good stop at each location will take about 6 hours.

 Can you do the Golden Circle in a day?


Yes absolutely, even with an added activity such as

snowmobiling

on a glacier or

whale watching

you have plenty of time to do the Golden Circle in one day.

Are there any other Circle tours in Iceland?


Yes, there are! The

Silver Circle

sends you off exploring Borgarfjörður and includes stops like Deildartunguhver hot spring, Hraunfossar & Barnafoss waterfalls, Krauma Geothermal baths and Reykholt. Another circle is the

Diamond Circle

situated in the North and includes stops like

Lake Mývatn

, Dettifoss waterfall,

Ásbyrgi,

and Húsavík.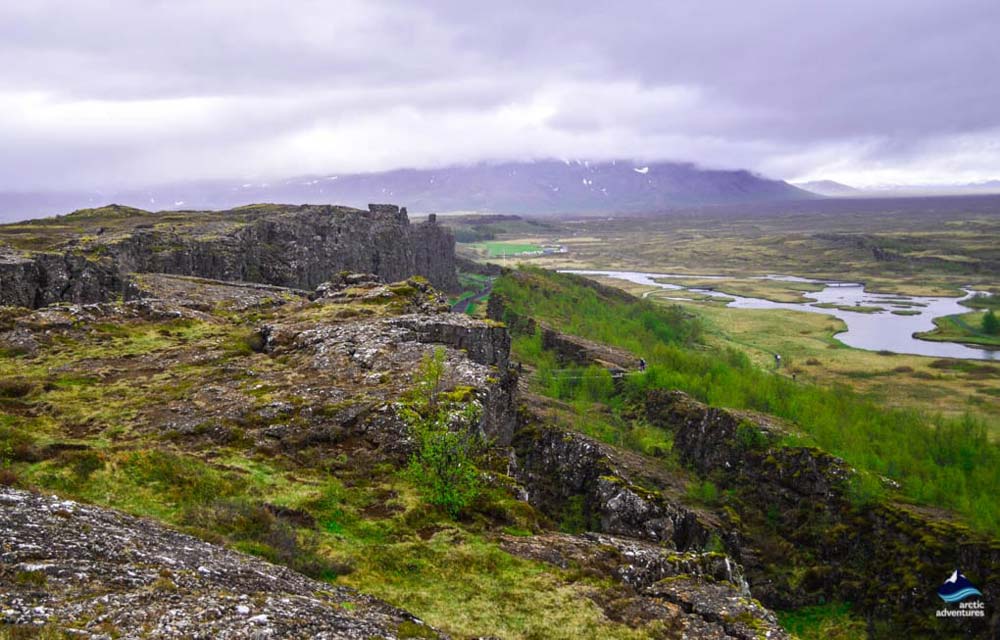 ---
Which Golden Circle Tour is the best for me?
Are you a/an…
---
Where to eat on the Golden Circle?
We will, of course, recommend joining the Golden Circle and Local Food tour, which will take you to all the stops on the standard Golden Circle all whilst keeping you full and satiated with yummy meals and bites. The tour takes you on an epic foodie ride – giving you a taste of some of Iceland's best dishes! – But if you aren't looking to join a tour we will still list out our favorite stops for lunch on the Golden Circle.
Friðheimar Tomato Farm

for some tomato soup and an authentic experience

Efstidalur II

for some homemade dairy deliciousness

Hérðasskólinn Restaurant and Bistro

for some old school feel and yummy food

Laugarvatn Fontana Spa

has a lovely restaurant for you to enjoy – fresh and healthy

The Gullfoss café

for some Icelandic lamb meat soup and a warm cup of coffee

Minilik Ethiopian Restaurant

for a step into a whole different culture

Þrastarlundur

for excellent brunch or pizzas

Restaurant Mika

for a great variety of tasty plates
---
Where to stay along the Golden Circle route?
The Golden Circle, being one of the more popular routes to take in Iceland has plenty of accommodation options for you to enjoy, anything from hotels to hostels to cabins and cottages. Here we will list out the ones with the highest rating:
Hotels:
Ion Hotel

Hotel Geysir

Litli Geysir Hotel

Hotel Gullfoss

Mengi Kjarnholt

Borealis Hotel

Hotel Úlfljótsvatn

Hotel Edda Laugarvatn
Hostels:
Skjól

Gljásteinn Skálinn Hostel

Ljósafossskóli Hostel

Hérðsskóli Boutique Hostel

Laugarvatn HI Hostel
Guesthouses:
Geysir Hestar

Jaðar – The Old House

Mengi Kjarnholt

Efstidalur II

Secret Seed

Galleri Laugarvatn
Cabins and Cottages:
Thingvellir Lake Cottage

Geysir Cottage

Geysir Hestar

Úthlíð Cottages

Eyjasol Cottages

Sacred Seed

Árbakki Farmhouse Lodge

Vað Holiday Home

Golden Circle Hot Tub Cabin
Camping in the Golden Circle
Thingvellir offers two camping grounds. One at Leirar which is divided into 4 different ones and the one at Vatnskot. The facilities include Wcs, a BBQ, showers, washers, and dryers (800 ISK).
The price is 1600 ISK per adult per night.

Open from the 1st of June until the 1st of September.
Geysir Camping Ground is within a walking distance from great Geysir. Facilities on site include showers (500 ISK), WCs, access to electricity (900 ISK), washing machines, WIFI, a golf course, and a playground.
The price is 1800 ISK per adult per night.

Open from the 15th of May until the 15th of September.
Skjól Camping Ground is located in between Gullfoss and Geysir.  Their facilities include a restaurant, showers, WCs, WIFI, washers (400 ISK), access to electricity (900 ISK), a restaurant, a golf course, and walking paths.
The price is 1200 ISK per adult per night.

Open all year round.
Faxi Camping Ground is a quiet and beautiful location next to the waterfall Faxi. The facilities include cooking facilities, electricity (1200 ISK), WCs, showers, a swimming pool, a restaurant, and walking paths.
The price is 1200 ISk per adult per night.

Open from the 15th of May

until the

30th of September.
Úthlíð Camping Ground a campsite very near Geysir. Facilities include cooking stations, WCs, showers, electricity (1000 ISK), a golf course, playground, and a swimming pool.
The price is 1500 ISK per adult per night.

Open from May to September but all year round for campers.
---
Map of the Golden Circle
---
Interesting places near the Golden Circle
Kiðjabergsvöllur Gold Course
Langjökull Glacier

Faxi waterfall

The Secret Lagoon, Iceland's oldest swimming pool

Drumbó, River Base offering

River Rafting

and

River Jet Tours

Efstidalur II farm

Skálholt Church

Árgil Waterfall Gully

Slakki Zoo

Flúðir Geothermal Village

Farmers' Market – Garðyrkjustöðin Engi

Sólheimar Eco Village

Úthlíðarlaug Swimming Pool