About Snæfellsnes
Also known as "Iceland in Miniature," Snæfellsnes gathers the best of Iceland in one place: glaciers, volcanoes, lava tubes, waterfalls, and beaches. Snæfellsnes Peninsula is also home to rustic fishing villages, the perfect places to unplug from modern life.
What makes Snæfellsnes really stand out is the celebrated Snæfellsjökull Glacier, immortalized in Jules Verne's Journey to the Center of the Earth.
Read on to find out more about this impressive arm of the Icelandic West Coast.
Snæfellsnes Peninsula Map
Located in West Iceland, Snæfellsnes is just 2 hours drive from Reykjavik.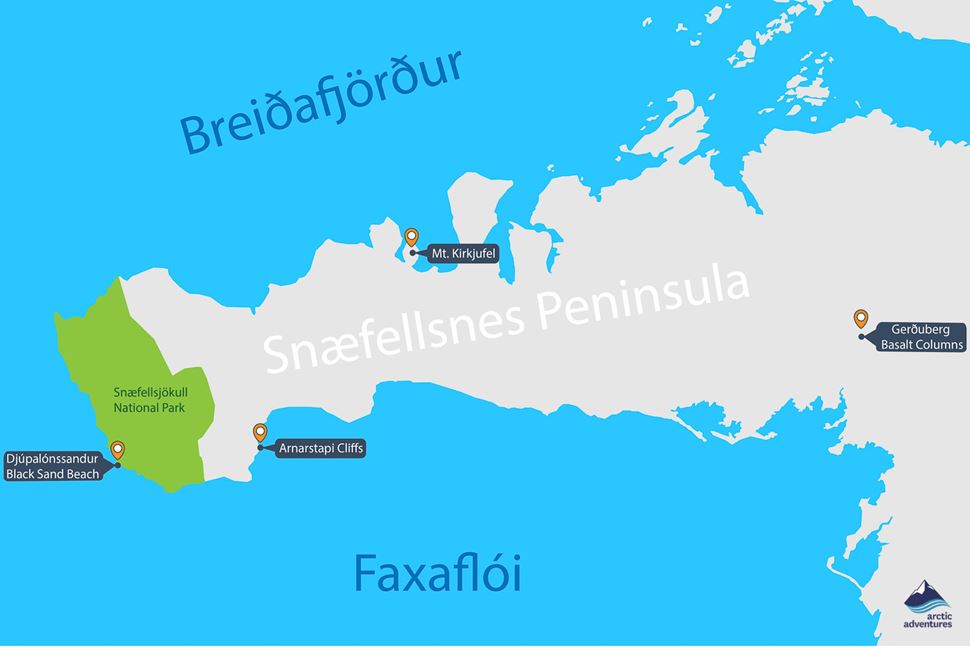 Snæfellsnes Peninsula Must-See Sights
Ready yourself for awe-striking mountains, odd rock formations, and wild beaches on your Snæfellsnes trip. Discover the top places we visit on our Snæfellsnes Peninsula tours below.
Kirkjufell Mountain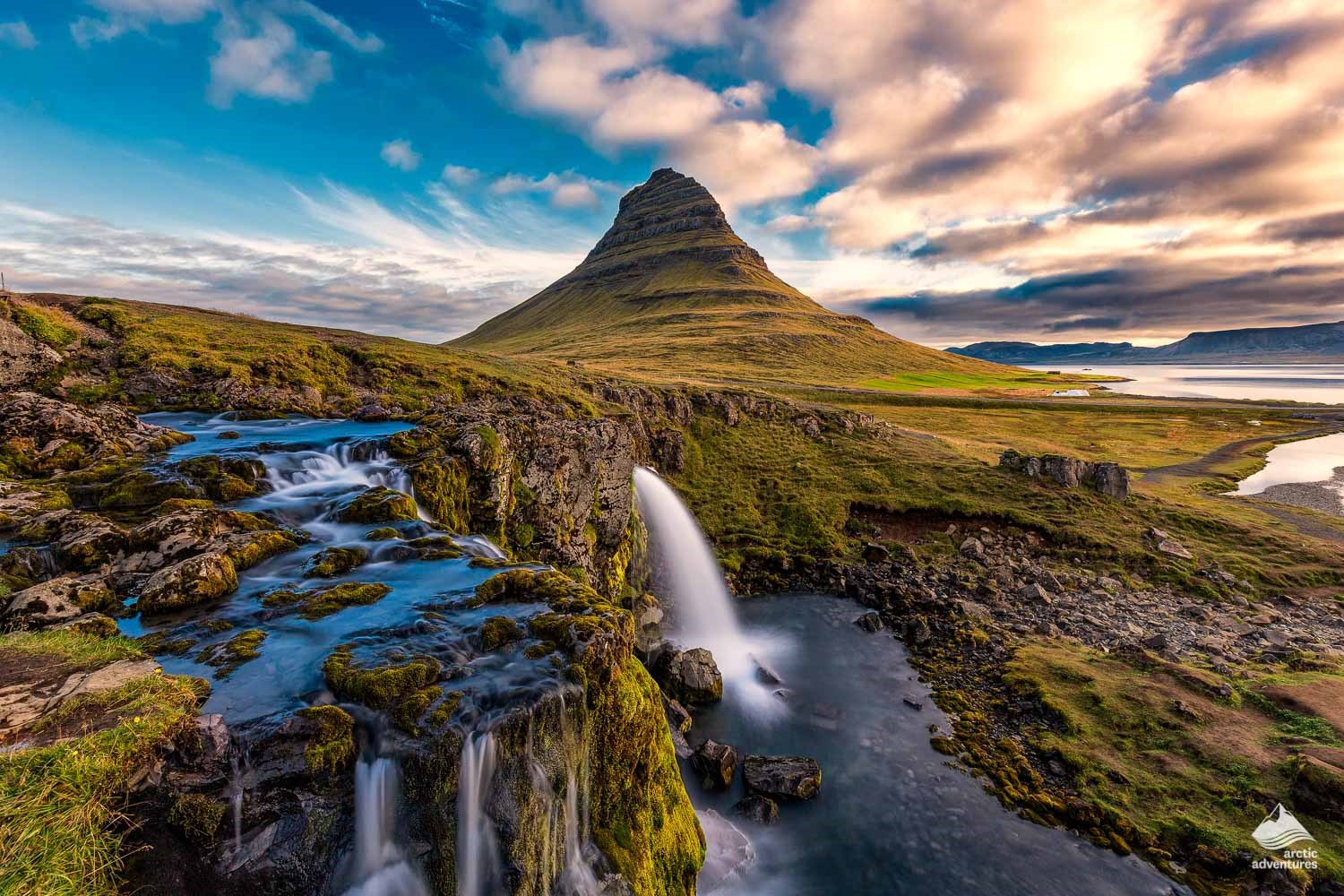 Mt. Kirkjufell is easily the most photographed spot in Iceland, and for good reason. The cone-shaped mountain will amaze even the pickiest Instagrammer. Also known as "Church Mountain," Kirkjufell is named for its striking resemblance to a church steeple.
The imposing peak stands 463 m (1519 ft) tall above the picturesque town of Grundarfjörður.
Game of Thrones fans will want to bring their best cameras! The popular TV show boosted Kirkjufell's popularity as it stood in for Arrowhead Mountain. The best viewpoint of the peak features the three cascades of Kirkjufellsfoss Waterfall in the background. You've never seen such striking scenery before.
Soak up the majesty of Kirkjufell for yourself on our bestselling Snæfellsnes Peninsula & Kirkjufell Small Group Tour.
Djúpalónssandur Black Sand Beach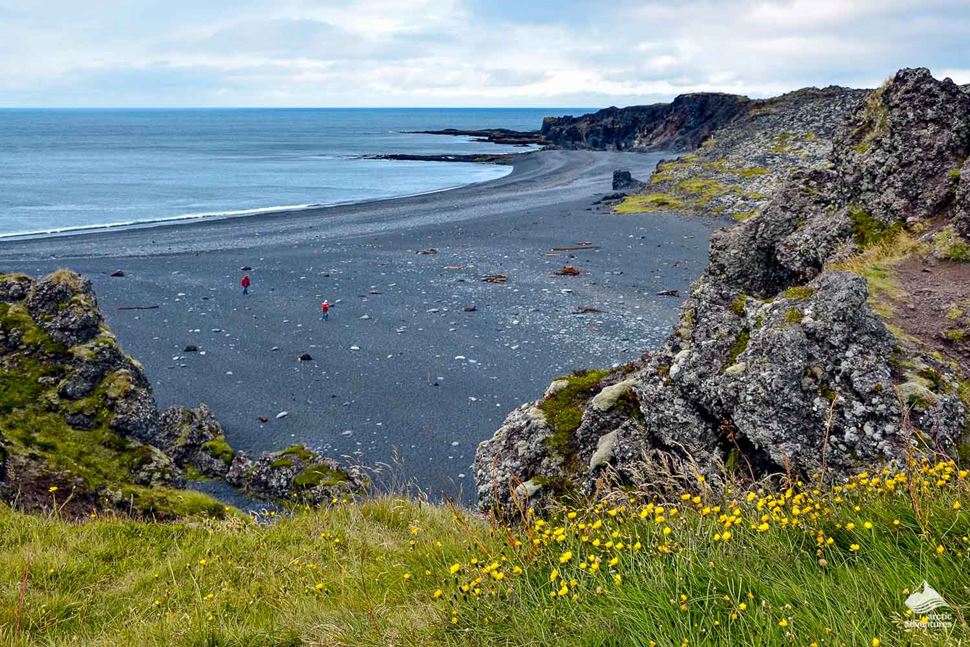 If you seek unspoiled beaches, head to Djúpalónssandur for the most beautiful coastal views you've ever seen. The black pebble beach is dotted with curious dark rock formations. Don't miss out on four ancient lifting stones once used to test the strength of fishermen.
Some parts of Djúpalónssandur are covered with pieces of rusty metal from an English shipwrecked here in 1948.
Get your fill of this wild beach on our Snaefellsnes Peninsula Full-Day Tour from Reykjavik.
Snæfellsjökull National Park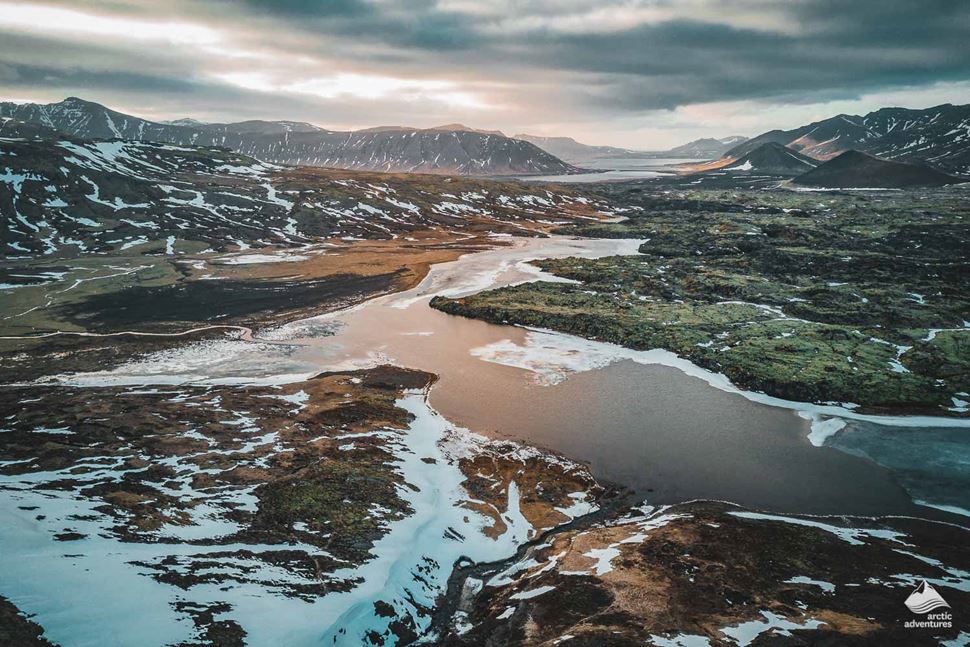 Established in 2001, Snæfellsjökull National Park is worthy of every traveler's attention. The national park protects Sneafellsjökull Glacier, the main highlight of the peninsula. The ice cap covers a dormant volcano and dominates most western Iceland landscapes.
Located on the western part of Snæfellsnes Peninsula, the park is also home to some of the most beautiful hiking trails in the country. The park features lava fields and a coastline rich in birdlife. Come here to be wowed by volcanic craters, lava caves, and squawking seabirds.
Interesting fact: While some people believe that Sneafellsjökull Glacier is one of the world's seven energy centers, Jules Verne used the ice cap as the doorway to the center of the earth in his famous novel.
Gerðuberg Basalt Columns
Chances are you haven't heard of the Gerðuberg Basalt Columns, but they actually have a big claim to fame. These dramatic basalt columns feature seemingly perfect hexagonal forms. Such geological formations are very rare throughout the world, let alone in Iceland.
Gerðuberg was formed by flowing lava that was gradually cooled by ocean water. The row of basal columns is about 500-m (1640 ft) long and each column is about 14-m (46-ft) high.
The view of these majestic towers (not to mention their size) will leave you breathless.
Arnarstapi Cliffs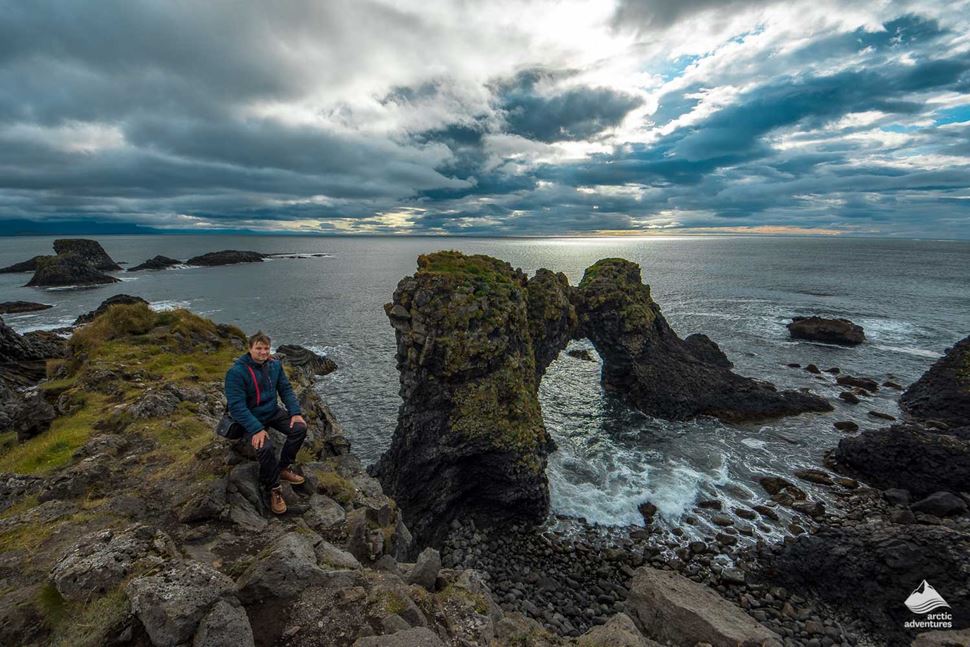 Did you really visit Snæfellsnes Peninsula if you didn't take a coastal walk through one of its fishing villages? The charming village of Arnarstapi is the best place to do so.
Arnarstapi offers peaceful trails along the coastline, rewarding visitors with jaw-dropping cliffs and lava formations. Go for a slow stroll and take a break from the pace of modern life.
The most noteworthy attraction is Miðgjá stone bridge, a natural arch off the shore.
We visit Arnarstapi on most guided Snæfellsnes Peninsula tours.
Things to Do in Snæfellsnes Peninsula
From hiking a glacier to seeing a whale breach, incredible moments are in store on our tours of Snæfellsnes Peninsula.
Glacier Hiking
Thrill-seekers can enjoy landscapes of Snæfellsnes Peninsula with a glacier hike. The best place to trevasse the ice is at the mighty Snæfellsjökull Glacier, which is visible as far away as Reykjavik.
If you seek extraordinary experiences, the hike to the top of Snæfellsjökull is for you. This 700,00-year-old ice cap rises 1,446 m (4,744 ft) above black lava fields. Just prepare to put in extra effort: the hike is challenging and requires good preparation. But what is that extra mile compared to epic views over Snæfellsnes Peninsula?
Snæfellsjökull is the spot where Jules Verne's journey to the center of the earth starts. Ascending this celebrated ice cap is the greatest adventure you haven't yet experienced.
For more hike details, check out our Snaefellsjokull Glacier Hike.
Whale Watching
Want to see whales in their natural habitat? Live out your dreams with the help of our expert wildlife tour guides in Snæfellsnes Peninsula's waters, one of the best places on earth to spot orcas.
Winter boat tours are recommended to see orcas, or killer whales, one of the most intelligent animals on the planet. If you come in winter, you might catch a glimpse of the Northern Lights as well!
Though orcas are the celebrities of Snæfellsnes's coastline, close encounters with humpback whales, sperm whales, and pilot whales are also possible. Expect no shortage of marine life entertainment!
We operate whale watching tours from the fishing town of Olafsvik from April to October. Orca tours depart from Grundarfjordur Fjord from December to March.
Kayaking
What could be more relaxing than paddling through calm waters beneath Iceland's Kirkjufell Mountain? Nothing, according to the guides who lead our kayaking trips.
On your kayaking adventure under Mt. Kirkjufell, explore the serene Grundarfjordur Fjord rich in wildlife. As you kayak across the fjord, take in the natural beauty of Kirkjufell and keep your eyes peeled for playful seals and seabirds patrolling the skies.
Hands down, this kayaking journey has everything to make your trip to Snæfellsnes Peninsula unforgettable!
Lava Caving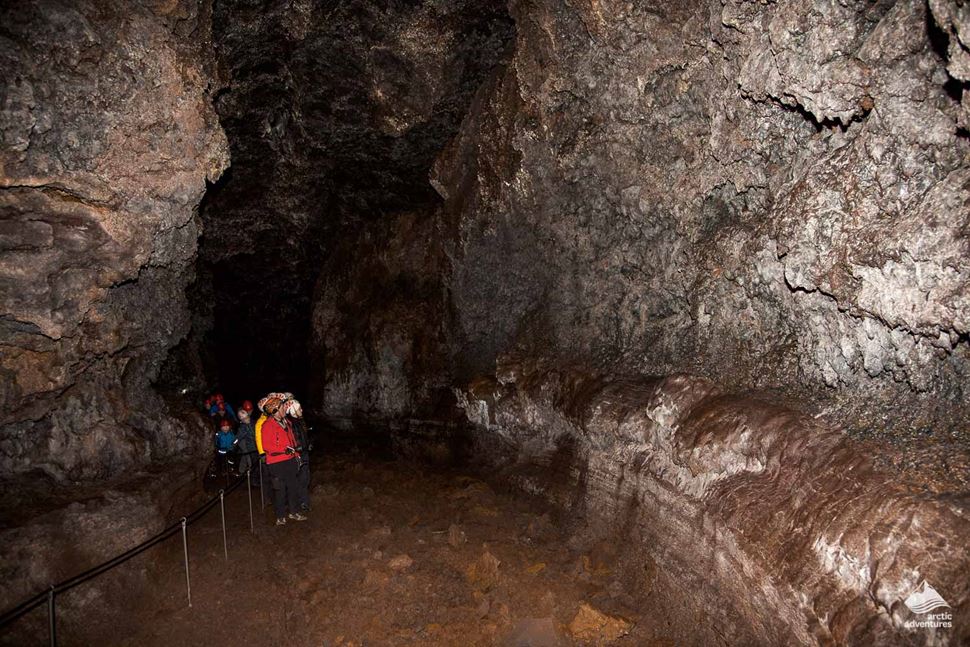 Are you into caving? Do you love exploring worlds covered in darkness? Then your trip to Snæfellsnes Peninsula needs to include a stop to explore Vatnshellir Lava Cave. 
This lava tube cave is around 8,000 years old and lies 32 m (105 ft) below the Earth's surface. 
Equipped with flashlights and helmets, venture into this mysterious underworld. We look forward to sharing it with you on our Snæfellsnes Peninsula day trip from Reykjavik.