The best place to explore in Iceland is the outdoors. The fascinating geology of the country has created landscapes as varied as they come, from mountains to glaciers, volcanoes to ice caves. You can tick several items off your bucket list in just 1 day! But if you're heading to several awe-inspiring destinations in Iceland, on a multi-day tour, for example, the chances are you'll need the gear that can keep up.
Whether you're planning on an action-packed time or are dreaming of a hike through the colorful Icelandic Highlands, your safety is key. And you should never underestimate the power of good hiking boots. You need the support and stability to allow you to explore as far as you want but need footwear that is light enough to not weigh you down.
We know the world of hiking products is vast and often confusing! So we've collected a list of our top recommended hiking boots for you to include on your Iceland packing list.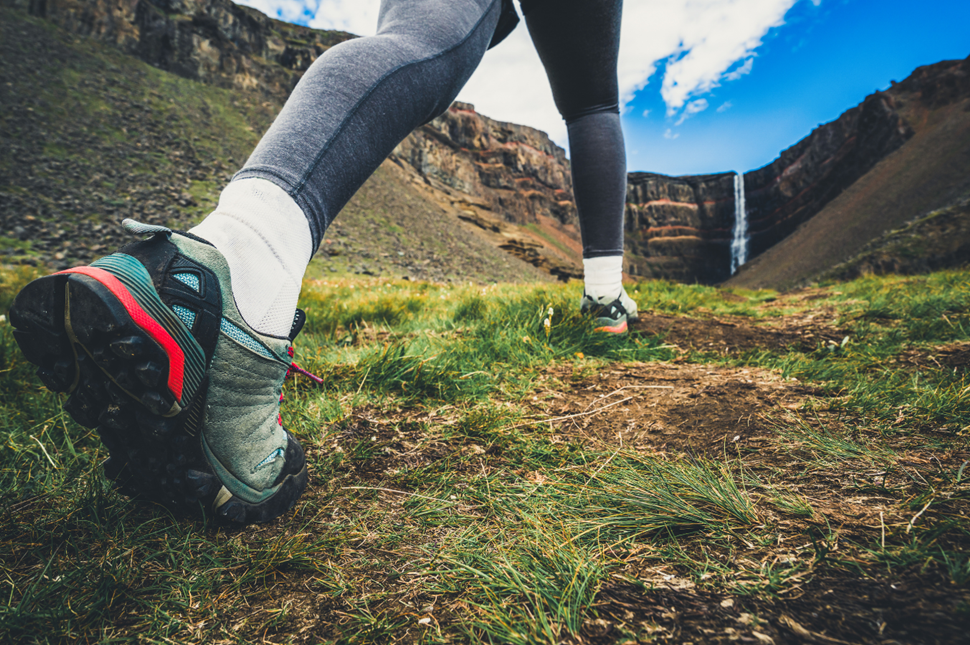 Choosing the Best Boots for Iceland
Deciding on the right hiking boots for you depends on a variety of factors. The most important factor is comfort, and it's suggested that you break in the boots that you plan to take to Iceland. The worst possible situation would be to fork out on top-quality products for them to cause you painful blisters during your trip! Here's what to look out for.
Comfort:

As mentioned before, your boots should be comfortable. Sometimes it will take a few wears for the boot's pinches and rubs to make themselves known, so it's best to put them to the test before taking them on holiday with you.




Support:

The support around your ankle is essential, particularly for difficult terrain. This will stop your ankle from rolling and any injuries that come with it. You'll need to choose between low, mid and high-cut boots, with varying degrees of ankle support and comfort.




Waterproofing:

This factor may depend on when you plan to visit Iceland and the activities you will undertake. But any chance of rain or walking on ice or snow means that some level of waterproofing is recommended to keep your feet warm and dry.




Weight:

When packing a suitcase, you don't want your walking boots to take up all your weight allowance. And you also don't want your hike to be made more difficult with heavy shoes. A boot that is as light as possible is usually the best bet here.
Sizing:  While ordering online is fine, it may be best going into an outdoor clothing store to understand how your boots should fit and what size you may need. Some stores may even have tester terrain to see if your feet will move around in your boots, causing blisters and discomfort. What's more, you should be wearing the right hiking socks with your boots!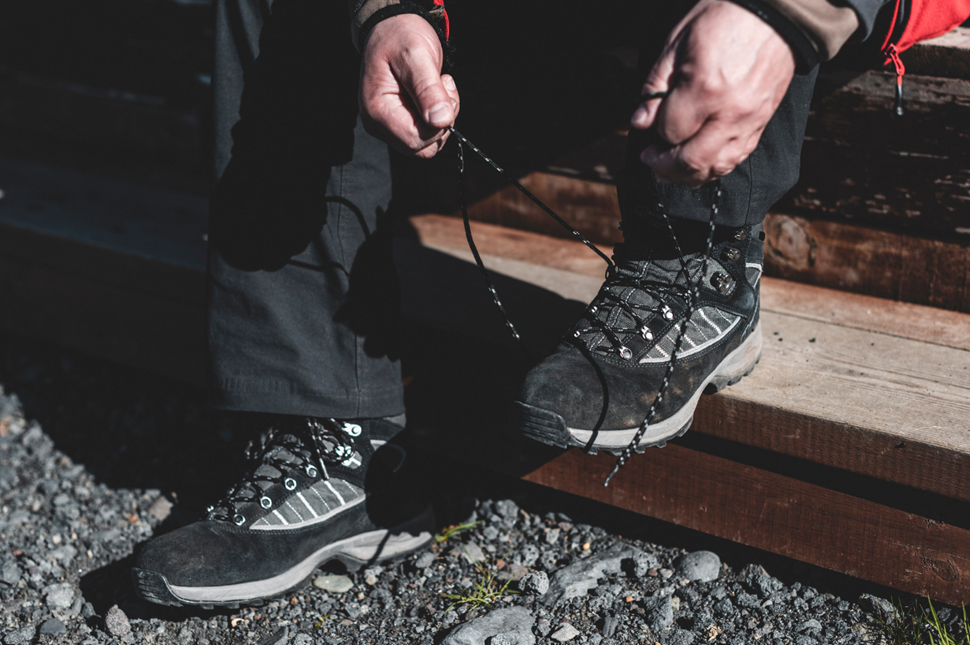 Our Top Hiking Boots for Icelandic Adventure
Here are our favorite choices for hiking boots for a variety of terrains - make sure you research to find the best options for your specific requirements!
1. Salomon Quest 4D 3 GTX
Mid-cut / $$$
Salomon boots are some of the best in the business, so if you're happy to fork out the money, they won't let you down. The Gore-Tex membrane will keep your feet warm in almost any weather conditions, while also letting them breathe when you're tackling challenging terrain. They're weatherproof, stable, and durable, and also available in several different designs for women and men. If you're only embarking on some light trails, these boots may be a little too overkill and expensive for your needs.
2. Arc'teryx Bora Mid GTX
Mid Cut / $$$
Another high-performer, the Arc'teryx Bora is a little different to the others in this list. With a removable inner Gore-Tex liner designed for added warmth,  the traction that the boot offers is excellent. When tackling rocky terrain in Iceland's Highlands, this hiking boot will offer premium support and stability for peace of mind. However, the liner offers little in the way of breathability, and the weight is another downside of the Bora Mid GTX. While good in cold temperatures, warmer days may leave your feet too hot and clammy for your explorations.
3. Asolo Falcon GV
Mid Cut / $$$
For light hiking trails in the summer months, the Asolo Falcon is a solid hiking boot. The levels of support and warmth are slightly lower than others on our list, but this is expected of the slightly lighter boot. The Gore-Tex lining helps to keep your feet warm and dry while also allowing them to breathe. The sole offers great grip for tackling tricky trails and is also designed to prevent mud build-up.
4. The North Face Hedgehog Fastpack GTX
Low Cut / $$
This walking shoe is a slightly more affordable option for those not heading onto tricky terrain during their time in Iceland. This is a particular favorite for hikers with flatter feet, with very little in the way of arch support. The Hedgehog is a light, waterproof (thanks to a Gore-Tex liner) option, but don't expect too much in the way of ankle support.
5. Hoka Sky Kaha GTX
Mid Cut / $$
The Sky Kaha GTX is famously a luxurious walking boot. If comfort is a huge priority, these are an excellent option to tackle non-challenging terrain. The wearability makes them superb for varied lengths of trail, perfect for multi-day treks in the Highlands for example. If you're planning to stick to the beaten track, the Sky Kaha might be worth the money!
6. Salewa Alp Trainer Mid GTX
Mid Cut / $$$
If you're getting up close and personal with Iceland's terrain, or planning to scramble to find some unique views, then this is a reliable and supportive boot. The boot is light and supportive, and the Gore-Tex liner and suede fabric repel mud and water while keeping your feet cool. Variable terrain, steep tracks and tricky conditions are all easily traversed with the Salewa Alp Trainer - if you want to fork out on the relatively large price tag.
7. Keen Targhee III Mid WP
Mid Cut / $$
Day hikers of all kinds have enjoyed the comfort the Keen Targhee provides. While offering the comfort normally associated with a trainer, the boot is waterproof and flexible. The lower price tag gets you a little less support than more premium competitors, but for day hikes across Iceland's trails, the boot should stand up well. If you're carrying heavy packs, you might want to look for a more supportive model.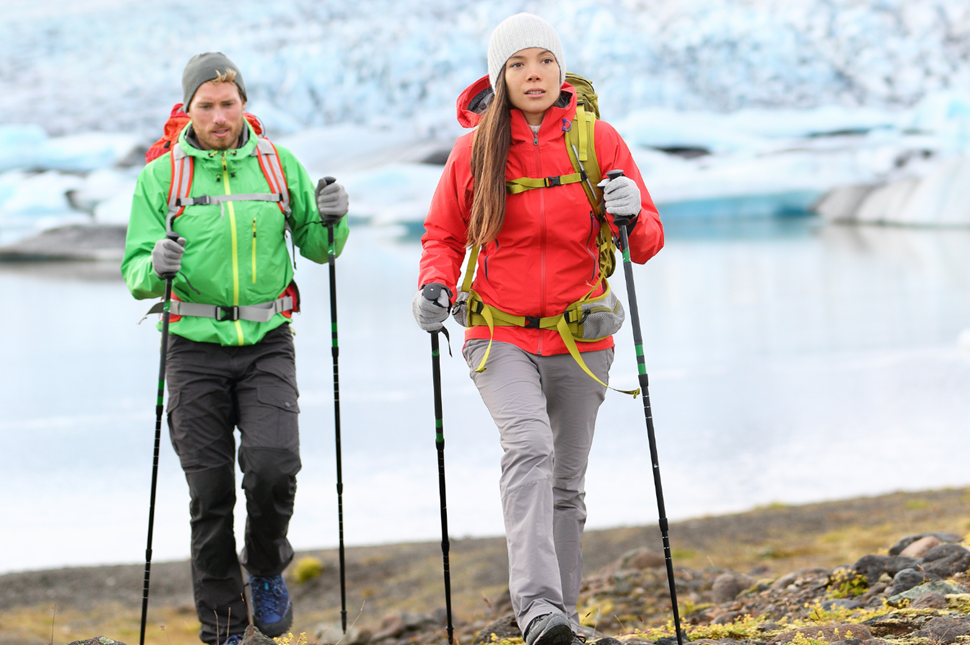 8. Merrell Moab 2 Mid Waterproof
Mid Cut / $$
Even when considering the lower price tag of the Merrell Moab boot, this is a great hiking option if you're planning on tackling a variety of terrains. With a Gore-Tex liner, you'll be kept dry in rain or when crossing low rivers, and the boot offers immediate comfort to its wearer. Once again considering its lower price tag, it performs well across the board for support and comfort. However, in warmer temperatures, more breathability may be required.
We hope we've given you a place to start when it comes to choosing the right footwear to pack in Iceland. Each of our tours suggests the kind of footwear that you should bring so you can start preparing for your hike or trek. What's more, we offer a range of difficulties when it comes to our hiking tours. That means that you can start with what you have and still see the best of what Iceland has to offer.