Explore Dimmuborgir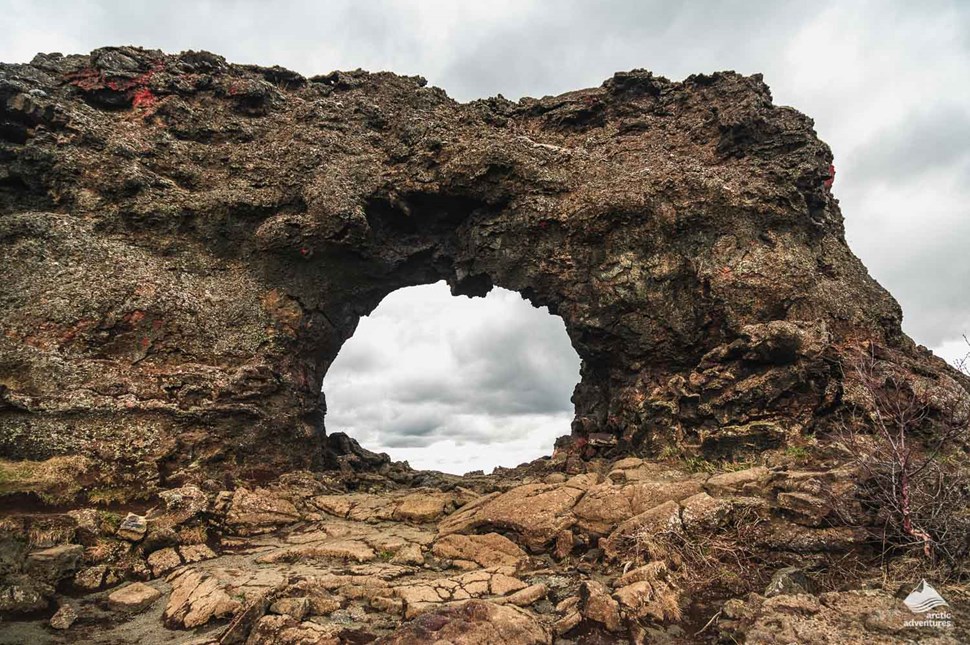 Dimmuborgir lava park formed in the same eruption as Lake Mývatn's bottom when Laxárhraun yngra came up. It is somewhat of a circle-shaped lava arch with a diameter of about 2 km (1,2mi). The arch is highest in its center about rising about 20 meters (65,6 ft).
Inside the arch, you will find alluring flora including a small birch forest that makes the scenery even more stunning. The area is also home to many lava caves and rock formations making the place a favorite.
Dimmuborgir has some man-made walking paths so you can easily get around to explore the location.
Visit Hverfjall Volcanic Crater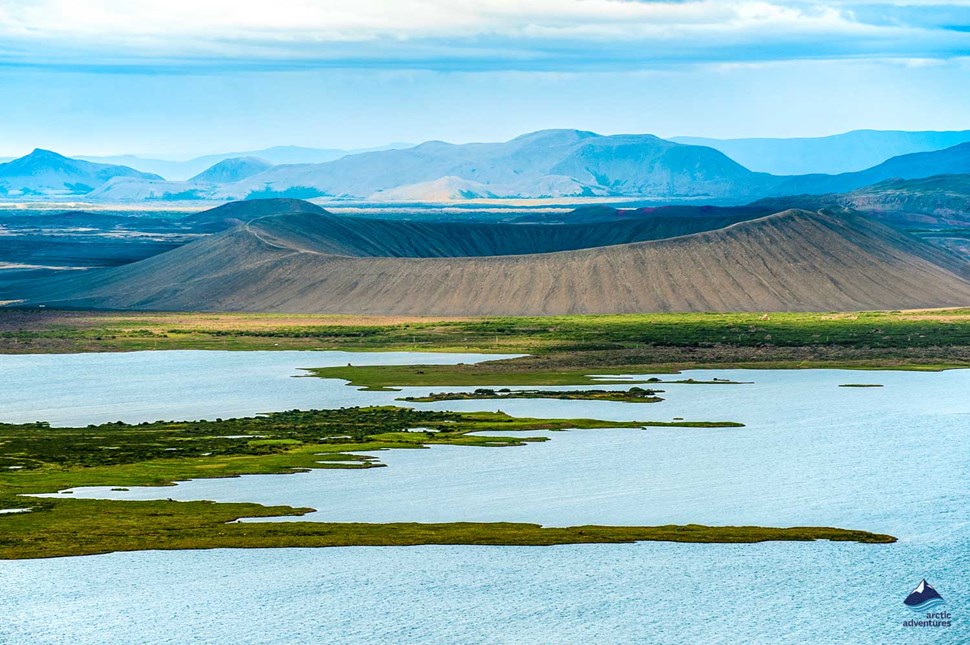 Hverfjall Volcanic crater is an outstanding beauty spot to visit within the Lake Myvatn area. The name, Hverfjall, would roughly be translated Geyser Mountain but the word Hver means Geyser in most areas in Iceland.
Still, It is important to note that in this specific region of Northern Iceland the word Hver was, in the ancient times, used for Craters so the name is better translated Crater Mountain, which is very fitting as this mountain is actually a crater, not a geyser.
The crater was formed after the last ice age in an explosive eruption about 2500 year ago. The eruption lasted 1-2 days and the content of the eruption stacked up around the open crater creating somewhat of a sand dune bowl.
The crater is today still quite large in size about 1040 sqm and 150 meters high. The black Hverfjall is a sight not to be missed!
Enjoy the Námaskarð / Hverir Geothermal Area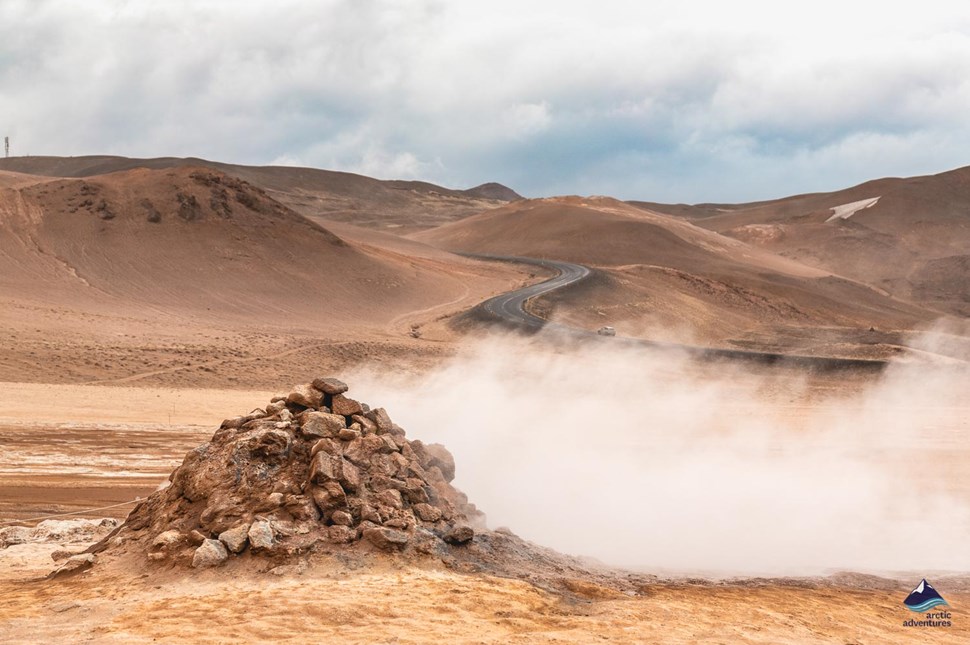 The Námaskarð mud pools also known by the name Hverir Geothermal Area is a picturesque steam-filled location near Mývatn. The expanse of hot springs, mud pools, mud pots, and brimming fumaroles is endless and the natural energy is relentless.
The area is a colorful and stunning location for all nature enthusiast and truly gives you an idea of the power within Iceland's grounds. Even on the coldest of the Winter day, some parts of the ground will stay snow-free due to the sheer warmness of the terrain.
Note, going past lines or marked areas is strictly forbidden as the muddy grounds can be very thin and hide the dangerous burning springs right under.
Lake Myvatn in Winter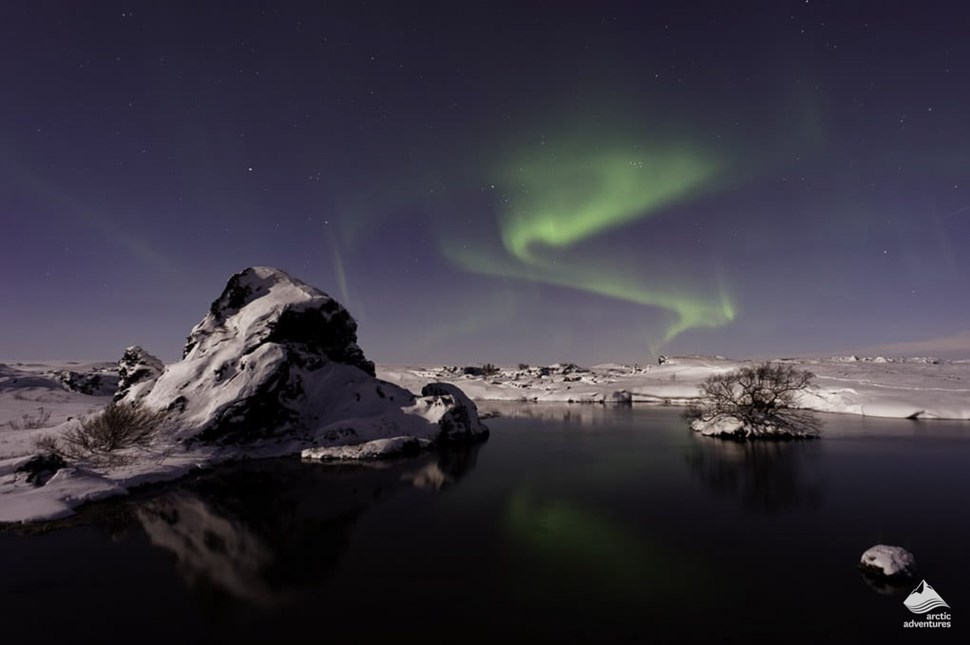 The Mývatn Geothermal Area is an incredible place to visit in Winter. Imagine snowy hills and steam coming up in between, pitch-black lava fields and volcanic craters sitting beside multicolored rhyolite pools with icy scapes in between.
This is where you truly feel the ice and the fire meet and where you get in contact with the spirit of Iceland's natural force. Whether it is taking a bath in the Mývatn Nature baths, exploring the pseudocraters of Skútustaðagígar, or exploring the geothermal paradise of Námaskarð, you are sure to be amazed.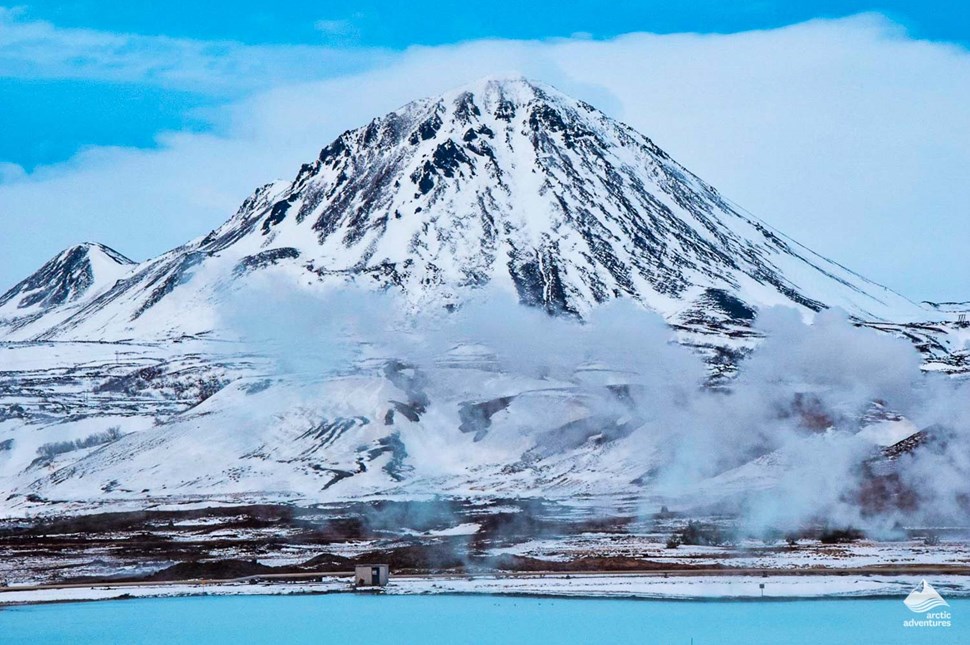 Still, you will need to be better prepare a for winter travels around Lake Mývatn than in Summer, check road.is for road conditions and vedur.is for the weather. If you are used to driving in full winter mode or if you aren't and want to join a guided tour, winter shouldn't stop you – go explore!
Accommodation and Hotels Near Lake Myvatn
Hotels
Laxá Hotel

Hotel Mývatn

Vogafjos Farm Resort

Icelandair Hotel Myvatn

Hotel Reykjahlid

Fosshotel Myvatn
Hostels
Guesthouses and B&B
Cabins and Cottages
Camping near Lake Mývatn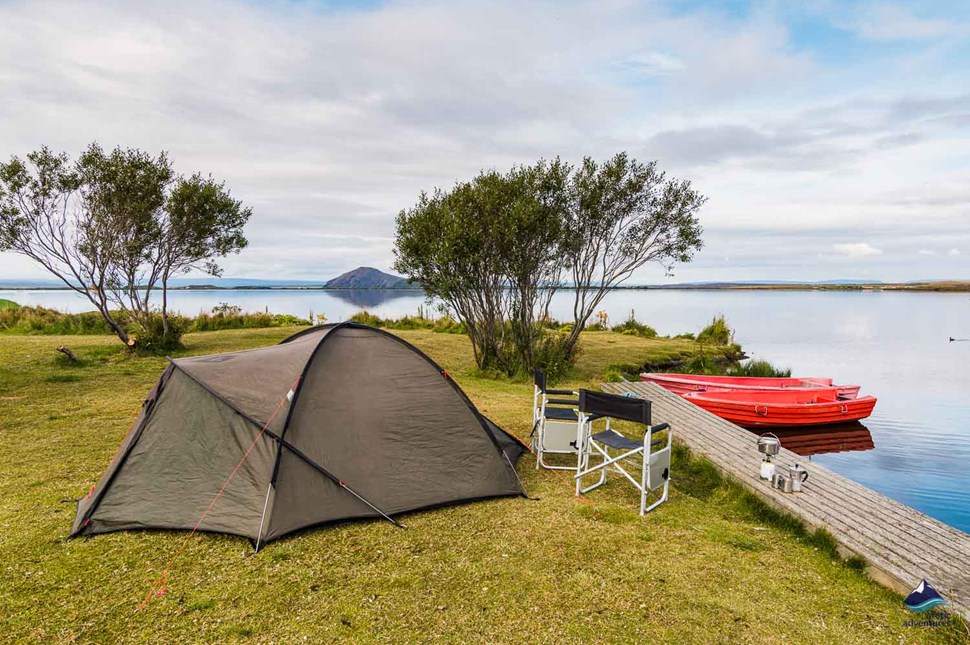 Hlíð camping ground is conveniently located on the northern side of lake Mývatn, right by the village Reykjahlid and only 5 minutes walk away from the tourist information center, supermarket, and café. The view from the camping ground over the lake and lava field is exquisite.
Open:
All Year Round
Services on site:
WC

Showers

Hot and Cold running water

Electricity

Laundry Service

Cooking tent if the weather gets bad

Playground
Bjarg camping ground is smaller but has an equally stunning view over the lake.
Open:
1st of May – 20th of September
Services on site:
WC

Showers

Hot and Cold running water

Electricity

Cooking facilities

Discounts on the nearby activities

Laundry Service

Bike Rental

Souvenir Shop
Please note that it is forbidden to stay overnight in a car or camp anywhere outside of the designated campsites.
Movies, TV Shows or Music Videos filmed in Lake Myvatn area
Game of Thrones Filming Locations Near Mývatn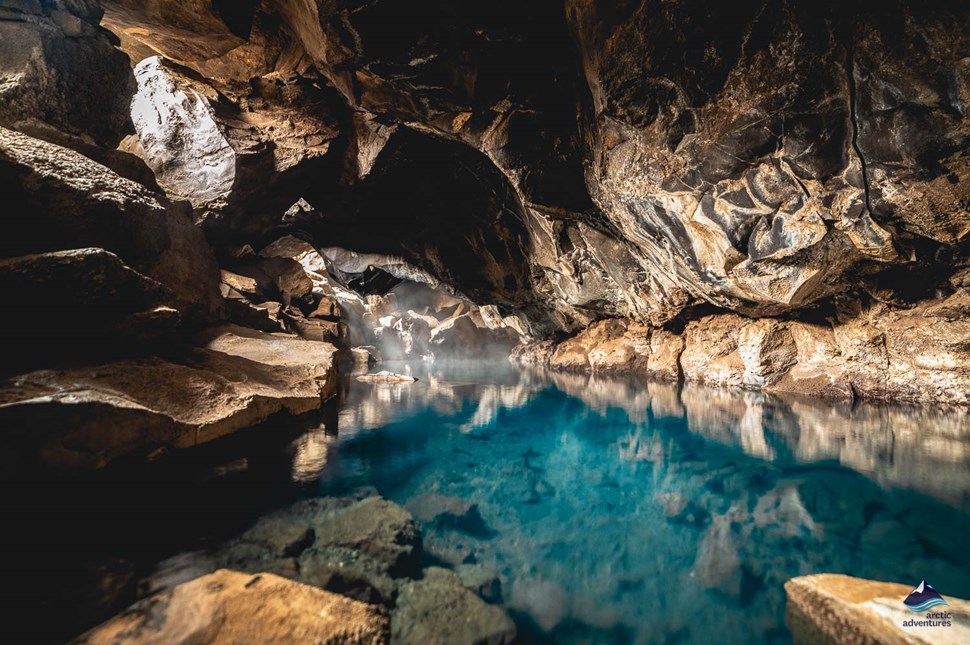 Grjótagjá Hot Springs and Cave is where the famous sex scene with John Snow and Ygritte was partially filmed but the rest was filmed in a studio as the fumes inside the cave were disrupting the cameras.
Another famous scene is in season three where Mance's Rayder's wildling army camp was built on a frozen lava field. This place is actually Dimmuborgir located very near Lake Mývatn.
The area was used again in the filming of the scene where Samwell Tarly and Lord Commander Mormont are attacked by White Walkers.
Interesting places near Lake Myvatn
Reykjahlíð

Mt. Hverfjall

The Bird Museum – Fuglasafn Sigurgeirs

Mt. Vindbelgjarfjall

Skútustaðagígar Pseudo Craters

Dimmuborgir Lava Park

Lofthellir Lava Cave

Dettifoss

Waterfall

 the most powerful waterfall in Europe

Hljóðaklettar Cliffs

The Beer Baths at 

Arskogssandur