---
---
Lake Mývatn and its surrounding wonders often referred to as the Myvatn Geothermal area are a part of the Diamond Circle in North East Iceland. The lake and its neighboring wetlands are protected as a nature reserve and are highly cared for by locals.
The idyllic blue lakes and hot pools, sandy mountains, volcanic craters, and colorful mud pools make up the most incredible setting and many describe the area as being otherworldly – "like something for outer space".
It isn't a place of many trees nor is it a place of glaciers. This part of Iceland is captivated by the geothermal force and the land shows a clear sign of all the volcanic activity that has taken place there in the last centuries.
The colors found in the area are in extreme contrast with the pitch black lava fields and mountains all around. The rhyolite red and purple mud pools at Námaskarð and the azure blue waters of lake Mývatn are spellbinding and seem to come from out of nowhere into the fairytale land of Mývatn.
The Mývatn geothermal area has so much to offer when it comes to sights and attractions and here we will go over the must-sees and tips to improve your travel in the area.
---
Lake Mývatn
The water in Lake Myvatn has a particularly high level of biological activity due to the very high levels of nitrogen, phosphorus, and other nutrients. This has promoted an abundance of plants and algae, with the plants and algae doing battle to see which can become dominant!
This is an important bird protection area and many species of duck and other water birds can be seen here. One of the rarest and sought-after sightings would be of Flórgoði or e. Horned Grebe which during spring carry their babies on their backs around the lake.
Myvatn, in its current form, was created about 2000 years ago when a series of volcanic craters erupted in Þrenglaborgir and Ludentsborgir at a range of 12 km (7,4 mi). The lava field that came up during this eruption was named Laxárhraun yngra or Salmon-River-Lava-Field The Younger.
The lava field is about 220 sq km and is the biggest lava field from the beginning of the Mývatn county. Laxárhraun yngra forms the bottom of Lake Myvatn and stretches all the way down the valleys Laxárdalur and Aðaldalur, and down to the ocean at Skjálfandi.
Fun Fact: Lake Myvatn is the 4th largest lake in Iceland about 39 sq km but only about 4 meters (13 ft) deep at its deepest level.
---
The Diamond Circle
The Diamond Circle is the North's answer to the South's Golden Circle. This 260 km (161,5 mi) long sightseeing route is truly enchanting and is composed of Ásbyrgi the horse-shoe shaped canyon, Dettifoss Europe's most powerful waterfall, the fishing town of Húsavík and our beloved turquoise Lake Mývatn. These four attractions together form the Diamond Circle.
The Diamond Circle is great bucket list material for travels in the North of Iceland but doesn't overlook the other attractions. The North East is genuinely a captivating located to visit, with far fewer tourists and short distances between the sights it is sure to become popularity equal to the South Coast in only a few years.
---
Where is Lake Myvatn located?
GPS 65.6039° N, 16.9961° W
Lake Myvatn is located in North Iceland, 90 km (55 mi) from Akureyri, 175 km (108,7 mi) away from Egilsstaðir and 475.2 km (295 mi) from Reykjavík. It is easy to find, right off the famous Ring Road 1 – its blue water and incredible nature scapes are hard to miss.
How to get to Lake Myvatn
There are a few ways of going about visiting Lake Mývatn. There are dozens of wonderful tours, there is always the option of taking a road trip and there are flights available to nearby airports such as the one at Akureyri or at Húsavík or you can catch a public bus to Reykjahlíð.
Driving from Reykjavík to Lake Mývatn will take about 6 hours and will take you past some of the most charming sights and attractions Iceland has to offer. Including Borgarfjörður, the seal watching at Húnaflói, Glaumbær Turf farm and Museums, the lovely Skagafjörður, Akureyri, and Goðafoss waterfall. Note: We don't recommend doing the drive in one day, there is just far too much to be seen!
Driving from Akureyri to Lake Mývatn shouldn't take more than 1 hour 15 minutes and is a scenic drive to take, going further along Eyjafjörður and into the fertile Fnjóskadalur valley, past Lake Ljósavatn, Laugar village and Lake Másvatn.
Driving from Egilsstaðir to Lake Mývatn should take a little over 2 hours. It is a lovely drive through stellar landscapes and past historical sites, over the famous lake Lagarfljót and past Námskarð, Námafjall and Hverir area, the active Krafla Caldera and its power plant.
---
Accommodation and Hotels Near Lake Myvatn
Hotels
Laxá Hotel

Hotel Mývatn

Vogafjos Farm Resort

Icelandair Hotel Myvatn

Hotel Reykjahlid

Fosshotel Myvatn
Hostels
Guesthouses and B&B
Skútustaðir Farmers Guesthouse

Dimmuborgir

Birkilauf

Vogar Farm Guesthouse

Eldá Guesthouse

Hlid Bed and Breakfast

Guesthouse Stöng
Cabins and Cottages
Camping near Lake Mývatn
Hlíð camping ground is conveniently located on the northern side of lake Mývatn, right by the village Reykjahlid and only 5 minutes walk away from the tourist information center, supermarket, and café. The view from the camping ground over the lake and lava field is exquisite.
Open:
All Year Round
Services on site:
WC

Showers

Hot and Cold running water

Electricity

Laundry Service

Cooking tent if the weather gets bad

Playground
Bjarg camping ground is smaller but has an equally stunning view over the lake.
Open:
1st of May – 20th of September
Services on site:
WC

Showers

Hot and Cold running water

Electricity

Cooking facilities

Discounts on the nearby activities

Laundry Service

Bike Rental

Souvenir Shop
Please note that it is forbidden to stay overnight in a car or camp anywhere outside of the designated campsites.
---
Mývatn | Things to Do
Visit The Bird Museum – Fuglasafn Sigurgeirs

Askja

, Krafla, and Víti

Visit Stóragjá and

Grjótagjá Cave and Hot Spring

Explore Mt. Hverfjall Crater

Roam around the

Námaskarð

and Hverir Area

Walk around Dimmuborgir Lava Park

Hike up Mt. Vindbelgjarfjall

Walk amongst the Skútustaðagígar Pseudo Craters
---
Mývatn Nature Baths | The Blue Lagoon of the North
A visit to Myvatn Nature Baths is a very special experience! Bathing out in nature is supremely relaxing and magical. Each season offers a different experience to visitors, sparkling frosts, snow and the northern lights in the winter, a temperate climate and the midnight sun in the summer.
The bathing lagoon is filled with water from a borehole in Bjarnarflag. When the water comes up from the earth it has a temperature of around 130°C or 266 Fahrenheit, so it has to be cooled before it is ready to be used for bathing. This water is alkaline and it is enriched with many minerals, its composition makes chlorine or other chemicals unnecessary.
The trace elements in the water often help skin problems. Two steam baths have been built directly over the top of a geothermal area. Sulfur and odor-free steam simply rise up through the vents in the floor, usually with temperature is around 50 C. Steam straight from the earth, how special is that? No wonder the Icelandic people named these baths Jarðböðin (The Earth Baths).
The changing rooms at Mývatn Nature Baths can accommodate up to 300 guests at a time and you can safely store your belongings the lockers provided with an entrance ticket. Valuables are though asked to be left in the reception with staff members.
The parking lot at Mývatn Nature baths is free for visitors and is quite large for a location such far North.
There is a restaurant with panoramic views offering drinks, meals and a wide range of tempting treats. Lake Mývatn deserves a place on your bucket list!
Dimmuborgir
Dimmuborgir lava park formed in the same eruption as Lake Mývatn's bottom when Laxárhraun yngra came up. It is somewhat of a circle-shaped lava arch with a diameter of about 2 km (1,2mi). The arch is highest in its center about rising about 20 meters (65,6 ft).
Inside the arch, you will find alluring flora including a small birch forest that makes the scenery even more stunning. The area is also home to many lava caves and rock formations making the place "a favorite in the North" of many visitors. Dimmuborgir has some man-made walking paths so you can easily get around to explore the location.
Hverfjall Volcanic Crater
Hverfjall Volcanic crater is an outstanding beauty spot to visit within the Lake Myvatn area. The name, Hverfjall, would roughly be translated Geyser Mountain but the word Hver means Geyser in most areas in Iceland.
Still, It is important to note that in this specific region of Northern Iceland the word Hver was, in the ancient times, used for Craters so the name is better translated Crater Mountain, which is very fitting as this mountain is actually a crater, not a geyser.
The crater was formed after the last ice age in an explosive eruption about 2500 year ago. The eruption lasted 1-2 days and the content of the eruption stacked up around the open crater creating somewhat of a sand dune bowl. The crater is today still quite large in size about 1040 sqm and 150 meters high. The black Hverfjall is a sight not to be missed!
Námaskarð / Hverir Geothermal Area
The Námaskarð mud pools also known by the name Hverir Geothermal Area is a picturesque steam-filled location near Mývatn. The expanse of hot springs, mud pools, mud pots, and brimming fumaroles is endless and the natural energy is relentless.
The area is a colorful and stunning location for all nature enthusiast and truly gives you an idea of the power within Iceland's grounds. Even on the coldest of the Winter day, some parts of the ground will stay snow-free due to the sheer warmness of the terrain.
Note, going past lines or marked areas is strictly forbidden as the muddy grounds can be very thin and hide the dangerous burning springs right under.
---
Lake Myvatn in Winter
The Mývatn Geothermal Area is an incredible place to visit in Winter. Imagine snowy hills and steam coming up in between, pitch-black lava fields and volcanic craters sitting beside multicolored rhyolite pools with icy scapes in between.
This is where you truly feel the ice and the fire meet and where you get in contact with the spirit of Iceland's natural force. Whether it is taking a bath in the Mývatn Nature baths, exploring the pseudocraters of Skútustaðagígar or simply roaming around the geothermal paradise of Námaskarð you are sure to be amazed.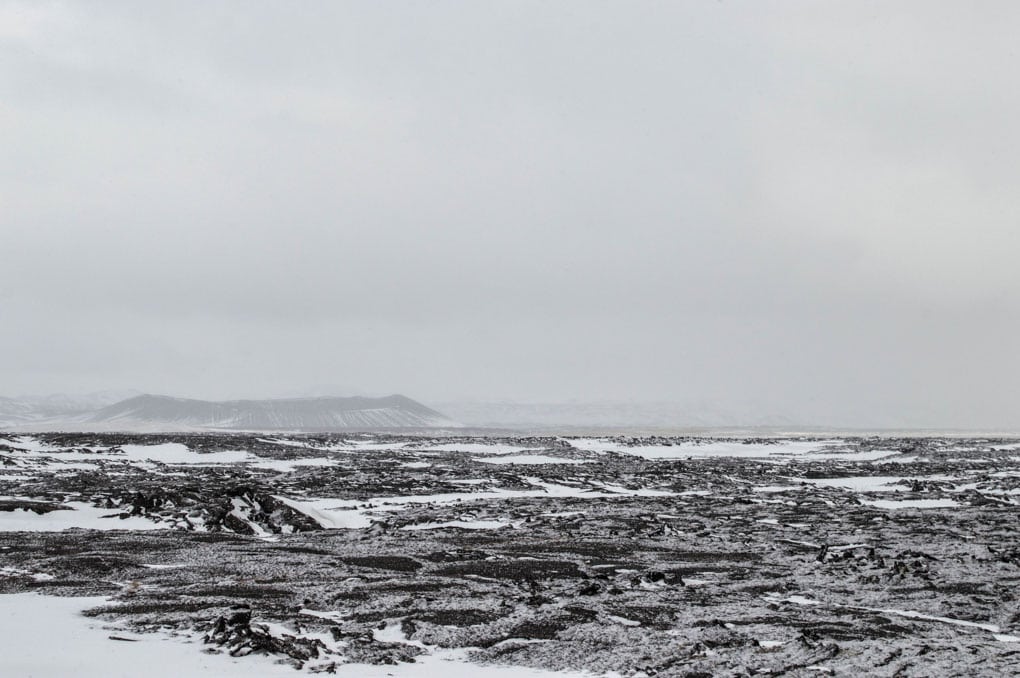 Still, you will need to be better prepare a for winter travels around Lake Mývatn than in Summer, check road.is for road conditions and vedur.is for the weather. If you are used to driving in full winter mode or if you aren't and want to join a guided tour, winter shouldn't stop you – go explore!
Movies, TV Shows or Music Videos filmed in Lake Myvatn area
Films:
Tree of Life (2011) The epic scene from the Tree of Life showing the beginning of Earth is shot around Mývatn, at Námafjall, and at Krafla Caldera.

Oblivion (2013) The 10.000 old crater Hrossaborg located only about 30 min away from Lake Myvatn is portrayed as the remains of a giant baseball stadium. Other filming locations for the movie included

Langjökull glacier

and Jarlhettur mountains.

Noah (2014) The movie is filmed all over Iceland, including around Lake Mývatn, Lake Kleifarvatn,

Reynisfjara Black Sand Beach

and Reykjanes peninsula.

Star Wars: The Force Awakens (2015) Lake Mývatn, the volcanic calderas Krafla and the bubbling mud pools at Námaskarð were used in the filming of an intense battle scene between the Empire and the Rebels.

Rogue One: A Star Wars Story (2016) The eerie planet Eadu, or as it is shown in the movie, is actually a mixture of Lake Myvatn, Krafla Volcanic crater, and Reynisfjara Black Sand Beach.

Fast 8 (2017) The new Fast and the Furious film was shot in numerous locations in Iceland including around and on the stunning Lake Mývatn. One scene includes a car going through the ice of lake Mývatn!
Game of Thrones Filming Locations Near Mývatn
Grjótagjá Hot Springs and Cave is where the famous sex scene with John Snow and Ygritte was partially filmed but the rest was filmed in a studio as the fumes inside the cave were disrupting the cameras.
Another famous scene is in season three where Mance's Rayder's wildling army camp was built on a frozen lava field. This place is actually Dimmuborgir located very near Lake Mývatn.
The area was used again in the filming of the scene where Samwell Tarly and Lord Commander Mormont are attacked by White Walkers.
Some of the filmings took place in temperatures as low as -11°c or 12 Fahrenheit.
---
Interesting places near Lake Myvatn
Reykjahlíð

Mt. Hverfjall

Krafla Caldera

The Bird Museum – Fuglasafn Sigurgeirs

Mt. Vindbelgjarfjall

Skútustaðagígar Pseudo Craters

Dimmuborgir Lava Park

Lofthellir Lava Cave

Goðafoss

Waterfall of the gods

Dettifoss

Waterfall

the most powerful waterfall in Europe

Selfoss

Waterfall

Hljóðaklettar Cliffs

Dalvík

The Beer Baths at

Arskogssandur

Akureyri
---