Lake Myvatn
The water in Lake Myvatn has a particularly high level of biological activity due to the very high levels of nitrogen, phosphorus, and other nutrients. This has promoted an abundance of plants and algae, with the plants and algae doing battle to see which can become dominant! This is an important bird protection area and many species of duck and other water birds can be seen here. One of the rarest and sought after sighting would be of Flórgoði or e. Black-necked grebe which during spring carry their babies on their backs around the lake.
Myvatn in its current form was formed about 2000 years ago when a series of volcanic craters erupted in Þrenglaborgir and Ludentsborgir at a range of 12 km. The lava field that came up during this eruption was named Laxárhraun yngra or Salmon-River-Lava-Field The Younger. The lava field is about 220 sq km and is the biggest lava field from the beginning of the Mývatn county. Laxárhraun yngra forms the bottom of Lake Myvatn and stretches all the way down the valleys Laxárdalur and Aðaldalur, and down to the ocean at Skjálfandi.
Lake Myvatn is the 4th largest lake in Iceland about 39 sq km but only about 4 meters deep at its deepest level.
Reykjahlíð
Reykjahlið is an attractive village in this unique and picturesque region providing accommodation, services, and cafes to those visiting Myvatn.
Mývatn | Things to Do
Bath in Mývatn Nature Baths

The Bird Museum – Fuglasafn Sigurgeirs

Krafla and Víti

Visit Stóragjá and Grjótagjá

Explore Hverfjall Crater

Roam around the Námafjall and Hverir Area

Walk around Dimmuborgir Lava Park

Hike up Mt. Vindbelgjarfjall

Lofthellir Ice and Lava Cave

Skútustaðagígar Pseudo Craters
Mývatn Nature Baths | The Blue Lagoon of the North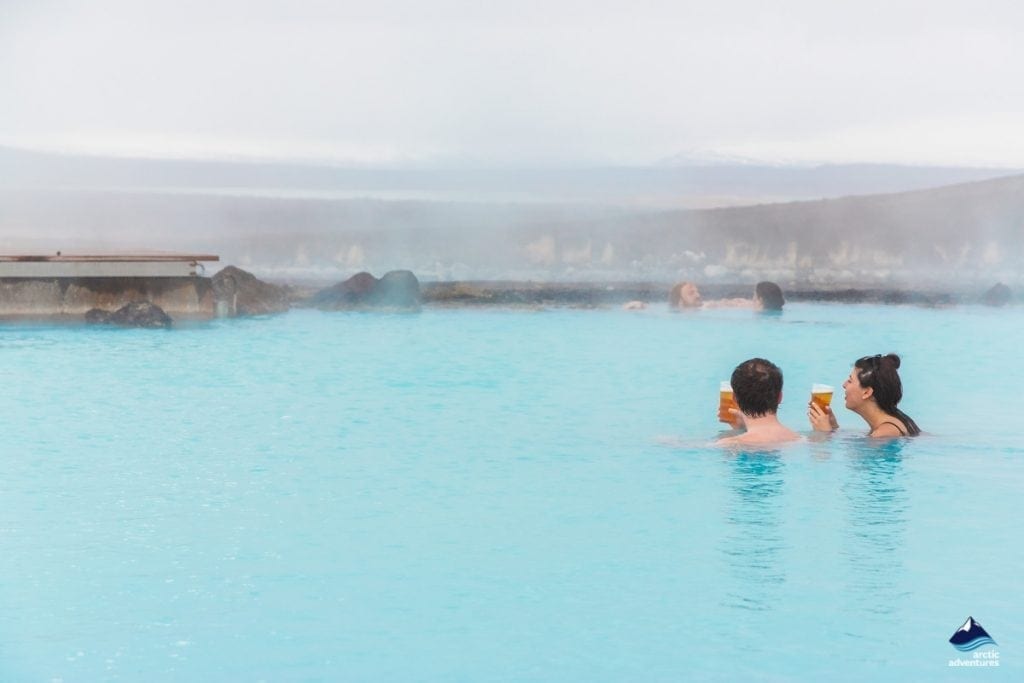 A visit to Myvatn Nature Baths is a very special experience! Bathing out in nature is supremely relaxing and magical. Each season offers a different experience to visitors, sparkling frosts, snow and the northern lights in the winter, a temperate climate and the midnight sun in the summer. The bathing lagoon is filled with water from a bore hole in Bjarnarflag. When the water comes up from the earth it has a temperature of around 130 C – so it has to be cooled before it is ready to be used for bathing. This water is alkaline and it is enriched with many minerals, its composition makes chlorine or other chemicals unnecessary. The trace elements in the water often help skin problems. Two steam baths have been built directly over the top of a geothermal area. Sulfur and odor free steam simply rises up through the vents in the floor, usually with a temperature is around 50 C. Steam straight from the earth, how special is that? No wonder the Icelandic people named these baths Jarðböðin (The Earth Baths).
The changing rooms at Mývatn Nature Baths can accommodate up to 300 guests at a time and you can safely store your belongings the lockers provided with an entrance ticket. Valuables are though asked to be left in the reception with staff members.
The parking lot at Mývatn Nature baths is free for visitors and is quite large for a location such far North.
There is a restaurant with panoramic views offering drinks, meals and a wide range of tempting treats.
Lake Mývatn deserves a place on your bucket list!
Dimmuborgir
Dimmuborgir, lava park formed in the same eruption as Myvatn's bottom when Laxárhraun yngra came up. It is somewhat of a circle shaped lava arch with a diameter of about 2 km. The arch is highest in its center about rising about 20 meters. Inside the arch you will find alluring flora including a small birch forest that makes the scenery even more stunning. The area is also home to many lava caves and rock formations making the place a favorite for many visitors. Dimmuborgir has some specially made walking paths so you can easily get around to explore the location.
Hverfjall Volcanic Crater
Hverfjall Volcanic crater is an outstanding beauty spot to visit within the Lake Myvatn area. The name, Hverfjall, would roughly be translated Geyser Mountain but the word Hver means Geyser is most areas in Iceland. It is though important to note that in this specific region of Northern Iceland the word Hver was used in the ancient times for Craters so the name is better translated Crater Mountain, which is very fitting as the this mountain is actually a crater not a geyser.
The crater was formed after the last ice age in an explosive eruption about 2500 year ago. The eruption lasted 1-2 days and the content of the eruption stacked up around the open crater creating somewhat of a bowl. The crater is today still quite large in size about 1040 sq m and 150 meters high. The black Hverfjall is a sight not to be missed!
Námafjall / Hverir Geothermal Area
The Námafjall mud pools also known under the name Hverir Geothermal Area is a gorgeous steam rising location near Mývatn. Many would think that going this far North near the Arctic circle the scapes would get colder but in this area you couldn't be more wrong. The expanse of hot springs, mud pools, mut pots and fumaroles is endless and the natural energy is relentless. The area is a colorful and stunning location for all nature enthusiast and truly give you an idea of the power within Iceland's grounds.
Note, going past lines or marked areas is strictly forbidden as the muddy grounds can be very thin and hide the dangerous burning springs right under.
Where is Lake Myvatn located?
Lake Myvatn is located in North Iceland, 90 km from Akureyri and 475.2 km from Reykjavík. 
The drive from Reykjavík to Lake Myvatn is about 5,5 hours if you keep a good pace.
---