Mýrdalsjökull Glacier
The mighty Mýrdalsjökull is the glacier closest to Vík. It is the "mother-glacier" to both Sólheimajökull hiking paradise and Kötlujökull where a natural ice cave was found not too long ago so basically Mýrdalsjökull is a glacier tour utopia.
Katla Volcano
The famous volcano Katla is located underneath the Mýrdalsjökull glacier. The epic volcano trail Fimmvörðuháls – the starting point of Eyjafjallajökull's eruption in 2010 – is also located in between Mýrdalsjökull and Eyjafjallajökull glacier.
Kötlujökull
Kötlujökull is where "the Ice Cave under the Volcano" is located and the tour is available with pick up from Vík, making it the ultimate Vík tour.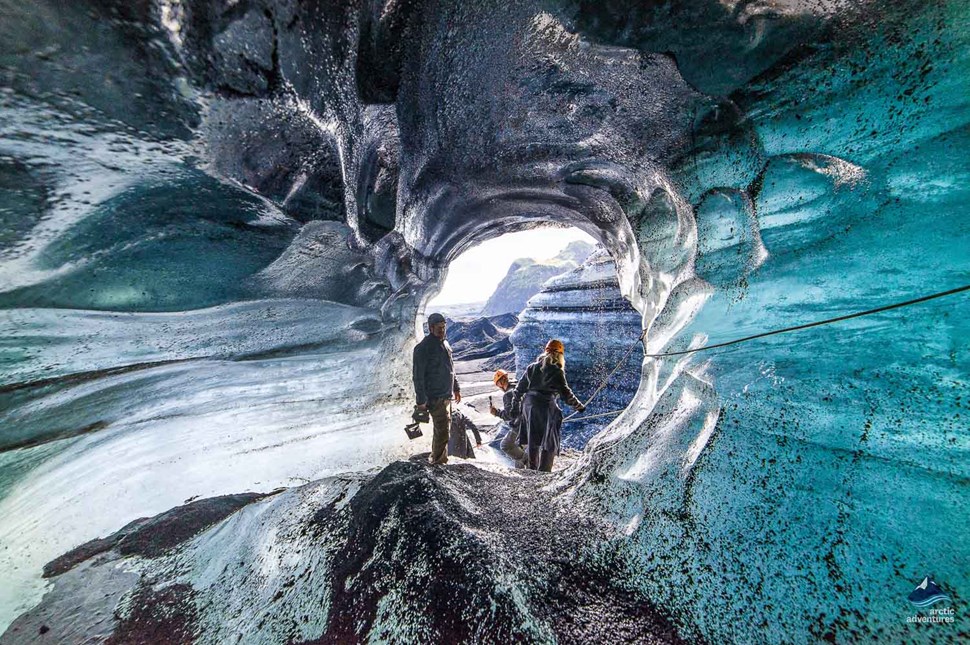 Sólheimajökull Glacier
Sólheimajökull is where we offer popular tours such as the Blue Ice tour and Bilbo's Glacier Hike. 
Reynisfjara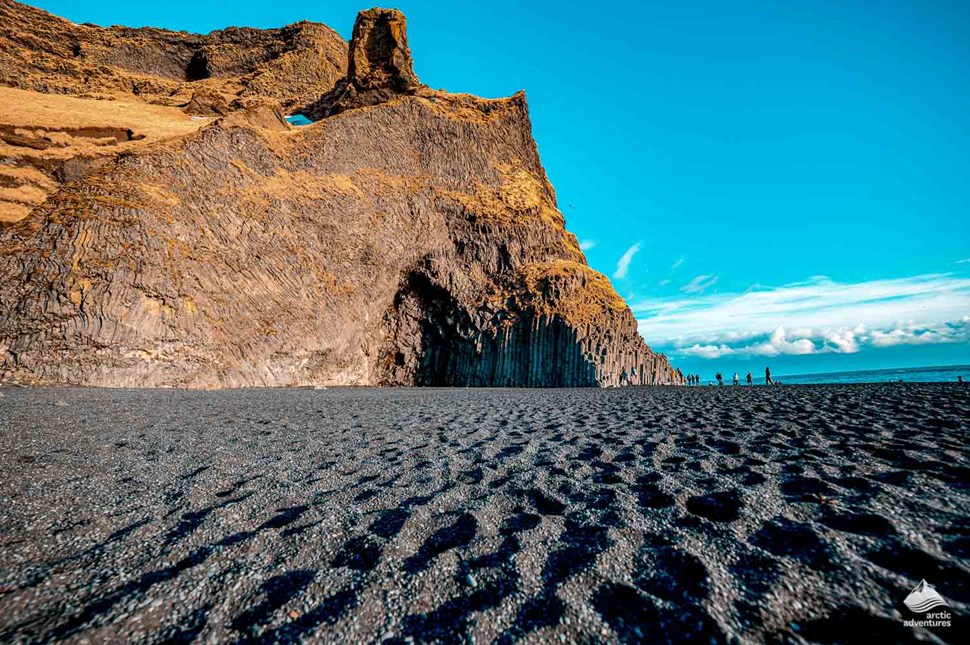 Reynisfjara Black Sand Beach is the most famous black sand beach in Iceland and has even been named one of the top ten most stunning non-tropical beaches in the world a few times. It is a place of wild and dramatic beauty where the roaring waves of the Atlantic Ocean power ashore with tremendous force.
The roaring waves, stunning black basalt columns, the alluring basalt stacks, Reynisdrangar, in the ocean and the magical carved cave in Reynisfjall mountain are just some of the reasons people keep raving about this place.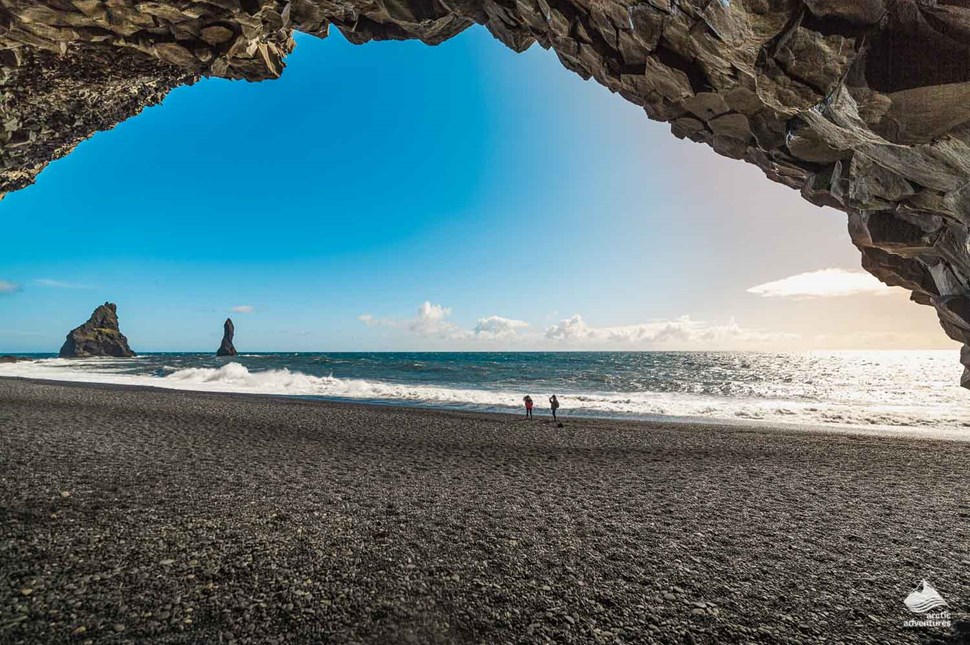 Marvel at the power of the ocean but do not stand too close – those powerful waves deserve your respect! The waves can easily snatch you pretty quickly and if so even the fittest of swimmers will be in trouble. Be extra careful when traveling with children.
Dyrhólaey
Dyrhólaey or Door Hill Island is an unbelievably beautiful small peninsula or a mountain arch standing in the ocean near Vík. It is about 120 meters (393,7 ft) and was formerly known as Cape Portland by the sea-men that used to sail the surrounding waters. The view over Dyrhólaey is stunning but the view from it is no different.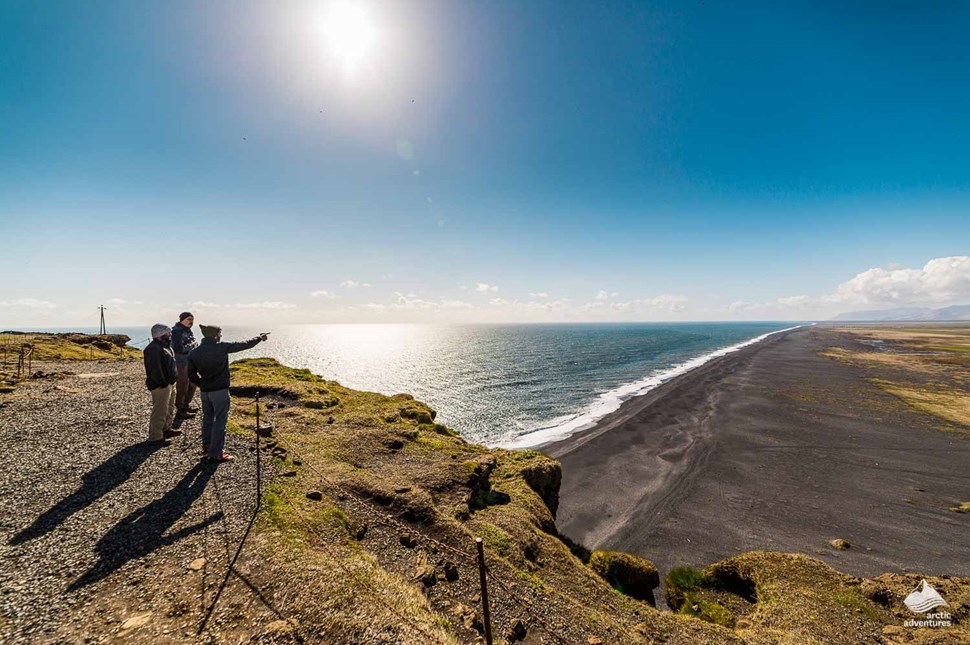 To the North, you have the robust Mýrdalsjökull glacier and then in the East, you have the dazzling black lava basalt columns Reynisdrangar. In the West, the whole South coastline meets your eyes so the vista will not disappoint.
In summer, puffins are known to hang out at Dyrhólaey and the place is known to be a good location to spot them!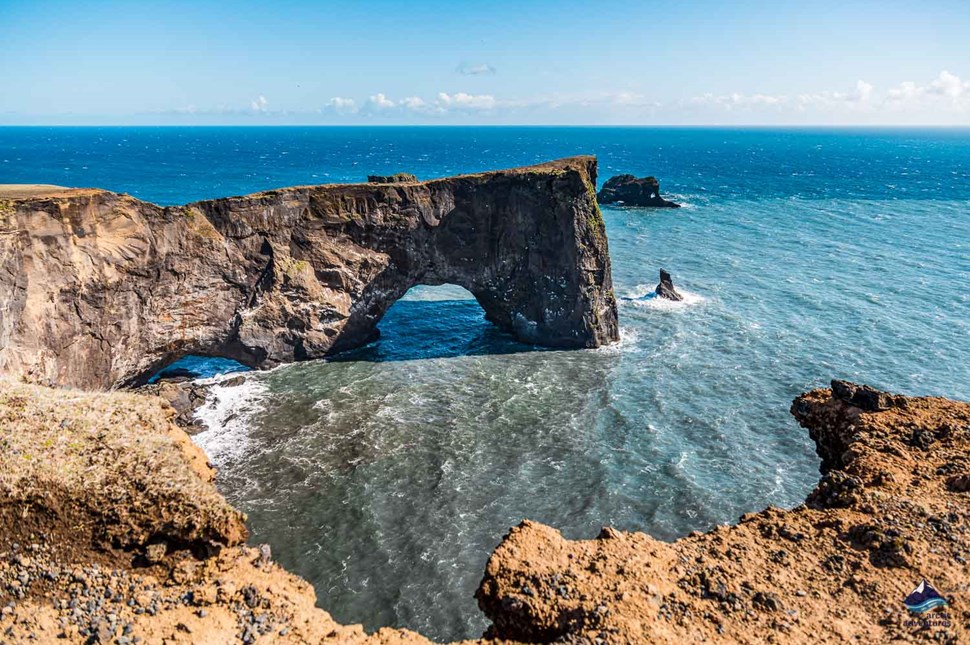 Where to eat in Vík: Popular Restaurants in Vík
Restaurant Sudur-Vik
Suðurvíkurvegur 1, 870 Vík.

12 pm to 10 pm every day.
Halldorskaffi
Víkurbraut 28, 870 Vík.

12 pm to 9 pm every day.
Berg Restaurant
Icelandair Hotel, Klettsvegur 1, 870 Vík.

Berg restaurant is open from 6 pm to 10 pm every day 1. of May – 30. September and 6 pm to 9 pm 1. October – 30. April.
Weather in Vík
Vík is known for its mild but rainy weather. The village is, like most hamlets in Iceland, located at the shore which results in an almost constant ocean breeze.
In winter, Vík will get covered in snow and in summer there will be a fantastic array of colorful flowers and purple lupins. The weather conditions in Vík are often quite similar to Reykjavík but is also a victim to quite some downpours.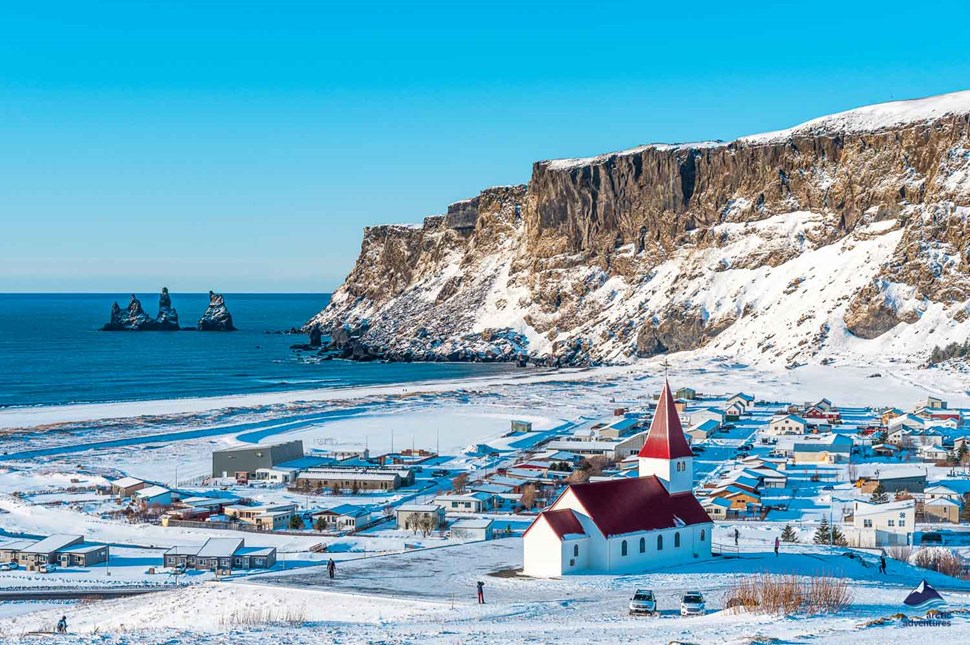 The Icelandic weather forecast has an excellent web page where you can check the weather a week in advance but make sure to continue checking, the weather gods tend to change their mind quite frequently.
Vik i Myrdal is an excellent location to spot the Northern Lights and is a common stop on Arctic Adventures multi-day tours to see them!
Where to stay in Vík? Accommodation and Hotels in Vík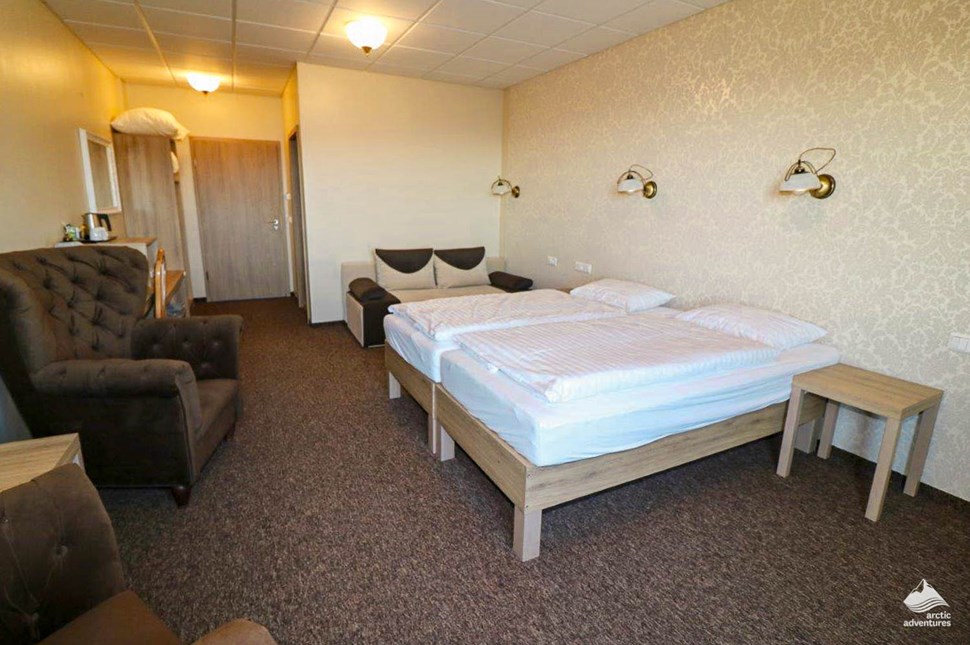 Hotel
Icelandair Hotel Vík

Hotel Katla Höfðabrekka

Puffin Hotel Vík

Hotel Dyrholaey

Hotel Kría
Hostels
The Barn

Puffin Hostel Vik
Guesthouses, B&B and Farmstays
Guesthouse Carina

Dream Guesthouse Vík

Guesthouse Galleri Vik

Ársalir

Einarstaðir Homestay

Giljur Guesthouse

Kósý Vík

Gusehouse Reynir

Farmhouse Lodge

Guesthouse Steig

Black Beach Suites
Camping at Vík
There is a lovely and spacious camping site at Vík í Mýrdal with great facilities and a picture-perfect view. The facilities include WC, showers, running hot and cold water, WIFI, a dining area, washers, dryers, electricity, and a BBQ.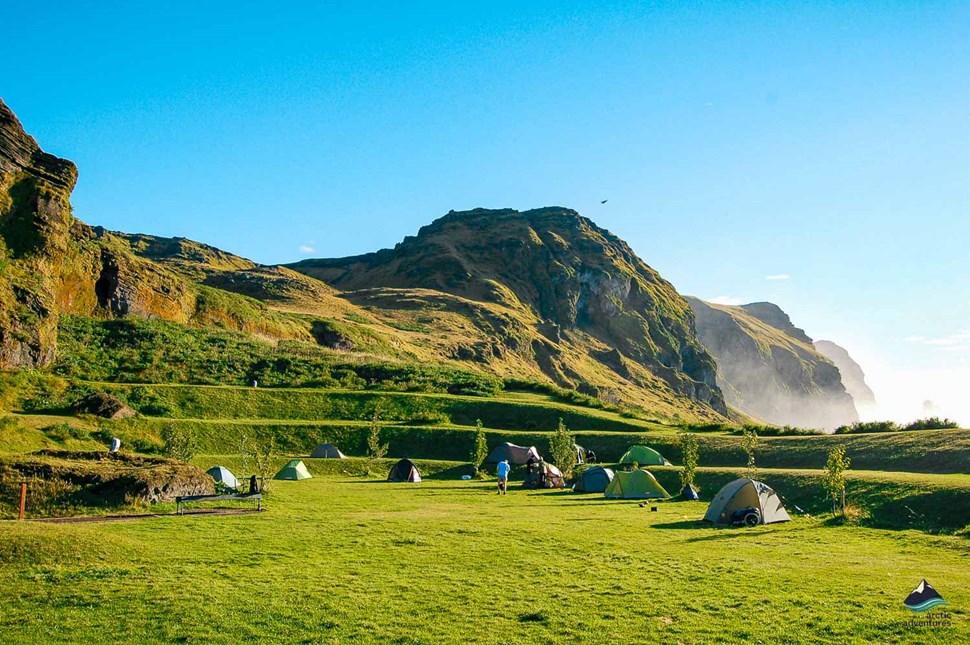 Open 1st of June until the 15th of September.
Please note that wild camping is forbidden in this area and along the entire South Coast. Campers of all types are obligated to use the designated campsites.
Interesting places near Vík
Reynisdrangar

Loftsalahellir

Pétursey

Þakgil Canyon

Heiðarvatn Trout Lake

Kötlujökull glacier

Gluggafoss Waterfall