Arctic Adventures offers a variety of whale watching tours, both from Reykjavik and Dalvik in the north of Iceland. We bring you to the best places to watch whales in Iceland. The whales most frequently seen on our trips are minke and humpback whales, and we sometimes see dolphins, porpoises, and other species too. Remember to bring your camera to capture these majestic creatures!
The waters surrounding Reykjavík are home to Minke whales, Humpback whales, dolphins, and porpoises which you'll hopefully spot from the boat. Our qualified guides will provide you with all the information and insights you'll need to know about Iceland's maritime wildlife.
In general, the full tour lasts 2.5 to 3.5 hours, with the boat rarely traveling further than 15 km from the harbor. Each passenger on board will be provided with a special wetsuit to keep them warm and dry. If the weather is in your favor, there's no better place to be on a sunny day in Reykjavík.
Whale Watching Tours in the North of Iceland (Dalvik)
If you're based in the north of the country, a whale watching trip from Dalvik is the ideal option for you. Arctic Adventures' northern whale watching tours have a 98% success rate when it comes to whale-sightings.
Humpbacks are spotted the most, while Minke whales and dolphins are also commonly sighted. If no whales are spotted, which rarely happens, customers will be given the option of partaking in a later tour, virtually guaranteeing you the opportunity to see Iceland's mighty ocean giants!
Whale Watching Tours Departing from West Iceland
Whale Watching as Part of a Multi-Day Tour in Iceland
Keeping an eye out for Iceland's majestic ocean giants is but one of many great adventure tours to be taken while visiting Iceland. Why not join us on a multi-day tour to experience as much of the land of fire and ice as possible?
---
---
The Guide to Whale Watching in Iceland
Photo from DWC
The Giants of the Sea, the Royalty of the Ocean or Hvalir as we like to call them in Icelandic have always been a great fascination of the locals in Iceland and luckily Icelandic wildlife is enriched with a great deal of them. Whales are mammals and belong to the cetacean family of large aquatic mammals which also include dolphins and porpoises.
Whales are creatures of the open sea, where they live, mate, give birth, feed and raise their young ones. Whales can vary a lot in length and range from 2,6 m (8,5 ft) and 135 kg (298 lb) to 29.9 m (98 ft) 190 metric tons (210 short tons).
About 24 different species of whales/cetaceans have at some point been seen swimming in the oceans around Iceland. The currents that move around the island create the perfect mixture of hot and cold that blends in the Icelandic fjords. As a bonus, the shallow fjords are filled with krill and fish making the fjords an ideal feeding grounds for whales and cetaceans alike.  
One of the most common whales to be spotted on Whale Watching tours in Iceland is the Humpback Whale. This is quite lucky as they are also considered the most photogenic. The Humpbacks aren't shy at all and often approach the boats going right under them or by swimming only an arm's length away. They are vigorously acrobatic and like to flap their fins, jump up in the air and whip their tail causing quite the scene and creating the perfect moment for you to snap a picture!
---
The Best Whale Watching Tours in Iceland
Whale Watching Tours in Iceland have an incredible success rate. With up to 24 different species swimming around the island and tour operators taking people out on boat tours all around the country your options are endless, but then one might ask; "How do you choose the best Whale Watching tour?"
First, you need to think; "Where will I be traveling to  in Iceland?"
If the whole trip is planned with accommodation in Reykjavík your options will probably be limited to the Whale Watching Tours heading out from the capital. Still, your options are plentiful so there is no need to worry!
If you are looking

to get as close as possible to

the whales we will recommend joining one of the Rib boat options.

If you are looking to make the most of your day we offer quite a few combinations of whale watching and other exciting activities.
Best Whale Watching Tour from Reykjavík in Summer
Golden Circle and Whale Watching for those who want to tick off the bucket list the must-dos OR Rafting and Whale Watching for the more adventurous soles.
Best Whale Watching Tour from Reykjavík in Winter:
Whale Watching and Northern Lights
---
For those staying a longer time in Iceland
If you are staying in Iceland for some time and might be joining a multi-day tour or possibly even taking a road trip around the country your scope of options opens up even wider. There are Whale Watching tour operators all around the island and you can meet up for an adventure at every corner of the country.
The same rules do apply to a certain degree, you will get closer to the whales on Rib boats and you can make the most of your day by mixing the Whale Watching experience with another activity or sightseeing BUT the main difference will be in your harbor options, and as a result, your possibility of seeing some other whale species.
Up in the North, in Eyjafjörður, you will find the charming little village of Dalvík. From this location, you can join Whale Watching tours on a regular wooden boat including a sea angling experience, on a Rhib Boat and even during the summer months add to it Puffin watching. The mountains that frame in the fjord and the bright orange lighthouse create the most dazzling scene and when the whales start popping up you are surely in for a treat! Dalvík even holds the record for the most whales species seen on one outing, nine different species!  
Best Whale Watching Tour for longer stays in Iceland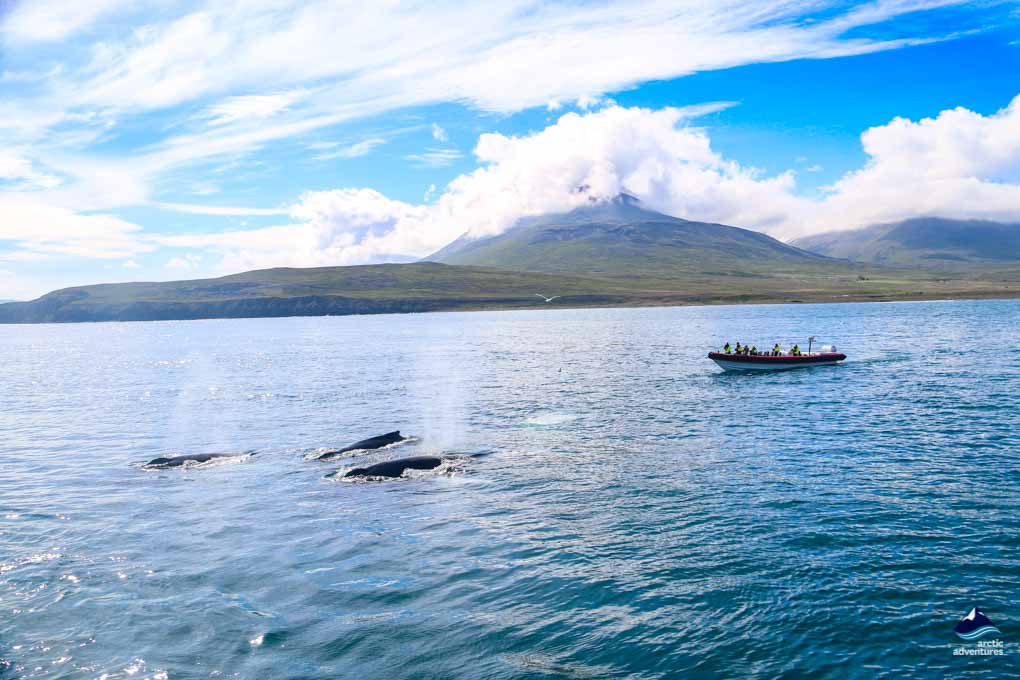 Rhib Boat Whale Watching from Dalvík for those who are doing a self-drive road trip on their own in the summertime OR 6 Days Around Iceland Adventure for those who are looking to explore the whole country with a whale watching tour included.
---
The Best Place to go Whale Watching in Iceland
In Eyjafjörður North Iceland
Out from Reykjavík
There are so many brilliant places all around Iceland where you can observe the whales in the natural habitat. Due to the fact that Iceland is an island, and Icelanders mainly live on the coastline, accessibility to harbors and therefore the ocean is excellent. The range of tours is great, you can easily set off on a whale watching exhibition from the capital's downtown area or even set sail from a tiny little fishing village in the Westfjords.
Whale Watching From Reykjavík
The Whale Watching Tours from Reykjavík are available all year round and take off the charming Old Harbour near Geirsgata St. often recognized by they nearby complex of light teal colored houses. The most common whales to see on tours going out from Reykjavík are the playful Humpback Whale and the curious Minke Whales. During the summer months, the birdlife is an added bonus to the tours often including sightings of puffins!
One of the most positive factors of joining a Whale Watching tour from Reykjavík is that you can easily do another tour the same day or break up your city exploring as the tour is only 3 hours in total. The views during the tour are over the shoreline of Reykjavík, the colorful houses, the musical hall Harpa and often to the island of Viðey.
Whale Watching in North Iceland
Our Whale Watching day tours from Dalvík have in recent years had such amazing success that the tour is refunded if by any chance you don't see spot whales during the tour. All along Eyjafjörður, you will find small villages specializing in Whale Watching tours which isn't much of a surprise given that Eyjafjörður is an ultimate favorite of many different whale species including the rare Blue Whale!
In the North, you have the picturesque mountain Kaldbakur peaking high up from the sea, narrow water spring running down hills and the view of a colorful lighthouse on an isolated island in the middle of the fjord. There is something truly powerful about sailing around Eyjafjörður and with whales popping up in various spots, the biggest concern is which whale to visit first!
Other Whale Watching Locations in Iceland
Ólafsvík

Grundarfjörður

Hólmavík

Húsvík
---
The Best Time to Go Whale Watching in Iceland | When is the Whale Watching Season in Iceland?
If this question would have been asked a few years back, with no doubt Spring and Summer would have been our only answer but with climate change whales are now visiting Iceland all year round. Winter or Fall (September-March) visits to Iceland often mean fewer people, therefore small groups on tours and more one-on-one time with the guides to ask them all the questions you might have about these ocean giants.
Still, Spring and Summer remain the months you are most likely to see the whales with their offspring and is also the only time to see puffins during the tours so if that is what you are looking for Spring and Summer (April-August) is your best call.
Summer Pros:
Warmer Weather
Vibrant Maritime Life Including Possible Puffin Sightings
Winter Pros:
Fewer Tourist
Beautiful Scenery
---
Which Whales can be seen in Iceland?
Humpback Whales

Orcas / Killer Whales

Fin Whales

Blue Whales

Minke Whales
Humpback Whales
Humpback whales are the most frequently seen whales during tours in Iceland. They can grow up to 16 meters (52 ft) at length and weight up to 30 metric tons (30 short tons), still they are known as the liveliest whales as they enjoy jumping, slapping, splashing and rolling around in the ocean. It often seems as if they are putting up a show especially for those who come to see them, honestly, they are huge show-offs!
They are curious creatures and often come up to the boats creating a synchronized admiration choir of those present. The Humpback whale is the most
Facts about Humpback Whales
Humpback whales typically migrate up to 25,000 km (16,000 mi) each year, they feed in cold polar water and breed in warmer tropical water

The patterns on their tails vary between each animal making it easier to identify individual animals

Travel mostly alone and group formations usually don't last for long

Humpbacks have occasionally been known to hybridize with other whales and there is at least one known example of a humpback /blue whale in the South Pacific

Humpback Whales are extremely friendly animals and have been known to interact not only with other whale species but also dolphins.

Humpback whales have been captured on film helping smaller whales and seals fight of predators.

Recently, two Humpback Whales were even observed protecting a whale biologist named Nan Hauser from a Tiger Shark, one pushing the woman away and the other used his tail to block the predator. This is the first recorded incident of a Humpback Whale protecting a human.
Orcas or Killer Whales
Orcas sometimes called the horrifying name Killer Whales are vigorous creatures. Orcas are powerful predators capable of killing large prey such as leopard seals or the great white sharks. They are known to be extremely social and their groups can range in a matrilineal line up to three or four generations. There is something quite unreal when these Hollywood filmed creatures pop up on whale watching tour, but always as amazing.
Facts about Orcas or Killer Whales
Orcas are toothed whales

Keiko the star of the movie "Free Willy" was an Orca

Have been known to hunt and kill even large adult whales

Other names they have been recognized as include: Blackfish and Grampus

They are very metropolitan and strive in cold and hot waters.

Orcas are among the few animals that undergo menopause and live for decades after their breeding days are over
Fin Whales
The Fin Whale has been recognized by many names throughout history, ranging from common rorqual to Razorback Whale, from Herring Whale to Finback Whale but in Latin, the name is Balaenoptera physalus. They are incredibly large creatures, the second largest species on earth!
The Fin Whale is an endangered species after having been hunted heavily in the 20th century.
Facts about the Fin Whale
Fin Whales have the nickname

"the greyhound of the sea"

They are believed to have the lifespan of 94 years although specimens have been found suggesting anything up to 140 years of age.

One of the fastest whales with

speeds between 37 km/h (23 mph) and 41 km/h (25 mph)

Fin whales are more social than other rorquals, and they commonly live in groups of six to ten. Even so, feeding groups have been reported to reach up to 100 animals.
Blue Whales
The largest animal on the planet, the true giant of the deep blue sea. Blue whales can reach up to 31.7 m (104 ft) in length and weigh up to 173 tonnes (190 short tons). They can live up to 90 years and reach a speed of 50 kilometers per hour (31 mph) although 20 km per hour (12 mph) is their usual. The Blue Whale is more of an introvert character, a lone-wolf some might say and they most commonly live alone or in a pair. However if there is a high concentration of food as many as 50 Blue Whales have been spotted in the same area, it isn't know how long they stay in pairs or groups. The Blue Whale is most often seen in the North of Iceland!
Facts about Blue Whales
There have been 11 reported individual blue whale and fin whale hybrids

The author Herman Melville called this Blue Whale species "

sulfur-bottom

" in his novel

Moby-Dick

which came out in the year 1851.

The deepest confirmed dive of a Blue Whale was 506 meters (1,660 feet)

The females are generally a few meters/feet longer than the males

An adult blue whale can eat up to 40 million krill in a day, and to think they can live up to 90 years, it is hard to imagine the ocean being sustainable for the 10,000-25000 Blue Whales believed to be alive today.
Minke Whales
The Minke Whale was "discovered" quite late – in 1780 Danish naturalist Otto Fabricius describes a Minke whale but draws the assumption that this animal must be a part of another already discovered species. Even its name Minke Whale comes from a Norwegian misunderstanding that this spotted Minke whale was a Blue Whale even though it is the second smallest baleen whale.
The Minke Whale is one of the most common whales to see all around Iceland.
Facts about the Minke Whale
The Minke Whales have been known to live up to 60 years but 30 to 50 is more common

They are fast animals and swim at the speed of 38 km/h (24 mph)

They are not listed on any list of endangerment

Blue Whales reach around 8.5 meters (28 ft) in length and weigh between 5,000 kg (5,5 US ton) and 10,000 kg (11 US ton)
---
Iceland's Most Famous Whale | Keiko
In the year 1993, an American family drama film directed by Simon Wincer name Free Willy came out. In the movie, a foster boy named Jesse befriends a captive Orca who had been caught by whalers and sent to an amusement park. There are many plot twist, a fight against evil but in the end Willy the captive Orca jumps to his freedom to be reunited with his family all with the help of Jesse.
In real life, the whale that is portraying Willy was named Keiko and was first caught in Reyðarfjörður, Iceland which is why Icelanders have always thought of him as Icelandic and often spoke of him as Iceland's first movie star!
Keiko was loved by the world and after the film came out 20 million USD was spent on his, unfortunately, unsuccessful efforts, to return him to the wild. Keiko had been out of his natural habitat for much too long and sadly passed near the shores of Norway in 2003.
---
Can you see Puffins on Whale Watching Tours?
In April the charming black, white and orange bird starts flocking to Iceland to spend their spring and summer. During this time Iceland hosts more than 60% of the World's entire Atlantic Puffin population with 8 to 10 million puffins inhabiting the island. They can be seen in various locations all around the country, at Látrabjarg in the Westfjords, Dyrhólaey in the South-West, Ingólfshöfði in the South-East and commonly at sea during whale watching tours!
You can, from both Dalvík and Reykjavík, book special departures which aim to take you to known puffin locations so that your whale watching tour is sure to include spotting of a puffin.