About Whale Watching Tours in Iceland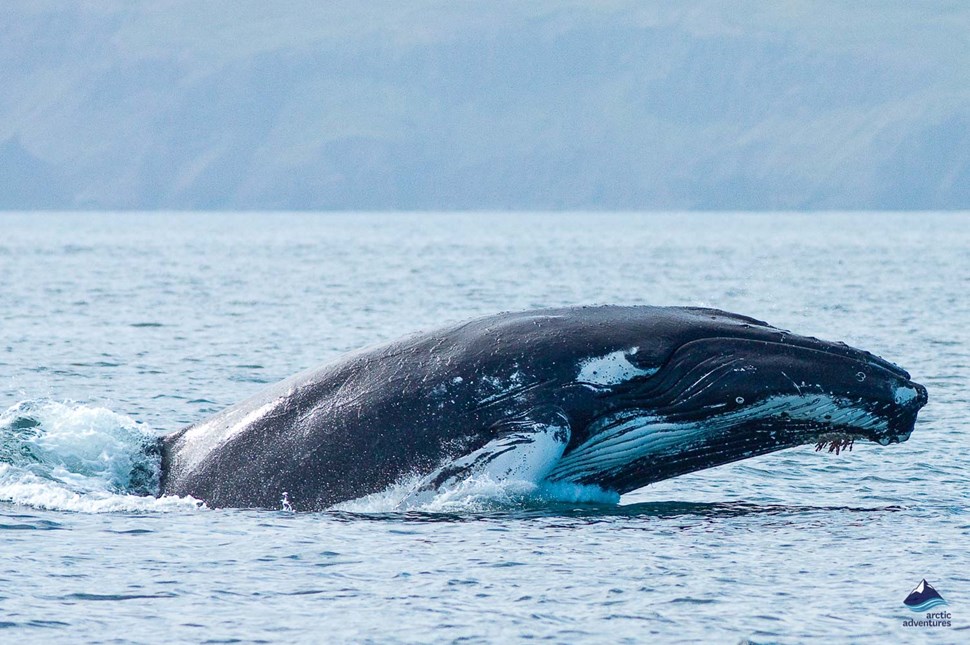 Whale-watching tours are a fun activity that can be enjoyed by travelers of all ages and group sizes. Our tours have a 98% success rate for whale sightings thanks to the favorable Icelandic waters. 
Whales populate the area year-round due to the unique sea conditions. The currents that move around the island create the perfect mixture of hot and cold that blends in the Icelandic fjords. These fjords are filled with krill and fish, making the area an ideal feeding ground for whales and cetaceans alike. 
On our tours, witness a variety of species glide through and breach the waves! Discover tours from Reykjavik, Dalvik, and Western Iceland and as part of our multi-day tour options.
For more information on what to expect and how to prepare, check out our Guide to Whale Watching.
Responsible Whale Watching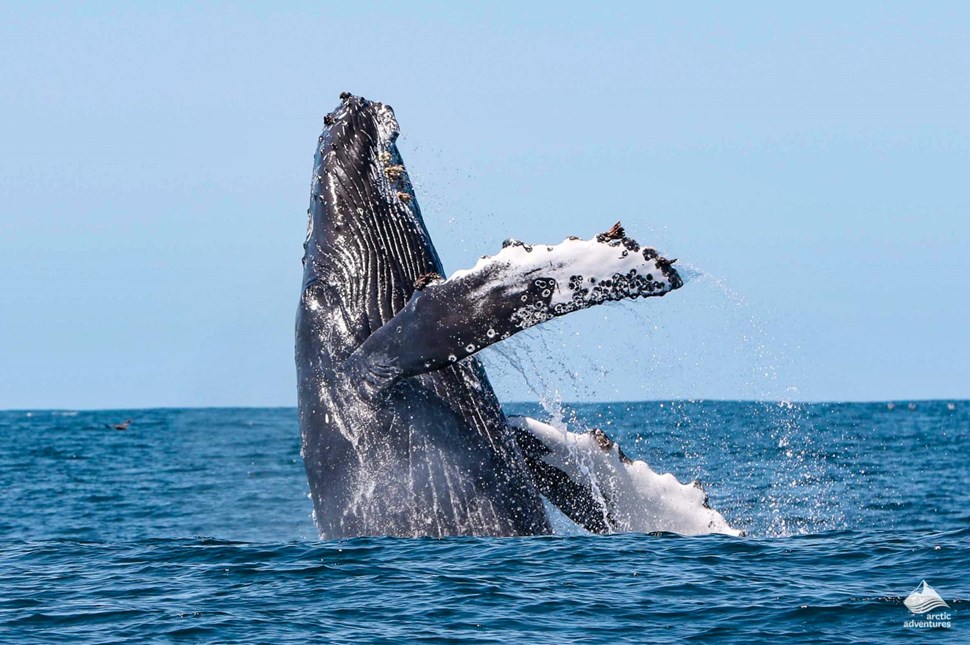 Whale watching tours provide an opportunity for tourists to learn about these impressive animals. Through education, tours promote the protection of whales and their habitats. Irresponsible whale watching practices, however, can lead to short and long term negative impacts on sea life. To ensure the safety of these creatures, Arctic Adventures has joined the Icelandic Whale Watching Association ( IceWhale), a nonprofit organization of Icelandic whale watching operators. 
As proud members of IceWhale, we adhere to the IceWhale Code of Conduct and are committed to following the highest possible standards on all our tours. Through our efforts, we hope to create a precedent of responsible whale watching. You can find more on our safety practices on our Responsible Iceland Whale Watching page. 
The Best Whale Watching Tours in Iceland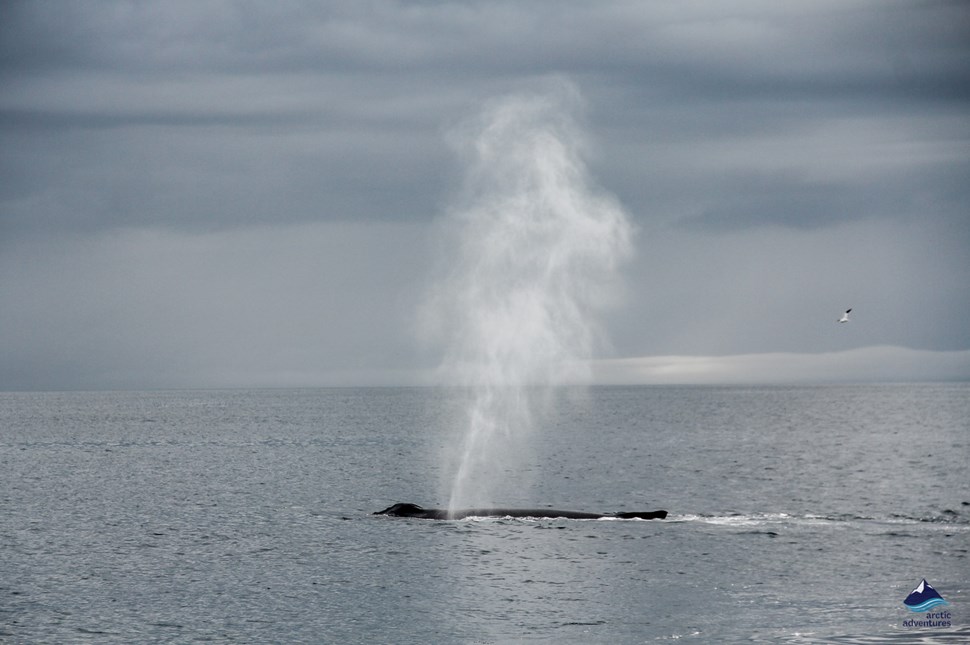 Whale Watching Tours in Iceland have an incredible success rate. With up to 24 different species swimming around the island and tour operators taking people out on boat tours all around the country your options are endless, but then one might ask; "How do you choose the best Whale Watching tour?"
First, you need to think; "Where will I be traveling to  in Iceland?"
If the whole trip is planned with accommodation in Reykjavík your options will probably be limited to the Whale Watching Tours heading out from the capital. Still, your options are plentiful so there is no need to worry!
Best Whale Watching Tours from Reykjavík in Summer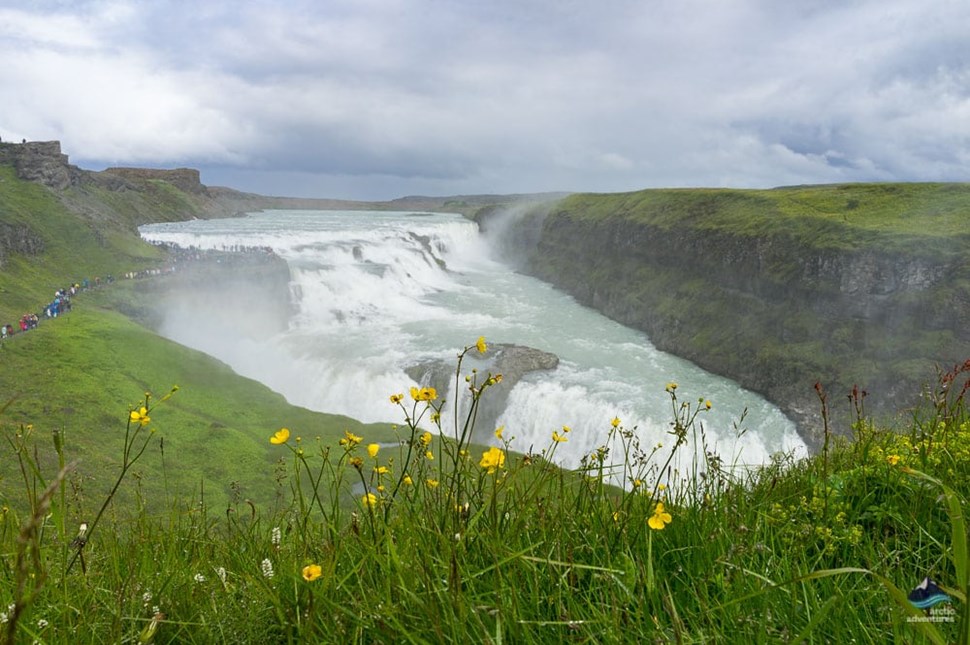 Golden Circle and Whale Watching for those who want to tick off the bucket list the must-dos.
Best Whale Watching Tour from Reykjavík in Winter
Combine the magic of two popular day tours in one: Whale Watching and Northern Lights.
Whale watching season lasts all year round in Reykjavik but it's only in winter that you can experience the bright Northern Lights! 
Hop on our whale watching cruise from the Old Harbor for an afternoon adventure of whale and dolphin watching. When night falls board our mini bus to hunt for the ephemeral Aurora Borealis.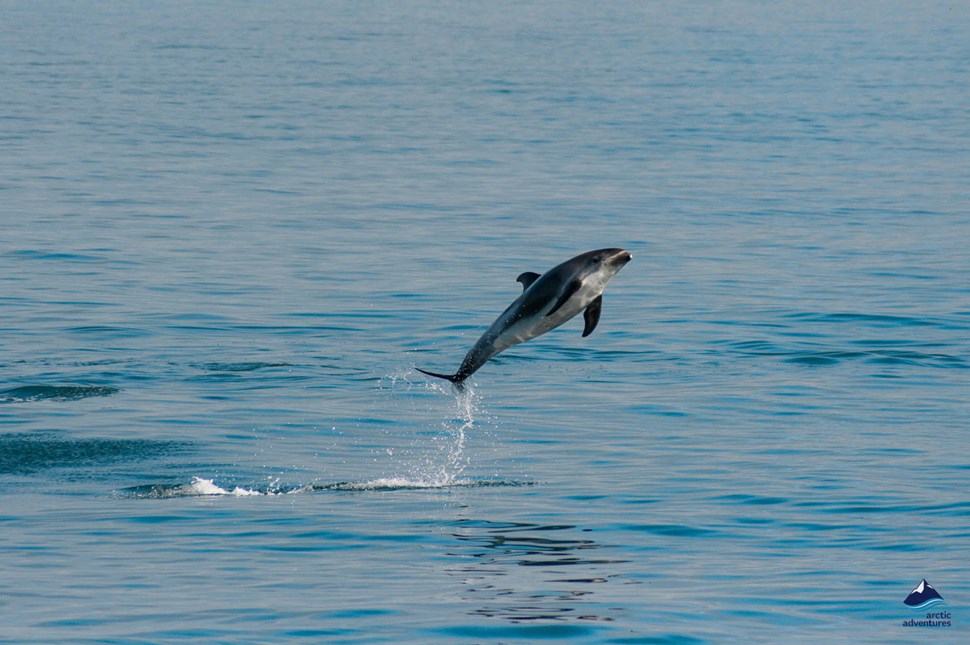 Enjoy our Whale Watching from Reykjavik Tour and Magical Auroras – Northern Lights Tour in one excursion and save on both! Your tour includes free photographs of you and the aurora so you can remember this awesome winter experience forever!
Best Whale Watching Tours for longer stays in Iceland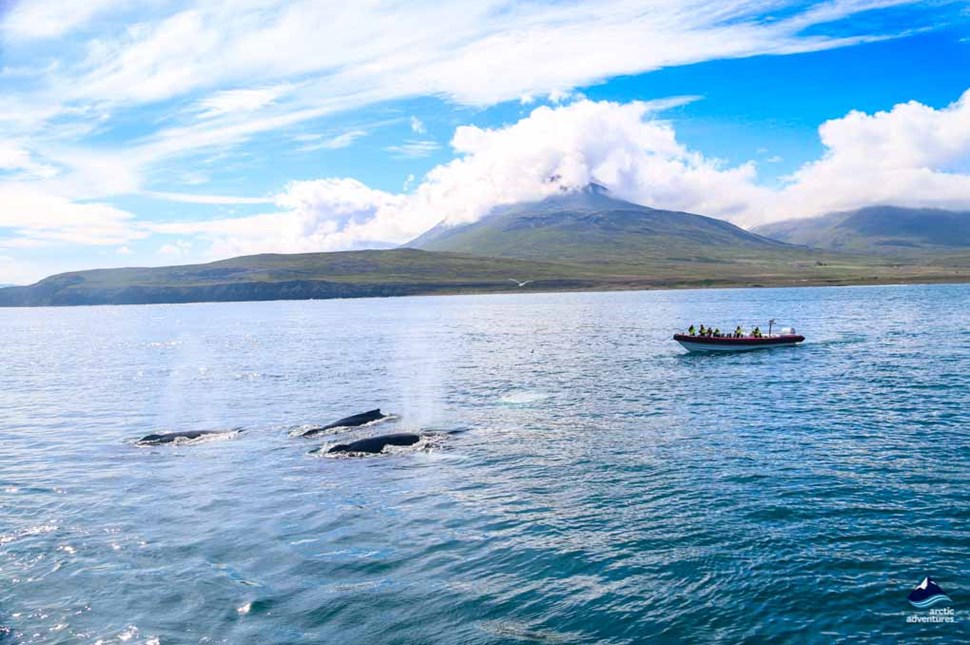 If you are staying in Iceland for some time and considering a multi-day tour or even a road trip around the country, your scope of options opens up even wider. There are whale watching tour operators all around the island and you can meet up for an adventure at every corner of the country.
You'll still get closer to the whales on Rhib boats and you can make the most of your day by mixing the whale watching experience with another activity or sightseeing. The main difference will be in your numerous harbor options, and as a result, your possibility 
Rhib Boat Whale Watching from Dalvík for those doing a self-drive road trip in summer or 6 Days Around Iceland Adventure for those looking to explore the whole country with a whale watching tour included.
The Best Place to go Whale Watching in Iceland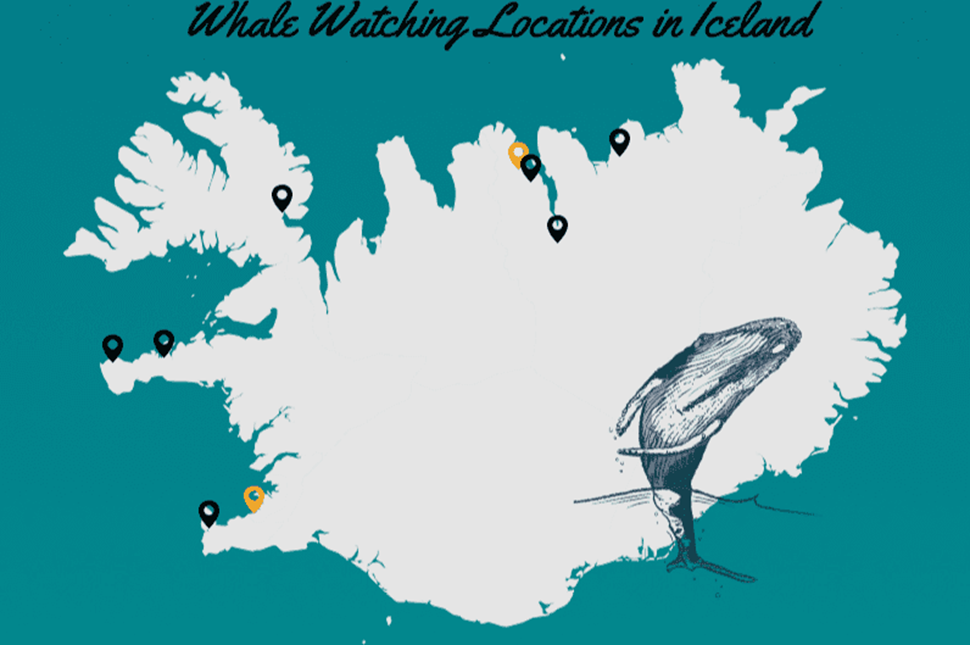 There are many brilliant places around Iceland where you can observe whales in their natural habitat. Because Iceland is an island and Icelanders mainly live on the coastline, accessibility to harbors and the ocean is excellent. With the great range of tours, you can easily set off on a whale watching exhibition from the capital's downtown area or even set sail from the tiny little fishing village in the Westfjords.
Whale Watching From Reykjavík
Whale watching tours from Reykjavík are available all year round. They take off from the charming Old Harbour near Geirsgata Street, often recognized by the nearby complex of light teal colored houses. The most common whales seen on tours from Reykjavík are playful humpback whales and curious Minke whales. During the summer months, birdlife is an added bonus with regular puffin sightings!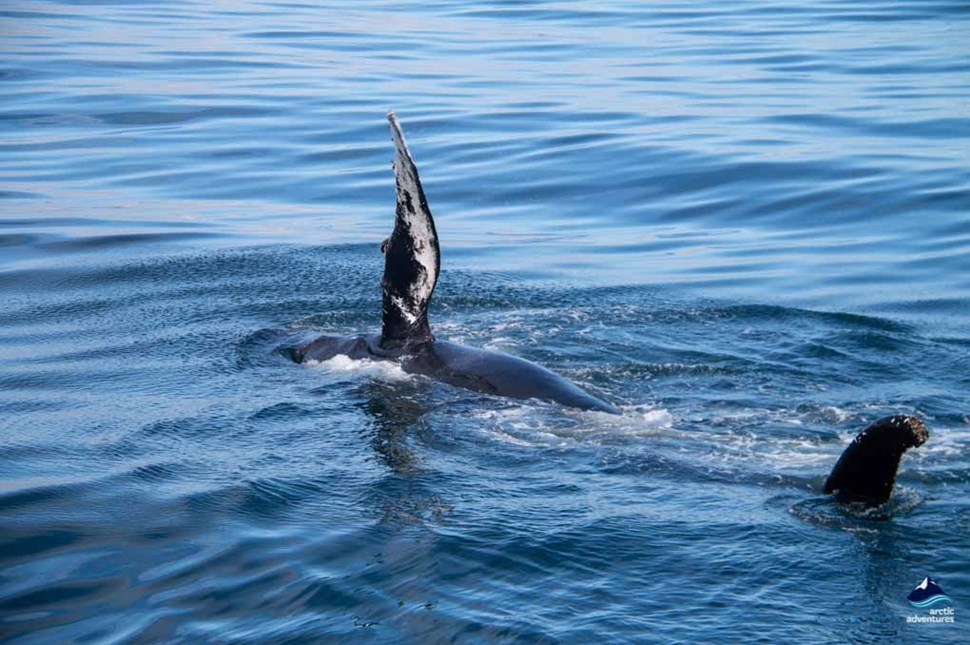 One of the benefits of joining a whale watching tour from Reykjavík is that you can easily do another tour the same day or break up your city exploring, as the tour is only three hours in total. The views during the tour are over the shoreline of Reykjavík, its colorful houses, the musical hall Harpa, and often to the island of Viðey.
Whale Watching in North Iceland
Our whale watching day tours from Dalvík have had such amazing success in recent years that the tour is refunded in the rare case that you don't see spot whales during the tour. All along Eyjafjörður, you will find small villages specializing in whale watching tours. This isn't much of a surprise given that Eyjafjörður is an ultimate favorite of many different whale species, including the rare blue whale!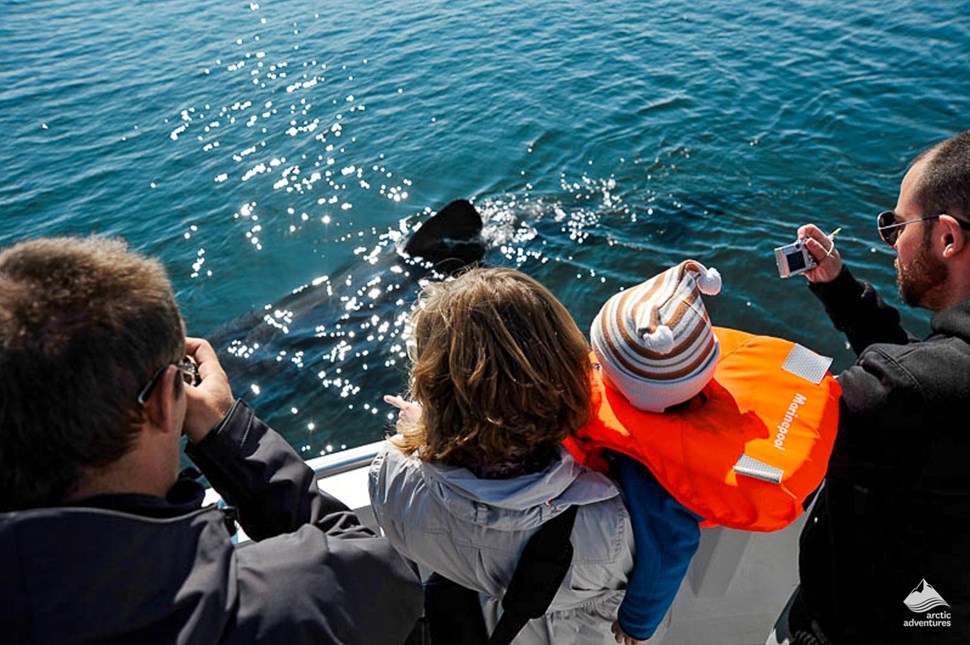 In the north, the picturesque mountain Kaldbakur stretches up high over the  sea, narrow springs trickle down the hills, and a colorful lighthouse rests on an isolated island in the middle of the fjord. There is something truly powerful about sailing around Eyjafjörður. With whales popping up in various spots, the biggest concern is which whale to visit first!
Other Whale Watching Locations in Iceland
Which whales can be seen in Iceland?
The Giants of the Sea, the Royalty of the Ocean, or Hvalir (as we like to call them in Icelandic) have always fascinated Icelandic locals.  Whales are mammals and belong to the cetacean family of large aquatic mammals, which also includes dolphins and porpoises.
Whales are creatures of the open sea, where they live, mate, give birth, feed, and raise their young ones. Whales vary a lot in length and range from 2,6 m (8,5 ft) and 135 kg (298 lb) to 29.9 m (98 ft) 190 metric tons (210 short tons).

About 24 different species of whales/cetaceans have been spotted in the waters around Iceland.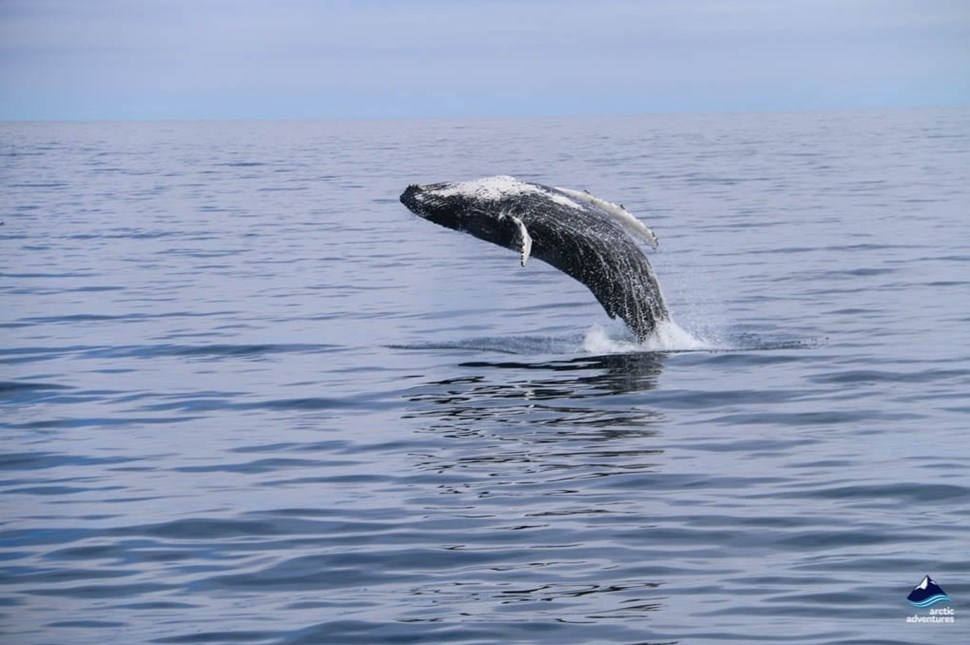 One of the most commonly spotted whales is the humpback whale. They're also considered among the most photogenic. Humpbacks aren't shy at all and often approach tour boats, gliding right beneath them or swimming only an arm's length away. They are vigorously acrobatic and like to flap their fins, jump up in the air, and whip their tail, causing quite the scene and the perfect moment to snap a picture! For information on other whale species in Iceland, read up on our Guide to Whale Watching.
When is Whale Watching Season in Iceland?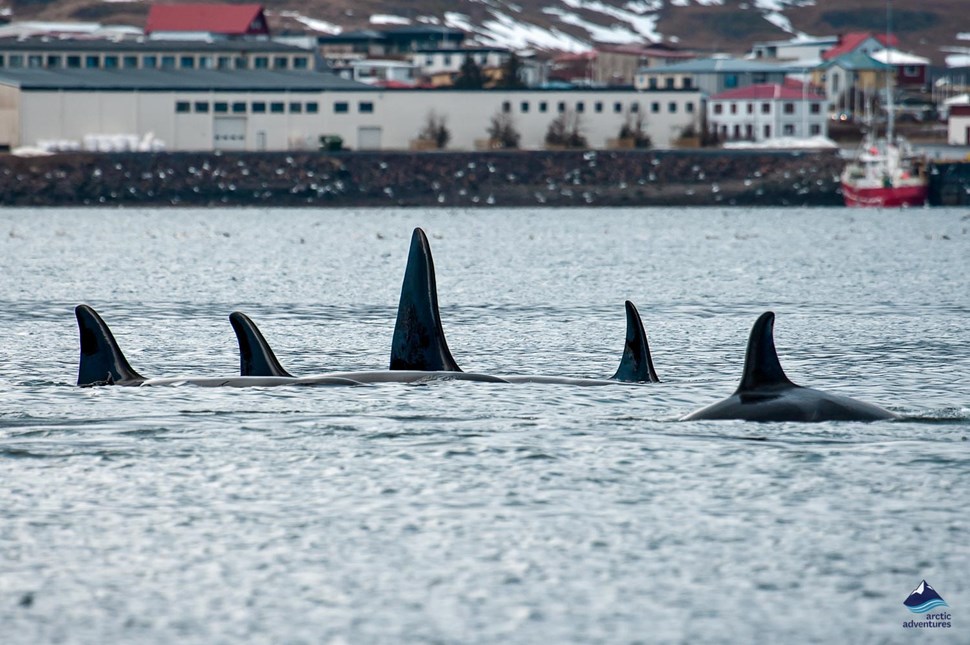 If you'd asked this question just a few years ago, our answer would have been only spring and summer.  But with climate change, whales are now visiting Iceland all year round. Winter or fall (September-March) visits to Iceland mean fewer tourists and therefore small groups on tours and more one-on-one time with the guides, allowing you to ask all the questions you might have about these ocean giants.
Spring and summer (April-August) are still the seasons when you are most likely to see the whales with their offspring. It's also the only time to see puffins during tours.
Summer Pros:
Winter Pros:
Fewer Tourists

Beautiful Scenery
What to Wear Whale Watching
What do you wear whale watching?
To keep yourself warm and protected during your boat tour, we recommend warm layers, hats and gloves, and a waterproof jacket with a hood. During our tours we provide warm overalls to all our whale watchers! If you plan to go on an excursion in summer, pack sunglasses and a hat to shade you from the Midnight Sun. For more information on what to bring, check out our equipment list page!