Iceland's Ring Road tour is billed as one of the most exciting road trips in the world and this 10-day self-drive package offers everything you need to experience the amazing land of fire and ice.
INSTANT BOOKING CONFIRMATION
The 10-day self-drive Iceland Ring Road tour will take you through dramatic landscapes around the island with exciting activities included to enrich your journey. You will have the opportunity to go on a glacier hiking tour (optional extra) on the glacier tongue from the fourth largest glacier in Iceland and go on a whale watching tour (included) near the capital of the north. It's perfect for adventurers who want to hit the road right away after they land in Iceland.
You can pick up your selected rental car in the airport or in Reykjavik. And each night you will stay in a comfortable room with private bathroom and delicious breakfast in the morning. It's the best value for experiencing Iceland to the fullest as our trip covers Reykjavik area, the Golden Circle, the Snaefellsnes Peninsula to name a few, all of which are spectacular sightseeing locations.
Suitable for most people in fair condition.
Departs from

Keflavik Airport
Tour highlights

Self Drive Experience
Road Trip via Iceland's Ring Road
The Golden Circle (Thingvellir, Geysir, Gullfoss)
The Spectacular South Coast (Seljalandsfoss, Skogafoss, Dyrholaey, Reynisfjara Black Sand Beach)
Glacier Hiking on Sólheimajökull (optional extra)
Vatnajokull National Park
Jokulsarlon Glacier Lagoon
The Diamond Beach
Hengifoss waterfall and Litlanesfoss waterfall
Dettifoss waterfall
Myvatn Lake
Godafoss waterfall
Akureyri, the Capital of The North
Dalvik Whale Watching (included)
Kolugljufur Canyon
The Snaefellsnes Peninsula
Mt. Kirkjufell and Kirkjufoss waterfall
Arnarstapi & Hellnar villages
Lóndrangar Sea Stacks
Djúpalónssandur Pebble Beach
Ytri-Tunga Beach
Deildartunguhver thermal spring
Hraunfossar waterfall and Barnafoss waterfall
Akranes Lighthouse
Reykjanes Peninsula
And many more in our detailed guide!
Included

Accommodation for 9 nights with breakfast
Rental car for 10 days (with all basic insurances: Collision Damage Waiver, Personal Accident Insurance and Theft protection)
Whale watching tour in Dalvik in North Iceland
Detailed itinerary and information package
Glacier Hiking on Sólheimajökull (optional extra)
Your road trip begins when you pick up your rental car at the airport. Before you reach the world's northernmost capital, you will drive across the Reykjanes Peninsula where fields of lava and moss spread extensively. Reykjavik is waiting for you with its Nordic charm. You will start exploring Reykjavik and its neighboring towns on your own pace and the Capital Region has a lot to offer. Then you will hit the road again on the popular Golden Circle Route to the heart of the nation where it holds significance in culture, history, and geography. You will visit Thingvellir National Park that's located between two tectonic plates, you will gaze at geysers hurling up to the sky, and see the majestic Gullfoss waterfall rumbling down to the gorge as an enormous amount of misty spray covers the valley.
Next up, you will drive to the stunning South Coast of Iceland. Along the Ring Road, you will visit numerous spectacular waterfalls, world-class black sand beach, phenomenal cliffs made of basalt columns, sea stacks, and the glorious glaciers – one of which you will have the opportunity to explore with our expert glacier guide (as an optional extra)
Driving to the east, you will pass by the most voluminous glacier in Europe which is also Iceland's largest ice cap, Vatnajokull glacier. There are many fabulous places in the area, including Skaftafell Nature Reserve, Svartifoss waterfall, and Jokulsarlon Glacier Lagoon.
On the next day, you will drive into the untouched wilderness in East Iceland via the meandering Ring Road. The road trip is pushing into Iceland's remote region where you will see dramatic landscapes undisturbed. You will drive by vibrant towns, glamorous fjords, fascinating waterfalls plunging over multi-layered cliffs, colorful volcanic crater lakes, and many other iconic Icelandic natural attractions.
Soon, you will reach North Iceland for your whale watching adventure in Dalvík (whale watching tour included). North Iceland is home to many stunning waterfalls, bubbling geothermal mud pools, fantastic rock formations, and the vibrant capital of the north. Your day staying in this region is filled with joys before you drive towards the west to the Snaefellsnes Peninsula that's nicknamed "Miniature Iceland." After visiting numerous fantastic highlights and landmarks, a sense of familiarity will encircle you since you will drive back to Reykjavik. On the last day of the road trip, you will drive through the Reykjanes Peninsula to the airport ending your unforgettable Ring Road trip in Iceland.
The 10-day Iceland self-drive package offers everything you need to explore the amazing country, including a rental car, accommodation, and a detailed mobile-friendly itinerary.
Optional extra
Glacier Hiking on Sólheimajökull (optional extra)
On Day 10,  you have the option of going for a soak in the famous Blue Lagoon located in the Reykjanes Peninsula if your flight schedule allows. Blue Lagoon admission fee is not included in our self-drive package, and since a pre-booking is required to enter the Lagoon, we recommend you booking your visit the Blue Lagoon website. Please remember to bring a bathing suit and a towel if you're not planning to rent them at the reception.
---
Detailed Itinerary Included
√ Detailed map of Iceland with all stops
√ Easily follow daily travel plans
√ Mobile-friendly design
√ Descriptions & photos for all major stops
√ Print your itinerary or share with friends
---
Information for your rental car
Pick-up: Choose between pick-up locations at Keflavik International airport (KEF) or BSI Bus Terminal in downtown Reykjavik, at flexible times.
For the best experience, we definitely recommend that you pick your car up early on the day of arrival, and return it in the afternoon or evening on your last day.
Drop-off: By default, the drop-off location for your car will be at Keflavik International Airport (KEF), no matter which pick-up location you have selected.
You can, however, drop-off the car at BSI Bus Terminal in Reykjavik, on the last day of your tour. If you prefer this drop-off location you can change it afterward (details can be found in your confirmation email).
---
Accommodation
Comfort accommodation is included in this package. Great locations, breakfast is included and you will have a private bathroom.
---
Practical information
Remember to bring: Warm layers (woolen or fleece), waterproof clothing, headwear, scarf, gloves, we highly recommend you bring hiking boots since they are essential in exploring Iceland, driver's license, sunglasses, and please check on the road condition and weather condition online frequently if you are traveling in winter.
What if I don't own all of these clothing items?
Don't worry, you can always rent sturdy hiking boots, a waterproof jacket, and pants in the booking process.
Please note
If you book for 2 or 4 persons you get twin / double rooms. If you book for 3 or 5 persons you get a combination of double/twin rooms and a single room.
To offer the best price possible, this self-drive package is fixed and cannot be changed or altered. The package has been optimized for the best experience.
Iceland's Ring Road – with a total length of 828 miles (1332 km) – is the only national highway that connects major towns in this Nordic island. It's also a fantastic route for a road trip when you want to see as much of Iceland as you can in a short period of time.
Here's some useful information about the Ring Road:
The Ring Road is also called Route 1, Highway 1, or, in Icelandic, Þjóðvegur 1.
The speed limit on most parts of the road is 55 mph (90 km/h) but you will need to check for signs that say otherwise.
For the most part, the Ring Road is paved but there are some gravel stretches here and there. These gravel parts are marked
with a warning sign posted beforehand.
The Ring Road is mostly a two-lane road while there are single-lane bridges in some locations.
It's not hard to find gas stations along the Ring Road.
Day 1 - The Magnificent Golden Circle
This package is ideal for morning arrivals. After you pick up your rental car at the airport, you'll head inland, driving through the capital city, Reykjavík.
The Golden Circle Route
Your epic journey will start with the most epic touring route in Iceland: the Golden Circle. This is a day tour that navigates along the most scenic sites that can be found near Reykjavík.
Thingvellir National Park
Your first stop will be at the nation's heart, also known as Thingvellir National Park. This is a UNESCO site and the world's oldest parliament was established here in 930 AD. The park now has turned into a serene land where, in still weather, Lake Thingvallavatn becomes a blue mirror doubling the surroundings, creating a surreal world.
The nearby Silfra fissure is a unique point between the North American and Eurasian tectonic plates. You can sign up for a snorkeling adventure in the clear water and literally touch the borders between continents.
Geysir Geothermal Field
Moving on to the renowned Geysir Geothermal Field, you'll see the unpredictable Geysir and its dynamic neighbor, Strokkur. Strokkur shoots out water up to 65 ft. (20 m) high every 6-10 minutes. Geysir has been less active in recent years but when it erupts, it can reach 229 ft. (70 m) high. The area is filled with bubbling hot springs, steaming mud pods, and smoking fumaroles. It is quite a spectacle to see for yourself.
Gullfoss Waterfall
Next, you'll see the powerful Gullfoss waterfall. The voluminous Hvita river flows with a huge rumbling sound as it rushes into the misty gorge. The overwhelming energy of the water is awe-inspiring. Downstream, Hvita is completely different from the turbulent waterfall. It becomes a calm blue waterway where you can take a jetboat ride to continue sightseeing in the area.
Faxi Waterfall
Before you finish your day, you can stop at Faxi waterfall along the way. It doesn't have as big of a drop as Gullfoss but the cascade is wide and very pretty, making a great photo opportunity.
For the night, you'll either stay in the Golden Circle area or the Hvolsvollur area.
Day Highlights

The Golden Circle Route
Þingvellir (Thingvellir)
Geysir Geothermal Hot Spring
The Great Geyser
Strokkur Hot Spring
Gullfoss Waterfall
Faxi Waterfall
Included

Rental Car
Itinerary
Accommodation
Day 2 - The Picturesque South Coast
After a nice breakfast, you'll resume your journey to the picturesque South Coast. During this section of the Ring Road, you'll pass through the dramatic landscapes.
Seljalandsfoss and Gljufrabui Waterfalls
Soon you'll reach your first stop: Seljalandsfoss waterfall. This is one of the most photographed waterfalls in Iceland since you can walk behind the waterfall to see the whole area from the opposite angle, which is quite amazing. The waterfall is 206 ft. (63 m) high and the water originates from the notorious volcano-glacier, Eyjafjallajokull.
Only a 5-minute walk away from Seljalandsfoss, you'll find a secret waterfall hidden behind the cliffs. Its name is Gljufrabui. It's a good idea to put on your waterproof jacket, pants, and boots before entering the small canyon and see this waterfall, though.
Skogafoss Waterfall
The next highlight along the coastline is a 25-minute drive down the road. Skogafoss waterfall is like nothing you have seen so far. It has an enormous cascade that plunges from 196 ft. (60 m) overhead. As one of the largest waterfalls in Iceland, Skogafoss is always accompanied by a rainbow on sunny days. Witnessing such a spectacular scene in the middle of beautiful landscapes is an experience not to be missed.
Glacier Hiking Tour (Optional)
Next, you'll have the opportunity to go on a glacier hiking tour. (Please note that this is an optional extra. Instructions for booking this tour are presented in the itinerary after purchase.) At 1:30 p.m., you'll meet our expert glacier guide and head out to Solheimajokull glacier for your adventure. This unforgettable experience will take you out on Solheimajokull glacier tongue while a friendly glacier guide shares their knowledge of Icelandic glaciers.
Dyrholaey, Reynisfjara, and Vík
Then, you'll drive to the picturesque seafront town of Vik. On your way, you can stop by Dyrholaey, a promontory rising 393 ft. (120 m) above the sea. The area is a paradise for seabirds, including the cute puffins. There's a white lighthouse on top.
From there, the amazing scenery of the South Coast will spread out before you in a spectacular panorama. You'll see the silver glaciers, the different shades of mountains, the charming black sand beaches, and the stunning sea stacks.
Then, you'll head to Reynisfjara, the famous black sand beach with basalt columns and picturesque sea stacks. Your accommodation will be in either Vik or the Kirkjubaejarklaustur area.
Day Highlights

Seljalandsfoss Waterfall
Gljúfrabúi Waterfall
Skógar
Skógafoss Waterfall
Sólheimajökull Glacier
Dyrhólaey
Reynisfjara Black Sand Beach
Vík í Mýrdal
Included

Rental Car
Itinerary
Accommodation
Day 3 - Kirkjubæjarklaustur, Skaftafell & Jökulsárlón Glacier Lagoon
Fjaðrárgljúfur Canyon
Leaving the southernmost tip of Iceland, you'll head east along the Ring Road to visit Jokulsarlon Glacier Lagoon, which is the crown jewel of natural attractions in the country. On your way, you'll see glaciers rising to more than 3280 ft. (1000 m) above sea level. On your right-hand side, you'll see the lowlands stretching to the sea.
Fjaðrárgljúfur Canyon will be your first stop of the day. This is an insanely picturesque canyon that is 1.24 mi. (2 km) long and 328 ft. (100 m) deep. The whole area looks like it comes straight out of a fairytale. It is not surprising that Justin Bieber used this location in one of his famous music videos (for the song "I'll Show You").
Skaftafell and Svartifoss Waterfall
From there, you'll head to Skaftafell, which is part of Vatnajökull National Park, the largest national park in Europe. Skaftafell is where you can start a journey to hike on a glacier or, in the winter, visit an enchanting crystal ice cave. You can also choose to take a hike to visit Svartifoss, a 65-foot (20-meter) tall waterfall that drops from basalt columns in geometrical patterns. It's only a 40-minute walk each way to reach the waterfall and its surroundings are completely breathtaking.
The Jokulsarlon Glacier Lagoon and the Diamond Beach
Jokulsarlon Glacier Lagoon is about a 46-minute drive from the Skaftafell Visitor Center. The drive takes you through exotic lava fields on both sides of the Ring Road. These alien landscapes were formed by volcanic activity and glacial movements. As you drive past Breidamerkurjokull glacier tongue, you'll see huge icebergs floating on cerulean water. This is a sign that you are approaching the Jokulsarlon parking lot.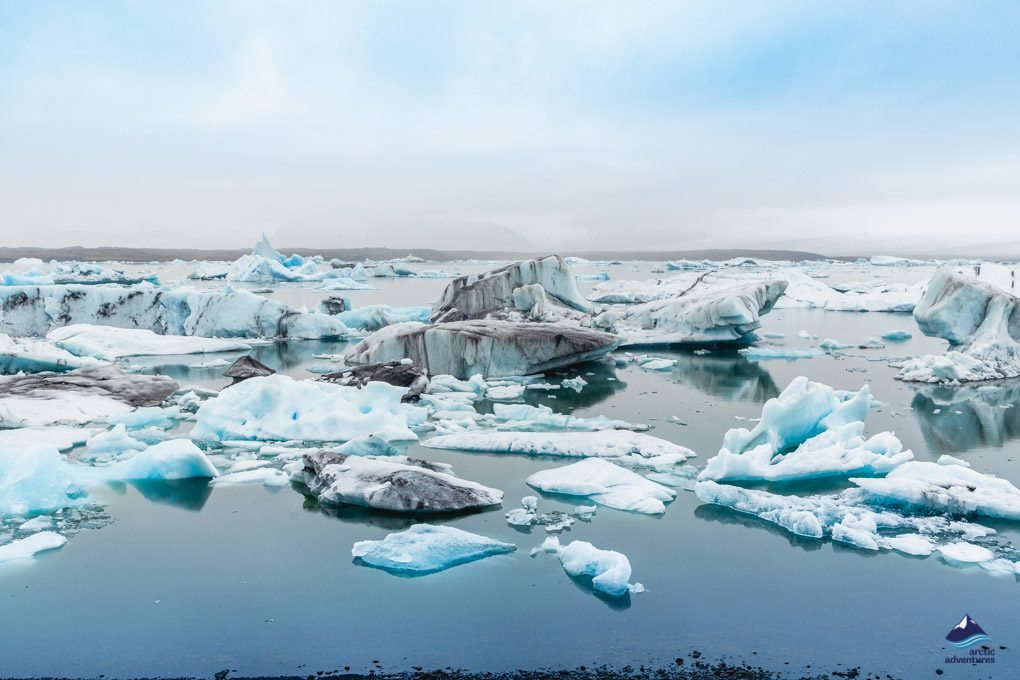 Fed by glacial meltwater from Breidamerkurjokull, Jokulsarlon is now the deepest lake in Iceland. Its deepest point reaches down to 813 ft. (248 m). In summer, there are boat tours that take visitors closer to the icebergs. If you are lucky, you'll see seals swimming and enjoying their day in the lake.
Next to the lagoon is the black sand beach that we call the Diamond Beach. The name is a vivid depiction of the melting icebergs that are washed up onshore. In their stranded glamor, they continue to amaze people with their charming shades of blue. There are glacier tours to Vatnajokull that depart from the lagoon's parking lot as well.
Höfn Village
After a complete visit to the lagoon area, you'll drive to Skaftafell or the Hofn area for your accommodation. A flourishing harbor town, Hofn is a nice stop if you are looking for recreational spots, cozy restaurants, grocery stores, and thermal swimming pools. A lobster festival is hosted every year in Hofn that attracts a lot of visitors for the local gourmet food.
Day Highlights

Fjaðrárgljúfur Canyon
Kirkjugólf - Church Floor
Dverghamrar Cliffs
Lómagnúpur
Skaftafell National Park
Svartifoss Waterfall
Jökulsárlón Glacier Lagoon
Included

Rental Car
Itinerary
Accommodation
Day 4 - The Untouched Wilderness of Eastfjords
The Eastfjords
The road to the Eastfjords is extraordinarily scenic as you will start to move into the unique fjord scenery that was carved by glaciers many centuries ago. This will be one of the most exciting moments during your Icelandic road trip. You'll soon reach the spectacular mountain of Vestrahorn. Its jagged appearance stands out against the beach and the mossy bumps in the nearby fields. If you are an avid photographer, this is the moment you have been waiting for to capture the splendor of Iceland's natural beauty.
Djupivogur Village
Next up is a nice fishing village named Djupivogur. The vibrant town, located between mountains and lagoons, is a perfect bird watching base for nature lovers. A colony of seals is often spotted in the area.
East Iceland isn't only famous for its fishing towns and fjord scenery. You'll also find numerous points of interests along your drive. For example, Stodvarfjordur is a town rich in Icelandic culture heritage, even though there are only 200 inhabitants. One popular site is Petra's Stone and Mineral Collection. You'll see a range of Icelandic stones in different shapes, colors, and textures while learning a great deal about Iceland's geography.
Lagarfljót Lake
The Ring Road will lead you to a long lake called Lagarfljot. According to legend, a giant serpent lives in this lake of which sightings have been reported for centuries. Some people have even caught this serpent on video, you can look it up on YouTube!
Borgarfjörður
When you reach the town of Egilsstadir, the capital of East Iceland, you'll leave the Ring Road behind for a detour to the most beautiful fjord in the Eastfjords area: Borgarfjordur. You'll drive along empty roads, even in the busiest part of tourist season. This area is so remote that you won't meet many tourists along your way. After a scenic drive, your final stop of the day will be at Borgarfjörður Eystri, a fjord-side village known as a natural paradise in the east.
The town has a population of only about 100 inhabitants. Located in a long and fertile valley surrounded by incredibly sharp and dramatic mountains, Borgarfjörður Eystri is often referred to as one of the most beautiful locations in Iceland.
Your accommodation for the night will be in this area.
Day Highlights

Höfn í Hornarfirði Town
Djúpivogur Town
Havarí Farm
Petra's Stone & Mineral Collection
Saxa Cliff
Lagarfljót Lake
Borgarfjordur
Included

Rental Car
Itinerary
Accommodation
Day 5 - Borgarfjörður Eystri
Hafnarhólmi Cape
Start your day by exploring Hafnarhólmi Cape, one of Iceland's most unique bird-watching sites. A busy, adorable puffin colony lives on a tiny headland by the harbor. You can reach it via a small bridge. The puffins are abundant here and can be observed from very close up. These silly looking birds are not afraid of humans at all!
The Dyrfjöll Mountain Range
Today, you can go hiking in the Dyrfjöll mountains. The natural scenery around Borgarfjordur Eystri is matchless, making it no wonder why this place is a favored holiday destination for Icelanders. The Dyrfjöll mountain range is one of the most impressive mountain ranges in all of Iceland. It's famously wild and beautiful from all four directions.
Stórurð
The hike to the most illustrious spot in the area takes you to Stórurð (the "giant boulders"). This interesting natural attraction consists of gigantic tuff boulders, charming meadows, and attractive turquoise-colored ponds. The hike starts higher from the road on the mountain pass over the village. There are plenty of other scenic hiking options to choose from. Wherever you go, you are very likely to encounter some reindeer along the way!
After the day, you'll find your accommodation in the area of Borgarfjörður Eystri.
Day Highlights

Borgarfjörður Eystri Village
Dyrfjöll Mountain
Stórurð Boulder
Hafnarhólmi Cape
Included

Rental Car
Itinerary
Accommodation
Day 6 - Dettifoss, Myvatn, and Godafoss in Majestic North Iceland
Driving from East Iceland northwards, you'll traverse the wilderness that the reindeer call home. If you are lucky, you'll even spot a herd of reindeer, Arctic foxes, and Icelandic horses along the way.
Dettifoss Waterfall
North Iceland has a lot to offer tourists. The first stop will be the magnificent Dettifoss waterfall. As the most voluminous waterfall in Europe, the width of Dettifoss extends over 328 ft. (100 m) with an overwhelming fall of 147 ft. (45 m). The magnitude of the falling flow creates a great – and constant – amount of spray floating over the canyon. This makes it very scenic; the perfect spot for filming a movie on a mythological subject. The 2012 film Prometheus took advantage of this area for that reason.
After appreciating the sheer volume of water that flows over the cascades at Dettifoss, you'll head to one of the most popular routes in Iceland, the Diamond Circle Route. This route consists of a group of unique landscapes and diverse attractions.
Hverarond and the Namafjall Area
The first stop will be in the Hverarond and Namafjall area. The area looks out of this world since it's completely infertile and filled with a sulphuric smell. As the scattered cracks shoot steam out from under the earth, the bubbling mud pots will roll amidst dried clay next to you.
The Myvatn Area
Next, you'll head to the Myvatn area. Myvatn Nature Baths is a northern alternative to the Blue Lagoon, with the advantage of being less crowded. You can choose to spend a relaxing time in the natural baths at an additional cost or can continue your journey to Myvatn. This huge lake is surrounded by tiny craters. Its name has a very interesting meaning in Icelandic, as it literally means "midge lake". But laying eyes on this beautiful lake is the opposite of hearing the unpleasant sound of those pesky insects. The area is very picturesque.
The Dimmuborgir Rocks
After a complete visit to Myvatn Lake, you can drop by the Dimmuborgir rocks. This is an area full of weirdly shaped rock formations that subarctic vegetation calls home.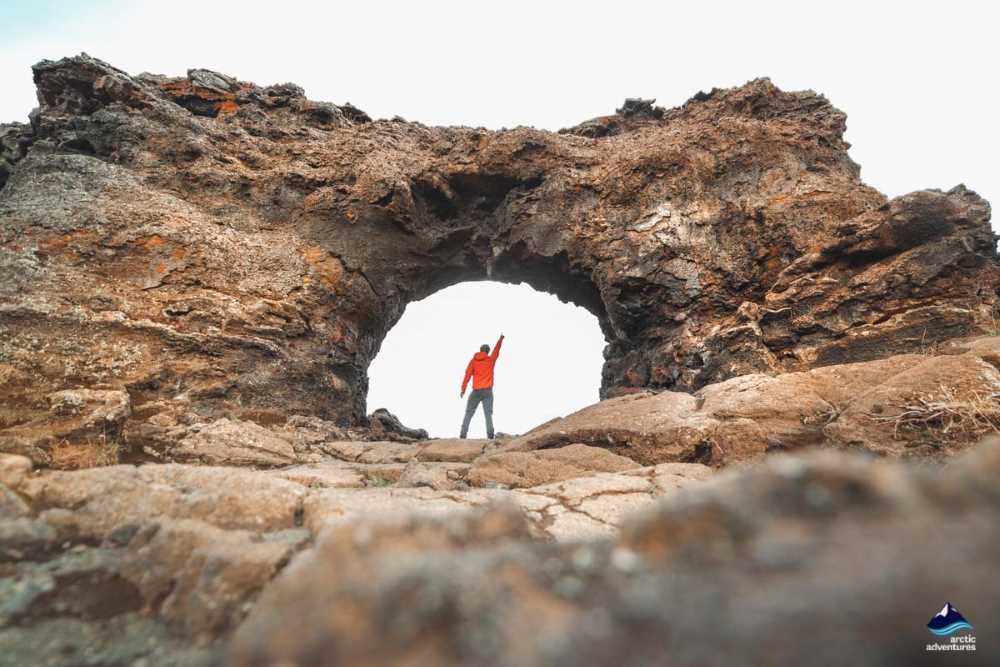 Godafoss Waterfall
The next stop, Godafoss, is a mind-blowing waterfall that has a look as mighty as its name. Its name means the "waterfall of the gods" in Icelandic. This beauty has an almost perfectly symmetrical layout as the cascades pour over the edge of the 39-foot (12-meter) cliff over a width of 98 feet (30 meters). It's a popular site for landscape photography, so you definitely won't be disappointed with your results.
Akureyri city
Finally, you'll drive to Akureyri, the capital of the North. The city has a great vibe for nightlife and several attractions worth exploring. You'll stay in either Akureyri or the Eyjafjordur area for the night.
Day Highlights

Rjúkandi Waterfall
Dettifoss Waterfall
Stóra-Viti crater
Hverarönd
Grjótagjá Cave
Mývatn Lake
Dimmuborgir Lava Field
Goðafoss Waterfall
Included

Rental Car
Itinerary
Accommodation
Day 7 - The Capital of the North and Whaling Watching From Dalvik
Waking up in the Akureyri area, you'll feel refreshed as the vibrant city gives off a great mix of remoteness and hospitality. Many cultural and musical festivals are hosted here every year, so please check the city's event calendar before coming! You can also spend some quality time in Akureyri visiting the botanical gardens and colorful streets.
Whale Watching in Dalvík
Then, you'll drive to Dalvik for your pre-booked whale watching tour that departs at 1:00 p.m. Dalvik is a paradise for whale watchers as it's famous for its extraordinary sighting rate of 99% in summer. The boat ride is an exciting excursion in itself since you'll get to witness the lively marine creatures in the middle of an incredible ocean seascape.
Skagafjordur Fjord
After the lighthearted whale watching tour, you'll continue your road trip westwards as you drive along Skagafjordur. The biggest landmark in this area is the 700,000-year-old island of Drangey rising far above the ocean in an isolated pose. The edge of this volcano remnant is considerably deep and the cliffs are a paradise for seabirds.
The Hvitserkur Sea Stack
Next up is a visit to the impressive Hvitserkur sea stack. The natural monument has earned a few nicknames over the years since its shape resembles either a rhino or an elephant. Some even say it looks like a dragon from some angles. This remote sea stack is located off the eastern shore of Vatnsnes.
As you approach Vatnsnes, you'll have completed many turns and curves on Route 1 in North Iceland during your scenic drive. You'll stay in the Vatnsnes area for the night in a comfortable room that we have pre-booked for you. The town of Vatnsnes is quite beautiful. Once there, you can take a leisurely stroll to see seals or seabirds, especially in summer when you have longer periods of daylight hours.
Day Highlights

Akureyri Town
Dalvík Fishing Village
Whale Watching
Hvítserkur Sea Stack
Included

Rental Car
Itinerary
Accommodation
Day 8 - The Snaefellsnes Peninsula - Iceland in Miniature
On Day 8, you'll head to the west to visit the Snaefellsnes Peninsula. This is the charming region of Iceland that we have nicknamed "Miniature Iceland." The drive from the north to the west is never a boring one since you'll pass by shallow shores, grassy fields, and rolling mountains. Kolugljufur Canyon will be your first stop of the day. This hidden gem has an awesome waterfall that runs over the hilly area before falling into the bottom of the canyon.
Grabrok Crater
Grabrok crater is the next stop before you steer your vehicle towards the peninsula. The height of the crater's edge can reach up to 557 ft. (170 m) and the panoramic view from the top is simply fabulous.
Stykkisholmur
Then you'll get off the Ring Road and drive towards the tip of Snaefellsnes. Stykkisholmur can be your first stop as this town is located on the north side of the peninsula. You'll definitely find the tiny, colorful town quite charming. You can even try some dried fish there.
Kirkjufell Mountain
The highlight of the day is when you reach Kirkjufell. This is the most popular attraction in Snaefellsnes. Together, the 1519-foot (463-meter) Kirkjufell mountain and the fabulous Kirkjufell waterfall are photographed by many artists as a most classic composition.
The Budir Church and the Londrangar Rock Pinnacles
As you drive further into the peninsula, you'll be getting closer to the sublime ice-capped Snaefellsjokull glacier. In this protected area, known as Snaefellsnes National Park, you'll find Iceland's rare white – or even golden – beach with the black church of Budir sitting on it. Djupalonssandur and Dritvik cove and the Londrangar rock pinnacles are also worth seeing in this national park. The area is truly the best representation of the diverse landscapes of Iceland.
Continuing eastwards, you'll reach Hellnar and Arnarstapi. Both locations are famous for their picturesque coastal views. You'll see the white waves crashing into the bottom of the basalt cliffs along the coastline where several species of seabirds choose to nest.
You'll stay on the Snaefellsnes Peninsula for the night in a comfortable room.
Day Highlights

Kolugljúfur Canyon
Grábrók crater
Stykkishólmur Town
Mt. Kirkjufell
Kirkjufoss Waterfall
Djúpalónssandur Beach
Dritvík Core
Lóndrangar Cliff
Hellnar Village
Arnarstapi Village
Included

Rental Car
Itinerary
Accommodation
Day 9 - Borgarnes
You'll get back on the Ring Road on Day 9 as your journey takes you back towards the capital. But, before you reach Reykjavik later in the day, there is a lot for you to see and visit along Route 1.
Gerduberg Cliff
First, you'll arrive at Gerduberg Cliff, a gigantic wall of huge basalt columns rising 46 ft. (14 m) from the ground. The style is like nothing that you have already seen in Iceland. Its sheer size alone makes this cliff overwhelmingly impressive.
The Silver Circle Route
Next up, you'll drive along the less busy but equally stunning Silver Circle Route. It resembles the Golden Circle Route as it also has beautiful waterfalls, geothermal fields, and cultural heritage.
Deildartunguhver Hot Spring
The most powerful hot spring in Europe, Deildartunguhver hot spring, is the first site you'll stop at. It's capable of producing 50 gallons (180 liters) of 97°C (200°F) water every second. The nearby towns' household heating depends on this powerful supply of thermal energy.
Hraunfossar and Barnafoss Waterfalls
Next, you'll visit two beautiful waterfalls that are very close to each other. Hraunfossar has countless streams that flow out of the lava fields in the middle of the vegetation. This is how the waterfall got its name, which translates as the "lava waterfall". No matter if it's summer or winter, Hraunfossar always has something unique to show visitors. A few minute's walk away, you'll find Barnafoss waterfall forcefully cascading down into a small canyon. The entire area is fabulous, especially in autumn.
Akranes City
Continue driving towards the capital and you'll pass Akranes, a scenic town that's about a one-hour drive from Reykjavik. You'll find an old lighthouse at the tip of the town, serving as a reminder of the old days when marine life was essential to Icelanders. Then you'll drive past Hvalfjordur, choosing to go either through the tunnel or via Road 47 for more sightseeing, if time allows.
Finally, in the evening, you'll reach Reykjavik for a nice dinner, if you want. You will check in to your accommodation that we have booked for you in the Capital Region.
Day Highlights

Ytri-Tunga
Gerðuberg cliff
Deildartunguhver Geothermal area
Hraunfossar and Barnafoss Waterfalls
Akranes-viti Lighthouse
Included

Rental Car
Itinerary
Accommodation
Day 10 - Reykjanes Peninsula
This is the last day of your 10-day road trip via the Icelandic Ring Road as today, you'll head to Keflavik International Airport for your departure. But before you board your flight, be sure to make the most of your remaining time in Iceland since you are going to drive through the Reykjanes Peninsula where the famous Blue Lagoon is located.
The Reykjanes Peninsula
If your flight schedule allows enough time, you can explore the region that contains the following highlights. The southern part of the peninsula has numerous attractions such as the port town of Grindavik, the magnificent view to be enjoyed from Hopsnes Peninsula, the Bridge Between Continents, and the Blue Lagoon.
The Blue Lagoon
After visiting the Reykjanes Peninsula, if you are not in a rush to catch your flight, we highly recommend a soak in the milky blue waters at the Blue Lagoon. Since the entry fee is not included in our package, it's best to book your spot online in advance. You can relax in the warmth of the therapeutic water while you think about the 10-day adventure you have just had.
The 10-day self-drive tour – with Reykjavik, the Golden Circle, and Snaefellsnes Peninsula included – is an ideal road trip package in which you'll see the best and most beautiful things that the land of fire and ice has to offer. For many self-planned road trips, going through several steps before you rent a car seems time-consuming.
In this package, all you need to do is to pick your ideal rental car since we take care of a huge portion of the planning and provide helpful information. We have carefully designed this 10-day itinerary for a slow-paced self-drive experience to make sure that it will be both amazing and unforgettable.
Day Highlights

Kleifarvatn Lake
Hópsnesviti Lighthouse
Blue Lagoon (optional)
Reykjanesviti Lighthouse
Bridge Between Continents
Included

Rental Car
Itinerary
Book this tour
Price from: 156.945 ISK
NO BOOKING FEES
FAST & SECURE PAYMENT
You have chosen: From KEF airport
Instant confirmation & Low Prices
Pick-up & Drop-off at Keflavik international airport. Note you can change the drop-off location to Reykjavik (see confirmation email for details, extra fee may apply).
You have chosen: From Reykjavik
Instant confirmation & Low Prices
Pick-up at BSI Bus Terminal in Reykjavik. Drop-off at KEF airport. Note you can change the drop-off location to Reykjavik (see confirmation email for details, extra fee may apply).