When should I hike the Laugavegur Trek?
In general, the best time to take the trail is from the end of June until the middle of September. However, conditions vary, and weather is always subject to change, even in summer snow is not uncommon.
The Icelandic Road Authority closes the roads into Landmannalaugar (F208/F225/F210), as well as the roads to other huts along the way, outside of the summer season.
The trail is usually open from June 25 to September 15.
Where is the best place for photos on the Laugavegur hike?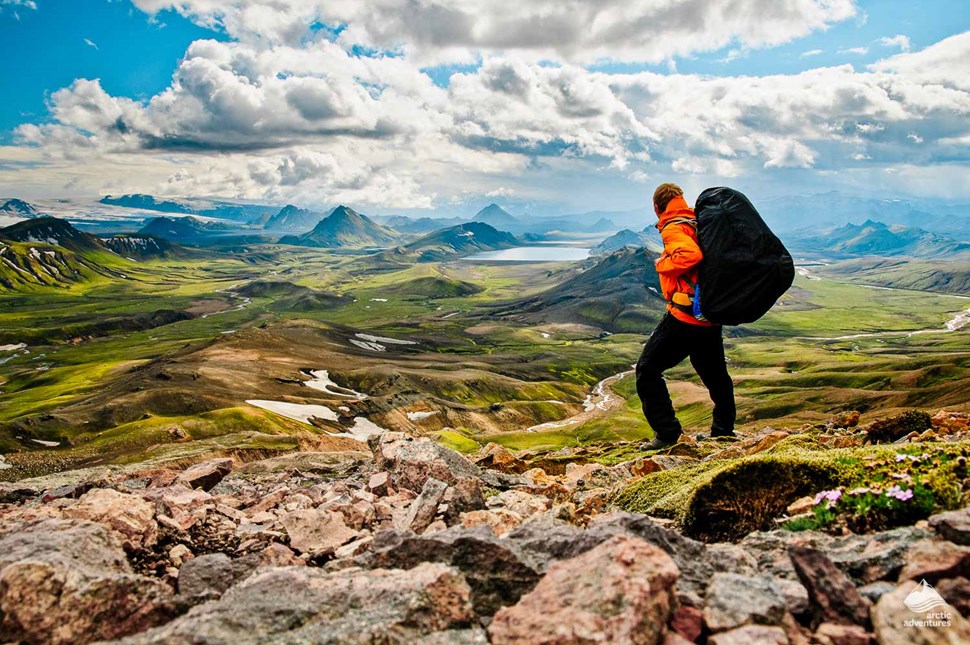 Everywhere you look on this trail is a good photo opp! Photograph everything so you can remember it forever. A few of the highlights include:
Ljótpollur, the name means 'ugly puddle' but this pool is considered to be one of the world's most beautiful crater lakes
Mount Suðirnámur; the Laugahraun lava field and Mount Brennisteinsalda, the most colorful mountain in Iceland
Any geothermal wonderland with steaming hot springs
The obsidian desert around Hrafntinnusker and Álfavatn (Elf Lake)
Glacier and volcano views around Eyjafjallajökull and Mýrdalsjökull; Markarfljótsgljúfur canyon; views of Mount Einhyrningur (Unicorn Mountain)
Remember Eyjafjallajökull – the infamous volcano eruption from 2010 that no newscaster in the world could pronounce? From Þórsmörk it is easy to head over the pass at Fimmvörðuháls – the site of the first eruption- to see the two new craters, Magni and Móði. You will see the great glacier volcano, Eyjafjallajökull, probably the most famous volcano in the world!
Will I get lost hiking Laugavegur?
The trail is well signposted and is popular enough to follow the group ahead while still maintaining distance. However, it is definitely recommended that you go with a professional guide who has travelled this trail many times before. In bad weather and heavy fog, visibility is seriously compromised, making it is easy to lose your way.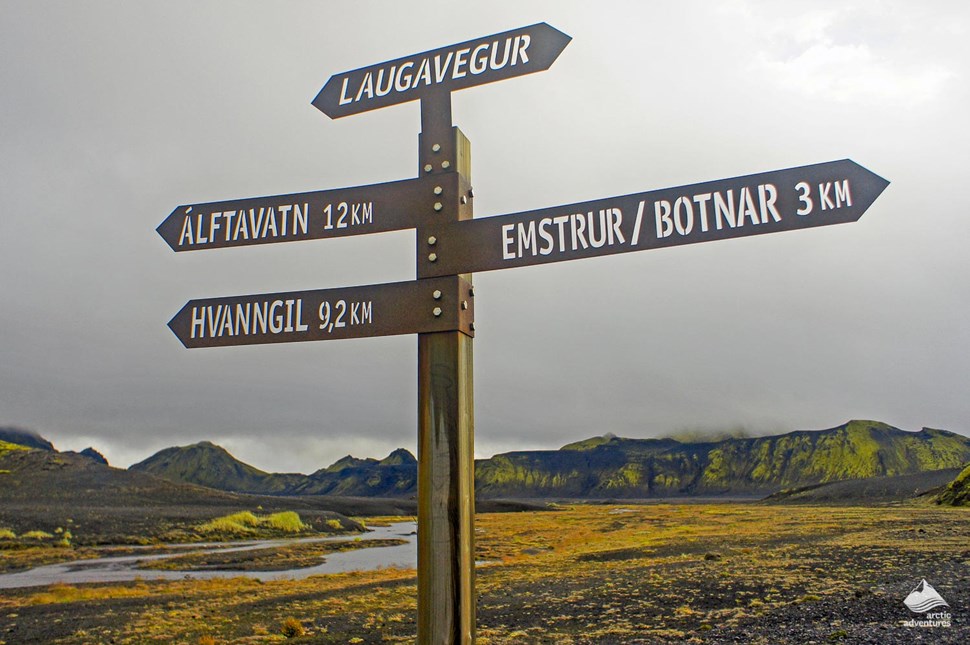 The altitude can reach over 1200 meters at some points, so be prepared for all sorts of weather. This is the Icelandic highland after all!
There are 3 rivers that need to be waded through en route. While the majority of river crossings are via a footbridge, care must be taken when crossing those without.
Unfortunately, Mobile GPS will not help you should you come off track, as internet connection on the trail is weak. There is a connection in and around all the huts and a small fee to recharge devices.
Laugavegur Trail and Environmental Impact
There are some rules when it comes to the trail, relating to maintaining this glorious location:
It is absolutely forbidden to throw away and leave garbage in the beautiful but fragile open nature. Cabins will have garbage bins for you to dispose of rubbish.
The entire purpose of hiking the trail is to enjoy the magnificent nature, so leave it as you found it. Hikers must exercise great care, respect and common sense for nature.
Stay on the trail! Only pitch your tent in designated camping grounds.
What is the Laugavegur trail like in winter?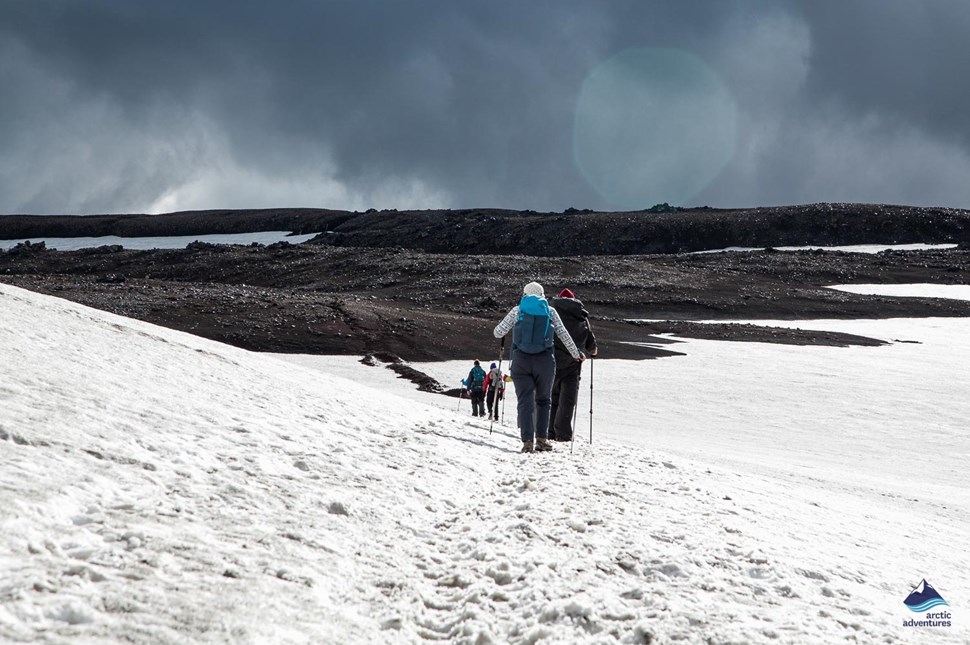 In short, the trail in winter is potentially lethal.
Hiking the Laugavegur trail is one of the most beautiful hikes in the world, but don't take too many risks. During wintertime, the trail is best avoided.
Even highly skilled hikers, accustomed to winter travel and carrying the right equipment should be aware of the risks. Additionally, initial access to the trail is restricted during the winter, there are no buses, neither to Landmannalaugar nor Þórsmörk.
Tips for the Laugavegur Trail
Stick to the trail!
Don't leave your litter behind
Link arms in pairs or threes when crossing rivers. Also, change into sandals or neoprene boots. DO NOT cross barefoot – it is slippery.
Be prepared for all sorts of unexpected weather
Break in your good quality hiking boots weeks before you start the trek
Bring enough food to last the duration of your trek
If you are camping, make sure you bring enough gas
Campsites accept debit/ credit cards but prefer cash
Bring a map and or a GPS device
Book campsites/cabins weeks or months in advance. Summer is very busy.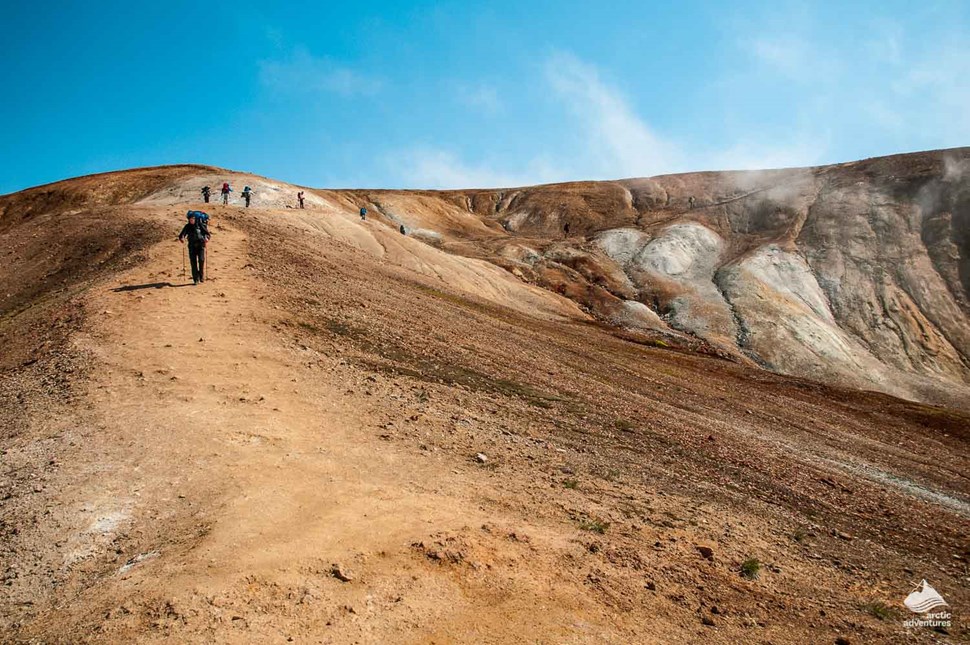 What to pack for the Laugavegur Trail
A sturdy 65L backpack with good support is ideal for a solo traveler backpacking via self-drive; while a 25L daypack works great for your own hikes between the huts if you are with a tour company. Self-navigators should pack a handheld GPS, just to be safe.
Your day bag will need to carry spare layers, water, lunch, hot drinks, a first aid kit, swim kit, and a camera or phone. If you are not with a tour group you will need to pack all of your food to last the duration of your hike, so leave about 10L of space for that.
Sturdy sandals or neoprene boots are crucial: whatever route you take, you will be crossing a river at some point. The rocks can be sharp and slippery so take precaution and do not go barefoot.
You will also need a set of walking poles, a head torch, and indoor shoes.
A 4-season sleeping bag is needed if you are using the huts on the route, but you can leave your roll mat behind because there are mattresses provided.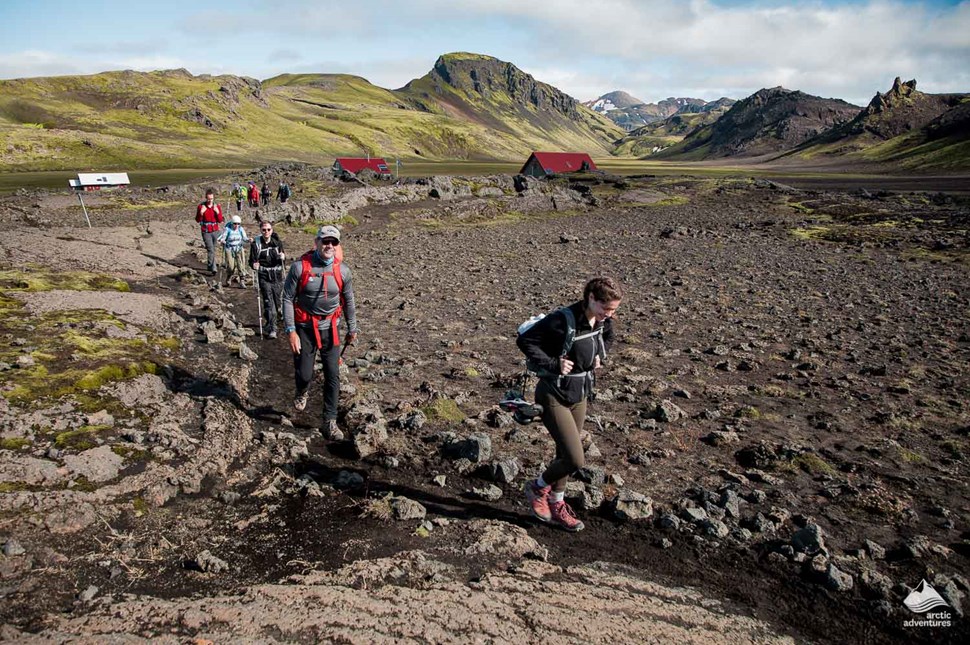 List of Essentials to Pack
Broken in, waterproof hiking boots with support around ankles. Leather is good.
Spare laces
Waterproof breathable shell jacket and trousers
Packable down jacket and fleece
Quick-dry hiking trousers
Gaiters
Long/short sleeve tops; quantity over thick quality, so you can layer up or down
A tent if you are camping
Good walking socks preferable thick and wool
Warm hat, gloves, and buff
Thermals (top and bottom)
2 Packable towels – one in your daypack for rivers or hot springs and one for showers
Sandals with straps or neoprene boots for wading through shallow water
Flip flops or indoors shoes
Walking poles
Head Torch
Dry bag – expect heavy rain and keep spare socks and layers dry
Water bottle
Small Thermos Flask
3 or 4-season sleeping bag
Swimsuit
First aid kit, including prescriptions, blister treatment, and survival blanket
Sunglasses and sun protection
GPS/Map/Compass if navigating
Environmentally friendly, biodegradable soap
Camera, phone and power bank
All your food if you're not with an organized group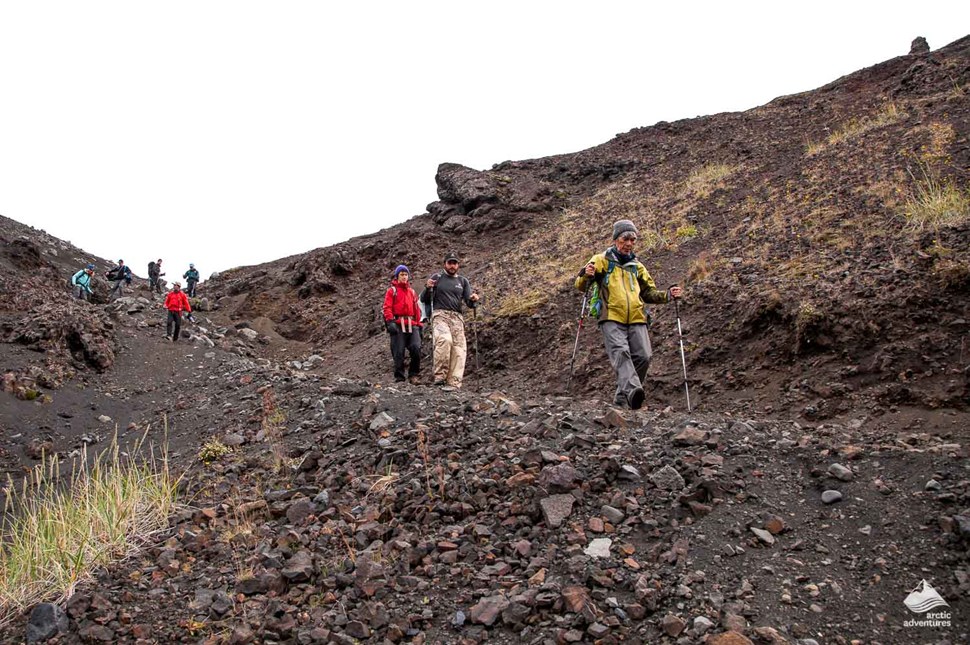 What to wear on the Laugavegur Trail
It is essential that you wear good quality, preferably Goretex, waterproof hiking boots that have already been broken in. Likewise, bring high quality, wool walking socks, to avoid potential blisters.
A breathable waterproof jacket with a hood, also preferably Gore-Tex, is a necessity. Waterproof trousers won't go amiss either!
You will need thermal base layers and from there you can add on extra layers like fleeces and jackets. Just make sure nothing is made of cotton. Layers are vital for hiking so you can easily add on or take off. You want quantity AND quality.
On route, it is a good idea to wear waterproof trousers, gaiters and a microfleece. Also bring a hat, gloves and a buff (neck warmer).