Our Values
Our mission statement is simply: "Nature is the adventure." We have tailored our tours in such a way that there will be no harm to or impact upon nature. We show our clients how nature can be treated with respect, we can pass through it without leaving a mark and take away only photographs and memories.
We care
The Arctic Adventures team is fascinated by everything Icelandic and driven to preserve and cherish not only nature but also the culture and society. This we do by taking part in all sorts of fundraisers, by giving our old lost and founds to people in need, by donating to the Search and Rescue team and by bringing underprivileged teenagers on spring trips. We try our very best to contribute to society in any way we can and feel that this is our obligation as a major tourism company in Iceland. An obligation we are happy to comply!
To us, Iceland is not only the unique nature, but also the amazing people who live here, and the extraordinary culture and perspectives that thrive here. We're proud to be a member of this community.
Our goals
Preserve our playground
Nature is the adventure and our environment is our playground. We must preserve it for all those who may wish to enjoy it in the future. We do this by following, participating in, and leading projects that aim to better our environment. 
We minimise waste by following three simple principles: First reduce, then reuse, lastly recycle. Our focus is on using reusable alternatives to single-use plastics, minimising food waste, and reducing our use of carbon fuels. We also take steps to recycle paper, cardboard, plastics, hazardous waste, and compostable waste, wherever possible. Arctic Adventures has set the goal of greatly reducing our total CO2 emissions by reducing the use of carbon fuel and by carbon offsetting by planting trees in Iceland. In 2019 we bought our first electric vehicles and made a contract with Kolviður Carbon Fund about the planting of 10.000 trees in Iceland! Other projects include beach and trail cleanups.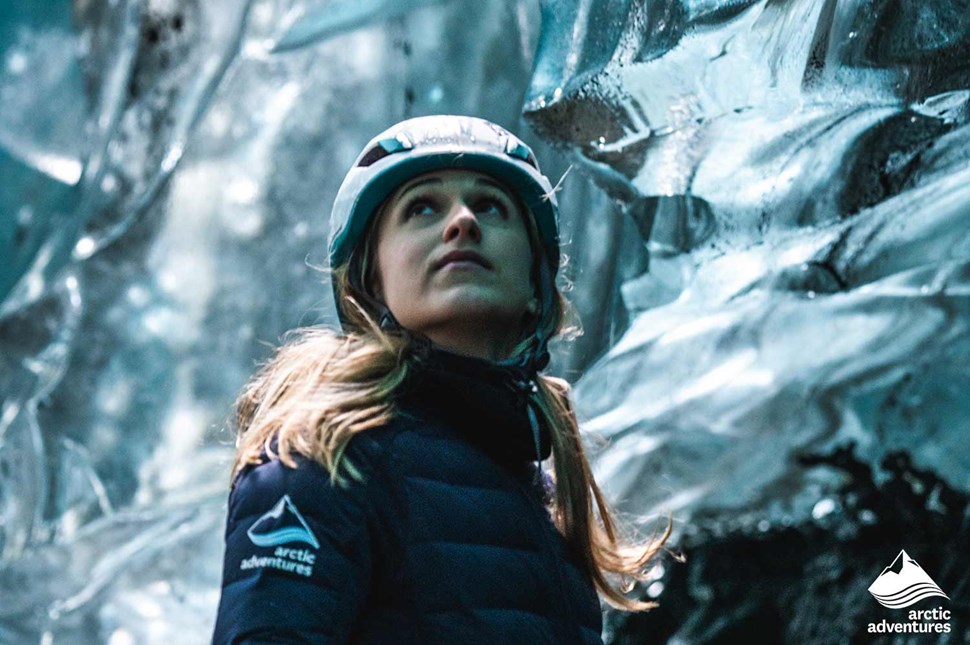 Support our community
The environment is not only about nature, it is also about the communities that live in and around all this natural splendor. We try our very best to contribute to the community in any way we can and feel that this is our obligation as a large tourism company in Iceland. An obligation we are happy to comply!
We do this through our business relationships, by choosing local food products, locally owned hotels, guesthouses and restaurants, and making stops at local farms, breweries and such on our tours. Through charities and fundraisers, by giving our old lost and founds to people in need, by donating to the Icelandic Search and Rescue teams, and by bringing underprivileged teenagers on adventures with us.
Spread the word
Not only do we, as a company, strive to do good for our environment. As a leader in adventure tourism in Iceland we choose to lead by example. We encourage our partners to practice sustainable measures in their work, our staff to be more environmentally friendly and our customers to be mindful of their ecological footprints during their travels with us.
We encourage all our partners to make their own environmental policy and plan of action, and to stick by it. We facilitate the use of more environmentally friendly transport for our staff by offering locked bicycle storage and shower facilities for those who choose to bike to and from work. We aim to offer charging stations for electric cars in the near future. We offer our customers the choice to carbon offset the tours they book with us. We encourage everyone to refill their reusable water bottles with pristine Icelandic tap water, rather than buying bottled water.
Our Certifications
Being a sustainable tour operator is something which we, at Arctic Adventures, take very seriously. It is also important for us to be able to reassure our customers concerning this. Our Certifications are an official recognition of our sustainability status. We are motivated to find additional ways to improve and to keep pace with new sustainability developments.
Vakinn Quality Accreditation
Vakinn is a quality system run by the Icelandic Tourist Board. Only tourism businesses that maintain high standards in all aspects of business practices and meet Vakinn's comprehensive assessment criteria have earned the right to carry their official quality label.
Arctic Adventures is very proud to be a Vakinn-certified travel service, maintaining the Vakinn quality standard annually and ensuring that our everyday practice consistently meets the accreditation requirements.
For tourists and travelers, the Vakinn sign means that:
You can book with confidence
The business operates in an ethical, professional and environmentally sustainable way
The business has the required systems and policies for a safe and happy holiday in Iceland
Vakinn Silver Class Environmental Certificate
Arctic Adventures has been awarded and has maintained the Vakinn Environmental Certificate for several years now. As of 2019, we are proud bearers of the Silver Class Certificate. This is an official recognition of our high standards concerning sustainability, the environment and social responsibility.
The preservation of magnificent Icelandic nature for future generations to enjoy has always been very important to Arctic Adventures. And we believe the protection of fragile ecosystems and wildlife habitats is as necessary as finding ways to reduce our individual and collective ecological footprints.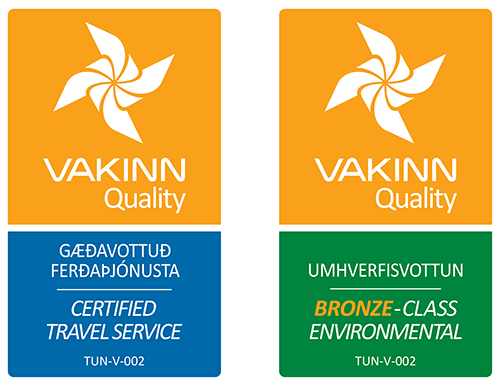 The main focus of the Vakinn environmental system is:
Strategy and procedures

Classification of waste

Green accounting (measuring and monitoring)

Social responsibility

Reduction and offsetting of greenhouse gas emissions
The Icelandic Tourist Board
Arctic Adventures is registered as a tour operator with The Icelandic Tourist Board, Ferðamálastofa.
We hope that our permit or license will provide our customers with welcome reassurance. As a Licensed Tour Operator, we have to make certain of a few factors which are important for your confidence in us, enjoyment, the quality of your tour and, of course, your safety.
Everyone in the company has the correct level of qualification for the work they undertake. The qualifications of your guide will always meet or exceed the level required by Ferðamálastofa for the activity they undertake with you. The expertise and professionalism of your guide is so important, both for your enjoyment and safety. We want you to really get that special, once-in-a-lifetime experience!
Operating guidelines with safety plans are in place for all of our tours. The operating standards of licensed tour operators are defined by the Tourism Act of Iceland.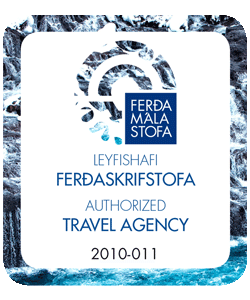 Awards
Since the beginning of the company, our main points have been quality, expertise, and sustainability. We strive for excellence every day, bringing the best experience possible to our customers.
We have a lot of love for what we do, and this passion translates into many awards we've gotten over the years.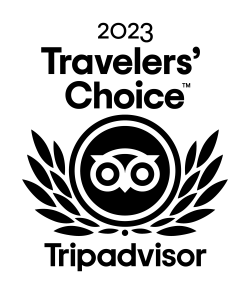 2023:
2022:
Travelers' Choice - award by Tripadvisor
2021:
2020:
2019:
2018:
2017:
2016:
TripAdvisor Certificate of Excellence
We are thankful to all the partners that worked with us over the years and we cannot wait to see what will tomorrow bring.
Equal Rights Policy
Straumhvarf ehf. and its subsidiaries place an emphasis on ensuring that all of their employees enjoy equal rights. This is the best way of ensuring that the human resources which the company is responsible are fully optimized, encompassing, among other things, the education, experience, skills and outlooks of its staff. All employees shall comply with the Equal Rights Policy and work according to its spirit. Any direct or indirect discrimination based on gender, age, origins or religion is completely forbidden. For more information, read the full equal rights policy.