Snæfellsjökull was transformed into a National Park in the year 2001. It covers the western tip of the Snæfellsnes Peninsula. Around the glacier volcano you find dark rough lava which curls together into a massive lava field. The lava field covers the majority of the peninsula.
The 1,446 meters (4,744 ft) high Snæfellsjökull Glacier in Iceland is believed to have last erupted between 50 AD and 350 AD – a few hundred years before the island was settled.
Little is known about the dates that Snæfellsjökull was created. However, it's included in a volcanic range that dates back 700 000 years. Over twenty distinct lava flows have been documented, giving us a good idea of Snæfellsjökull's volcanic activity over the years.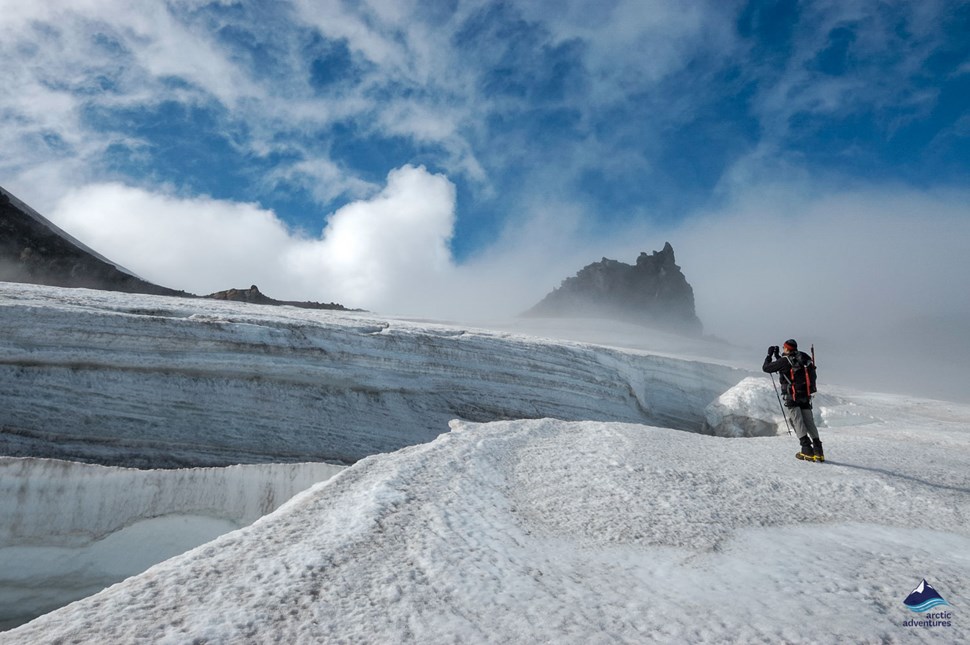 Fun Facts About Snaefellsjokull
Here are some of the most interesting facts about the glacier:
Snæfellsjökull is 700,000 years old
On clear days you can see the glacier/volcano from Reykjavík, Iceland's capital
Snaefellsjokull is a stratovolcano just like Eyjafjallajökull
The Snæfellsjökull National Park was established in 2001 and is one of the five National Parks in Iceland
Snæfellsjökull is one of the highest glaciers in Iceland reaching 1446 meters high
The last eruption of Snaefellsjokull is believed to have taken place 200 AD (with a buffer of 150 years give or take)
Snæfellsjökull is the 8th highest glacier in Iceland
Folklore surrounding Snaefellsjokull
Bárður Snæfellsás is a fictional character is a folklore tale from the 14th century in Iceland. Bárður was half giant and half troll and was widely considered mighty, smart and handsome. It's said that Bárður's daughter was playing with his brothers when she somehow got stuck on an iceberg that was floating by. There was no way to save her and the iceberg took her all the way to Greenland.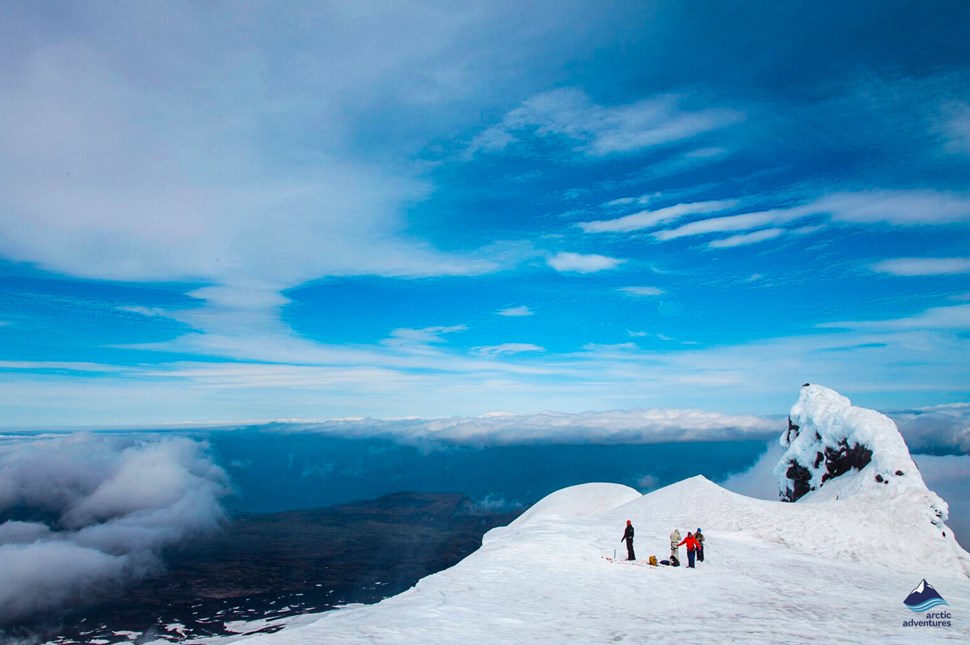 Upon her return she was not the same and not as close to her father as she had been before, she wandered around and could never find peace. Bárður fought his brothers after the incident blaming them for the incident.
This event grieved Bárður heavily and after his son had taken up Christian religion it all became too much for Bárður. He ended up giving all his belongings away. He told his friend and neighbor, Sigmundur, that he was leaving because of his deep sadness. He did not feel as he belonged with men.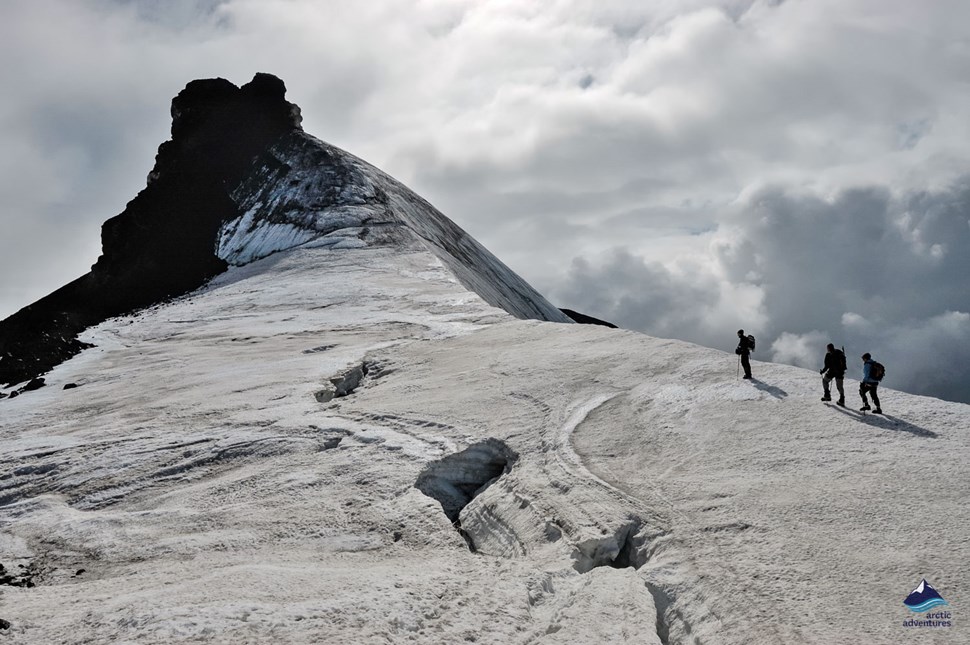 He is said to have moved into a big cave in Snæfellsjökull Glacier. After that, he was called Bárður Snæfellsás. Ever since, he has been a savior and guiding light to those on the glacier. People have called upon him when finding themselves in trouble. Bárður is believed to have had many skills –some even say he can control the weather! Get to know more about Icelandic glaciers in our guide.
What type of volcano is Snæfellsjökull?
Snæfellsjökull is a glacier-capped stratovolcano. Stratovolcanoes are cone-shaped volcanoes formed from many layers of frozen lava. The main characteristic of stratovolcanoes is their steep profile with a crater on top of it. The lava coming out of this crater during eruption usually cools down and hardens before reaching the ground, forming the volcano. Explosive eruptions are specific to this type of volcano.
Where is Snaefellsjokull?
Snæfellsjökull is located at the western brim of the Snæfellsnes Peninsula. The closest towns to the glacier's parking lot are Ólafsvík (13,7 km or 8,5 mi), Grundarfjörður (35,3 km or 21.9 mi) and Stykkishólmur (91,7 km or 56,9 mi). The distance from Reykjavík to Snæfellsjökull is 197 kilometers (122,4 mi).
GPS coordinates of Snæfellsjökull: 64.8057° N, 23.7731° W
How to get to Snaefellsjokull?
You can easily get to Snæfellsjökull by getting a rental car and driving or simply joining one of those many tours to the glacier volcano which offer pick up from your accommodation in Reykjavík (see below).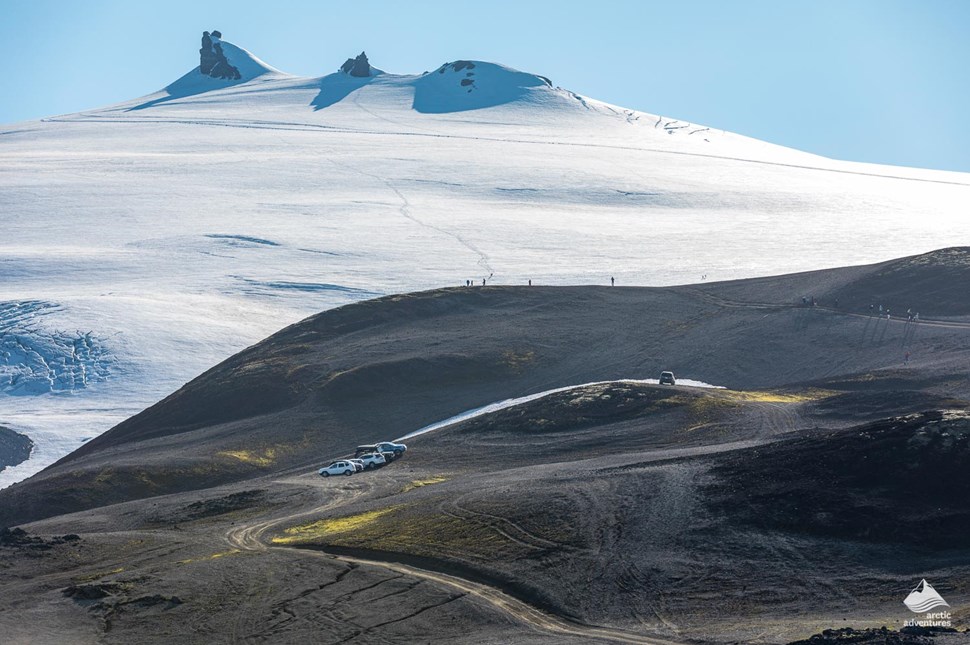 Driving from Reykjavík to the Snæfellsjökull parking lot will take about 2.5-3 hours. Leaving Reykjavík, head North following the Ring Road 1 past the famous Mt. Esja. At the turn to Hvalfjörður, you have the choice to drive the fjord or enter its undersea tunnel Hvalfjarðargöng. The tunnel will shorten the trip by one hour.
No matter the option you choose your next location is Borgarfjörður Valley and Borgarnes Town. At the last roundabout in Borgarnes make a turn onto road 54 to the Snæfellsnes Peninsula. This will take you all the way to the parking lot. The drive from Borgarnes to Snæfellsjökull parking lot will take about 1 hour and 40 minutes. Enjoy the drive!
How to explore Snaefellsjokull?
Glacier Hiking to Snæfellsjökull is available from March until September each year. Hiking trips are offered to the top of Snæfellsjökull Glacier. The hike is a bit of a challenge so it's advised to prepare a bit beforehand. View the entire Snaefellsnes Peninsula once you make it to the top! On a clear day, you can even see all the way to the capital.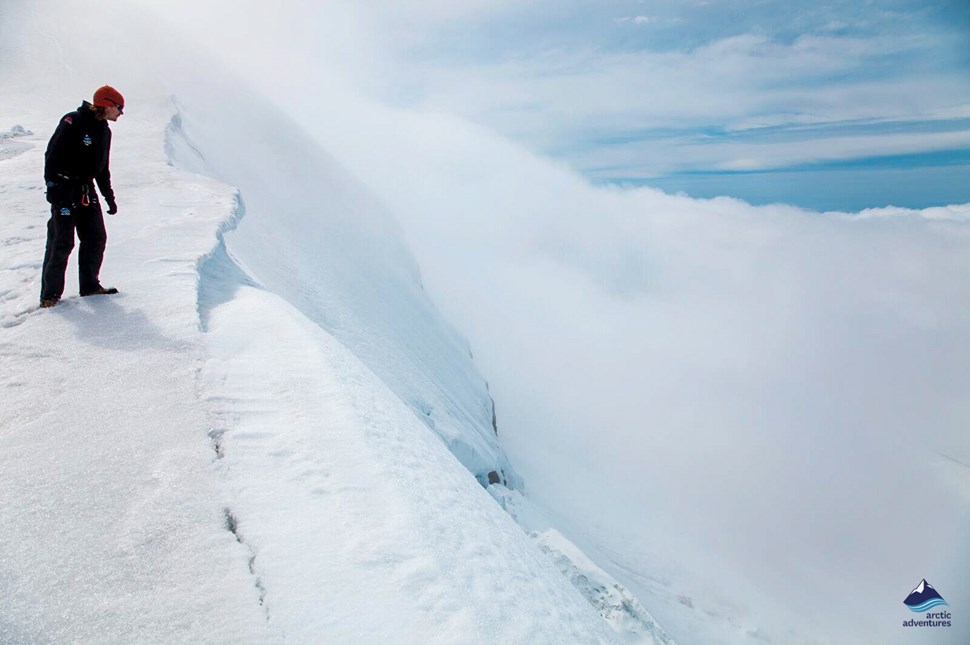 Take a Snowcat to Snæfellsjökull. You can now get to the top of Snæfellsjökull's via a SnowCat truck. Enjoy splendid view as you make your way through iconic glacier landscapes.
View Snæfellsjökull with a Snæfellsnes Road Trip. The glacier is so noticeable that you can easily see its white cap while you're on a self-drive around the peninsula. Plus, it's a great way to see Snæfellsjökull Glacier from all angles. 
What is the best time to climb Snæfellsjökull glacier?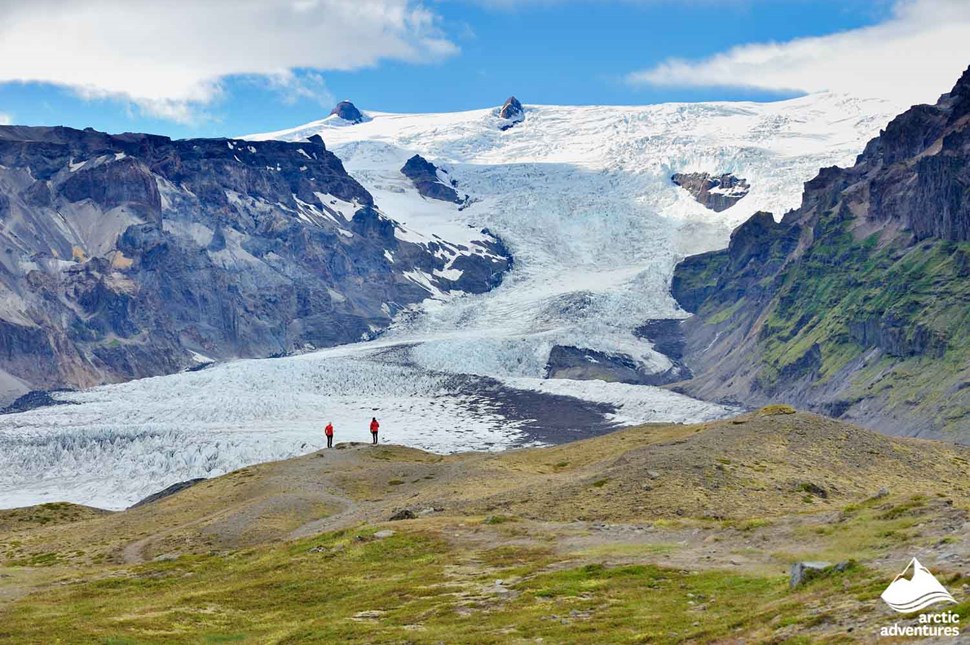 Since glacier tours are very weather dependent, it is better to be safe and travel in summer, between mid-May and August. Even when traveling in summer, you need to prepare for all kinds of weather. Don't forget to bring your weatherproof jacket and pants, and wear sturdy hiking shoes.
Where to stay near Snaefellsjokull?
There are plenty of accommodation options around Snaefellsjokull. We handpicked the best places to stay:
Hotels
Arnarstapi Hotel

Fosshotel Hellnar

Hotel Búðir

Hotel Hellissandur
Hostels
Guesthouses, B&B's and Apartments
Öxl Guesthouse

Westpark Guesthouse

Gamla Rif

North Star Apartments
Camping near Snaefellsjokull
Arnarstapi Camping Ground or what it is more commonly known as the Snjofell camping ground. Quite a large field and great views stretching over the coast and marine. The facilities are standard for tents and campers.
Ólafsvík Camping Ground offers fantastic facilities for tents and campervans and is close to all the services you might need being located in the town of Ólafsvík. Only 15 minutes walking to the local swimming pool.
Hellissandur Camping Ground is located in the beautiful Sandahraun lava field and offers all the standard facilities for tents and camper vans. There are sterling walking paths along the beach a little down from the grounds and the view from the area is amazing.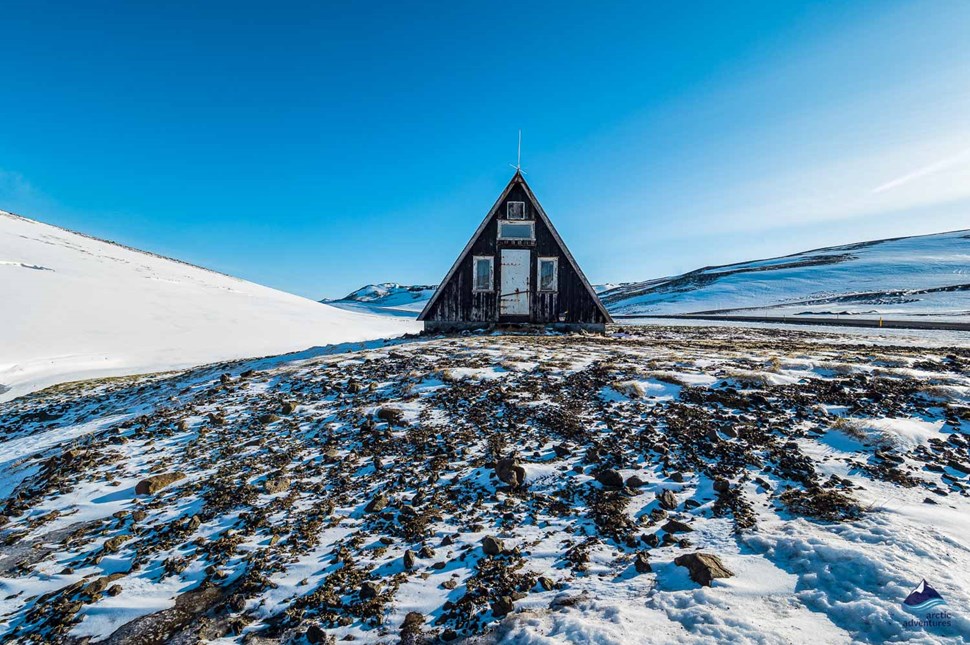 Where to eat near Snaefellsjokull?
Viðvík Restaurant at Hellissandur 

– a surprising gem in the middle of nowhere. Here you can find some of the most amazing dishes displayed in the most elegant of ways and the taste is heavenly. A pearl in the middle of a lava field.

Sker Restaurant at Ólafsvík

 

– in a modern style setting you will be greeted by friendly staff, a stuffed delicious menu and when the plates arrive simple tasty meals presented in a fancy way. They also have delicious cocktails!
Samkomuhúsið at Arnarstapi – a step back in time with delicious traditional Icelandic cuisines such as the lamb soup and Icelandic pönnukökur (pancakes). The setting is beautifully decorated with artifacts, books and local rocks and wool products.
Primus Kaffi at Hellnar – a great find at a remote beach with stunning views. The menu consists of soup, cakes, seafood dishes, meatballs and delicious coffee. A fantastic place to try Plokkfiskur the traditional Icelandic fish stew.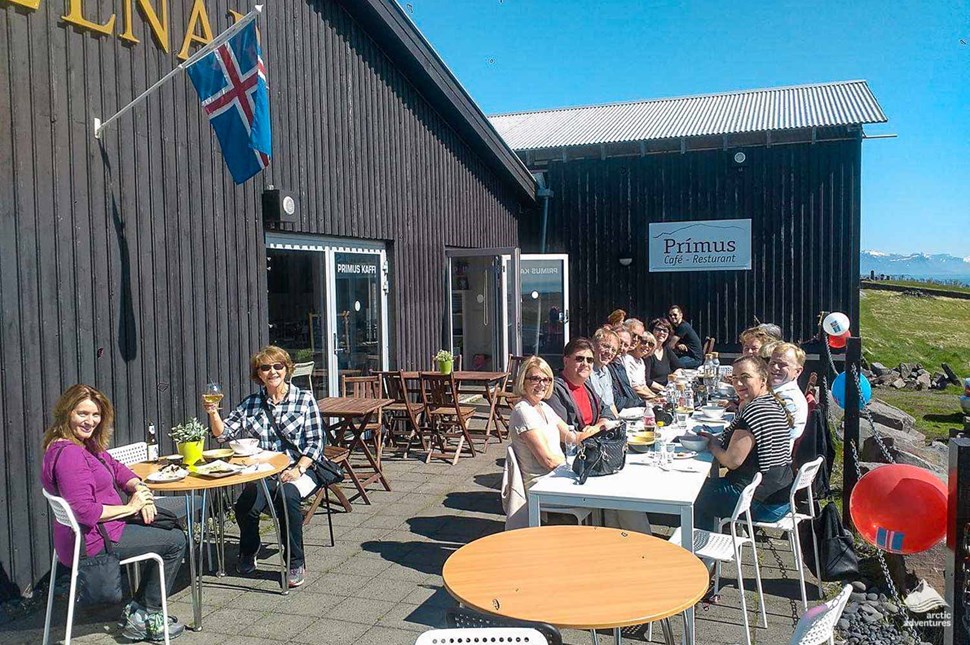 Movies, TV Shows or Music Videos filmed at Snaefellsjokull
Journey to the Center of the Earth (2008): The movie is named after the famous Jules Verne but the script is based on the book. There Brendan Fraser and Anita Briem take on the quest of entering Snæfellsjökull to get to the earth's core. The movie is filmed in the are of Snæfellsjökull.
Interesting places near Snaefellsjokull
You can combine a visit to Snaefellsjokull with other popular attractions. Check out the most interesting places around the area:
Hellnar Village

Lóndrangar Basalt Rocks

Bjarnarfoss Waterfall

Búðakirkja "The Black Church"

Lýsuhólslaug Swimming Pool

Skarðsvík Beach

Hellissandur

Ólafsvík town

Grundarfjörður Town

Kirkjufellsfoss Waterfall

Stykkishólmur