ABOUT SNORKELING IN ICELAND
We offer the most exciting snorkeling tours in Iceland. This unforgettable activity makes for a fantastic day trip from Reykjavik that almost anyone can do. Snorkeling at Silfra Fissure is becoming one of the most popular tours to do here. Snorkel between Iceland's tectonic plates in the clearest water in the world!
Nowhere else on Earth can you snorkel within a tectonic rift, the Eurasian plate on one side and the North American on the other. The glacial water, filtered through porous lava rock, reaches a visibility of 100 meters! It's no wonder then that Silfra was rated one of the top ten activities in the world by Tripadvisor.
The best part? You don't even need a special diving certification to snorkel at Silfra. An afternoon of snorkeling in Iceland's continental rift is a great add-on to your visit to the historic Thingvellir National Park on the famous Golden Circle.
A Typical Snorkeling Tour
There are several daily snorkeling tours at Silfra to discover the wonders of the fissure from the inside. Have a closer look at the colorful algae in the clearest water on the planet. The underwater world of Silfra has a lot to offer! From the surface, it doesn't look like a whole different magical world, but as soon as one gets into the water, it is hard to get back to reality.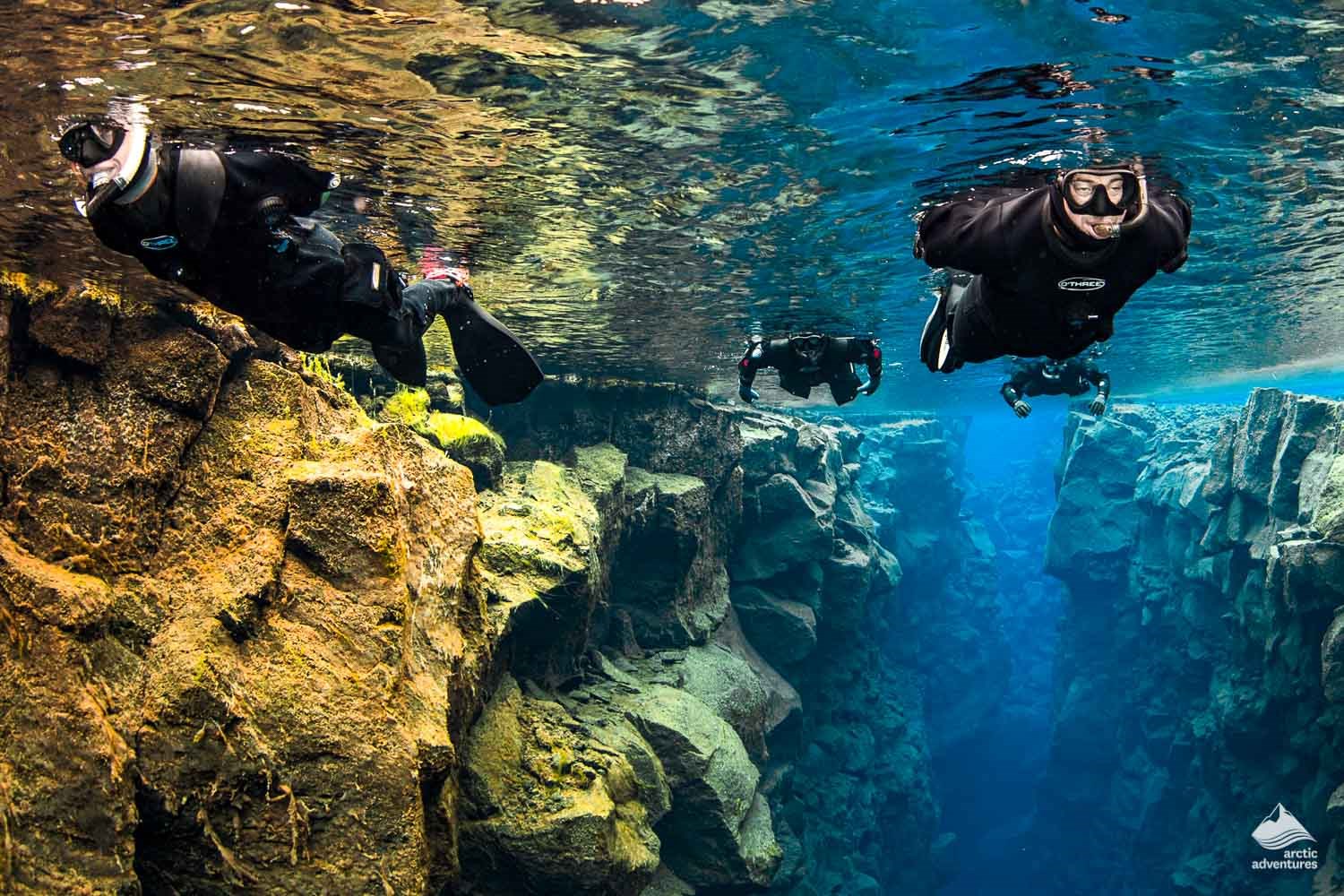 The day tour will begin with the pick-up in Reykjavík, or directly at Silfra, in Þingvellir, for those who already are on location. The parking lot has been turned into a suiting area, where the guides will provide snorkelers with an overall, dry suit. They'll also give you other special gear such as a hood, gloves and a choker to make sure the water doesn't go inside the suit via the neck.
It is a bit hard to get equipped alone, but our guides are always here to help. For ultimate comfort, it is recommended to wear fleece or wool thermals and socks under the suit.
The dry suits are specially made to float on the surface of the water, it is really hard to get underwater as there is air inside. It will also keep the body warm and in most cases dry. However, the hands and the head are protected by neoprene, which is made to heat the water that gets trapped in it. A diving mask, flippers and a snorkel will also be given.
Many people wonder how to put on all this snorkeling stuff. Your guide will help you to prepare for the tour, and if you want to get an idea of it before coming to Silfra, here's a "How to put on snorkeling gear" video to help you out!
Next up, your instructor will give you a safety brief so you understand what to do and how to behave in the water. You'll also learn some interesting information about Silfra. There are a few things people should avoid while diving or snorkeling at Silfra. Check out what NOT to do while at Silfra and be prepared!
The big moment has come: Everyone in the water! For the first few minutes, it will be a little hard with the cold water brushing against the face and hands. In time, your limbs will become a little numb for the rest of the journey, but it's just a matter of getting used to it.
The tour will last for about 30 to 40 minutes as the guide will show around the four main parts of Silfra: Big Crack, Silfra Hall, Silfra Cathedral and Silfra Lagoon. First, Big Crack is Silfra's narrowest section, where the continental plates are so close that it is almost possible to touch them both at the same time. 
Silfra Hall is where the bright colors and the clarity inside the fissure can truly be seen. It is also possible to see lake Thingvallavatn, which is 150 meters (492 feet) away from here.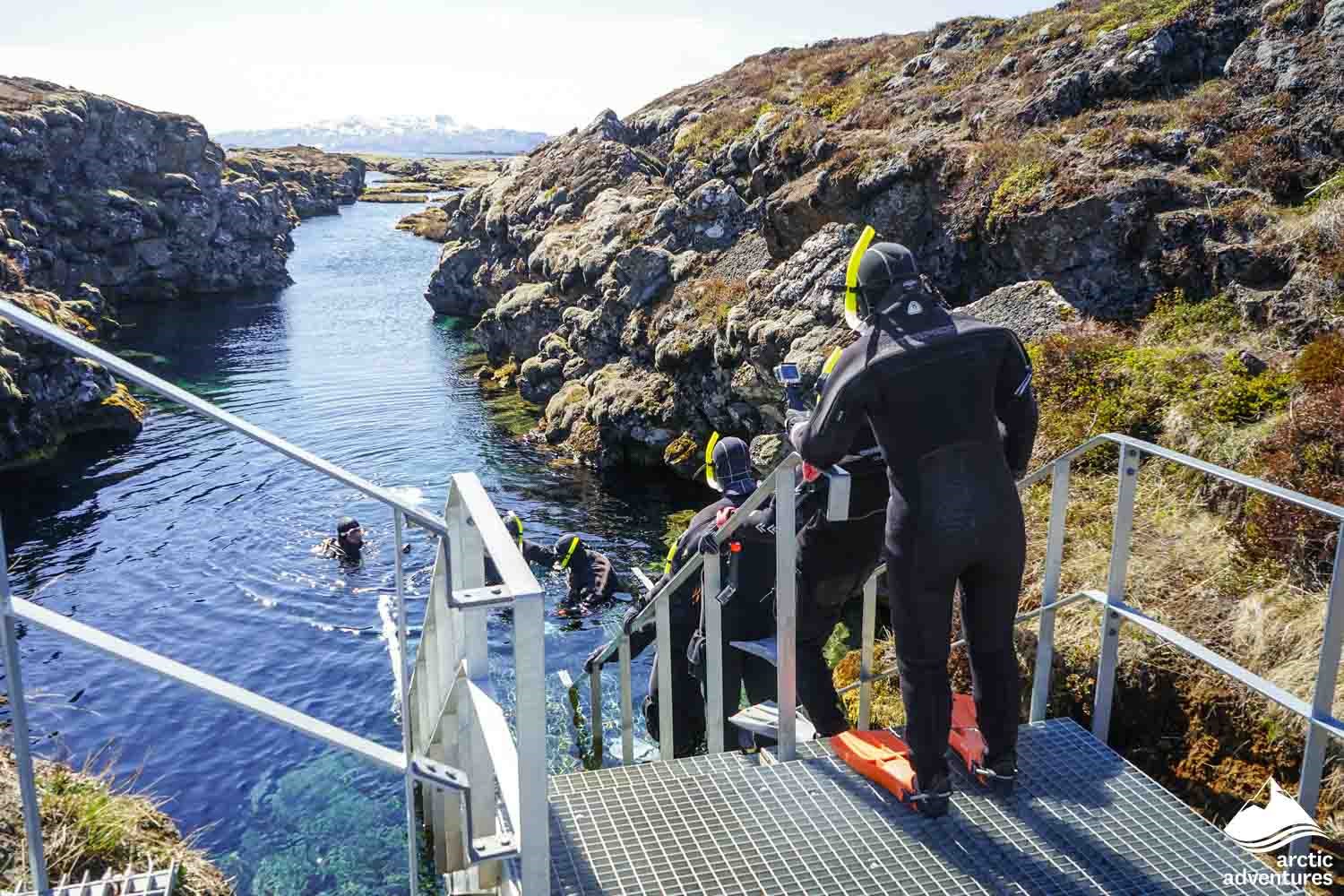 Next up is Silfra Cathedral, at a depth of 23 meters (75 feet). There, it really feels like flying above the magnificent landscape of the fissure. The snorkel ends in Silfra Lagoon, where we stay a bit and swim around in the clear water to discover the surroundings. Back on the surface, hot chocolate and cookies are offered to warm you up.
To make the most out of your trip to Iceland, the snorkeling tour can also be combined with other activities such as horse riding or lava caving, or also with sightseeing such as the Golden Circle. Book a combo tour to do two tours in one!
For those who already have a dry suit certification, you can join us on a scuba dive tour in the cold waters of Silfra.
WHAT TO KNOW BEFORE JOINING A SILFRA TOUR
Here are some of our guides' best tips for making the most of your Silfra tour: 
It is always a good idea to

 

bring some spare clothes

, including socks, to change into after the snorkel.




Free underwater pictures are taken by our friendly guides during the tour so it is not necessary to bring a waterproof camera. All the pictures of the day will be in the drive which you will be able to access by the given link.



Don't wear glasses. Unfortunately,

you can't fit glasses under a snorkel mask so they're not allowed at Silfra. You can either buy a special mask with a prescription or wear contact lenses.




Keep your hands warm.

 

The best way to keep them warm is to not move them too much inside the water. We recommend letting them float beside your body and don't use them to swim. The goal is to limit the amount of water getting into the gloves so that the temperature of the water that is trapped in them can rise slowly.





Snorkeling in Silfra is locally known to be the 

ideal hangover cure

, thanks to its refreshing waters. But don't show up intoxicated! It's not fun for anyone and dangerous to do any tour activity. We reserve the right to refuse anyone who is intoxicated from joining a tour. 




The main difference between a dry suit and a wetsuit is that the dry suit will keep you dry, it is as simple as that. Dry suits are perfect for cold waters as wetsuits are more common in warm countries.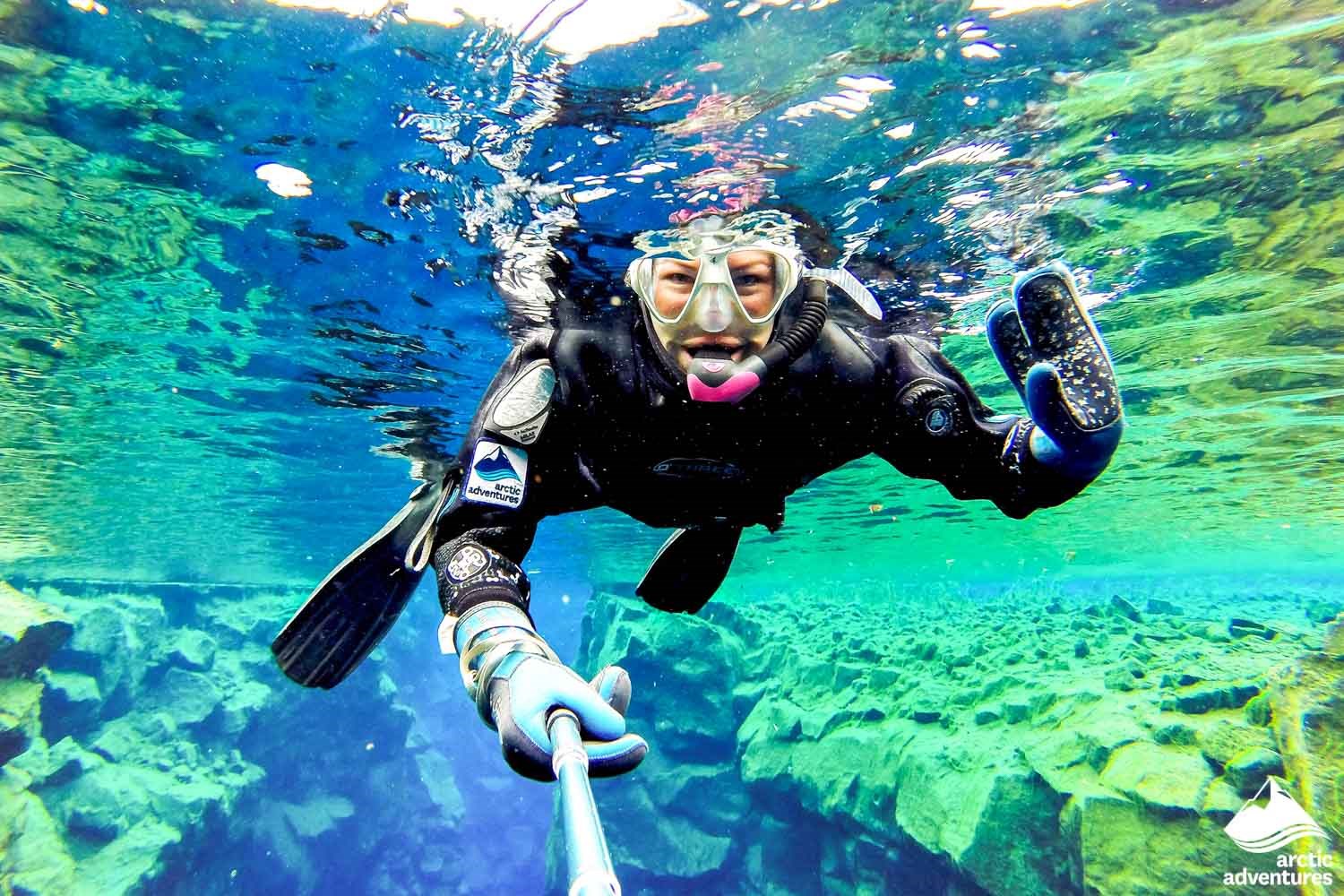 Snorkeling with Combo Tours
Combine snorkeling with another activity to make the most of your day trip. Silfra makes a great add-on to a Golden Circle minibus tour, a lava caving, or horse riding.

There is no need to worry about the cold as overalls and dry suits are provided during the tours. Everyone will stay mostly dry underneath the suit if they don't move too much inside the water. Hands and faces will be wet, but the neoprene protections are made to keep people warm in the cold water. The refreshing waters of Silfra are perfect for a good start in the day or also to wake up if one is feeling a bit sleepy.
WHAT SNORKELING GEAR IS PROVIDED ON THE TOUR?
Your snorkeling guide will provide you with all the gear you need: neoprene dry suit, hood, gloves and choker. Be sure to wear the best layers that will keep you warm underneath your suit! We recommend you wear thermal underwear and socks as your base layer, then a layer of fleece or wool to keep your body warm.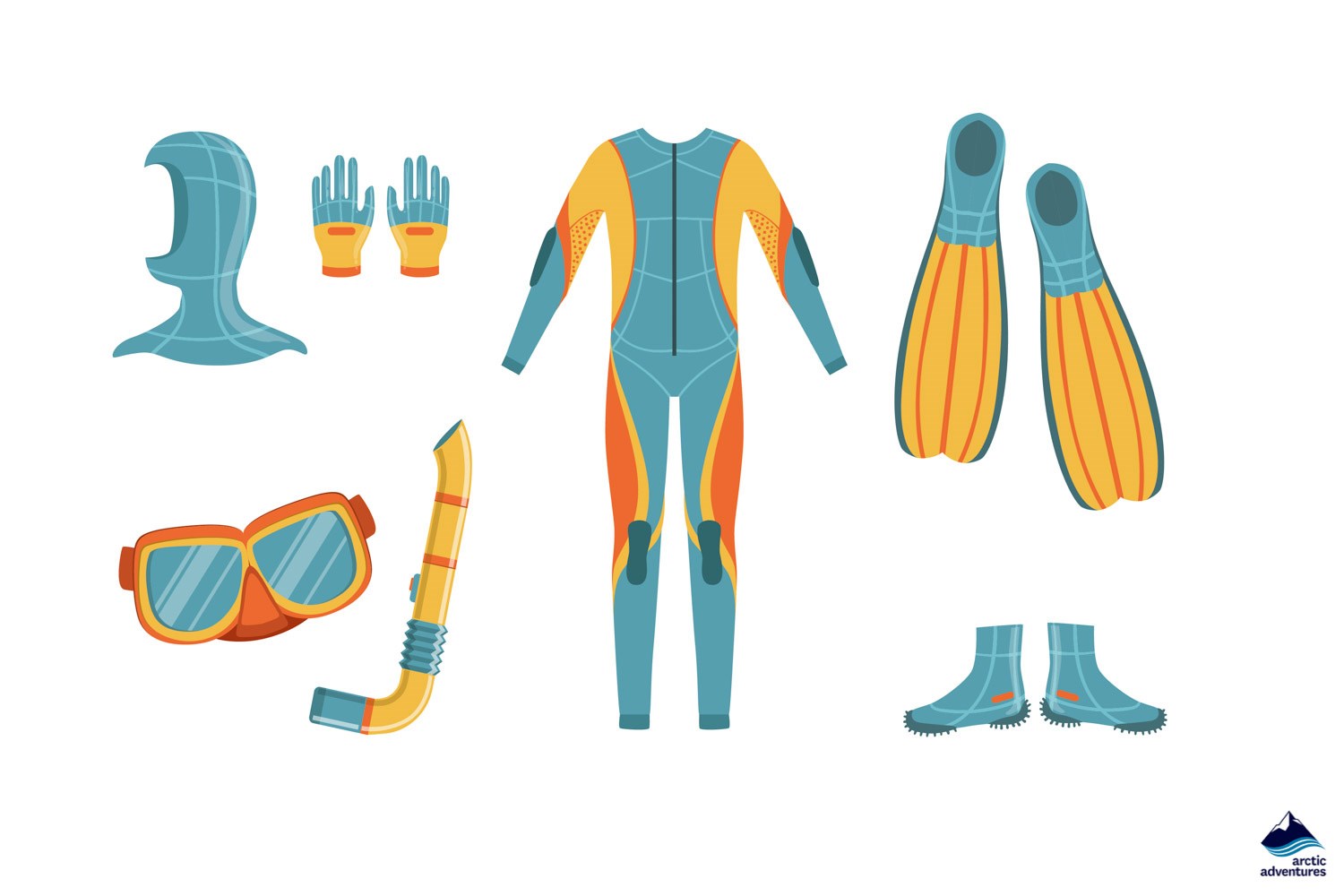 HOW TO GET TO SILFRA FOR YOUR SNORKELING TOUR
If you're driving a car, it's pretty easy to find Silfra Fissure. It should take less than one hour to drive the full 31 mi (50 km) from Reykjavik. Take Route 49 or Hringbraut out of town, then follow Route 49 eastward until it merges with Route 1. When you pass Mosfellsbaer, look for the turn-off to Route 36. Follow road 36 into rural Iceland until you meet the parking lot P5.