Kayaking in Iceland
When fire meets ice, water is formed. Cited as "the Land of Fire and Ice," Iceland harbors a rich diversity of water bodies, many of which can be explored aboard a kayak. If you've never tried kayaking, kayaking tours in Iceland are a good starting point. For those who already enjoy drifting to the speed of a current, day expeditions into fjords or glacier lagoons will be just as challenging as they're stunning.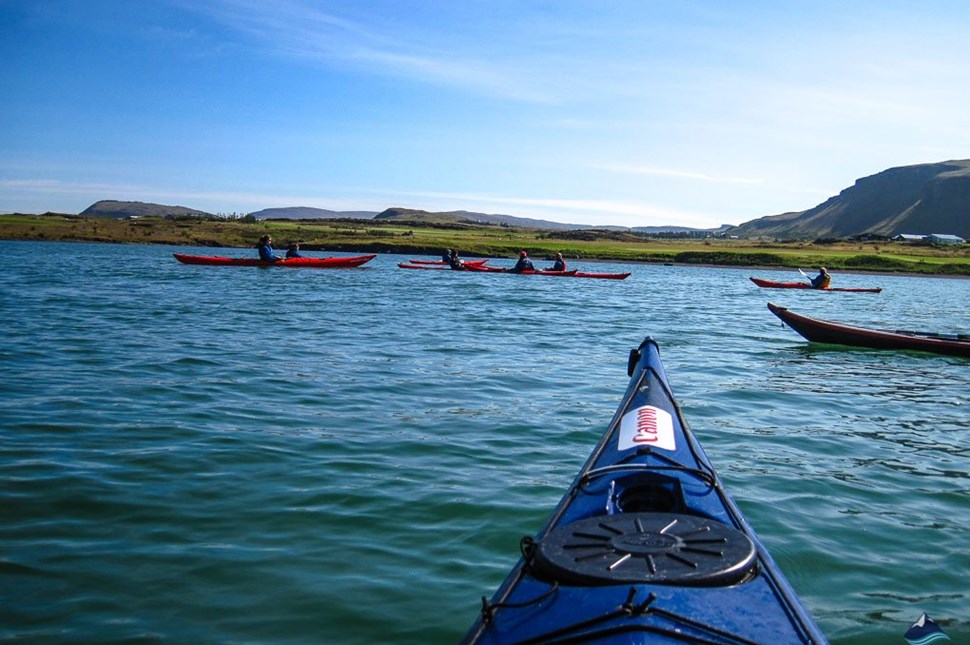 Our kayaking tours are diverse and take you on adventures across glacier lagoons, glacier-fed wild rivers, a never-ending expanse of moss-covered fjords, and into the Atlantic Ocean. All of them are available to the complete novice, however, our tours are also tailored to fit experienced kayakers.
Kayaking in Glacier Lagoons
More than 11% of Iceland is covered in glaciers and they're one of the most popular attractions in the country. Each glacier you explore will leave you stunned by its grandeur and serenity. For those looking to explore Iceland's ice deserts in a less conventional way, our kayaking tours might just be perfect. Paddle your kayak into a glacier lagoon and savor the frigidity, tranquility, and vastness of the glacier and its calved icebergs.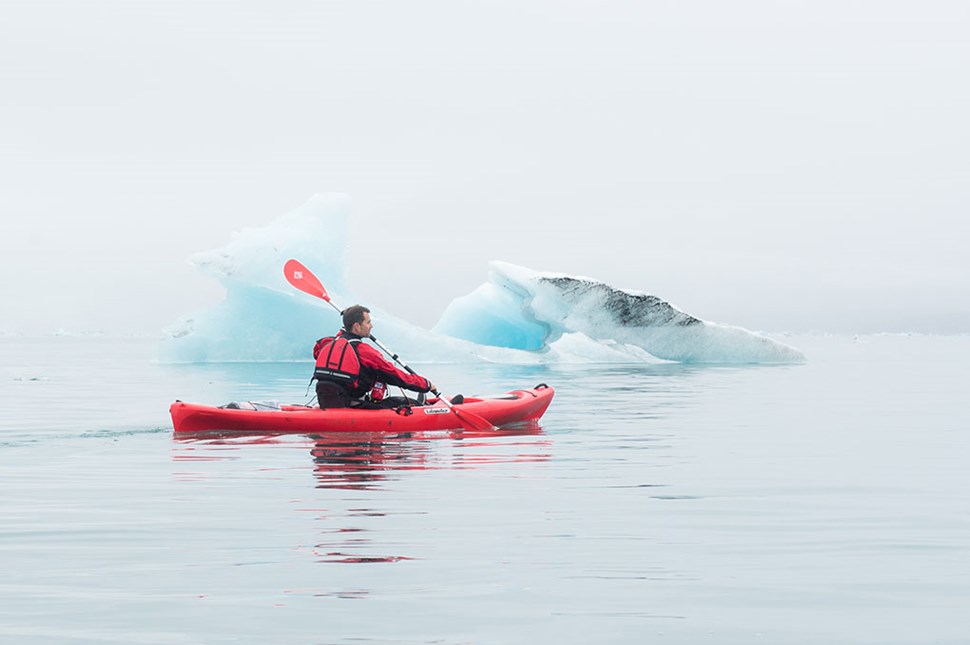 Our tours in Vatnajökull, Jökulsárlón, and Sólheimajökull glacier lagoons will leave you with memories that will stay with you for a lifetime. Take a trip to a true world-class museum and drift in a sea of ice sculptures, calved off from the biggest glaciers in Europe. Our certified guides will make sure to keep safety at the forefront by providing safety training at the beginning of the tour and tentatively guiding you through the lagoon.  
Kayaking in Iceland's Fjords
As well as being a paradise for all whale watching enthusiasts, the northwest of Iceland is also famous for the remarkable landscapes, featuring eminent, moss-covered fjords and the horizonless Atlantic Ocean. Cited as some of the most picturesque kayaking destinations in the world, our tours in Breiðafjöður Bay, Westfjords Peninsula, and Faxaflói Bay, exploring the rugged west coast of Iceland, are a true adventure to all from keen beginners to seasoned adventure seekers.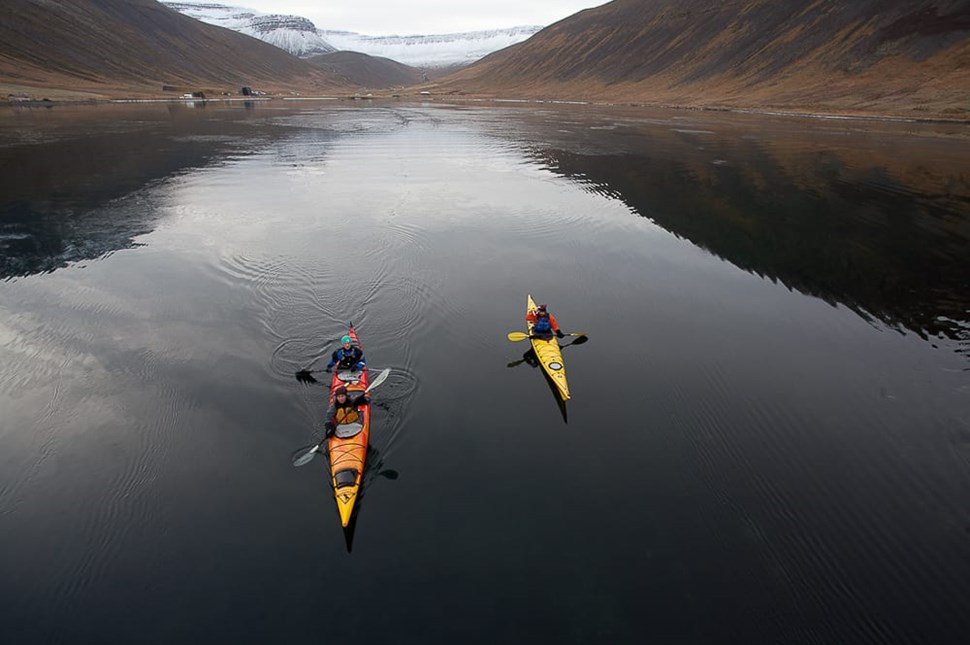 On top of the remarkable scenery you witness aboard a kayak in West Iceland, you'll also be treated to exceptional wildlife show if the conditions are right! Faxafloi Bay, just off of the shores of Reykjavik, is known to host humpback whales and puffins that love to land on the noses of kayaks. Also, razorbills and other seabirds share the Westfjords Peninsula together with remarkable arctic foxes, of which there are more than eight thousand.
From the Löngudæl Lake to the Atlantic Ocean aboard a Kayak
Along the south coast of Iceland runs Hraunsá River, which awards travelers with narrow channels, an abundance of wildlife habitats and tiny skerries along the way. Our kayaking tour to the Atlantic Ocean starts at the peaceful Löngudæl Lake in the midst of Iceland's backcountry and ends at Stokkseyri Harbor. On the tour, you'll learn heaps about nature and wildlife in the area and at the end of it, you'll be rewarded with a free pass to Stokkseyri pool.
Our guide will always be one step ahead of you, assisting in any way you need, so you can enjoy the drift down to the ocean without any worries. As always, instructions and safety precautions will be explained to you before you step foot in the kayak.
Kayaking Tours
For those looking to combine more than one way of exploring Iceland's glaciers, a glacier hike and kayaking tour is perfect. After an exciting hour drifting across Jokulsarlon Glacier Lagoon, dotted with an abundance of calved icebergs, embark upon a thrilling hike across the Falljokull Glacier and see if you can spot seals and seabirds resting on the top of the floating icebergs. This combination of three different adventures over one day will truly allow you to immerse yourself in Iceland's ice world.
Our experience and knowledgeable guides will take care of all the necessary gear so you can enjoy Iceland's wild nature without a single worry. Previous paddling experience is not needed and adventurers of all skill levels can embark upon this experience.
If you want to combine kayaking with relaxation, Hvalfjörður Kayaking & Hvammsvík Hot Springs tour is a perfect choice for you. Paddle in the surroundings of beautiful Hvalfjörður Fjord and relax at Hvammsvík Hot Springs after making your way to the shore.
Which tour is best for me?
Regardless of which kayaking tour you choose, we promise you'll have the time of your life. Our tour guides will make sure you're back home safe and sound with your bag full of historical tidbits, photographs, and memories of little-known corners in Iceland.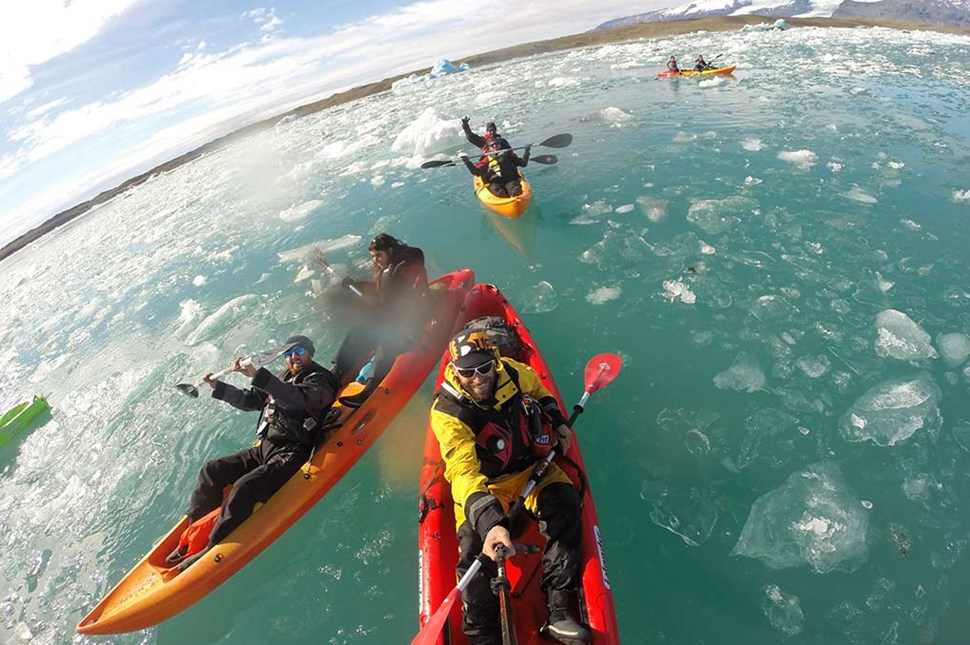 All of our kayaking tours are day tours and don't require any preparation or specific gear. The main difference is the activities you'd like to combine and the location you want to explore.
Wildlife watching is available on all of the tours. Exploring glacier lagoons often involve observing seals and sea birds resting atop the floating icebergs, while our tours in the Westfjords take you right next to the natural habitats of arctic foxes, puffins and other seabirds. On top of wildlife watching, you can also choose to combine kayaking with hiking on our tour in Jokulsarlon Glacier Lagoon.
Depending on the area you want to explore, you can choose to go on our tours in the northwest, west, south or southeast of Iceland. All of the tours are easily accessible from Reykjavik with a possibility to meet on location.