Hvítserkur in North of Iceland is truly a natural wonder. It's shaped like a creature that looks like a petrified troll, sea monster, a dragon, a rhino or a dinosaur. This is what gives it the nickname "Rhino Rock."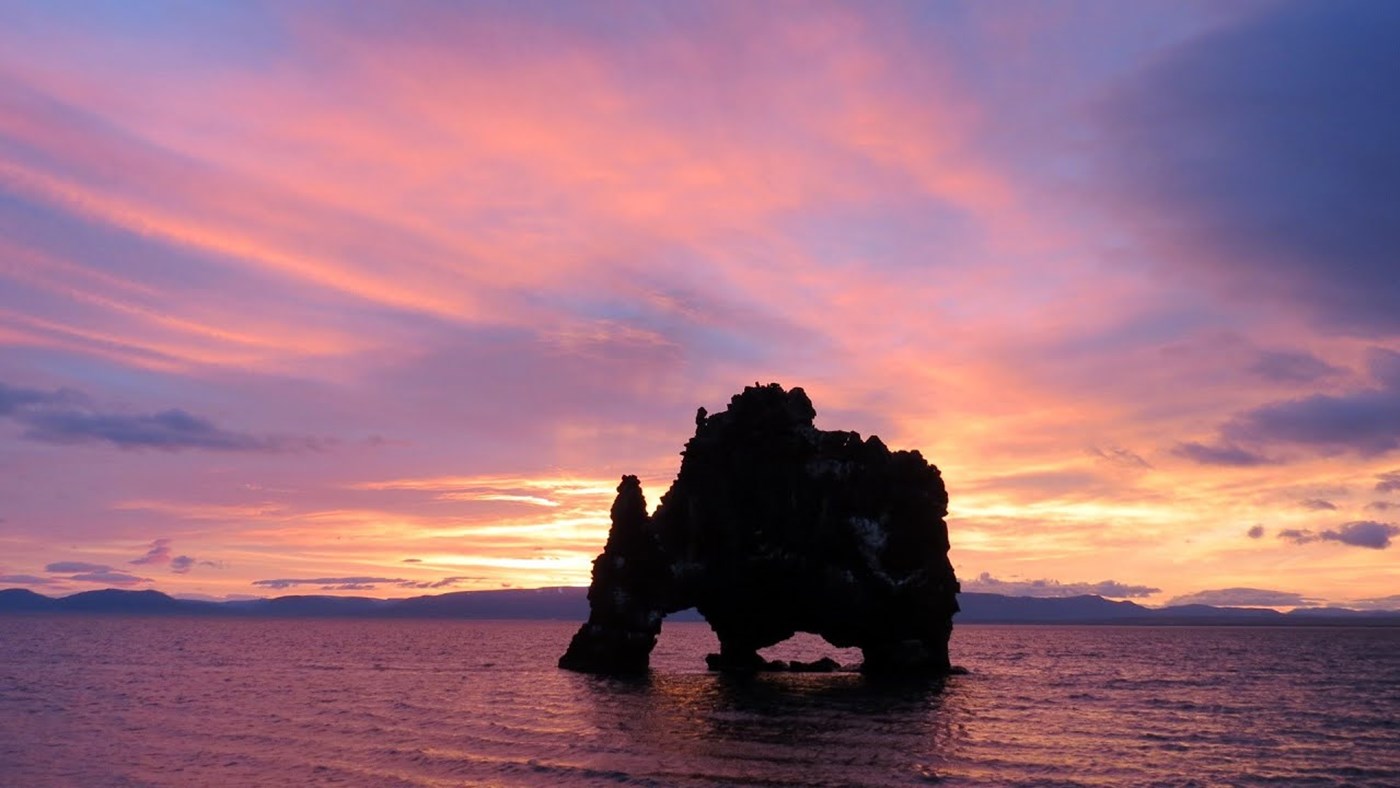 Hvítserkur which only rises up about 15 meters (49 ft) from sea level is relatively light in color due to guano but the background of it is black basalt creating the most enchanting contrast. The action of the ocean surf eroded the sea stack into looking like it does today. Locals were afraid that the sea erosion would destroy Hvítserkur, so the base of it has now been strengthened with concrete.
The wildlife surrounding Hvítserkur is phenomenal. You can find the classic Icelandic seabirds Seagulls, Shag and Fulmar along with some very aggressive Arctic Terns but also wonderful and cute seals as the site is actually one of the biggest seal-colonies in Iceland. On the beach, you will often find colorful jellyfish.
How did Hvítserkur form? The Rhino Rock Formation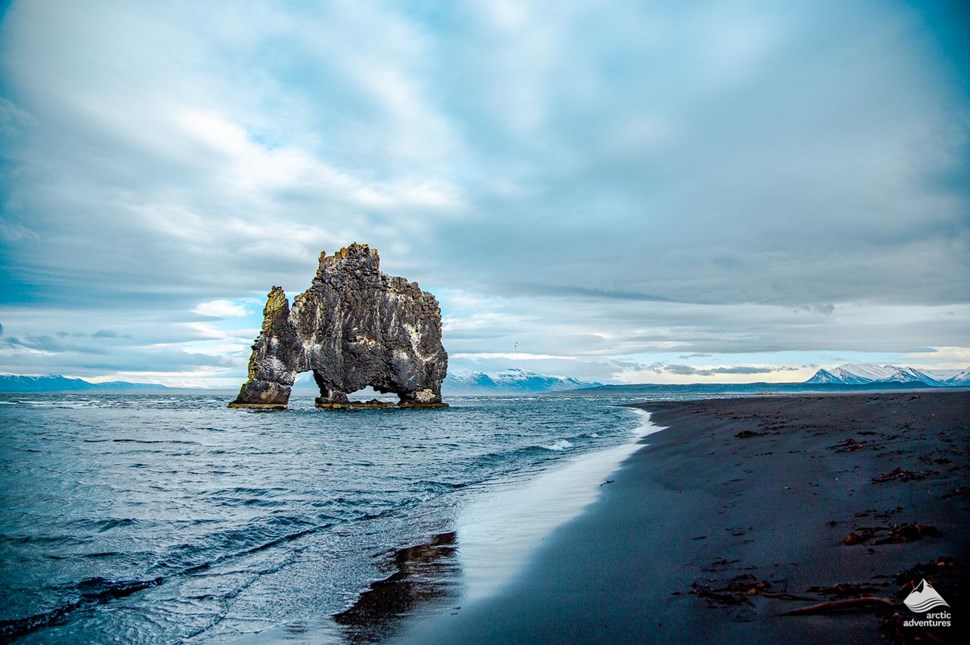 Hvítserkur was once the plug of a volcano but after years of sea erosion, the other surrounding craters had given in leaving Hvítserkur all alone in the pounding Atlantic Ocean. The form of Hvítserkur is completely random and has no logical explanation other than these parts of the stack were stronger than the ones around it.
The erosion carved the three holes through the basalt which now we think makes it look like a creature. The base of the stack has been reinforced with concrete so that the sea can't do anymore sculpturing, we truly hope it's enough.
Many believe that Hvítserkur looks like an elephant, a dinosaur, a sea monster or a dragon but the most common is the nickname "The Rhino Rock in Iceland".
Where is Hvítserkur Located?
Hvítserkur is located in Húnaflói Bay right off Vatnsnes Peninsula about 222 km (138 mi) from Reykjavík.
GPS coordinates of Hvítserkur: 65.6063° N, 20.6352° W
How to get to Hvítserkur Driving?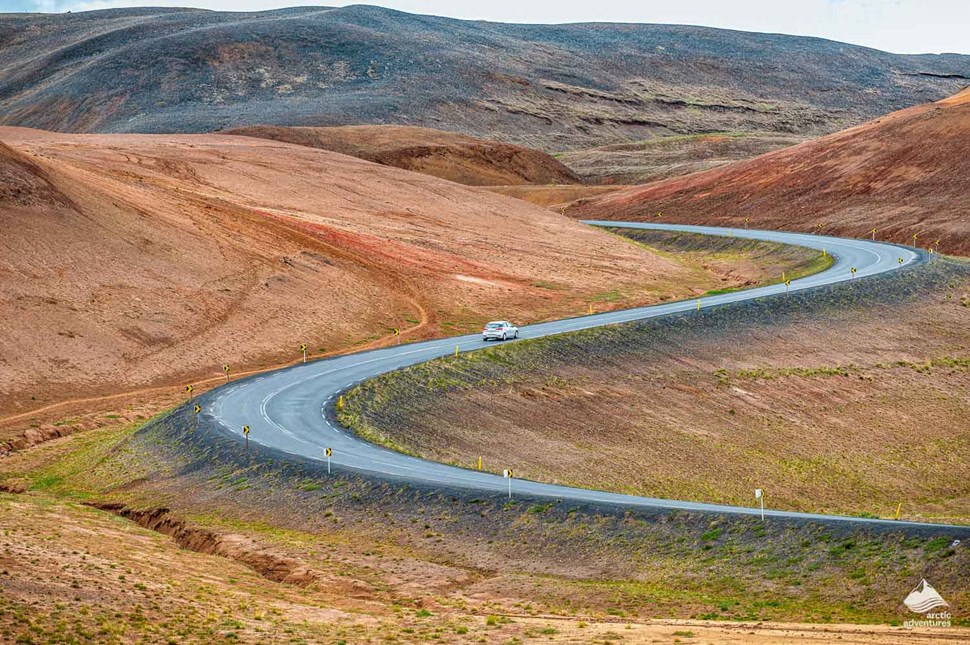 It is relatively easy to find as you continue on Ring Road 1 all the way North about 190 km (118 mi), past the turn to Hvammstangi and then make a turn on to road number F711.
The F means that the road is a mountain road and to get close the sea stack you will need to drive on a gravel road. Still, a visit is highly recommended but if you are driving a rental car make sure you can drive on roads such as this one.
How to get close to Hvítserkur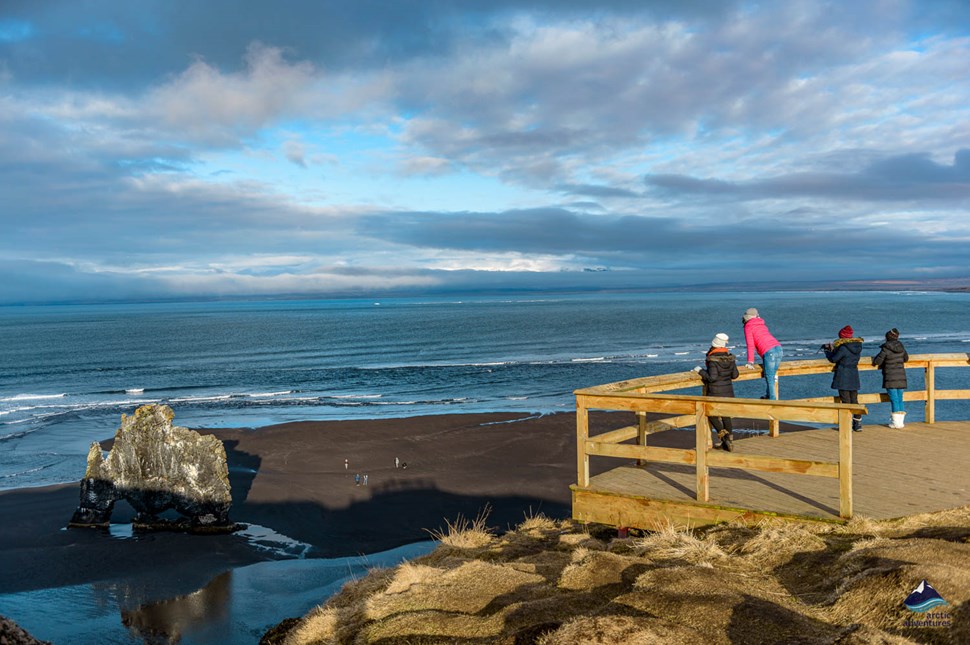 Hvítserkur can either be seen from above or by walking down to it. There is a trail leading from the parking lot from which you can see the sea stack from above. It is a spectacular setting! From there you can continue straight down to the black sand beach and the walk is an easy one.
The only thing you might want to be on the lookout for are the Arctic Tern. In summertime, they are very protective of their offsprings and try to peck you on the head to get you away. Also, the area is very affected by the tides so make sure you don't stay too long when visiting at a low tide.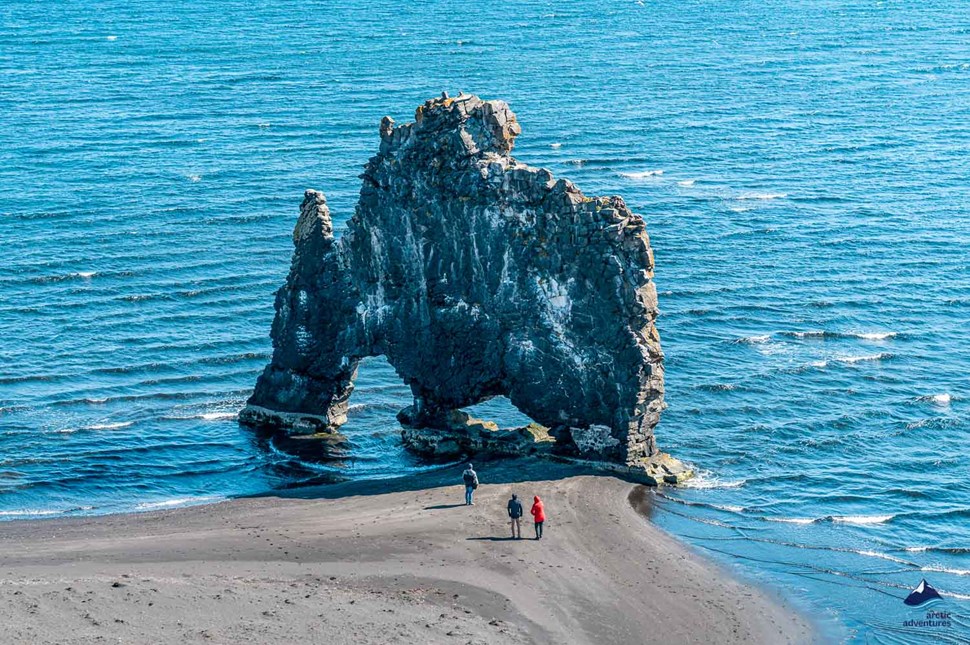 Pro tip: the Arctic Terns only attack the highest point so having a stick in the air will help.
Accommodation near Hvítserkur
There are a few options here and there around the area, many of which are quite enjoyable. Here is a list of a few accommodations around Hvítserkur:
Hotels
Hotel Hvítserkur

Hotel Húni
Hotel Blanda
Hostels
Guesthouses
Geitafell Guesthouse

Kiljan Guesthouse
Midhop Guesthouse
AFG Guesthouse
Svínavatn Guesthouse
Cabins and Cottages
Glaðheimar Cottages

Kiljan Apartments and Rooms
Camping near Hvítserkur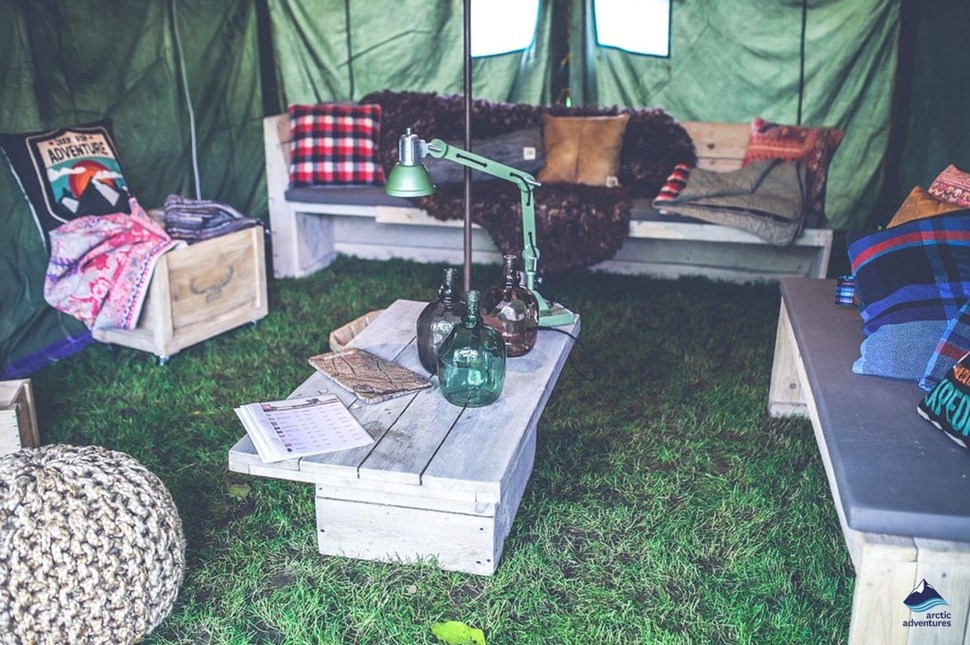 Illugastaðir is the nearest camping ground to Hvítserkur. The cost of staying there is 1200 ISK per person a night and free for anyone under the age of 16. If you want to have electricity for your trailer the cost is an extra 1000 ISK per day. There are toilets and showers in the building on site.
The farm Illugastaðir is famous in Icelandic history and you can read all about the tragic murders and the sentencing in the award-winning book 'Burial Rites' by Australian author Hannah Kent.
Are there any seals at Hvítserkur?
The area around Hvítserkur is a known hub for seals and many think this might just be the best place in Iceland for some seal spotting. They stay unusually close to the road and often hundreds of seals are there at a time.
Húnaflói Bay and Húnavatnssýsla County, in general, are a known seal colony and the closest town Hvammstangi even has a whole Seal Center where you can visit and learn about these fascinating animals.
The Legend surrounding Hvítserkur
There are thousands of troll stories to be found in Iceland so you might not be very surprised to find that there is at least one about the sea stack rhino dragon in Iceland.
The legend goes like this…
A long time ago when the settlers arrived in Iceland a troll named Hvítserkur was living in Bæjarfell Mountain in the Westfjords. He had one son called Bárður. One day he woke up to the settlers beginning to take over his land. These unwelcome settlers didn't believe in his Pagan gods such as Óðinn, Freyr, and Þór.
So he knew something had to be done. He was confident that the horrid sound of the settlers invading was coming from the same clock that dangled from a grand building by Húnaflói Bay. He decided to set on a journey to take down the boisterous clock, wreck it and stop the sounds once and for all.
Hvítserkur waited until the days started getting shorter. He speculated that during mid-winter, he would have enough time in the dark of the night to go, do the deed and return before it was light.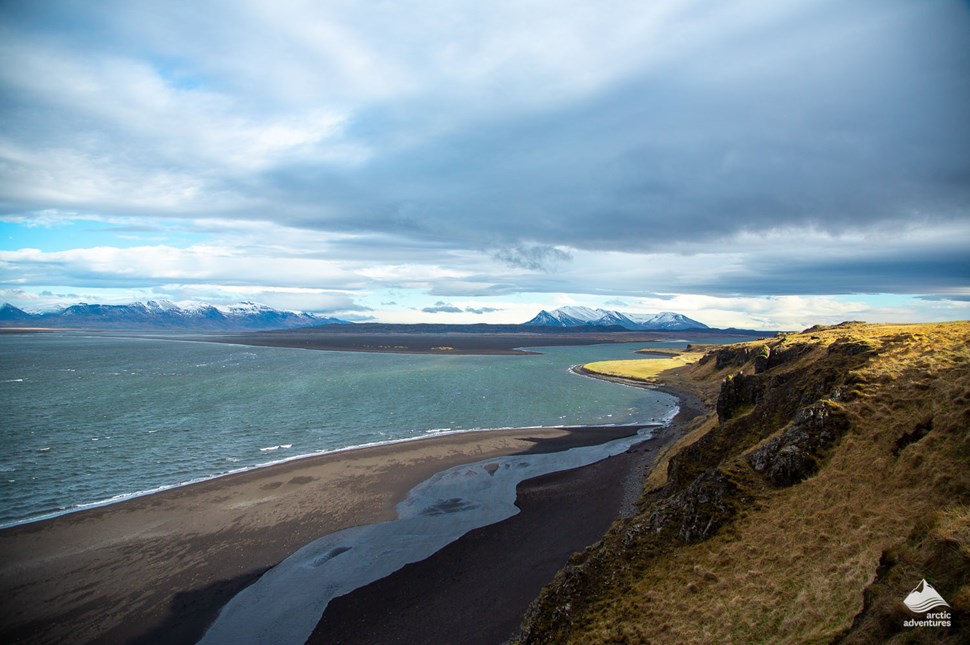 That night was unusually dark but the moon was bright so he decided to set off on his quest. However, just as he was about to go, his son Bárður demanded to go with him. Bárður concluded that it was time for him to see the world and that he could be of help. Hvítserkur thought otherwise.
But Bárður was persistent and in the end, his father agreed to let him come along. Unfortunately, the argument had taken a fair amount of time and now it was well into the night. They set off, but early on faced difficulties as the father's predictions had been accurate – the valleys were too deep and the trip was taking longer than expected.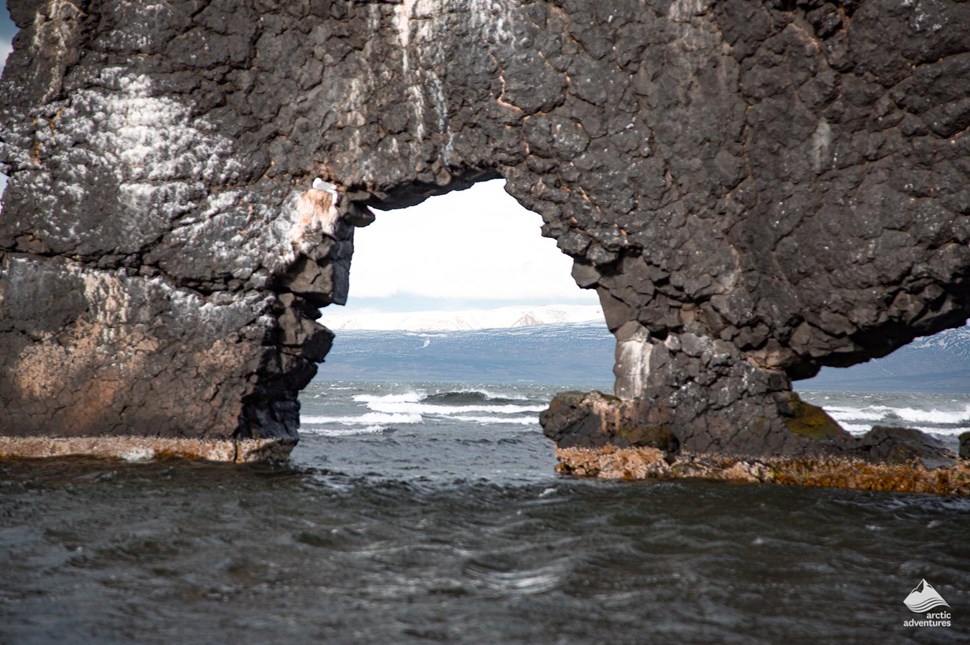 Hvítserkur realized the night was soon coming to an end so he started rushing, leaving his son behind and running over the fjords. However, as soon as he stepped over Mount Vatnsnesfjall and onto the beach he looked East and saw the fjord light up as the sun rose. He was caught by daylight which turned him into the famous Hvítserkur Iceland troll rock that we know today. Bárður faced the same fate in a different fjord.
Movies, TV Shows and Music Videos filmed at Hvítserkur
Movies/Films
(Rumoured) The filming cast for Burial Rites starring Jennifer Lawrence has been seen scouting locations around Hvítserkur.
TV shows
The TV Show Vikings have a character named Hvítserk!
Commercials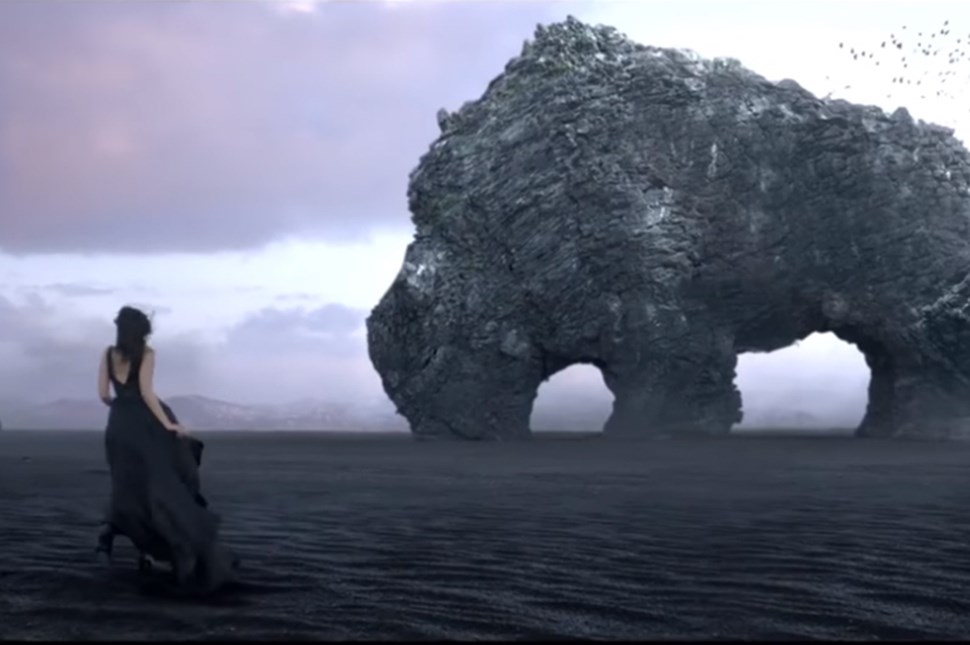 Huawei // P20 Phone Commercial with Gal Gadot. The famous actress is seen walking around in gorgeous gowns all over Iceland and the video has some amazing special effects including a scene where Hvítserkur turns into a bull.
Hvítserkur in Winter
Hvítserkur can be visited in winter and it is an excellent location to behold the Northern lights. However, the area is greatly affected by the ocean tides and you will need to be especially careful in winter, when it isn't as bright outside. The North part of Iceland also gets heavy snow so you will need a 4×4 car to visit Hvítserkur in winter.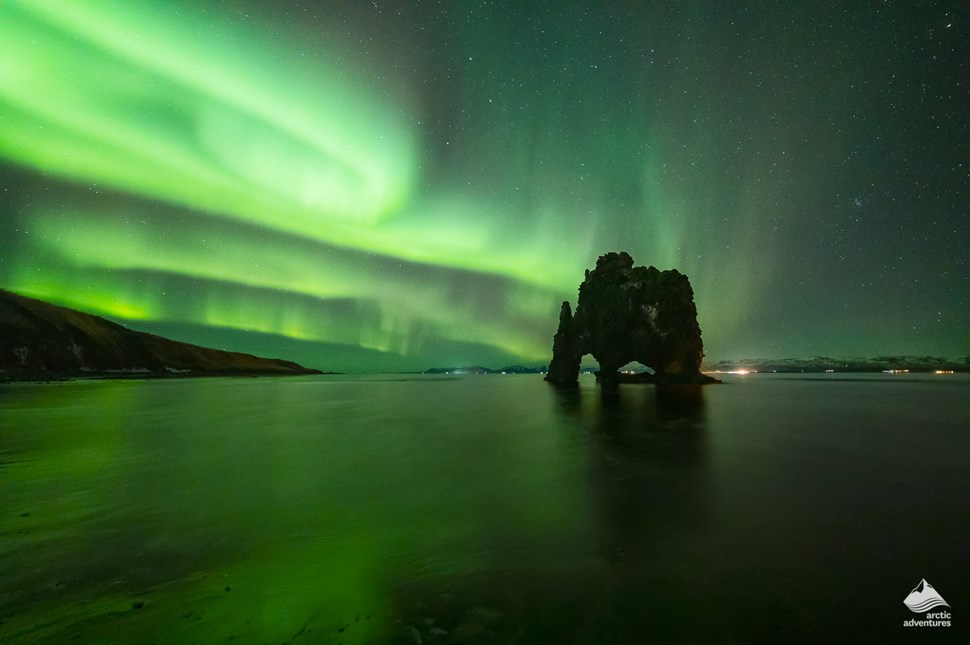 The positive things about visiting Hvítserkur in Winter is that the area is Arctic Tern free and you are more likely to have the place all to yourself.
Interesting Places Near Hvítserkur
Kolugljúfur Canyon and Waterfall

Gauksmýri Horse Farm

Hvammstangi Town

The Swimming Pool at Hvammstangi

The Icelandic Seal Center

Kidka Wool Factory Shop

The Folk Museum "Byggðasafn Húnvetninga- og Strandamanna"

Hveraborg Thermal Pool/Hot Spring

Blönduós Town

The Swimming Pool at Blönduós

The Textile Museum at Blönduós

Kálfshamarsvík Lighthouse