The basalt column canyon towers over a turquoise glacial river, making for one of the most stunning sights in the country.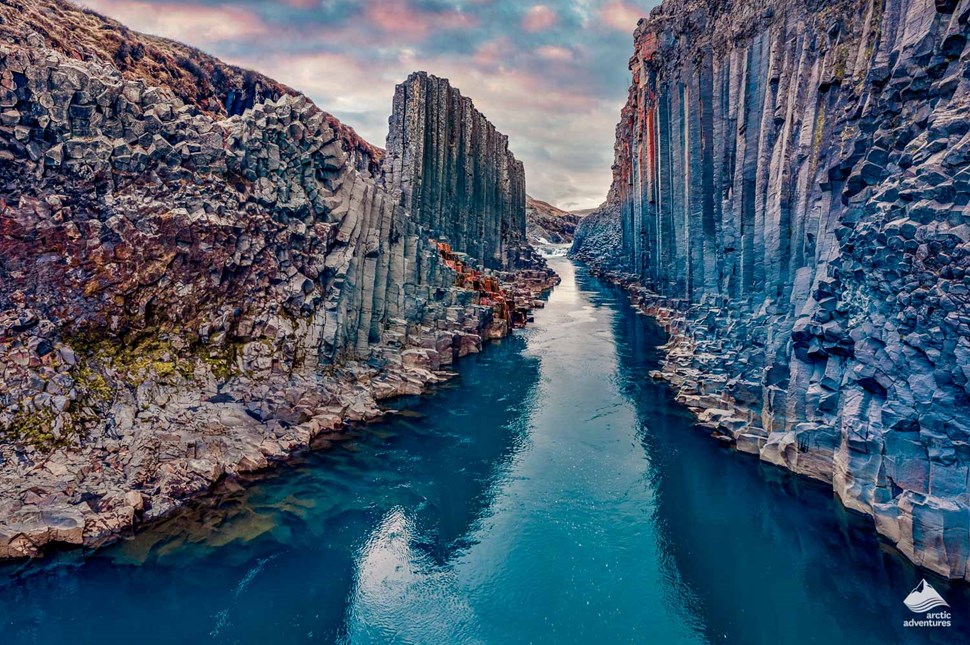 The canyon is located in the upper part of Jökuldalur Valley in East Iceland. This rolling valley is known for its many sheep farms. Don't be surprised if you come across a fluffy flock during your canyon hike!
History of Stuðlagil Canyon
Until recently, Stuðlagil Canyon was under the radar for visitors and locals alike. The canyon was completely submerged under the river Jökla. A few years ago, the water level of the river fell and revealed the canyon in all its glory.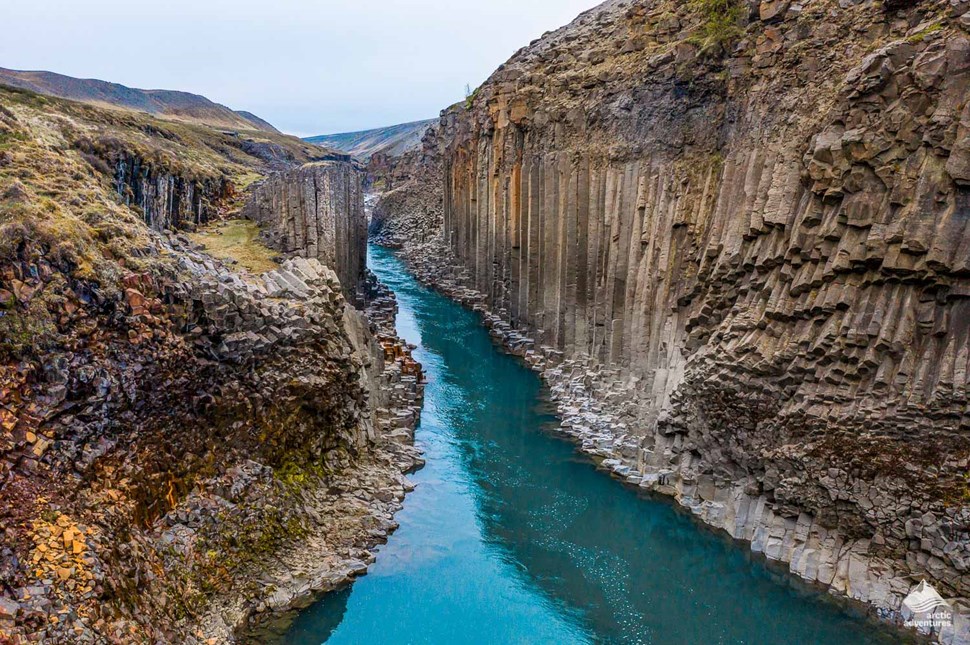 The river Jökla was once so fierce that it divided Jökuldalur Valley into two parts. Farmers and villagers on either side were completely cut off from each other. To solve this problem, locals built a dam across the river, causing the water level to fall. 
The dam was controversial because of its negative environmental impact. Still, without it, the canyon would have never been discovered.
The Jökla is now a force of clarity and color. Previously, the water was sourced by glacial sediment, turning it a murky brown color. Now the river is fed by the crystal-clear waters of Hálslón Reservoir. As a result, the waters that flow through Stuðlagil Canyon are a vibrant turquoise. 
How did Stuðlagil's basalt columns form?
Geologists now know that these hexagonal columns are formed in a process called columnar jointing. When basaltic lava flows and cools slowly over time, it shrinks in volume and cracks into symmetrical patterns. These shapes, mostly hexagons, cluster together to form slender columns.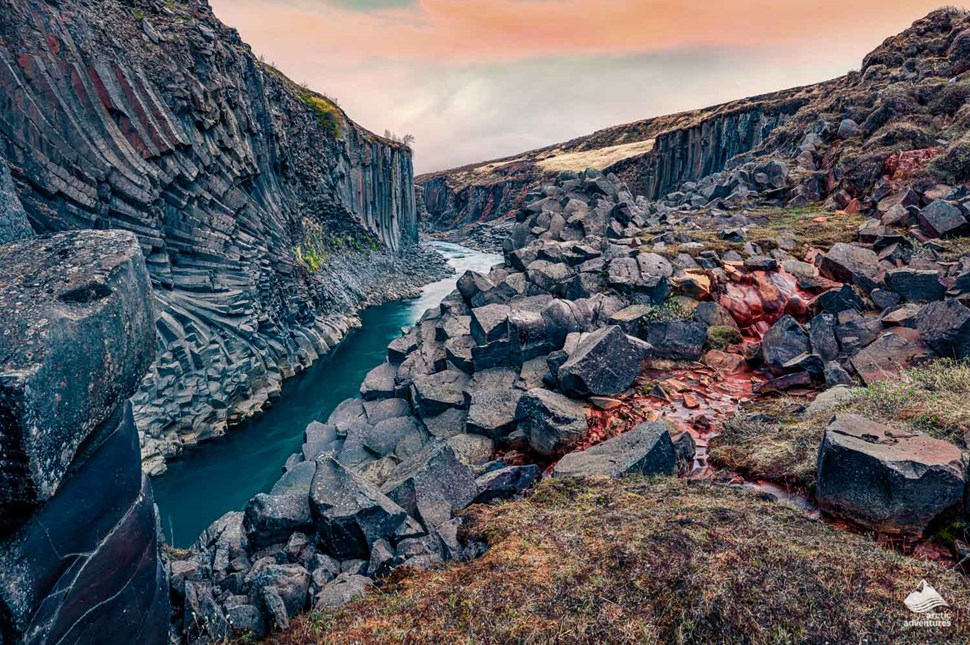 Where is Stuðlagil Canyon located?
Stuðlagil Canyon is found in the plateaus of East Iceland, not far from the black beaches of the Eastfjords. The closest major town is Egilsstaðir, 44 miles (72 km) to the east. The canyon is 371 miles (597 km) from Reykjavik and 130 mi (210 km) from Akureyri.
GPS coordinates of Stuðlagil Canyon: 65.1635° N, 15.3073°
Basalt Column Waterfall
Stuðlafoss Waterfall, also known as the Basalt Column Waterfall, flows into a branch of the Jökla. The cascade pours down from moss-covered basalt columns.
The spectacular choppy columns of  Stuðlafoss resemble an ancient throne. Visiting the beautiful basalt waterfall, you'll feel as if you've discovered a forgotten corner of the world. 
Places to Stay Near Stuðlagil Canyon
Guesthouse Skjöldólfsstaðir

 

on Ring Road is located about 12.4 miles (20 km) from the canyon. In this charming lodge you'll find reindeer decorations, an outdoor pool, and a restaurant. 

Stuðlagil Canyon Accommodation

 

on farm Grund is another great option close to the canyon. Visitors have access to free WiFi, a dining area and kitchen, a private bathroom, and a terrace. 

The nearby town of

 

Egilsstaðir offers a lot in the way of lodging. Here you have access to

 

Icelandair Hotel Herad,

 

Hótel Valaskjálf,

 

Hótel Eyvindará,

 

and

 

Lyngás Guesthouse.
Camping Near Stuðlagil Canyon
Á Hreindýraslóðum Guesthouse, located in East Skjöldólfsstaðir, offers a camping site and restaurant. Visitors can also stay in single, double, or triple rooms with shared facilities. The guesthouse has a swimming pool, hot pots, and an outdoor playground for children. 
Places to Visit Near Stuðlagil Canyon
Egilsstaðir:

 

Stuðlagil

 

Canyon is close to

 

Egilsstaðir

, a charming town with the largest population in East Iceland. Besides the many museums in town, you can also access great hiking and biking trails.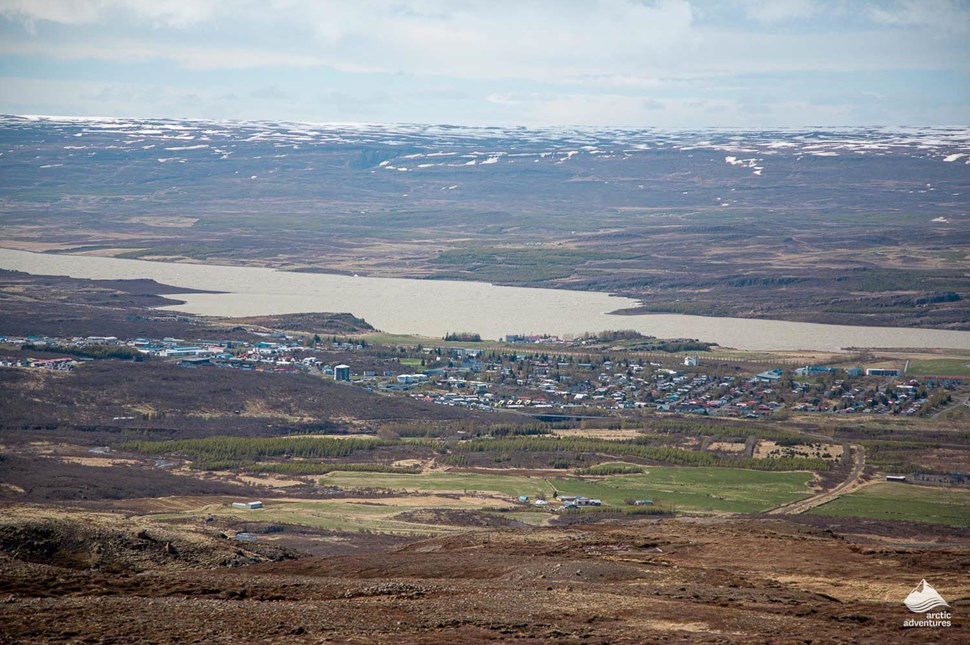 East Iceland Heritage Museum:

 

The region is also

 

home to Iceland's only wild reindeer herds. Learn more about these animals at the

 

East Iceland Heritage Museum

 

(Minjasafn Austurlands) in

 

Egilsstaðir

. 

Klaustursel Farm:

 

Just 2.5 miles (4 km) away from Studlagil, is an idyllic place to watch Icelandic reindeer up close. The farm is also famous for its handicrafts center, where you can buy souvenirs made of reindeer skin and horns.