Kirkjubæjarklaustur or as it would be named in English "The Church Farm Covent" is a charming little village on the South Coast in Iceland. Located right off the famous Ring Road, it's a common stop for travelers exploring Iceland.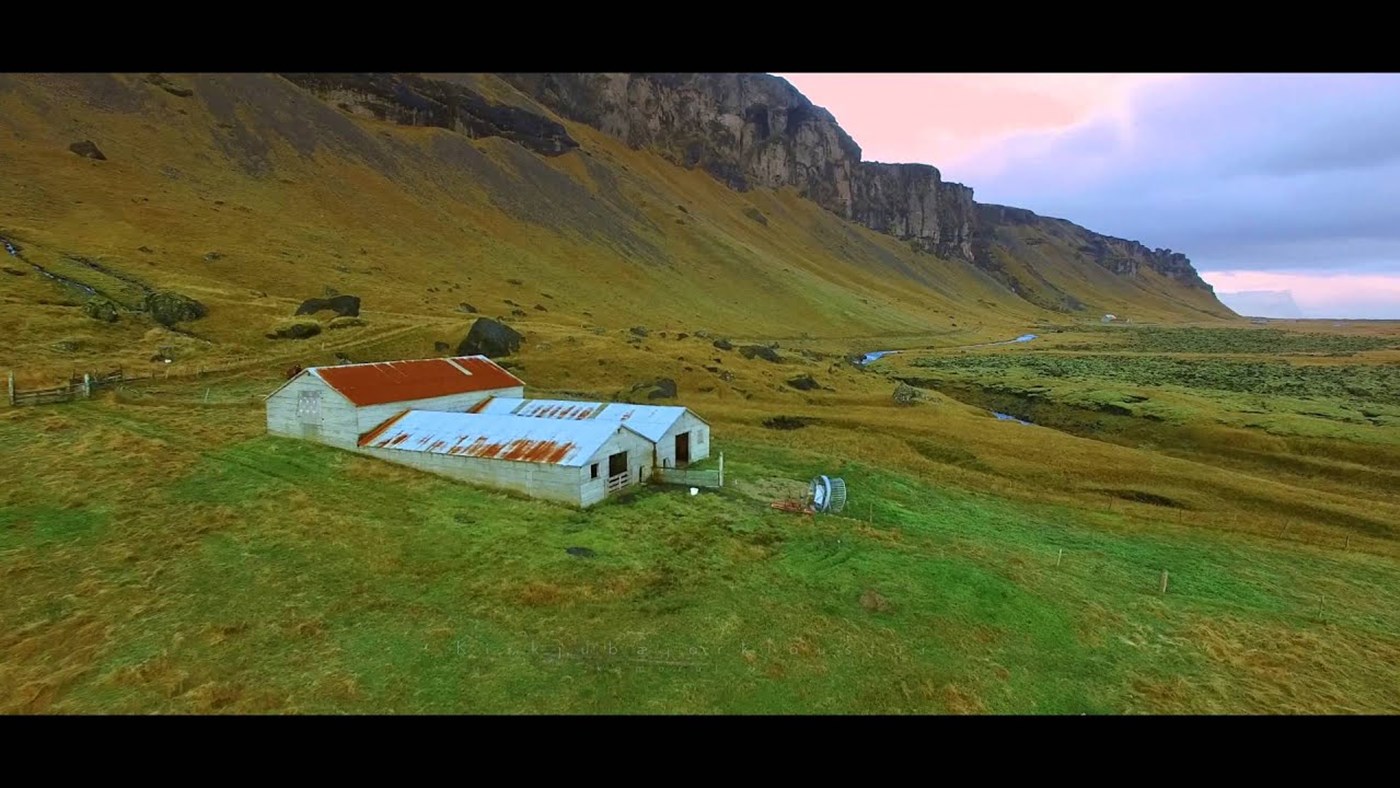 The village has stunning sights to check out including Systrafoss and Stjórnarfoss waterfalls, Systrastapi cape, a charming little picnic area, Kirkjugólf "the basalt church floor" and a local swimming pool.
Kirkjubæjarklaustur is a part of the municipality of Skaftárhreppur known for historical volcanic activity and stunning scapes. The whole region has about 500 inhabitants but still, you can find all the basic services you might need, a supermarket, a swimming pool, a post office, a restaurant, a gas station, hotels, camping site etc.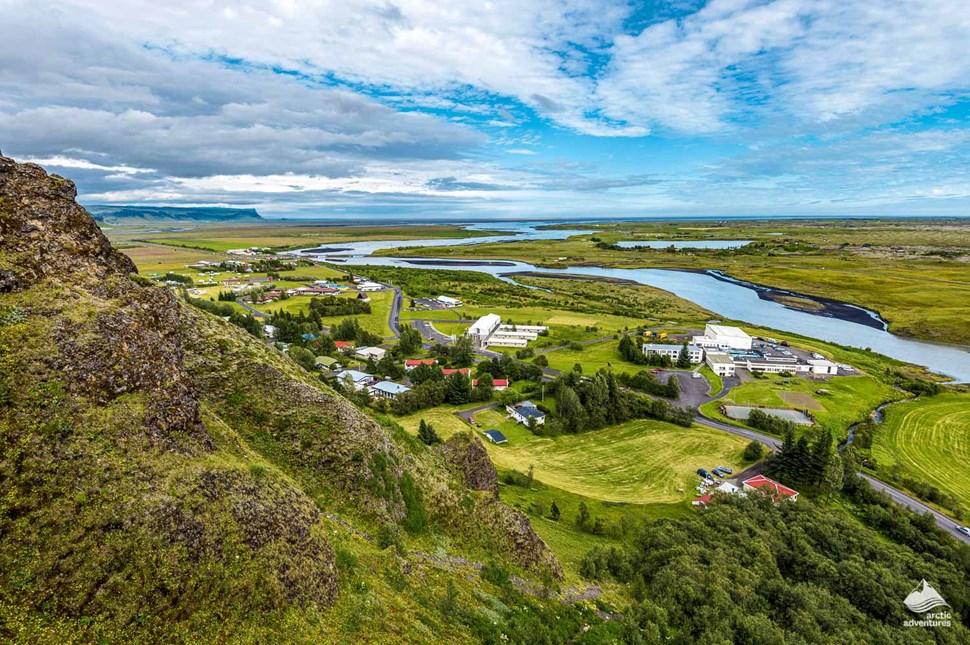 Kirkjubæjarklaustur is a typical Icelandic village focused on agriculture, fish, and tourism with incredible sights and inexplainable authenticity to be discovered. Make sure to add a stop to your Iceland bucket list!
Fun Facts about Kirkjubaejarklaustur
Kirkjubæjarklaustur is often listed as one of the most difficult Icelandic words to pronounce in the Icelandic language

Its difficult pronunciation and the torment that comes with having to use this impossible word is why Kirkjubæjarklaustur is often locally nicknamed "

Klaustur

"

With only about 120 people living at Kirkubæjarklaustur there is still a swimming pool open all year round

The Monks that lived in the convent were nicknamed 

"Papar

" by the Icelandic

There is a huge lake located on top of the cliffs above the village

All around Kirkjubæjarklaustur Eldhraun lava field quietly rests, with little signs of the dramatic red lava flow that once burst up from a volcano nearby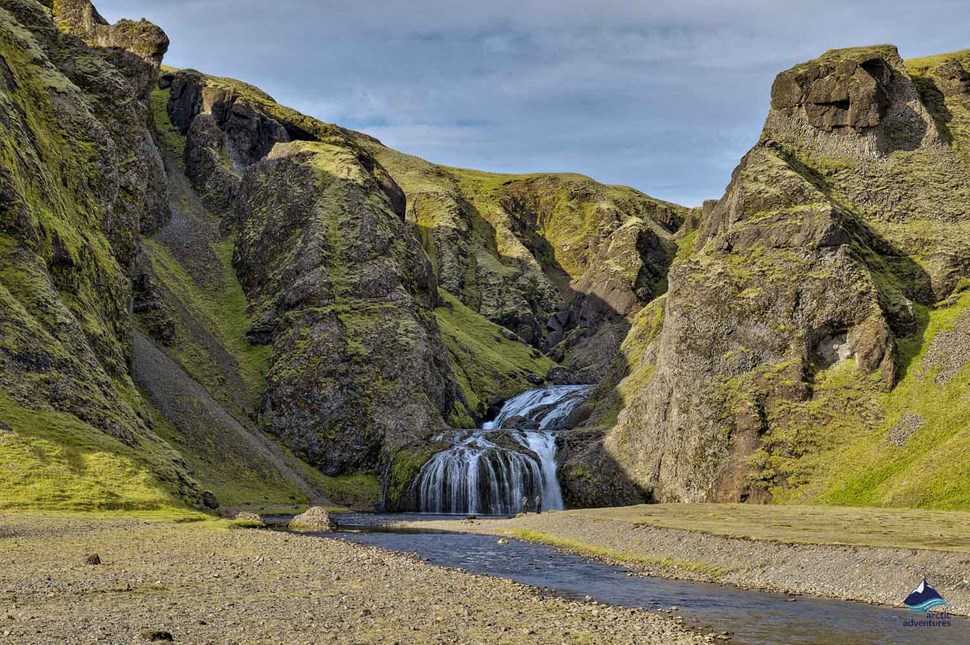 Kirkjubaejarklaustur History
Christian Irishmen are believed to have lived at Kirkjubæjarklaustur before the Norse settlement which later became one of the biggest farms in Iceland. A man named Ketill "the foolish" settled at the location forbidding anyone of the pagan religion to live there with him.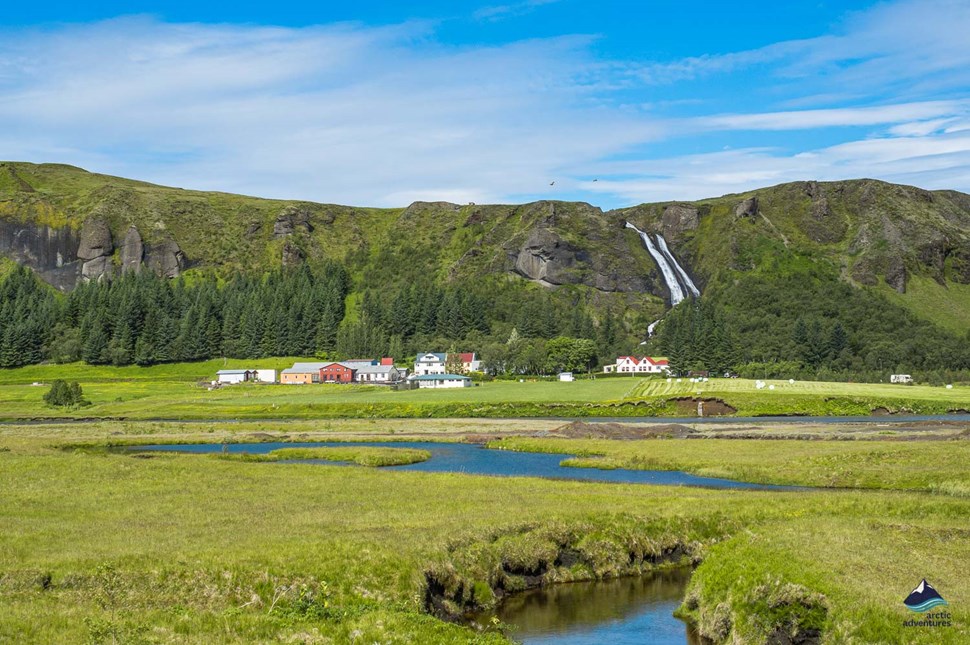 The farm village Kirkjubæjarklaustur continued to be an active convent from the year 1186 until the reformation in the 16th century. The convent and its activities gave the village its name "The Church Farm Covent." It also influenced the names of nearby attractions such as Systrafoss (the sisters falls or the nuns' falls.)
Where is Kirkjubaejarklaustur located?
Kirkjubæjarklaustur is located in the South of Iceland, a bit East on the South Coast between the towns Vík and Höfn.  Kirkjubæjarklaustur is 261 kilometers (162 mi) away from Reykjavík, 74 kilometers (45,9 mi) away from Vík, 203 kilometers (126 mi) away from Höfn and 449 kilometers (278,9 mi) away from Egilsstaðir.
GPS coordinates of Kirkjubaejarklaustur: 63.7801° N, 18.0898° W
How to get to Kirkjubaejarklaustur?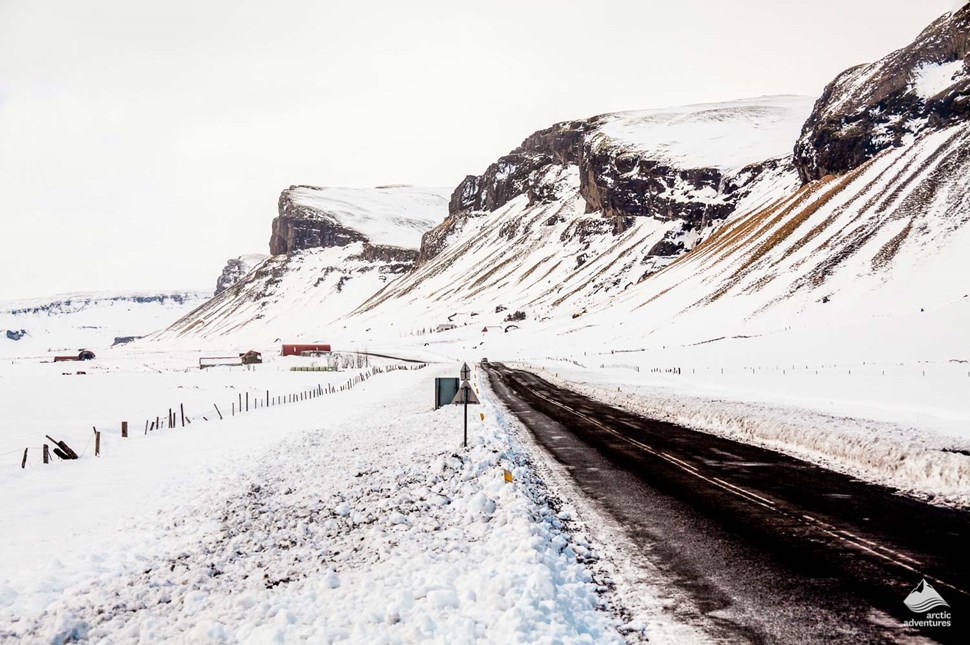 Your options getting to Kirkjubæjarklaustur are driving on your own, joining a tour, flying (to Höfn) or taking the public bus.
Driving from Reykjavík to Kirkjubæjarklaustur will take you along route 1 over Hellisheiði heath, through Hveragerði, Selfoss, Hella, and Hvolsvöllur. You'll pass the beautiful waterfalls including Seljalandsfoss and Skógafoss. Drive through Vík, Dyrhólaey and Reynisfjara Black Sand Beach, Sólheimajökull Glacier and the Ice Cave under the Katla Volcano.
Through the black sand beach plains, you'll continue past the wonderful Fjaðrárgljúfur and soon reaching Kirkjubæjarklaustur. This drive takes about 3 hours and 40 minutes without stopping.
Joining a tour to visit Kirkjubæjarklaustur you have quite a few options see below.

If you are looking to fly Höfn is the closest port. Available with Ernir airline.

The public bus goes from Mjódd to Höfn with a stop at two locations in Kirkjubæjarklaustur.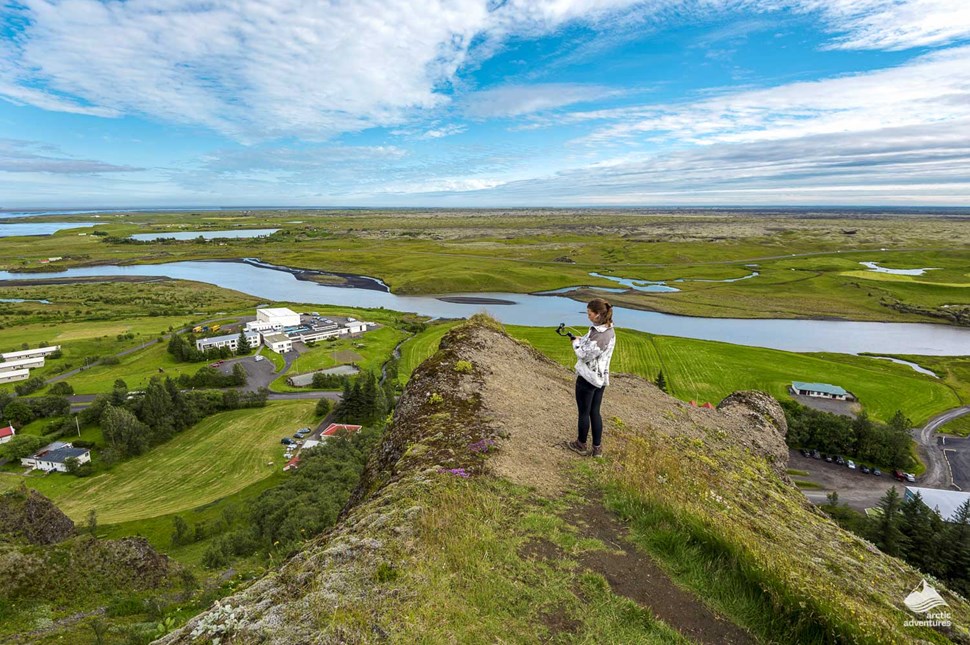 What to do at Kirkjubaejarklaustur
Go hiking and visit Systrafoss waterfall. The waterfall is easily spotted from anywhere in the village and the trail is evident in the grass.

Walk along the gravel road leading to Geirland to witness the beauty of Stjórnarfoss waterfall.

Visit Kirkjugólf basalt column floor, only a walking distance from the village.

Make a stop at the Skaftárstofa Tourist Info Center and check out the big rooms showcasing all kinds of exhibitions and activities, including one of Vatnajökull and Katla Geopark and another one the Skaftáreldar fires.

Try Klausturs Bleikja or the Klaustur Char. Grown in a local fish farm located in a free-flowing stream, it is simply delicious you must try! Rich in Omega 3 and Vitamin D with fatty acid.

Go fly fishing, Eldhraun Holiday Homes offer fly fishing experiences.

Go swimming in the local swimming pool, open all year round.

Join a Glacier Hiking tour on the nearby glaciers!
OR if you are visiting in winter, check out the ice cave tours in the Vatnajökull National Park.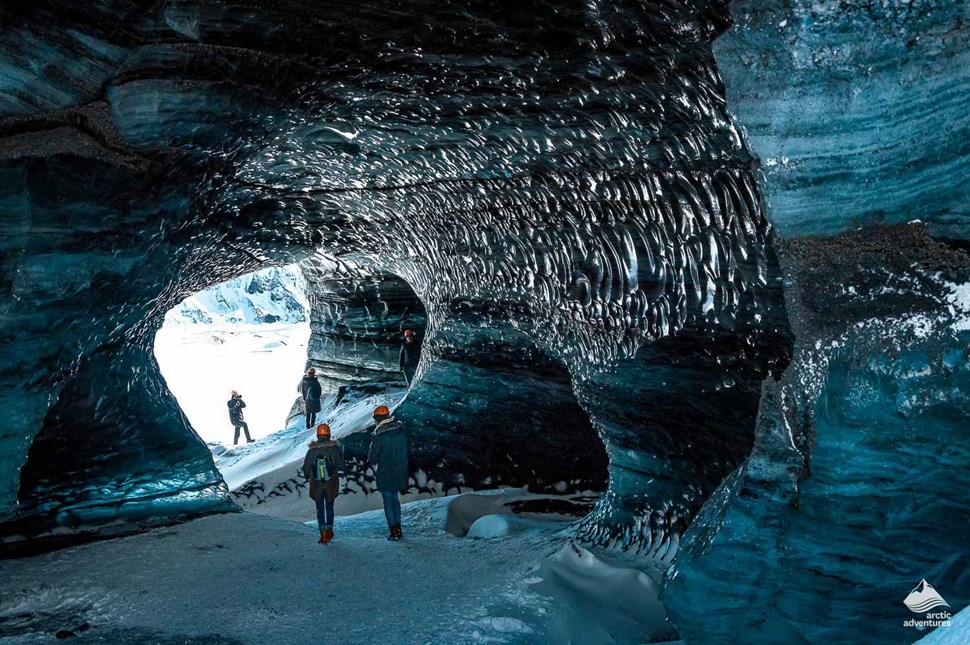 Where to eat at Kirkjubaejarklaustur
N1 Gas Station – Skaftárskáli

Systrakaffi

Adventure Hotel Geirland

Icelandair Hotel Klaustur

Kaffi Munkar
There is a good variety of restaurants and food places to check out at Kirkjubæjarklaustur. If you're looking to grab a quick bite then the N1 gas station has a fast-food BBQ grill. If you're looking to sit down at a café, Systrakaffi or Kaffi Munkar is your best bet.
If you are looking for a nice local dinner Adventure Hotel Geirland is a great spot to eat. If you're looking to go fancy Hotel Klaustur is another top option.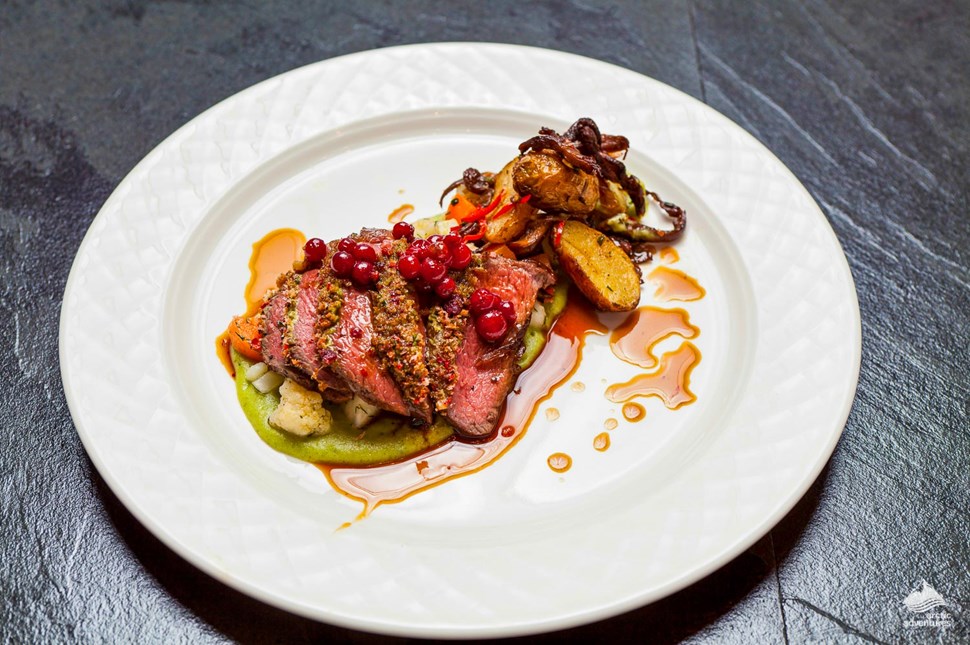 Hotels and Accommodation at/near Kirkjubaejarklaustur
There are plentiful great accommodation options at and surrounding Kirkjubæjarklaustur. Here are the ones with the best rating, the highest being the closest to Kirkjubæjarklaustur.
Hotels
Hotel Klaustur

Adventure Hótel Geirland

Magma Hotel

Hotel Laki

Fosshotel Núpar
Guesthouse and Farmstays
Klausturhof Guesthouse

Hnukubakkar Guesthouse

Arnardrangur Guesthouse

Dalshöfði Guesthouse

Hvoll Guesthouse

Lækjarborgir Guesthouse

Hrífunes Guesthouse

Eldhraun Holiday Home

Eldhraun Guesthouse

Glacier View Guesthouse
Cabins and Cottages
Camping near Kirkjubaejarklaustur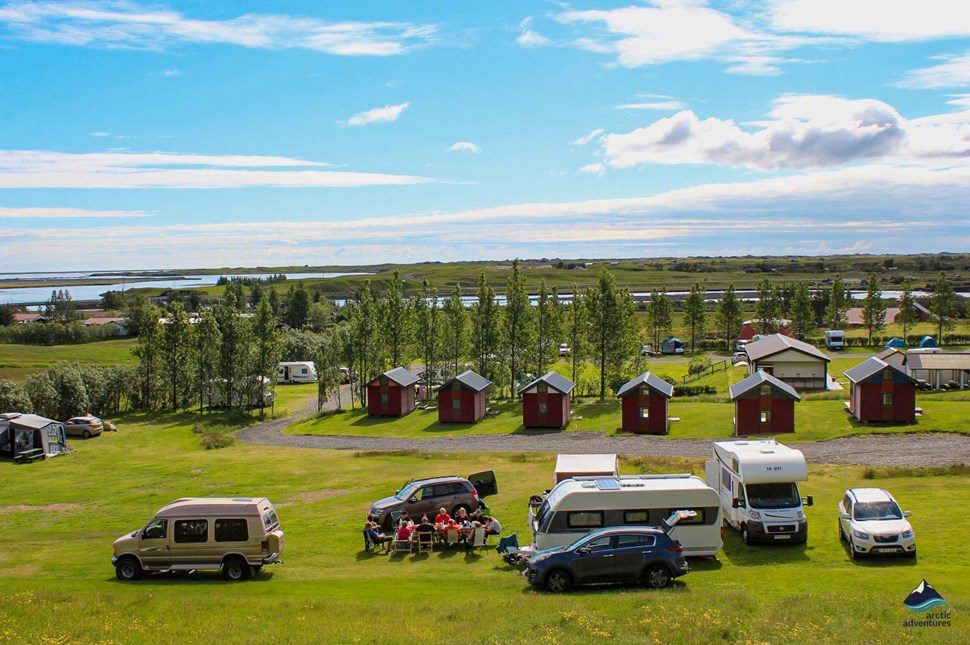 Kirkjubær II
There is a fantastic camping site located in the village right next to Systrakaffi café. The facilities are first-class and include WC, showers, washing machines, dryers, cooking facilities, WIFI, a sports area, running hot and cold water and electricity.
Open from the 1st of June until the 30th of September.
Note: Also offers sleeping bag accommodation until the 31st of October.
Kleifar
There is a local campground at Kleifar near Stjórnarfoss on the path to Hotel Geirland. It is a simple site with toilets and running cold water. Dogs are allowed and walking paths all around.
Open from the 1st of June until the 1st of September.
Kirkjubaejarklaustur in winter
Kirkjubæjarklaustur is a fascinating location in any season with winter being no exception. With snow covering the ground from late fall and icicles in the waterfalls Kirkjubæjarklaustur looks like a true Winter Wonderland. The temperatures drop so you will need to dress accordingly.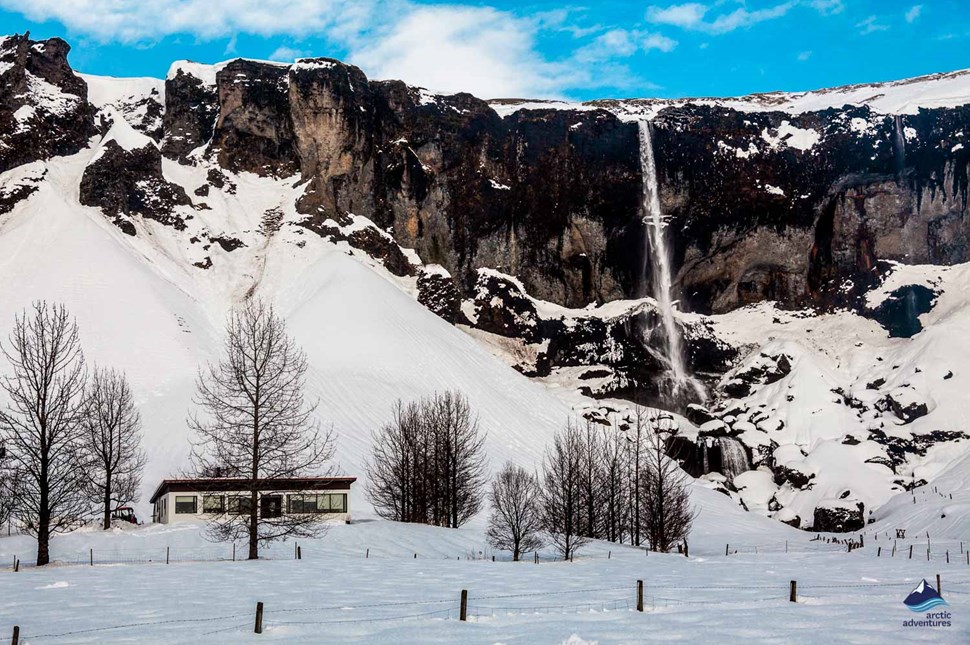 The roads will get slippery and sometimes snow heavy so if you were planning a self-drive adventure and you aren't used to driving in these circumstances you might want to consider joining a tour.
Interesting Places near Kirkjubaejarklaustur