General information about Snaefellsnes Peninsula
Where is the Snaefellsnes peninsula located?
Snæfellsnes is a peninsula in West Iceland so there are various places to mention. Stykkishólmur is 165 km (102,5 mi) from Reykjavík and 96.1 km (60 mi) from Borgarnes.
Mt. Kirkjufell is 172 km (106,8 mi) from Reykjavík. Arnarstapi is 186 km (115,6 mi) from Reykjavík and Hellnar is 4.3 km (36,7 mi) from Arnarstapi and 188 km (116,8 mi) from Reykjavík.
Where is Snaefellsnes Peninsula located exactly?
GPS Coordinates:
Latitude: 64.8703° N
Longitude: 23.1136° W
How to get to the Snæfellsnes Peninsula?
There are so many different options when it comes to visiting the Snæfellsnes peninsula. You can easily visit an exciting tour, be it a day or multi-day tour. You can jump on a public bus to reach Snaefellsnes, or you can easily rent a car and drive!
How to get to Snaefellsnes from Reykjavik?
Driving from Reykjavik to Snaefellsnes should take about 1,5-2 hours. For the most part, you will follow the Ring Road 1 through Mosfellsbær, into Borgarfjörður valley, and the town of Borgarnes.
Here you will make a left turn at the last roundabout onto road 54. Road 54 will take you well into the beautiful peninsula.
How to get to Snæfellsnes Peninsula from Akureyri?
Driving from Akureyri to the Snæfellsnes Peninsula should take about 4.5-5 hours, and again you will mainly be following road one. The drive will take you into the horse mecca of Iceland, Skagafjörður, and into the area of Reykholt.
Following route 1, you'll reach the border of the town of Borgarnes. You will turn on road 54 on the roundabout and continue to the Snæfellsnes peninsula.
Snaefellsnes Peninsula Map
How big is the Snaefellsnes Peninsula?
The Snaefellsnes Peninsula is 90 km (56 mi) long.
How long do you need in Snaefellsnes?
It is recommended to spend 2-3 days on the Snaefellsnes Peninsula to visit all of the main attractions.
Best Things to Do in Snaefellsnes
Snæfellsjökull National Park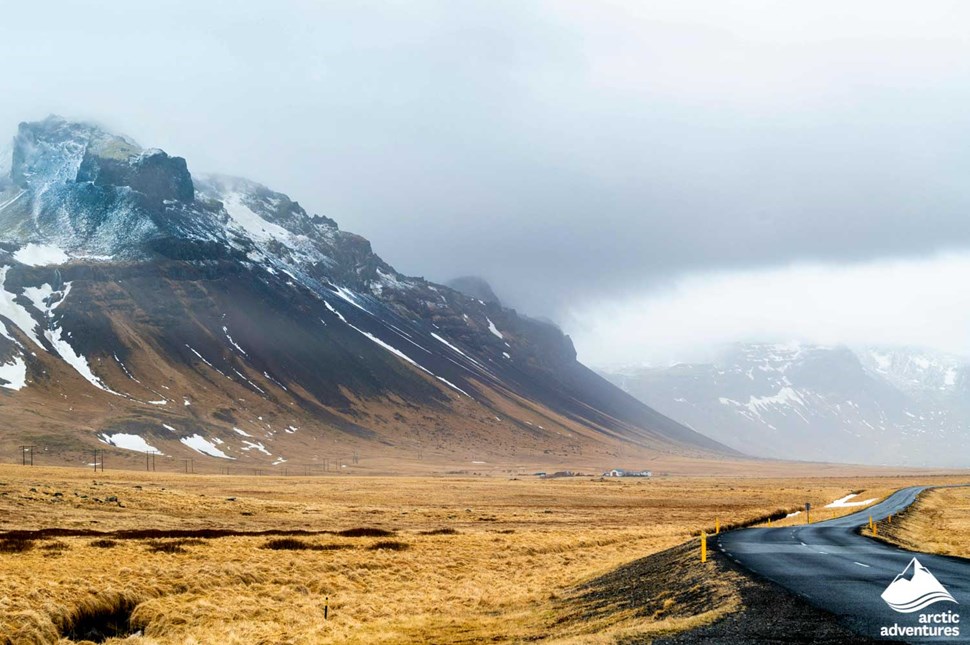 Snæfellsjökull, one of the three national parks in Iceland, is found on the tip of the Snaefellsnes Peninsula. Established only in 2001, Snæfellsjökull National Park aimed to protect the unique landscape and make it more accessible to people.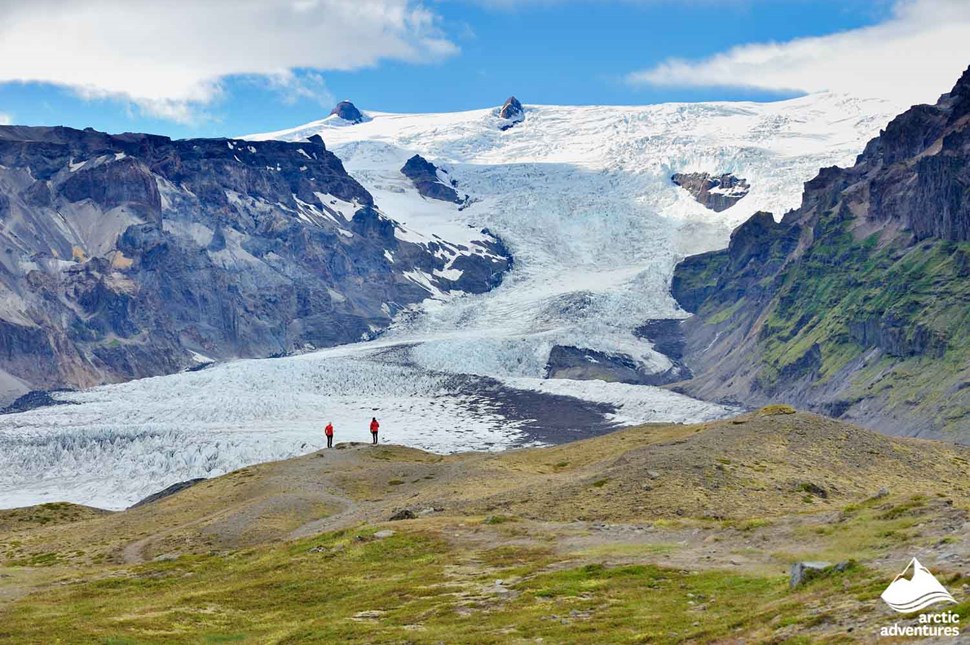 Of course, the park's main attraction is a glacial volcano named Snæfellsjökull. Snæfellsjökull glacier was believed to be the tallest mountain in Iceland for a very long time. It was built from lava fields and phreatic eruptions over the last 800 years. Today, this active stratovolcano is among the most visited places in Iceland.
Kirkjufell mountain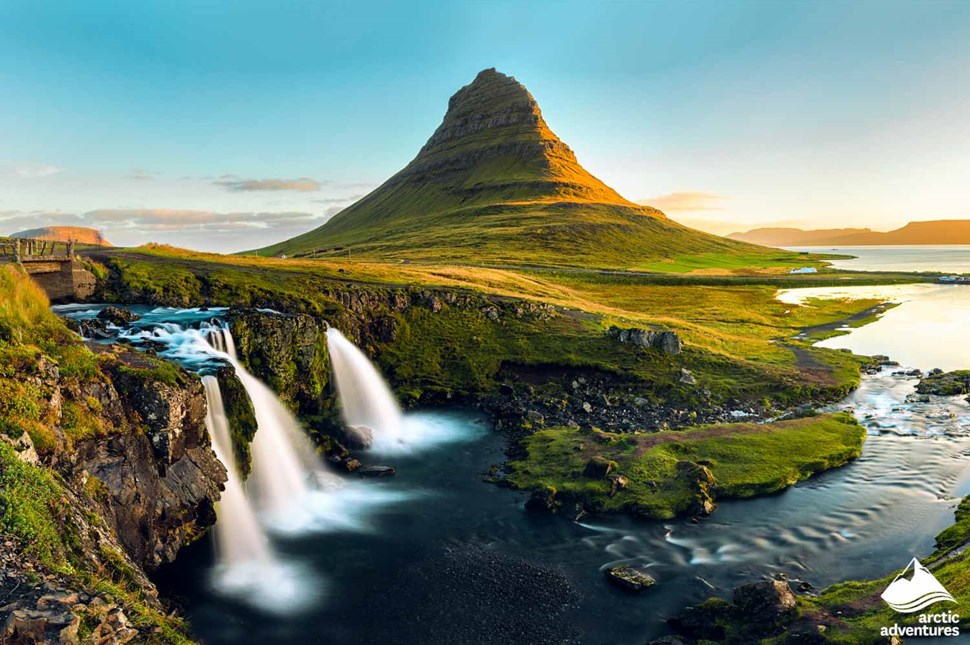 Kirkjufell mountain is one of the most photographed places in Iceland. And you can indeed see it everywhere - on brochures, travel guides, postcards, etc. There's also a small waterfall - Kirkjufellsfoss - overlooking the 463-meter high Kirkjufell mountain. Those two combined make an iconic view!
Stykkishólmur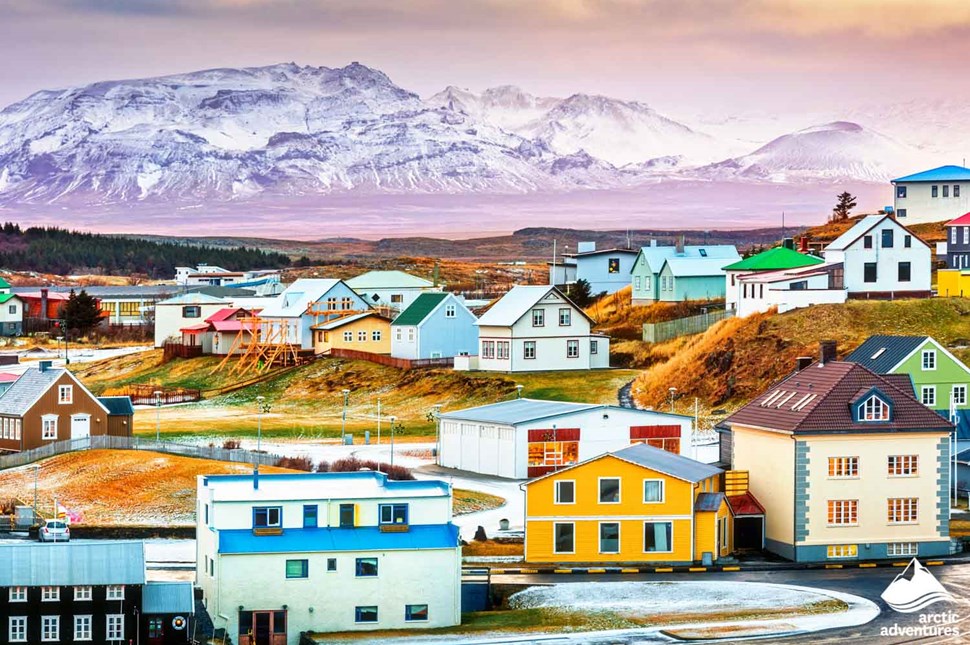 Stykkishólmur, Iceland, is a town on the northern shore of the Snaefellsnes Peninsula. It has around 1000 people and is the area's commercial center.
Stykkisholmur has a long history - the early settlers came here for the rich fishing areas nearby. Stykkisholmur is also featured in famous Icelandic sagas, such as Laxdæla Saga.
The original development of the Stykkishólmur town came in 1550, together with the establishment of the trading post. From the early 17th to 18th century, like most villages and towns on the peninsula, Stykkishólmur fell under Danish rule.
If you want to learn more about this fascinating town, check out this blog post on things to do in and around Stykkishólmur town.
Arnarstapi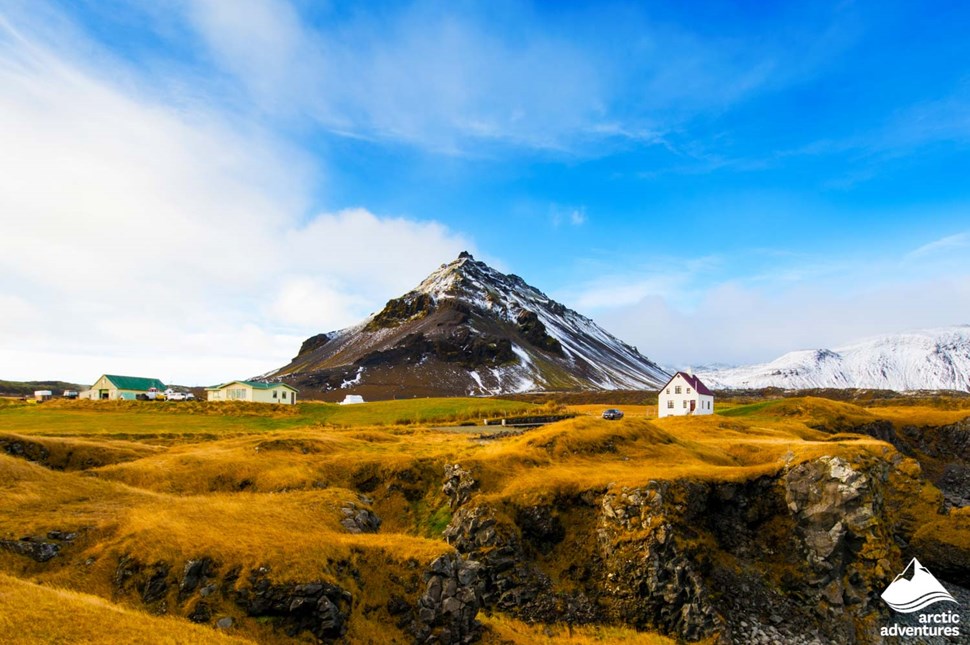 Arnarstapi is a charming fishing village in the southern part of the Snaefellsnes Peninsula. Once the main fishing hub, today Arnarstapi is a tourist attraction surrounded by beautiful nature.
Arnarstapi's history is recorded in another famous Icelandic Saga, Bárðar saga Snæfellsáss. The area was popular among the settlers because of its rich in herring waters. Arnarstapi, Iceland grew expansively under the Danish influence. Some of the buildings from this time are remaining in the village.
Grundarfjörður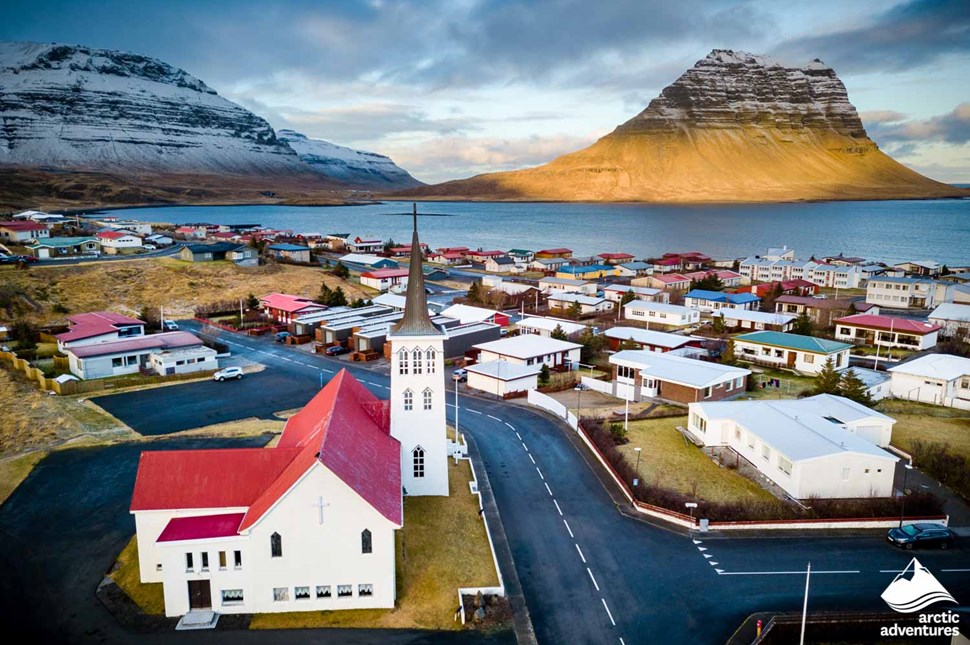 Grundarfjörður is a town of 872 people on the northern coast of the Snaefellsnes Peninsula. Like most towns in the area, its main economic activity is fishing. It's also become a tourist attraction due to the beauty of the Snaefellsnes Peninsula.
Grundarfjörður offers accommodation, a historical center, and other facilities for its visitors, as well as plenty of opportunities for outdoor activities. You can take part in camping, ice-climbing, or horseback riding.
Djúpalónssandur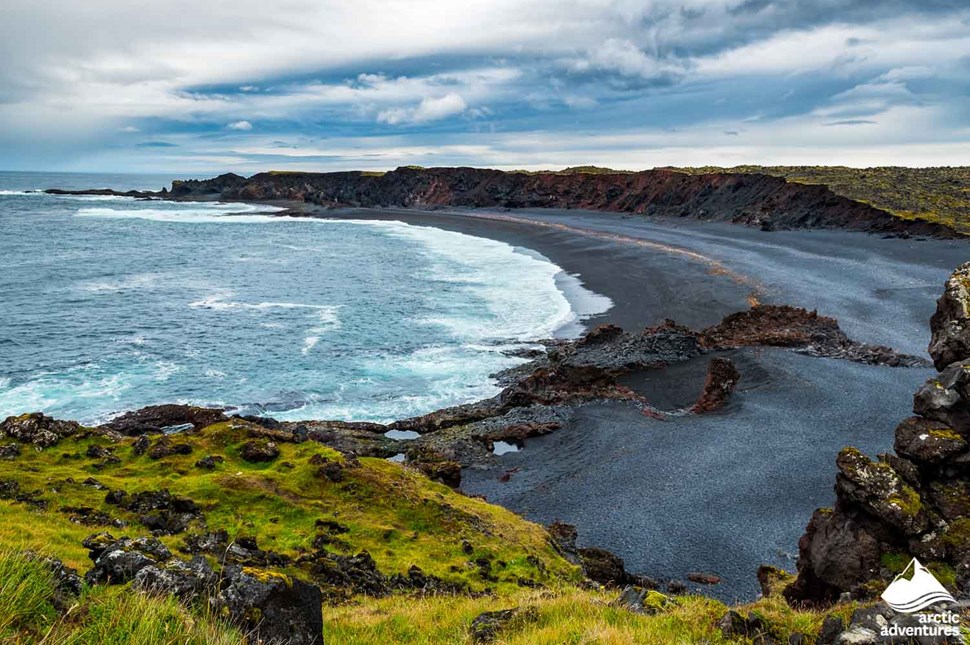 Djupalonssandur is a black sand beach located on the Snæfellsnes Peninsula, West Iceland. Djúpalónssandur beach lies at the Snæfellsjökull glacier's foot and is one of the most visited places in West Iceland. It was once among the most thriving fishing villages on the Snæfellsnes Peninsula, but today it is left uninhabited.
Lóndrangar
Lóndrangar Basalt Cliffs are one of the many geological marvels on the Snæfellsnes Peninsula. Londrangar is two rock pinnacles striking out from the ocean, 75 meters (246 ft) and 61 meters (200 ft) high. The cliffs can be seen from the sea or accessed through the Visitor's Center.
Like many natural objects in Iceland, Lóndrangar Basalt Cliffs also became an object for folklore tales. The farmers avoided using the land surrounding the Londrangar because of the widespread rumor that elves live there.
Vatnshellir Cave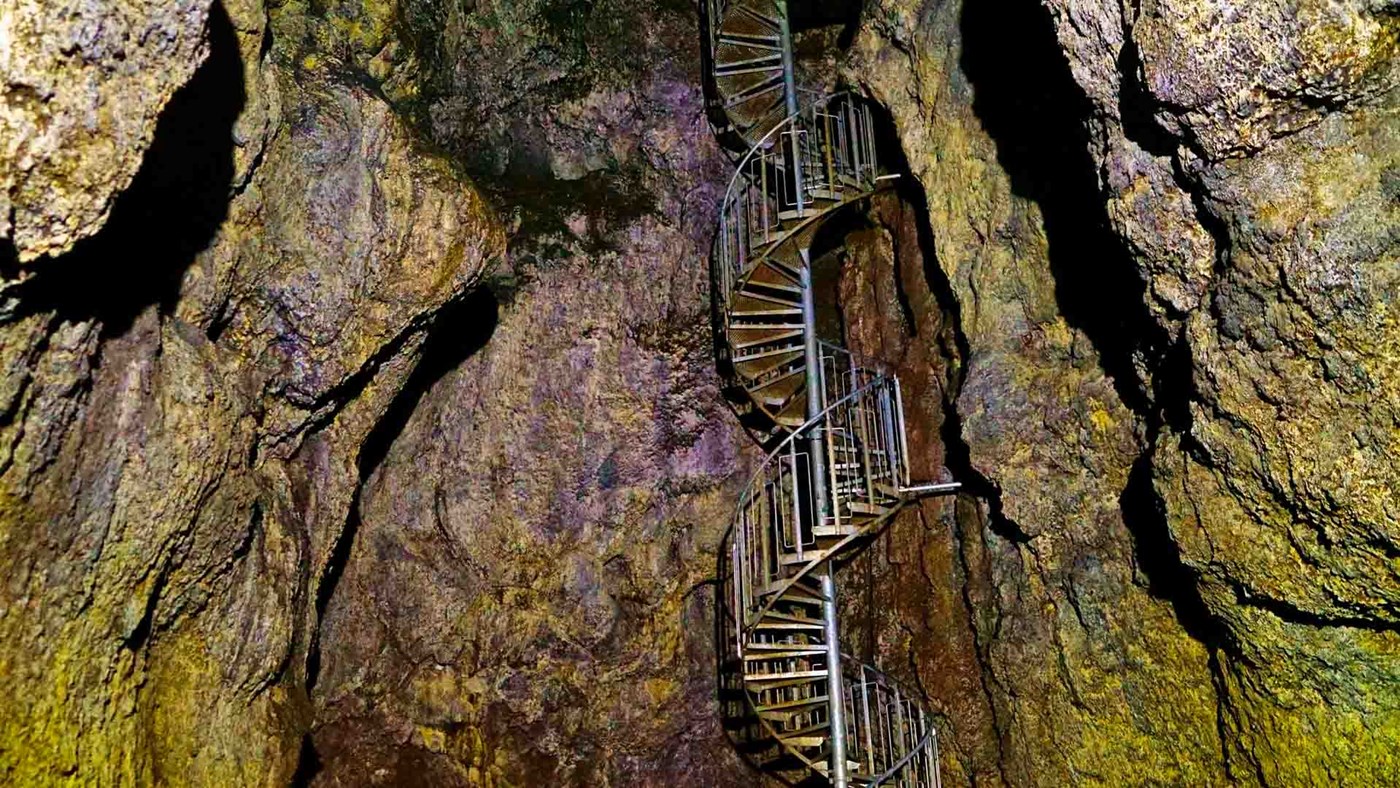 Vatnshellir Cave is an 8000-year old lava tube located in the heart of the incredible Snæfellsjökull National Park, only 10 minutes away from the ancient village of Hellnar. It reaches over 200 meters and lies 35 meters below the surface.
Like all lava tubes in Iceland, Vatnshellir Cave formed when a river of molten rock began to cool from outside during an eruption. The effect left a crust over still-flowing lava, which, after flushing away, left a hollow tube.
Rauðfeldsgjá Gorge
Rauðfeldsgjá is a beautiful gorge located in Botnsfjall Mountain on the Snaefellsnes Peninsula. Thousands of tourists visit this massive crack in the mountain throughout the year. So, what's so special about it?
The name of Rauðfeldsgjá Gorge was inspired by a famous Icelandic legend, the Saga of Bárður Snæfellsás, written in the 14th century. It portraits a half-man half-troll named Bárður Snæfellsá. It is said that his soul remained to guard the Snaefellsnes Peninsula after his death. Spooky, right?
Hellnar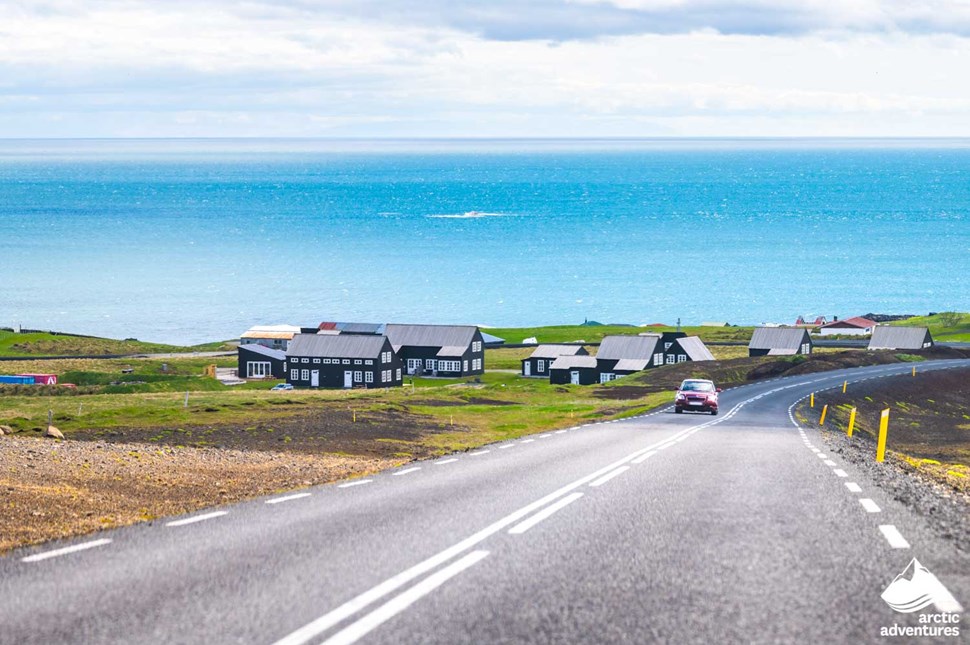 Hellnar is an ancient fishing village featuring old houses and buildings on the westernmost part of the Snaefellsnes Peninsula. Hellnar was among the peninsula's largest fishing villages and main fishing stations for centuries. Today, the village is a popular tourist attraction - many people come here to see the seaside cliffs and try their famous creamy seaside soup.
Gerðuberg Cliffs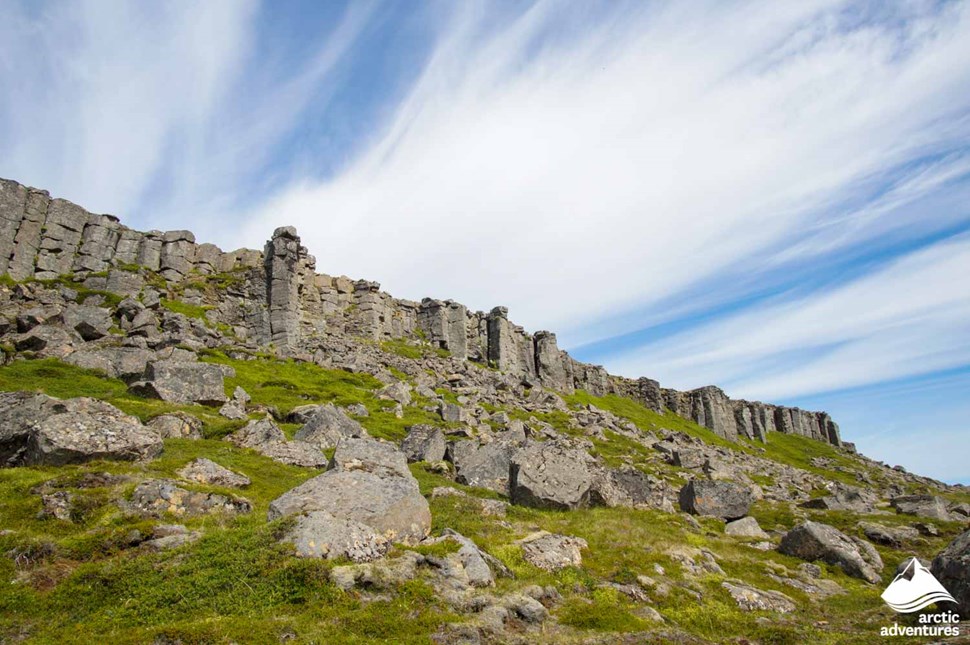 Gerðuberg is a row of basalt columns on the southern cliff of the Snaefellsnes Peninsula. Fortress-looking columns stand on a cliff that is over a kilometer long. Basalt columns are between 7 and 14 meters (23 and 46 ft) tall and up to 0.5-1 meters (5 ft) wide.
What's unique about Gerðuberg is that the columns are so symmetrical that it seems to be carved by hand, not nature. There's a science, of course, behind its symmetricity.
During the eruption, which happened thousands of years ago, an equal amount of lava flowed down the cliff. The sea levels were higher back then, so the water cooled the running lava quickly, making it perfect and unique.
Ytri Tunga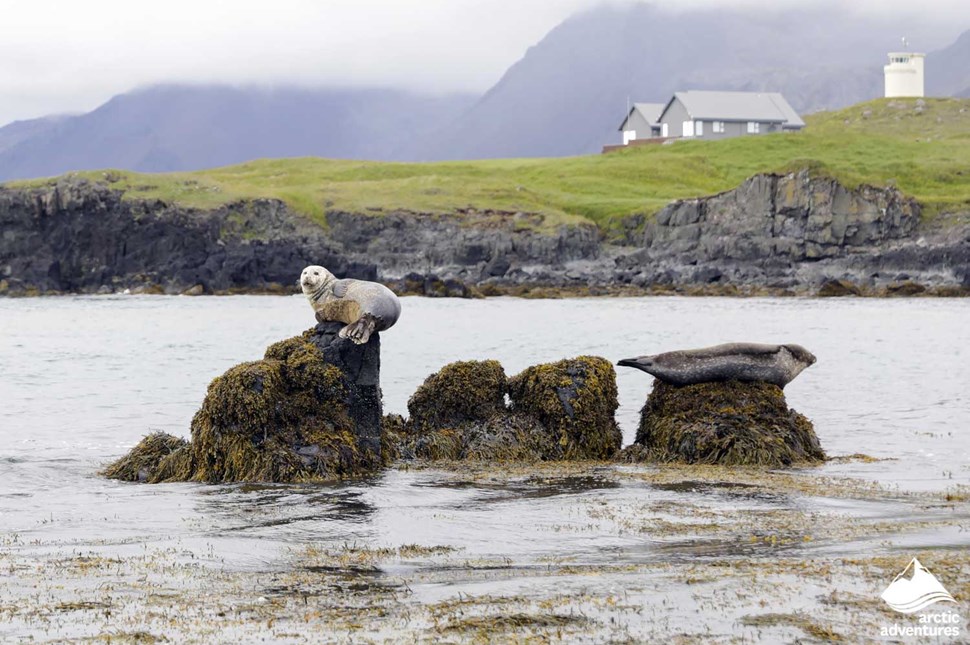 Ytri Tunga, located in the south of Snaefellsnes Peninsula, is a beach with some of the highest chances of spotting seals in Iceland! The seal colony inhabits this area, making it one of the best places for watching seals, after Jökulsárlón glacier lagoon and the Vatnsnes Peninsula. There are two different species of seals in Iceland, and two of them can be seen at Ytri Tunga - the grey seal and the common seal.
Budir Black Church
Budir Black Church, called Búðakirkja, draws attention to an otherwise insignificant town. The church was built in 1703 and stood there until the Danish king dismissed it in 1816. The church was fully reconstructed in 1987 by a will of church members. It still features a historic graveyard and bell and chalice from when the church was first constructed. Pretty fascinating, right?
Berserkjahraun Lava Field
Berserkjahraun is a 4,000-year-old lava field located on the Snaefellsnes Peninsula. The name Berserkjahraun comes from another Icelandic, Saga Eyrbyggja-Saga. It is a story about a farmer who lived in the 10th century.
The farmer had two Berserkers, two men from Sweden who worked for him. One of the men fell in love with the farmer's daughter and asked for her hand in marriage. The farmer said he would only agree if the man would complete the impossible task of building a road in the middle of the lava field. To his surprise, the berserker finished the road in no time. The farmer was happy about the road but concerned about his son-in-law's abilities, so he invited the two men into the sauna that he had built. Eventually, the farmer killed the men and buried them.
Svörtuloft Lighthouse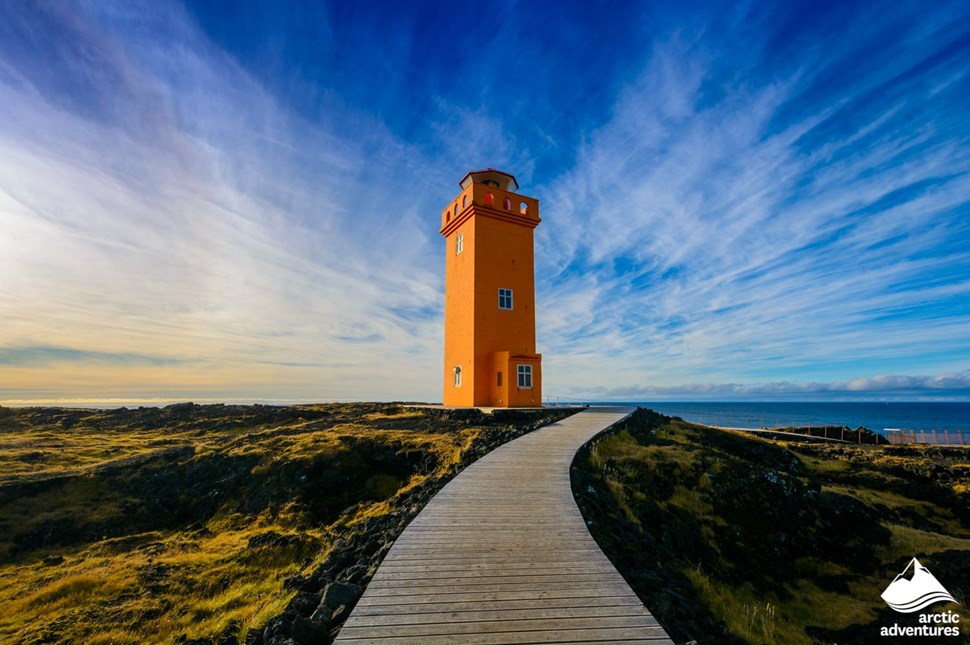 Svörtuloft Lighthouse, located on the westernmost part of Snaefellsnes Peninsula, stands at 19 feet (6 meters) tall in bright orange color. The lighthouse provides a spectacular view of the western coastline.
This wonderful piece of architecture was constructed around 1931 and stands out with its vivid orange color, contrasting with surrounding dark rocks and cliffs. If you turn right on the road, you might also see a smaller lighthouse, called Öndverðarnes, nearby.
Ólafsvík
Olafsvik is a small fishing town situated in the western part of the Snaefellsnes Peninsula. The city consists of approximately 1000 people and has a thriving fishing industry and a natural harbor.
Ólafsvík is not only rich in fishing grounds but is also one of the greatest places for whale watching in Iceland. There is a high chance of seeing sperm whales, orcas, and humpback whales here. It is also one of the best places to watch puffins in Snaefellsnes.
Join this Whale Watching tour in Olafsvik to get the best chances of spotting these magnificent marine creatures!
Bjarnafoss
Bjarnafoss is a tall waterfall running behind the little farm in Budir. It was named after the local farmer named Bjarni. There's a legend that the farmer threw all his money into a waterfall and the treasure is still there to find it. You can try and look for it or, if not, enjoy the waterfall as it is.
Where to eat on the Snaefellsnes Peninsula?
From South clockwise around the peninsula – Firstly South, West then North and East.
FROM BORGARNES TO THE FIRST VILLAGE VIA ROUTE 54
Grillhúsið at Borgarnes, a great BBQ.


Rjúkandi Café & Restaurant, perfect for a cake and coffee, yummy soup!


Langaholt, their motto, "nature provides – we deliver" explains their delicious authentic fish-based menu.


Hótel Búðir is a scenic place to enjoy a meal, with great variety and taste!
ARNARSTAPI AND HELLNAR RESTAURANTS
Fosshótel Hellnar Restaurant is the fancier option with beautiful ocean views.


Fjöruhúsið café is a small and cozy café with mind-blowing views.


HELLISSANDUR & RIF RESTAURANTS
Viðvík Restaurant, dinner, drinks, or even coffee do everything well in a charming setting.


Gilbakki Kaffihús Gamla Rif, a step back in time, this graceful old timber house invites you back into Icelandic culture with architecture, decorations, and baked goods.


ÓLAFSVÍK RESTAURANTS
Kaldilækur Café, open in summer, this friendly family-owned hut sells fabulous soups, cake, and coffee.


Hraun Restaurant, budget-friendly and located next to the fishing harbor, great variety!
GRUNDARFJÖRÐUR RESTAURANTS
Bjargarsteinn Mathús, great food, great Kirkjufell view – the perfect foodie experience.


Café Emil is an intimate family-run café located in the heart of the village. Homemade goodies and great for the info!
STYKKISHÓLMUR RESTAURANTS
Sjavarpakkhusid offers seafood and lovely vegan options right down at the harbor.


Narfeyrarstofa, the most famous restaurant in Stykkishólmur, raved for tasty seafood and other local dishes.


Skurinn, this yellow cabin is a burger joint with good vegetarian options.


Stykkisholmur Slowly Cafe is a tiny cafe with wonderful coffee, tea, and biscotti.


Nesbrauð Bakery is hard to miss, marked clearly with a large bakery sign and pastries par excellence.


Meistarinn, for an Icelandic hot dog experience at another level!


If you want to find out more, read our detailed article about the best places to eat on Snaefellsnes!
Accommodation and hotels on Snaefellsnes
Where to stay in Snaefellsnes?
Hotels
Borgarnes:
Búðir
Arnarstapi:
Hellnar:
Hellissandur:
Grundarfjorour:
Ólafsvík:
Stykkishólmur:
Hotel Stundarfriður
Helgafell
Hotel Stykkishólmur
Hotel Egilsen
Fransiskus Hotel
Hostels
The Freezer Hostel and Culture Center
Grundarfjordur HI Hostel
Guesthouses, B&B and Farmstays
Borgarnes:
Snorrastaðir Farm Holidays
Snæfellsbær:
Hömluholt Holiday Homes
Kast Guesthouse
Lýsuhóll
North Star Apartments Rif
Midhraun:
Hofgarðar:
Langaholt:
Ólafsvík:
Welcome Apartments Ólafsvík
Við Hafið Guesthouse
Bikers Paradise
Grundarfjorour:
Hellnafell
Grund I Grundarfirði Guesthouse
Snæfellsnes Farmhouse
Stykkishólmur:
Helgafell 2
Bænir og Brauð
Guesthouse Langey
Drangar Country Guesthouse
Cabins and Cottages
Langafjaran Cottages (Hjardarfell)
Sodulsholt Cottages (Sodulsholt)
Arnarstapi Center (Arnarstapi)
Dis Cottages (Grundarfjörður)
Camping on Snaefellsnes Peninsula
Camping at Hellnar
The campsite Snjofell at Arnarstapi is a beautiful experience. It is quite a large camping site and known for exquisite marine views.
Camping at Hellissandur
Camping at Hellissandur is an opportunity for a scenic sleeping location. The site is relatively new, made in 2011, and all the basic service is found there, a gas station, a museum, a supermarket, and a swimming pool. Facilities include running water, toilets, showers, and electricity.
Camping in Grundafjörður 
Camping in Grundafjörður is an excellent chance to view Kirkjufell day and night. Located next to the swimming pool and has electricity for campers for an additional 1,000 ISK. All information about the camping site is provided at the swimming pool's reception.
Camping in Ólafsvík 
There's a campsite located at the charming Ólafsvík municipal boundary. The facilities include showers, toilets, electricity, running water, a playground and nearby you can find walking paths, a swimming pool, a golf course, and restaurants.
Camping in Stykkishólmur 
The campsite in Stykkishólmur is one of the best-equipped campsites in Iceland. Facilities include running hot and cold water, toilets, showers, electricity, washing machines, tumble dryers, WIFI, a playground, a dining tent, waste disposal, a sports area, and nearby a swimming pool and a golf course.
The History of Snaefellsnes Peninsula
There is something truly special about the peninsula. In the year 1864, it became famous, along with its towering Glacier Volcano, Snæfellsjökull. It became famous when author Jules Verne wrote it to be the opening to the center of the earth in his book Journey to the Center of the Earth.
The book became a big hit and ended up being portrayed in movies, in 1959, 1978, 1989 and lastly in 2008. It starred the Icelandic actress Anita Briem and the famous Brendan Fraser.
The story has also been portrayed in theatre, theme parks, radio, video games, television, and film. But long before all this, Snæfellsnes was mentioned in the Icelandic Bárðar Saga.
The saga tells the story of Bárður, who according to legend was half-ogre and half man. There is a tall sculpture of Bárðar on the hillside at Arnarstapi, a picturesque fishing village.
Movies, TV Shows or Music Videos Filmed on Snaefellsnes Peninsula
Films
The Secret Life of Walter Mitty (2013) Many links the movie's Secret Life of Walter Mitty filming directly with Iceland as so much is shot here. Stykkishólmur plays an important role in the movie along with Papa John's which in real life is actually Geirabakarí at Borgarnes. In the movie, Stykkishólmur is a town in Greenland and the bar and helicopter scenes are all shot there. Fun Fact: The Icelandic actors Olafur Darri and Gunnar Helgason play roles in the movie.


Journey to the Center of the Earth (2008) A Brendan Fraser, Josh Hutcherson, and Anita Briem film based on a Jules Verne book filmed in the Snæfellsnes National Park as the Snæfellsjökull glacier is the main focus, being the opening to the center of the earth!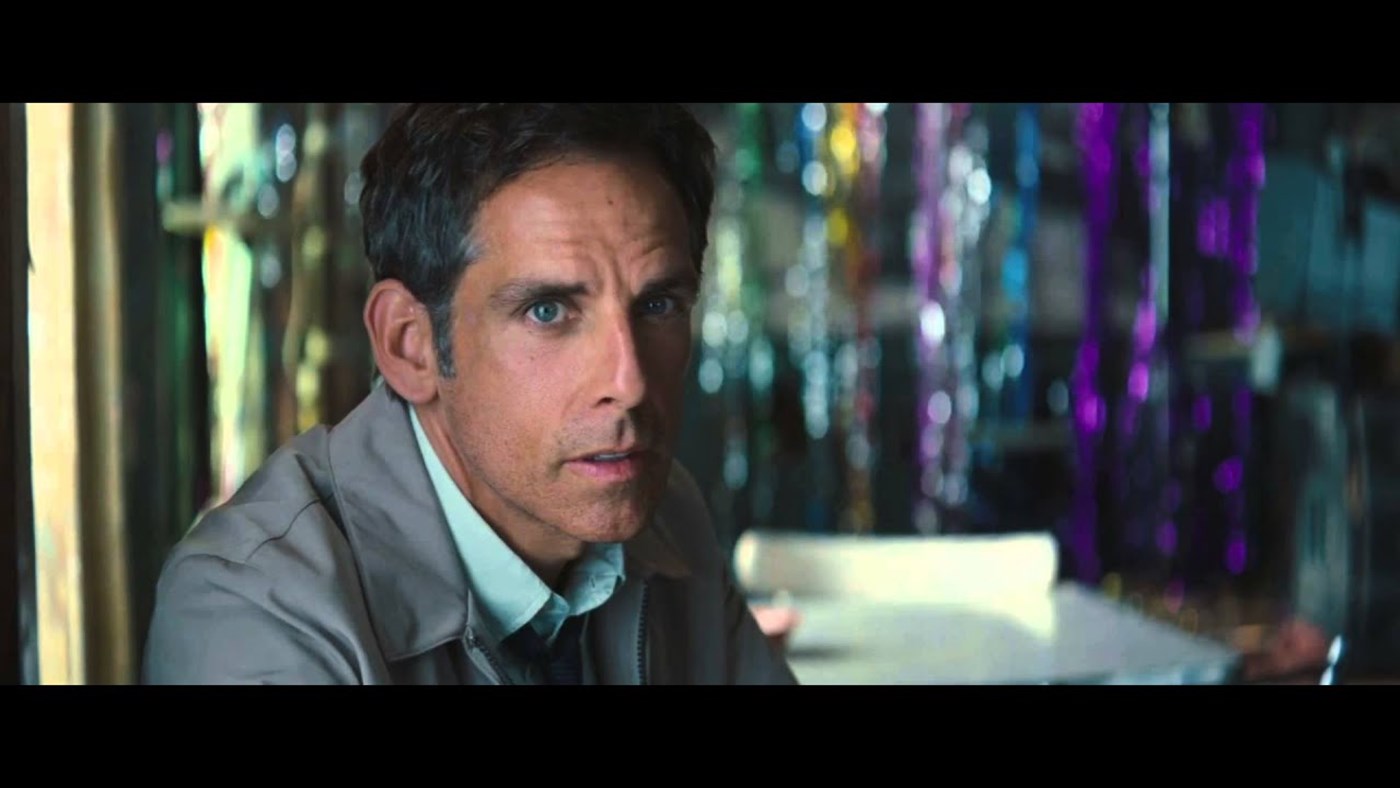 TV Shows
Game of Thrones (season 7) The popular TV series has been shot all over Iceland but one of the more memorable scenes is the one with the Arrowhead Mountain "played" by Kirkjufell Mountain. In the series, the Hound has a vision where the mountain appears and then again in the scene were Jon Snow and his heard are marching to fight the army of the dead.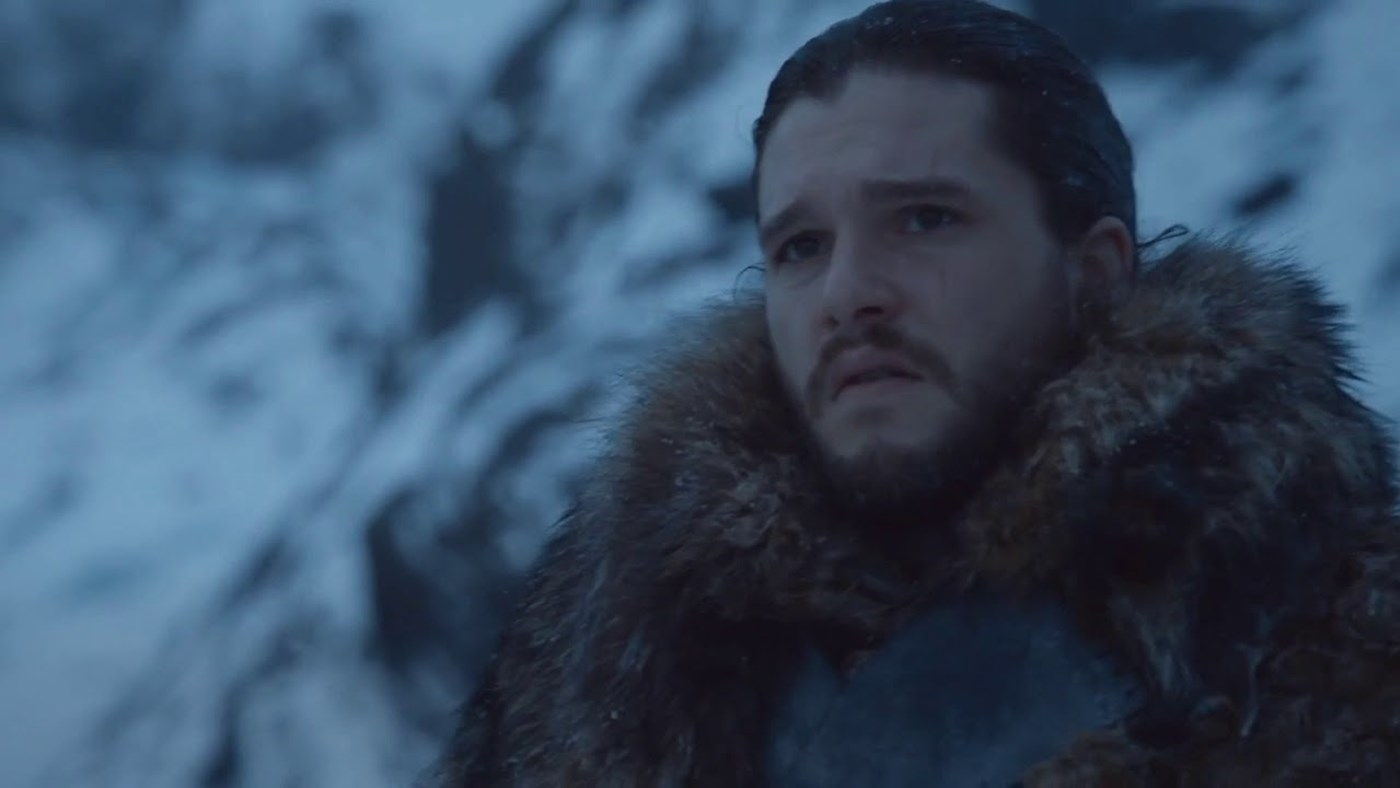 Music Videos
Elliphant – Down on Life (2012) This Swedish band shot the whole video in Iceland and the opening scene reveals a horse being ridden on the Löngufjörur beach on the Snæfellsnes Peninsula. Simply amazing!