General information about Snaefellsnes Peninsula
Where is the Snaefellsnes peninsula located?
Snæfellsnes is a peninsula in West Iceland so there are various places to mention. Stykkishólmur is 165 km (102,5 mi) from Reykjavík and 96.1 km (60 mi) from Borgarnes.
Mt. Kirkjufell is 172 km (106,8 mi) from Reykjavík. Arnarstapi is 186 km (115,6 mi) from Reykjavík and Hellnar is 4.3 km (36,7 mi) from Arnarstapi and 188 km (116,8 mi) from Reykjavík.
Where is Snaefellsnes Peninsula located exactly?
GPS Coordinates:
Latitude: 64.8703° N
Longitude: 23.1136° W
How to get to the Snæfellsnes Peninsula?
There are so many different options when it comes to visiting the Snæfellsnes peninsula. You can easily visit an exciting tour, be it a day or multi-day tour. You can jump on a public bus to reach Snaefellsnes, or you can easily rent a car and drive!
How to get to Snaefellsnes from Reykjavik?
Driving from Reykjavik to Snaefellsnes should take about 1,5-2 hours. For the most part, you will follow the Ring Road 1 through Mosfellsbær, into Borgarfjörður valley, and the town of Borgarnes.
Here you will make a left turn at the last roundabout onto road 54. Road 54 will take you well into the beautiful peninsula.
How to get to Snæfellsnes Peninsula from Akureyri?
Driving from Akureyri to the Snæfellsnes Peninsula should take about 4.5-5 hours, and again you will mainly be following road one. The drive will take you into the horse mecca of Iceland, Skagafjörður, and into the area of Reykholt.
Following route 1, you'll reach the border of the town of Borgarnes. You will turn on road 54 on the roundabout and continue to the Snæfellsnes peninsula.
How big is the Snaefellsnes Peninsula?
The Snaefellsnes Peninsula is 90 km (56 mi) long.
How long do you need in Snaefellsnes?
It is recommended to spend 2-3 days on the Snaefellsnes Peninsula to visit all of the main attractions.
Best Things to Do in Snaefellsnes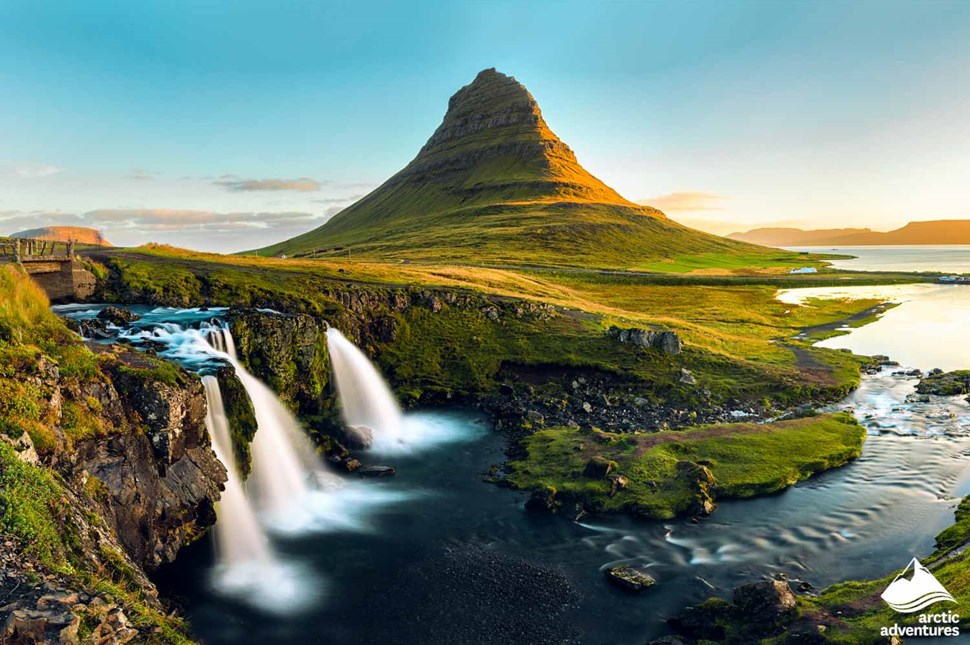 There's so much more to uncover about the Snæfellsnes Peninsula. If you're itching to dive deeper into the wonders of this region, check out our detailed guide on Best Things to See and Do on Snæfellsnes. Read on and plan your Iceland trip easier!
Where to eat on the Snaefellsnes Peninsula?
From South clockwise around the peninsula – Firstly South, West then North and East.
FROM BORGARNES TO THE FIRST VILLAGE VIA ROUTE 54
Grillhúsið at Borgarnes, a great BBQ.


Rjúkandi Café & Restaurant, perfect for a cake and coffee, yummy soup!


Langaholt, their motto, "nature provides – we deliver" explains their delicious authentic fish-based menu.


Hótel Búðir is a scenic place to enjoy a meal, with great variety and taste!
ARNARSTAPI AND HELLNAR RESTAURANTS
Fosshótel Hellnar Restaurant is the fancier option with beautiful ocean views.


Fjöruhúsið café is a small and cozy café with mind-blowing views.


HELLISSANDUR & RIF RESTAURANTS
Viðvík Restaurant, dinner, drinks, or even coffee do everything well in a charming setting.


Gilbakki Kaffihús Gamla Rif, a step back in time, this graceful old timber house invites you back into Icelandic culture with architecture, decorations, and baked goods.


ÓLAFSVÍK RESTAURANTS
Kaldilækur Café, open in summer, this friendly family-owned hut sells fabulous soups, cake, and coffee.


Hraun Restaurant, budget-friendly and located next to the fishing harbor, great variety!
GRUNDARFJÖRÐUR RESTAURANTS
Bjargarsteinn Mathús, great food, great Kirkjufell view – the perfect foodie experience.


Café Emil is an intimate family-run café located in the heart of the village. Homemade goodies and great for the info!
STYKKISHÓLMUR RESTAURANTS
Sjavarpakkhusid offers seafood and lovely vegan options right down at the harbor.


Narfeyrarstofa, the most famous restaurant in Stykkishólmur, raved for tasty seafood and other local dishes.


Skurinn, this yellow cabin is a burger joint with good vegetarian options.


Stykkisholmur Slowly Cafe is a tiny cafe with wonderful coffee, tea, and biscotti.


Nesbrauð Bakery is hard to miss, marked clearly with a large bakery sign and pastries par excellence.


Meistarinn, for an Icelandic hot dog experience at another level!


If you want to find out more, read our detailed article about the best places to eat on Snaefellsnes!
The History of Snaefellsnes Peninsula
There is something truly special about the peninsula. In the year 1864, it became famous, along with its towering Glacier Volcano, Snæfellsjökull. It became famous when author Jules Verne wrote it to be the opening to the center of the earth in his book Journey to the Center of the Earth.
The book became a big hit and ended up being portrayed in movies, in 1959, 1978, 1989 and lastly in 2008. It starred the Icelandic actress Anita Briem and the famous Brendan Fraser.
The story has also been portrayed in theatre, theme parks, radio, video games, television, and film. But long before all this, Snæfellsnes was mentioned in the Icelandic Bárðar Saga.
The saga tells the story of Bárður, who according to legend was half-ogre and half man. There is a tall sculpture of Bárðar on the hillside at Arnarstapi, a picturesque fishing village.
Movies, TV Shows or Music Videos Filmed on Snaefellsnes Peninsula
Films
The Secret Life of Walter Mitty (2013) Many links the movie's Secret Life of Walter Mitty filming directly with Iceland as so much is shot here. Stykkishólmur plays an important role in the movie along with Papa John's which in real life is actually Geirabakarí at Borgarnes. In the movie, Stykkishólmur is a town in Greenland and the bar and helicopter scenes are all shot there. Fun Fact: The Icelandic actors Olafur Darri and Gunnar Helgason play roles in the movie.


Journey to the Center of the Earth (2008) A Brendan Fraser, Josh Hutcherson, and Anita Briem film based on a Jules Verne book filmed in the Snæfellsnes National Park as the Snæfellsjökull glacier is the main focus, being the opening to the center of the earth!
TV Shows
Game of Thrones (season 7) The popular TV series has been shot all over Iceland but one of the more memorable scenes is the one with the Arrowhead Mountain "played" by Kirkjufell Mountain. In the series, the Hound has a vision where the mountain appears and then again in the scene were Jon Snow and his heard are marching to fight the army of the dead.
Music Videos
Elliphant – Down on Life (2012) This Swedish band shot the whole video in Iceland and the opening scene reveals a horse being ridden on the Löngufjörur beach on the Snæfellsnes Peninsula. Simply amazing!