The Best Way To Get To Blue Lagoon From Reykjavik Or Keflavik
The best way to get to Blue Lagoon from Reykjavik is to take the transfer bus when you don't have a rental car. Depending on how long you are planning to stay in the steamy silica pond, there are several options offered by the Blue Lagoon transfer.
From Reykjavik To Blue Lagoon and Back
Using the transfer bus makes your trip more relaxed. It has pick-up stops all over Reykjavik covering hotels and bus terminals. Many people take advantage of this convenience to visit Blue Lagoon as a day tour.
This stress-free plan starts when you pack your bathing suit and get on the bus at your pick-up stop. After an enjoyable ride through the lava fields, your hot spring therapy begins in the middle of stunning surroundings under the Northern sky.
Either your plan is to stay in the cerulean water for a while before heading back to Reykjavik, or you want to linger on for several hours in the Blue Lagoon area to explore the massages, food and other treats, Blue Lagoon transfer can always accommodate you according to your plan with flexibility.
The transfer is a reliable way assuring the quality of your day tour in Blue Lagoon, you can divert more energy on enjoying the otherworldly wonder surrounded by the volcanic landscape. Also, it provides the possibility of a perfect day tour starting in Reykjavik. You can join the Reykjavik Food Walk around noon before moving through the Reykjanes Peninsula to relish the day in Blue Lagoon.  
From Reykjavik To Keflavik and Vice Versa
The immediate need for most of the visitors after landing at Keflavik International Airport is to get to the capital region. Blue Lagoon nicely sits between those two cities leading an instant adventure for maverick travelers. It's only a 15-20 minute drive away from the airport, making it a perfect stop to wash away your travel fatigue.
Blue Lagoon Transfer operates between the two municipalities back and forth. You are free to choose a pickup point or a drop-off place. For arrivals at Keflavik airport, after you board on the Blue Lagoon Transfer, it takes 15 minutes to reach the Lagoon. Suitcases won't be a burden, Blue Lagoon offers safe luggage storage at ISK 550 for each bag. A backpack or a light bag can fit in the changing room locker.  
How wonderful would that be if you are welcomed in Iceland by its unique silky warmness! The timing makes it an experience of a lifetime. After the marvelous moment, you will board the transfer bus again heading to your hotel room in the capital via the free drop-off service.
If you are about to end your Iceland trip but have not yet visited Blue Lagoon, you are lucky to have the option of booking the Blue Lagoon Transfer on your way to the airport. After you are picked up in Reykjavik, the ride to the Lagoon is about 45 minutes. Then you go dip in the therapeutic resort and savor the precious moment while you are still in the land of ice and fire.
It's the ultimate closure for your adventure. After total relaxation, you will be riding the bus to Keflavik catching your outbound flight. The unforgettable vista will stay with you as Iceland disappears on the horizon through the airplane window.
As the most populated area in Iceland and the central hub for visitors to plan their itinerary, Reykjavik has a lot of awesome culture and tours to offer. When you expand your travel radius to Blue Lagoon, you need an efficient, convenient and cost-effective transfer. These options will hopefully help you make an informed decision.
What is Included in the Blue Lagoon Transfer?
Pick-up and drop-off services free of charge

Free WiFi on all buses

Special transfer fare discount for children accompanied by adults: 0 – 11 years: Free of charge; 12 – 17 years: 50% off

Operate all year around
Blue Lagoon Transfer Pick-up Stops In Reykjavik
There are 159 pick up or drop off stops in Reykjavik free of charge when you book the Blue Lagoon transfer to get around only to Blue Lagoon or Keflavik International Airport. You can check this map to see the closest stop near you.
For more detailed information, please visit the complete list of the stops.
Ways To Transfer Between Keflavik International Airport and Reykjavik
There are many ways to transfer between Keflavik International Airport to Reykjavik area, including buses, rental cars, private taxi services and the popular Blue Lagoon transfer.
Blue Lagoon airport transfer is a popular option since it adds value to the trip. With the Blue Lagoon stop in the middle, you can start your Iceland exploration without delay. This alternative is an efficient and hustle-free transport from Keflavik airport and Reykjavik and vice versa. It has numerous free-of-charge pickup and drop-off stops in Reykjavik in addition to all the features of airport buses. When you travel to Iceland, an economic choice is always helpful for visitors to cost-effectively leverage their time and fund.
Rental cars are best for those who plan to self-drive in Iceland. You can pick up your rental car or have your car delivered to the airport, then you will be on your way.
Private taxi service is comfortable and the drivers in Iceland are nice and helpful logistically. The taxi fare from Keflavik airport to Reykjavik ranges from 13,000 ISK to 16,000 ISK per 1-4 person vehicle.
Several airport bus operators are running all year round serving as the main dependable channel for travelers to come to Reykjavik city. There is free WIFI on all buses. The ride is about 45 minutes from Keflavik to Reykjavik via Route 41. The different operator stops at different stops on the way. Besides those free stops, there is also a list of designated stops for hotels and bus stations in Reykjavik, you can select where you want the bus to drop off or pick up for an additional fee. The list of stops is visible when you purchase the ticket online.
What is the Blue Lagoon?
Blue Lagoon, Bláa Lónið in Icelandic, was formed in 1976 when Svartsengi Geothermal Power Plant initiated its development. Over the years, the lagoon has evolved into a spa resort attracting more than 700,000 visitors annually to this place alone. It is on the top 10 list of the most popular sites in Iceland.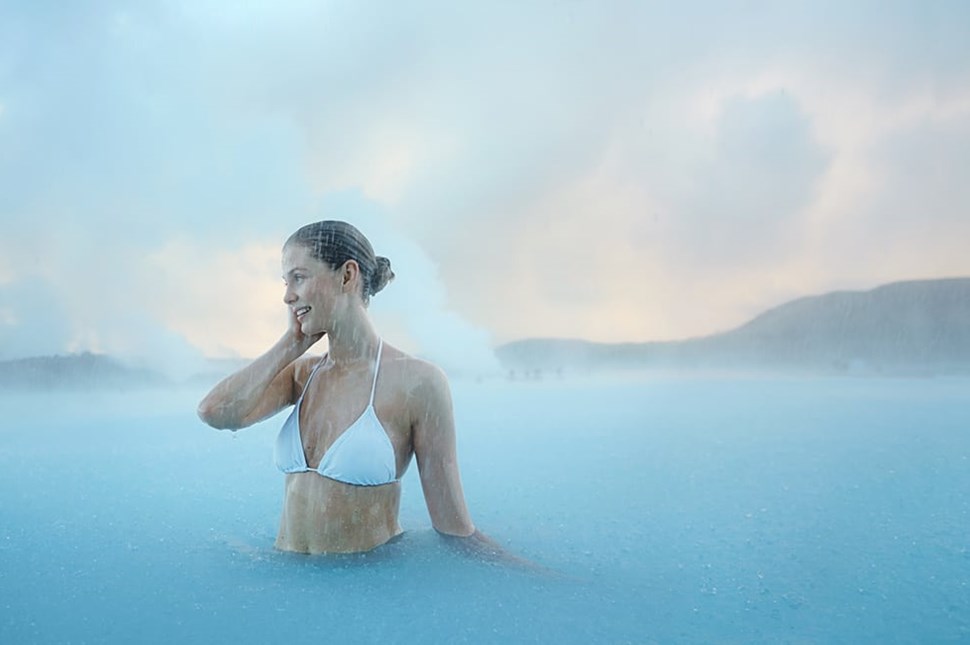 The world-renowned recreational spa unceasingly infuses the therapeutic seawater to relax international guests who were haunted by the worrisome from a busy world. The white silica facial mask is free to all lagoon guests. With the mineral mud applied above your chest and back, you can explore within the lagoon to the fabulous man-made waterfall for a nature force massage.
Blue Lagoon is warm and welcoming all year around. The only difference is that the price was higher in summer than in winter. But, talking about the spa experience, either you immersing yourself under the midnight sun, or looking up to the dancing Northern lights, summer and winter both have their unique taste.
What To Bring To Blue Lagoon
A swimsuit (you can rent one but it saves money bringing your own)

A towel if you want your own

Money, cash or card

Sunscreen, any sunlight reflects very much from the lagoon making this place the ultimate for sunburning. Be on the lookout!

Hair tie/band if you have long hair, you'll thank us later!
Want to know more about Blue Lagoon? Read our blog post - Does Blue Lagoon really ruin your hair? You will be informed and surprised regarding lesser known facts about the 8th wonder in the world.