What Causes a Geyser to Erupt?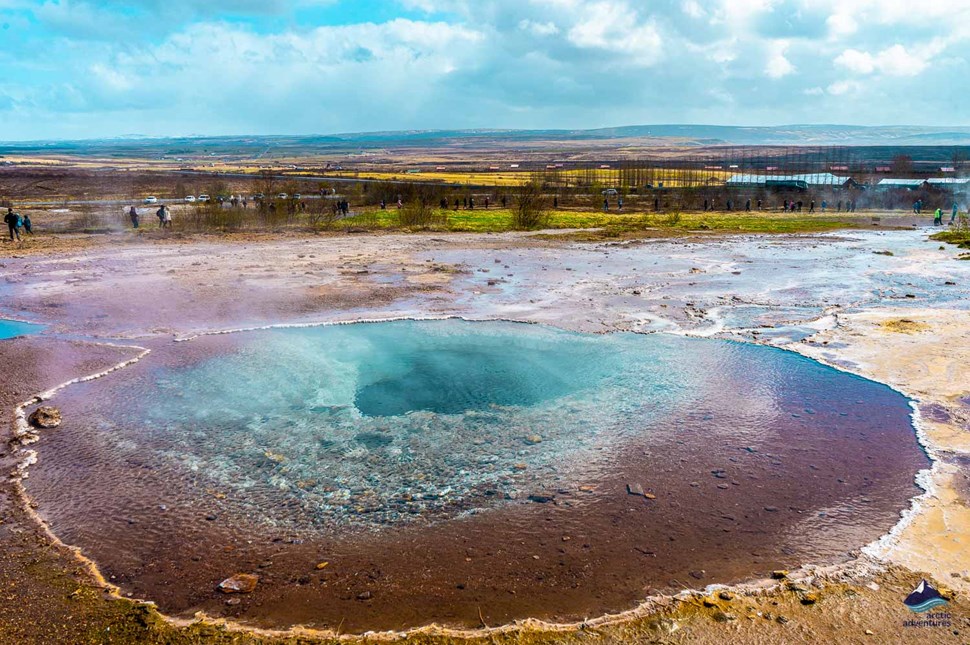 For tourists and locals alike, we're lucky to have a reliably erupting geyser at a geothermal field so close to Reykjavík. Luckily, it also sits directly inside the hugely popular Golden Circle area.
Various geological factors have to combine for a geyser to exist, making them very rare in nature. In order for a geyser to erupt, the following features must all be present:
The molten magma has to be sufficiently close to the surface of the earth make the rock hot enough to boil water. No hot rocks = no geyser!

A sufficient and continuous source of flowing underground water is an essential component of any erupting geyser. Drains from 

Langjökull Glacier

 pass close by on its journey to Haukadalur, and through porous lava, a constant water supply to Strokkur is achieved.

There must be a conduit to carry the water to the 'chamber' or reservoir which holds the water. This sits underground beneath the opening of the hot spring.

The vent and its plumbing system need to have a silica lining to prevent the water from draining away.
Where are Geysir and Strokkur Located?
The geysers are one of the attractions of the famous Golden Circle. Situated in the geothermally active valley of Haukadalur in South Iceland 99.2 km (61,6 mi) from Reykjavík if you take the Þingvallavegur route, otherwise around 107 km (66,4 mi).
GPS Coordinates of Strokkur: 64.3127° N, 20.3008° W
How to get to Geysir and Strokkur?
The Geysir hot spring area is easily accessible, it is located on road nr. 35 is open almost 365 days out of the year.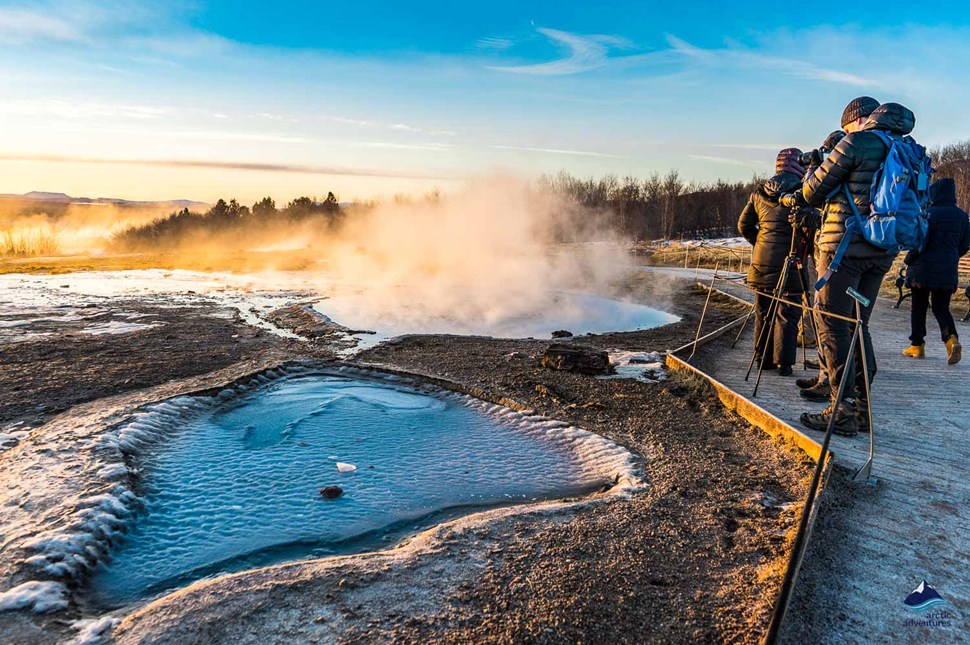 Driving from Reykjavík to Geysir you can take two routes. The more common one is through Mosfellsdalur, past Thingvellir National Park following road number 36. The road soon switched to road 365 and as you pass Lake Laugarvatn it turns to road 37. Continue on this road without any turns.
The second way is via Road 1. It takes you through Hveragerði and right before you reach the town of Selfoss you make a turn left onwards to Lake Laugarvatn. This route will take you past Kerið Volcanic Crater and Faxi waterfall as you follow road 35 there rest of the way.
Other Facilities near the Great Geysir
There are display boards at the entrance to the Geysir Geothermal Area showing information about the geysers and other geothermal activities found in the valley.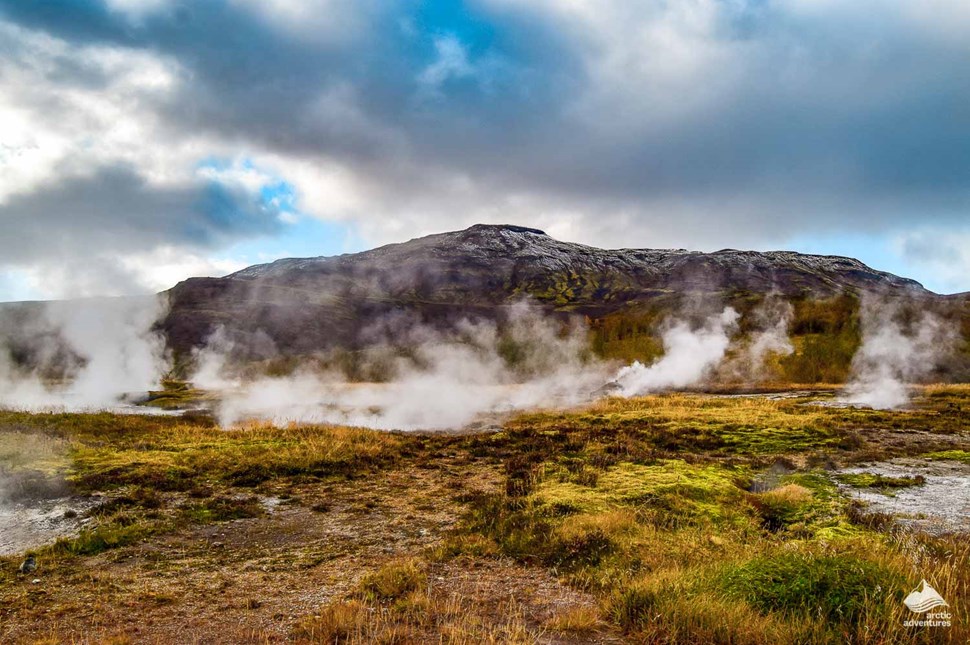 Entry to the toilets in the Geysir Center is free of charge. There are two car parks in the vicinity of the Geysir Geothermal Area. One is on the opposite side of the road at the Geysir Center.
Another car park on the same side of the road. This car park is closer to the geysers and is a better option for those with small children, limited mobility or wheelchairs.
Accommodation and Hotels near Geysir and Strokkur
At the Geysir location, just across the street from the mighty geysers, you will find two hotels and a cottage so finding accommodation should not be a problem.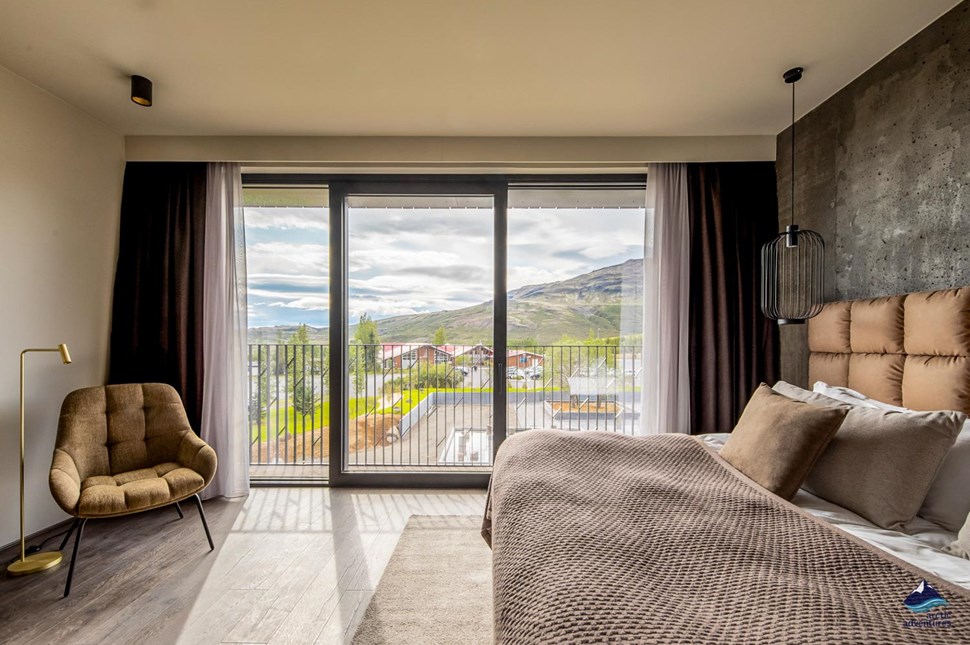 If you wish to stay away from the Geysir area, to possibly find more tranquility and less traffic, we will also mention cabins and other options further away. The top options are the closest ones to Geysir.
Hotels
Hotel Geysir

Litli Geysir Hotel

Hotel Gullfoss

Mengi Kjarnholt
Guesthouse, B&B and Farmstays
Jaðar The Old House

Efstidalur II
Hostel
Cabins and Cottages
Geysir Cottage

Geysir Hestar

Úthlíð Cottages

Eyjasol Cottages

Sacred Seed

Árbakki Farmhouse Lodge
Camping near Geysir and Strokkur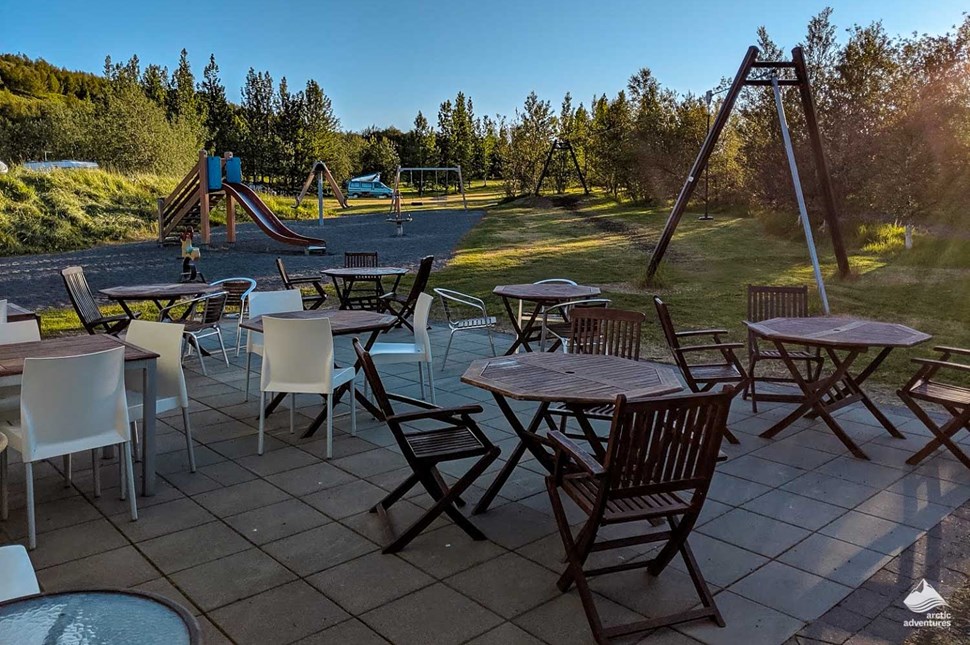 Geysir Camping Ground is located within a walking distance from Geysir. Facilities on-site include showers, toilets access to electricity, washing machines, WIFI, a golf course, and a playground. Open from the 15th of May till the 15th of September.
Skjól Camping Ground is located in between Gullfoss and Geysir.  Their facilities include a restaurant, showers, WCs, WIFI, washing machines, access to electricity, a restaurant, a golf course, walking paths, and wheelchair accessibility. Open all year round.
Faxi Camping Ground is a quiet and beautiful location next to the waterfall Faxi. The facilities include cooking facilities, electricity, WCs, showers, a swimming pool, a restaurant, and walking paths. Open from the 15th of May till the 30th of September.
Úthlíð Camping Ground a charming camping sight near Geysir. Facilities include cooking facilities, WCs, showers, electricity, a golf course, a playground, and a swimming pool. Open from May to September but all year round for campers.
Geysir in Winter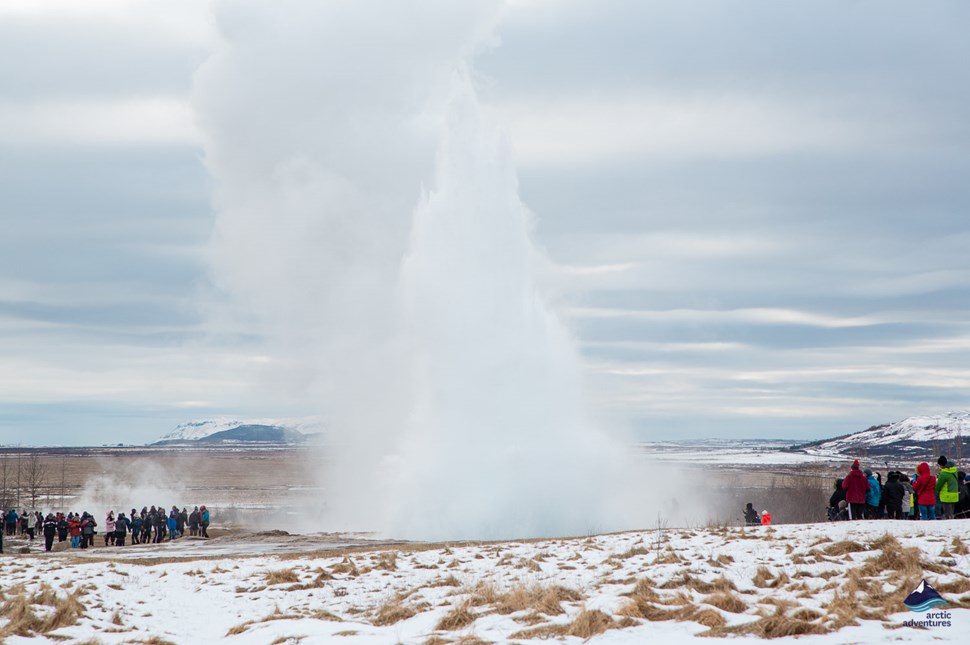 The Geysir area is a fascinating attraction any season, all year round. The steam and smoke that surrounds the area take on the otherwise frosty atmosphere and a true collision of ice and fire takes place.
The ground can get quite slippery so it is important to be mindful of your step. Keep in mind that even when visiting a geothermal area such as this one the temperatures aren't high so you need to dress according to weather forecasts. Dress smart – layers are key!
Geysir is also a great location to see the winter Northern Lights. If you seek to witness the magical aurora, check out our Golden Circle and Northern Lights tour.
What not to do at Geysir and Strokkur?
Go within the lines! The water is extremely hot and the lines have been put up after accidents have happened. Follow the rules, there is a reason for them.
Go there without visiting Gullfoss, the waterfall is only about 7 min driving distance away. You simply can't visit the area and skip Gullfoss.
Litter! The area is greatly kept and it's important that we do what we can to help to keep it that way.
Interesting places near Geysir