The history of Borgarnes
Let's go all the way back!
Skalla-Grímur Kveld-Úlfsson was Norwegian Viking son of Kveld-Úlfur. The two of them were good friends with Ingólfur Arnarsson, the original settler of Iceland. Arnarsson had heard of the existence of a northern island. So, they set sails to find the island.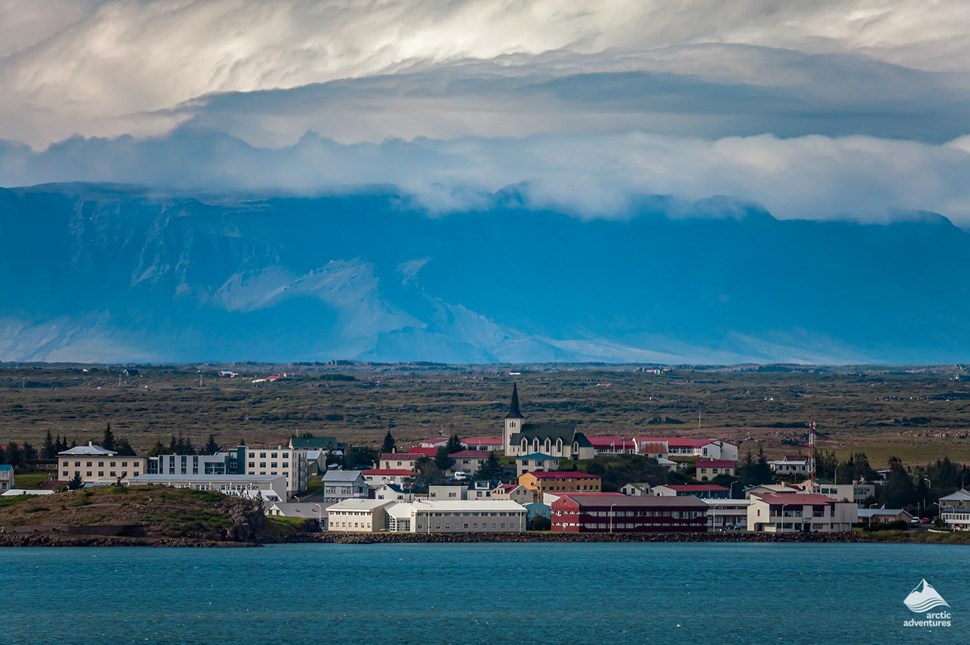 Sadly, during the voyage, Kveld-Úlfur fell ill and died. Skalla-Grímur and the ship's men continued to explore the southwest region of Iceland.
In the end, Skalla-Grímur decided to stop his expedition and settle. He named his farm Borg and the fjord it lays in, Borgarfjörður. The peninsula was later named Borgarnes which translates the peninsula of Borg.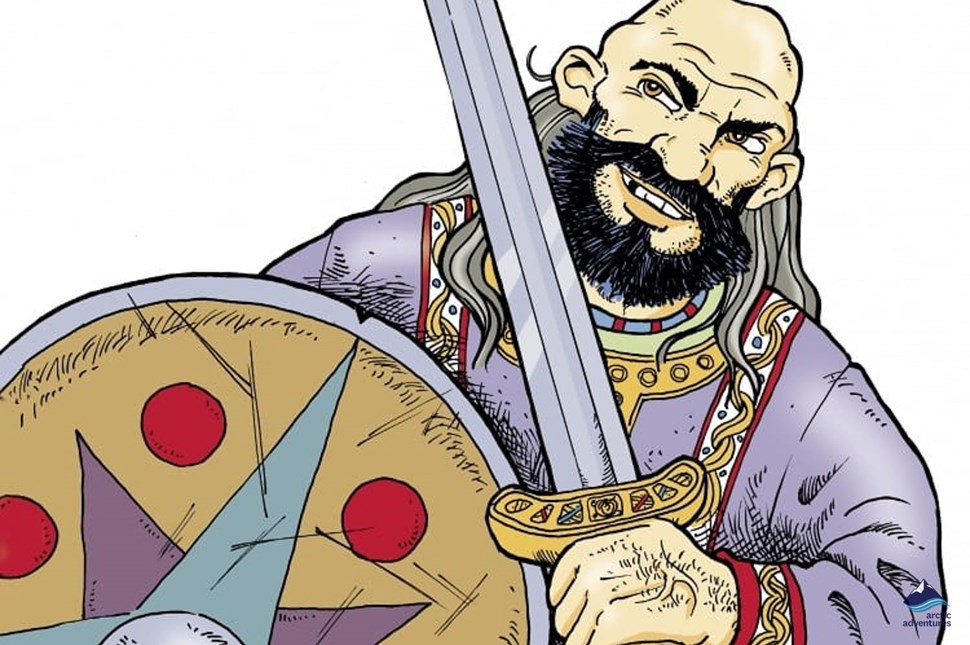 Skalla-Grímur and his wife Vera Yngarsdóttir had at least four children and one of them is Egill Skallagrímsson, one of Iceland's most famous historical figures. Egils Saga is named after him.  
Borgarnes started to form as a village at the beginning of the 20th century, when local opened a shop in the area. Before that time, both English and Scottish men had tried their hand at business in the area, but no foreign business had been there since 1918.
Borgarnes was a great area for trade since land and sea transport is very accessible. In the year 1900, Borgarnes' total number of inhabitants was 50. In the year 2006, 1891 people lived in Borgarnes.
Where is Borgarnes located?
Borgarnes is located on the Borgarnes Peninsula in Borgarfjörður in West Iceland.
It is about 75 km (46,6 mi) from Reykjavík, about 312 km (193,8 mi) from Akureyri and about 516 km (320,6 mi) from Höfn. You will drive through Borgarnes when making your way North, to the Westfjords or to the Snæfellsnes Peninsula.
GPS coordinates of Borgarnes: 64.5609° N, 21.9010° W
How to get to Borgarnes?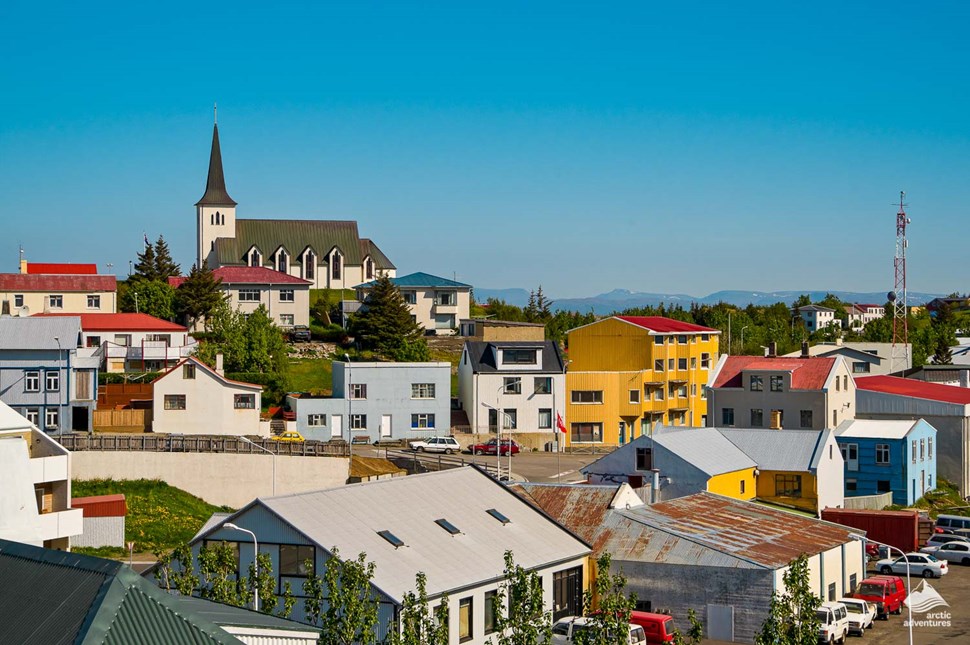 Traveling from Reykjavík to Borgarnes you will need to follow Route One, known as the Ring Road. Head north through Mosfellsbær, past Mt. Esja, and under a 6 km (3,7 mi) underwater tunnel Hvalfjarðargöng. 
Just before you arrive, you'll drive over the second-longest bridge in Iceland. The longer route through Hvalfjörður is especially encouraged for hikers. The stunning Glymur Waterfall flows to the bottom of the fjord and the 3-hour hike to the top is a gorgeous one.
Driving through the tunnel from Reykjavík to Borgarnes will take about 1 hour, but if you drive the fjord itself it will take 2 hours.
Accommodation and hotels in Borgarnes
Hotels
Icelandair Hotel Hamar

Hotel Borgarnes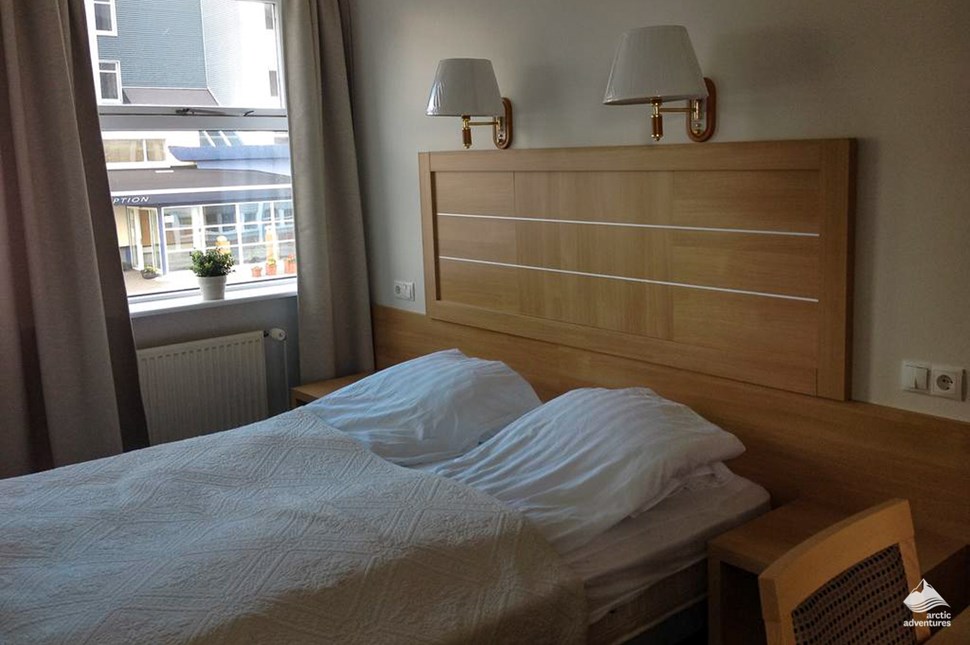 Hostels
Guesthouses and Bed & Breakfasts
Camping in Borgarnes
Borgarnes Camping Ground at Granastaðir
Bjarg Borgarnes Camping Ground
Things to Do in Borgarnes
Visit the

 

Swimming Pool

 

and its water slides. This is a true Icelandic local experience and will get you fresh and clean for your next adventure. The perfect stop in any weather as the hot tubs, steam baths and saunas will warm you right up in winter and the sun will keep you entertained in summer!  

Skallagrímsgarður Park

 

is a cute garden, perfect for a road trip picnic and for children to play around. The public park also plays in important to the Egils Saga since it's the burial site of Egil's father Skallagrímur Kveldúlfsson. It's located right next to the Swimming Pool.

The Settlement Center

 

is not only an award-winning museum but also a great restaurant. Two main exhibitions are of focus at the museum, one revolving around Egils Saga and the second around the Settlement in the area. Stop by for an educational and intriguing experience.

Blómasetrið

 

"The Flower Center", gift shop, guesthouse, and café is another terrific stop to make whilst exploring the town. The feel of the place is wonderful!   

If you're going hiking in Borgarnes,

 

Hafnarfjall

 

is an excellent mountain to climb. Bring treats from Geirbakarí to eat on top and you'll be sure to enjoy.
Borgarnes in Winter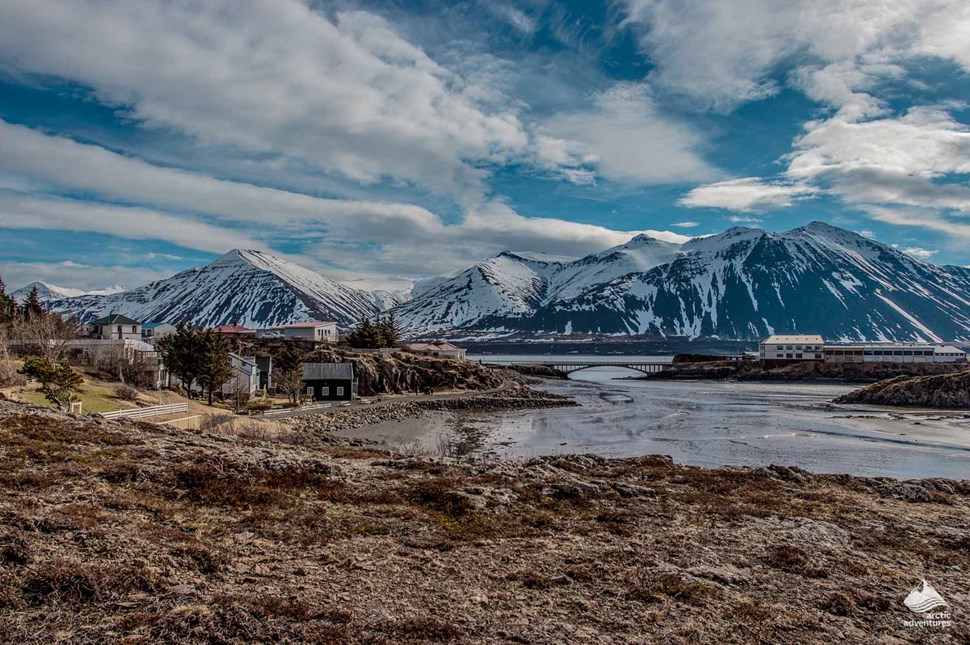 The town of Borgarnes is a fantastic location to view the Northern Lights. Its remote location mean that the town lights will not have as much effect on your viewing. If the lights are out you'll be in for a great show!
When traveling around Iceland in winter it's always best to have a bit of knowledge of Borgarnes' indoor activities if the weather isn't great. The museums at Borgarnes are excellent places to spend the day when you're feeling chilly or want to wait out the storm.
Movies, TV Shows and Music Videos filmed in Borgarnes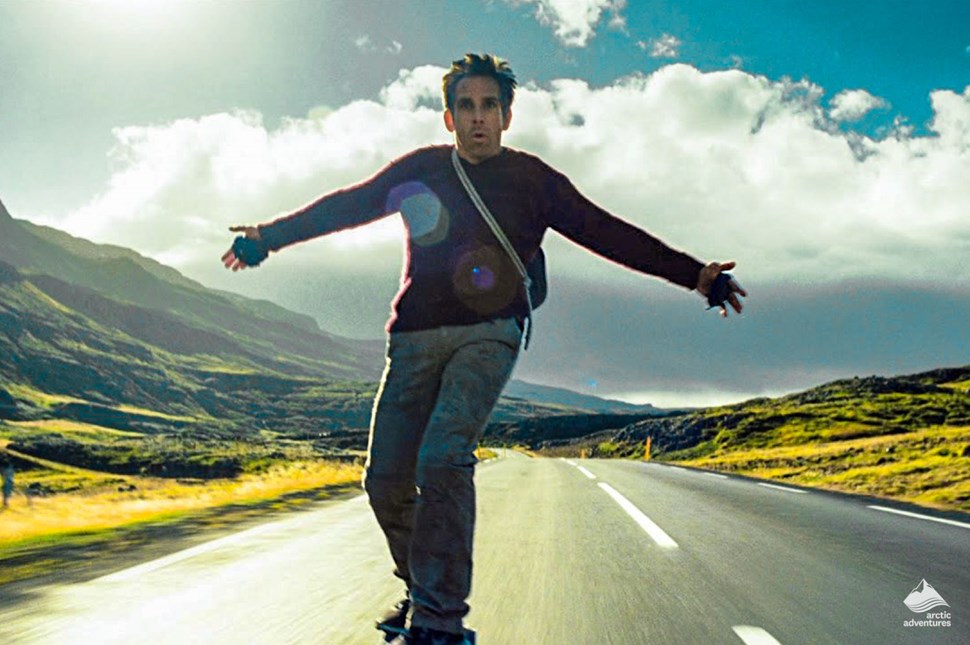 Films
The Secret Life of Walter Mitty (2013) was filmed in Iceland over a period of a few months. Many of the locations chosen for the movie were in West Iceland.
One location is the scene at Papa Johns, shot indoors. In real life, "Papa Johns" is a bakery called Geirabakarí. This bakery is known as one of the best stops to make when passing through the village on the Ring Road. Try their ástarpungur, they are delicious!
Interesting Places Near Borgarnes
Barnafoss Waterfall

Grábrók Volcanic Crater

Reykholt and Snorrastofa (a historical site)

Hvanneyri

Deildartunguhver Europe's most powerful hot spring

Gerðuberg

Háafell – An Icelandic Goat Petting Zoo
What To Do Around Borgarnes
Krauma Geothermal Baths
Fed by the most powerful hot spring in Europe this geothermal bathing facility is one for the books. Soak in the different hot tubs, take a steam bath right above a hot spring with natural fumes or indulge at Krauma's fantastic restaurant. They have it all – a great stop only 25-30 min from Borgarnes!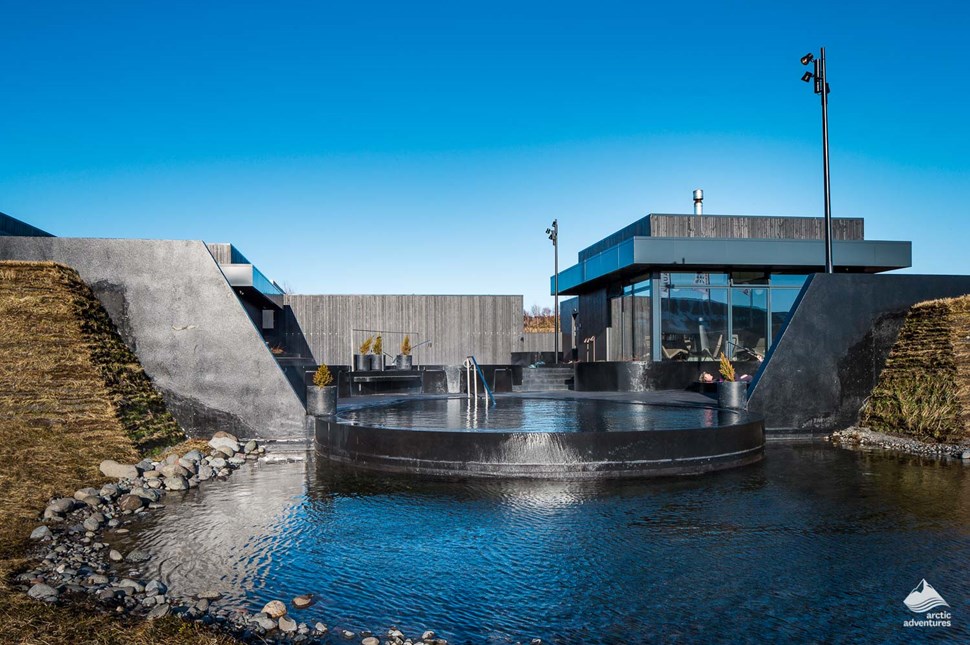 Deildartunguhver Europe's most powerful hot spring
This is a must-see attraction in the area and is located right next to Krauma, making this perfect combination stop to make. Being the most powerful hot spring in Europe this incredible natural wonder is a sight to behold.
An amazing opportunity to experience the natural energy force in Iceland. You will reach Deildartunguhver in only about 30 min driving from Borgarnes.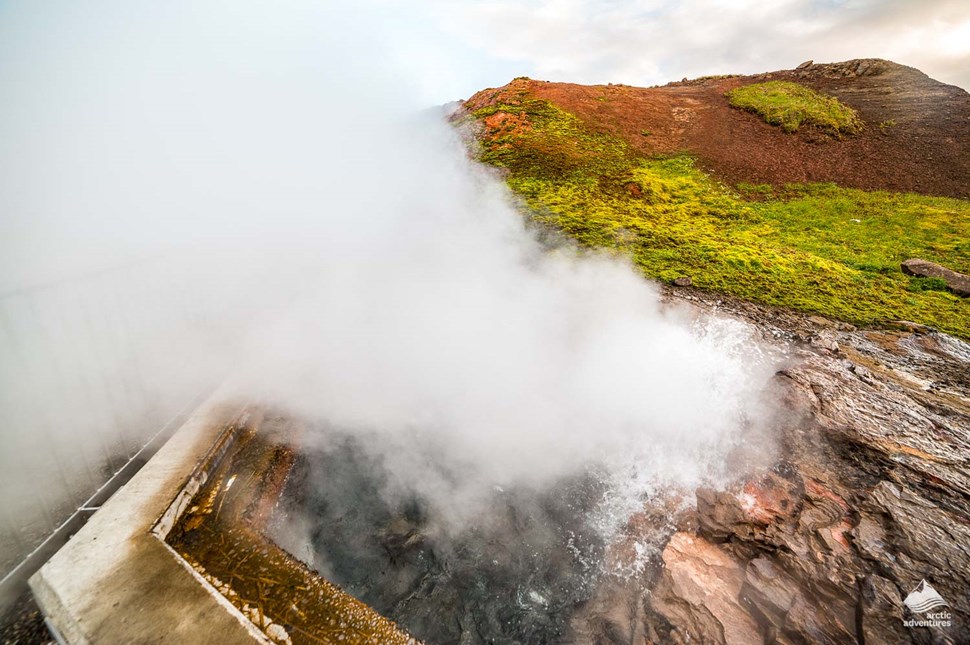 Into the Glacier, Langjökull Ice Cave Experience
Langjokull is the second largest glacier in Iceland and a true paradise for any nature enthusiast. You can easily meet up for an ice cave tour starting at Húsafell and be on a glacier in only about an hour.
This man-made ice tunnel will show you the different layers of ice and ash giving you a lesson in Icelandic geology and history. A top-rated experience! Húsafell, the meetup location for the tour, is only 45 minutes from Borgarnes.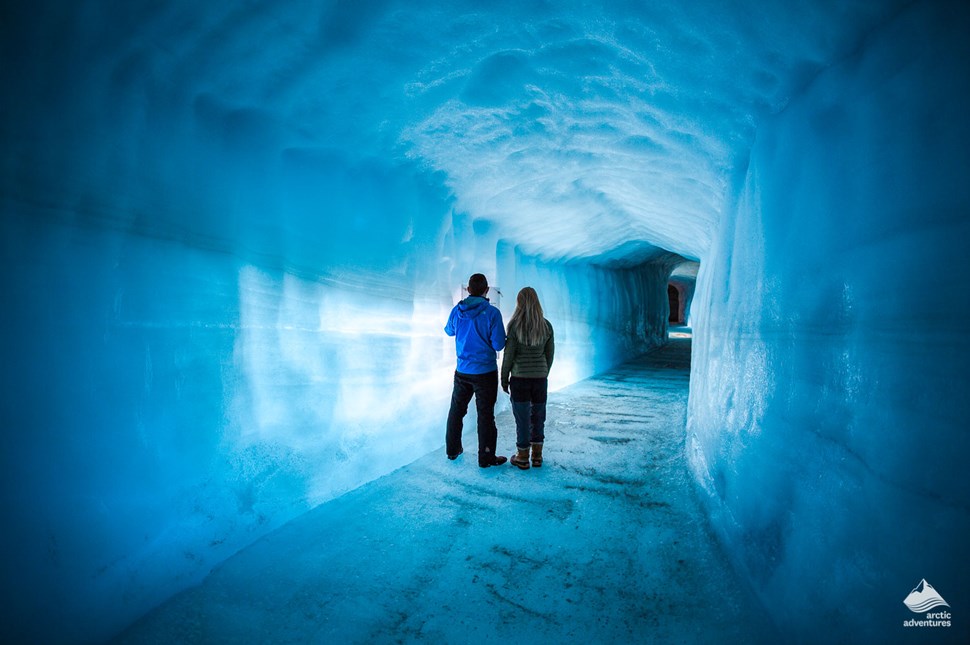 Visit Hraunfossar and Barnafoss
These two waterfalls top the best in Iceland. The water of Hraunfossar and Barnafoss spouts from Langjökull Glacier. This place will capture your heart so don't forget the camera – you'll want to preserve this memory! Hraunfossar and Barnafossar are only about 45 min driving from Borgarnes.