Svartifoss or the Black Falls is an extraordinary waterfall in Skaftafell Nature Reserve. It's one of the most popular attractions in the area. Its pitch-black basalt columns background is an intense contrast to the white glaciers that dominate the area.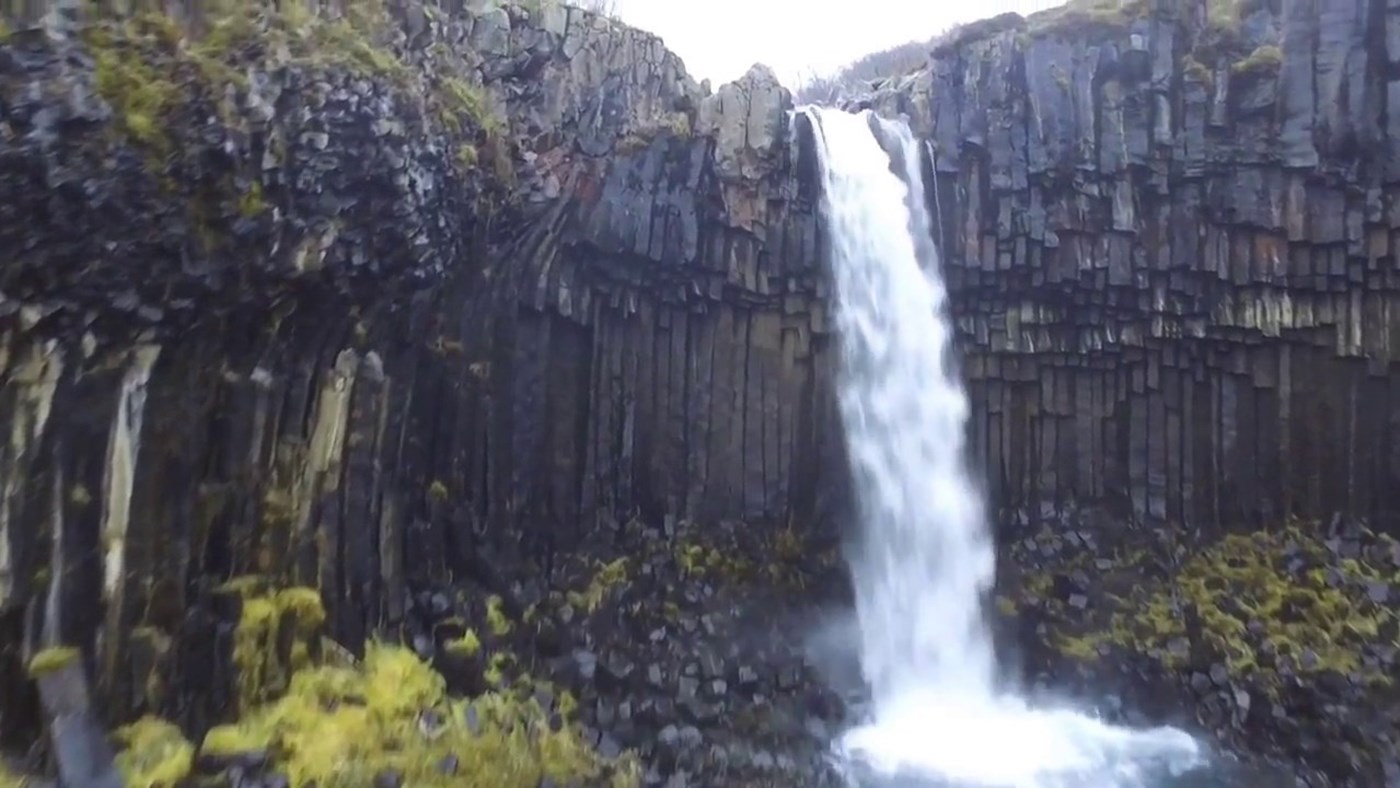 The waterfall is fed by a nearby glacier and the hexagonal columns in the background were formed in volcanic eruptions. The area is extremely fertile and Skaftafell Nature Reserve has always been considered as an oasis in the middle of ice and lava.
Where does Svartifoss Originate?
Svartifoss is fed by meltwater from the river Stórilækur that originates at the incredible Svínafellsjökull "Hollywood glacier" an outlet glacier from Vatnajökull, the most voluminous glacier in Europe. The river Stórilækur is 7.38 km long and runs all the way to the river Skaftafellsá.
Svartifoss: The Inspiration Behind Hallgrimskirkja Church
The architect who designed Hallgrímskirkja Church in downtown Reykjavik, Guðjón Samúelsson, took great inspiration from Svartifoss. He was inspired by its basalt columns and the way they stack up on each side to frame. You can really see this in the design of the famous church tower.
Svartifoss was also an inspiration for the ceiling of the Icelandic National Theatre, which was designed by the same architect. The world-renowned sculptor Richard Serra drew his inspiration for his sculpture Milestones (located in the Viðey Island) from Svartifoss.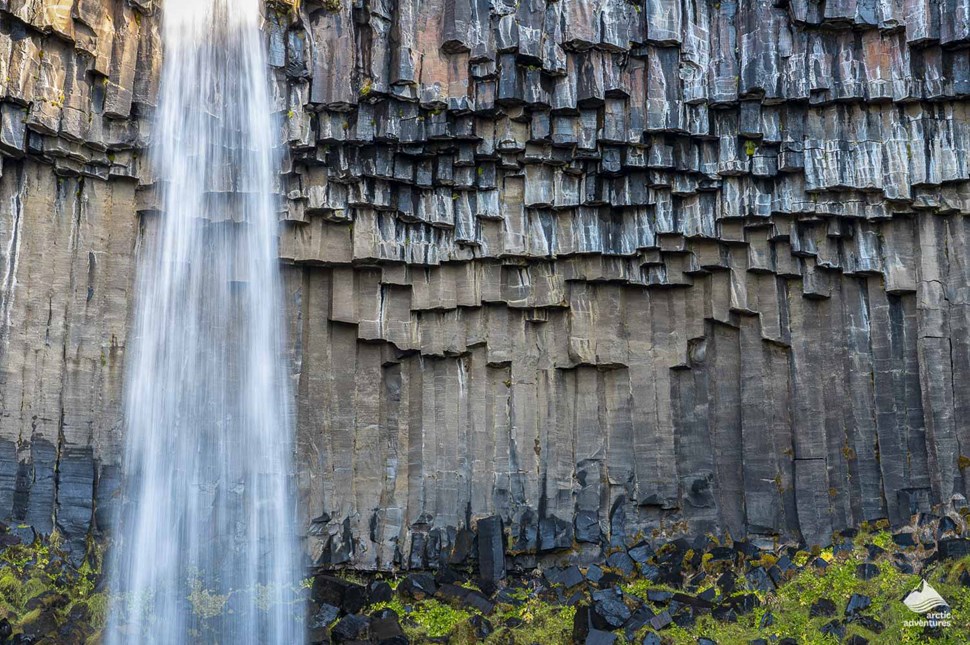 How was Svartifoss Formed?
The basalt columns that Svartifoss drops down from were formed when lava flows cooled down at an incredibly slow pace crystallizing the molten rock.
This type of hexagonal basalt column can be found in multiple places around Iceland. For example, you can see hexagonal basalt columns at Reynisfjara Black Sand Beach, Litlanesfoss Waterfall, Arnarstapi on Snæfellsnes and the Gerðuberg Cliffs.
Where is Svartifoss Located?
Svartifoss is located in Skaftafell Nature Reserve right off the famous Ring Road. Svartifoss is located 327 km (203 mi) from Reykjavik, 141 km (87,6 mi) from Vík and 313 km (194,4 mi) from Egilsstaðir.
GPS coordinates of Svartifoss: 64.0275° N, 16.9753° W
How to get to Svartifoss?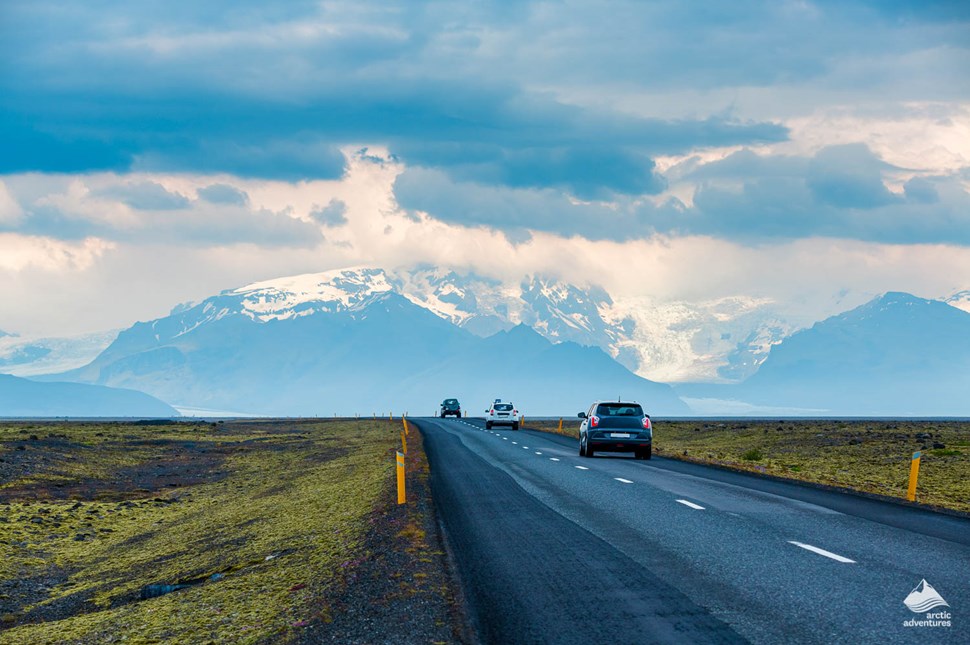 Driving from Reykjavík to Svartifoss will take about 4 hours and 10 minutes if you drive without stopping. We don't recommend driving the whole distance without a break since there are so many gorgeous attractions and stops to be visited along the South Coast.
Driving from Reykjavík you will pass the towns of Hveragerði, Selfoss, Hella and Hvolsvöllur before you reach the waterfalls Seljalandsfoss and Skógafoss. From there you drive through the town on Vík close to Reynisfjara, Dyrhólaey and the Ice Cave under the Katla Volcano!
As you continue driving you will cross Mýrdalssandur black sand beach and into Kirkjubæjarklaustur before you reach your destination at Skaftafell Visitor center and its car park.
The best way to get close to Svartifoss waterfall is to park your car at the Skaftafell Visitor Centre and hike to the viewing points of the falls.
Hiking to Svartifoss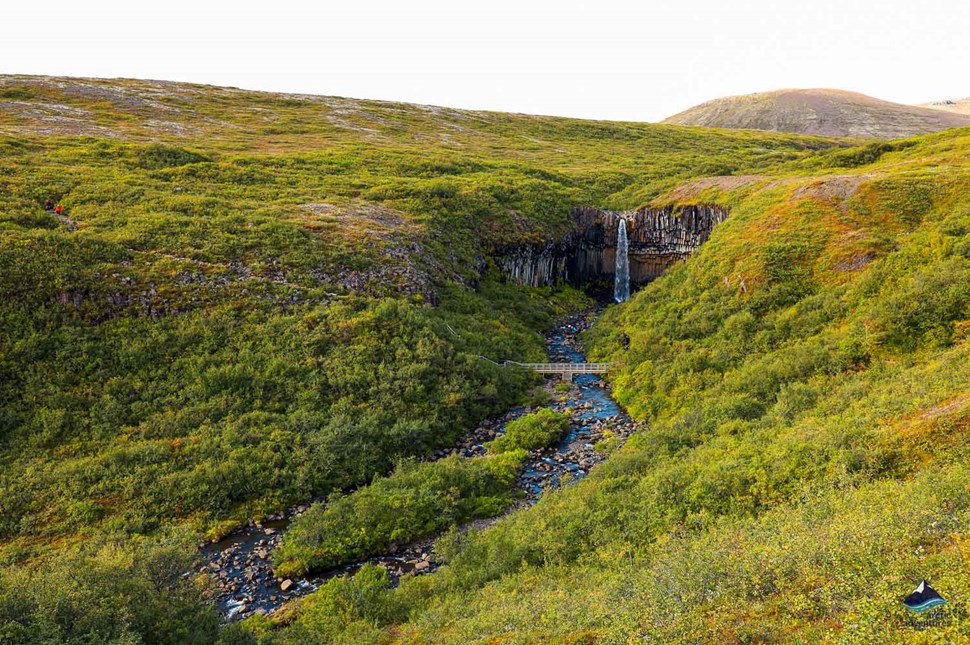 Hiking to the stunning falls is easy and the path is well marked but if you are traveling in winter you will want to be prepared with ice spikes for your shows and proper sturdy soles. The path from Skaftafell Visitor Centre is well marked and is 5.5 km (3.4 mi) both ways.
If taking this path you will walk through the camping ground and follow the trail uphill. Here you'll reach a viewing point that provides you with a splendid view of the basalt falls. From the viewing point, you can walk into the ravine and ascend the natural basalt steps on one side.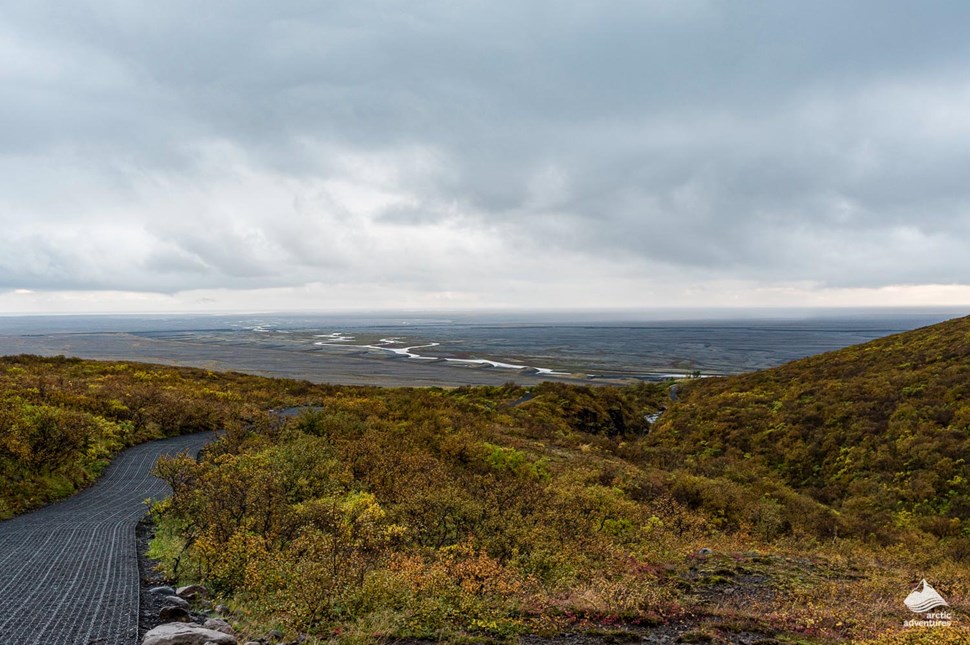 At this point, you can add a little bit to the path by going to the viewing point at Sjónarsker. Here you'll get a good sense of direction and see where the nearby attractions are located. Sjónarsker is about 310 meters (1017 ft) above sea level.
On the way back you will can visit an old turf house, Selið, and explore the way the Vikings used to live. You can also visit Lambhagi, another beautiful place inside Skaftafell. The name Lambhagi translates to "lamb meadow" as farmers used to milk sheep at this location and keep them and their lambs overnight. 
Magnúsarfoss & Hundafoss
Svartifoss isn't the only stunning waterfall you will find on the path leading from the camping ground. When hiking to Svartifoss you can easily stop for views of the waterfalls Magnúsarfoss and Hundafoss on the trail.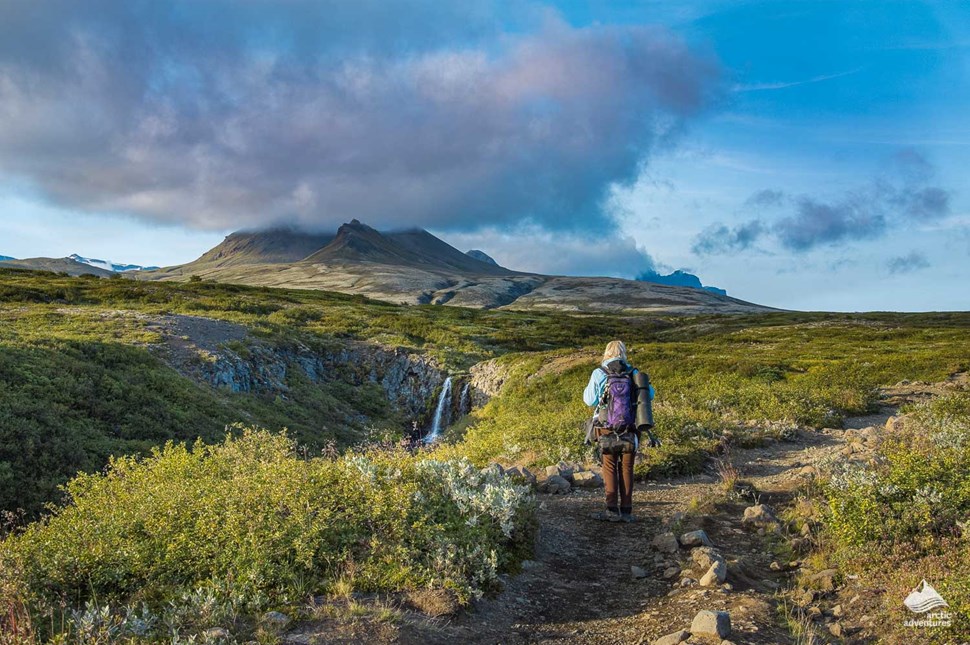 Hundafoss is the first waterfall you can see on the path to Svartifoss. Although not clearly visible you will hear the stream and see the waterfall hiding behind the trees. The same goes for Magnúsarfoss, which can be seen from the East bank on the way to Svartifoss. 
Svartifoss Hike "The Challenging Version"
If you are looking for a challenge inside Skaftafell Nature Reserve, there is another great way to hike around Svartifoss. This trail is about 16.7 km (10.4 mi). It goes across Skaftafellsheiði heath to the foot of Kristínartindar – a mountain located between the two glaciers, Skaftafellsjökull and Morsárjökull. At Morsárjökull you will find Iceland's highest waterfall, called Morsárfoss.
Accommodation and Hotels near Svartifoss
There are plenty of ways to spend the night in Skaftafell Nature Reserve or near Svartifoss waterfall.
Hotels
Cabins or Cottages
Nónhamar

Hörgsland Cottages
Guesthouses
Lækjarborgir Guesthouses

Hvoll Guesthouse

Dalshöfði Guesthouse

Guesthouse Skálafell

Guesthouse Gerdi
Camping near Svartifoss Waterfall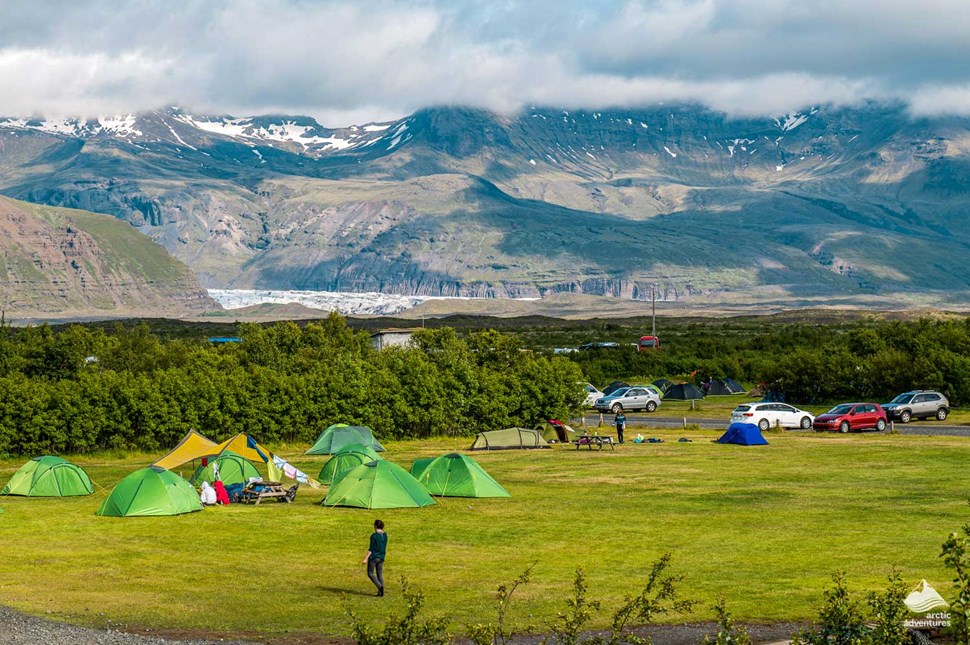 If you are looking to go camping anywhere in the area Skaftafell is the ideal spot and for many local outdoor enthusiasts an ultimate favorite to spend the night.
Skaftafell Camping Ground
Opening Hours: 1st of May to the 30th of September
Service available on site:
WC

Shower

Sinks with Cold & Hot Water

A Cafeteria / Restaurant

WIFI

Electricity

Wheelchair Access

Walking Paths

Washing Machine & Tumble Dryers

Waste Disposal for Mobile Homes
Svinafell Camping
Opening Hours: 1st of May to the 30th of September
Service available on site:
Tips for Visiting Svartifoss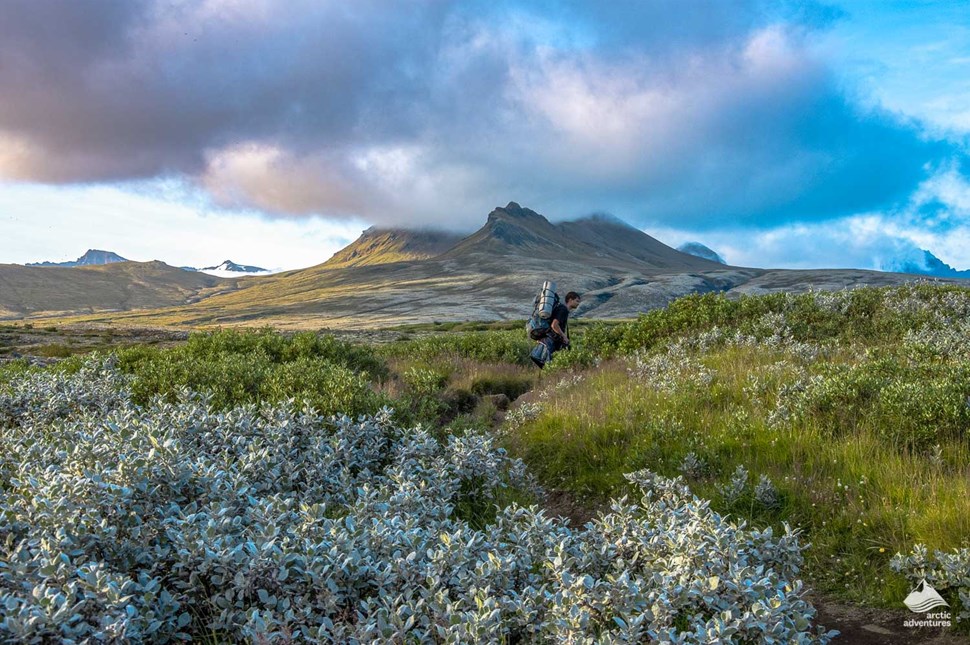 Don't forget to bring your camera, you are going to want to document this stunner!
Be mindful of the slippery rocks around the waterfall and please follow the signs and the rules the park rangers have set to keep both you and the fragile nature safe.
Don't miss out on the other waterfalls, Hundafoss and Magnúsarfoss.
Do a glacier hike, you are just too close to Europe's largest glacier to miss out on the opportunity of touching its glacial ice!
If you are there in summer:
Have a picnic in the fertile oasis between glaciers and volcanoes, there are so many benches and other nice places in the national park and in good weather it truly is a memorable experience.
If you are there in winter:
Make sure you visit one of the many Ice Caves that can be found near Svartifoss in wintertime. You will need to join a guided tour but the day tours aren't expensive and the experience is like no other.
Svartifoss in Winter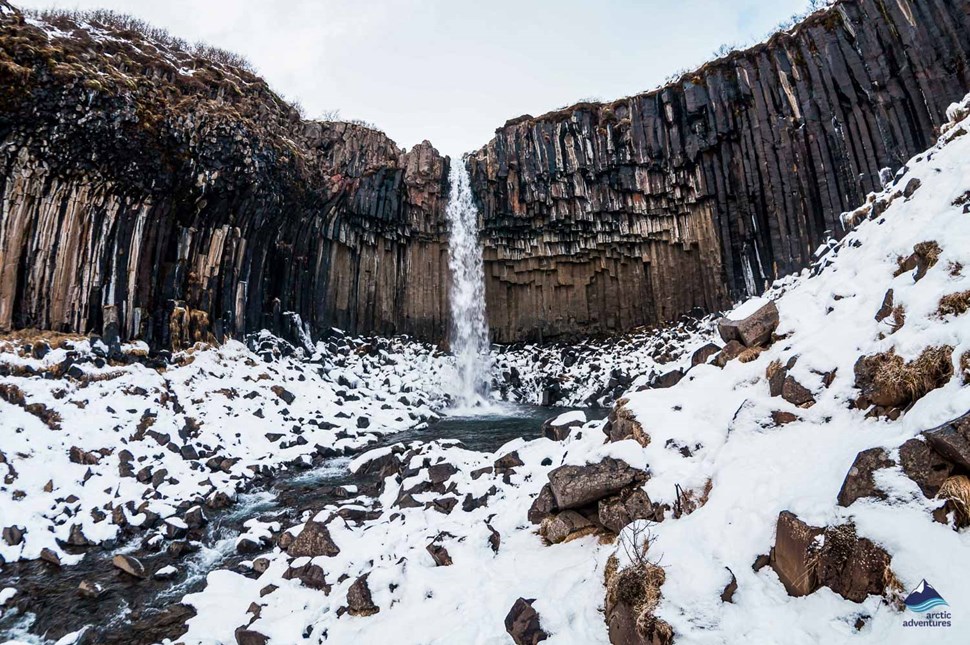 Vatnajökull National Park and Skaftafell Nature Reserve are true paradises in every season but the areas are perfect in winter. With all its Ice Caves and Glacier Hiking options, adventurous souls are sure to have plenty to do!
Svartifoss waterfall is often accessible in winter and incredibly beautiful. Just be sure you are properly dressed in warm clothes and sturdy-soled shoes with ice peaks or a good grip.
We also recommend asking the park rangers or the people working at the information desk inside the Skaftafell Visitor Center about the trail before setting off, just to be sure!
Interesting Places Near Svartifoss
Magnúsarfoss Waterfall

Hundargoss Waterfall

Skaftafell

 Information Center

Svínafellsjökull Glacier

Foss á Síðu

Hvannadalshnúkur the Highest Summit in Iceland

Falljökull Glacier

Skaftafellsjökull Glacier

Skeiðará Bridge Monument

Hvannadalshnúkur

Mt. Lómagnúpur

Öræfajökull Glacier

Hofskirkja Church

Heinabergslón Glacier Lagoon

Kálfafell Hamlet

Kirkjubæjarklaustur Village

Kirkjugólf basalt columns

Systrafoss Waterfall

Stjórnarfoss Waterfall