The awe-inspiring Hraunfossar waterfalls are located in the enchanting Hallmundarhraun lava field in Borgarfjörður bay West Iceland. The stunningly white uncountable falls runs in a series down a lava cliff of about 900 meters. The water originates from Langjökull glacier, the second largest glacier in Iceland and has to travel quite the distance to get to its destination. It travels in the famous Hvítá river which despite its name (Hvítá meaning white river) is not white at all but when it reaches the Hraunfossar falls has filtered and comes our in stunningly clear crystal-like water.
There is a viewpoint right from the car park that provides you with the most amazing view over the waterfall, river and the birch surrounding. The pedestrian bridge across the river was originally built in 1891 and renovated exactly a century later. The waterfalls have been protected as a National Monument since the year 1987.
What does the name Hraunfossar mean?
Hraun means lava and fossar means waterfalls, so the name basically means Lava Waterfalls. The waterfalls come down from under Hallmundarhraun lava field so the name is very fitting.
Where are Hraunfossar located?
GPS Points N64° 42′ 10.076″ W20° 58′ 39.780″
The waterfalls are located in Borgarfjörður the West part of Iceland about 118,5 km away from Reykjavík.
How to get to Hraunfossar?
Driving from Reykjavík to Hraunfossar will take about an hour and a half. Getting there is easy and the way is well marked.
The Hallmundarhraun Lava field
Hallmundarhraun is named after a giant that lived in the Lava field names Hallmundur. This sort of naming is very common in Iceland giving a clue to how important folklore and mythical creatures have been in the culture.
The Lava field is very young, formed after the settlement of Iceland. This is known because the first set layer underneath the lava field is ash called the "settlement ash" known to have settles in similar times as Skallagrímur and other Vikings traveled in the Borgarfjörður region for the first time.
What not to do at Hraunfossar?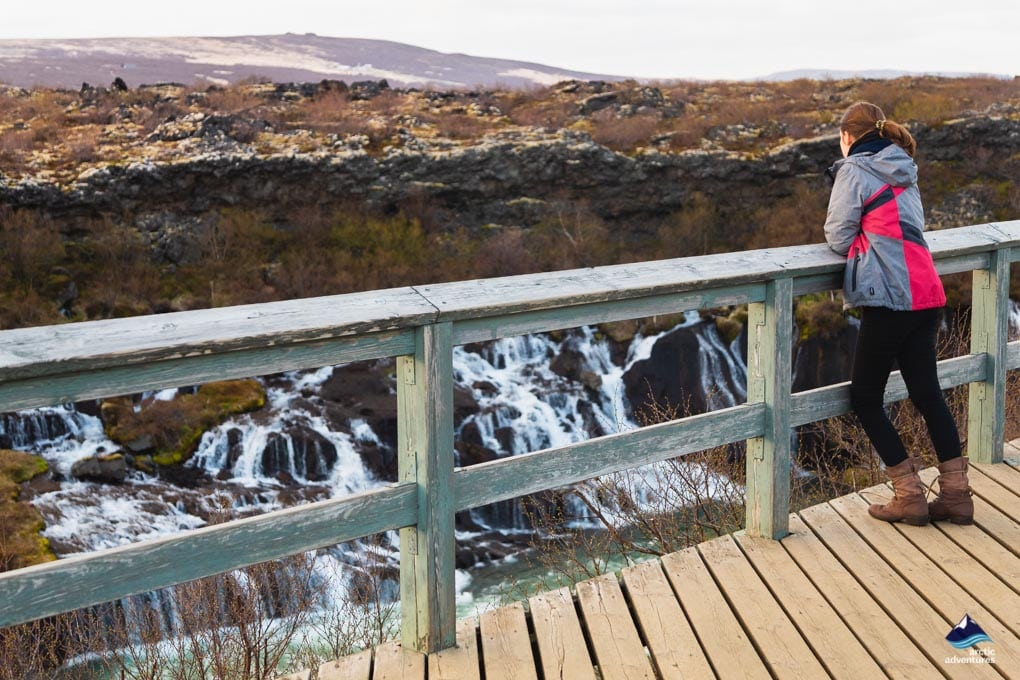 Litter! It's very important that you don't litter whilst exploring remote paradise. It is extremely clean and untouched and we would like to keep it that way.
Go off the trails! The surrounding area is very sensitive and can quickly show if anyone wonders of the roads so please try to stay on the trails.
Interesting places near Hraunfossar
Barnafoss waterfall
Húsafell
Víðgelmir
Reykholt
Deildartunguhver