Akureyri history
Akureyri as a village can first be found in history books around the year 1562 but it wasn't until 216 years later or in the year 1778 that the first house was built in Akureyri. Eight years later 12 residents were listed living in the town.
The king that ruled Iceland at this time tried to turn Akureyri into a market town but with only 12 residents his attempts failed. It wasn't until much later that the town started to grow and gain the borough reputation it has today.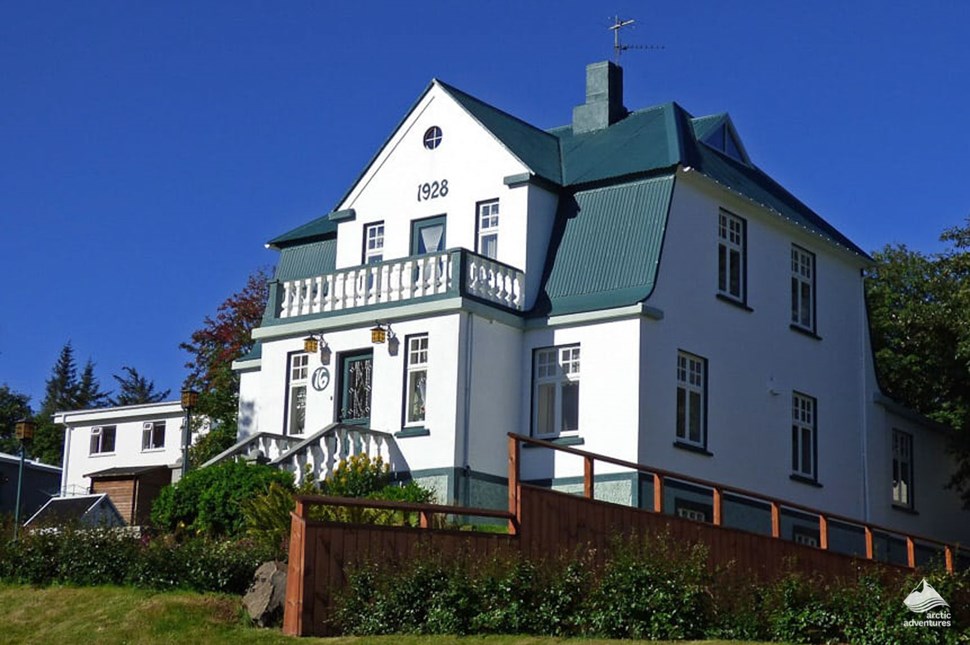 Early on Danish influence became a big part in the look and culture of Akureyri. It was through Danish traders and merchants that the interest in gardening came to be with the people of Akureyri.
It's an appropriate coincidence that Akureyri's name is taken from a cornfield, as the people of Akureyri have always been very enthusiastic about gardening. The name Akureyri means field-spit and is said to originate from the fertile field that situated in one of the nearby gullies.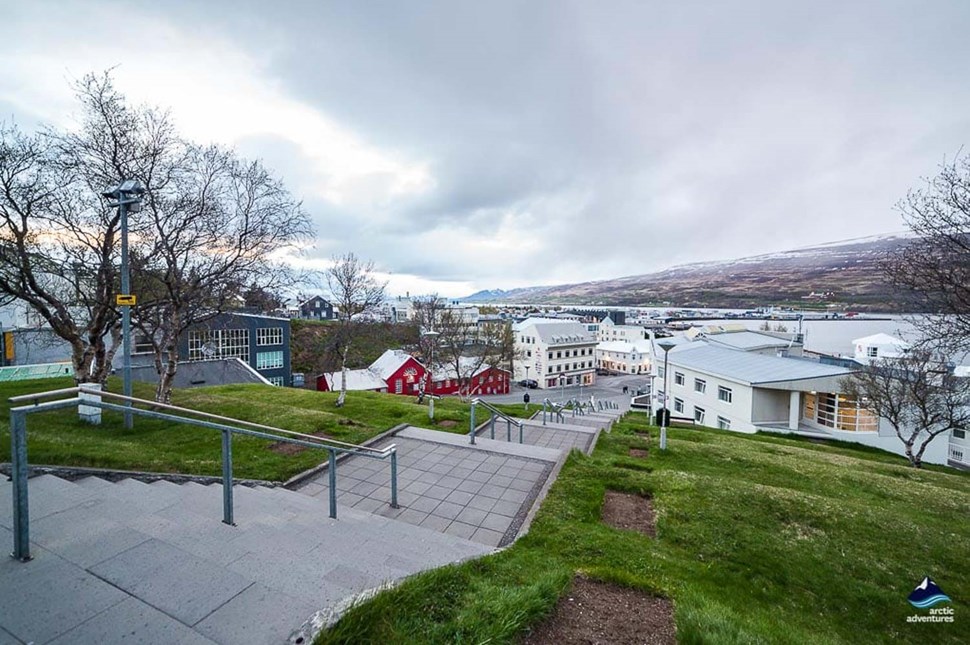 The spitting part of the name is then taken from the five spits that in the older days protruded out into the fjord, Eyjafjörður. Four of those spits are now gone but the most northern one, Oddeyri, is still there today. It can easily be seen when the town is visited. 
Even though the fjord and the harbor in Akureyri were exceptionally deep for the fishermen to maneuver, the main reason for Danish interest in the town came from the farmland around Akureyri.
The land was an outstanding agricultural county and only became better the farther you traveled into the fjord. The Danish were seeking good meat and wool and on in Akureyri and the nearby county, there was plenty. But in the late 18th century the Icelandic farmers felt that they were being done wrong by and decided to establish an organization, a co-operative, Kaupfélag Eyfirðinga.
The name is quickly was shortened into KEA in everyday talk and the organization has from its very first day had an immense impact on the town life and structure.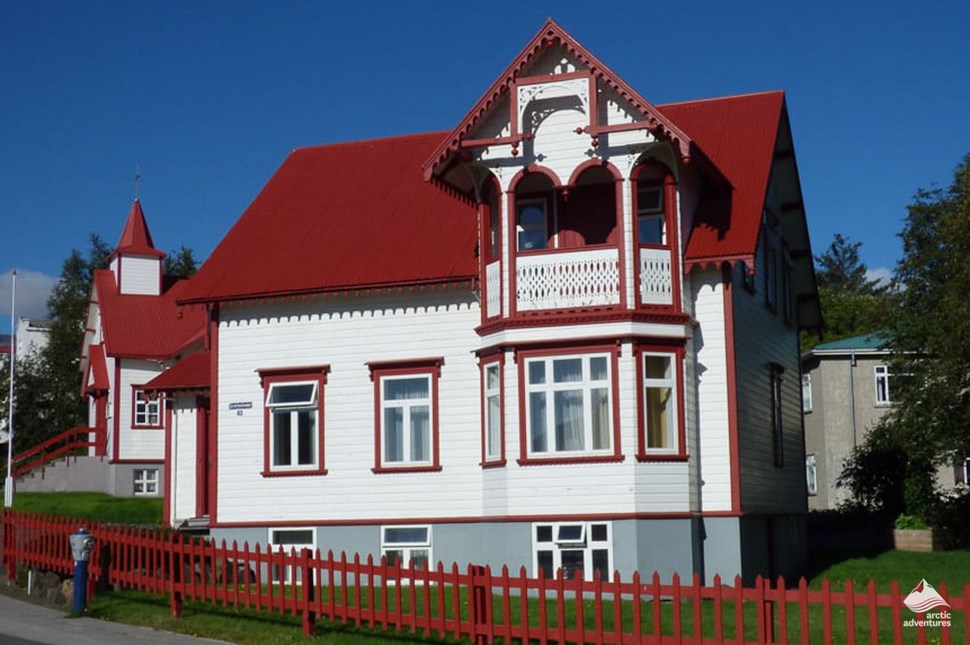 Another important aspect of Akureyri history and culture is fishing. Strangely enough, fishing had no Danish interference. The Danish traders that had ruled Akureyri had little interest in fishing.
It wasn't until the Norwegians started their second attempt to settle in Akureyri that the townsfolk realized the money that was to be made from summer herring. Due to the large amount of herring in the waters, the people of Akureyri rushed to learn how to salt the fish.
Akureyri continues to be an important part of the history of fishing in Iceland. Today one of Iceland's largest fishing companies is located in Akureyri.
Where is Akureyri located?
Akureyri is located in the North of Iceland about 380 km (236,1 mi) from Reykjavík.
For those traveling from the East, the distances are 266 km (165,2 mi) from Egilsstaðir and 292 km (181,4 mi) from the ferry at Seyðisfjörður.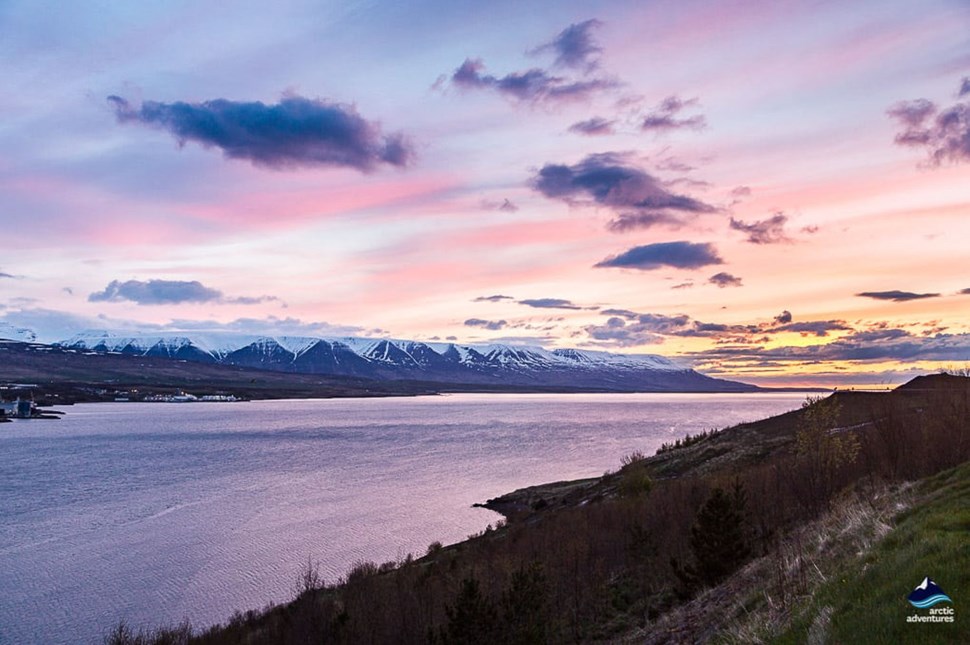 Dalvík is 42.3 km (26 mi) ), Húsavík is 93.6 km (58 mi), and Dettifoss waterfall is 151 km (93,8 mi).
GPS Coordinates of Akureyri: 65.6826° N, 18.0907° W
How to get to Akureyri?
There are a few ways of going about when visiting Akureyri. You can easily drive there on a rental car by following the Ring Road One, fly there via Reykjavík Domestic Airport or take the public transport, Strætó.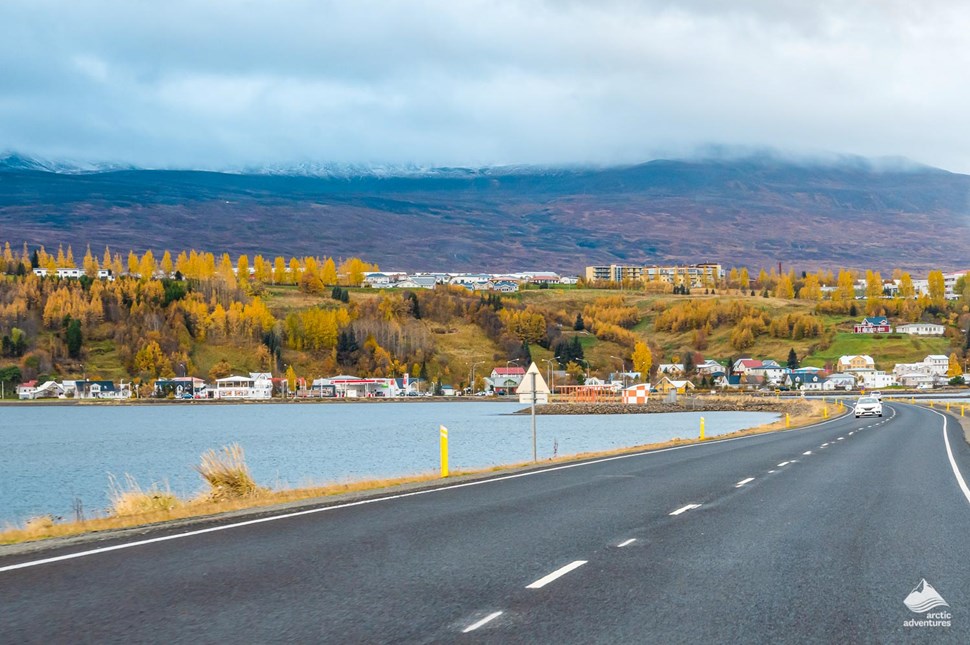 You can also join a small group on a tour taking you there, and some, the bravest, even hitchhike or cycle. Driving from Reykjavík to Akureyri is easy. Drive past beautiful locations such as Borgarfjörður, Glanni waterfall, Hrútarfjörður, Kolugljúfur canyon, Blönduós, Lake Svínavatn, Skagafjörður, and Vatnshólar.
The drive from Reykjavík to Akureyri takes about 5 hours with one or two stops.
If you are traveling to Akureyri in winter it is important to check the weather and road forecast before departing. The best websites check the forecasts are these two, weather & road.
Weather in Akureyri
The weather in Akureyri is known to be better in summer and colder/harsher in winter and travelers visiting Akureyri in winter need to be aware that road conditions might not be the best.
In summer Akureyri can get very nice and sunny and August is the hottest month. The wind is often very mild and you will definitely want to join the locals at the swimming pool for a soak in the sun.
In winter Akureyri is known for snow and frost, the town is beautiful, all white like a winter wonderland but you will need to dress accordingly. The coldest month is March but the wettest is January.
| | | |
| --- | --- | --- |
| Month | Fahrenheit °F | Celsius °C |
| January | 35°/23° | 2°/-5° |
| February | 36°/24° | 2°/-5° |
| March | 37°/26° | 3°/-4° |
| April | 42°/30° | 6°/-1° |
| May | 50°/37° | 10°/3° |
| June | 56°/43° | 13°/6° |
| July | 59°/46° | 15°/8° |
| August | 58°/46° | 14°/8° |
| September | 52°/40° | 11°/4° |
| October | 43°/33° | 6°/1° |
| November | 38°/27° | 3°/-3° |
| December | 36°/24° | 2°/-5° |
Akureyri in Winter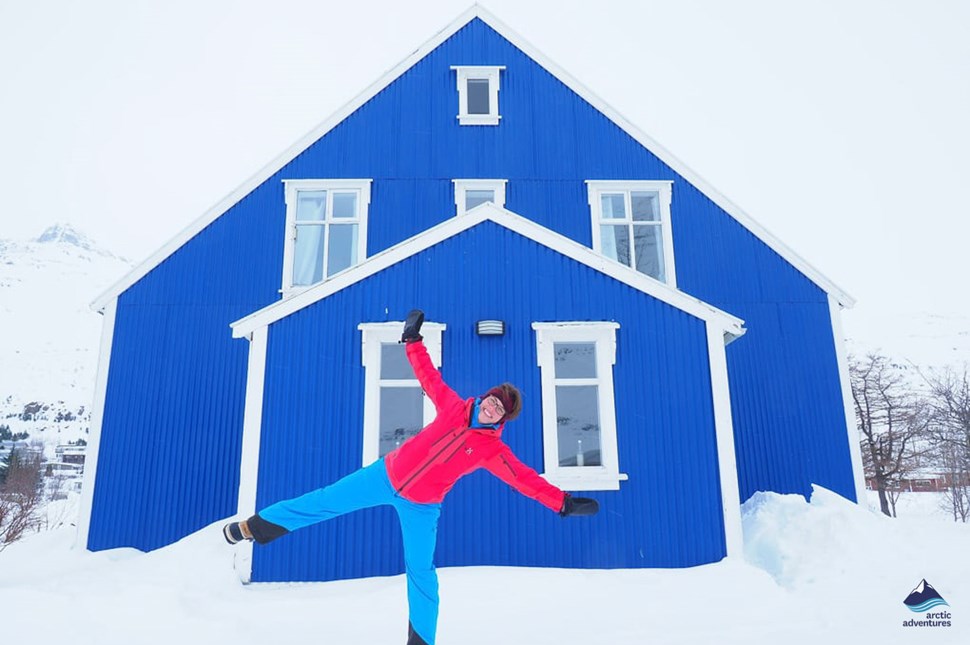 Akureyri is a true winter paradise, located right off the arctic circle and this travelers utopia sure deserves a visit. Whether you are a bold skier, a history buff, or an active hiker the town and its surrounding areas will surely blow your mind.
There are plays, concerts, art exhibitions and endless options for bars, restaurants, and cafés. There are walking paths, trails, picnic areas and beautiful views that will get a white frosty coat over the wintertime and the beautiful pink sunsets in Eyjafjörður are something to remember!
Looking for things to do in Akureyri at night? The Northern Lights shine even brighter in Akureyri, being so far up in the North. They put up a show on practically every clear night and it's pure magic.
Akureyri in Summer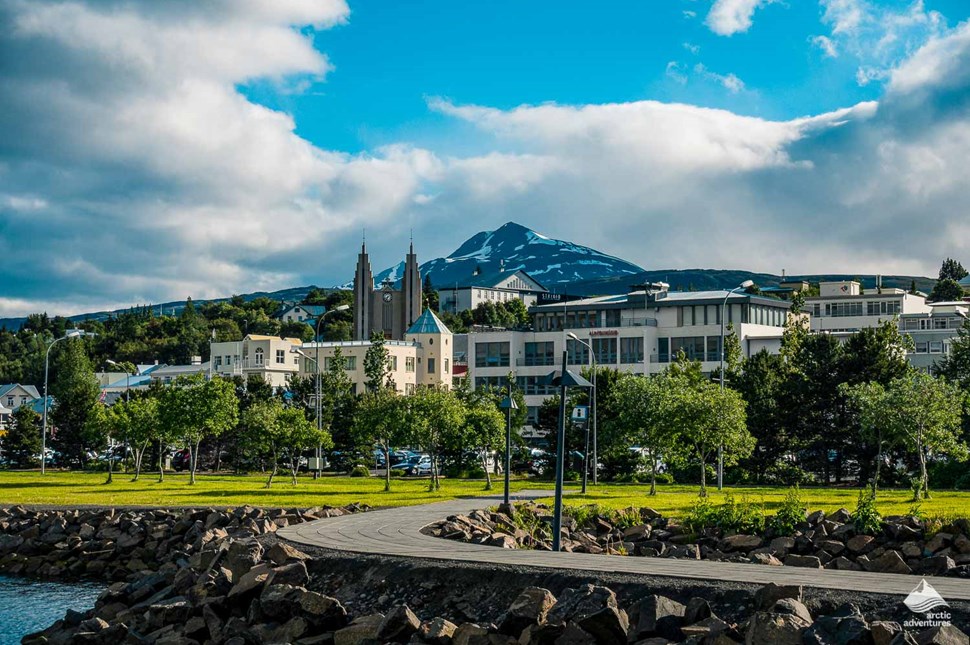 There are plenty of amazing things to do in Akureyri in summer. Whether you want to go whale watching or hiking, there is something for every adventurer during the summer.
The nature around Akureyri offers great outdoor activities in summer. You can hike Mount Súlur, where you can walk up to the 1210 m peak in 6 hours. Another excellent spot to walk around Akureyri are the trails around the Glerá River. The river runs right through the town and leads you into a lush forested area.
Other popular summer activities include whale watching tours in Dalvik and thrilling river rafting adventures. Both include expert guides and small-group experiences.
Hotels and Accommodation in Akureyri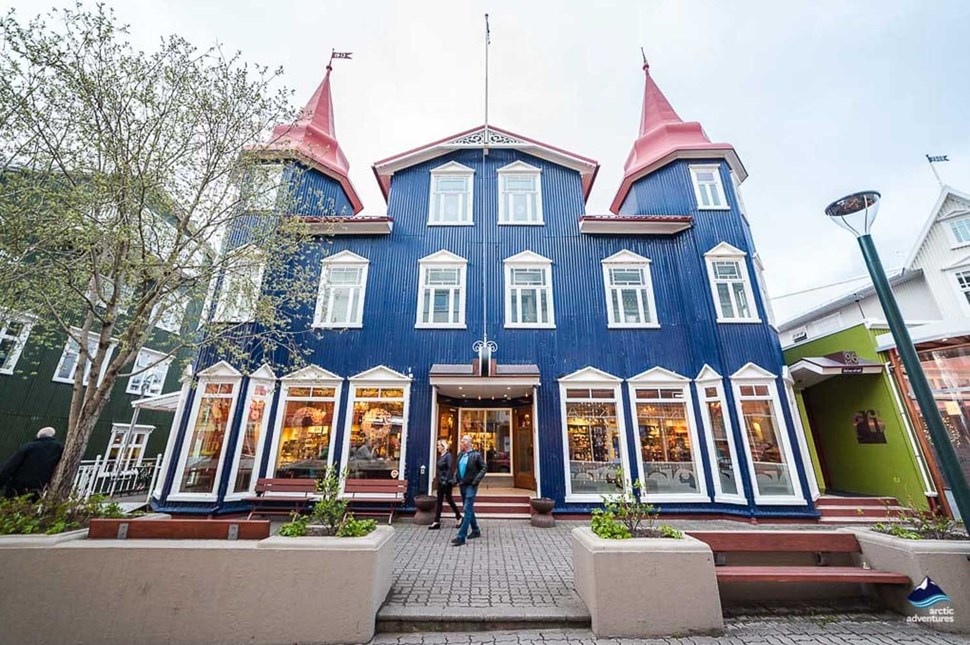 There are many different ways to spend the night in Akureyri. There are great hotels, hostels, guesthouses and Airbnb many of which are located right in the center and for those looking to connect with nature, there are great camping grounds to be found. Here we will name a few:
Hotels
Lava Apartments and Rooms

Hotel Kea by Keahotels

Hotel Nordurland by Keahotels

Icelandair Hotel Akureyri

Hotel Akureyri

Hafdals Hotel

Hotel Kjarnalundur
Hostels
Akureyri Backpackers

Hafnarstraeti Hostel

Akureyri H.I. Hostel
Guesthouses
Apótek Guesthouse

Hrafninn Guesthouse

Centrum Guesthouse

Skjaldarvík Guesthouse
Things to do in Akureyri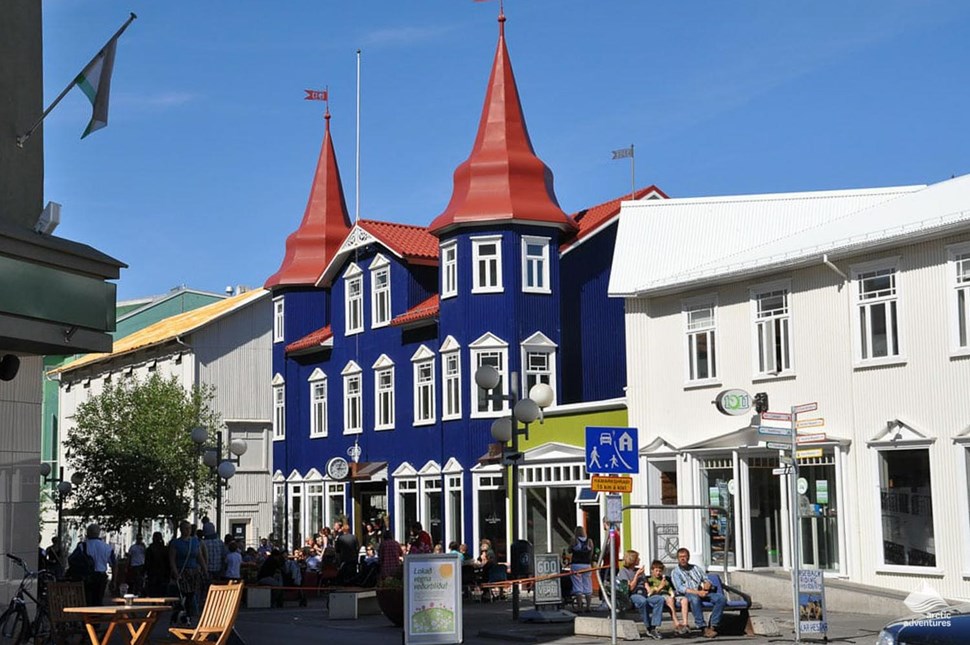 There are endless things to see and do when exploring Akureyri the claimed capital of Northern Iceland. It is a genuine town with a lively culture and beautiful architecture.
It is a place of great history and arts and there are endless museums, exhibitions, and concerts to visit each time you visit. We have put together a must-do guide for exploring Akureyri.
Visit Akureyri Church
At any time of year Akureyri Church, with its twin spire is well worth visiting. The architect of the church was Guðjón Samúelsson who famously also designed Hallgrímskirkja Church, Iceland's Art Museum, the main building of Landspítalinn hospital and Hotel Borg.
The location of the church is also spectacular as is stands high on a hill visible from all over town.
Location: Eyrarlandsvegur, 600 Akureyri.
The Botanical Gardens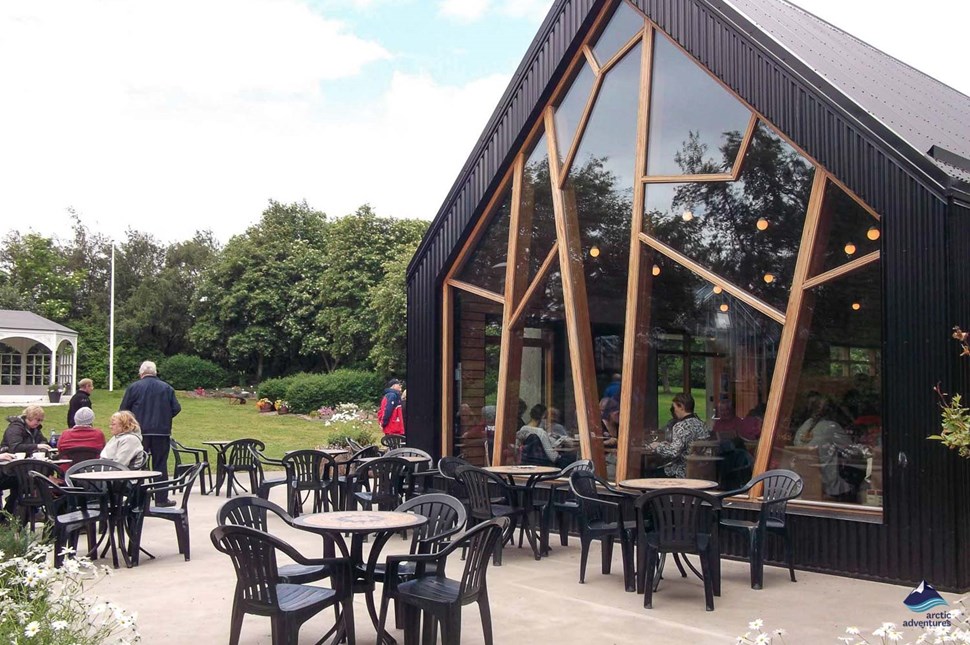 In summer Listagarðurinn (The Botanical Gardens) is an absolute riot of color – why not sit outside the cafe to enjoy your coffee with a view in the sunshine? Or on a rainy day enjoy the beautiful and unusual high rising window that holds up the uniqueness of the cafe's building.
Location: Eyrarlandsvegur, 600 Akureyri.
Hof Cultural and Conference Center in Akureyri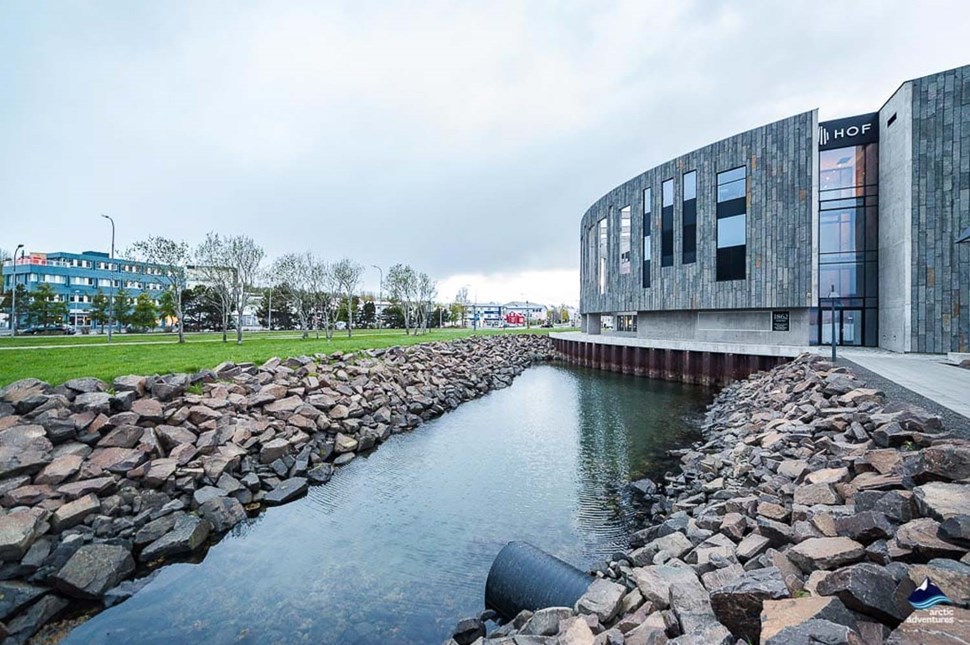 Hof Cultural and Conference Center is located on the picturesque street Strandgata and the building captures the eye right away. The decision to build a good facility for concerts and artistic event in Akureyri was made in the year 1999 but it wasn't until the year 2010 that Hof officially opened.
To walk around the building, inside and out is an experience on its own but attending a concert or an event puts it at another level. You can see which events are taking place when you are visiting Hof's website.
Location: Strandgata 12, 600 Akureyri.
Akureyri Christmas House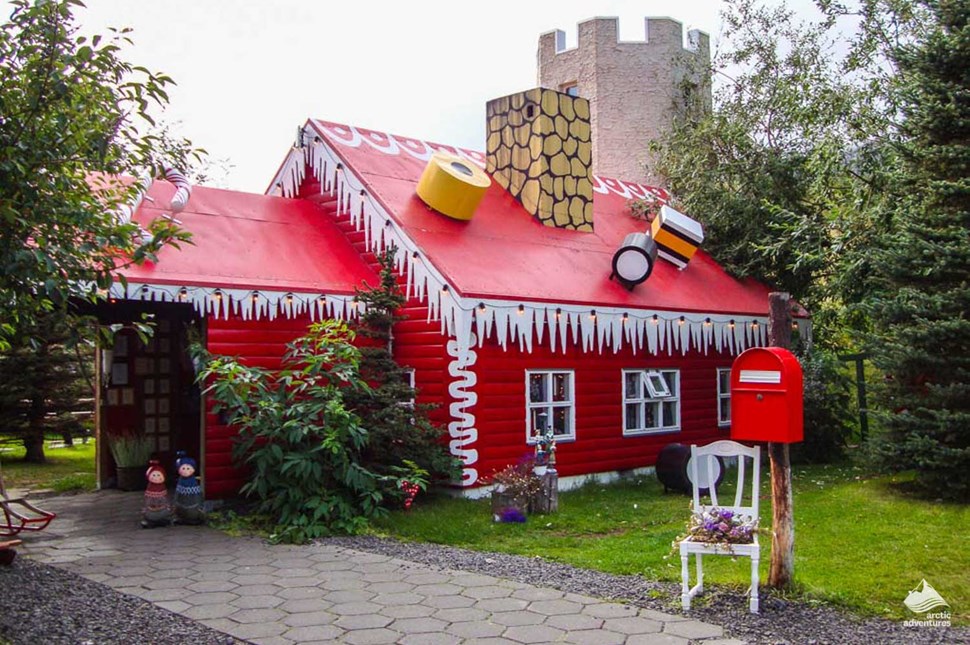 This is one of the odd ones. Akureyri has a fairytale-like Christmas House open 365 days out of the year and a visit is well worth it. The house that looks like it's made from candy and the on the inside Christmas melodies and pine aroma fills the atmosphere.
There are Christmas decorations everywhere you look, ranging from traditional old Icelandic Christmas items to Christmas items from all over the world and some extra selected handicrafts from the local craftsmen and women.
You can buy some excellent candy or enjoy a picnic in this magical place located just 10 min driving from the city center.
Location: Sveinsbær, Hrafnagil, 601 Akureyri.
Akureyri Swimming Pool
No town is whole if there isn't a swimming pool and the town of Akureyri has one of the best ones, Sundlaug Akureyrar. Enjoy a soak, relax in the hot tubs or slide down one of the waterslides they offer. There is something for everyone at this fantastic bathing facility.
Location: Þingvallastræti 21, 600 Akureyri
Hlíðarfjall Skiing Mountain
Hlíðarfjall is one of the biggest attraction for active travelers and locals alike and has for long been known for its major league slopes and great facilities, at least on an Icelandic scale.
There are seven ski lifts and thirty different slopes one site and even five beautiful cross-country tracking path.
For those who are looking to learn how to ski, there is a Skiing School and you don't need to bring any equipment as everything you might need can be rented at the slope base. There are two different cafeterias where you can catch a cup of hot cocoa or even a beer if you are looking for an apré-ski.
The Beer Baths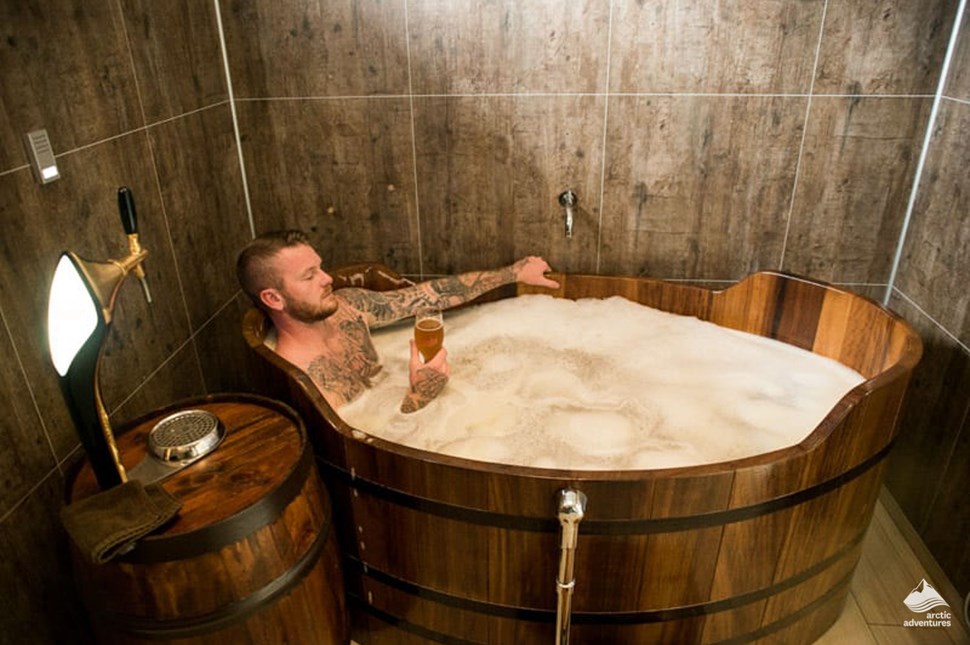 Most people who are visiting Iceland and looking for a bathing experience will think of a nice dip in a natural pool but your options go way beyond!
Traveling to the North, and the beer brewing paradise of Akureyri you will have the amazing opportunity of bathing in a luxurious beer bath.
The yeast in the beer is believed to be very cleansing and benefitting for your skin and the practice as a whole is like nothing you have done before.
There are seven tubs, which can either be shared with one other person or enjoyed companionless. There is no age limit for the bath itself but according to Icelandic law you need to be over 20 years old to have an alcoholic beverage. Don't miss out on a whole new (beer) world!
Tours to do from Akureyri
Akureyri tours offer some unusual possibilities including a fabulous tour which will take you through some of the most dramatic and remotest scenery in Iceland, way up into the highlands.
Whether you are seeking challenge and excitement or a calm and relaxing time there are many tour options available. Whale Watching from Akureyri's neighboring town Dalvík is considered to be the best in the game.
Events and Festivals in Akureyri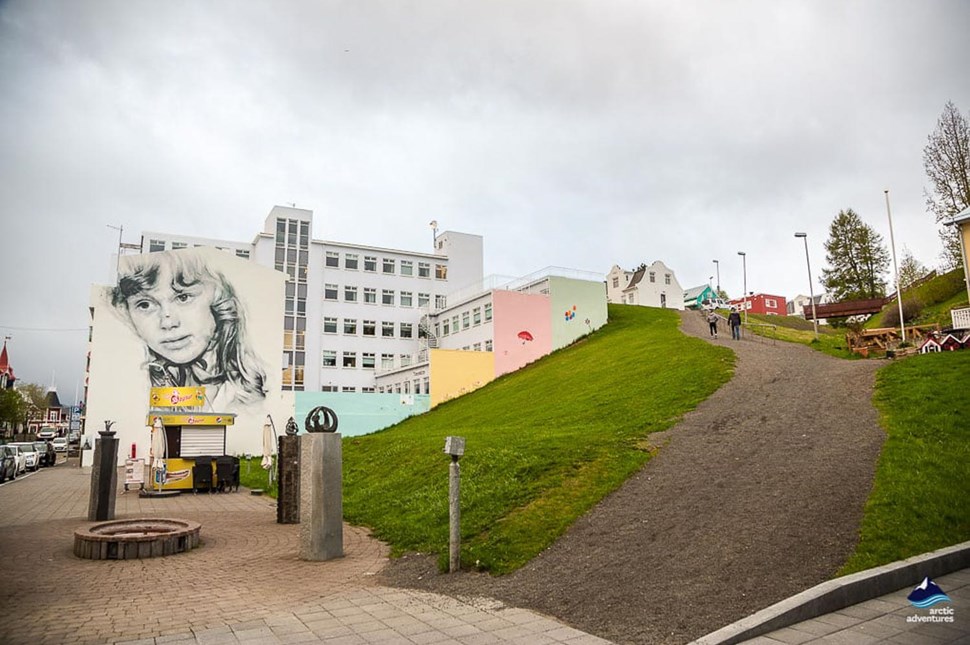 Ak Extreme – early April
A 4-day festival with events all around Akureyri and in Mt. Hlíðarfjall. The events are both snowboarding related and musical, some even a mix.
One of the most well-known acts is the terrifying big jump from about 15 shipping containers. In 2018 over 7000 spectators showed up to watch the adrenaline, full-throttle athletes jump!
Ein með öllu – 1st weekend in August
The "ein með öllu" name reference comes from having a hot dog with all toppings. But in Akureyri, the toppings are of a lot greater source than in Reykjavík, including french fries, potato salad and more.
The young and the old will join for open-air concerts every night, yoga classes and a race up the church steps (about 110 steps), the participants in are made to wear colorful dresses, the funnier the better!  
The Color Run – June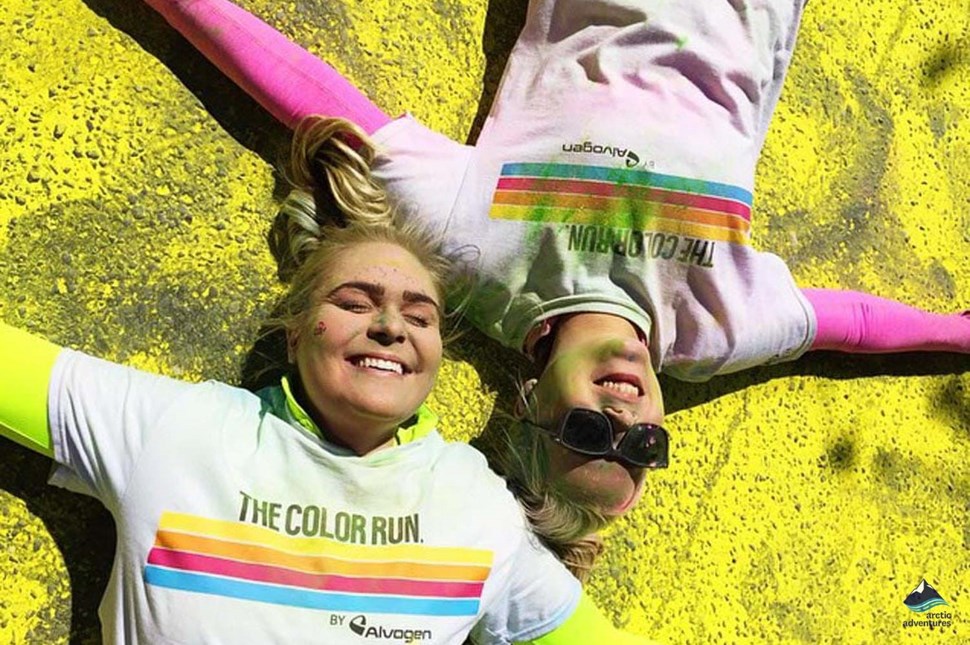 This is a short run known worldwide where the runners get splashed with a colorful powder as they are running, creating the most brilliant scene. There are adult races and kid races and this event is very family-friendly.
The event is hosted to raise money for a charity of choice each year. The theme of the charities always has to do with children and welfare.
Interesting places near Akureyri
Petting Zoo Daladýrð

Vaglaskógur Forest

Dalvík fishing Village

Hjalteyri

Strýtan Diving Site

Kaffi Kú Dairy Farm & Cafe

Námaskarð Geothermal Area