The Best Places to go Whitewater Rafting in Iceland
Rafting is a fantastic way to connect with Iceland. Avoid the crowds and discover the Land of Fire and Ice on a route unknown to most tourists! The river you travel on is made from meltwater from ancient glaciers, and the canyon walls were carved out over eons. There's nothing more Icelandic than glacial whitewater rapids!
Chasing whitewater is a thrilling, bonding and bracing experience that introduces you to Iceland's wild pulse, one seen by very few visitors or locals. Plus, rafting gives travelers the opportunity to come face to face with the country's natural wonders, from stunning waterfalls to untamed rock formations – not to mention the famously crystalline water itself.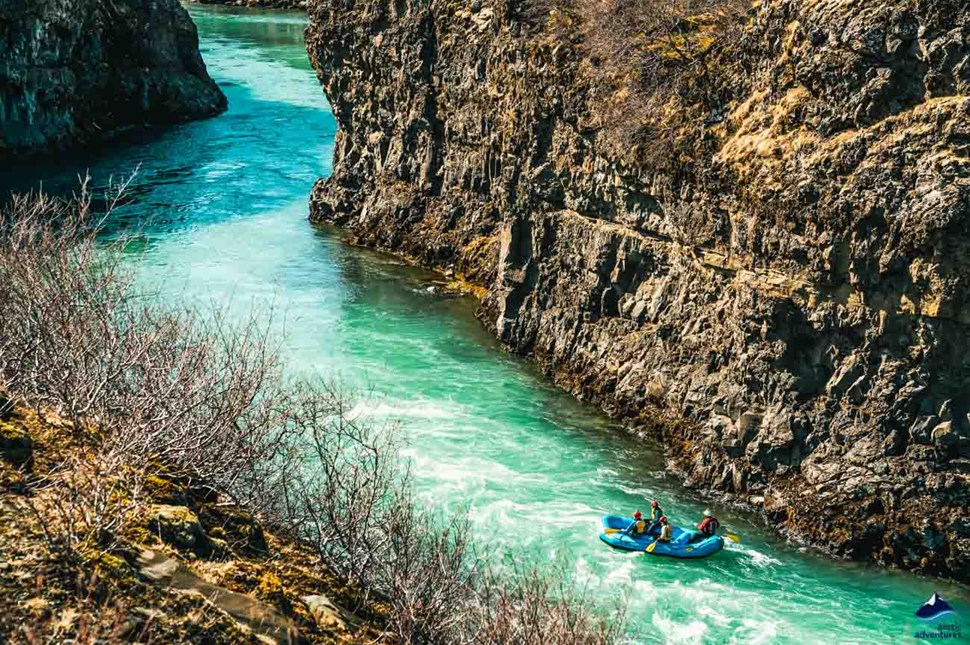 The main spots for rafting in Iceland are the Hvítá River in South Iceland, Austari Jökulsá (East River Canyon) and Vestari Jökulsá (West River Canyon), and we have a variety of tours to choose from in these locations. Some tours are purely for rafting, while others combine activities like horse-riding, all-terrain vehicle (ATV) trips, whale watching and more.
Hvita Whitewater Rafting
Raft down the beautiful Hvita River that flows from Langjokull, Iceland's second biggest glacier. Join our team on the roaring meltwater rapids from Gullfoss to Bruarhlod. This journey takes 60-90 minutes and usually includes an after activity at the Drumbo sauna.
East River Rafting
Hop onto world-class whitewater rapids in one of Iceland's hidden canyons. Nicknamed the "Beast of the East," our East Glacier River Rafting tour is among the most thrilling and unique adventures you'll ever have in Iceland.
West River Rafting
Summer spells out family-friendly excursions on the calm rapids of West Iceland. We recommend children and beginners start with this half-day trip in a gentle West Glacial River's canyon.
Whitewater Rafting Safety Tips and the Icelandic Rafting Rating Scale
Here's what you need to do before going rafting in Iceland. First up, let's talk about safety and difficulty ratings. Arctic Adventures is the most experienced rafting tour providers in Iceland (and among the best in the world). All of our rafts have an expert guide on board, who will lead the excursions in a safe, fun and memorable way.
Some training is provided before the trips, and even though Icelandic rivers are relatively safe by international standards, the water should always be respected, and safety precautions should always be followed.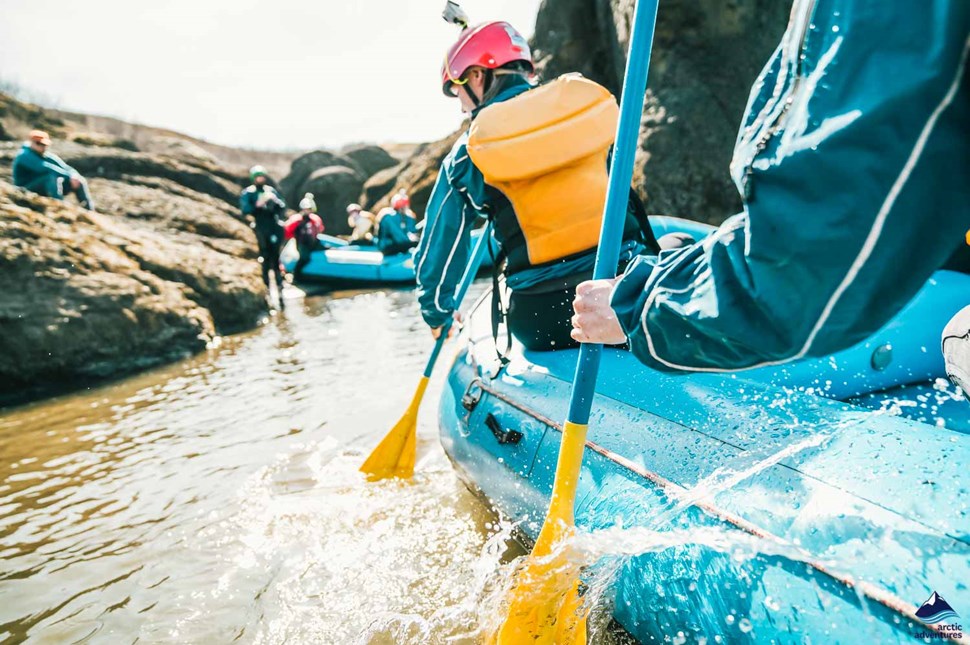 The international Rafting Scales of Difficulty originated in the United States as a means of judging the accessibility of rivers. It's a handy, clear guide on what to expect from your rafting trip. The four different scales are as follows:
Class 1 – Easy: 

This is a river that's accessible to beginners. While it is suitable for those with little experience, it is still a fast-moving river with waves and obstacles. However, "self-rescue" (removing oneself from the craft and getting to land) will be easy for competent swimmers should it be needed.

Class 2 – Novice: 

Trickier than the Class 1, but still a clear, wide river with easy-to-avoid obstacles that's suitable for beginners. Still, though, some maneuvering will be required.

Class 3 – Intermediate: 

These rivers may contain waves that can cover the boat, as well as obstacles that would require complex maneuverers and a strong craft.

Class 4 – Advanced: 

Powerful, choppy rapids that require quick reaction times and constant rowing. In some cases (including 

Iceland's 'Beast of the East'

), it can mean steep dips.
There are also Class 5 (Expert) and Class 6 (Exploratory and Extreme) rapids throughout the world, but Iceland has neither of these. The highest-class river in Iceland is Jökulsá Austari, which is Class 4. The most commonly rafted river for tourists, Hvítá River, is Class 2.
Types of Rafting Tours in Iceland
As mentioned, there are dozens of ways to raft out in Iceland, whether you're interested in a tough physical challenge, taking in the views at a relaxed pace, or combining your excursion with different activities.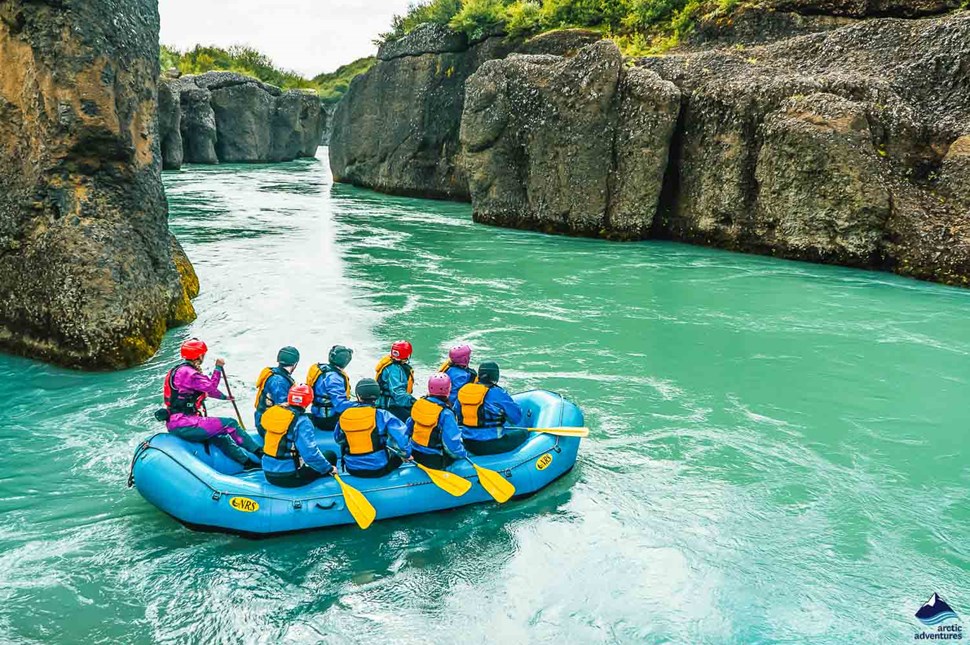 Gullfoss Canyon Rafting Tours
Like many of our most sought-after rafting tours, the Gullfoss Canyon rafting trip is on the Hvítá River. It's a splendid opportunity to take in the local scenery, as the glacier river runs all the way from Langjökull Glacier, Iceland's second biggest glacier. Experience the incomparable surroundings that the roaring river has created over the years, with Brúarhlöð Canyon as one of the highlights.
The canyon has grand rock formations and portholes and you can see how the water has sculptured the breccia walls (breccia is a particularly beautiful type of rock). The Hvítá River also feeds the grand waterfall, Gullfoss – one of the most visited attractions in all of Iceland.
Combo Tours
One of our most popular tours that combines rafting with other experiences is our Golden Circle & Rafting experience. It starts with a raft through Gullfoss Canyon (with optional cliff diving for all of you thrill-seekers!). After a reinvigorating shower, a relaxing sauna and a change of clothes, you'll take in the famous Geysir geothermal area, the stunning waterfall Gullfoss, and the vast, history-steeped Thingvellir National Park.
An entirely different kind of adventure tour is the ATV & River Rafting combo. This kicks off with a thrilling ATV drive up the Hafrafell Mountain to take in some spectacular views. That's followed by rafting on the Hvítá River.
On the more adorable front, families tend to love our Horse Riding & Rafting combo tours. They start with a trip to farm Vellir in Ölfus, where you'll begin a ride on a beautiful, indigenous Icelandic horse. That's followed (like the two trips above) by rafting on the Hvítá River.
An entirely different mammal stars in our Whale Watching & Rafting Tours. This one involves cruising from Reykjavik's old harbor in search of whales, dolphins and porpoises. The trip also takes you past several islands inhabited by colonies of puffins; a marine birder's paradise and a photographer's dream! In the afternoon, you'll swap your ship for a boat and go rafting on the Hvítá River.
Trips for the Whole Family
While the Gullfoss Canyon trip is a hit with families (with kids aged 11 and up), there's an even more accessible option: The Wonderful West tour offers a family rafting adventure for everyone aged 6 and up.
Take a gentle, fun rafting tour on gorgeous West Glacial River Canyon. This tour also features bubbling hot springs, incredible scenery and a cup of hot cocoa from nature's own kettle! (Iceland, famously, produces an abundance of natural hot water.)
For Experienced Rafters
If you want to experience white-knuckle, fast-paced and thrilling white-water rafting, look no further than The Beast of the East. East Glacier River Rafting is available in the Austari-Jökulsá Gorge, which plays host to raging waters, stunning scenery and a trip you'll never forget.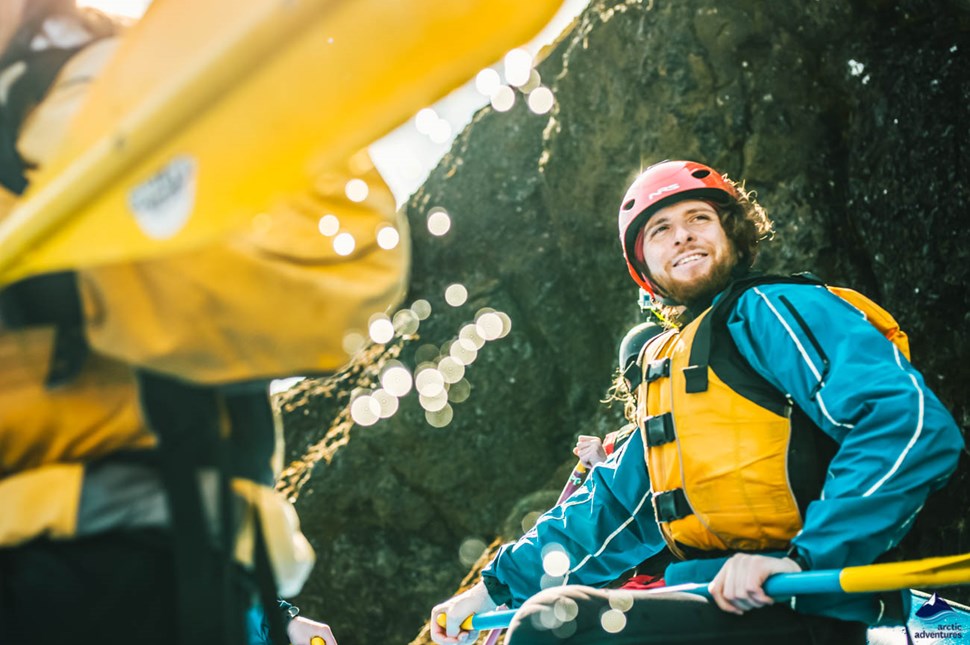 Frequently cited as one of the best rafting experiences in Europe, this is a challenging and exciting experience. No previous experience is required, though you should be in good physical shape, ready to row and a strong swimmer.  
Multi-Day Rafting Trips
For a truly epic journey, we would recommend the 55-kilometer, Three Day Whitewater Rafting Trip. You set off at the foot of Hofsjökull Glacier after a journey over Sprengisandur desert and a night in remote mountain cabins at Laugafell. Then you'll raft your way south, along the East Glacial River, through the gorgeous Austurdalur Valley, stopping off for meals and hot springs visits.
This is a challenging trip (Class 4 rapids are included), but a unique, beautiful and exhilarating journey.
At One with Water
Both locals and visitors absolutely love whitewater rafting in Iceland. It's a fun, fast-paced activity and it gives a different perspective on Iceland's gorgeous landscape.
See you on the water!