Seyðisfjörður is located about 30 minutes from Egilsstaðir in East Iceland. The town is recognized widely for its beautiful light blue church and the rainbow painted path leading up to it. There are numerous photo opportunities in the town and this one is a must!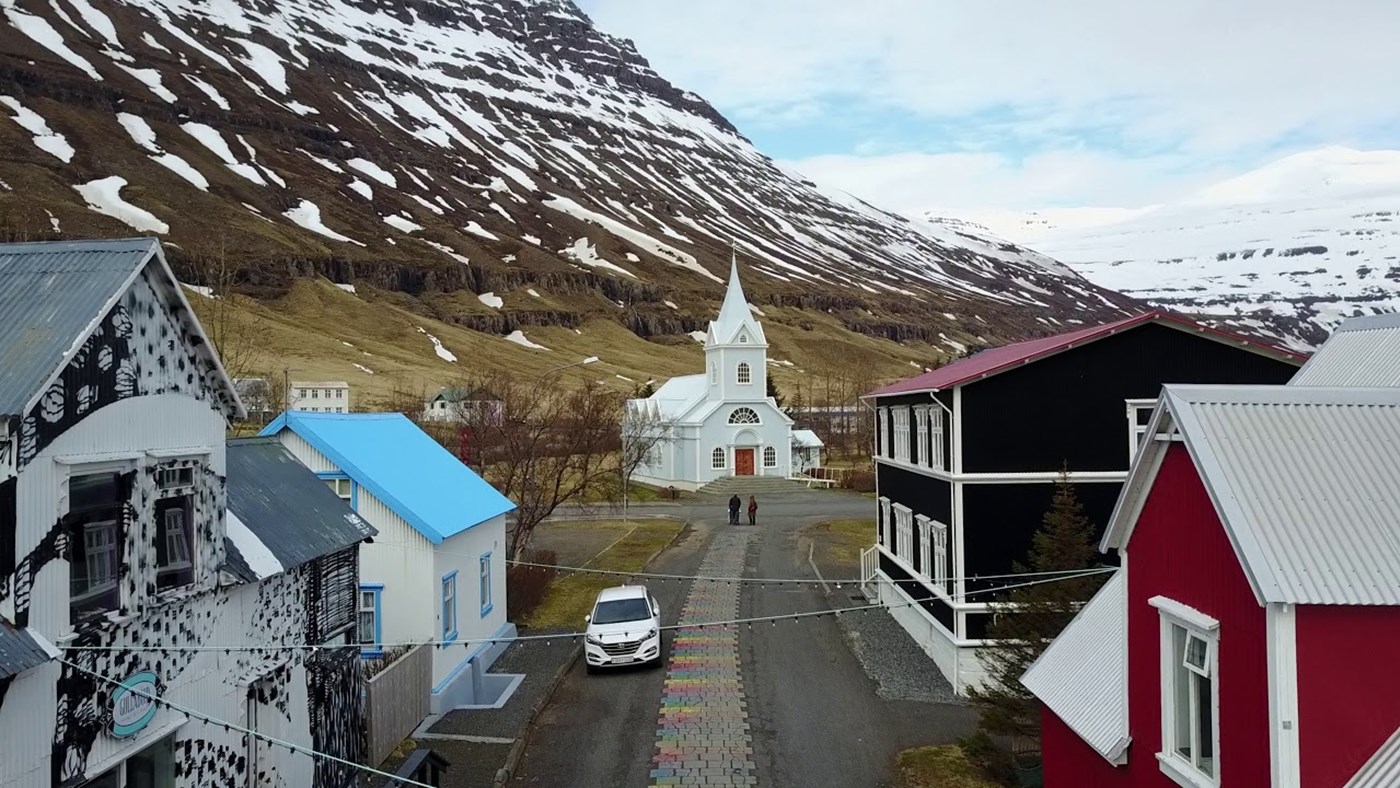 Seyðisfjörður is home to some of the best museums in East Iceland. Plus, the restaurant scene is surprisingly lively considering how small the town is. It's a great place to try local cuisines such as reindeer meat or seafood.
Seyðisfjörður is the port in Iceland for the MS Norröna – Smyril Line the ferry route between Iceland and the Scandinavian countries. It opens up the possibility to take your own car or camper to explore Iceland!
Fun Facts about Seyðisfjörður
The first settler in Seydisfjordur was named Bjólfur

Seydisfjordur is home to the ferry Smyril Line which sails to the Faroe Islands, Denmark, and Norway

The postal code of the town is simply 710

In World War II an oil tank sank in the fjord and it is still there. The tank was called El Grillo and today you can try a locally brewed beer with the same name!
Where is Seyðisfjörður?
Seydisfjordur is a fishing village located at the bottom of a fjord with the same name in the Eastfjords in Iceland. It is about 27 kilometers (16,7 mi) from Egilsstaðir and 274 kilometers (170 mi) from Akureyri.
GPS coordinates of Seydisfjordur: 65.2598° N, 14.0101° W
How to get to Seyðisfjörður?
Driving from Reykjavík to Seyðisfjörður will take about 8-9 hours and for the majority of the trip, you will be driving along the Ring Road. The fastest way to drive is clockwise. It will take you North through Borgarfjörður, Skagafjörður, Akureyri and the beautiful Mývatn area.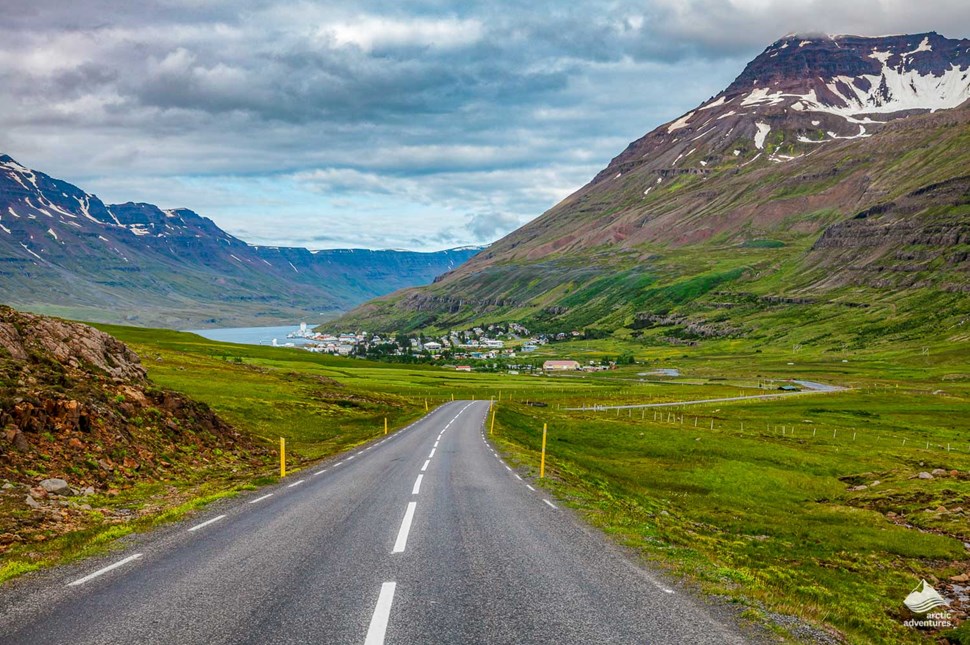 You can also go counterclockwise through Selfoss, Hvolsvöllur and Höfn and past the waterfalls Seljalandsfoss and Skógafoss and even the stunning Jökulsárlón Glacier Lagoon.
Public Bus: The public bus will take time but the drive is beautiful. First, you will need to take Bus 57 out from Reykjavík (bus stop Mjódd). It departs at 9:00 a.m. and arrives at Akureyri at 3:30 p.m.
From Akureyri, you will need to take Bus 56 at 3:50 pm to Egilsstaðir. There you will need to stay the night and catch Bus E3 from Egilsstaðir to Seyðisfjörður in the morning or afternoon.
Flying: The closest airport to Seydisfjordur is at Egilsstaðir. You will need to catch a flight at Reykjavik's domestic airport and you have the options of three daily flight times. After landing at Egilsstaðir you can either catch a public bus or get a rental car from Egilsstadir to Seydisfjordur.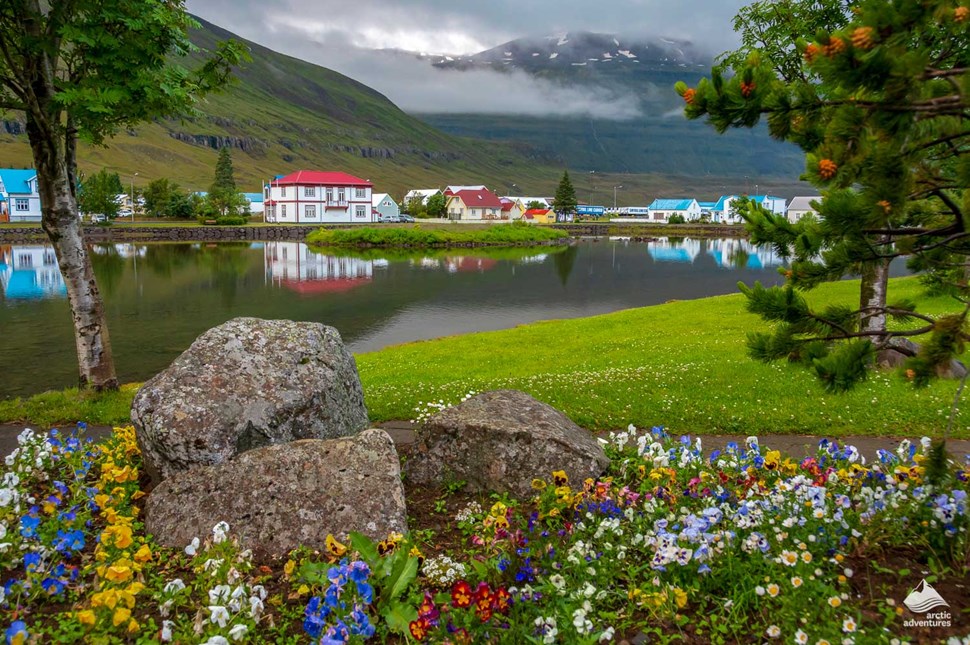 What to do at Seyðisfjörður?
Take a photo at the rainbow street and Blue Church

 – this shot has become somewhat of a signature photo of Seydisfjordur. The Eiffel Tower of Seyðis!

Taste the El Grillo Local Beer

 

– the must-try when in the area, a light lager that goes well with a burger.

Visit the Tvísöngur Song Sculpture

 

– Seyðisfjörður is somewhat of a arts center so you might not be too surprised to hear that they have huge sculpted caves made for singing. A fun visit to the side of the fjord!

Take a dip in the local swimming pool

 

– no matter the size, any village in Iceland will have a swimming pool but the one at Seyðisfjörður is especially nice!

Explore the Fjarðarsel Power Plant Museum

 – this power plant is one of the oldest in Iceland dating back to 1913. The opening of the Fjarðarsel power plant marked a big shift for the community and was an important step for the community. A great step into history!

Join the LungA Art Festival – an annual festival held during mid-July with musical acts, workshops, and exhibitions. Definitely worth the visit!
Visit Skaftfell Center for Visual Art

 

– a lovely café surrounded by contemporary art, a fantastic and tranquil place.  

Buy a souvenir at Gullabúið – this shop is a surprise find in a tiny village like Seyðisfjörður but a delightful one and well worth the stop.
Take a hike

 – there are so many beautiful hiking trails around the village and mountains waterfalls to be found. Strap your boots on and enjoy the Eastern region in Iceland.

Visit the Technical Museum of East Iceland – the museum was established in 1984 and hosts very interesting exhibitions.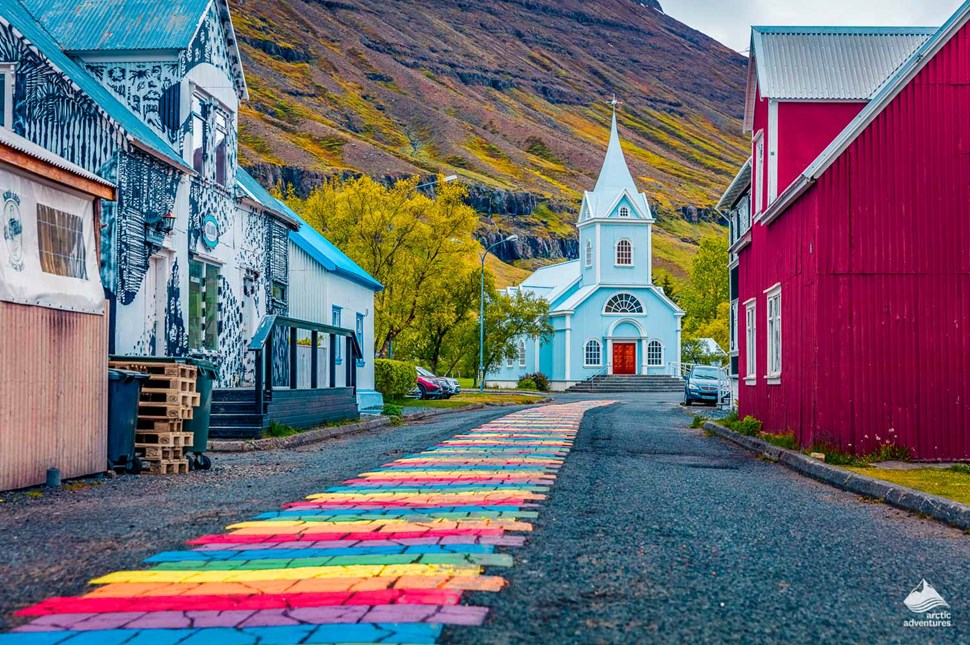 Where to eat at Seyðisfjörður?
Kaffi Lára / El Grillo Bar – excellent food and a good garden to sit in outside if the weather allows. Burgers, chicken, seafood, steaks, cakes, and so many other options in a charming setting.
Bistro Skaftfell 

– delicious pizzas, fish & chips, fresh fish from the fjord and great deserts. The bar is well packed and the whole ambiance lovely.

Hotel Aldan / Nordic Restaurant – they do everything from casual to fine dining. A great place to try the local cuisine, anything from reindeer to lamb tartare.
Norð Austur / Sushi Bar – as the name gives away this place is all about sushi and delicious seafood. An excellent choice for dining at Seydisfjordur. Located at Hotel Aldan.
Where to Stay at Seydisfjordur?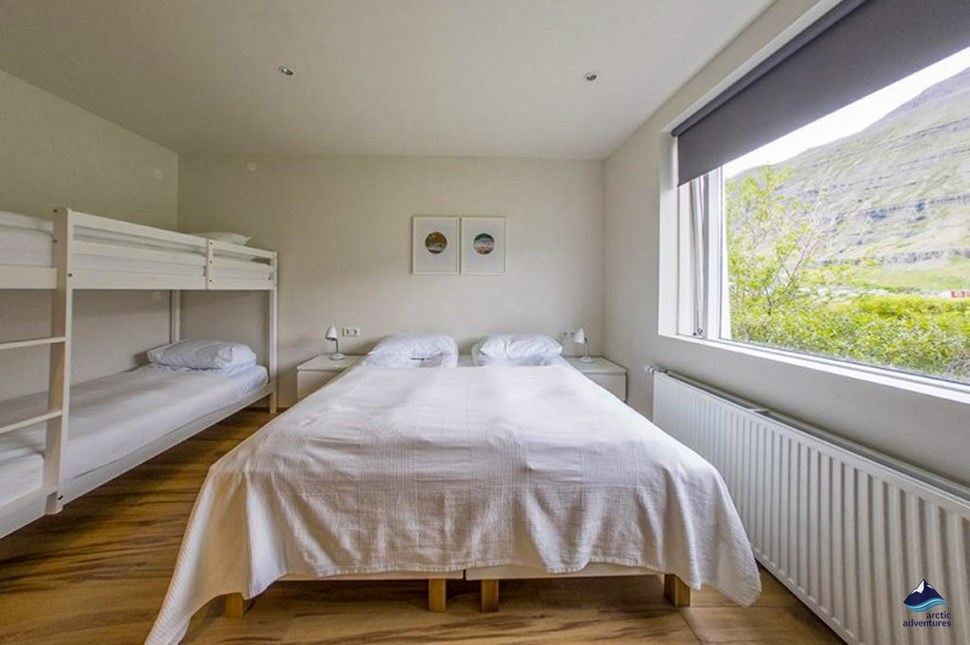 Hotels
Hostels
Guesthouses, B&Bs and Apartments
Camping in Seydisfjordur
The campground at Seyðisfjörður is close to the center of the town surrounded by trees. The ground is separated by small lakes in different areas, creating a more peaceful setting for visitors. The facilities include showers, toilets, running hot and cold water, cooking facilities, and more.
Open from the 1st of May to the 30th of September.
Seyðisfjörður in Winter
Visiting Seyðisfjörður in winter can be a bit tricky due to weather and road conditions. But if you can, the village is an excellent place for a winter retreat or a getaway. The fjord often bathes in Northern Lights and there is a skiing area for the sporty travels to enjoy.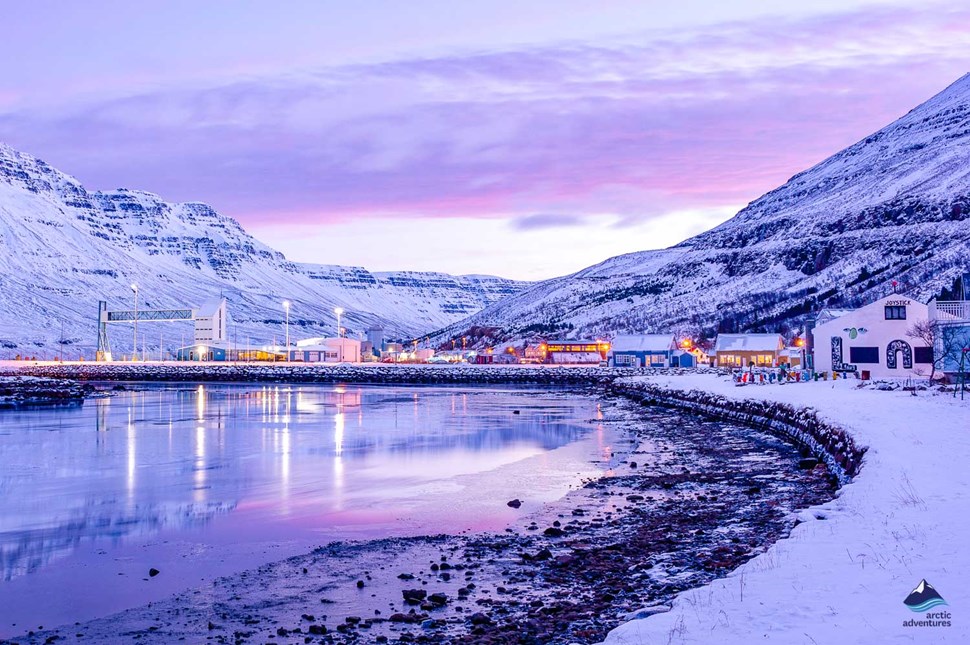 Movies, TV Shows or Music Videos filmed at Seyðisfjörður
The Secret Life of Walter Mitty (2013) the famous skateboarding scene when Ben Stiller goes down beautiful mountain hills is filmed right above Seyðisfjörður. You will also see the colorful wooden houses and the marina in the film.
Trapped / Ófærð (2015) an Icelandic crime series that is now available on Amazon Prime and was shown on BBC4. An all Icelandic cast with star director Baltasar Kormákur. Partly filmed in Seyðisfjörður but the show takes place in Siglufjordur.
Interesting places near Seyðisfjörður
Gufufoss Waterfall

Dalatangi Lighthouse

Rjúkandi Waterfall

Neskaupstaður Village

Reyðarfjörður Village

Litlanesfoss Waterfall

Skriðuklaustur Museum and Cluster

Lake Lagarfljót

Hallormstaðarskógur Forest

Borgarfjörður Eystri Village

Stöðvarfjörður Village

Petra's Stone Collection Museum