The History of Gullfoss
In the early 20th century a discussion was held high in the Icelandic society if Gullfoss energy should be utilized to produce hydroelectric power. This idea met much controversy in regards to foreign investors and their desire to profit off Iceland's nature, especially by the farmer at Brattholt and landowner of Gullfoss, Tómas Tómasson.
Tómas Tómasson famously said "Ég sel ekki vin minn" or "I will not sell my friend" when Englishman Howell tried buying the waterfall for 50.000 ISK (451 USD), which, at that time, was worth 50 times his house.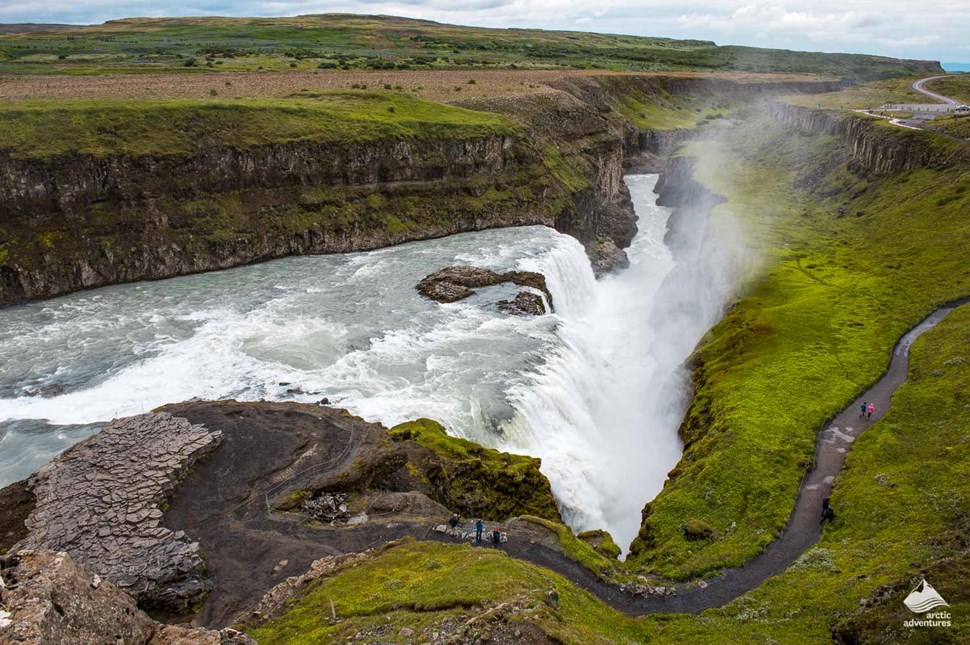 But in the end, the waterfall was rented out to both Icelandic and foreign parties who intended to build a powerstation through a loophole in the rental agreement.
Then Tómas's daughter Sigríður Tómasdóttir stood up and fought for the preservation of the waterfall going back and forth to Reykjavík on foot vading river and snow to protest and sue the renters and even declared that she would throw herself into the waterfall should it turned into a power plant. But, unfortunately, Sigríður lost her cases in court and all her money with it and the waterfall's rental agreement was deemed legal.
With some unimaginable luck the waterfall still remained the same and was left untouched and in the year 1928 payments for the rent of the waterfall stopped coming in and 6 years later the rental contract was rescinded.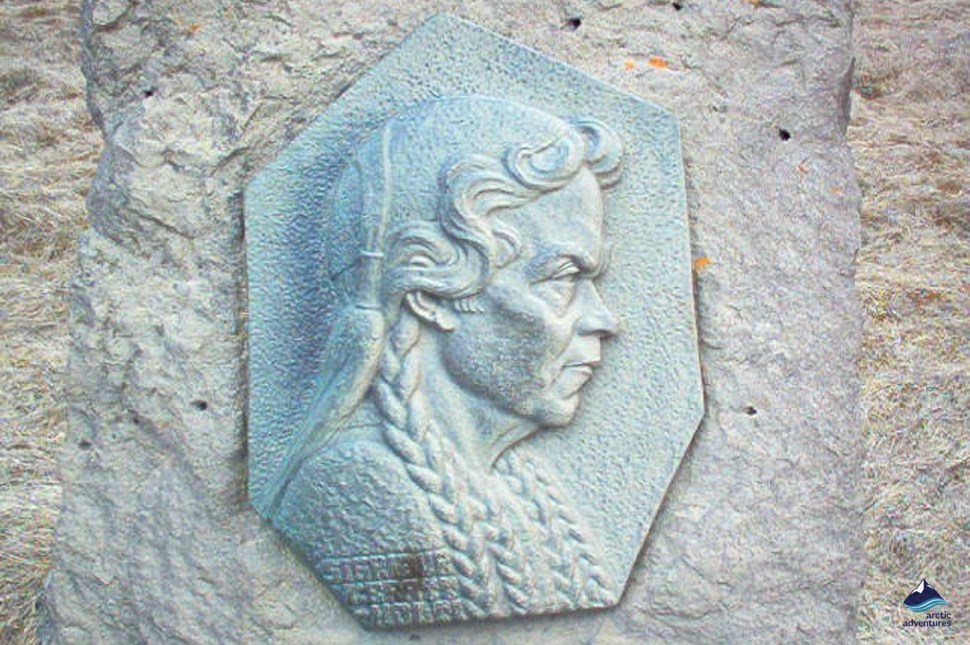 In the year 1940 Sigríður's adopted son acquired the waterfall and later sold it to the Icelandic government. In the years to come environmental protection became more widely spoken off in Iceland and Sigríður has often been named as Iceland's first environmentalist.
In the year 1978 a memorial stone of Sigríður was put up at Gullfoss and a year later Gullfoss and its environs were designated as a nature reserve to permanently protect the waterfall.
The memorial stone is still there today and you can visit it while you are there!
Where is Gullfoss located?
GPS POINTS N64° 19′ 38.220″ W20° 7′ 8.135″
Gullfoss is located in the heart of the famous Golden Circle in Haukadalur, South Iceland about 107 km (66,4 mi) from Reykjavík. Gullfoss is only a 10 minutes drive from Gullfoss so together they make the perfect combo as a part of the Golden Circle.
How to get to Gullfoss waterfall?
Driving from Reykjavík to Gullfoss it is quickest to follow the Ring Road 1 East past Hveragerði and making a left turn before reaching Selfoss, a turn marked Laugarvatn onto road 35. Road 35 will lead you directly to Gullfoss Waterfall Parking lot.
If you are looking to do the Golden Circle on a self-drive tour it is best to start going to Thingvellir National Park and following road 36 East from there to past Laugarvatn and from there past Geysir and to Gullfoss.
You can also join one of the many Golden Circle tours Arctic Adventures has to offer, visiting the Golden Falls daily.
Gullfoss Waterfall Services and Facilities
Whether you want to buy practical outdoor clothing or souvenirs, you'll be able to find something at the local shop at Gullfoss. Here you will find everything from books on the local area to Blue Lagoon cosmetics, local teas, interesting souvenirs, Cintamanni outdoor clothing and handknitted Icelandic lopapeysa sweaters.
If you're looking for food in the area, Gullfoss Café is located next to the main car park. A choice of soups, salads, sandwiches, paninis, cakes, desserts and hot and cold drinks are available. A selection of Icelandic meat soup, salmon, and other traditional Icelandic meals also feature on a regular basis. The Café is open daily from 10:00 am to 19:00 pm.
Toilet facilities can be found near the shop. A small fee required for use of the shop's toilet, while the toilets at Gullfoss Café are available free of charge to paying customers. There are two car parks located near Gullfoss Waterfall, both of which are free to use. The upper car park is closer to the café, shop and waterfall, but neither are particularly far away. The higher car park is the second car park you come to when you drive into the region.
Accommodation and Hotels near Gullfoss
There are dozens of accommodation options around the beautiful Gullfoss waterfall and here we will list a few which will hopefully help with your traveling in Iceland.
Hotels
Hotel Gullfoss

Hotel Geysir

Litli Geysir Hotel
Hostel
Guesthouses
Geysir Hestar

Jaðar – The Old House

Mengi Kjarnholt

Efstidalur II

Torfhús Retreat
Cabins and Cottages
Vað Holiday Home

Skyggnissteinn
Skakkibakki

Geysir Cottage

Eyjasol Cottages

Úthlíd Cottages
Camping Near Gullfoss Waterfall
There are a few camping grounds near Gullfoss waterfall that are excellent and well equipped. The closest is Skjól Campgrounds located in between Gullfoss and Geysir, the camping ground is big with electricity and free wifi! There are a hostel, a café and a bar on location.
The next one is at Geysir and there you can enjoy the view of Strokkur and its endless source of exciting nature shows. There you have showers, toilets and all the standard camping ground facilities including a kids playground.
Flúðirthen also has a great camping ground, popular with locals. Located at the banks of the river Litla-Laxá it is well equipped and with a lot of exciting things to check out in only a walking distance. Flúðir is known for geothermal energy and is home to many greenhouses.
Gullfoss in Winter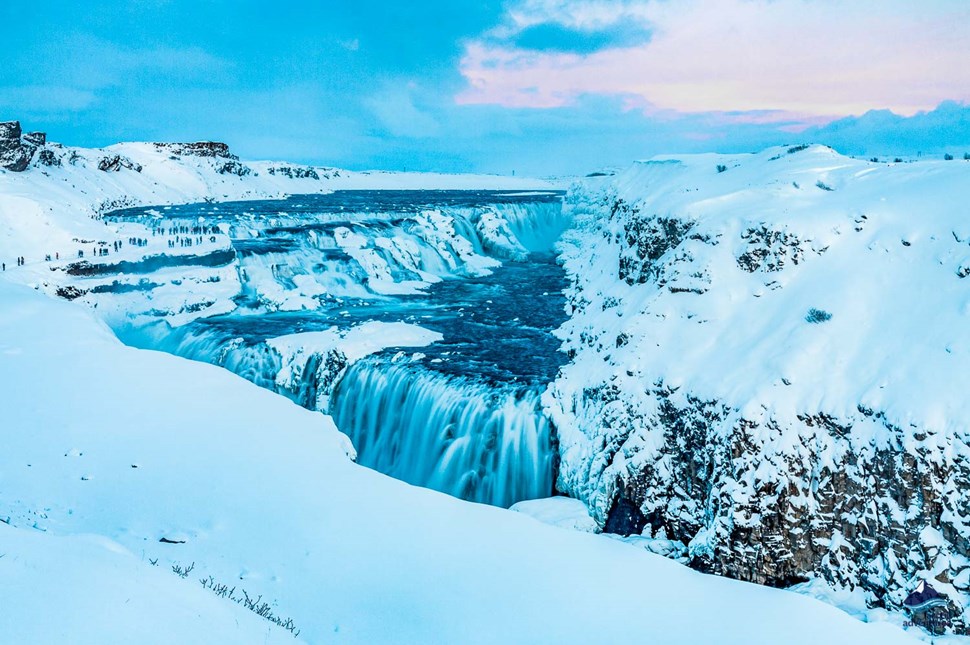 Gullfoss is gorgeous in winter but the driving can be quite icy. If you aren't used to driving in those sort of condition you might want to consider joining a Golden Circle tour, where an experienced driver will take you.
The paths around the waterfall can be slippery so it's recommended to wear sturdy shoes, preferably with ice spikes. As Gullfoss is located quite far inland and high above sea level, it can also get quite cold. If you do get cold, go inside the Gullfoss café for a nice bowl of hot Icelandic lamb soup or a hot cup of cocoa it will warm you right up!
For those looking to add a bit of extra adventure to their trip to this iconic Icelandic landmark, Gullfoss Waterfall car park is the pickup point for an exciting snowmobile tour on Langjökull Glacier and snowmobiling and ice cave tour combination in winter. In summer, River rafting tours are carried out from the Drumbó Rafting Base higher up on the Hvítá River. This is an exciting option for those who want to see all of the wider Gullfoss area.
Movies, Tv Shows or Music Videos filmed at Gullfoss waterfall
Films
Land Ho! (2014) a heartwarming comedy about two ex brothers-in-law that are looking to reclaim their youth and do so by going road tripping in Iceland. Gullfoss is one of the many stops they make, but the list also includes the popular spots, Jökulsárlón, Landmannalaugar, Blue Lagoon, Geysir Hot springs, and Skógar.
Music Videos
Live – Heaven (2009) Gullfoss is featured in the music video for the single "Heaven". In the video, two Icelandic actors are seen walking at separate banks of the waterfall and Hvítá River trying to get to each other. Please don't try to create a remake – a glacial river isn't the warmest place to swim! 
Interesting Places Near Gullfoss Waterfall