Hiking Trails in Landmannalaugar
Landmannalaugar hikes are plentiful, depending on what attractions you'd like to see.
Start of the Laugavegur Trail leading to Þórsmörk, can be done in 4, 6 or 8-day trips with tents or in Highlands Cabins.
Hike Mt. Brennisteinsalda for a beautiful view the colorful terrain, lava field and lakes. Takes about 2-3 hours.
Traverse Mt. Bláhnjúkur for a few of five different glaciers on a clear day. Takes about 3-4 hours.
Roam around the lowland across Laugahraun lava field to the bottom of Grænagil. Green Gully and back to the mountain hut base. Takes about 1-2 hours.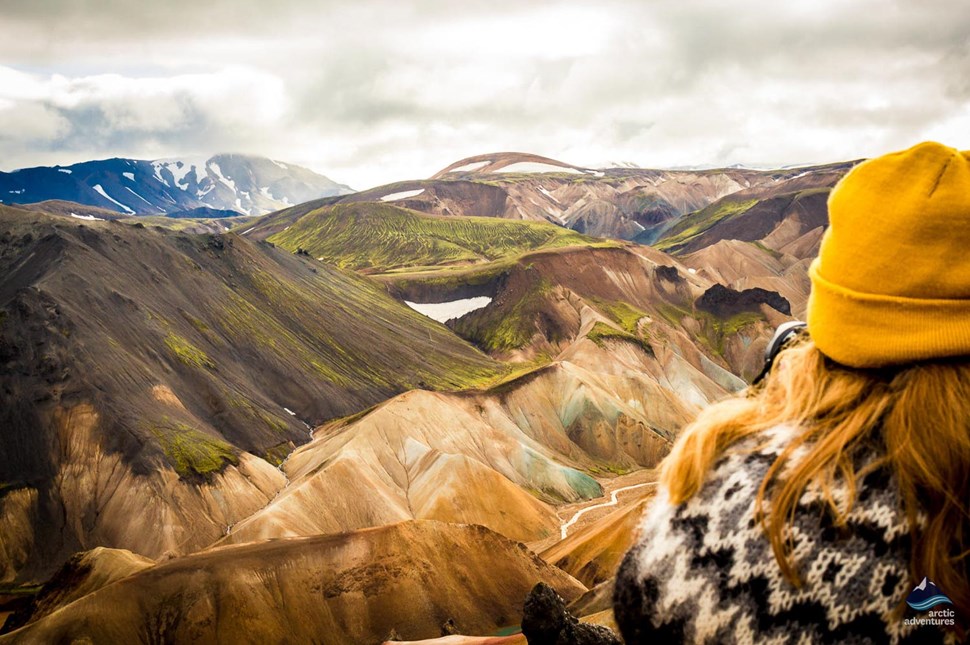 Major Attractions in Landmannalaugar
Laugahraun
Laugahraun lava field came to be in the eruption of 1477 making it one of the very few rhyolite lava fields to have formed after the land was settled. It is a mesmerizing sight to see how the lava must have slowly run its course tightly up against the pastel-colored Brennisteinsalda.
Where the lava field then comes to a stop, a steep pitch black lava wall formed from which hot water now runs filling up the pools we like to soak in while visiting this wonderland.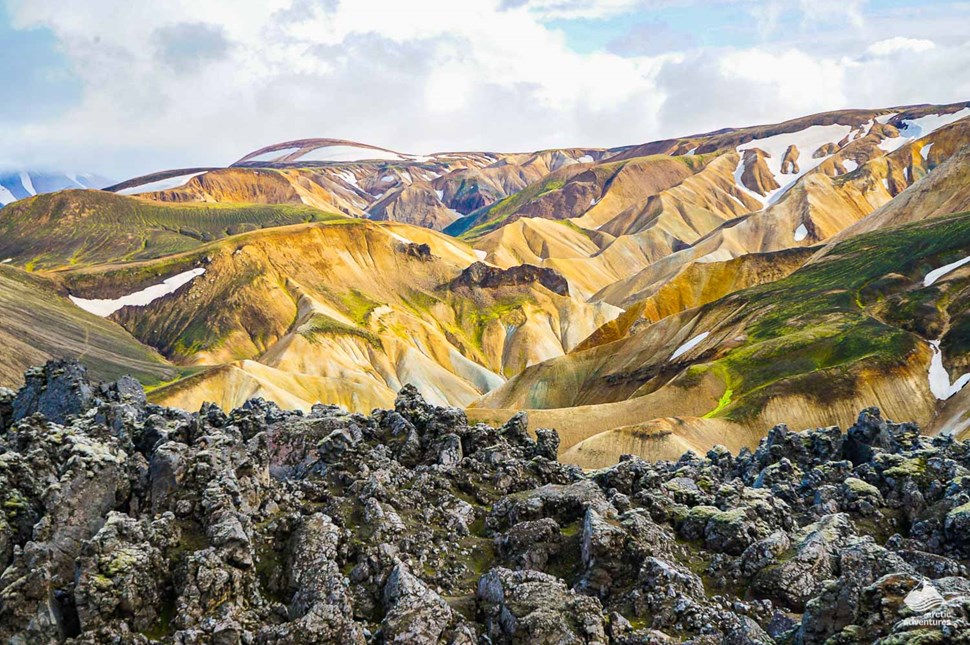 Brennisteinsalda
Mt. Brennisteinsalda which would translate to Sulphur Wave is a rhyolite mountain that formed in a volcanic eruption under a glacier during the last ice age.
Its last eruption took place in the year 1961. You can easily hike up the mountain for an exquisite view over the whole terrain but hikers starting the Laugavegur hiking trail go the same path.
Bláhnjúkur
Bláhnjúkur, sometimes spelled Bláhnúkur, is a volcano inside Landmannalaugar. Its name Bláhnúkur would translate Blue Peak and comes from the blue-black hues that throne its slopes.
Its highest point is 940 meters (3080 ft) and it is a popular mountain to hike. From the top of the mountain volcano, you can see several glaciers!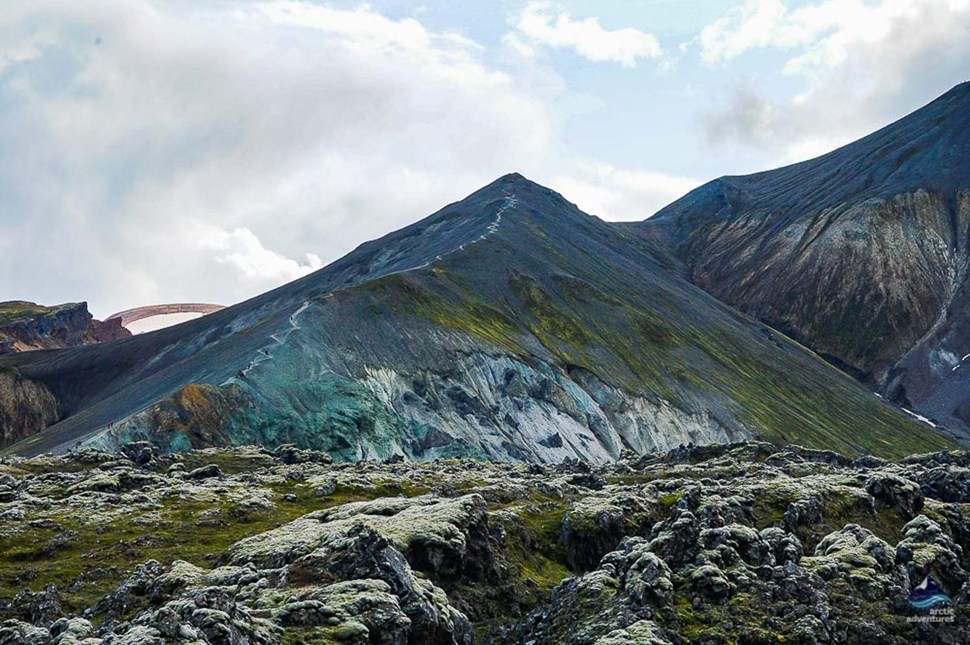 Landmannalaugar to Thorsmork Hike
The trail from Landmannalaugar to Thorsmork is one of the most popular treks in the world. Known as the Laugavegur Trail, this route is a popular stop on every hiker's bucket list. Hikers cross a distance of about 33 mi (53 km), taking about 4 days. You can sleep in huts and designated campsites.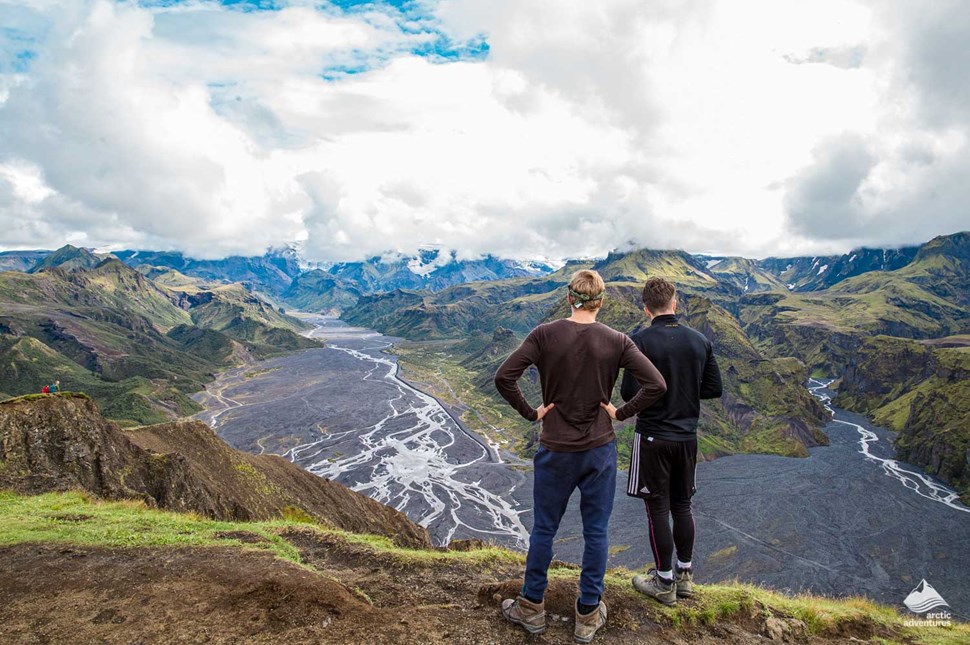 Hot Spring Pools in Landmannalaugar
Landmannalaugar was originally best known for its geothermal baths, hence the name "People's Pools." The area provided both travelers and farm animals shelter and warmth and the baths gave people a chance to fully relax after an immense day of roving.
Today the hot springs serve the same healing source for tired hikers and trekkers who have enjoyed the hike in the windswept mountains.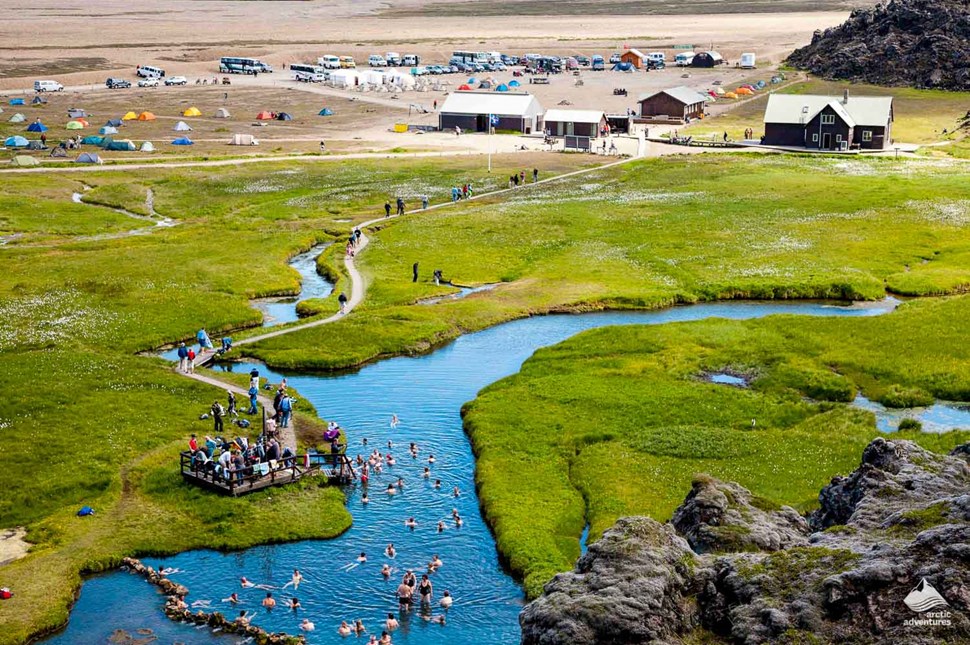 The soothing springs come at no extra cost. All you need to pay is for restroom use, where many like to change to their bathing suits. You can also wear a swimsuit underneath.
Weather at Landmannalaugar
The weather in Iceland tends to be erratic, and in the Highlands, it's even more so. Even in the summer, dress in layers so you can adjust for both sunny days and chilly winds.
There is always a chance of heavy rain, hail or even snow. Always check the weather forecast before departure.
Camping at Landmannalaugar
Inside Landmannalaugar you have two options for accommodation: Camping or Mountain Huts.
Camping in Landmannalaugar costs 1800 ISK per person and basically gives you access to toilets, running water, a BBQ and cooking facilities.
Accommodation at Landmannalaugar
The black hut with the green roof is running by Ferðafélag Íslands and has 78 beds. The hut is big and cozy, has two floors and is open and manned all year round. A night in the hut costs 9000 ISK and you will need to bring your own sleeping bag.
Landmannalaugar in Winter
Landmannalaugar is a phenomenal winter paradise. First, it's likely that you will have the grounds almost to yourself. Second, the Northern Lights are known to shine brighter in the area.
Lastly, the hot geothermal pool it still hot enough to bathe in – an experience without comparison!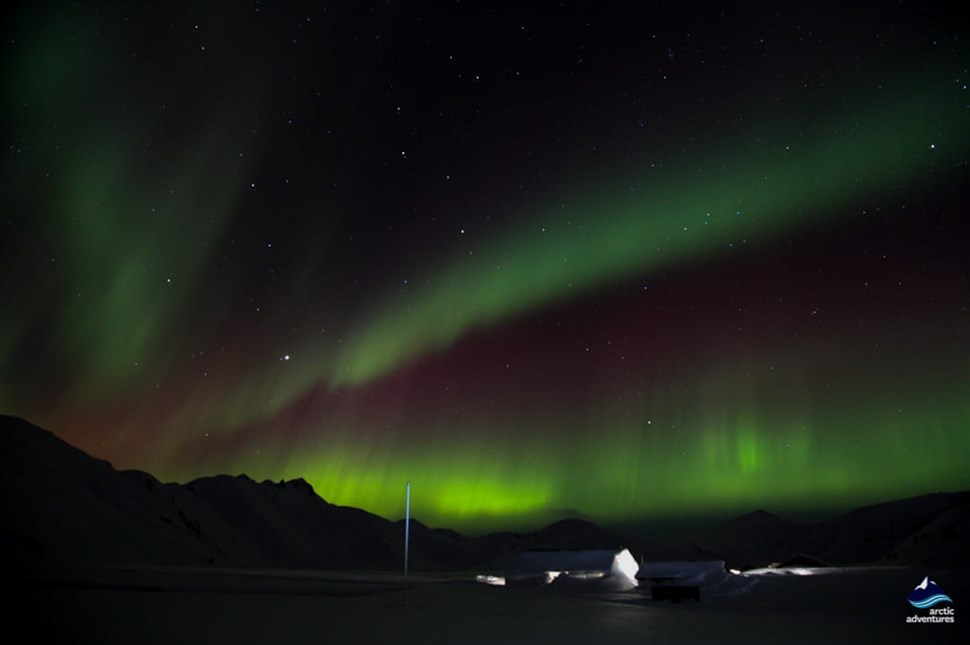 Arctic Adventures offers an excellent 2-day winter tour in Landmannalaugar covering everything there is to see and do in and around this dramatic region.
Landmannalaugar Tours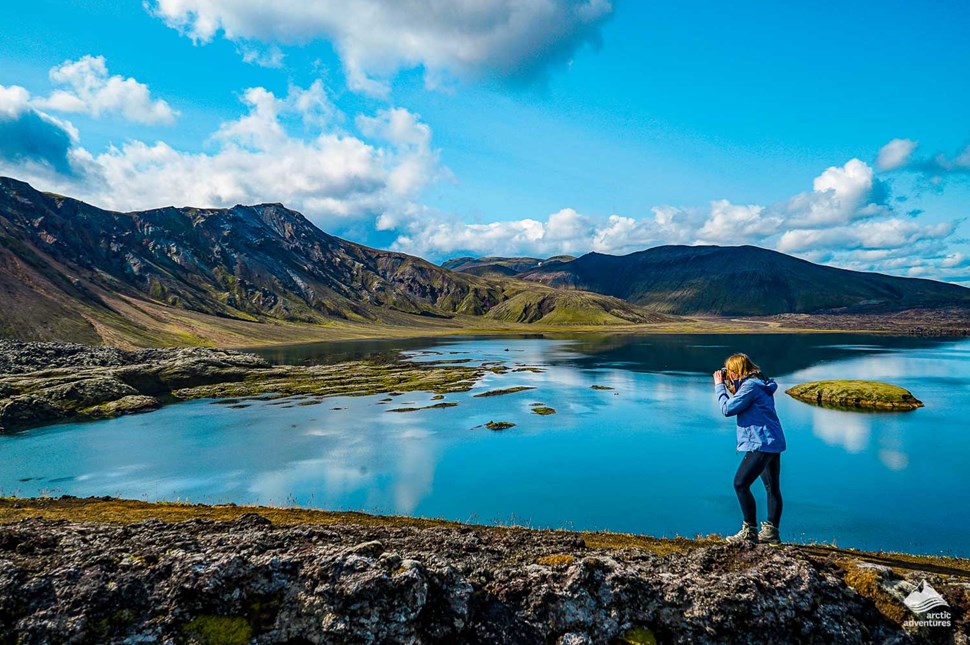 You can visit all year round but the most popular time is in summer when you can take anything from a day trip to Landmannalaugar up to a 3-day highland hiking expedition.
In winter, we recommend you join a Super Jeep tour. The area is known for its incredible Northern Lights. Don't miss your chance to view the auroras in the secluded serenity far from city lights. 
Check our Laugavegur Treks & Hikes for more tours hiking Landmannalaugar to Thorsmork.
Interesting places near Landmannalaugar
Frostastaðavatn Lake

Ljótipollur (Ugly Puddle)

Þórisvatn Lake

Langisjór Lake

Sigöldugljúfur Canyon Valley of Tear

Sigöldufoss Waterfall

Þjórsárdalur Valley

Hjálparfoss Waterfall

Þjórsá River

Þjófafoss Waterfall

Háifoss Waterfall