All about
ICELAND
Insider info to adventuring in Iceland
The Ultimate Iceland Ring Road Itinerary Guide
Driving the famous Ring Road comes top on the bucket-list for many travelers to Iceland. The Flight Network chose the Ring Road in 2019 as one of the World's Best Once in a Lifetime Journeys.  I have done the Ring Road three times, met wonderful people along the way, and had a great time. Would I do it a fourth time – absolutely, yes! There are so many different things you can do along the way. Take a few days or a couple of weeks! Let me share my Ring Road tips and ideas with you.
Ring Road Iceland distance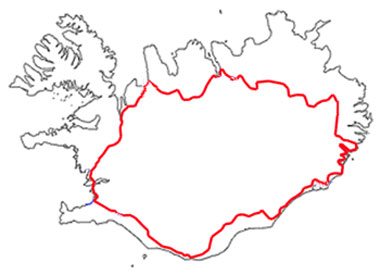 The Ring Road is 1332 kilometers (827.66 miles). That is the basic journey which will get you around the island leaving out the peninsula of Snæfellsnes and the peninsula-like Westfjords. Everyone who does the Ring Road travels more than this, detouring to do incredible adventure activities, see fabulous places and crossing mountain passes to stunning and very isolated fjords. I drove almost 1800 kilometers (1118 miles) on my summer 2017 Ring Road trip even though I did not seem stray from the main highway very far or very often!
The Ring Road, or Highway 1?
Either, they are exactly the same. The roads in Iceland are numbered, although many Icelanders seldom refer to most roads by their numbers in my experience!
Ring Road self-driving tips
Photo by Norris Niman
Go with a buddy who can share the driving, you will see so much more and can take a rest when you want! In 2017 I drove the distance, my travel buddy had, unfortunately, broken his arm before we went. Even though I love driving I missed out on the scenery.
Make a list of the things you want to do at various locations and plan enough time to do them. If you want to go

rafting

on the Hvítá river,

snowmobiling

, or even

snowmobiling and ice caving

on Langjökull glacier or whale watching in Dalvík – factor in enough time and it will all be fabulous.
Allow the activities you want to do and your must-see places to determine where you will stay at night.
Pack snacks, you might drive for longer distances without seeing any restaurants of gas stations and having a picnic in a nice location is also just a wonderful option. Just remember leave no trace!
Iceland Ring Road – How long does it take?
To really get the best of Iceland you should allow at least 5 days, although a week can be better and 4 days is very tight! If you only have 4 days prioritize your absolutely top activities and sights – you cannot do everything. Driving takes longer in winter conditions and daylight is shorter, so bear this in mind when scheduling. If you want to fit in loads of activities and to deviate a lot from the beaten path 10 days or more is not too long.
Iceland Ring Road clockwise or counter-clockwise?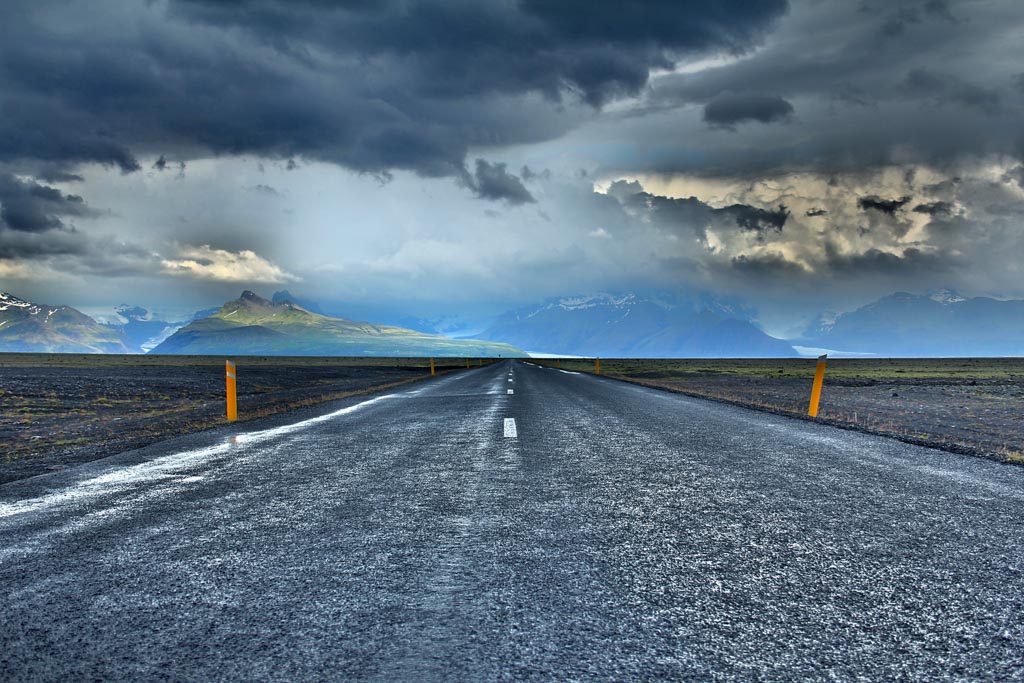 Most people travel anti-clockwise visiting the south before heading towards the east. I have twice headed north, traveling clockwise and gone south once. Going south is best for first-time drivers in Iceland, you will then have some experience when you get to slightly more difficult roads.
Can you drive the Ring Road in a regular car?
Yes, most definitely, although, particularly in winter, a 4×4 can have advantages. Most activities and detours can be reached with a small car via paved roads, but not all. Mountain roads need a 4×4 with appropriate insurance, some magical places, such as Borgarfjörður Eystri, can only be reached by unpaved roads. So, plan what you want to do than hire the vehicle you need.
Driving the Ring Road in winter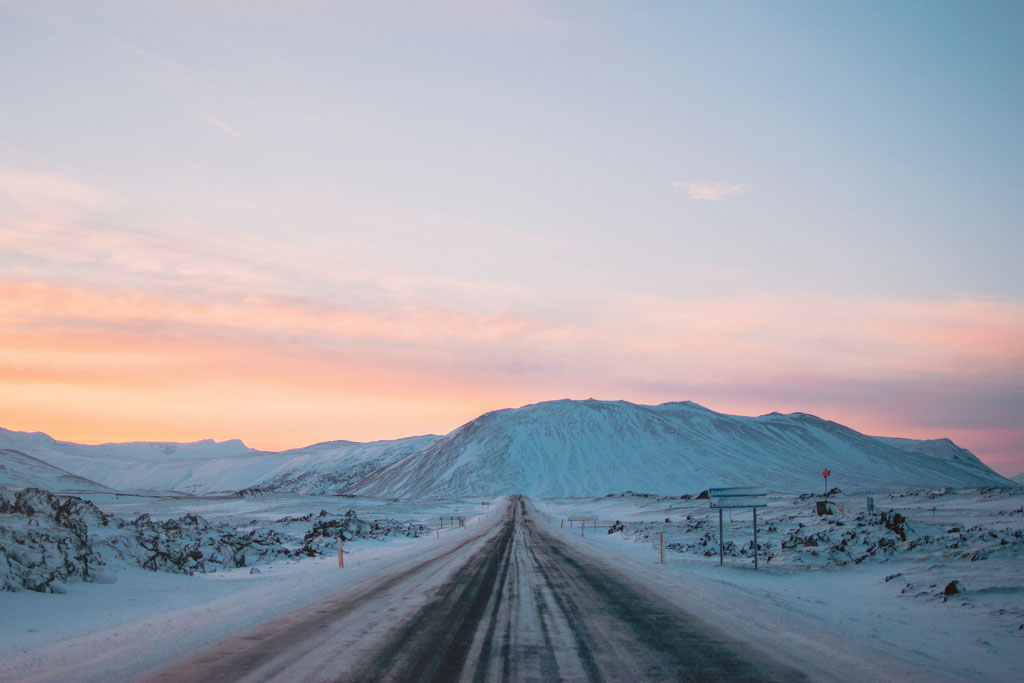 If you are used to driving in ice, snow and poor visibility, then have no worries, otherwise, consider whether a summer self-drive or a winter tour would be best for you. The Ring Road is kept as clear of ice and snow as possible, so it is rare for sections to be closed. If your detours take you onto really remote roads you are far more likely to come across road closures.
Here is more on the debate Self Drive vs. Guided tour in Iceland
Many visiting Iceland really wish to do the Ring Road but are not sure if their driving skills are good enough. Then joining a Ring Road Tour is the perfect option! The Ring Road tour can be done in 6,7 and 8 days and then you can just sit back and relax while your driver makes sure you don't miss any of the highlights and tells you everything about the landscapes. flora and fauna. This option is especially recommended for those who are not used to driving in snow but still wish to do the Ring Road in winter.
The Ring Road guided tour + Snæfellsnes 
The Ring Road guided tour + 2 night in Reykjavik before and after tour
Ring Road Iceland 5 day itinerary
Day 1:
Let's head south but before you get out of Reykjavík you need to point the car north! Follow the Ring Road north then quickly turn right onto the road signposted to Þingvellir, the first of your famous Golden Circle sights. See an erupting geyser at Geysir geothermal area, then head to Gullfoss Waterfall. This is a pick-up point for snowmobile tours, or you could follow the road up to Drumoddstaðir for a river rafting tours – if you want to try these there is no time like now! Returning to the Ring Road you are traveling the south coast with its wealth of sightseeing delights – grand waterfalls, villages, the amazing black beach at Reynisfjara are just a few. The areas close to Vík, Skógar, and Skaftafell are all good overnight stopping places. If you have spent more times on activities you might not want to go too far. Sólheimajökull glacier is just a short detour from the Ring Road, a 15-minute walk from the car park will bring you to a great point to capture views of this majestic glacier. Why not explore it with a sensational glacier hike?
The must-sees
Golden Circle: Þingvellir, Gullfoss and Geysir
Reynisfjara black beach 
Skógar
Skógafoss 
Seljandsfoss
Sólheimajökull glacier 
Day 2:
If you missed any south coast attractions close to Skógar and Vík yesterday, fit in your must-sees before you continue to Skaftafell, the Visitor Centre is the hub of hikes and activities. A short hike will bring you to one of the most incredible waterfalls in Iceland, Svartifoss, the black waterfall, its white shimmering cascade is framed by massive hexagonal black basalt columns. If you missed out on a glacier hike yesterday, you get a 2nd chance at Skaftafell today – easy or more challenging – your choice! Depending how much time you spend enjoying activities and sights you could visit the stunning Jökulsárlón Glacier Lagoon today, or leave that wonder for tomorrow. My tip is to give yourself plenty of time, as well as enjoying the majesty of the huge, crazily shaped icebergs floating on the ice lagoon beneath Vatnajökull glacier, the amazing Diamond Beach is nearby. There are some once-in-a-lifetime tours including glacier hiking, ice caving, ice lagoon kayaking and boat tours from Jökulsárlón. Your accommodation for the night ideally needs to between Skaftafell and Höfn, the lobster capital of Iceland. If you have left Jökulsárlón for tomorrow you would need to back-track around 80 km from Höfn – so bear your likely itinerary in mind when planning accommodation.
The must-sees
Skaftafell area
Svartifoss waterfall 
Jökulsárlón glacier lagoon
The Diamond Beach
Vatnajökull glacier 
Day 3:

Start with Jökulsárlón if you didn't see it yesterday, you want one last mesmerizing look, or you have booked a great activity. Then drive towards the amazing East Fjords, the scenery is fantastic as the road wends in and out, gray ribbon threading its way between the ocean and the mountains. Sharp fjords cut deeply into ragged-toothed mountains – there are many safe stopping places where you can admire views to die for. The distance from Höfn to Egilsstaðir is 187 km, the largest forests in Iceland are in the area around Egilsstaðir, this town has good services and supermarkets, so it is a great place to stock up on provisions. Lake Lagarfljót, a picturesque lake, is home to Lagarfljótsormurinn, the fabled and famous giant water worm which is said to reside in the shadowy depths of the lake. There are lovely hikes and waterfalls in this area. Some people like to stay around Egilsstaðir, I have always crossed the mountains to stay at either Seyðisfjörður or Reyðarfjörður. Whether you stay there overnight or not, my tip is to visit Seyðisfjörður! Eskifjörður, or Reyðarfjörður – there are just too many really great fjords! If I was only allowed to pick one magic moment in Iceland, it would be my Seyðisfjörður walk under the midnight sun.
The must-sees
Jökulsárlón glacier lagoon 
Egilsstaðir
Seyðisfjörður
Reyðarfjörður
Eskifjörður
Day 4:
Turning to the north today to the wonderful area around Lake Mývatn and Akureyri, the crazily beautiful 'Capital of the North'. Along the way, you have got to stop to stand in awe at the power of Dettifoss waterfall, as the torrent crashes through the incredibly rugged canyon. Not far away you will find Myvatn Nature Baths. An hour or two spent relaxing in these mineral-rich waters, surrounded by lunar-like views is a marvelous treat for mind, body and soul. From the otherworldly Dimmuborgir lava formations, known as 'the Dark Castles', to the extraordinary boiling mud pots and steam exuding fumaroles at Námafjall, the sights in this area will get your camera working overtime! As you edge closer to Akureyri you will come across Goðafoss waterfall, its glorious crescent shape will probably be familiar to you, this iconic image has adorned so many photographs and paintings.
A drive alongside Eyjafjörður, Iceland's longest fjord will bring you to Akureyri, sitting like a precious jewel, almost in the apex of the Fjord. Take some time to explore this town, it is a total stunner. Spending the night in or around Akureyri will place you in pole position for tomorrow. One tip – book yourself a whale watching tour from Dalvík ready for tomorrow! Fast RIB boat, or standard boat – for you to choose!
The must-sees
Mývatn Nature Baths
Námafjall and Námaskarð 
Dimmuborgir
Goðafoss waterfall
Akureyri
Dalvík
Whale Watching
Day 5:
Photo by Norris Niman
Whether you are whale watching or not, you cannot miss out on Dalvík! This still traditional fishing village, in the heart of Iceland's ski slopes, is surrounded by incredible natural beauty. If you wanted you could then return to the Ring Road. My tip is to continue around the majestic Tröllaskagi peninsula, exploring Siglufjörður and stopping to swim in the pool right at the edge of the ocean in Hofsós. If you want some white water rafting excitement book a rafting tour, the challenging East Glacial River Gorge or a calmer option suitable for all the family from the Hafgrímsstaðir Rafting Base. There are many interesting places and sights along the route back to Reykjavík, some involve more extra distance than others, Sauðárkrókur, the largest town in North West Iceland is well worth a visit. My advice is just to take your time – in good conditions, it takes around four and a half hours to drive from Reykjavík to Akureyri. I am not a slow driver but my journeys usually take more than 12 hours – there are so many places where I just have to stop!
The must-sees
Dalvík
Siglufjörður
Hofsós
Sauðárkrókur
The Ring Road on a budget
Look around and rent the cheapest suitable vehicle. Next, think about accommodation, in summer camping is the cheapest way to go, hostels are a good and reasonably cheap option at any time of year, check out booking.com for bargains and Airbnb too. Cooking your own food most of the time will save you mega bucks. Stock up on provisions whenever you are in a larger town. My tip is to prioritize at least one amazing activity – if standing on a glacier would be your moment of crowning glory go for that if diving is your thing explore the depths of Silfra Fissure. Whatever would be the glittering prize for you – just do it!
Related blogs
When planning a trip to Iceland many might ask themselves the question: "Should I rent a car?" In this blog, I am trying to help you make up your mind. Here are some pros and cons, enjoy!
September 13, 2017 , By Ragnheidur
Our three-day itinerary is perfect for those who are visiting Iceland in the summer, and who would like a good balance between hiking and sightseeing. It is great for those who want to go to both Landmannalaugar and visit the South Coast.
August 15, 2017 , By Sanna
Many ask about driving in Iceland. This country of endless options and roads to every- and nowhere need careful direction. Many ask about the Rong Road, Gas prices in Iceland and driving in winter. Here you will find all your questions about Driving in Iceland answered in one place.
February 24, 2020 , By Jessie Smith
Kay tells you all about her top 5 favorite places in Iceland. These places include the ever so stunning Ásbyrgi and Hofsós village in the North.
May 28, 2017 , By Kay