---
---
Skaftafell was formally established as a park on the 15th of September 1967. At this time, it was about 500 km2. Since then, the now-nature-reserve has been expanded twice; first, in 1984 when it went up to 1600 km2; and second, in 2004 when it went up to 4807 km2.
Skaftafell became a part of Vatnajökull National Park when Vatnajokull park was established in 2008.
When these two parks joined together, Vatnajokull National Park became the biggest national park in Europe. It covers about 12% of Iceland's surface and Vatnajökull, the largest glacier in Europe, is inside the park.
Skaftafell is a truly unique oasis surrounded by sands, glaciers, volcanoes and lakes and is home to about 250 different kinds of plants and about 30 different bird species that nest in the area.
In Skaftafell you can find incredible natural beauty and the area is renowned for its great weather. There are dozens of hiking trails found inside the park, both easy walking trails and challenging treks. This is why you can find some of Iceland's best hikes in Skaftafell. 
Skaftafell trails are usually well marked and there are wardens in the park that are ready to assist if anything is unclear.
Where is Skaftafell located?
GPS 64°00′58″N 16°58′19″W
Skaftafell is a located in between the village Kirkjubæjarklaustur (Klaustur) and the town Höfn in Hornarfjörður in the preservation area in Öræfi, South East Iceland. The distance from Reykjavík is 319 km or 198.2 mi.
Skaftafell Map
How to get to Skaftafell
Getting to Skaftafell is easy. You follow the Ring Road 1 straight, along the alluring South Coast until you reach your destination.
The driving distance is pretty much the same depending on the season but over high winter you might want to add 30-40 minutes to your driving time.
Reykjavík to Skaftafell is a distance of 319 km and should take a little over 4 hours driving.
Vík to Skaftafell is a distance of 140 km and should take about 1 hour and 44 minutes driving.
Jökulsárlón to Skaftafell is a distance of 57 km and should take about 50 minutes driving.
Egilsstaðir to Skaftafell is a distance of 312 km and should take about 4 hours and 18 minutes driving.
Akureyri to Skaftafell is a distance of 576 km and should take about 7 hours and 32 minutes driving.
A scheduled bus goes between Reykjavík and Höfn through Skaftafell and you can find information about the bus on Strætó's website.
What can you find inside Skaftafell?
The area within Skaftafell has been shaped by some of the most powerful forces known in nature.
The great Vatnajökull, the largest glacier in Iceland, and the second largest in terms of volume in Europe (3,100 km3) is located here. There are many glacial tongues which are surrounded by jagged mountains including Falljökull glacier, Breiðamerkurjökull glacier and Svínafellsjökull glacier.
It is clear for all to see how both the landscape and the history of the local people were shaped by fire and ice. On the lower areas of Skaftafell birch and sometimes rowan trees grow plentifully and angelica, wild angelica and sea pea grow well.
Ravens and a variety of birds can be found here together with mink, field mice and Arctic foxes. Svartifoss is a scintillating waterfall which dropping from a stunning crescent of geometric black basalt columns into a tranquil pool below.
The dramatic waterfall is reached by a very beautiful short hike from Skaftafell Visitor Center, on a clear day, there are magical views of towering mountain peaks and glaciers.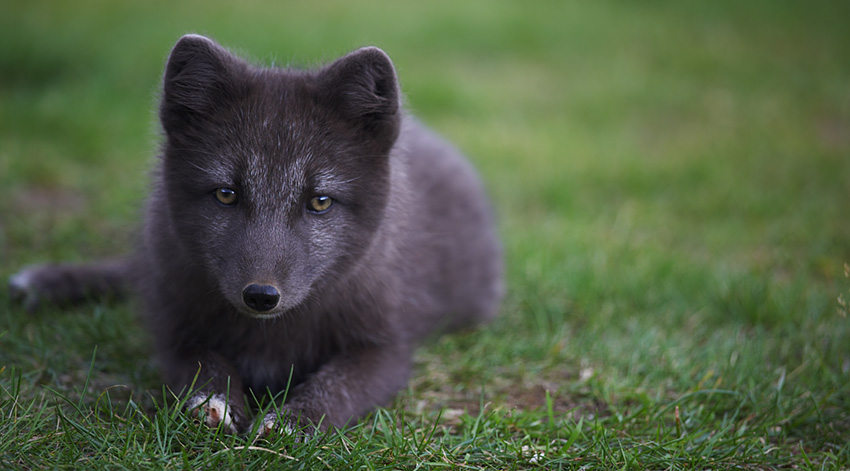 There are so many amazing and exciting possibilities to be discovered here that it really is difficult to choose between them – sometimes a combination tour or a longer tour is the only realistic choice!
If you want an easy adventure you can do that – if you want to experiences the extremes which Skaftafell can offer then go for it! Get ready to experience that moment of awe or to feel your adrenaline pumping.
Skaftafell Visitor Centre
If you need any help within the Skaftafell area you can get it by visiting the Skaftafell Visitor Center. It is located right at the edge of the Parking lot and there you can get information, shop souvenirs and get your energy bar filled up at their cafeteria.
The people working at the Visitor Center are super helpful and friendly and if you are shy about asking them endless questions, ask for the documentary they show in the back, it's free!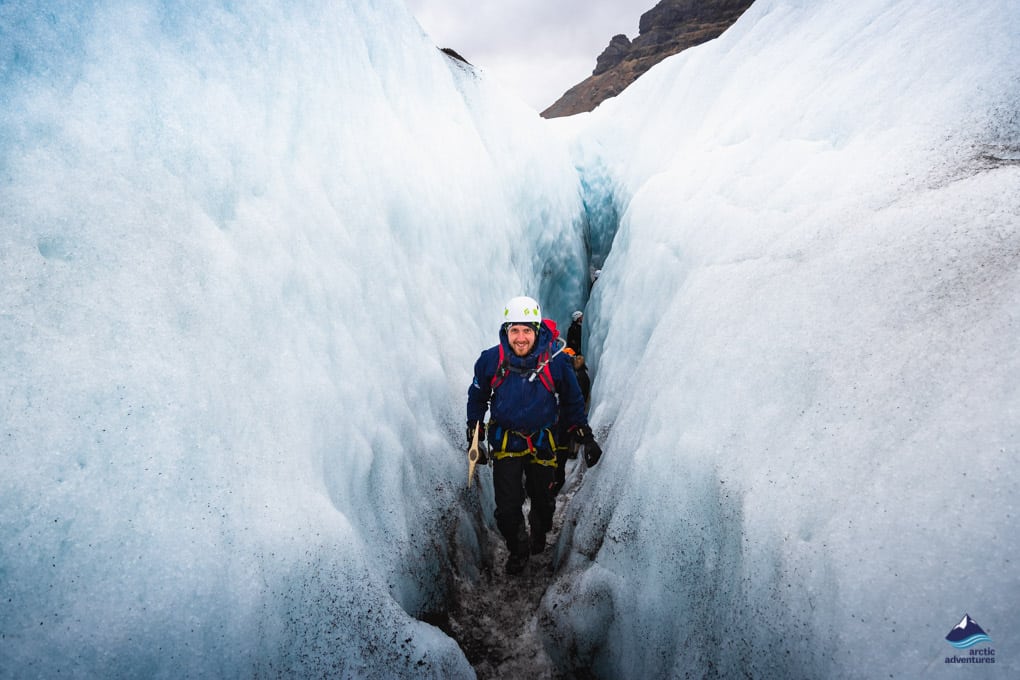 Right next to the Skaftafell Visitor Center you will find Glacier Hiking Booking Centers.
Arctic Adventure's center is marked with the logo and our knowledgeable staff members are always there to help with choosing the right tour for you. 
Whether you want to do a short glacier walk to simply touch a glacier or go full force into exploring the ice formations high on the glacier the guides can take you. 
Opening hours for Skaftafell Visitor Centre:
January – February: 10-18
March – April: 11-16
May: 9-18
June – August: 8-19
September: 9-19
October: 9-18
November – December: 10-18
Contact information:
Vatnajökull National Park
Skaftafellsstofa
785 Öraefi
ICELAND
Tel: +354 4708300
Skaftafell Waterfalls
With the grandiose glacier Vatnajökull resting right above Skaftafell, the rivers of meltwater are inevitably a part of the scenery.
Luckily these rivers run through the sort of terrain were they sometimes reach a genuine height and eventually drop down in a stunning matter, Svartifoss and Hundafoss are two excellent samples of these drops.
Svartifoss Waterfall
Svartifoss Waterfall is an incredible and awe-inspiring waterfall found inside Skaftafell hidden in a floral utopia behind birch trees and yellow buttercups.
The name translates to Black Waterfall and you will know exactly why when the dark volcanic basalt columns start to appear. The architect Guðjón Samúelsson, the mastermind behind Hallgrímskirkja Church in downtown Reykjavík, took great inspiration from the waterfall.
Down in the center of the black bow, an elegant but narrow cascade of about 20 meters (65ft) falls vertically down. The contrast of hexagonal black columns and the white water make up a magical setting!
The river, Stórilækur that feds  Svartifoss waterfall is made up from glacial meltwater that originates from Vatnajökull himself, the grandest glacier in the whole of Europe.
Hiking to Svartifoss Waterfall
From Skaftafell's parking lot, there's a marked trail to the waterfall. The walk to the falls is an easy 5,5 km (3,4 mi) long walk and the surroundings are beautiful.
The path will lead you through the camping ground to follow the pathway uphill to the viewing point over the waterfall.  
There you can get a good view of the horseshoe shapes hexagonal columns frame of the waterfall and can take some awesome photographs.
After a stop here you can go further down to explore the waterfall but be mindful of the signs and ropes that are there for nature's and your protection.
Hundafoss Waterfall
Only a few minutes before reaching Svartifoss waterfall you will find Hundafoss and is a great visit for those who aren't up for the walk to Svartifoss as Hundafoss doesn't require much effort to visit.
Hundafoss means Dog Waterfall and legend tells stories of dogs running down the river before floating off the waterfall when the river would swell due to glacial meltwater.
Hundafoss lies along the path to Svartifoss and is well marked. The walk is about 1,5 km long and is open all year around.
Hiking to Hundafoss waterfall
Follow the sign leading you to Svartifoss from the Visitor Center through the camping site.
Once you start walking a bit uphill you will hear water flowing and at this point, you need to be on alert on your left. There will be a well-worn trail that will take you to the best place to view the waterfall.
Skaftafell Ice Cave in Winter
You have plenty of options for Ice Cave tours in winter in Skaftafell.
The Crystal Ice Cave has for long been the most famous and popular one but with new ones forming or reforming every winter others are catching up quite quickly.
Skaftafell in winter is a true ice cave paradise!
Hvanndalshnúkur
GPS: 64.011390°N, -16.678164°V
Rising at 2,110 meters (6,920 ft), Hvanndalshnúkur is Iceland highest summit. It is a pyramidal peak found at the North-Western edge of the summit crater of the stratovolcano Öræfajökull inside Skaftafell.
It is a pretty popular hiking trail to do but is a very challenging one and you can not go without someone who has great knowledge of the trail.
There are two general paths leading up the to the summit, one rather difficult and technical but the other one far less difficult and safer.
Accommodation and Hotels near Skaftafell
There are plenty of ways to spend the night in Skaftafell. Here's a list of the recommended accommodations in the area:
Hotels in Skaftafell Area
Hotel Skaftafell

Hof 1 Hotel

Fosshotel Glacier Lagoon

Fosshotel Nupar

Hotel Geirland

Icelandair Hotel Klaustur

Hotel Laki Efri

Magma Hotel

Hali Country Hotel
Cabins in the Skaftafell Area
Nónhamar

Hörgsland Cottages
Guesthouses in the Skaftafell Area
Lækjarborgir Guesthouses

Hvoll Guesthouse

Dalshöfði Guesthouse

Guesthouse Skálafell

Guesthouse Gerdi
Camping at Skaftafell
The camping site in Skaftafell is open all year round and the entrance to the camping site is on the west side of the parking lot.
Campers should check in and register before they start putting up their tent. You register right next to the entrance gate in summer but in the Visitor Center in winter.
The camping site opening hours are:

May: 9 am -10 pm
June – August: 8 am – 11 pm
September: 9 am – 10 pm
And vehicle entry is only allowed during these hours.
Movies, TV Shows or Music videos Filmed at Skaftafell
Movies
James Bond: A View to Kill (1985) Jökulsárlón Glacier Lagoon and Vatnajökull glacier, Roger Moore is seen skiing around the area when he spots a body before being spotted by a group of soldiers who shot at him.
Lara Croft Tomb Raider (2001) Jökulsárlón Glacier Lagoon is representing a frozen tundra in Siberia.
James Bond: Die Another Day (2002) Jökulsárlón Glacier Lagoon was once again used in the filming of James Bond, this time with Pierce Brosnan.
Batman Begins (2005) Vatnajökull glacier was used for the shots filmed for the scenes in the movie meant to be in the inaccessible mountains in Tibet. The training scenes were also filmed on Vatnajokull glacier.
The Secret Life of Walter Mitty (2013) Vatnajökull glacier represents Nepal in this famous Ben Stiller movie that represents Iceland in a fantastic way.
Interstellar (2014) Svínfellsjökull and Máfabót are representing two different planets in the blockbuster Interstellar.
TV Shows
Game of Thrones (2012) Svinafellsjokull Glacier was first used in Season 2 to represent the snowy landscapes of Beyond the Wall.
Music Videos
Elliphant – Down on Life (2012) Jökulsárlón Glacier Lagoon is one of the locations chosen for this video including Snæfellsnes and the Blue Lagoon.
New Politics – Tonight You're Perfect (2014) This Danish Rock Band filmed all over Iceland including Jökulsárlón Glacier Lagoon.
Gerua – Shah Rukh Khan (2015) In this romantic video the couple dances and embraces all over the South Coast in Iceland including Jökulsárlón Glacier Lagoon.
Justin Bieber – I'll Show you (2016) in the video Justin is seen going all over the South Coast in Iceland to Jökulsárlón Glacier Lagoon, the Plane Wreck at Sólheimasandur, Fjaðrárgljúfur and the waterfalls Skógafoss and Seljalandsfoss.
Interesting Places near Skaftafell
Skeiðará Bridge Monument

Hvannadalshnúkur

Mt. Lómagnúpur

Öræfajökull Glacier

Hofskirkja Church

Heinabergslón Glacier Lagoon

Núpsstaður

Kálfafell Hamlet

Foss á Síðu Waterfall

Kirkjubæjarklaustur Village

Kirkjugólf basalt columns

Systrafoss Waterfall

Stjórnarfoss Waterfall

Sjónarnípa