Travel photos from Solheimajokull glacier
Fun Facts about Sólheimajökull Glacier
The name, Sólheimajökull means,

 

home of the sun glacier

.

Sólheimajökull is an outlet glacier from the mighty Mýrdalsjökull icecap.

Sólheimajökull is an outlet glacier from Mýrdalsjökull, Iceland's fourth largest glacier.
Where is Solheimajokull located?
Sólheimajökull is 158 km south of Reykjavík. From an easterly direction, Höfn is 302 km, Jökulsárlón Glacier Lagoon is 233 km and the Skaftafell Visitor Center is 170 km.
The glacier is also near Vik, Iceland (30.7 km), Skógafoss waterfall (11.9 km), Seljalandsfoss waterfall (38.5 km), the black sand beach at Reynisfjara (31.8 km) and Reynisdrangar (31 km).
GPS coordinates of Sólheimajökull: 63.5569° N, 19.3028° W
How to get to Sólheimajökull?
There are a few different ways of going about getting to the majestic Sólheimajökull. The two easiest are joining a tour that picks you up in Reykjavík and takes you there for an epic adventure on the glacier OR getting a rental car and driving there yourself.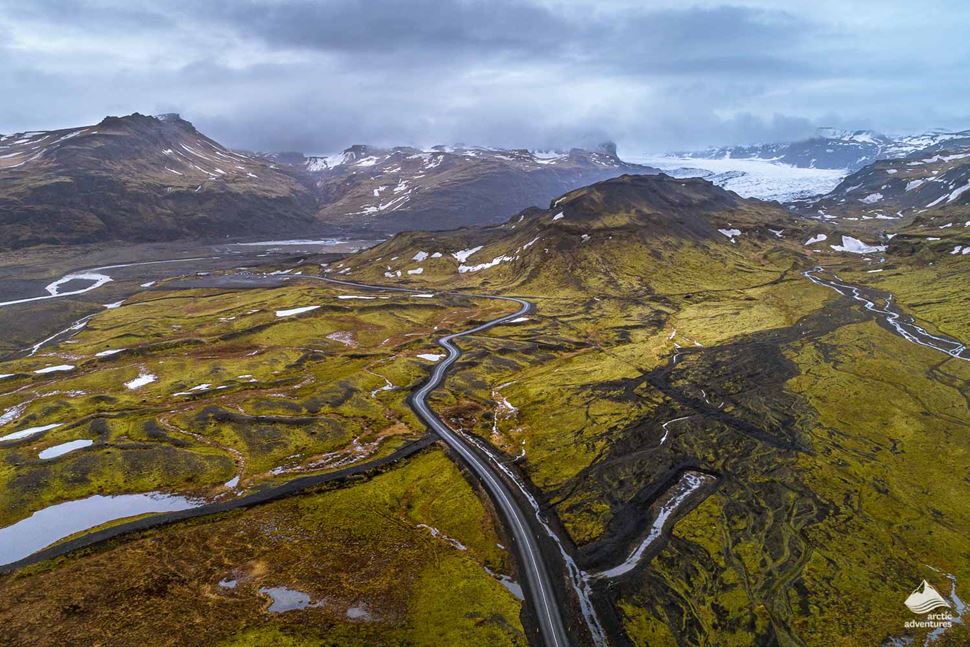 Driving to Sólheimajökull is relatively easy, you follow Ring Road 1 along the South Coast, through the towns Hveragerði, Selfoss, Hella, and Hvolsvöllur. Continue past the water wonders of Seljalandsfoss and Skógafoss into the black beach paradise of Sólheimasandur.
There you will start to spot the first sighting of the mother glacier, Mýrdalsjökull and next up is the pleasant ice mass appearing in the deserted no man's land of Mýrdalssandur beach.
Sólheimajökull Glacier Parking lot and Café
Parking is free at the Sólheimajökull parking lot. Make sure to stay within the marked parking areas and be mindful of other drivers.
There is a small café right next to the parking lot, the Sólheimajökull café offers some nice homemade baked goods and delicious coffee. A delightful treat for before or after your glacier adventure!
Sólheimajökull Weather
The weather would best be described in three sentences:
Milder than you would think

Cold glacial temperatures

Sunny… most of the time
Surrounding the glacier is somewhat of a mountain fortress which gives shelter to the glacier and makes the weather milder than you would think but that is not to say that if the wind gets forceful it will reach the glacier.
When this happens it isn't safe to walk the glacier and your tours will get rescheduled, notifying you via text. Still, most of the time the weather is great – after all, there is a reason for its name, Home to the Sun Glacier.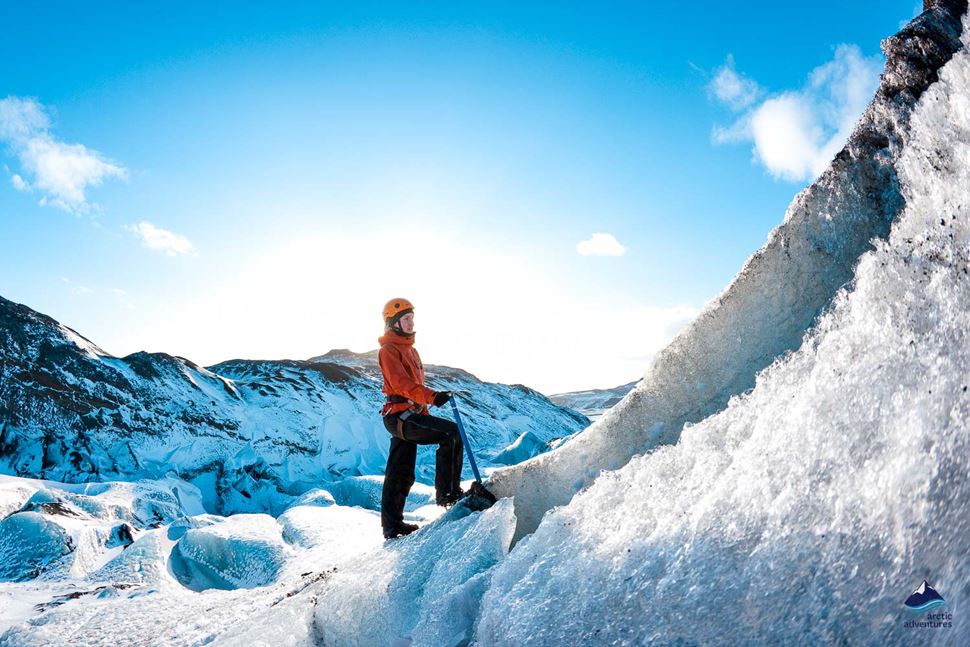 If you wish to follow the forecast yourself you can do so at the Icelandic weather forecast webpage.
Hiking on Sólheimajökull Glacier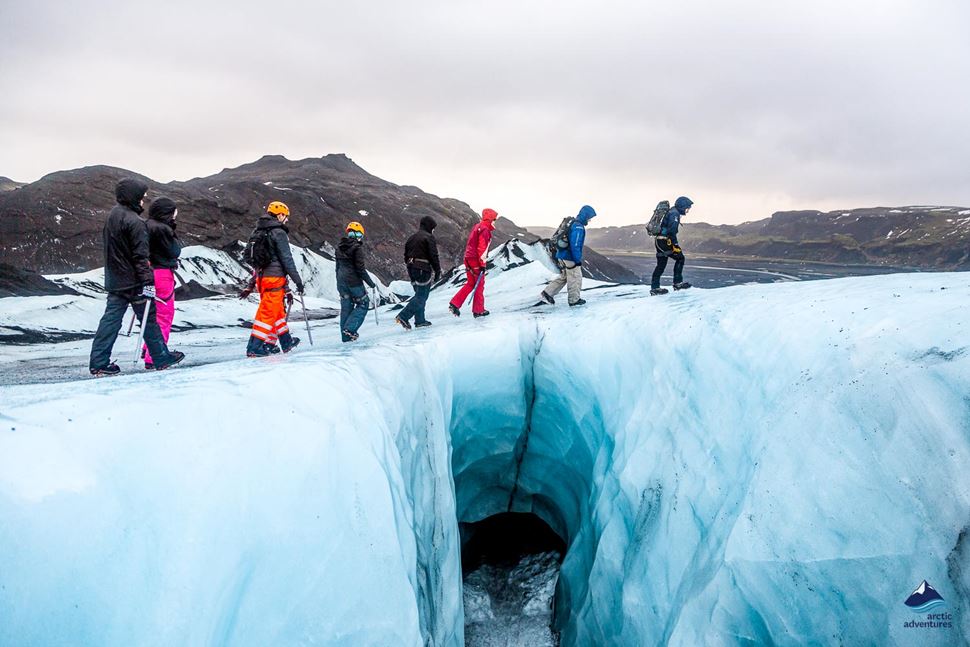 Glaciers can be dangerous. As they rapidly glide forward, their surface cracks. This results in many constantly-changing deep crevasses and fissures. To top it off, Iceland has hundreds of small earthquakes every day and many subglacial volcanoes.
Regardless how experienced a hiker you are, no one should attempt to venture out on a glacier without being accompanied by a local glacier guide who knows the terrain and is properly trained and equipped for these special circumstances.