What is Vidgelmir?
Vidgelmir is a lava tube cave. It's located beneath Hallmundarhraun Lava Field in West Iceland.  The cave was created by a massive volcanic eruption in 930 CE. The eruption lasted several years and spread lava over a 78 sq-mi (200km2) area. 
Vidgelmir is the largest lava tube in Iceland, with a volume of more than 5 million cubic feet (150,000 cubic meters). It's 1585 m. (5200 ft.), 15.8 m. (52 ft.) at its highest and 16.5 m. (54 ft.) wide.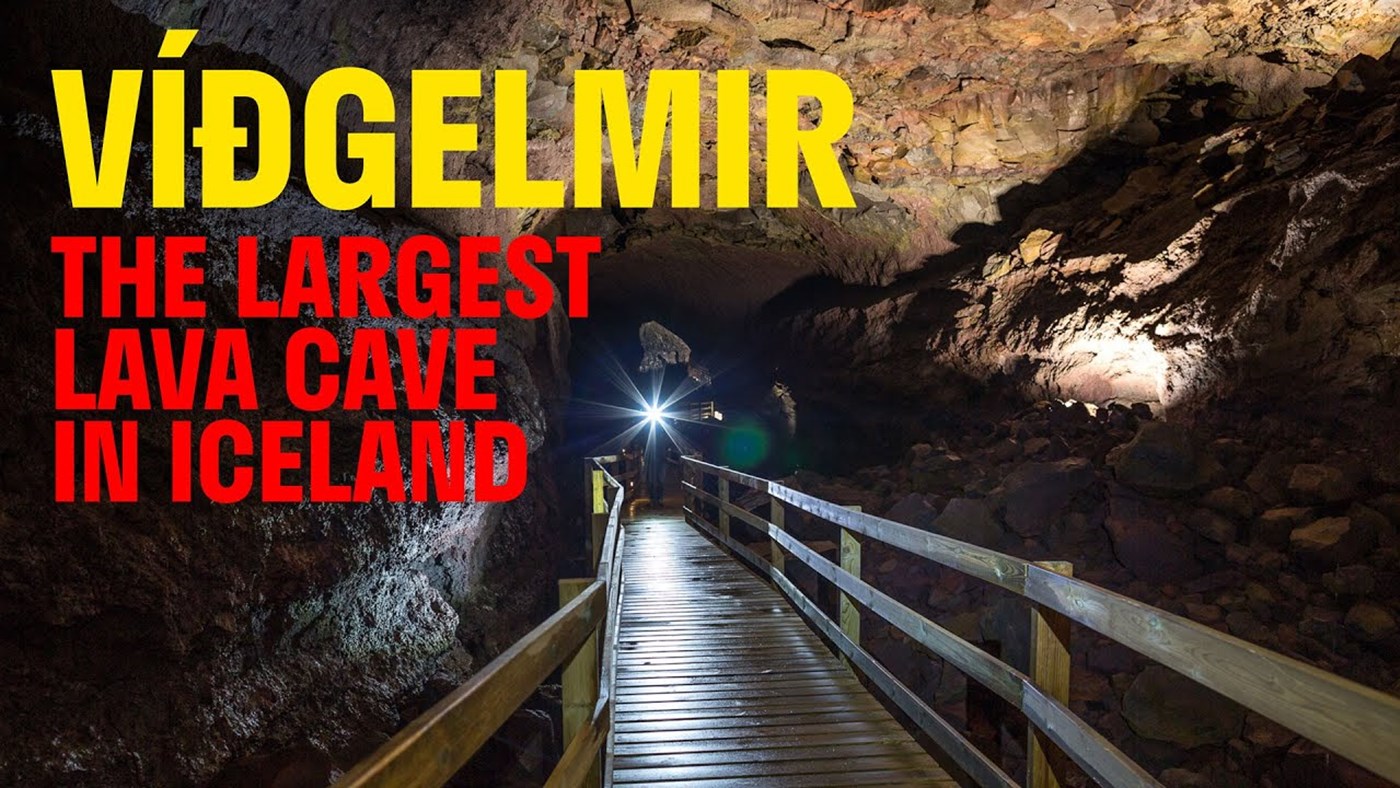 How was Vidgelmir formed?
A lava tube cave is formed when the outer layer of a lava river cools. This creates a solid shell around the molten lava. The liquid lava then flows out of the solid shell, leaving behind a tube-shaped cave. Iceland has more than 500 lava tube caves.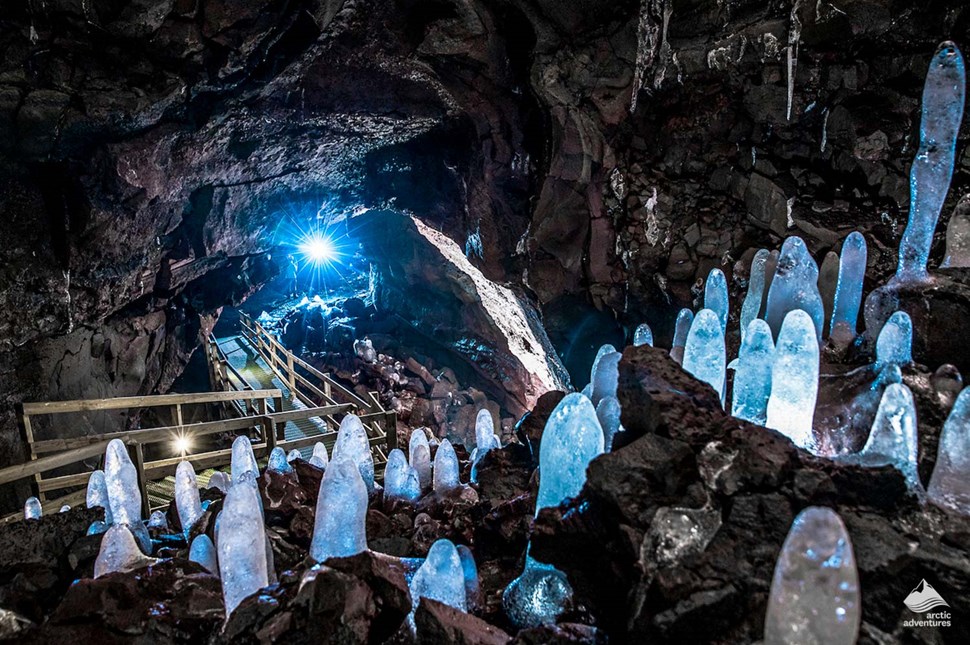 Vidgelmir contains many lava stalactites and stalagmites. Stalactites are formed when lava on the ceiling of the cave cools and drips towards the ground, like lava icicles. Stalagmites are formed when lava collects on the floor. Both of these lava formations are eerie and beautiful. 
Where is Vidgelmir?
Vidgelmir is located in Borgarfjörður in West Iceland. The cave is about 85 miles (136km) from Reykjavik and 215 miles (345km) from Akureyri. Nearby attractions include Langjökull Glacier, Snorralaug Hot Spring, and Snaefellsnes National Park.
GPS coordinates of Vidgelmir Cave: 64.7503° N, 20.8019° W
How to get to Vidgelmir
Vidgelmir can only be reached by car. The cave is located around 85 miles (136km) from Reykjavik. The drive will take you about two hours.
From Reykjavik, drive north along the Ring Road until you reach the charming village of Borgarnes. Then head inland. You'll pass by Deildartunguhver Hot Spring, Hraunfossar ("The Lava Falls"), and Húsafell until you reach Vidgelmir.
The Outlaws of Vidgelmir
For centuries, Icelanders have told tales about outlaws living in caves. Vidgelmir is proof that this really happened!
In the cave, researchers discovered human artifacts from the Viking Age. Exile was a common punishment at that time, and many outlaws were forced to live out their days in hiding. The artifacts from Viðgelmir are now in the National Museum of Iceland. 
Places to Stay Near Vidgelmir
The closest towns to Viðgelmir are Reykholt and Husafell. Here you can find great hotels, guesthouses, and campgrounds.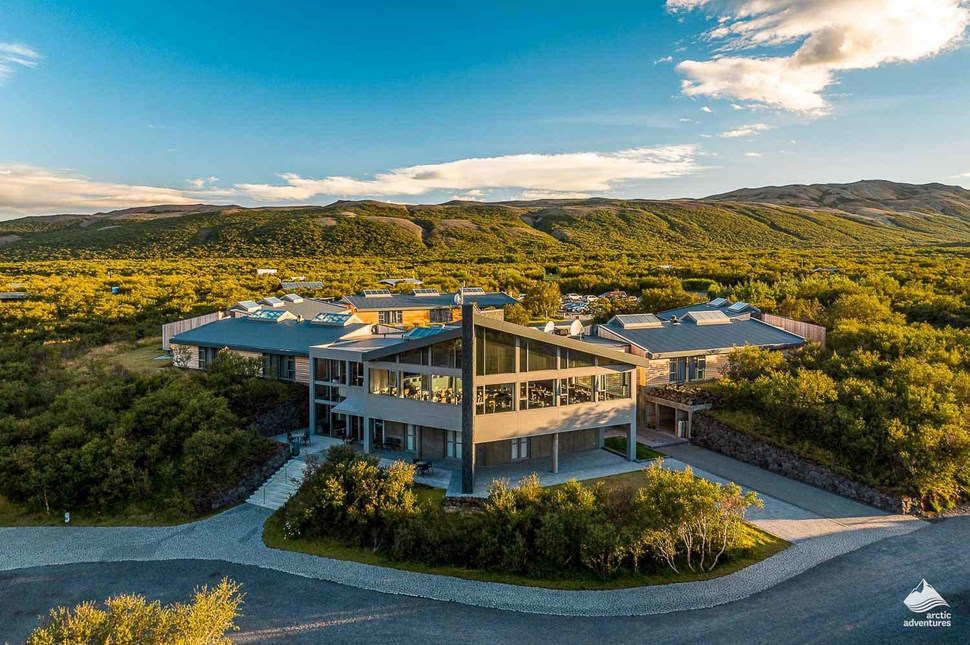 Hótel Húsafell – A three-star hotel on the site of a former farm. Rooms have scenic views of the surrounding nature.
Hótel Á – A simple three-star hotel in Reykholt, offering great value for travelers on a budget.
Fosshotel Reykholt – A three-star hotel on the site of Snorri Sturluson's farm in Reykholt. It offers exceptional views and good facilities.
Guesthouse Steindórsstadir – A charming guesthouse in Reykholt with basic facilities and great value.
Nes Guesthouse – This budget guesthouse in Reykholt provides great facilities at a bargain price.
Husafell Campsite – Husafell campsite is in the middle of a serene forest. The grounds provide 60 electrical outlets, restrooms, showers, hot and cold water, and laundry.
Places to Eat Near Vidgelmir
There are several good restaurants in and around the Viðgelmir area.
Hraunfossar Restaurant – A chilled-out café with stunning views. 
Brúarás GeoCenter – A modern restaurant serving local dishes. There is also a souvenir shop.
Husafell Bistro – A relaxed bistro with an excellent lunch buffet, ideal for travelers seeking a quick meal.
Hverrin – A charming farmer's market and restaurant serving traditional meals. Best of all, you can take the food to-go. 
Staldrið – This popular hotdog stand in Reykholt is ideal for a quick bite.
Safety and Etiquette at Vidgelmir
Vidgelmir is the easiest cave in Iceland to walk through. Still, there are a few rules to follow when visiting the cave.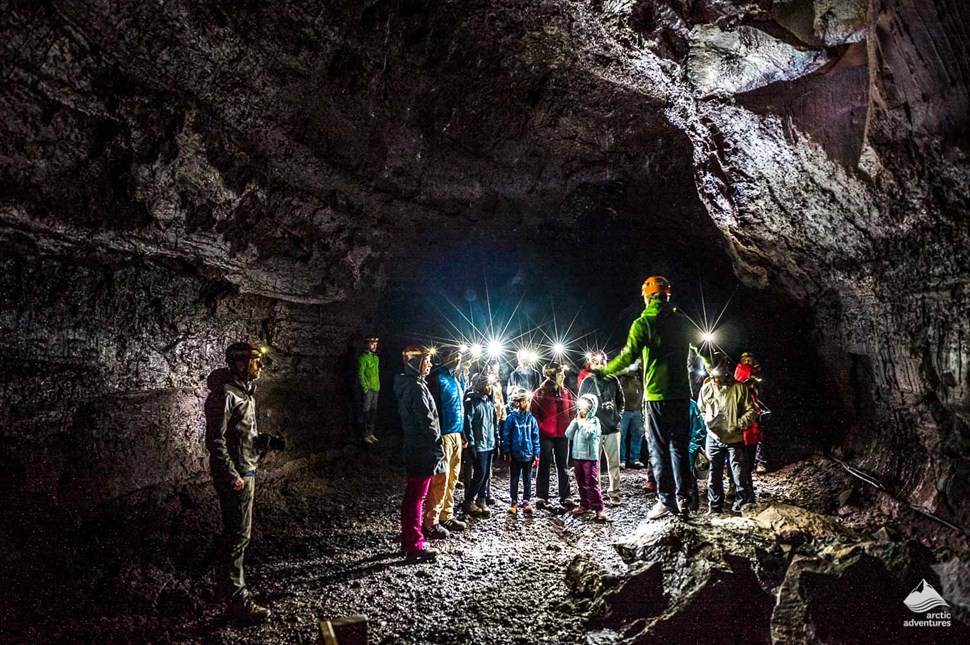 Safety
Vidgelmir is the easiest lava tube cave to visit in Iceland. It has a paved walkway and lights, making this cave tour accessible for everyone. Vidgelmir is so large that you won't need to stoop when visiting the cave. 
Rules in Vidgelmir
The stalagmites and stalactites in Vidgelmir are rare and irreplaceable. It's against the rules to interfere with them in any way. You will receive a large fine if you attempt to touch them or break them off. 
Caving in Vidgelmir
Vidgelmir is one of Iceland's most popular caving spots. On a guided tour, you'll see cave walls in stunning shades of ruby, turquoise, amber, and magenta. All around you, dramatic stalagmites and stalactites hang from the ceiling and rise from the floor. Ice sculptures form on the walls in winter, adding an extra layer of beauty to the scene. 
A paved walkway spans the entire length of Vidgelmir, making the walk safe and easy. The real thrill happens when the guide turns out the lights, plunging the cave into total darkness.
Notable Attractions Near Vidgelmir
Vidgelmir is located in West Iceland, close to many other amazing sites. 
Hraunfossar ("The Lava Falls) – a series of incredible waterfalls flowing out of Hallmundarhraun Lava Field. The white water of the falls contrasts against colorful volcanic rock.
Deildartunguhver – Europe's most powerful hot spring pumps huge clouds of steam into the air. This is one of Iceland's most rare natural wonders. 
Husafell – This charming village in West Iceland is a hiker's paradise. 
Borgarnes – This cultural hub played a big role in the Viking settlement of Iceland. It's also considered the gateway to the iconic Snafellsnes Peninsula.
Barnafoss ("The Children's Falls) – The foggy cascade of this beautiful waterfall has a ghostly quality. The story behind the falls is even more haunting. 
Reykholt – In this charming village you'll find the famous Snorralaug Hot Spring. Reykholt was also home to Snorri Sturluson, one of the most important figures in Iceland's history. You can learn more about Sturluson and Medieval Iceland at the Snorri Museum. 
Langjökull Glacier ("The Long Glacier) – The second-longest glacier in Iceland is excellent for snowmobiling, ice caving, and glacier hiking.
Snæfellsnes Peninsula – This magical peninsula is home to Iceland's most photographed mountain and geothermal wonders. Snæfellsnes is called "Iceland in Miniature" and a great place to visit if your time in the country is limited.