To some Iceland is a hidden gem on its own, but once you have discovered it, you realize that there are countless equal treasures just waiting for you to visit. Aldeyjarfoss Waterfall surely makes it to this list of unbelievable attractions. Located at the northern tip of the Central Highlands, it's not easy to reach but certainly worth the effort.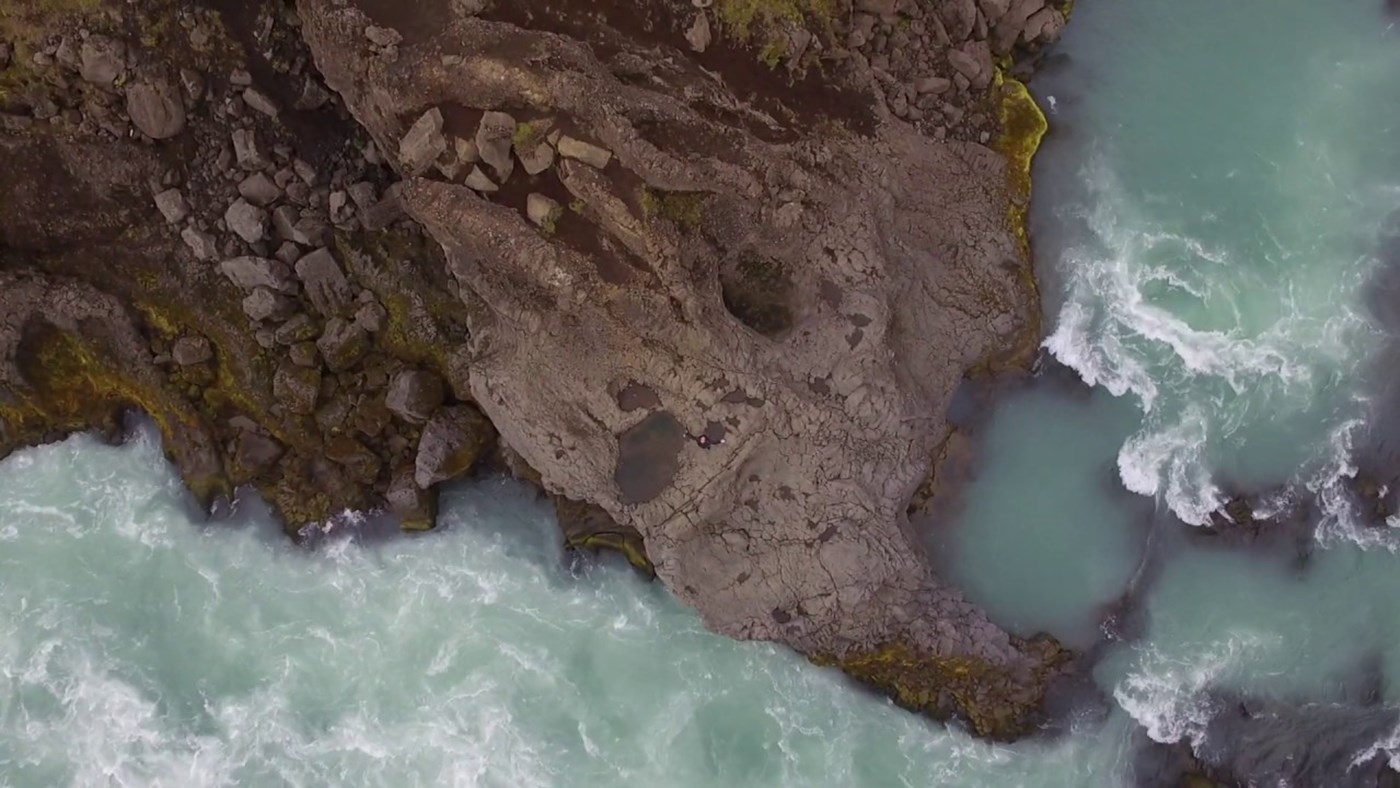 The backdrop of the waterfall is a black basalt rock cliff and right at the center of it the falls drop creating the most stellar display of contrasting colors. The height of Aldeyjarfoss isn't grand, only about 20 m (65,6 ft) but it's just as impressive as the taller cascades found all around Iceland.
Visit Aldeyjarfoss and connect with nature at another level. There is nothing around you but deserted landscapes and the waterfall, fed by a nearby glacier. The falls originate in the largest glacier in Europe, Vatnajökull and the river that flows through it is called Skálfandsfljót River. This is the same river as feeds Goðafoss Waterfall.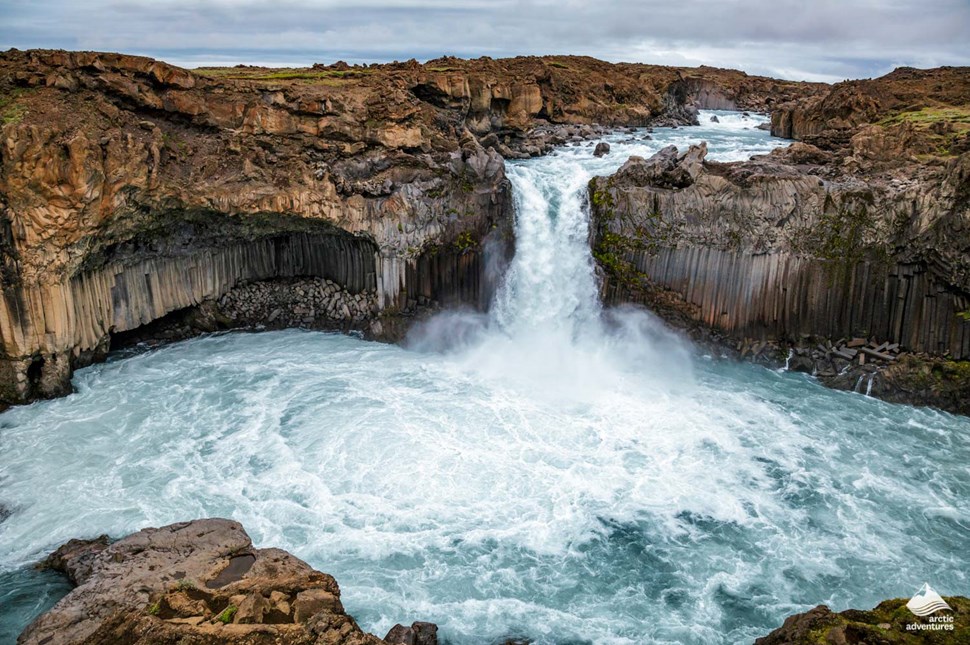 Fun Facts about Aldeyjarfoss
Aldeyjarfoss is often said to be similar to 

Svartifoss

 in 

Skaftafell, which inspired

the famous 

Hallgrimskirkja Church

 in downtown Reykjavík.

You can drive almost all the way up to Aldeyjarfoss.

The waterfall is fed by the largest glacier in Europe!

Aldeyjarfoss is often talked about as 

'the perfect photographer location in Iceland.

'

There is now a toilet at a parking lot.
Where is Aldeyjarfoss?
GPS POINTS N65° 22′ 0.699″ W17° 20′ 9.202″
Aldeyjarfoss is located in the northern part of the Icelandic Highlands right at the northern end of the mountain road Sprengisandur. It's about 75 km (46,6 mi) from Akureyri and about 40 km (24,8 mi) from the mighty Goðafoss Waterfall.
How to get to Aldeyjarfoss?
Driving to Aldeyjarfoss can be a bit challenging. First, make sure your rental car is allowed on F-roads. Second, check the weather and road conditions. Third, make sure you get there when it is still light outside. The waterfall is located in the middle of nowhere and there are no city or street lights to guide you.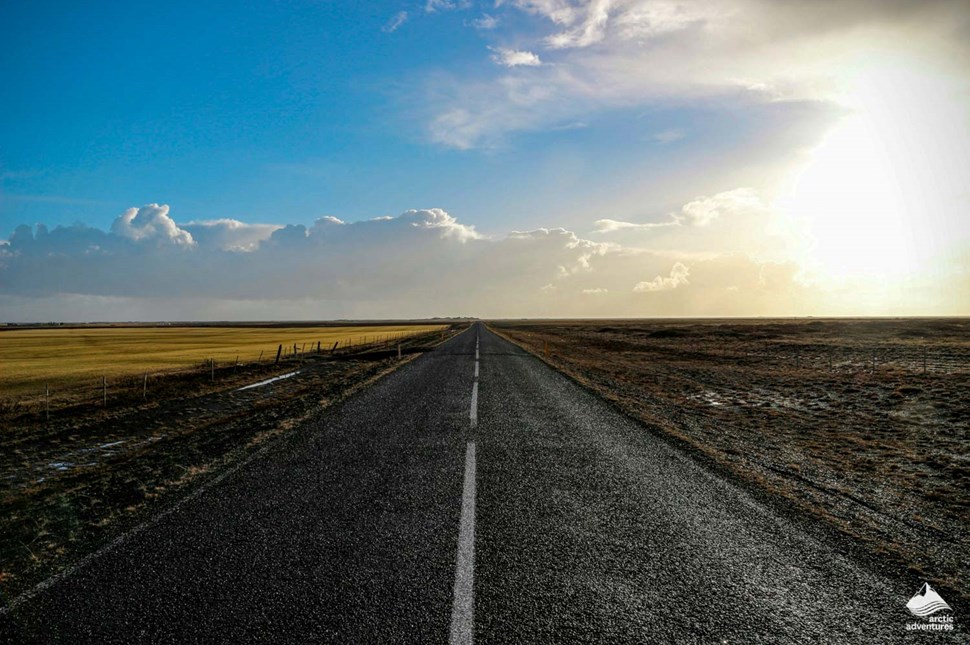 Driving from Akureyri to Aldeyjarfoss should take about 1 hour and 15 minutes. Follow the Ring Road (Route 1) in an easterly direction out from the town and make a right turn onto route 842. Continue on this road inland before making a turn to road F26, which takes you very close to the waterfall. 
Driving from Egilsstaðir to Aldeyjarfoss takes about 3,5 hours. Start by following Route 1 out from the town in a northerly direction passing Reykjahlíð and Mývatn. Then take a left turn to road 842 which you follow down into the highlands before being given the option to turn to road F26. It will take you almost all the way up to the waterfall.
From the parking lot, it takes about 10 minutes to reach your destination. Simply follow the narrow passage along Skjálfandafljót River and greeting you in a few minutes are the beautiful black basalt columns and the water-wonder of Aldeyjarfoss.
Note: The trip is doable without a 4×4 in the summertime but in winter you will need a 4×4 vehicle.
Where to eat near Aldeyjarfoss?
Finding a restaurant near Aldeyjarfoss is an impossible task, but the closest ones are at the town of Akureyri and around the nearby tourist attractions like Reykjahlíð, Mývatn, and Goðafoss.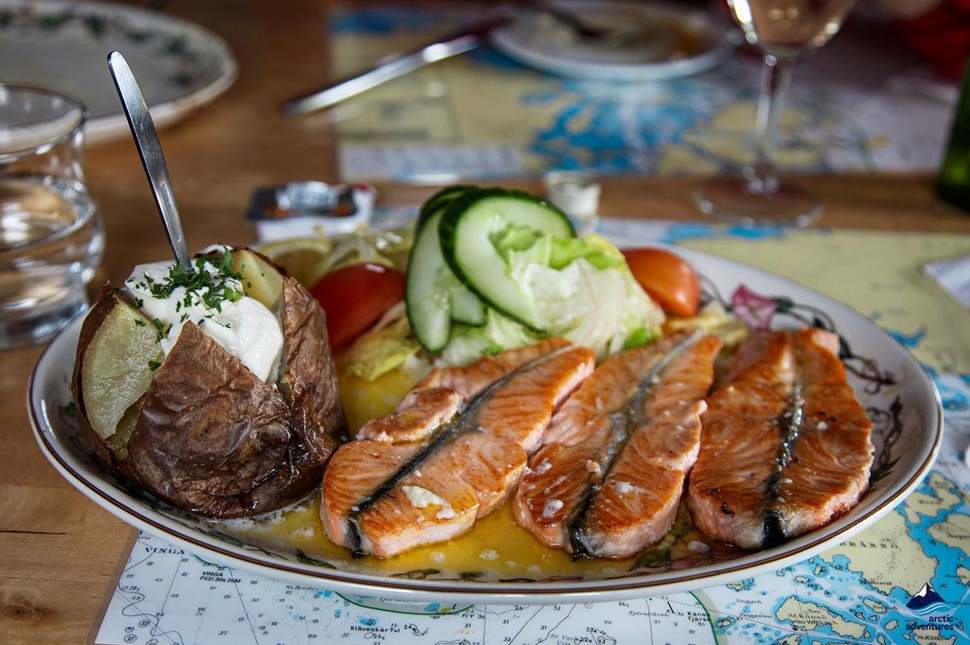 The nearest restaurant is about 50 km (31 mi) away from Aldeyjarfoss. So you might want to pack a lunch and have a picnic while visiting. Just make sure to take everything with you upon returning to your vehicle. There is a trash bin at the car park. We are really keen on maintaining the area in the 'untouched' shape it can be found today.
Where to stay near Aldeyjarfoss?
Hotels
Laxá Hotel

Hotel Mývatn

Hotel Edda Stórutjarnir
Guesthouses, B&Bs and Farmstays
Camping near Aldeyjarfoss
Camping Hamrar is the best-rated campground around Aldeyjarfoss and people simply love it! It has all the facilities one might need, including bathrooms, changing areas, showers, washing machines, dryers, cooking facilities, indoor sleeping loft, WiFi, electricity (1000 ISK per night), a playground, walking paths and a boat rental.
Sigríðarstaðir Campground is a lovely quite field. It's located close to Ljósavatn and you will pass in when making your way to Húsavík or Godafoss. The facilities are quite basic. This is the perfect place to stay for those looking for a relaxed environment.
Aldeyjarfoss in winter
Aldeyjarfoss is an incredible spot to visit in any season but in winter the path there can be difficult. Make sure you have a 4×4 vehicle and that you have researched the weather and road conditions before taking off. This does not mean checking a week earlier but very close to the journey as weather, wind, and trails tend to swift abruptly.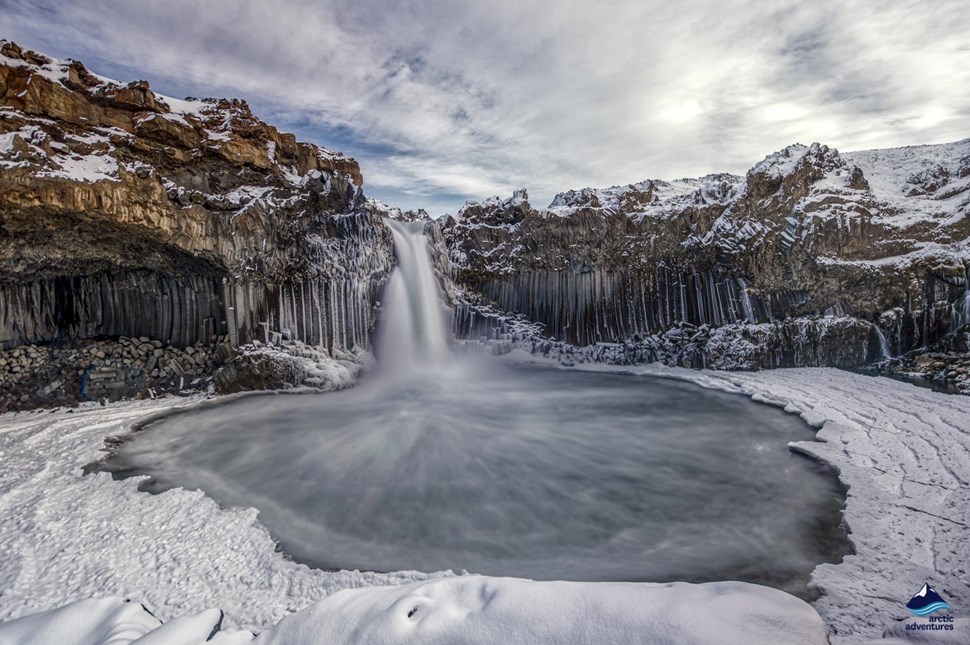 Interesting places near Aldeyjarfoss
Sprengisandur Mountain Road

Vatnajökull Glacier and National Park

Skútustaðagígjar Pseudo Craters

Reykjahlíð

Mt. Hverfjall

Askja

 and Víti Craters

Hrafnagil Village

All Around Christmas House in Eyjafjörður

Godafoss Waterfall

Akureyri