Iceland, the land of fire and ice, is well-known for its natural wonders and contrasting landscapes. Even though the country is quite small, nature lovers are absolutely spoilt for choice when traveling to Iceland as the island provides a truly diverse terrain. Let us guide you through the best places to visit in Iceland.
Iceland is home to majestic glaciers, roaring volcanoes, magical caves, stunning national parks, natural hot springs, the mesmerizing Northern Lights, craggy mountains and beautiful waterfalls.
Considering the sheer variety of experiences available to visitors, it can be somewhat overwhelming to decide where to go and what to see in Iceland, especially when you're short on time. That's why we compiled an overview of Iceland's highlights, which will allow you to create unforgettable experiences. Let's explore the best places to visit in Iceland!
Discover Diverse National Parks
Established to protect Iceland's unique geographical features, important cultural and historical heritage as well as diverse flora and fauna, Iceland currently counts three main national parks: Þingvellir, Snæfellsjökull and Vatnajökull. Iceland's national parks represent the country's efforts to preserve its natural beauty and ecosystem while also making these incredible and impressive landscapes accessible to the public and for future generations to enjoy.
Þingvellir National Park
Þingvellir National Park was established in 1930 and is Iceland's most historic site, as its where the oldest existing parliament in the world was founded in the year 930. This UNESCO World Heritage site lies along the border between the Eurasian and North-American tectonic plates, offering visitors a unique mix of sensational natural wonders. The tectonic plates drift further apart every year, influencing the creation of the park's unique rift valley and geological formations.
Snæfellsjökull National Park
Snæfellsjökull National Park, located on the Snæfellsnes Peninsula in west Iceland, was officially founded in 2001 and is the only Icelandic national park with a coastline. Due to the vast diversity of landscapes and sites that can be seen, the park is often referred to as "Iceland in a nutshell". Indeed, the magical beaches, dramatic sea cliffs and picturesque fishing villages make it a truly enchanting place.
Vatnajökull National Park
Vatnajökull National Park was formed in 2008 by joining together the Skaftafell National Park (est. 1967) and Jökulsárgljúfur National Park (est. 1973). Covering approximately 14% of Iceland and an area of over 14.000km2, Vatnajökull National Park ranks amongst Europe's largest. Additionally, the park is home to Europe's tallest glacier and most powerful waterfall (Dettifoss) as well as Iceland's highest mountain (Hvannadalshnúkur).
---
Escape into Iceland's Stunning Nature Reserves
Like Iceland's national parks, nature reserves are established to protect the natural features of the country (both landscapes and wildlife) so that future generation will have the opportunity to enjoy them as much as we do today. In order to achieve these objectives, it's essential to prevent the local ecosystem from being damaged.  
Fjallabak Nature Reserve
A protected area since 1979, Fjallabak Nature Reserve is located in the Icelandic highlands that surround the popular hiking destination of Landmannalaugar. The desolate wilderness, colorful mountains and geothermal valleys, as well as a combination of volcanic activity and tranquillity, are the main characteristics of the Fjallabak Nature Reserve. With rivers, lakes and lava fields also on offer, it's the perfect place for nature lovers and hiking enthusiasts.
Hornstrandir Nature Reserve
Hornstrandir Nature Reserve (est. 1975), in the northwest of Iceland's Westfjords, is known for its remote setting, precarious sea cliffs, flowering fields and rough mountains. Due to its incredibly rich, but fragile vegetation, the nature reserve has some of the strictest preservations rules in Iceland and can be only accessed by boat and explored by foot as there are no roads. Here, visitors have the opportunity to spot a variety of animals, including arctic foxes, seals, whales and about 30 different species of birds.
Þórsmörk Nature Reserve
Þórsmörk Nature Reserve is a magnificent lushly vegetated mountain valley in the south of Iceland between the rivers Krossá, Þrönga and Markarfljót. The nature reserve, which has been protected since 1921, enjoys a warmer, gentler and more favorable climate than nearby areas, due to the surrounding glaciers Tindfjallajökull, Eyjafjallajökull and Mýrdalsjökull. That's why a dazzling variety of vegetation grows here, including birch trees, moss and ferns. The mind-blowing valley is also the start and end point for the famous Laugavegur hiking trail. Nourish your mind, body and spirit when exploring Þórsmörk valley.
Hveravellir Nature Reserve
Hveravellir Nature Reserve, protected since 1965, is nestled between the two big glaciers Langjökull and Hofsjökull. Situated an impressive 650 meters above sea-level, this highland geothermal area, complete with smoking fumaroles and bubbling hot springs, is one of Iceland's most popular oases. Recharge and relax in unspoiled nature after walking through this unique landscape which has been formed by lava and ice over the course of millions of years.
---
Enjoy a Relaxing Bath in a Natural Thermal Pool
A visit to Iceland isn't complete without taking a relaxing bath in a natural thermal hot spring. Due to unlimited access to Iceland's numerous hot springs and natural thermal pools, this task isn't hard to accomplish. Additionally, almost all of Iceland's swimming pools are geothermally heated and are therefore warm all year 'round. Bathing in a hot spring isn't just a summer thing in Iceland. Even during winter, and despite the cold temperatures, sitting in a thermal pool is a truly amazing experience.
The Blue Lagoon
The Blue Lagoon is without a doubt the best-known geothermal spa in Iceland and one of the most visited tourist attractions that the country has to offer. Located on the volcanic Reykjanes Peninsula, the lagoon's soothing and milky blue water is rich in silica, algae and other minerals that are believed to have healing properties. Due to its popularity all year 'round, it's essential to pre-book tickets when you want to de-stress and unwind in the warm (approx. 39°C) water.
The Mývatn Nature Baths
The Mývatn Nature Baths can be considered the Blue Lagoon of the north. Its remote location though, makes it less touristic and therefore more intimate. The warm, soothing mineral water benefits both skin and spirit and has the perfect temperature of about 36-40°C. Even though it takes approx. 6 hours to reach the Mývatn Nature Baths, the magnificent and diverse area surrounding it, is worth the drive.
The Secret Lagoon

The Secret Lagoon, located on the Golden Circle, is Iceland's oldest, all-natural swimming pool. Built in 1891, used until 1937 and forgotten for almost 60 years, the Secret Lagoon was rediscovered and renovated in recent years. Even though the Secret Lagoon is not that secret anymore, as the name would imply, it's a great place to relax. The water is a comfortable 38 – 40°C all year round, the changing facilities are clean and well-kept, and the surroundings give the lagoon a very calm atmosphere.
Nauthólsvík Geothermal Beach
Nauthólsvík Geothermal Beach is a golden man-made sand beach located within walking distance of downtown Reykjavik. Opened in 2001, the geothermal beach attracts over half a million guests each and every year. Entry is free during summer months (mid-May until mid-August). During the winter months, a small fee applies to use the changing rooms. This family-friendly beach offers a geothermally heated ocean, hot tub, steam bath and sauna, as well as a snack bar and grilling facilities.
Reykjadalur
Reykjadalur, also known as steamy (Reykja) valley (dalur), is located in the south of Iceland and is one of the country's largest active geothermal areas. Unlike other hot springs, Reykjadalur is composed of little streams instead of pools. To access the truly hidden gem, you have to hike for around 45 to 60 minutes. On the way, you'll bypass bubbling mud pots, a waterfall and spectacular mountain scenery. Please note that there are no changing facilities at the geothermal river itself.
---
Find Spectacular & Beautiful Waterfalls
Iceland is well-known for its numerous, stunningly beautiful and spectacular waterfalls. There are so many that the smaller ones don't even have a name. Each of Iceland's waterfalls is different in size and shape, but equally breath-taking, making it tricky to choose which ones to visit. Many of the waterfalls are very easy to access, while others require a bit more effort to reach.
Dettifoss
Dettifoss, alleged to be Europe's most powerful waterfall, can be found in Vatnajökull National Park in the northeast area of Iceland. Situated on the Jökulsá á Fjöllum river, Dettifoss is a colossal 100 meters wide and 45 meters high waterfall. The waterfall is surrounded by a popular hiking destination and can be approached from the east and the west side. Bear in mind, the eastern route is considered to be a bit safer, so is a better option for first-time visitors.
Seljalandsfoss
Seljalandsfoss is one of the most famous and scenic waterfalls in Iceland. Originating from the melting ice that covers Eyjafjalljökull Glacier, the 60-meter-high waterfall looks as stunning from afar as it does up close. Additionally, Seljalandsfoss has an extra extraordinary feature: a small cave behind the waterfall allows you to go right behind it. Please note that the path has to be closed sometimes due to safety issues. You can also visit the Skógafoss waterfall which is equally stunning and just a 10-minute drive from Seljalandsfoss Waterfall.
Dynjandi
Dynjandi is known for being the most beautiful and tallest waterfall in Iceland's Westfjords. Located in a fairly remote part of the country, the magnificent and thunderous waterfall cascades from around 100 meters. It is 30 meters wide at the top and 60 meters at the bottom. Unlike most other waterfalls found in Iceland, Dynjandi cascades slowly through the rock instead of dropping in a free fall column. To reach the Dynjandi waterfall, you need to hike for approximately 15 minutes.
Morsárfoss
Morsárfoss is Iceland's tallest waterfall, measuring approximately 240 meters in total height. For many years the Glymur waterfall was considered Iceland's tallest at 198 meters. Located in Skaftafell in the southeast of Iceland, the Morsárfoss waterfall was only discovered quite recently. The falls were formed and became visible due to the melting of the Morsárjökull glacier (an outlet glacier of the Vatnajökull glacier). However, reaching the impressive waterfall is extremely dangerous which is why you can only see the waterfall from a distance.
Gullfoss
Gullfoss, also known as the Golden Waterfall, is located on the famous Golden Circle route and one of the most photographed waterfalls in the country. Fed from the Langjökull Glacier, the water from the Hvítá river cascades 32 meters down the Gullfoss waterfall in two stages. Those who are visiting the breathtaking two-tiered waterfall on a sunny day will be delighted by shimmering rainbows.
---
Take a Walk on the Beach
As it sits on the edge of the Arctic Circle, beaches aren't the first thing most people associate with the land of ice and fire, but Iceland counts many incredible, mysterious and enchanting beaches along its coastline. Due to volcanic activity, most of Iceland's beaches are black in color. The unique sceneries and waterfronts excite thousands of visitors every year. Additionally, Iceland is also home to some white, red and golden sanded beaches. However, all beaches provide breathtaking views. When visiting one of these beaches, you need to remember that the sea is extremely dangerous due to heavy currents and cold-water temperature. Swimming is therefore absolutely not recommended.
Reynisfjara Black Sand Beach

Reynisfjara is Iceland's most famous black sand beach. It is easy to access and offers stunning views.  Located on the south coast and close to Vík, you'll find unique rock formations, basalt caves, smooth pebbles and powerful Atlantic waves that add some special effects to the atmosphere. Even though it's beautiful and worth a visit, Reynisfjara is also one of the most dangerous beaches in Iceland. When visiting, take the warning signs seriously and never turn your back to the sea as it is quite unpredictable, and waves can suddenly rush in.
Diamond Beach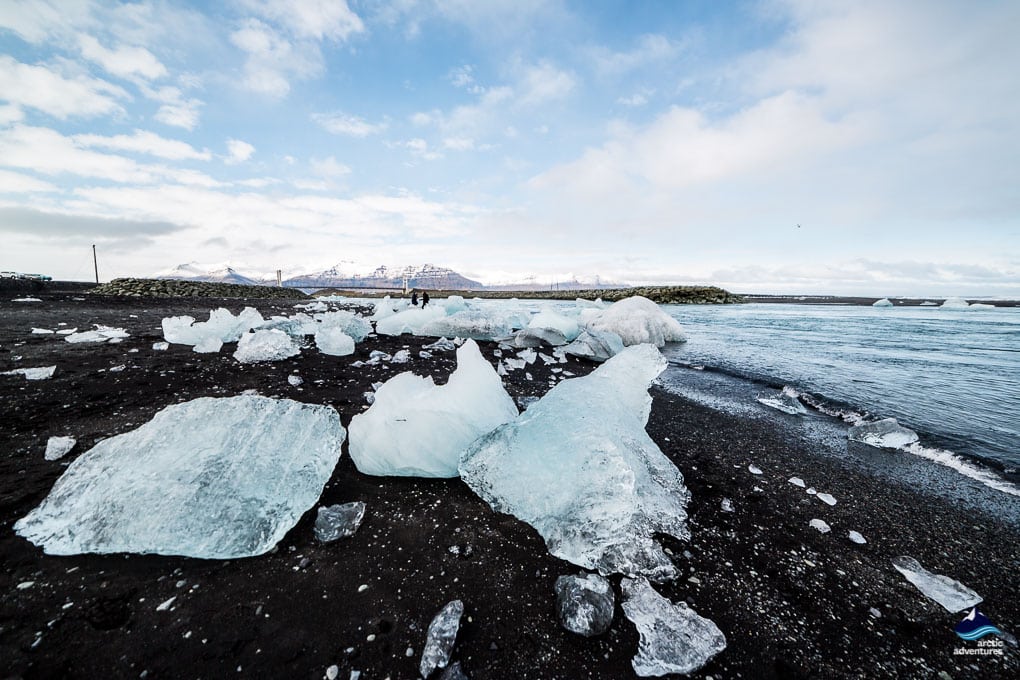 Diamond Beach is truly one of the most unique beaches you'll find in Iceland. Located on Jökulsárlón Glacier Lagoon just off Iceland's Ring Road, the pure black sand beach is covered with blue and white icebergs that look like precious diamonds. After breaking away from the glacier, the icebergs float through the lagoon until the tide carry them onto the coast, making it a surreal and visually appealing scene. With a little luck, you can see orca whales and seals from the shoreline.
Rauðasandur
Rauðasandur is a beautiful and remotely located red sand beach located in the Westfjords. Situated beside the Látrabjarg bird-cliff, this tranquil beach is the perfect place for a calming walk while watching the birds. Depending on the weather and day, the sand can vary from white, orange, yellow or even red. Getting to Rauðasandur requires a bit of effort as you have to take a steep gravel road, hike for a kilometer and cross a wide river, but the trek is well worth it.
---
Photograph Gigantic Mountains & Canyons
Iceland is a country of a varied and interesting landscape which is dominated by fascinating mountains of different shapes and sizes. Due to Iceland's volcanic and glacial activity, the country is indeed very far from being flat. Iceland is filled with interesting rock sculptures, lava formations, volcano mountains of different textures, colors and thickness, a true paradise for hiking enthusiasts. Found at the top of Vatnajökull Glacier, Hvannadalshnúkur is 2,110 meters tall and officially the highest summit in all of Iceland.
Ásbyrgi
Ásbyrgi is a gigantic and spectacular horseshoe-shaped canyon located in Iceland's northeast. The canyon measures 3.5 kilometers in length and 1.1 kilometers in width. The plateau that rises from the centre, allows for some amazing views as well as great photographs. The valley is not only beautiful when viewed from the 100-meter-high cliffs that surround the valley, but also from within. The verdant valley is very different from the rest of Iceland's landscape as it is richly filled with pine, birch and fir forests.
Fjaðrárgljúfur Canyon
Fjaðrárgljúfur Canyon is a magnificent 100 meters deep and two-kilometer long canyon. Located in southeast Iceland, not far from the Ring Road, the canyon was formed about 10,000 years ago by progressive erosion and flowing water from a glacial lake. A small freshwater stream, Fjaðrá runs through the valley. The canyon is characterized by its sheer, turning, and twisting walls that are home to a few waterfalls. A hike is strongly recommended as the view is truly breathtaking and constantly changing.
Mount Esja
Mount Esja is located close to Iceland's capital. Rising 914 meters into the sky, it dominates Reykjavik's skyline. Mount Esja is easily accessible via bus and therefore a popular destination for day hiking, especially when your time on the island is limited. The volcanic sediment and basalt made mountain provides different routes up, depending on your level of skills and experience. Reaching the summit, you'll be rewarded with an amazing view of the city.
Mount Kirkjufell
Mount Kirkjufell, also known as the Church Mountain, is a uniquely shaped peak located on Iceland's Snæfellsnes Peninsula. Kirkjufell rises 463 meters above sea level in an unusual, long and conical shape. Due to its dramatic formation and isolated coastal location, it is the most photographed mountain in the country and was also used as a film location for the hit TV show Game of Thrones. There is also a hiking trail leading to the top of the mountain which takes approximately one and a half hours to trek each way.
---
Take a Round Trip
Most of Iceland's attractions are located by the main routes and many can be found by the Ring Road, or Route 1, a national road which runs around the country's perimeter for a total length of 1,332 kilometers. Other popular itineraries are the Golden Circle and the Diamond Circle. With Arctic Adventures you can discover these routes joining a guided tour or going on a self-drive tour with accommodation and rental car included.
The Golden Circle
The Golden Circle is one of the most popular sightseeing routes around Iceland. The Golden Circle route covers about 300 kilometers and features a number of the most popular landmarks in southwest Iceland including Þingvellir National Park, Gullfoss Waterfall, Kerid Crater Lake and Haukadalur Geothermal Area.
You can easily drive the whole circle in a day as it takes approximately 4 to 5 hours to complete. If your time on the island is limited, driving the Golden Circle is a great way to see many of the highlights Iceland has to offer.
The Diamond Circle
The Diamond Circle is a popular sightseeing route around Lake Mývatn and Húsavík. It is considered the north-eastern alternative to the Golden Circle, but less well known and therefore less touristy.
The main attractions along the way are Lake Mývatn, Dettifoss Waterfall, Ásbyrgi canyon and the fishing town of Húsavík. The Diamond Circle covers approximately 260 kilometers and can be easily completed within a day, even when stopping several times along the way to enjoy the fantastic views.
The Ring Road
Iceland's Ring Road, also known as Route 1, is Iceland's main road that circles the entire island and connects all major towns and cities. Completed in 1974, the Ring Road's total length is 1,332 kilometers.
Theoretically, it's possible to drive the Ring Road in about 16 hours, but as there are so many things to see along the way, it's recommended to take at least a week to complete the whole thing. For almost all of its length, the road is paved and two lanes wide, but some parts are still made up of unpaved gravel surface. The Ring Road is open all year 'round, but some sections are closed during winter due to heavy snow.
---
Enjoy the Tranquility of a Glacier Lagoon
Glacier lagoons are glacial lakes decorated with floating icebergs of different shapes and sizes. Located at the end of a glacier tongue, these lagoons form when the glacier starts to melt and break into pieces. These icebergs then float slowly through the lake until they reach the ocean where they melt at some point. This unique natural phenomenon can be enjoyed from land, but also from the water. Accompany a boat tour for breathtaking views, to see the glittering icebergs from up close and to enjoy the tranquillity of the glacier lagoon.
Jökulsárlón Glacier Lagoon
Jökulsárlón Glacier Lagoon, situated in the Vatnajökull National Park, is one of Iceland's most visited and admired natural wonders that is easily accessible via the Ring Road. All year long, the lagoon is filled with crystal clear blue water and floating icebergs of different shapes and sizes. The glacial mountain scenery in the background makes it a truly fairy-tale setting. Due to the ever-growing effect of climate change on Iceland's glaciers, the lagoon increases each year in size and is the country's deepest lake.
Fjallsárlón Glacier Lagoon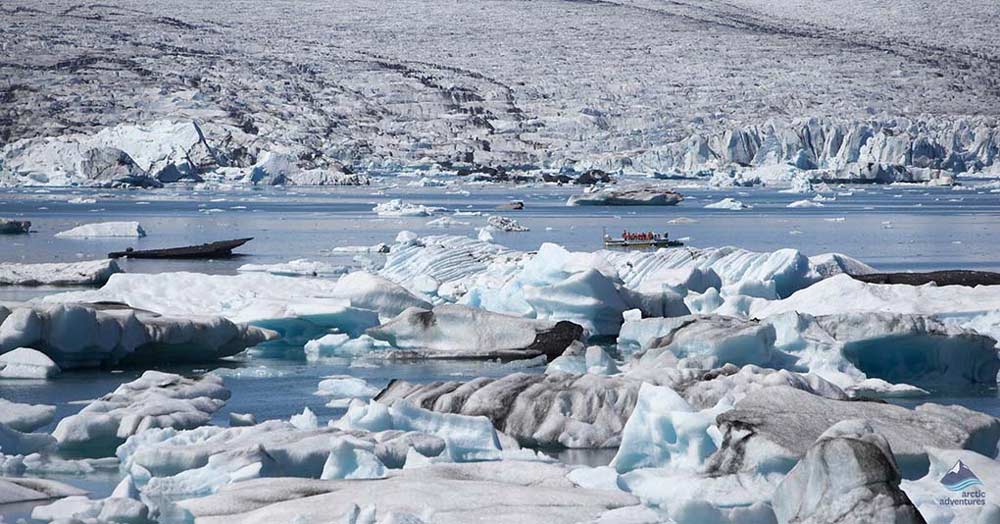 Fjallsárlón Glacier Lagoon is located just 10 kilometers west from the famous Jökulsárlón Glacier Lagoon, originating also from the Vatnajökull Glacier. Even though Fjallsárlón is only a tenth of its neighbors' size, it's equally beautiful with its glittering floating icebergs. Due to its smaller size, you are closer to the glacier and have a much better view of the whole lagoon. Besides this, the main advantage of Fjallsárlón is that it's less known, thus less crowded, so that you can enjoy the tranquility of the lagoon.
---
Visit Majestic Glaciers
Glaciers are Iceland's greatest frozen attraction, and also one of the most mysterious natural wonders on Earth. As roughly 11% of the country is covered with ice, Iceland is without a doubt a glacier paradise. With 269 named glaciers, Iceland is home to almost all types: ice caps, outlet glaciers alpine and ice streams, just to name a few. It's easy to identify a glacier in Iceland's toponymy, as the Icelandic word "jökull" means "glacier".
Glaciers are huge structures of ice that only form in places where fresh snow never melts, even though many of Iceland's glaciers lie above (active) volcanoes. Iceland's glaciers are accessible all year 'round but shouldn't be visited or hiked on without a trained and certified guide. There are various glacier tours that will take you up close to these icy giants.
Vatnajökull Glacier
Vatnajökull Glacier (the water glacier) is not only Iceland's largest icecap but also the biggest in all of Europe. With an area of 8,100 km2, this majestic glacier covers 8% of the entire country! Vatnajökull is home to Iceland's highest peak, Hvannadalshjukur has around 30 outlet glaciers and hides several volcanos under its ice cap. The average thickness of the glacier's ice is 500 meters but reaches almost 1,000 meters in some parts. The glacier and its outlets are among Iceland's most popular filming locations for everything from Hollywood blockbuster movies to hit TV shows including Interstellar, Batman Begins and Game of Thrones.
Langjökull Glacier
At a size of 953 km2, Langjökull Glacier (the long glacier) is the second largest ice cap in Iceland and the closest to the capital city of Reykjavik. Nestled high in the mountains in the west of the Icelandic highlands, Langjökull is covered by snow all year 'round, making it the perfect spot for snowmobiling, even during the summer months. Just like Vatnajökull, Langjökull has some volcanic systems under its 580 meters thick ice cap. The Long Glacier is famous for being home to the world's largest man-made ice cave, even though natural ice caves can be found there as well.
Mýrdalsjökull Glacier
Mýrdalsjökull Glacier (the Mire Valley glacier) is the fourth largest glacier of the island, covering 596 km2. Its highest peak reaches almost 1,500 meters, offering adventurous activities such as ice climbing or snowmobiling. Mýrdalsjökull is also home to one of the largest active volcanos in Iceland, Katla, but visiting the glacier is completely safe. The popular Fimmvörðuháls hiking trail lies in between the Mýrdalsjökull Glacier and the Eyjafjallajökull Glacier.  
Eyjafjallajökull Glacier
Eyjafjallajökull Glacier (the island mountain glacier) became famous (or is that 'infamous'?) in 2010 when the ice cap's underlying volcano erupted, causing massive disruption of air travel across no less than 20 countries. The cone-shaped, 100-kilometer-wide ice cap was formed by many eruptions over the course of thousands of years since the Ice Age and is one of Iceland's smaller ice caps. Nonetheless, Eyjafjallajökull is the sixth largest glacier of the country, covering an area of 78 km2.
---
Get Close to Active Volcanoes
Located on the Mid-Atlantic Ridge and on top of two tectonic plates, Iceland counts around 130 active and inactive volcanoes. The 30 active volcanic systems that are running through the island contribute massively to the ever-changing, spectacular and surreal landscape. Additionally, Iceland is the perfect place for volcano enthusiasts to study the volcano-glacial ice interactions as most of the active volcanoes are underneath a glacier and therefore (at least partially) covered with ice. On average, Iceland experiences a volcanic eruption every 4 to 5 years.
Hekla Volcano
Hekla, located in Iceland's south, is one of the most famous and active volcanoes of the country. For many years, Hekla was thought to be the gateway to hell due to its explosiveness and sheer power. Hekla's eruptions are extremely varied and difficult to predict as they can last only for a few days, but also up to a couple of years. The first recorded eruption was in 1104. Since then, the volcano has erupted more than 20 times with intervals of anywhere from 9 to 121 years.
Katla
Katla is a partially ice-covered volcano underneath the Mýrdalsjökull Glacier in the south of Iceland with a caldera of 10 kilometers in diameter. It's one of the largest and most dangerous active volcanoes in Iceland, which erupts in intervals of 13 to 95 years. When the volcano erupts, it can cause glacial river floods due to the melting of the ice cap. The Katla Volcano is not easy to access, as you'll have to take one of the hiking trails or fly by helicopter. The best way to approach the Katla volcano is to join a tour to the ice cave under the volcano from Vik.
Þríhnúkagígur
Þríhnúkagígur is located halfway between Reykjavik and the Golden Circle area. The Þríhnúkar craters have been dormant for about 4,000 years which is why you have the ultimate possibility to see a volcano from the inside. This is without a doubt an amazing once in a lifetime experience and only possible in Iceland. Once equipped with the right gear, a lift will take you 120 meters inside the volcano into a cave that is about the size of a football field. The enormous magma chamber is incredibly colorful and one of the most remarkable natural phenomena on Earth.
---
Experience Iceland's Cities
Besides the incredible natural gems, Iceland has much more to offer. The country is home to some of the most beautiful cities and towns in the northern hemisphere. Each town is unique in its cultural and historical heritage, as well as the stunning landscapes that surround them. When picking a town, it's recommended to research what kind of activities and accommodations can be found in the area.
Reykjavík
Reykjavík is Iceland's capital and largest city. Approximately 60% of Iceland's population, (about 217,000 out of 338,000), live in the capital region these days, hence why it often feels more like a giant small town than a city. Despite its relatively small size, the world's most northerly located capital presents a wealth of attractions and activities whether you visit the city in summer or winter. With its appealing array of restaurants, coffee-houses, bars, shops and cultural heritage, Reykjavík is worth exploring. Additionally, the vibrantly colored city has one of the best-hidden nightlife scenes in Europe.
Akureyri
Akureyri, often named as the capital of the north, is Iceland's second largest city, although calling it a city might be a tad generous when looking at the population. Akureyri counts only around 20,000 inhabitants. This charming town has a number of interesting cultural and historical sites as well as restaurants and cafés. It's worth spending at least a day here before exploring the spectacular beauty of the north such as the Mývatn area or the Ásbyrgi canyon. Moreover, Akureyri is an important port and fishing center, greatly contributing to Iceland's economy.
Húsavík
Húsavík, located in the north of Iceland, is an adorable small fishing town with 2,200 inhabitants and the oldest settlement in the country. Renowned as the whale watching capital of Iceland, Húsavík is indeed a great place to watch whales as multiple species can be found at the bay. But the town also has a flourishing cultural life with numerous museums and restaurants. Additionally, the colorful town is also a great branching-off point for some of Iceland's best hiking trails that are even accessible during the winter months.
---
Witness the Northern Lights
Iceland is one of the top spots worldwide to see the Northern Lights, also known as Aurora Borealis. That's why the ideal trip to Iceland would include experiencing the Northern Lights up close. This mesmerizing and incredible phenomenon appears as dancing ribbon-like waves high in the sky which vary in color (green, purple, gold, red) and shape, making them one of the greatest natural wonders on Earth. Remember though, witnessing the Northern Lights in all their glory requires patience and luck.
There is indeed no guarantee that you will see the Northern Lights at any given time, as they are fairly unpredictable. However, there are a few handy tips that can boost your chances of seeing the colorful waves with your own eyes and not getting disappointed by their absence.
You can, for example, partake in a Northern Lights tour. Experienced guides know the best places to spot this elusive natural phenomenon. Moreover, you'll be provided with a wealth of interesting scientific information to enhance your Northern Lights experience.
The best time to see the Aurora Borealis is between September and March, as they become more visible due to the ample darkness of the night sky. Also, make sure to keep an eye on the ever-changing weather. A sky without or limited clouds would be ideal. If you are renting a car, it is recommended to head out of town and look for a more remote place with less light pollution. However, if you're lucky, you may even be able to see them from the capital.
---
Visit Awe-Inspiring Geysers
It's no secret that geysers are fascinating, mesmerizing and great fun to watch, but they are also a fairly rare phenomenon on Earth and our knowledge about them is still quite limited. In general, a geyser is a natural spring which periodically ejects a column of boiling hot water and steam into the air with unbelievable speed and sometimes height, when the water meets a volcano's heated magma. A geyser's temperature is usually between 85°C and 120°C and therefore not suitable for a relaxing bath. Indeed, you should be careful and not get too close to a geyser.
The Great Geysir
Known for its hydrogeological activity, Iceland is home to some of the world's most famous and impressive geysers. In fact, the word geyser originated from the Icelandic word "geysa" ("to gush"), also giving the name to Europe's first discovered geyser, the Great Geysir. Located in the Haukadalur Valley, a popular geothermal active area, the Great Geysir is the mother of all geysers. Even though it's classified as dormant now, the Great Geysir can shoot water up to 70 meters in the air.
Strokkur
Today, Strokkur is the most active geyser in Iceland, located right next to the Great Geysir. Although Strokkur ejects a smaller fountain, usually 15 to 20 meters into the air, it erupts every 4 to 10 minutes which is why you should be able to watch the eruption a few times during your stay.  
Watching a geyser erupting is a memorable and unique experience that shouldn't be missed by anyone visiting Iceland. The good thing is, the active geothermal valley of Haukadalur is easy to access all year 'round, free to enter and also offers other geological delights including mud pools and fumaroles.  
---
Discover Amazing Ice & Lava Caves
Due to an abundance of glaciers and volcanoes, Iceland is home to many stunning caves of all shapes and sizes. Essentially, there are two main types of caves existing in Iceland: ice caves and lava caves. When visiting one of these, make sure to dress warmly and to bring your hiking boots!
Even though some of the caves can be easily explored by yourself, it's recommended that you join a guided tour as Iceland's most impressive caves, especially ice caves, can be quite dangerous to visit if you don't know what you're doing. You'll be accompanied by a trained guide who knows the conditions of these caves and will equip you with the right gear (i.e. a helmet, crampons and a headlight). Also, you'll learn much more about the formation of these impressive caves.
Crystal Cave
The Crystal Cave is a natural glacier ice cave located in Breiðamerkurjökull, an outlet glacier from Vatnajökull. It's very likely Iceland's most famous ice cave due to its incredible turquoise blue colors. To experience the beauty of this ice cave, you should hope for a cold but bright day. Due to the relatively thin ice roof, the light can easily shine through, creating spectacular sights of crystal-clear blue ice. As glacier caves are constantly shifting their appearance and change in height and width every year, they can be only entered with a trained guide.
The best time to visit these kinds of caves is between November and March when the meltwater shaped caves freeze completely.
Langjökull Ice Cave
Langjökull Ice Cave is Iceland's only man-made ice cave that stretches over half a kilometer. This ice tunnel will take you 30 meters down into Iceland's second largest glacier where 5 different chambers, including a wedding chapel, await you. Although the ice cave is man-made, the forces of nature create impressive natural ice formations such as stalagmites and stalactites. The Langjökull ice cave can be visited any time of the year, meaning it's also open during the summer.  
Víðgelmir
Víðgelmir is a lava cave located in the Hallmundarhraun lava field in Iceland's west. It is not only the largest lava tunnel in Iceland but also one of the largest in the world, measuring 1,585 kilometers in length, 16.5 meters in its widest and 15.8 meters in its highest points. Created during a volcanic eruption, Víðgelmir Lava Cave is famous for its beautiful ice formations and colorful lava stalactites and stalagmites.
Leiðarendi
Leiðarendi is a lava tube hidden in the Tvíbollahraun lava field just a 25-minute drive from Reykjavik. The Leiðarendi name means "the end of the road" in Icelandic. Leiðarendi is famous for its incredibly diverse and colorful scenery (red, yellow, green). The variety of colors result from the minerals that were brought up during the eruption.
Additionally, the 900-meter long lave tube offers unique rippling rock formations such as stalactites and drip stalagmites. You can explore the lava tube on your own if you bring good hiking boots and a helmet. But there are also various tours. In general, be aware that some climbing and crawling is necessary at some part of the cave.
With its majestic landscapes and unique natural phenomena, Iceland is an ideal destination for adventure seeking and nature loving travelers. Explore the Arctic Adventures website to find out more about Iceland's attractions and popular activities in Iceland.
---