What makes Icelandic Horses Special?
You can't really tell because of how at home they are in the moss and lava fields, but horses aren't actually indigenous to Iceland. Viking settlers first brought horses on their ships from Scandinavia and Viking colonies in the British Isles in the ninth century. Shetland, Connemara and Highland ponies originated from the same ancestor. The Icelandic horses also bear genetic similarities with the Mongolian horses that reached Scandinavian countries through Russia.
In 982 CE, in order to prevent crossbreeding, the Icelandic Parliament forbid the importation of any horses into Iceland. Gradually, Icelandic horses became a unique breed that has been pure for over a thousand years and has remarkably few diseases. Because of this genetic purity, if an Icelandic horse leaves the country, it's forbidden by law to return. For this reason, horse breeders never take their best steed to competitions abroad, as they would have to come back without it.
While quite short, as they stand an average of 52 to 56 in (132 to 142 cm) in height, Icelandic horses are hardy and long-lived. Based on their size, technically they classify as ponies, but Icelanders call them horses.
The Icelandic horse breed is so unique, there's an entire organization to watch over their wellbeing in 19 countries! Since its founding in 1969, the International Federation of Icelandic Horse Association (FEIF) has registered around 300,000 Icelandic horses worldwide!
Gaits of the Icelandic Horses
Icelandic horses are famous for their unique gaits. While other horses are known to have four ways of walking — walk, trot, canter and gallop — Icelanders have more! The tölt and the flying pace (skeið) are gaits specific to the Icelandic horse breed. The tölt is a faster version of walking, but it looks much more impressive. The horses lift their front legs up and only one hoof touches the ground at a time. This gait is perfect for riding through Icelandic nature as it provides a steady ride even through the rough terrain. Also, it looks adorable! Flying pace is not meant for long distance travels and is used in pacing races. Some horses are able to develop a speed of up to 30 mi/h (48 km/h). Not every single Icelandic horse has these gaits and they have to be trained to do them properly.
What are Icelandic Horses Like?
While Icelandic horses are physically small, that's not something you can say about their personality! These animals often have a spirited temperament and developed personalities, are intelligent and friendly. Icelanders love and respect their horses and often treat them as family, so they're not easily spooked. You can pet and feed the horses, but remember their diet should be only special horse fodder.
Icelandic horses have over 100 color variations and every single one has its own Icelandic name! Their fur coats can be chestnut, dun, bay, palomino, pinto, roan and anything in between. In the winter, they grow an extra thick layer of fur that helps them keep warm during the harshest weather. It also makes them extra cute!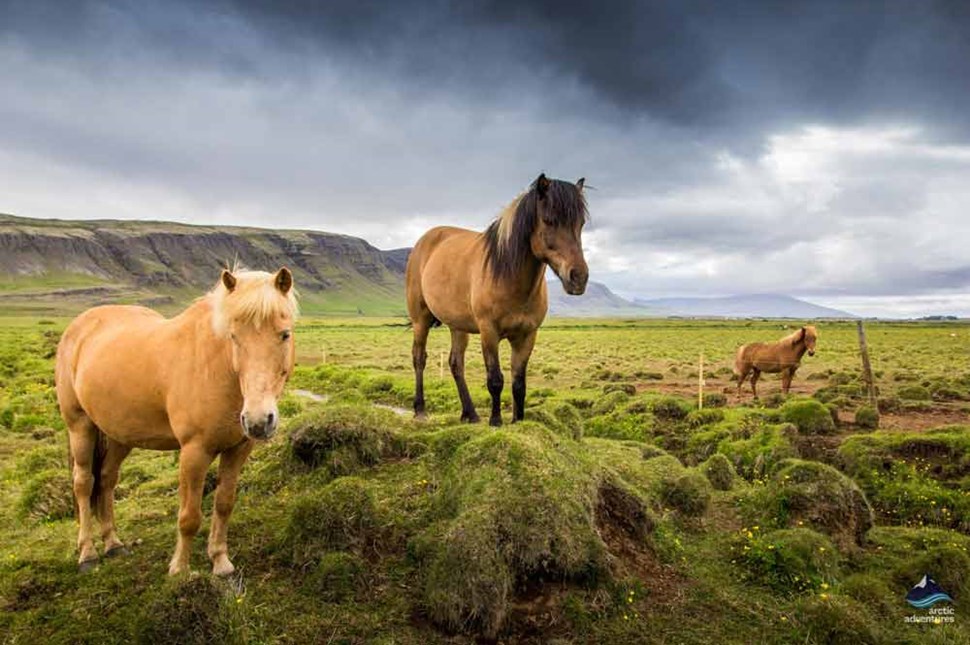 What to Wear Horseback Riding in Iceland?
First and foremost, wear comfortable clothes. Long pants will save your legs from chafing against the saddle, and closed-toe shoes with a small heel will keep your feet in the stirrups. The clothes should be quite close to your skin so they wouldn't get tangled in the equipment. Try to avoid long scarves.
The weather in Iceland is very unpredictable, so it's a good idea to dress in layers. If it gets too cold or too hot, you can easily adjust your outfit just by adding or removing a layer or two.
Which Horse Riding Tour Is Right for Me?
We offer a range of horse riding tours where you'll not only get to meet these charming, four-legged Icelanders but also explore the unique Icelandic nature! All of our horseback riding tours are in small groups and led by experienced tour guides. Choose from a horse riding day tour or combine your riding experience with another adventure such as snorkeling, rafting or a hike to hot spring pools. We offer tours from Reykjavik and from other locations, so pick a spot most convenient to you and join us for your ultimate horseback riding tour in Iceland!
Day Tours
Ride an Icelandic horse through the rolling Icelandic countryside on a Viking steed just outside Reykjavik! This tour is perfect for you if you're looking for a relaxing ride. Spend an hour gently trotting on a trail between the Bláfjöll Mountains on one side and moss-covered lava fields on the other.
For a longer ride, choose our 5-hour horse riding lava tour from Reykjavik. This tour will take you through lava fields and across beautiful hillsides with the peaks of the Bláfjöll Mountains above on the horizon.
Explore the South Coast on horseback on our black beach tour. Ride through dramatic, volcanically scarred scenery and explore black sand Víkurfjara Beach. We offer a family tour option on this trip so everyone can enjoy remarkable Icelandic horse riding!
Travel in true Icelandic spirit through wild meadows and rough lava fields in south Iceland. This tour will take you past several farms and the guide will tell you about the development of agriculture in the country. To wrap up the heritage tour, you are warmly invited for a traditional home-baked treat and a hot drink.
Combo Tours
If you're looking for an add-on to your horse riding afternoon, combine your excursion with other activities.
Mix horse riding with whale watching and meet two of the cutest animals in one day! The tour collects from Reykjavik and is available all year round. After a relaxing horseback ride, you'll travel to Faxaflói Bay, where you'll have a chance to watch majestic whales rolling in the water.
Explore lava fields from above and below, on our combo horse riding and lava cave tours! Walk, climb and crawl inside the Leiðarendi Cave to discover the marvels that volcanoes created more than 2,000 years ago. Once you're above the ground, jump on the steed and immerse yourself in a horse riding adventure through stunning Icelandic nature.
If you have a need for speed, mix your horseback tour with an off-road ATV mountain ride. This adrenaline rush is available just outside of Reykjavik, all year round. Ride an Icelandic horse and then compare one horsepower to that of Can-Am Outlander max Quad bikes!
Ice adventure seekers will love the combination of horse riding and a glacier hike. Use ice crampons and an ice axe to walk on the ice and hike on top of Solheimajokull Glacier. The icecap is carved with dramatic ice formations including rugged ridges, crevasses, and sinkholes. Once you descend, make your way to the village of Vik, where you'll find the horses waiting to take you through the unique Vikurfjara black sand beach.
Visit one of the Golden Circle highlights, Thingvellir National Park, on a horseback riding and snorkeling tour. Take the plunge into the underwater world in Silfra Fissure, which is one of the best places in the world for snorkeling and diving. Crystal-clear water reveals exceptional sights of plants and fish swimming in between two tectonic plates. There's no rightful word to describe the true beauty of this place — you'll just have to ride here and see for yourselves.
Watersports enthusiasts will be excited to learn that we also offer river rafting and horse riding combo tours! These are available from May to September so don't miss a chance to spend an adventure packed day in nature, riding sturdy Icelandic horses and paddling down the mighty Hvitá River.
For a relaxing day, pick the hot spring hiking and horse riding mix. We'll spend the day hiking up the geothermal valley of Reykjadalur, soaking in natural hot water pools and riding the horses in the beautiful countryside. The tour is available anytime between April and September.