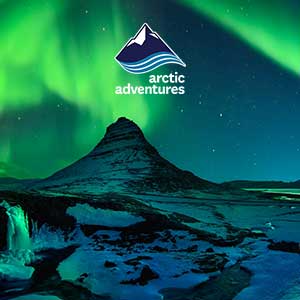 Hop on a super jeep to explore the Katla ice cave on Myrdalsjokull Glacier
INSTANT BOOKING CONFIRMATION
Want to do this trip for free? Tag us @arcticadventures on your social media stories and photos during your trip and enter a chance to win a full refund. The winner will be picked once a month!
---
Looking for something off the typical tourist track? This is the tour for you!
It's time to jump in a Super Jeep, strap on your crampons and step into the mighty glaciers and ice caves of South Iceland.
Prepare for movie-like landscapes and jaw-dropping sights like nothing you've ever done before. We'll hike out across the Myrdalsjokull glacier, then visit the amazing blue and black ice cave of Kötlujökull glacier on Mt. Katla.
Mother Nature has really outdone herself with this one!
This tour is offered either as a meet on location tour from Vik or with a pick-up from Reykjavik. Please specify which option you prefer in checkout.
Suitable for most people in fair condition.
Departs from

Vík or Reykjavik
Tour highlights

Small Group Experience
Scenic Super Jeep Ride
View Over Myrdalsjokull
Visiting a Natural Glacial Ice Cave
Epic Landscapes
Expert Info on the Ice Cave
Seljalandsfoss waterfall (From Reykjavik option only)
Skogafoss waterfall (From Reykjavik option only, from 1st of Feb until 15th of Nov)
Included

Super Jeep Ride
Visit to a Natural Ice Cave
Crampons for Walking on Ice
All Required Safety Equipment
English Speaking Licensed Adventure Guide
Mýrdalsjökull glacier is one of the best-known in Iceland- from which the alluring Kötlujökull glacier originates. Kötlujökull is named after the robust Icelandic Volcano Katla, which is covered by the glacier.  As the enormous mass of ice has been slowly crawling down from the volcano-mountain, it creates in some of Iceland's most impressive natural ice caves. On this exhilarating Super Jeep tour, you will get to explore the wonders of this stunning natural phenomenon. You will see why as soon as you step in!
Pick up from Reykjavik: If you select the pickup option, our tour guide will pick you up at your chosen meeting location in the city.
Meeting point: If you choose to meet the tour at Vik, our tour guide will connect with you at the bus parking lot behind the Icewear Magasin building (facing the sea) in Vik, South Iceland. The guide will be standing outside in the parking lot in front of the "Ice Cave Bistro / Restaurant in Vik" by a Super Jeep with an Arctic Adventures sign in the front window.
Once picked up, it's time to continue on to the glaciers. The drive starts on the famous road 1 but soon we will make a turn to what seems like a no man's land. Enchanting glaciers and mountains will surround us along the way. The Super jeep has no problem taking on the rough and rugged road but the drive is exciting none the less.
We will come to a stop near the roots of Kötlujökull glacier and the view that greets us is otherworldly.  We will take on our crampons and helmets, and take a short walk to the opening of the ice cave. We might need to climb a few steps on ladders to the entrance of the cave. As the natural ice cave is in a constant change, conditions can be different at each tour. The climb is, however, not difficult at all and anyone in an average physical condition should be able to climb these steps. It might look adventurous but it is not demanding at all!
Beautiful layers of different colored ice and volcanic ash unfold from the ice as we come closer to the cave, painting impressive stripes in the glacier.  Your guide will tell you all about the history of the glacier, the ice cave and the area around it making the tour educating and exciting all at once.
When we are back out from the glacier we will walk around and see if any smaller ice caves are accessible before returning back to our super truck. The drive back to Vik is an amazing one and in wintertime, the sun will start to sit behind the mountains creating a magical wintery sunset. Make sure to bring your camera!
For those choosing the roundtrip pick up from Reykjavik
When the length of the daylight allows us (from 1st of February until 15th of November), we will swing by some majestic waterfalls. We'll stop by the Eerie waterfall of Skógafoss which is located in the beautiful Skógar area and is also the inspiration to dozens of folklore tales. We recommend to hike up the right side of the waterfall to see the troll's face that stares at the waterfall for all eternity after forgetting time and turning into stone admiring Skógafoss.
We will also stop (all year round) at the stunning Seljalandsfoss waterfall, the one you can walk behind. Seljalandsfoss is located on the Seljalands River which flows all the way down from the famous volcano, Eyjafjallajökull!
Please note: Due to limited daylight periods, we are not able to stop at Skógafoss in wintertime (from 16th of November until 31st of January). Only from 1st of February, throughout the Spring, Summer, and Autumn until 15th of November do we stop at both of the waterfalls on this tour. The meet-on-location tour (from Vík) does not include any other stops but the Ice cave.
We'll arrive back in Reykjavik around 8:00 p.m.
What to bring: Warm clothing, waterproof jacket, and pants, headwear and gloves.
---
Please note
That ice caves are constantly changing and taking new shapes and might not look like they do in the video - They're still always stunning! Due to limited daylight periods, we are not able to stop at Skógafoss in wintertime (from 16th November -31st January). Only from 1st of February, throughout the Spring, Summer, and Autumn until 15th of November do we stop at both of the waterfalls on this tour. The meet-on-location tour (from Vík) does not include any other stops but the Ice cave.
Book this tour
Price from: 16.990 ISK
NO ADDITIONAL FEES - BUY
DIRECTLY FROM THE OPERATOR
FAST & SECURE PAYMENT
You have chosen: Ice Cave Tour only
Loading...
You have chosen: w/ Reykjavik Pick-up
Loading...
Katla Ice Cave (Under the Volcano) Tour | Average rating: 4.8/5 based on 123 customer reviews
"A genuinely amazing trip" |
By Adam Nettleship 22/02/2018
A genuinely amazing trip that was the highlight of an all round great time in Iceland.
"Awesome adventure" |
By Richard Maloney 25/02/2018
Awesome adventure. The ice cave is in the middle of nowhere and is absolutely breathtaking. Highly recommend you take this adventure.
"Best guide and tour" |
By Kathryn 13/03/2018
This was honestly the highlight of our vacation in Iceland! Our tour guides were extremely knowledgeable and very funny. The tour is perfect for seeing all the best parts of Iceland, many photo opportunities and light activity if you're not looking to trek while you're there. Having used two other tour agencies while there, Arctic Adventures was the best out of all of them. Well worth the price as groups are smaller and more engaging. I would use them to plan everything for my next visit!
"Natural Ice Caves tour was even better than expected" |
By Michael 14/03/2018
Our tour guide Elkie (sp?) made our trip a truly memorable one. It was our first full day in Iceland and he provided us with a TON of knowledge about the country, the geographic uniqueness, and anything else we asked about. I highly recommend this tour, and even more so our guide. Thank you!
"Fantastic experience" |
By Samantha callà 17/03/2018
Beautiful hike in the ice caves, beautiful superjeep ride to get to the caves with a nice guide. I recommend it to everybody!
"Well worth the effort" |
By John Christensen 21/03/2018
We joined this tour as ""meet on site"" guests. Unfortunately we encountered a very bad snow storm on our way from Reykjavik to Vik, and arrived about 1/2 an hour late. We were very surprised to find that the tour guides had waited as, as we weren't the only family that was late, and they knew about the road conditions. We joined the Super Jeep, and waited for others to arrive, and departed about 15 minutes later. The cave and the glacier trip were fantastic, the guides were very knowledgeable and gave some good insight on the cave and their formation. Thanks very much Arctic Adventures and the local guides.
"Katla Ice Cave Tour" |
By Skylar 21/03/2018
We had a fun time off roading to the ice cave tour. It was about a 30-40 minute drive from the meeting point in Vik. Just a heads up it's a bumpy ride and snowy. We had a blast. Once we got there we put on our crampons and helmets and our guide let us explore and offered some history on the cave and volcano in general. The cave and the area outside in is certainly other worldly. We got back in 1 piece and we're glad we had the experience, though we do feel it's a bit overpriced- as with many things in Iceland!
"Best tour!" |
By Terri Totzke 22/03/2018
My friend and I scheduled this tour at the last minute, because we were not able to both be included on the two-day trip we originally wanted to take. At the end of the day, we were SO glad we were able to do this one! The weather was less than optimal, but that just added to the fun. George, the tour guide was so friendly and helpful and willing to answer questions. He also took us to the black beach as an extra, which was beautiful. The SuperJeep driver to the ice cave, Elsa , was great, as well. Very entertaining! They also timed our trip through the cave around lunchtime, so we were able to get in rather quickly. This was reallly nice; as we were leaving there were about 5 other groups in line to go through. This was a super tour with competent and friendly tour guides - they are professional while at the same time very approachable and fun. My friend and I wished we would have scheduled all of our tours with Articadventures. Highly, HIGHLY recommended. You won't be disappointed! Thank you!
"Stunning ice views" |
By Eva 23/03/2018
Our family of 5 really enjoyed our trip to see the ice caves on the edge of the glacier. This is not a spelunking tour, but a chance to see caves on the edge of a glacier. The ice and ash layers are striking to see. The ice changed color based on lighting. My family was awestruck to stand within a cave made from ice older then our combined ages. Be warned that The ice cave tour picked us up from the foyer near the food court of the icewear store which isn't easily understood from the receipt. Be prepared that the vehicles taking you to the tour won't say Arctic Adventures either. Be sure to dress for the weather like the receipt states and pack dry clothes just in case. Fortunately we wore wool socks, because your feet do get soaking wet crossing the streams. The guides do warn you that you will get wet. Magnus, one of our guides, willingly answered all our questions and seemed to truly love his job. I did not get a chance to speak with our other guide, but he too seemed to answer any questions thrown at him. I would have loved to have spent more time both exploring the area and speaking to our guides.
"The tour was great, plenty of time" |
By Anne-Marie 23/02/2018
The tour was great, plenty of time. The place where we must be for the pickup was great, only dificult to find the guide. So we have walk a lot to find some on the help us. Try to contact the office but there was no one at the telephone.
"Awesome tour" |
By Eric Kainz 22/03/2018
Awesome tour with a joung funny and informative tour guide. Always my pleasure. Kind Regards Eric Kainz
"Great tour" |
By Kristell 22/03/2018
The cave under the volcano was a great tour, amazing landscape with a nice and interesting guide.
"A wonderful trip" |
By Olga 28/03/2018
A nice and wonderful trip. Mýrdalsjökull glacier is amazing. The ice caves are very different than expected, but really beautiful. It was well a prepared and planed trip with much interesting information during the way, good guids. Only thing, I could think different, is that it could be more time for lunch in Vik.
"Ice Cave under the volcano - Katie Ice Cave Tour" |
By Marcia Glaros 29/03/2018
This was the best tour we took on our trip to Iceland. It was a small group of people, so we were all able to experience the sights on a personal level without any other tour groups around us. We were taken far from the beaten path on a crazy Jeep and had an great experience. The cave was amazingly beautiful and unlike anything we had ever seen before. The guide was both friendly and competent. I highly recommend this tour.
" Thank you Magnus!" |
By Alessia Pinto 29/03/2018
Ice caves are impressive! So beautiful! But we have to say that this tour was so great also thanks to Magnus, our super guide! We really enjoyed this tour with him! Grazieeeee!!!
"Amazing experience" |
By Esther Laliga 02/04/2018
We booked the Crystal cave tour, but they had to change the tour as the cave was flooded, and it was fantastic. It makes a different to know that they don't simply cancel and refund the money, as It's usually difficult to rearrange the tour for another day when you are on a round trip through the island. We were 5 people and we all loved the tour. The guides were really funny and the place was magnificent. We enjoyed an amazing ride through rivers, ice and snow, and an unforgettable visit to a unique place.
"Everything is good" |
By William 05/04/2018
Everything is good. If it can spend more time in ice cave, could be much better
"AMAZING" |
By Nadia centeno 06/04/2018
Great tour, it was amazing. And. The guide was a great guy
"Fun Tour with Knowledgable Guide" |
By Gordon 09/04/2018
Ice caving was a truly unique experience. Though it took a little while to get out there, being able to see the cave, ash and snow was something that I will definitely remember. The actual ride out there in the SuperJeep was also an adventure, as we had to go off road in the snow and through (shallow) streams, etc to reach our destination The one caveat is that it is quite a long trek to get out to the volcano site. Luckily, our guide took us to a couple of waterfalls on the way back that broke the ride home up a bit. Overall, I would recommend this trip.
"Beautiful Ice Cave" |
By Patricia 09/04/2018
The ice cave we had booked got flooded and Arctic Adventures offered us another option, which we really enjoyed. It is a lot of fun the way to the ice cave in the 4WD, but I got a little bit carsick from all the shaking - perhaps Arctic Adventures could offer some carsick pills for those in need. The tour is not cheap, but comparing to other places we saw it seemed to be one of the best prices. The tour is not rushed, which allowed us to take our time and take some pics :)
"Ice Cave Tour" |
By Jim Berlin 09/04/2018
Very enjoyable day. Our guides were all informative, friendly and fun. Worth the trip for sure.
"It was overall a very nice experience" |
By BLS 11/04/2018
The tour was scheduled for three hours, but lasted closer to two. Wish we spent more time in the cave. Also wish the tour guide gave more history/background/etc on the drive out there, but she did have her hands very full. Regardless, it was overall a very nice experience.
"Fun Tour!" |
By Ryan Logrieco 20/04/2018
Well organized tour - suitable for all ages Wished we could have explored more but I assume there are limited number of caves and areas to explore.
"Wet & wild" |
By Ed R 24/04/2018
We went to the two caves in a driving rain so conditions were not ideal but our tour guide was good and personable. He got us out to the caves and back with no problems. The super jeep was sturdy and safe but we were all very cramped, especially because everyone had on rain gear. The caves were great but fairly small. I was expecting more. That said, they were very beautiful. Overall, we were satisfied and would do the tour again.
"It was a good tour" |
By Teresa 28/04/2018
It was a good tour. We followed directions as per email to wait at the entrance and look for our guide who will be holding a sign by the entrance or near the Arctic Adventures bus. There were multiple entrances and there was no guide holding a sign or waiting by the Arctic Adventures bus. My husband and I looped around the entire centre multiple times to ensure we didn't miss the group. Turns out the guide had his own unbranded van and was waiting with a group which we had assumed was another private tour. It would have been nice for the guide to come look for us - we had arrived 20 minutes early and ended up being late to meet the group because we were waiting at the entrance.
"This was a great tour! " |
By Kellan 29/03/2018
This was a great tour! Our tour guide was experienced and made the trip enjoyable for the whole group. He provided educational background on the caves and Iceland. I would highly recommend this trip for anybody.
"Ice cave tour" |
By Mrs Alla James 21/05/2018
Had a great tour to an Ice Cave near Vik. Meeting instructions were sufficient, the tour left on time and the guide was very informative. Needless to say, the ice cave itself was great. What else could you wish for :-). Would recommend this tour with Arctic Adventures.
"Ice cave" |
By Patrick Telljohann 28/05/2018
Everything was very good about the tour, it was nice to be able to climb the sides of the cave. The cost of the tour was a bit high, but prices in Iceland are high for most everything.
"Fun, Easy Adventure!" |
By Beach Girl 29/05/2018
"David was very nice and took our group to the ice caves. I am NOT in good shape, or athletic, so I was a little worried about how well I would do, but the hike in was easy enough and he helped me cross water streams, and climb up the rope wall to the 2nd cave. I thought I couldn't do it, but he encouraged me and I DID do it!! BEAUTIFUL caves, incredible to see, and a nice, short and somewhat-easy adventure instead of a big 7-8 hour hiking day."
"Not every day you drink from a glacier!" |
By Vicki Pulicicchio 02/06/2018
"Had a great time on the Ice cave tour. Our tour guide was funny and fun and happy and made sure we were safe every step of the way. He showed where to walk so you didn't sink in the mud and double checked ropes. He gave two routes for climbing. Expert - which many took. and easier - which I took. Even got a fun four wheeling up some of the inclines which made everyone laugh. ps - our guide found my daughter's GoPro in the van/jeep and looked around to return to us. VERY much appreciated!!!!"
"Great experience" |
By Thomas mclellan 11/06/2018
"Brilliant tour. Amazing ice caves. Would recommend to a friend."
"Great tour and guides" |
By Rachel Littlefield 12/06/2018
Loved our tour! The guides were so knowledgeable and really showed us the best of the best. Our driver even took my husband and me on an extra little outing to a beautiful view as we waited for the rest of the group. I would highly recommend!
"A Wonderful Experience" |
By WASIM SADIQ 24/06/2018
"It was a unique experience to have an opportunity to explore a land full of surprises with its unique character. It felt like another earth. Guides and transportation were excellent. We enjoyed every moment of the trip."
"Our guide was absolutely fantastic!" |
By Clara Flood 27/06/2018
I am terribly sorry that I did not catch his name, but he was both incredibly informative and incredibly fun. He made the entire experience amazing and I would absolutely take a tour again with him.
"Great experience..." |
By Rob 06/07/2018
It was a great experience but the photo on the website was misleading. Should note that glaciers are constantly changing and what was there a month ago could be very different the next.
"Ice Cave Tour the highlight of our trip" |
By Sheralyn Mitchell 06/07/2018
The Ice Cave tour was the highlight of our trip to Iceland. Very cool, one of a kind experience. The tour guide was very friendly and knowledgeable. You feel like you are visiting another planet. Would recommend it to others. You had plenty of time in the caves and it is a short hike to the caves. The van was a little cramped and hot but overall the experience was good. I thought it was going to be a cool off-road vehicle that took us to the caves but it was just a 15 passenger van with really big tires.
"Great tour of ice caves and fun guides" |
By Phil Weber 08/07/2018
Best ice cave tour in the summer. Really cool caves, the second one is the best. It is a little bit of a drive out to the caves, but drivers keep it light and fun and make sure everyone has a good time.
"Great experience!!" |
By Zenica G. Larsen 10/07/2018
Magic locality! Very helpful responsible guides, with a good focus on safety. Long car trip on "bumpy" trail - not suitable for People with back-problems. It would improve the experience if the guides knew a bit more about the processes forming the landscape.
"Great experience" |
By Joe Fudge 15/07/2018
A great adventure. The guide was knowledgeable, fun, helpful and kept an eye on everyone's safety. The ice caves were incredible. We'd use Arctic Adventures again for sure.
"Great Experience" |
By Kenneth Zanmit 19/07/2018
"Wonderful experience with a great and very well knowledge guide. Thumbs up !!"
"Absolutely Amazing!" |
By plbambam 19/07/2018
What an amazing sight to see!! I never envisioned seeing or hiking on a glacier and in an ice cave that is covered in volcanic ash!!! Words cannot describe this unbelievable sight! Not only was this an awesome tour, our tour guide "Thor" was fun, knowledgeable and friendly. Thanks for such a memorable day!!
"Amazing Cave tour" |
By Heather 29/07/2018
The cave tour was well organized and the tour guide was extremely knowledgeable in the history of the glacier, volcano eruption and the 2 caves that we visited. It is a very cool experience to be inside the ice cave and walk on the natural formations of ice and lava! Fire and Ice! Great tour-- highly recommend!
"Great time!" |
By Justin Mitchell 07/08/2018
Hermon was fantastic, told great stories and was very informative! He explained everything and helped us all get to see everything. Was a great time!
"Katla Ice Cave Tour" |
By Deon 22/08/2018
"The tour was very informative and the glacier and cave were out of this world! Thanks!"
"Amazing Tour!" |
By Ethan Harris 23/08/2018
Very knowledgeable tour guides, who knew much about the areas visited and knew how to keep their customer's interest peaked at all times. Wish there had been just a little more time at Vik but nonetheless it was a great time. My group and I did the ice cave under the volcano tour and it was absolutely amazing, would definitely recommend!
"A wonderful experience!" |
By P D 25/08/2018
We had a great time. A unique experience!
"Summer Ice Caves" |
By Ashling 25/08/2018
I would recommend doing this tour in the winter as I think it would be a better experience then. However, we still enjoyed our trip. Helgy, our tour guide, was very funny and friendly and gave us lots of information. We hope to come back again in the winter time!
"Thrilling glacier adventure" |
By LeeAnne Hays 29/08/2018
Our journey into the depths of an Icelandic glacier was thrilling! The day was wet and rainy, the hike was a bit dicey, and the final steps into the glacier were a bit scary for this 66-year-old. But our guide had us well in hand and his firm yet friendly instruction led us safely into the heart of the glacier. What an experience to be surrounded by that glassy blue beauty!
"Amazing!" |
By Rabih Shasha 03/09/2018
Great tour guide and amazing views! Worth it!
"Very Fun and Knowledgeable" |
By Lindsay Thomas 05/09/2018
Our tour guide made us laugh the entire time while being professional and helpful. We learned about the history behind the glacier, but also had fun doing it! Highly recommend this tour!
"Enjoyable Day" |
By Amy 10/09/2018
"I really enjoyed my day visiting the Katla Ice Cave from Reykjavik. Although it's a lot of driving for a single day, the tour breaks it up nicely with a stop at a waterfall on the way there and another on the way back. The ice cave itself was like nothing I've ever seen, and the guide was really entertaining. Just a heads up that if you're prone to motion sickness you might want to have anti-nausea tablets handy for the jeep ride as it is a bit of a jostling ride. ''
"Great tour" |
By Michelle 12/09/2018
Expensive tour but one of the highlights in Iceland so very much worth the time and money spent.
"Great hidden gem of Iceland tours!" |
By Jonathan 12/09/2018
We had a guide Jonas (spelling?) who was a young dude with a great attitude and good information on the drive. Then he gave us over to the Ice Cave guide, an older guy who was super cool and really seemed like he'd seen it all when it came to natural phenomena in Iceland! Getting a little time in a super jeep "type" of the vehicle was a great way to get out in the alien land that was insanely beautiful leading into the cave. It was really fascinating to get to a place that is so temporary. The ice was melting and constantly changing and made for such beautiful landscapes and exploration. This was a backup for me after a Westman Islands trip fell through, and it more than made up for not being able to go there!
"Katla Ice Cave Tour" |
By Jackie Brown 13/09/2018
The guides were lots of fun. The cave was a great experience. I would recommend this tour to anyone.
"Ice Cave" |
By Attila Mate 16/09/2018
An excellent tour in a fascinating place. Leaders were nice guys with brilliant sarcastic humor. Thanks!
"Totally recommend!" |
By Emily Krieger 17/09/2018
We had so much fun on the tour! My only complaint was that I wish the whole experience was longer. The tour started at a local cafe in Vik where we loaded up into two vans and then headed to the cave. I think the ride and experiencing the F roads was half the fun! The two tour guides were both great and clearly are invested and love what they do. The cave itself was awesome. It was more rugged than anticipated but that made it so much better. We got to experience the natural environment. There was climbing up and down and over water. Again, I wish we got to spend more time in the cave, but that is honestly my only complaint. I would highly recommend to anyone! So cool!
"Ice cave tour" |
By Brenda 22/09/2018
An experience you don't want to miss!!!
"Ice cave under volcano" |
By Ilene Gleicher 22/09/2018
Great trip with extremely knowledgeable guides. I came away with so much information about Iceland's history and geography. I would not hesitate to take an Arctic Adventure tour again.
"Great Experience" |
By Kevin Quant 25/09/2018
Fascinating tour, never done one before so really pleased to have come on this one. The guide was clear in translation, explaining how the caves evolved and are evolving still. The tour lasted nearly three hours with roughly 1hr 20mins in the cave area. Rest of the tour was taken up with the journey there and back to Vik.
"Exceptional tour and tour guide - Katla Ice Cave Tour" |
By Lisa Coleman 27/09/2018
The tour was absolutely amazing. The ice cave was breathtaking and the environment surrounding it was other-worldly. Our tour guide, Malkmus (a.k.a. Jon), was exceptional. Along with being informative and interesting with an excellent sense of humor, he was patient, allowing tour guests to explore and enjoy at a nice pace. I would highly recommend the tour and the tour guide. It was a highlight of a trip filled with highlights.
"This was a great time" |
By Amy 28/09/2018
It was such a beautiful thing to see. One of my favorite holiday memories from Iceland
"Must Do!" |
By Linsey Parks 28/09/2018
This was one of our favorite experiences in Iceland. Even the ride up from Vík was an adventure, the landscapes alone are other-worldly, amazing to view even from the vehicle. The area is unlike anything we've ever seen before and we could not stop taking pictures! Honestly, my husband and I could have spent the whole day there exploring. The actual ice cave is magnificent, just beautiful, but the outside is just as beautiful. Our group was small, maybe 12 people. The tour guide was very friendly and knowledgeable. The walk to the ice cave was short and easy. You do have to wear crampons and a protective helmet (all supplied). Just book it - you won't be sorry.
"Amazing trip!" |
By Scott & Raj 28/09/2018
We had a great time and our guide, Helig, was both informative and hilarious! (Sorry if I spelled your name wrong!) We had some really memorable moments on this tour and it really took us to what looks like an alien landscape! Thanks a lot!
"Soooo cool!" |
By Donna G 30/09/2018
Wow, what an adventure! We felt like we were on another planet - driving out to the ice cave - so that was a great way to start the excursion. It was great to go into two separate ice caves; we would not have minded more time in them either! Our guide was great and took good care of us.
"It was truly exciting and fun!" |
By Jessica Biello 07/10/2018
This tour was fantastic and the guides were very knowledgeable. This was not only an amazing experience but educational as well. I would highly recommend this tour to anyone visiting Iceland.
"Excellent experience" |
By Kerri Lindo 13/10/2018
The ice cave under the volcano tour was an amazing experience. Beautiful scenery to be seen along the exciting Jeep ride down to the cave! Our tour guide Vidar was an incredible guide throughout the experience including his knowledge, excitement, and passion for Iceland and what it has to offer and being a guide! Would recommend to anyone!
"This was my favorite part of my entire trip" |
By Kimberly 18/10/2018
Our guide was hilarious and the weather was perfect for a hike to the ice caves. This tour is perfect for thrill seekers and also those who love the outdoors. I recommend!
"Great experience!" |
By Joel 18/10/2018
Great guide and see the best of everything. The guide was well versed with the area and activities were done very safely.
"Ice Cave tour" |
By Alfred Dunn 19/10/2018
At first, I thought I could only visit an ice cave in Iceland after October until I found this tour. The ride to ice cave was fun, climbing up the cave, passing through the tunnel with handheld the flash and descending from the cave are all manageable even for seniors. The guide explained how the cave was formed and answered other questions.
"A really wonderful experience" |
By Ian Robinson 20/10/2018
Wife and I went to Iceland for the first time and our tour to the geyser, ice caves, and the waterfall was a great part of our time there. Transportation was easy and timely, the stops along the way made sense and weren't rushed, and the guides were helpful, humorous, and knowledgeable. Well worth our time!!
"Amazing" |
By Maria Casanova Masjoan 23/10/2018
The hiking in the Ice cave was a wonderful experience, I recommend everybody to try it!
"Awesome!" |
By Lindsay 23/10/2018
Everything was awesome! Cave was really cool and the tour guide was amazing! We even ran under a glacial waterfall!
"My favorite day" |
By Melody Flores 24/10/2018
Seeing the ice caves was my favorite day. Not only was the site incredible and unlike anything I'd ever seen in my life, but our guide was also very funny. His very dry sense of humor kept us laughing the entire time. And his driving was definitely an adventure.
"Great experience" |
By Javier Garcis 24/10/2018
Great tour and great experience
"Unique Experience and Greatest Guide" |
By Alejandro Lanauze 24/10/2018
"As with most experiences outside the US, there is a great sense of adventure. We were treated to an awesome Arctic Truck drive down the Ring Road and later took a turn onto the old Ring Road which is now a secondary off-road track. The drive was beautifully scenic, and we arrived at the glacier face within about 40 minutes. The trek up to the glacier face and subsequent trek into the ice cave was reasonably easy. The glacier cave was incredible and our guide was quite knowledgeable. We hiked around for a bit, took plenty of photos and videos, then trekked back to the truck. Thanks for an unforgettable experience!"
"Book This Tour!!" |
By Natalie and Sam 30/10/2018
"My friend and I were on our yearly girls trip to see glaciers and had the best time with Arctic Adventures! Our tour guide was helpful, funny and kind. We had the chance to meet the owners for a brief moment. Very handsome and friendly! We will be back again :)"
"Fantastic tour. Highly recommend" |
By Emily 31/10/2018
It was an absolutely fantastic tour. Our guide to Katla was very nice and accommodating. We stopped at a few nice locations on the way and was a comfortable trip down. The trip into the cave was brilliant. It was perhaps a little more physical than some in the group realized but I really enjoyed it.
"Ice cave tour from Vik" |
By Kelly Perkins 31/10/2018
We had an excellent time on our ice cave tour. Our guides were prompt, knowledgeable and fun. I will definitely look into additional tours from Arctic Adventures the next time we go to Iceland.
"Unforgettable and Professional Tour" |
By Galin Panayotov
We enjoyed the tour so much in spite of the drizzling rain. Our guide Magnus was very kind and helpful. He arranged some small surprises in and around the cave. On the way to the cave, he did some "gravel bashing" with the jeep which excited our group very much. Highly recommendable
"Greater experience!" |
By Aleksandra 06/11/2018
Great experience & value for money!
"Awesome tour guides and experience!" |
By Cristobal Manzano 10/11/2018
The guides were awesome. Very knowledgeable, courteous, and excited to show us, foreigners, the wonders of Iceland. During the bus ride from the pickup location to the glaciers, the driver kept us informed about everything that we were driving by and had an excellent knowledge of the country. It was an unbelievable experience.
"Nice cave but long drive" |
By Fav 11/11/2018
A nice cave tour, but most of the time was spent getting to and from the cave. The guide was friendly though.
"Ice Cave under the Volcano" |
By Anne Andrieux 17/11/2018
Would highly recommend Arctic Adventures. Was picked up on time had an amazing trip and Tour Guide was really nice and helpful. All in all a great day and amazing experience. Would definitely use again.
"Excellent tour!" |
By Gillie 21/11/2018
Service was excellent! Tour guides were very knowledgeable, accommodating and professional!
"Ice Cave with Villi" |
By Zoe 22/11/2018
"What an experience! I went with my partner alongside a group of avid explorers from different parts of the world and it's definitely one we shall remember. Villi the tour guide was a comedy genius and kept us all laughing along the way. The glacier itself was magical and a prime location to take photographs. The jeep ride itself was a great way to experience some off-roading in true Icelandic style! Zoe :)"
"Beautiful" |
By Carla 22/11/2018
The tour was in a beautiful location, would have like more information from our guide about the glacier and ice caves.
"Title" |
By Isaac 24/11/2018
Great tour, the group waited for us which was a huge relief, they were very flexible. The guide was friendly and entertaining, though it is expensive I would say it was worth the price.
"Katla Icecave Tour" |
By Scott mcclelland 26/11/2018
Wonderful trip with a wonderful guide. Highly recommend this tour. Absolutely breathtaking and the guide provided excellent care of my family.
"Fantastic Tour" |
By Kevin 30/11/2018
The ice cave and surrounding area was a breathtaking site, truly a once in a lifetime opportunity. Our guide Helge was informative and funny and made the 45-minute rides to and from the glacier extremely entertaining and fun.
"Feedback "The Ice Cave Under The Volcano - Katla Icecave Tour From Vík"" |
By Annelies Barentsen 30/12/2018
"Guide Biggi was absolutely wonderful. Guide to the ice cave (I think it was Hakon?) was absolutely wonderful too. Tour, timing, cars,... everything was perfect."
"Amazing Experience" |
By Klare Ehrenberg 06/01/2019
Though VERY EXPENSIVE it is a wonderful experience. The area inside and outside the cave is magical and stunningly beautiful. I think this is a once in a lifetime experience if you're lucky enough to get to do it. Tour left on time, the tour guide was a bit gruff and didn't tell us anything about the cave or how they change over time which was a disappointment. Super Jeep seemed reasonably safe and in good shape. Prepare for a bumpy ride.
"Memorable experience. " |
By Lori Vaughn 08/01/2019
"Our guide was wonderful, entertaining, concerned with our safety and he was very interactive with us. We had a great time on our tour. The scenery was breathtaking, very beautiful. I wish the tour was longer so we could explore more of the glaciers. Thank you for a very memorable experience. Sincerely, Lori and Kenneth Vaughn"
"A must see" |
By Dan 08/01/2019
Everything you need is provided.
"Great Tour!" |
By Emma Gamble 17/01/2019
My friends and I had such a great time exploring the caves and felt that our guide was very helpful! This tour is good for anyone and helped me see a part of Iceland I may not have been able to reach on my own.
"Great adventure in an ice cave" |
By Patricia Collecchia 24/01/2019
"My husband and I had a wonderful time in the cave under the volcano. The guide shared all his knowledge of Iceland and glaciers and ice caves in general. So great experience. The time we picked was perfect. we saw sun rays entering the cave and this created wonderful colors in the ice. ''
"Incredible tour with the best drivers." |
By Niles Donegan 29/01/2019
"Our tour of some absolutely stunning ice canyons and caves was made even more impressive by the driving of Helgi (I hope I'm spelling his name correctly) in his 4x4. He has a wonderfully dry yet powerful sense of humor and delighted in surprising us passengers with what he could do with the 4x4. He was also a great guide out to the caves, and very thoughtful as well. He saw that two other groups were already in the cave, so brought us to a beautiful canyon, even if it meant breaking trail in deep snow for us. I should also note that Saga, our driver that brought us to Helgi, was incredible as well. A snowstorm closed down the ring road back to Iceland on our way back, and she very ably, calmly and safely took us on a southerly detour. Maybe this is something that she deals with all the time, but I very much appreciate how she handled a very stressful situation."
"Katla Ice Cave Tour" |
By Michelle 29/01/2019
"Overall our tour was great because Iceland is so Beautiful, our guide was very nice, felt safe all along the way. I would have had preferred to know to bring food as we were behind schedule so one stop either you were to enjoy the view or get a bite, use the restroom and go. We saw one viewpoint from the bus, "there's the waterfall" and one we came back at nightfall, all though lite couldn't really see and Vik, where we were supposed to have time to enjoy and wonder, didn't really happen. I think some tour is too large to keep on schedule to see all that's promised on tour booking, with that being said, everything you see is Amazing and a lifetime of memories."
"The Ice Cave Under The Volcano - Katla Icecave Tour From Vík" |
By Chris Ward 30/01/2019
Amazing tour on a comfy bus. Our family of four was blown away! Your fantastic driver/guide Johann made our tour so special. Funny and very knowledgeable about Icelandic culture, we loved hearing stories about his Icelandic grandparents. The weather and traffic were good, so Johann took advantage of it by showing us even more breathtaking sites than we had hoped to see. Thx again Johann!!! Highly Recommend!
"Awesome Guide for Unplanned Tour!" |
By Jennie Turchyn 11/02/2019
The tour that we had originally booked was canceled on our way out to the cave because weather conditions became bad quickly. Although we were leaving the area the next morning and therefore could not reschedule the same tour, Arctic Adventures promptly helped us reschedule to a different ice cave along our driving route. We appreciated that Arctic Adventures was responsible for keeping everyone safe by canceling in bad conditions, and especially that customer service was so responsive in helping us get to a different ice cave during our vacation. Our replacement tour was in the Katla Ice Cave near Vik. The cave itself was beautiful and we had a fun ride out to the cave with our guide, Hakon, who was very knowledgeable about the area and provided an entertaining commute.
"Katla Ice Cave" |
By Kerry 13/02/2019
"Amazing experience venturing inside the ice cave. Tour guide Sindri was very knowledgeable about Iceland from the geographical aspect, history and even the social sides of Iceland and a great driving getting us through some very difficult driving conditions. Was great to visit the black sand beaches as well as a stop at both major waterfalls on the way back. But the highlight was the super jeep and experiencing the ice cave. A truly beautiful sight to see what nature creates. Definitely, recommend this tour."
"Beautiful caves in ice" |
By Arlene 15/02/2019
It was an interesting tour. The ice cave was beautiful. Most of the time was spent traveling to and from the cave. The tour itself was very short. It was a little hard to hear the tour guide when he was speaking right outside the cave because of the wind. Something you should do if you are really into ice caves.
"Great experience" |
By Lesley Wilson 15/02/2019
This is a natural cave and therefore changes, don't expect a caveman made deep into the glacier, do expect nature at its most basic.
"Great time in the ice cave" |
By Randi Hung 22/02/2019
The ice cave tour was a fun experience. We got to see the coast as we drove to the location. Once we arrived it was absolutely breathtaking. It was a very short walk over to the ice cave and we got to spend a decent amount of time there. The guides and drivers were all very friendly and knowledgeable. We even got to see a couple of waterfalls on the way back to Reykjavik.
"Katla cave tour" |
By Joyce 23/02/2019
"Our tour guide Omar as fantastic. He gave us a lot of history about the volcano offered the best places for photos in the cave took our Picts and answered ALL of our questions. Definitely, recommend this tour!!"
"Katla under the volcano" |
By Marianne Werner 24/02/2019
Arctic Adventures upheld its end of the agreement...timely pickup, good driver, delivery to destination, solid equipment...and really fine guides on site in Vik to drive us to Katla. Iceland did the rest...a gorgeous underground ice cave...beautiful surroundings...and a glimpse into one example of what makes Iceland unique. The company offers lots of tours, and these tours celebrate some wonderful adventures!
"Ice cave tour" |
By Andrew Karonis 26/02/2019
The ice caves, located a couple of hours' drive from Reykjavik, are spectacular. If you are staying in Reykjavik, I highly recommend this day tour with pick up and drop off from your hotel in the city. The guides are very knowledgeable and funny. On the way there, we stopped at the Seljalandsfoss waterfall (very beautiful, but because it was February and extremely icey, the path behind the fall was closed) and at Vik. Shortly after, the bus takes you to the drop off point where you get on the Super jeep, and a very short hike later, to the ice cave (and the ice canyon). It's indescribably beautiful.
"Indescribable" |
By The Nolans 26/02/2019
We had such a wonderful time hiking through the ice caves. They were beautiful and indescribable. Our tour guide seemed a little grumpy to start out the trip, but he warmed up a bit after we were on the road to Katla. He even took us through an ice cavern, which was even more incredible, in my opinion. Well worth our money. It included a helmet and crampons. Thank you for this opportunity!!
"Katla ice cave under the volcano" |
By Jude Alkhateeb 28/02/2019
We weren't able to get into the cave because the water was too high but all in all the atmosphere of the trip was amazing and the people too.
"Amazing sights" |
By Barbara 01/03/2019
"I would recommend this tour to anyone. The jeep was a lot of fun and our guide was informative and humorous. What a wonderful adventure! Barbara"
"What a fun!" |
By Petra 15/03/2019
"Great tour with a great tour guide Helgi! Thanks for this wonderful experience!!!"
"Katla Ice Cave" |
By Sallye 16/03/2019
Unforgettable experience! The off-road driving was excellent and we felt quite safe despite the very low visibility with blowing snow. The weather conditions added to the sense of adventure. The cave was beautiful!
"Special place magnific" |
By Nicole 20/03/2019
Nice tour, nice landscape, nice guide
"Great experience!" |
By Savvina Mitrova 28/03/2019
"The tour was very nice, we visited a lot of interesting places. The part with the jeep was really fun and the guide- Willy was really friendly and entertaining us. The cave was really nice, maybe for some people small but for us was an unforgettable experience. I recommend this tour to everyone!"
"Must See Location" |
By Karen Xu 28/03/2019
The ice caves were such a beautiful place to visit. My expectations were low because from what I read online, the caves are small and very overcrowded. My experience couldn't have been more opposite. We visited a huge ice cave that had plenty of room for everyone. None of the pictures I took had people in the background, so there was definitely not a feeling of overcrowding. The super jeep ride to the cave was exhilarating, partly due to our very informative and funny tour guide. I highly recommend checking this tour out!
"The tour was excellent" |
By Sandy Linton 03/04/2019
The scenery and hiking were beautiful. Inside the cave was so brilliant. It was amazing being in the cave and enjoying the surroundings!
"Out of the box experience!" |
By Anibal Zayas 04/04/2019
I'm a very indoors guy and this tour was super fun. They take you on a bus across the glacier to get into the ice cave which is straight out of a Hollywood action movie. The cave was spectacular. It's a must do.
"A highlight of our trip" |
By Jack Killpatrick 04/04/2019
Our ice cave trip was a highlight of our week-long trip to Iceland (at the end of March). On the day we went fresh snow had fallen overnight and there was still some snow happening up on the glacier. The ride up in the 4x4 was a blast. Conditions ranged from white-out to sunshine and our guide seemed incredibly experienced with all conditions, routes, and navigation up to the ice cave. He was funny, educational and very gracious. The cave was very interesting; our first time in an ice cave. Walking on the glacier with snow and wind blowing was an unforgettable experience. Our kids loved it, we loved it. I'd highly recommend this tour. Be sure to bundle up!
"Surreal Experience" |
By Tom M 08/04/2019
It was snowing so hard with low cloud cover that it was a virtual white out the day of our tour. The conditions combined with being driven in a virtual monster truck only added to the experience for us. Even seeing a small section of the glacial layers of ice makes you appreciate the immense size and history that it contains. Coming from a warm climate, this was a particularly surreal experience that I would recommend to anyone.
"This is the one to book" |
By Frank Corsi 12/04/2019
"Did not know what to expect for this kind of tour, we enjoyed it immensely. The guide was funny and informative and made the whole experience feel good. We were also lucky to have a very good group of other people on the tour. The ice cave we went to was amazing. The short hike to the entrance and then the hike to the rim of the crater was manageable. The biggest delight was the end. I will not share, so as not to spoil it."
"ICE Cave tour" |
By Ulrike and Herbert Beck 13/04/2019
"The cave is quite an experience, wonderful guide Helgi gives you lots of time there, good driver through rough terrain. It was still a lot of snow on the road. Guide in the bus didn't talk or explain much which was good for us because we live here but for the newcomers maybe not enough. Nice that it was a smaller group. Enough time for our stops on the road."
"nICE cave experience! (Katla ice cave)" |
By Flora Wilson 13/04/2019
"This tour exceeded my expectations and was by far our favorite experience from our trip to Iceland. Our guide was so fun and really added to the excitement of our tour. I was expecting a visit to the Katla ice cave, but ended up getting more bang for our buck with hiking up the glacier, crawling through a smaller blue ice cave, exploring and enjoying the views from above and, the absolute best, sliding down the glacier! The cave looked way cooler in person than advertised in the photos which I wasn't expecting. Instagram vs reality does not apply here, thankfully! I can't say enough good things about this tour and Arctic adventures. I will remember this experience with a fondness for the rest of my life. Thanks!"
"Great day out" |
By Rachel 17/04/2019
This was a great day out from Reykjavik, taking in 2 waterfalls on the south coast and the ice cave near Vik. Our guide Ricki was really friendly and had lots of interesting info on all sorts of Icelandic subjects. The super jeep with Villi was also good and it was great that we could have as long as we wanted at the ice cave. The ice was absolutely fascinating to see up close.
"great tour" |
By Chris losurdo 28/04/2019
The ice cave was tour awesome!