Nested between two large glaciers, Langjökull and Hofsjökull, is Hveravellir Nature Reserve. Also known as the Hot Spring Fields, the Hveravellir geothermal area is a great place to be in nature. Located in the central highlands, the area sits 650 meters above sea level. Hot pools, lava fields and hiking trails are all part of a visit to Hveravellir.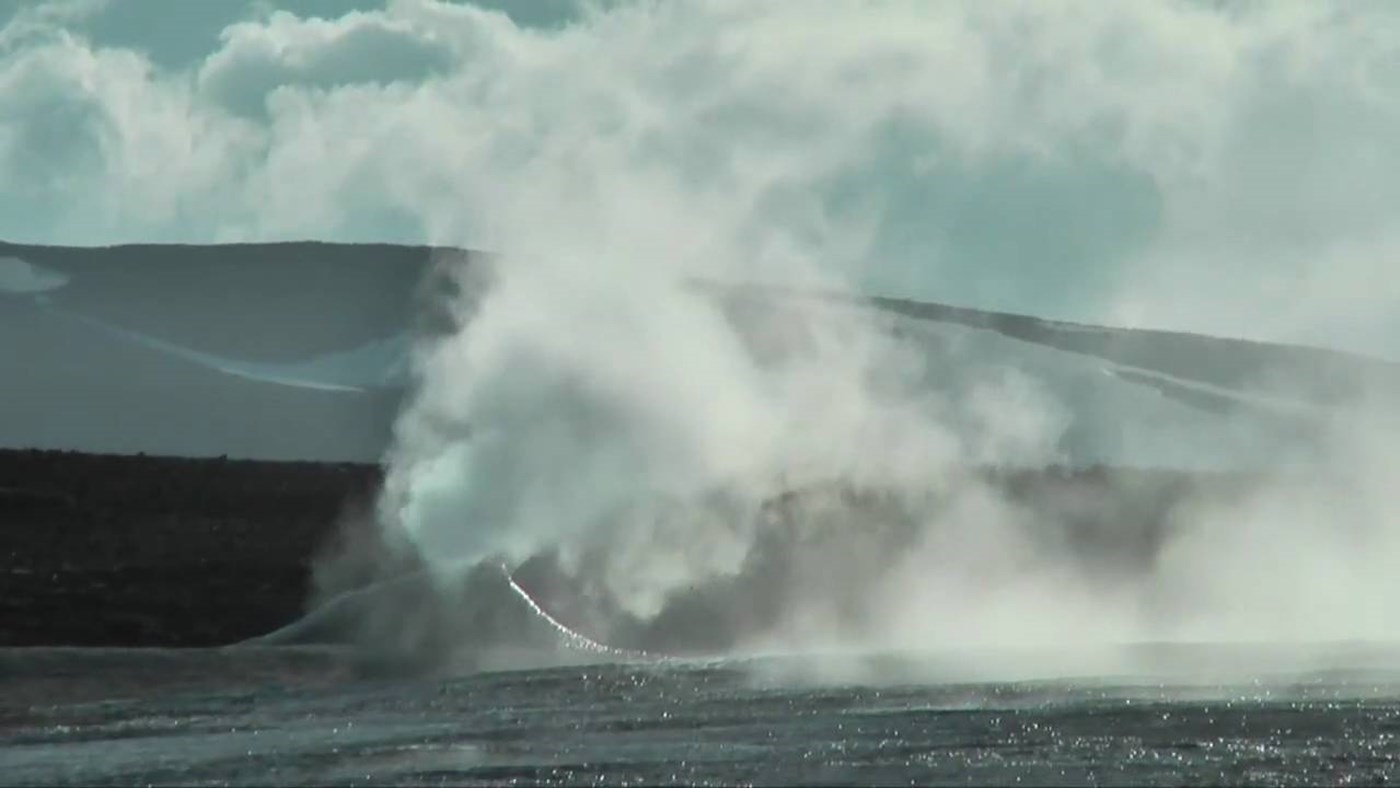 Having both hot and cold water flowing to the pool is a great natural way that the temperature of the water is kept regulated. Due to the fast pace of the water flow means, that there is a constant supply of clean water. This relaxing pool is scientifically proven to hold medicinal properties, so what better way to relax and unwind.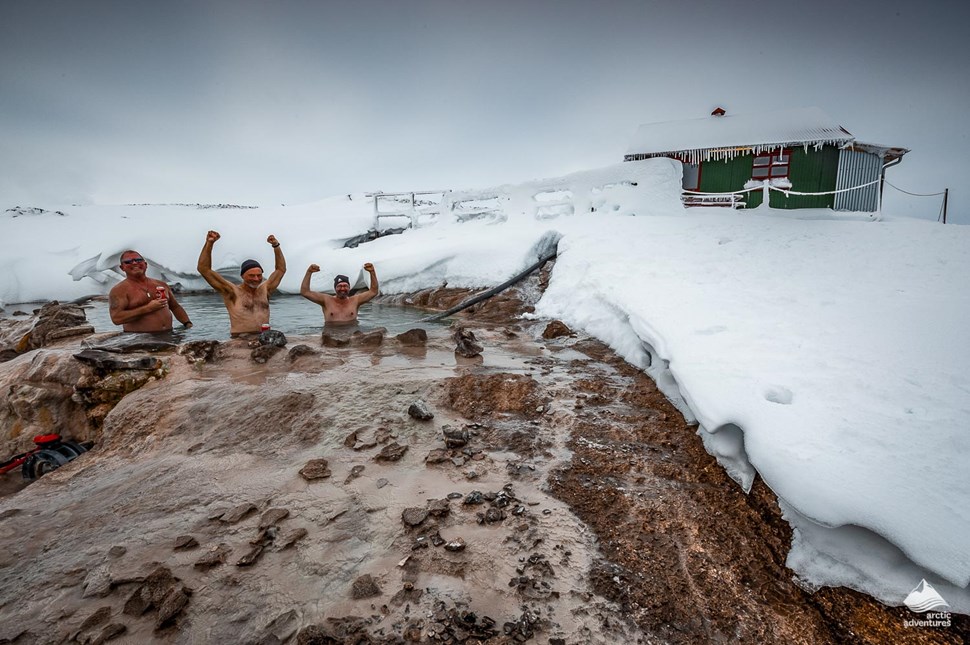 It is worth spending a day visiting Hveravellir because there is so much to see and do. So clear your head, take a moment and take in the sights of this amazing natural thermal pool.
The History of Hveravellir
Previously named Reykir, the Hveravellir geothermal area was used as part of the greenhouse industry. It utilized heat from the geothermal energy. In 1970, it became a source of hot water for the town of Husavik.
Later in the 1990s, the geothermal water was used for electrical production and now provides Husavik energy company with steam, electricity and heat.
The Folklore Behind Hveravellir
Icelandic history tells of a tale about an outlaw and his wife. It was said that a stranger called 'Kari' moved to a farm in the north of Iceland and took on the role as a laborer. A widowed woman called Halla owned the farm and fell in love with this man.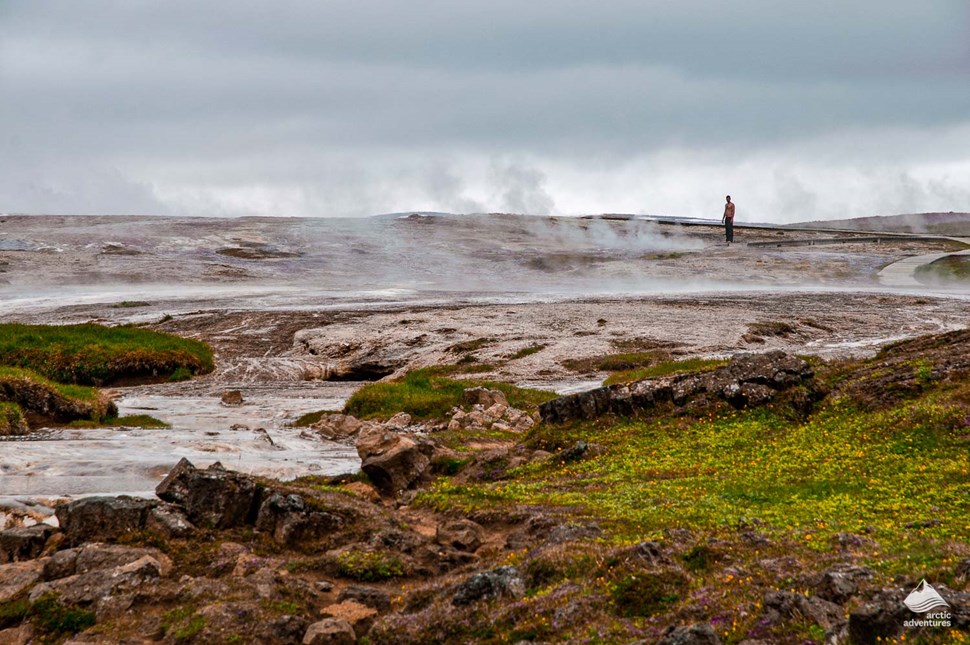 This made the local bailiff very jealous as he was set to marry her. It came to the attention of the bailiff that Kari, was, in fact, a fugitive named Eyvind and was living a fake life. Kari denied all knowledge of this person and to prove his sincerity, he was challenged to beat the bailiff in a wrestling challenge. He won.
Halla proposed to Kari and as the guilt consumed him, he was forced to confess his true identity as Eyvind. Knowing that the bailiff was coming to arrest him, the couple fled to the freezing central highlands and lived happily for many years. The couple gives birth to a baby girl and were kept company by a friend names Arnes.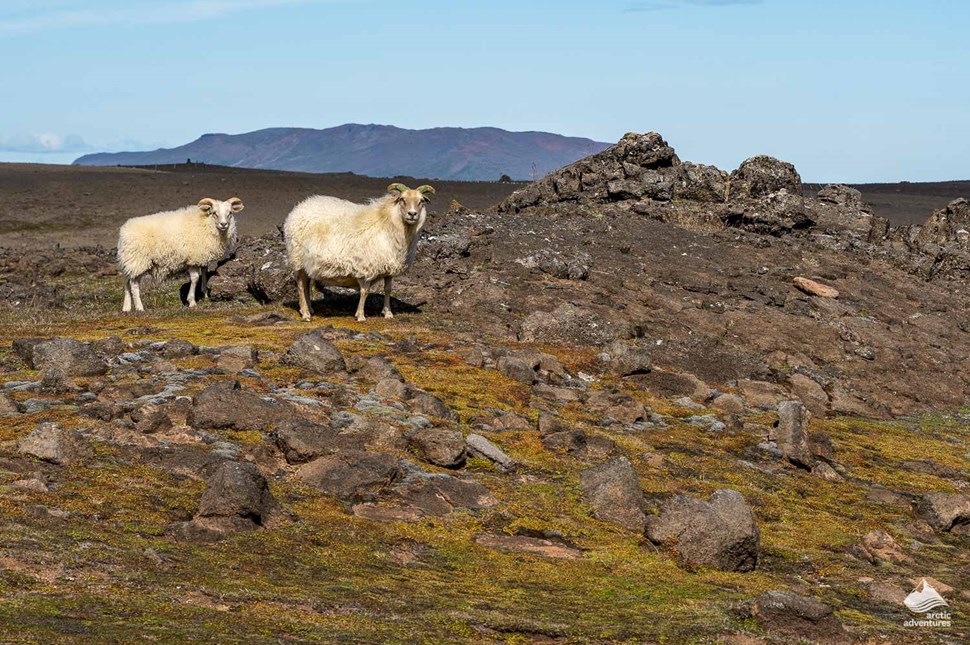 Three years later it came as a shock when Arnes confessed his love for Halla. However, the feelings were not reciprocated, and with that, he decided to leave. When doing so, he was met by a group of men who were on the hunt for Eyvind. In a flurry, Arnes ran back to warn them but it was too late and a fight broke out.
Halla panicked and threw her baby off of a cliff and into a river in the hope she would not be captured. Both Halla and Eyvind survived and fled to a small cabin where they became hysteric with hunger. One day Eyvind went in search for firewood and returned to find Halla frozen. He held her until eventually dying beside her.
Where is Hveravellir located?
As mentioned before Hveravellir is situated between two large glaciers called Langjökull (meaning Long Glacier) and Hofsjökull (meaning Temple Glacier). It is also on the edge of an 8000-year-old Lava field named Kjalhraun.
Being in the west highlands means that Hveravellir is some distance from Reykjavik and is about a 3 hour and 45-minutes drive. It can be found on the Kjolur route and is in the middle of Reykjavik city and Akureyri town.
GPS coordinates of Hveravellir: 64.8672° N, 19.5456° W
How to get to Hveravellir
It is possible to get to Hveravellir by both bus and car, however, it is essential that you have access to a 4×4 when using the car route. From Reykjavik, Gullfoss is the place that you need to head towards. This is a great way to start your journey as this is one of Iceland's most famous waterfalls.
From here you will need to take road number 35. This will take you over the Kjolur mountain road. Following this, you will merge onto Ring Road 1. About 90 km away from Gullfoss you will come across a sign for Hveravellir, this will inform you that your destination is about 2 km away.
Hveravellir can also be reached by bus, however only in the summer months. The Nordurleid bus company has services that departs from both Reykjavik and Akureyri, depending on the direction you are coming from.
What to expect at Hveravellir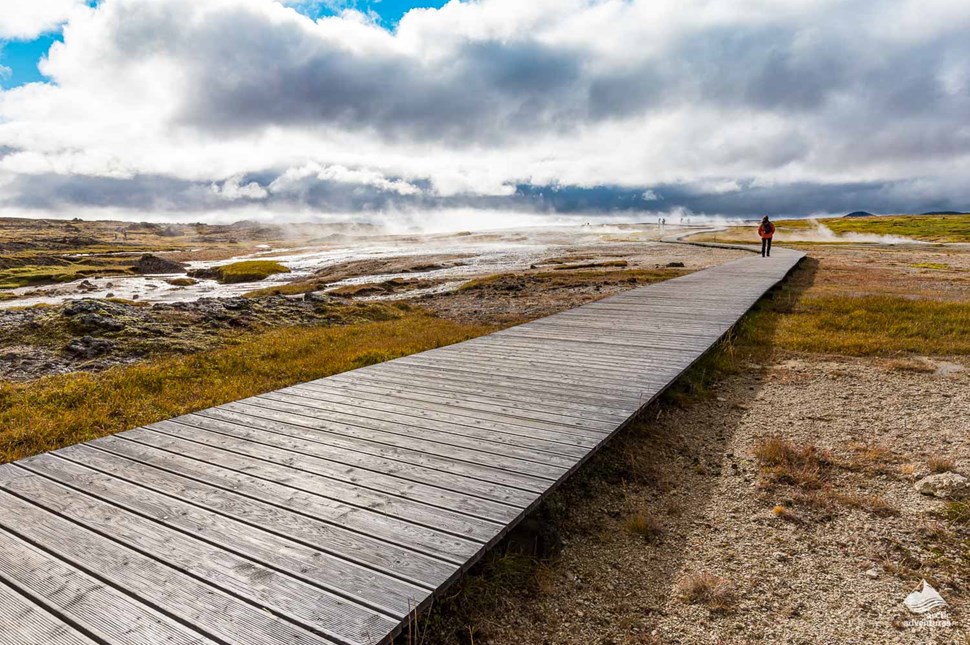 After encountering a rough terrain ride to Hveravellir, you'll find the polar opposite feeling when you are enjoying the serene landscapes that you are swallowed up in. One Hveravellir hot spring is named Öskurhóll. After understanding the story of Eyvind and Halla, you will feel much more appreciation for the hot spring Eyvindarhver.
This was used by the outlaws to cook their food on in the years they lived happily here. The list of hot springs is extensive including Fagrihver, the lovely hot spring and Grænihver the green hot spring. Try to keep an eye out for them all!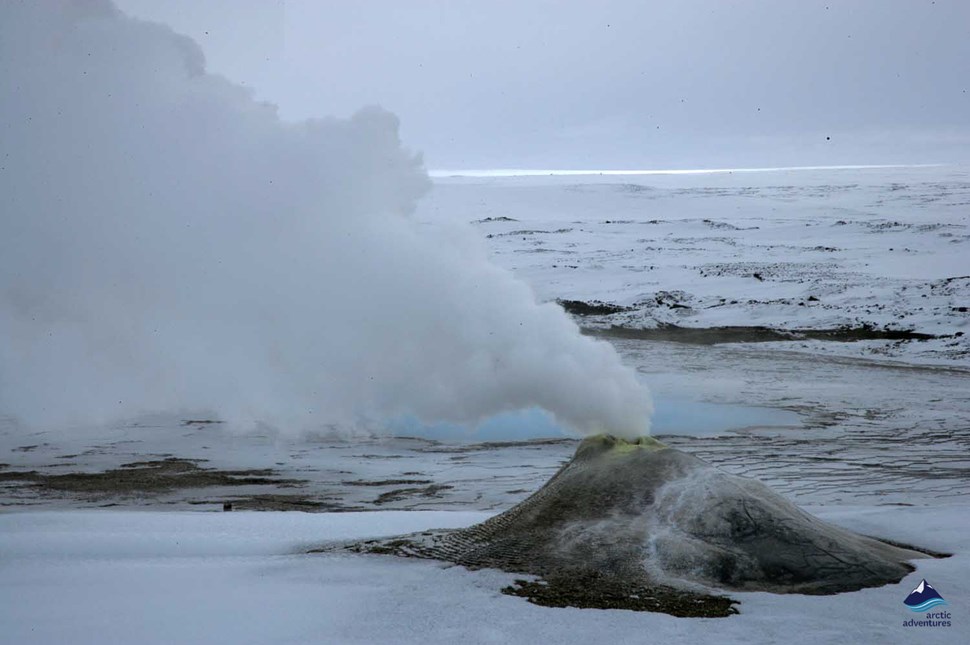 Hiking around bubbling fumaroles and hot springs will leave you ready to dip into the geothermal pool. It's a great way to unwind. The temperatures vary between 18 and 39 degrees celsius. The pool was created due to a dam being built in the 1950s.
Accommodation near Hveravelli
Hostels and Guesthouses
Gljásteinn Gíslaskáli Kjölur
Kerlingarfjöll Mountain Resort
The new Hut
The old hut
Afangi
Camping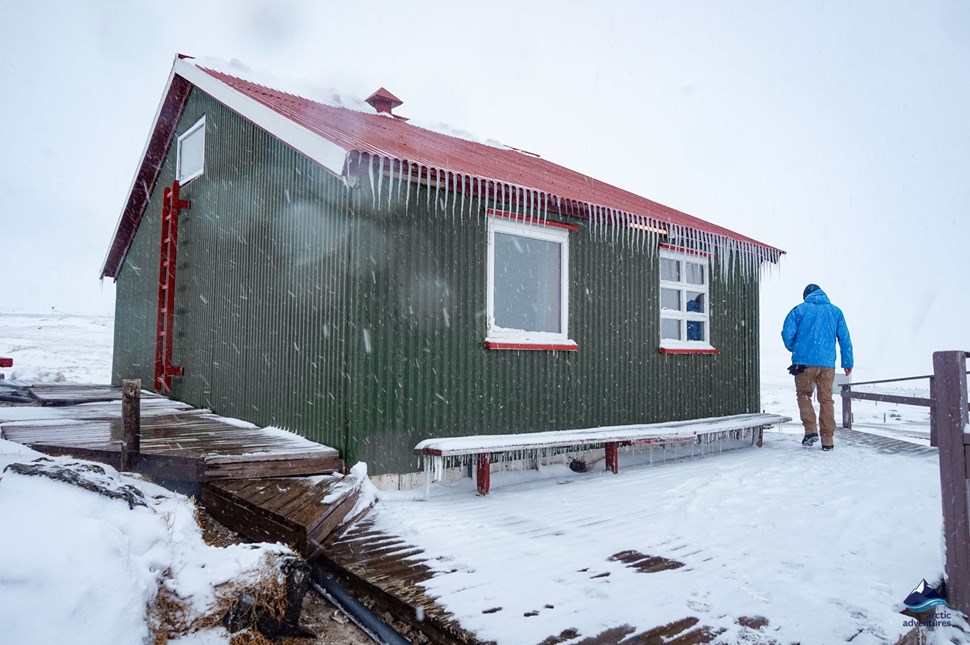 Top tips when visiting Hveravellir
There are no facilities to fill up on petrol near Hveravellir, so if you are not part of a tour make sure you are well prepared.
There is a service fee of 500 KR for any guests parking or using the showers and toilets.
Always follow the signs and marked paths, they are there for a reason. To keep you safe and protect the wildlife!
Don't leave any rubbish behind, Iceland wants to preserve its natural wonders.
Being a protected area since 1965 there are boardwalks provided to walk on, so stick to these when exploring.
Hveravellir in Winter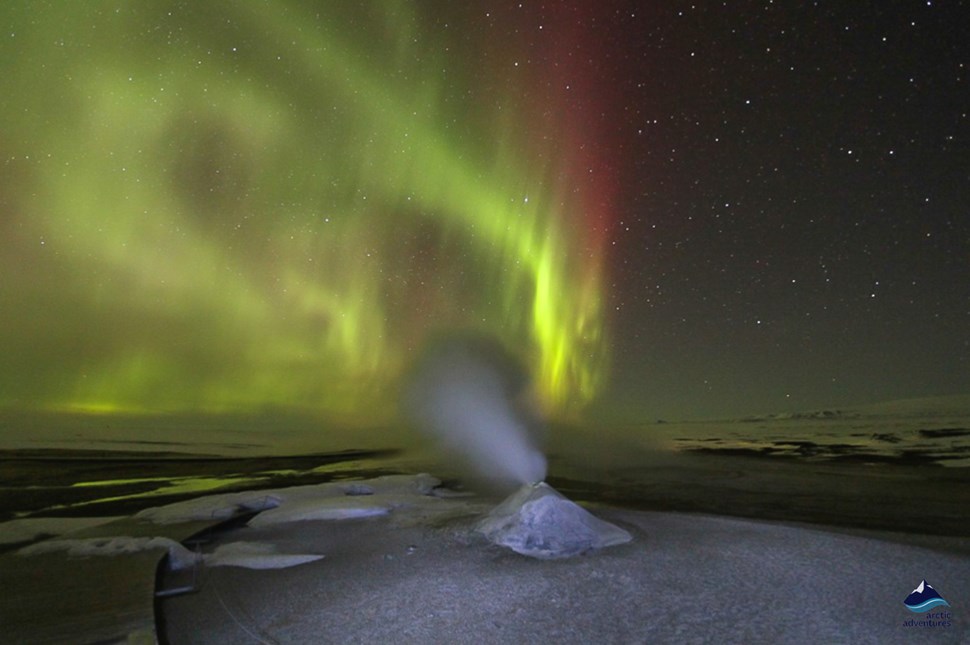 Hveravellir in the winter seasons is a beautiful and magical experience. The rugged highlands mixed with the snowy glaciers and frozen rivers will leave your eyes wondering where to look next. Engulf yourself in the beautiful geothermal area and forget that the cold even exists!
Just when you think it can't get any better, the northern lights will sneak up on you. You're in the middle of nowhere but you're also in the middle of a natural phenomenon!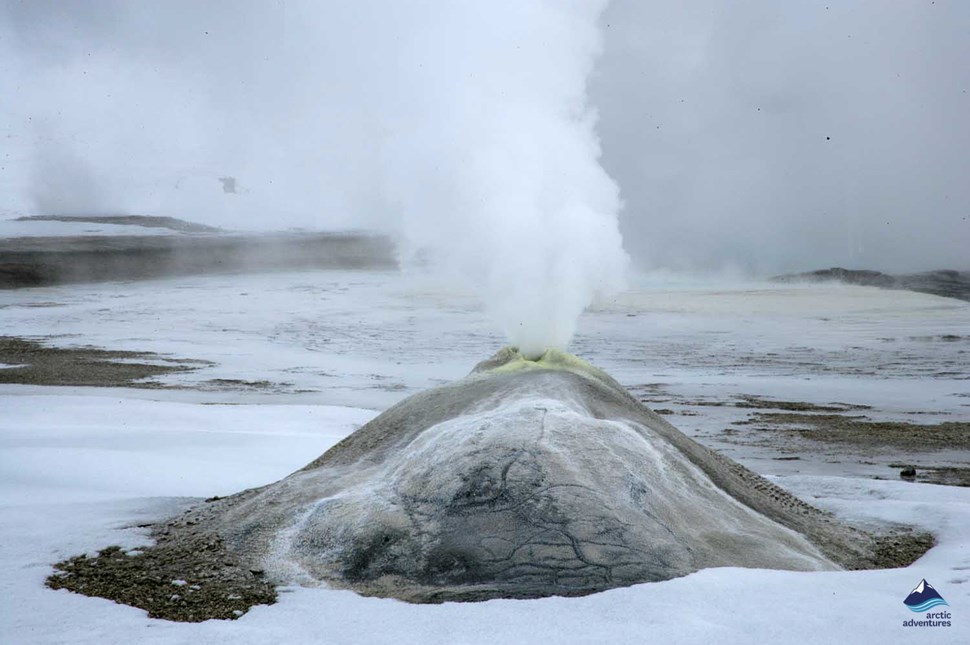 Interesting places to visit near Hveravellir
Lake Þórisvatn
Route Kjölur F35
Eiríksjökull Glacier
Hofsjökull Glacier