---
---
One of the main characteristics of Icelandic nature is the abundance of natural hot springs and geothermal pools that can be found in the most amazing places all around the country. Iceland sits on two tectonic plates that cut through the country like a lightning and are constantly thrusting together and a part creating a very active geological system and a lot of geothermal activity. The geothermal warmth in Iceland is of no shortage and all around these red volcanic zones, you will find hot water sources that Icelanders have used to bathe in since settlement. The water in Iceland is all geothermal, originally boiling hot from the ground and actually needs to be cooled down in order for people to use it at their homes. This endless source of hot water has resulted in numerous swimming pools spread all around the country and it is often said that a village needs no more than 50 residents for there to be a reason to build a swimming pool.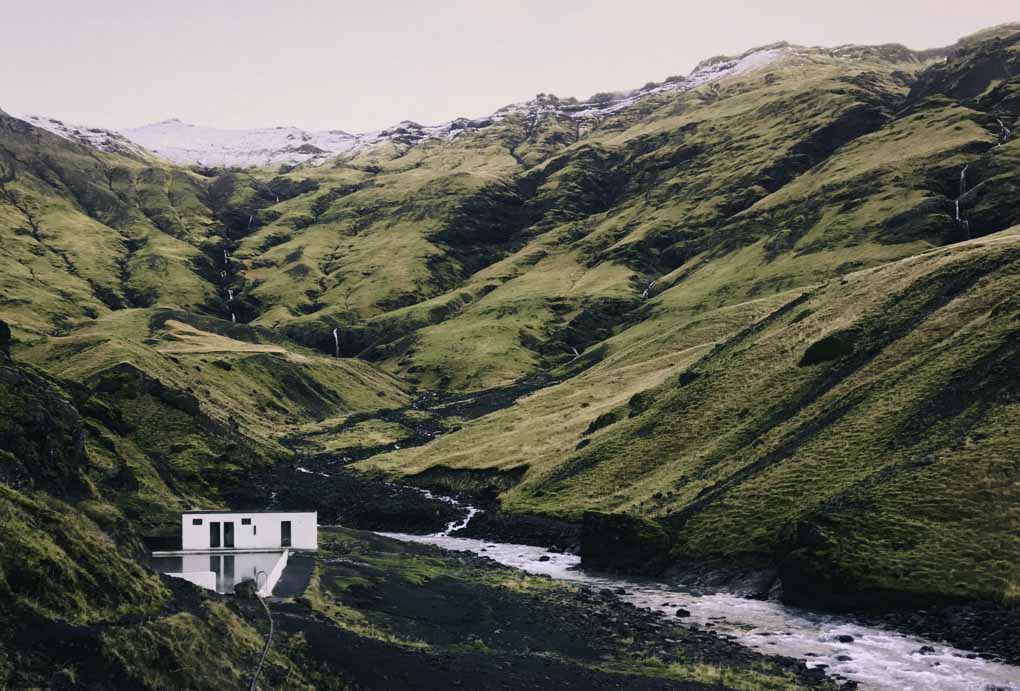 But swimming pools, the geothermal pools, and the hot springs aren't the same.
A hot spring that can be used for bathing is a natural pool, where a hot water source comes up from the ground without much effort, where the water doesn't require any heating and can contain natural minerals such as algae and silica. They can be with and without any changing rooms. They can be found both at remote locations but also quite near Reykjavík.  Note: Some hot springs are fumaroles, geysers or bubbling mud pits and they are not safe to bathe in. This is true for the great Geysir and Strokkur for example.
A geothermal pool is more like a swimming pool, the surroundings are man-made, the water temperatures controlled and often with a fee to enter. Some form of changing facilities are on site and sometimes even a restaurant or a cafe. Their locations vary from inside towns, or villages to completely remote locations.
---
Top 10 Hot Springs & Nature Pools in Iceland
Note: The pools aren't placed by their standard, the numbers don't mean a thing. We encourage you to read about all about them and compare by your standard and focus to find out which bathing experience is for you!
---
---
1. The Blue Lagoon the Crown Jewel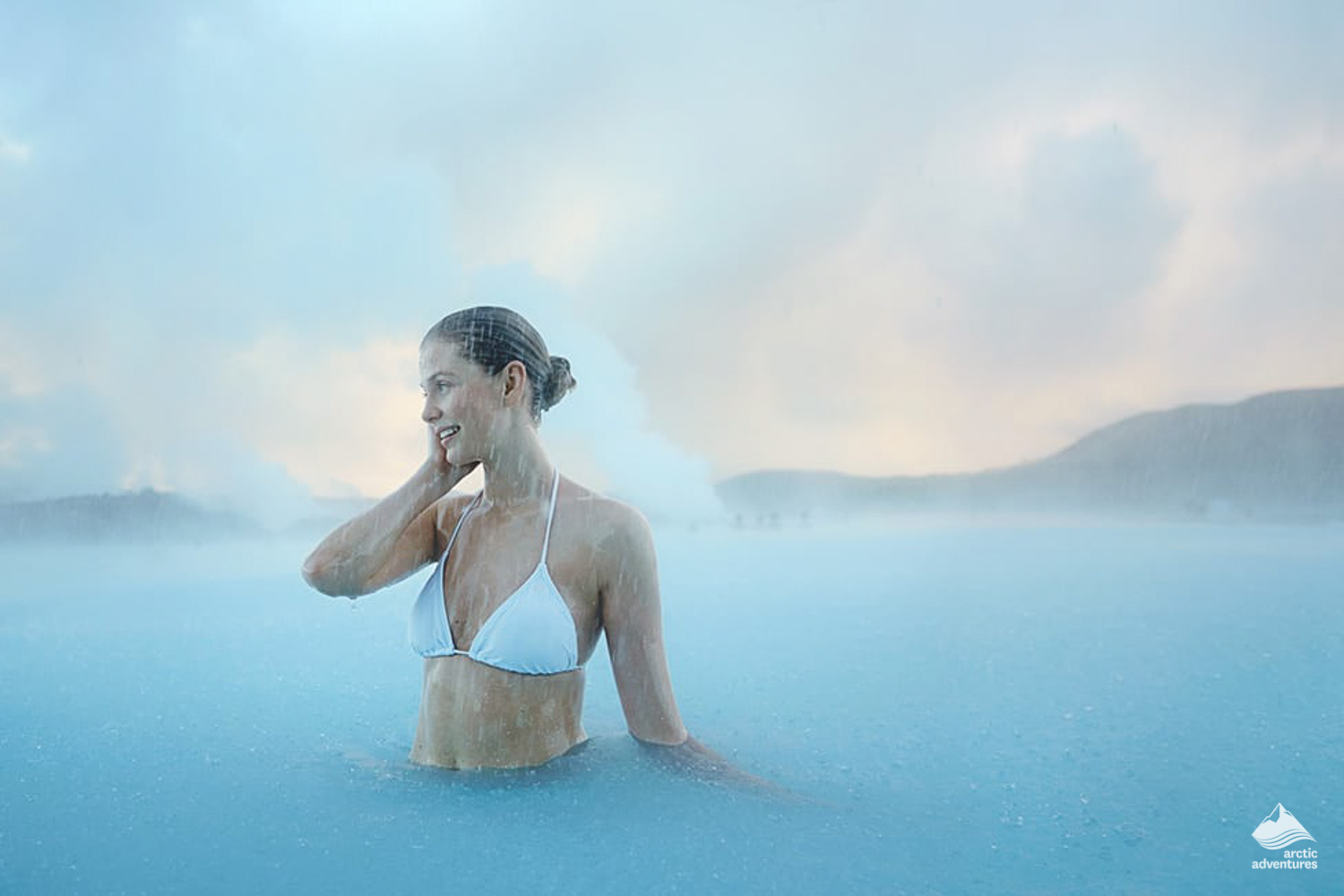 The Blue Lagoon is a world famous hot spring spa facility known for its magical blue color and healing powers. The water is very rich in silica and other skin-nurturing minerals so much so that Icelandic doctors even write out prescriptions for their psoriasis patients to go to the Blue Lagoon. The changing rooms are luxurious, there are two fabulous restaurants, a cafeteria, an in-water bar and you can order an in-water massage. The place is located in the middle of a lava field and the pitch black rocks are covered in the white silica making the place even more authentic and true.
Price:  The Adult price starts at 6990 ISK or about 58 USD
Location: Blue Lagoon: Norðurljósavegur 9, 240 Grindavík
Bath Season: All year round
2. Hveravellir the Highland Nature Pool
Hveravellir is an amazing hot spring pool, between Hofsjökull and Langjökull, 92 km (57 mi) North of Gullfoss. The pool is located in a small nature reserve and has got basic changing facilities. Both hot and cold water flows into the pool regulating the temperature and with this constant flow, the water remains nice and clean. The pool, its location and surrounding make the bath even more memorable and surely a must do for anyone exploring the area.
Price: Free
Location: Central Highlands near Kerlingarfjoll mountains
Bath Season: All year round
3. Landmannalaugar Hot Springs in Central Highlands
View this post on Instagram

Boiling hot water surges up from deep within the earth. It is then cooled down, and sometimes by naturally blending with a source of cool water in a pool or a river. This happens at Landmannalaugar and is absolutely perfect for relaxing. The pool is located right under a wall of the lava field Eldhraun adding even more magic to the bathing experience and the views of the colorful mountain peaks really give this place an idyllic otherworldly feel. Changing facilities and showers (fee to be paid) are functional but basic and situated about 50 m from the pool.
Price: Free
Location: Southern Highlands near Þjórsárdalur and the valley of Tears
Bath Season: All year round
4. Reykjadalur the hot river above Hveragerði
At Reykjadalur, the hot spring valley behind Hveragerði where a river flows beautifully through with a blend of hot and cold water. The further up you go in the valley the river gets warmer and the further down it gets colder so you basically need to hike until you like the temperature of the water and want to bathe! Good to know, "the Hot River" has no proper changing facilities, and requires an hour's hike to get there. Perfect as a winter hike, and if the forecast is good you can watch the Northern lights in the natural hot river, just bring a headlight and sturdy hiking boots preferably with ice spikes underneath!
Price: Free
Location: Right above the town of Hveragerði, near Hengill geothermal area
Bath Season: All year round
5. Myvatn Nature Baths the Blue Lagoon of the North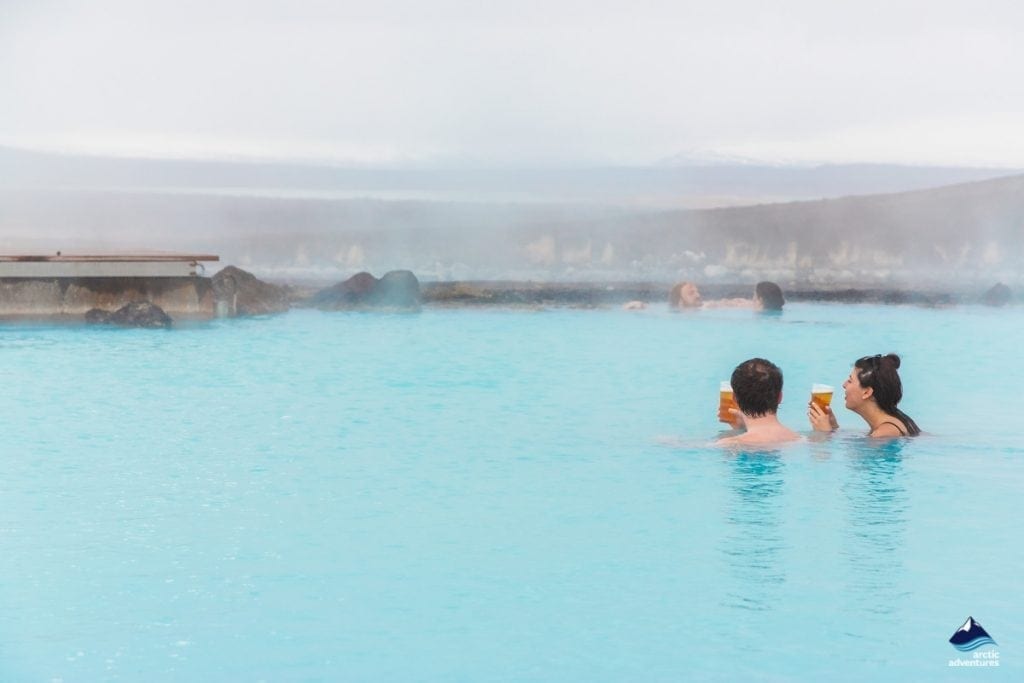 Mývatn Nature Baths is like a smaller and less crowded version of the famous "Blue Lagoon". It is located in the North near Lake Mývatn and would best be described as a cross between a hot spring and a man-made pool.  The facilities are excellent including changing rooms with plenty of showers, two steam baths, a restaurant, and a small souvenir shop. The water is alkaline and enriched with minerals which are known for their amazing powers to heal and soothe skin problems. No chlorine or chemicals are added in the water which is instead filled with silica, algae and microorganisms that keep it clean.
Price: The Adult price starts at 4200 ISK or about 35 USD
Location: In the North East near Lake Mývatn
Bath Season: All year round
6. Landbrotalaug on the Snaefellsnes Peninsula
Landbrotalaug is a tiny natural spring on Snæfellsness peninsula fitting about two people. It is quite hidden but once you find it you will feel like you just found your own secluded hot spring paradise. Due to its secludedness, there are no facilities for changing, barely anything there but the hot tub itself so it is best to have your swimwear on underneath.
Price: Free
Location: On the Snæfellsnes Peninsula, after passing Eldborg on road 54 make a turn onto a dirt road with the sign marked "Stóra-Hraun"
Bath Season: March – October
7. Grettislaug the pool of Viking Grettir the Strong
View this post on Instagram
Grettir, one of the most famous Vikings in the Icelandic Sagas is believed the have bathed in this pool after having swam across from the island Drangey that sits in the center of the fjord Skagafjörður. He had been cast as an outlaw and was hiding in the island, out of plain sight but still pretty much right under the nose of the fjord's people. Some even say that he swam across with a sheep under each arm but we will leave it with you if that it true. Anyway, the story actually goes we aren't surprised that the wanted a hot bath after having swam in the Atlantic Ocean. The pool that has since been restored after being ruined in storms is a great place to visit in the North and the view over the in-famous island is a real added treat. There are changing facilities, a small shop and outdoor showers.
Price: The price for adults is 1000 ISK
Location:  In the fjord Skagafjörður about 25 min from Sauðárkrókur driving along road 748 on the East side out from the bottom of the fjord
Bath Season: Not open in winter
8. Hrunalaug the pool and turf house
This is one of the most authentic pools in Iceland but it is extremely sensitive so you need to treat it with great care. Located near Flúðir in the Hruni area this gem is one of the older pools in Iceland. There are pretty much three different pools you can bath in, one right outside the "changing hut", one at the side of it and another at the bottom of the hill above.
Price: Free
Location: In Hruni, can be found on google maps
Bath Season: All year round
9. Strútslaug highland pool
Also known at Holmarbotnalaug, a geothermal pool in the Southern highlands North of Mýrdalsjökull and East of Torfajökull. Its location is remote and you need a 4×4 to reach. There are no changing facilities so you need to be ready to change out in the open or have your swimsuit on underneath. The pool is quite muddy so it is best to get in an sit pretty still. This place is a true utopia!
Price: Free
Location: In the Southern Highlands next to Torfajökull about 5 hours driving from Reykjavík, does require existential hiking
Bath Season: All year round
10. Borholan in Kerlingarfjöll Mountains
There are two separate pools or tubs at Borholan. In 2002 locals drilled down to open gates for the hot water known to rest underneath the field and it burst up and into the pool at the perfect temperature of 40°c (104 Fahrenheit). This has since been a popular bathing spot and the scenery around makes is even more unique.
Price: Free
Location: In Kerlingarfjöll mountains in the central highlands best visited on a tour
Bath Season: All year round
---
Other Great Hot Spring & Natural Pools
1. Laugafellslaug
Located in the central highlands in between glacier is the extraordinary Laugafellslaug pool. Around the pool, you can find a few huts, one of them with a changing facility, which can come in handy especially if visiting in winter.
2. Gvendarlaug
This pool of Gvendur is one of many pools named after Guðmundur Góði (nicknamed Gvendur) who is believed to have blessed the pool. It is located in Bjarnafjörður on Strandir, in the Westfjords, about 100 steps away from Hotel Laugarhóll in the old schoolhouse at Klúka. Perfect to dip your toes and relax at after a good day of adventures.
3. Hákarlavogur
In Hákarlavogur or Shark's Bay, you will find an incredibly beautiful but small natural hot pool. This is where the authentic Icelandic contrasts of hot and cold are evident as the hot water source comes up in the ocean! The pool takes about 6-10 people at a time. Please ask for permission at the farm Gjöguri since the pool is located on private property.
4. Hveraborg
Hveraborg is one of these extraordinary pools that can be found in the center of a running river. The river, Siká, is located in the Northern moorland of Tvídægra. A car track from Ring Road 1 just East of the river must be followed until you reach a locked gate. This is where you need to start the hike to the pool which can take about an hour each way. The path is marked.
5. Hellulaug 
Hellulaug is a geothermal pool located at a beach in the Westfjords, similar to Hákarlavogur. The view from the pool is breathtaking over both the ocean and Vatnsfjörður fjord. The cannot be seen from the road but there is a good path down to it. The pool is less than a meters deep and the temperature is around a comfortable 38°c (100 Fahrenheit). There are no changing rooms on site so it is best to be prepared to strip of wear the swimwear under your clothing.
---
Top 10 Geothermal Pools in Iceland
Note: The pools aren't placed by their standard, the numbers don't mean a thing. We encourage you to read about all about them and compare by your standard and focus to find out which bathing experience is for you!
---
---
1. The Secret Lagoon the Oldest Swimming Pool in Iceland
The Secret Lagoon at Flúðir is a magnificent hot spring pool. Its charming Icelandic name is "Gamla laugin", meaning The Old Pool. This pool is close to the Golden Circle and makes a perfect stop to on a day of sightseeing. The facilities include a seating area, comfortable changing rooms, showers and a café/bar serving drinks. Footpaths lead to various areas around the lagoon, including a small hot spring. When you are bathing you are totally immersed in Icelandic nature, as trees from the nearby forest scent the air.
Price: The adult price is 2800 ISK or about 23 USD.
Location: In the Geothermal town of Flúðir, can be found on Google Maps
Bath Season: All year round
2. Seljavallalaug Mountain Pool
This remote pool, Seljavallalaug, is located at the end of a valley near to Eyjafjallajökull. It was built 1923 and is one of the oldest swimming pools in Iceland. The pool is 25 m long and has basic changing facilities. Seljavallalaug is a popular choice, good to know before you take a bath is that the pool doesn't get cleaned like a modern pool it does contain algae, ash from the surrounding volcanoes and other microorganisms.
Price: Free
Location: In the South, inland from Seljavellir
Bath Season: All year round but best in summer
3. Laugarvatn Fontanaon the Golden Circle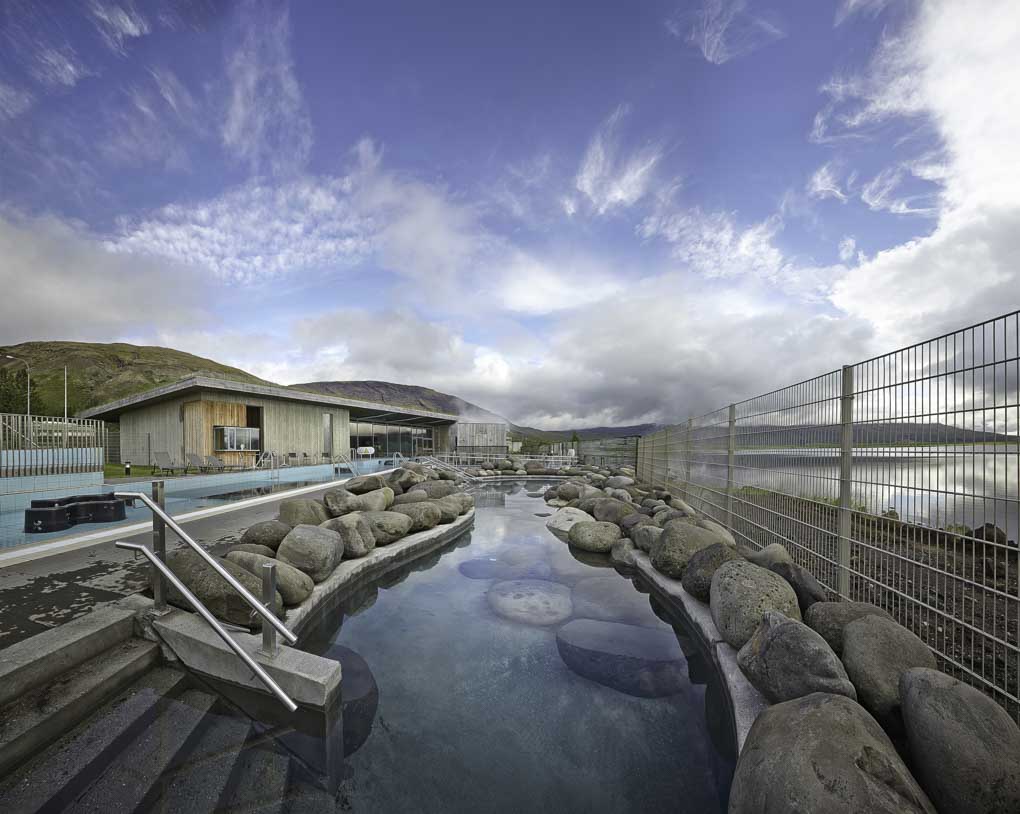 The Laugarvatn Fontana Spa offers an unusual experience, a hot spring sauna, which has been built over a hot spring, sauna guests can hear it bubbling away as they steam gently! There are geothermal bathing pools and the option of a refreshing plunge into the cool lake. The changing rooms and showers are comfortable, a licensed restaurant offers drinks, snacks, and yummy meals.
Price: Price per adult is 3800 ISK or about 32 USD
Location: At Laugarvatn between Þingvellir National Park and Geysir Hot Springs
Bath Season: All year round
4. Krauma Geothermal Baths at Deildartunguhver
The new hot pool in Iceland, Krauma, is located next to Deildartunguhver, the most powerful hot spring in Europe. The Baths take their water from the hot spring and many thought it was about time that its power and water was harnessed. These stunning facilities include several hot tubs, an indoor relaxing area, a fantastic restaurant and two incredible natural steam baths using the hot spring spraying water.
Price: Price per adult is 3800 ISK or about 32 USD
Location: Next to Deildartunguhver in Borgarfjörður 
Bath Season: All year round
5. Geosea Sea Baths at Húsavík
View this post on Instagram

Just recently new baths opened up at Húsavík in the North. The location is out of this world, somewhat of an infinity pool or hot tubs with incredible marine views over Eyjafjörður. Private showers and locked lockers are included in the admission ticket and there is an in-water bar where you can purchase refreshments to enjoy whilst in the water. Originally, workers were drilling down for hot water to use for house heating, but when the water came up it was incredibly rich with minerals believed to be good for you skin so the locals placed old cheese tubs to utilize the source. The Geosea baths are an updated version, to say the least.
Price: Price per adult is 4300 ISK or about 36 USD
Location: In the town of Húsavík in Eyjafjörður near Akureyri.
Bath Season: All year round
6. Krossneslaug in the Westfjords
View this post on Instagram

Krossneslaug is one of those unbelievably beautiful spots in the Westfjords. Located at Strandir at the Eastern part of the Westfjords this place offers extraordinary views into the Arctic Circle. Getting there can be a bit of a hassle with a gravel road leading the path but well worth the effort. The drive is about 90 km from the town of Hólmavík. Facilities are simple changing rooms and
Price: Price per adult is about 5 USD
Location: Eastern Westfjords, follow road F643 to the pool from Hólmavík
Bath Season: All year round but very difficult to reach in Winter
7. Hofsós Pool the infinity pool in the North
In Skagafjörður right across the fjord from Grettislaug, you will find the town of Hofsós and in it an amazing pool which was gifted by two Icelandic sisters who believed there was a real need for a pool at Hofsós. The views are outstanding and the experience from start to finish phenomenal. Take a few laps close to the Atlantic ocean but in comfortable temperatures.
Price: Price per adult is 900 ISK or about 8 USD
Location: at Hofsós, Skagafjörður, North Iceland
Bath Season: All year round
8. Hörgshlíð the Rustic Hot Pool
View this post on Instagram

One of those fantastic beach pools found in the Westfjords. Situated in Mjóifjörður the pool is a great spot to visit in any season. You must ask permission from the landowners at Hjörgshlíð as the pool is within their land. There is a small green rustic changing room shed right next to the pool but that it about it.
Price: Free
Location: Down from the farm Hörgshlíð in Mjóifjörður in the Westfjords
Bath Season: All year round
9. The Pool at Ion Adventure Hotel  Nesjavellir 
View this post on Instagram
A remarkably Nordic designer hotel with a natural spa including a sauna and an outdoor hot pool. Located at the geothermally active Nesjavellir there is no shortage of hot water and the scenery very remote. You will find the perfect zen and tranquility only a short distance out from Reykjavík but still in a complete no man's land. You can order a massage before dipping in the peaceful pool adding even more luxury to the experience.
Price: Per adult 5000 ISK or 41 USD with the sauna and the relaxing room
Location: Nesjavellir near Þingvellir National Park
Bath Season: All year round
10. Pollurinn at Tálknafjörður
View this post on Instagram

Yet another gem in the Westfjords, Pollurinn in Tálknafjörður has been a local treat for years. Pollurinn or the puddle as it would be called in English is located a few minutes away from the town just above road nr. 617. A small changing hut is located beside the pool for you to change. Sitting in the "puddle" you will have beautiful views over the fjord and surrounding mountains.
Price: Free
Location: South-Western Westfjords near the town of Tálknafjörður
Bath Season: All year round
---
Other Interesting Bathing Spots in Iceland
The Beer Baths in Eyjafjörður
Nauthólsvík a geothermal beach in the heart of Reykjavík
Reykjafjarðarlaug swimming pool and natural hot spring in a remote setting
Lýsuhólslaug an authentic pool at Southern Snæfellsnes
Drangsnespottarnir hot tubs at the beach in the Westfjords
Hoffellspottanir  hot tubs with glacier views near Höfn í Hornarfirði
---
Additional great Hot Springs you can not bath or don't want to bathe in
Grjótagjá Hot Spring and Cave near Mývatn North Iceland
Snorralaug at Reykholt in Borgarfjörður
Brimketill in Reykjanes Peninsula
Víti Crater North East Iceland near Mývatn