How many National Parks are there?
Five national parks have been established in Iceland. However, since Skaftafell and Jökulsárgljúfur became part of Vatnajökull National Park in 2008, there are now only three.    
New areas containing some of Iceland's greatest natural treasures have been added since 2008.  For example, Jökulsárlón Glacier Lagoon and its surrounding areas are now included in Vatnajökull National Park, extending its territory to 14,141 km2.
The national Iceland parks were formed to protect the country's precious natural heritage and diverse wilderness areas.
National Parks Near Reykjavík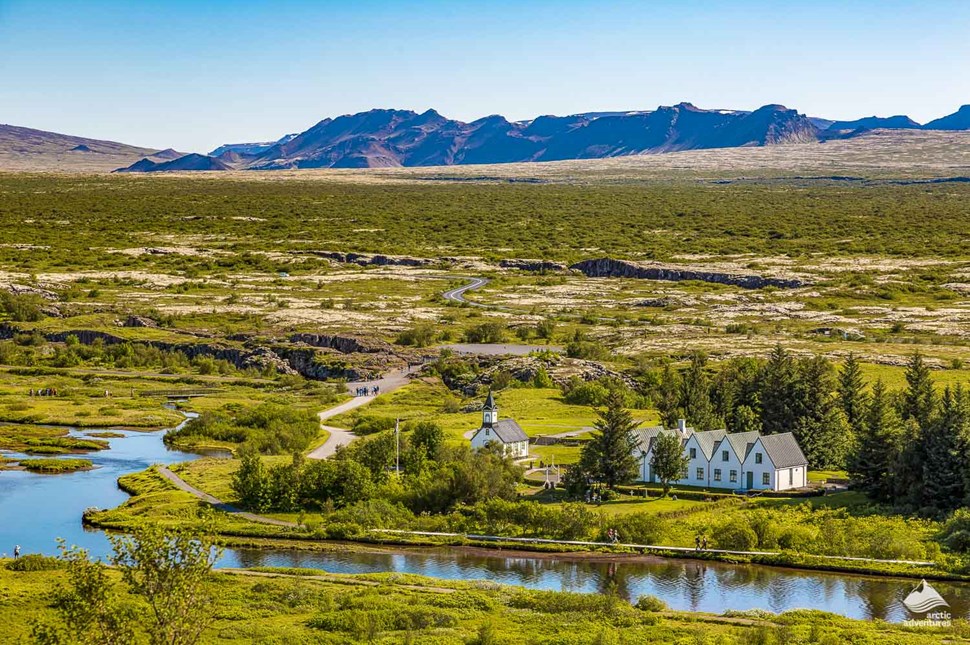 Þingvellir National Park 40 km (24.85 mi) to the south of Reykjavík is the closest national park to the capital. Þingvellir is one of three major attractions on the Golden Circle route, making it really easy to visit Gullfoss waterfall and the geothermal area at Geysir all in one day.
Whether you travel by car or take a Golden Circle tour you will see unique geological and historical sights.
Snæfellsnes National Park is the second closest national park to Reykjavík. The distance is 189 km (117.5 mi) from Reykjavík. To get to the park, pass by Vatnshellir, an ancient and spectacular lava tube cave, and drive by the picturesque village of Arnarstapi.
You can self-drive to the park, take a day tour, or enjoy a longer trip around Snæfellsness Peninsula.
Thingvellir National Park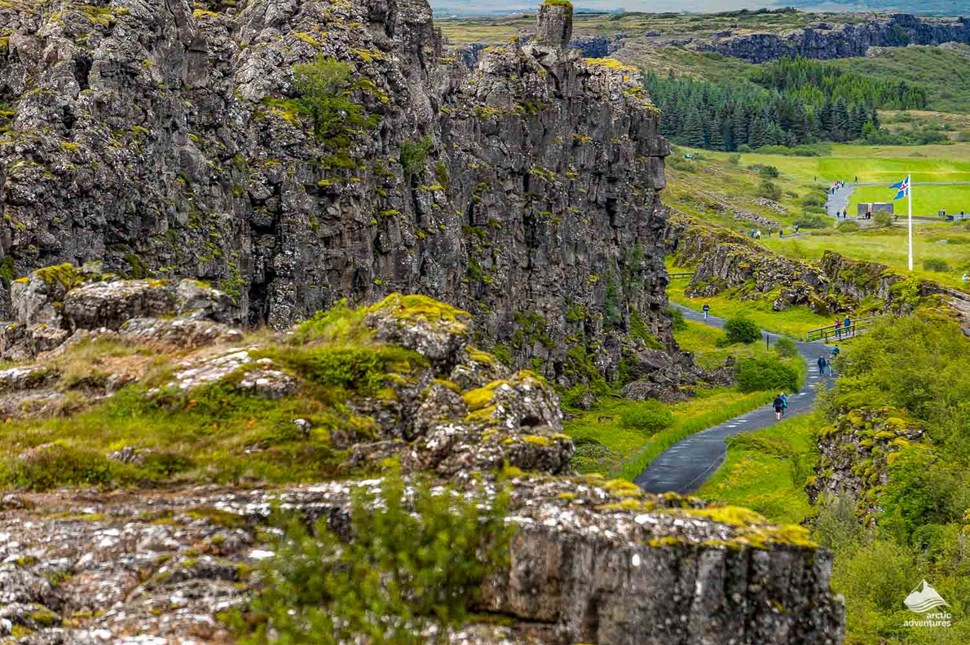 Þingvellir National Park main attractions:
Oxararfoss Waterfall
Almannagja Ravine
Logberg or Law Rock
Drekkingarhylur Pond
Silfra Fissure
Thingvellir Church and Prime Minister Summerhouse
Þingvellir National Park is also a UNESCO World Heritage Site recognized for its unique geology, history, and cultural importance.
Situated on the Golden Circle route Þingvellir offers visitors a unique history and top natural wonders. The cliff of the Almanngjá gorge – where the Eurasian and North-American tectoni1c plates meet – is simply stunning.
Since the end of the ice age, these continental plates have been edging apart. In doing so, they produced a rift valley and the incredible geological features that exist today. Read more about Þingvellir National Park's facilities and attractions.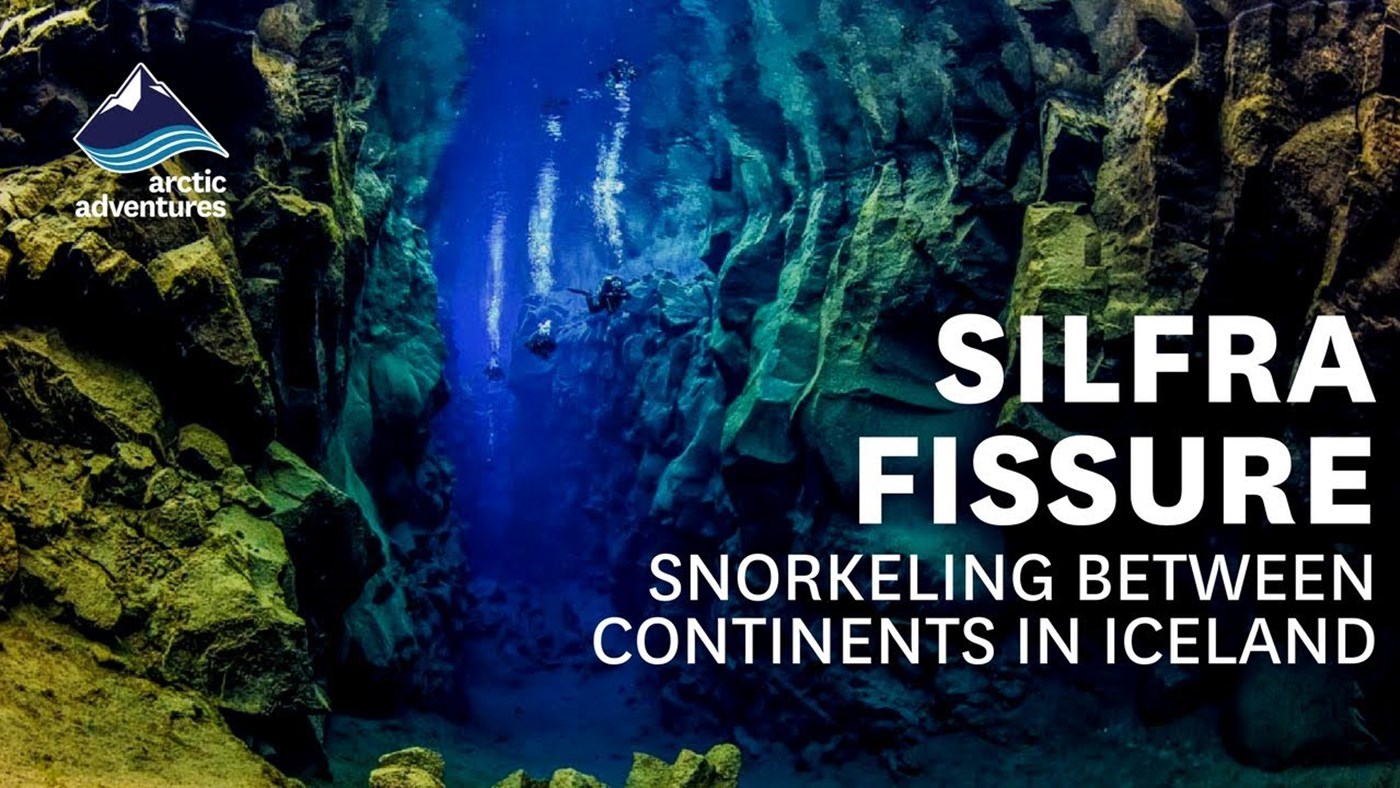 The  Silfra fissure is found beneath the tranquil and crystal-clear waters of Þingvellir Lake. The water is inside the space between the tectonic faults. This area is one of the most famous snorkeling and diving sites in the world.
Diving or snorkeling at Silfra in Þingvellir National Park will show you a colorful and mesmerizing world greatly enhanced by 100+ meter underwater visibility.
Snaefellsjokull National Park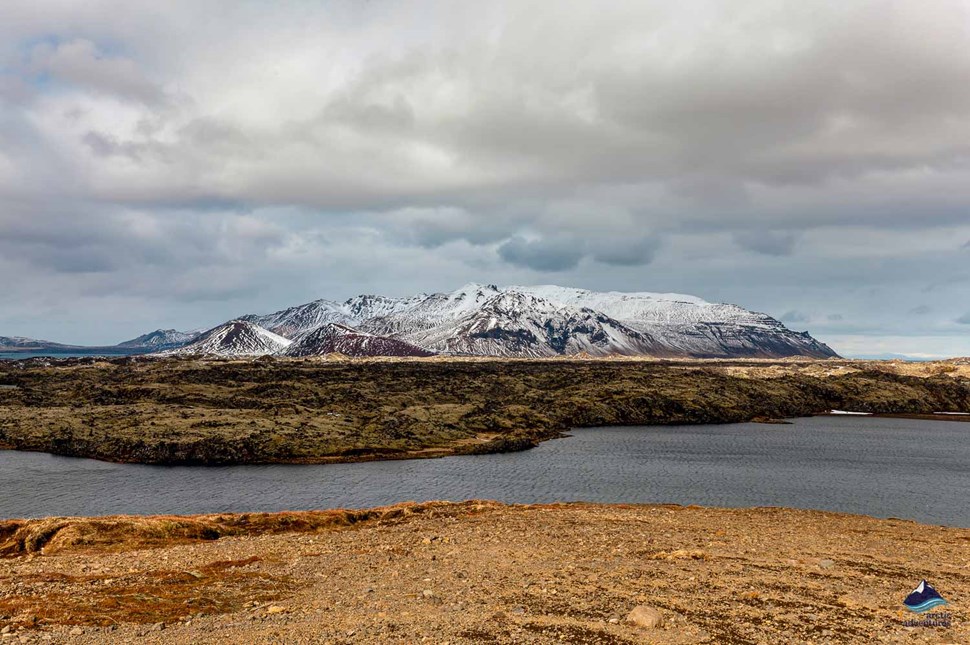 Snaefellsnes National Park main attractions: 
Snaefellsjokull Glacier
Londrangar Rock Formations
Djupalonssandur Beach and Dritvík
Vatnshellir Cave
Songhellir Cave
Snæfellsjökull National Park in West Iceland is small in size but big in wonders. It fully encircles the magnificent 1,446 m high Snæfellsjökull Glacier.
A Snæfellsjökull Glacier hike takes you on a guided tour to the peak's summit. This is the only national park in Iceland which reached the coast when it was originally formed.
The marine life, seabirds, beaches, unspoiled nature, and beautiful fishing villages make Snæfellsnes an enchanting place.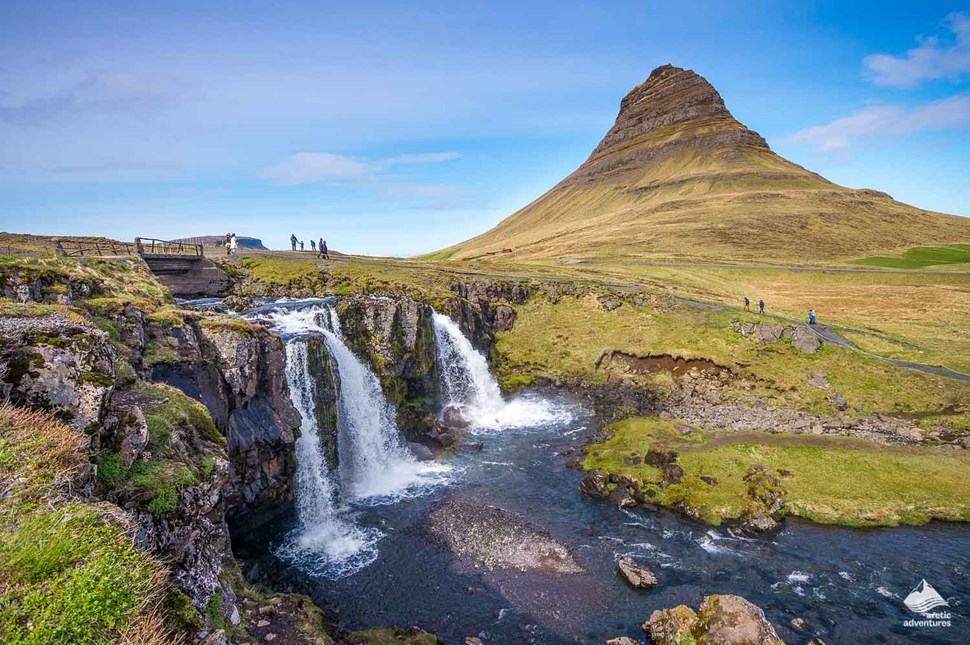 Whether you want to self-drive or to enjoy a tour, there's so much to do and see in Snæfellsnes National Park. This peninsula is often called 'Iceland in a Nutshell.' Here are a few of the top things to do near Snæfellsjökull:
Find plenty of things to do in and around

 

Stykkishólmur,

 

a picturesque fishing town.
Visit

 

Grundafjörður, a lovely fishing town with charming scenery.
Take photos of Kirkjufellsfoss and

 

Kirkjufell, the most photographed mountain in Iceland.
There is plenty of  accommodation, charming cafés, restaurants, swimming pools, tours and other amenities around Snæfellsnes. Also, check out our where to eat on the Snæfellsness peninsula guide to find out the best spots to grab a bite in the area.
Vatnajokull National Park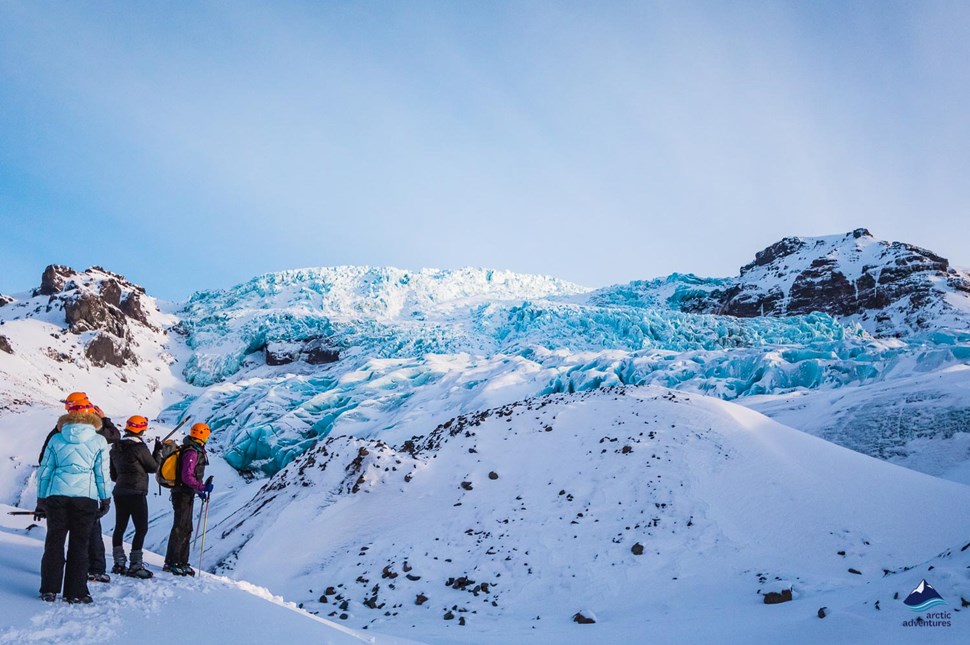 Vatnajökull National Park main attractions: 
Skaftafell
Jokulsarlon Glacier Lagoon
The Diamond Beach
The Crystal Ice Cave
Bardabunga Volcanic Crater
Laki Craters
Svinafellsjokull Glacier
Falljokull Glacier
Vatnajökull National Park is home to Europe's mightiest icecap, Vatnajökull, from which it takes its name. The park extends over the whole of the icecap, encompassing Jökulsárlón Glacier Lagoon and the Diamond Beach to the south. It also covering Hoffellsjökull and Snæfell towards its easterly perimeter.
Northern Vatnajökull National Park extends over 'Odáðahraun, Trölladyngja, and Holuhraun. Herðubreið is also in this section of Vatnajökull.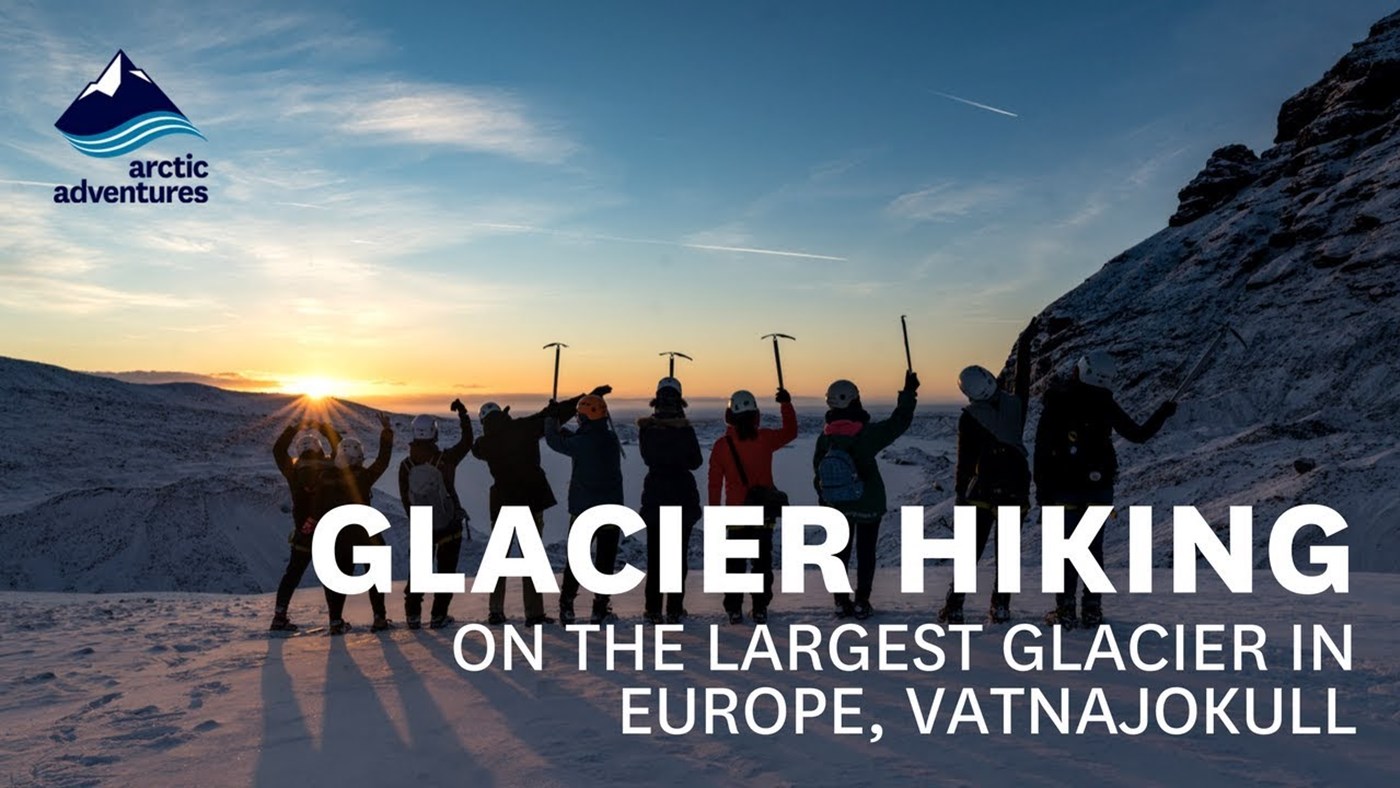 Adventurers can find great activities at Vatnajokull, including glacier hikes, ice climbs, glacier lagoon boat rides, and winter ice cave tours. Our glacier tours in Vatnajökull National Park truly offer something for every type of adventurer.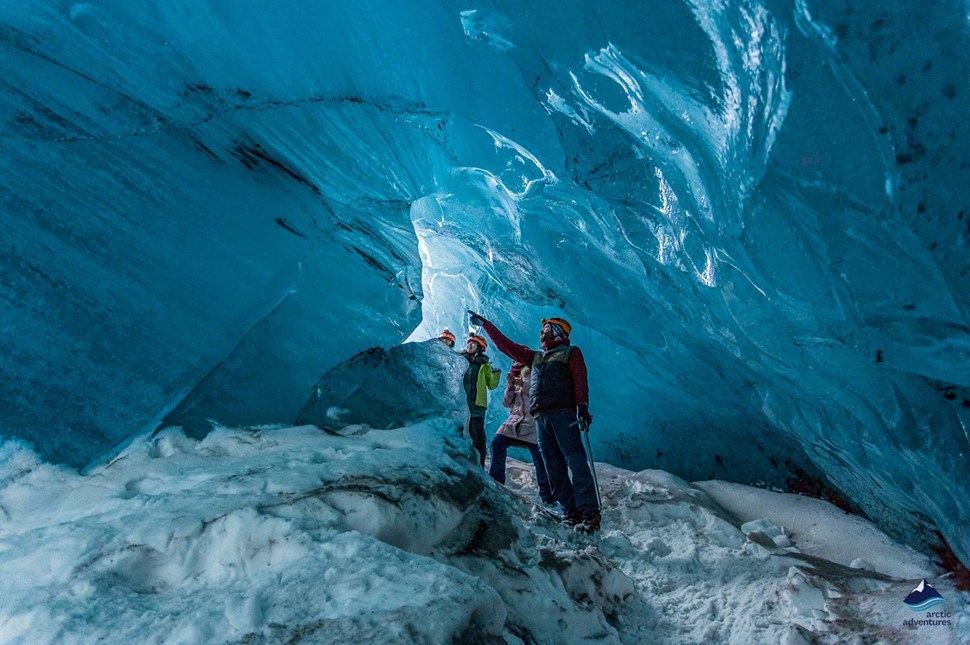 Vatnajökull National Park contains the most remote and beautiful areas in Iceland.
Ódáðahraun is a harsh volcanic wasteland littered with pumice and lava boulders, giving it a very stark and raw kind of beauty. In contrast, Jökulsárlón offers the most enchantingly lovely ice-landscapes on the planet and is one of most popular places in Iceland.
Since 2008, Vatnajökull National Park covers 13% of the country. Early in 2018 Vatnajökull National Park was included on the UNESCO World Heritage list on the basis of its outstanding universal value.
Skaftafell Nature Reserve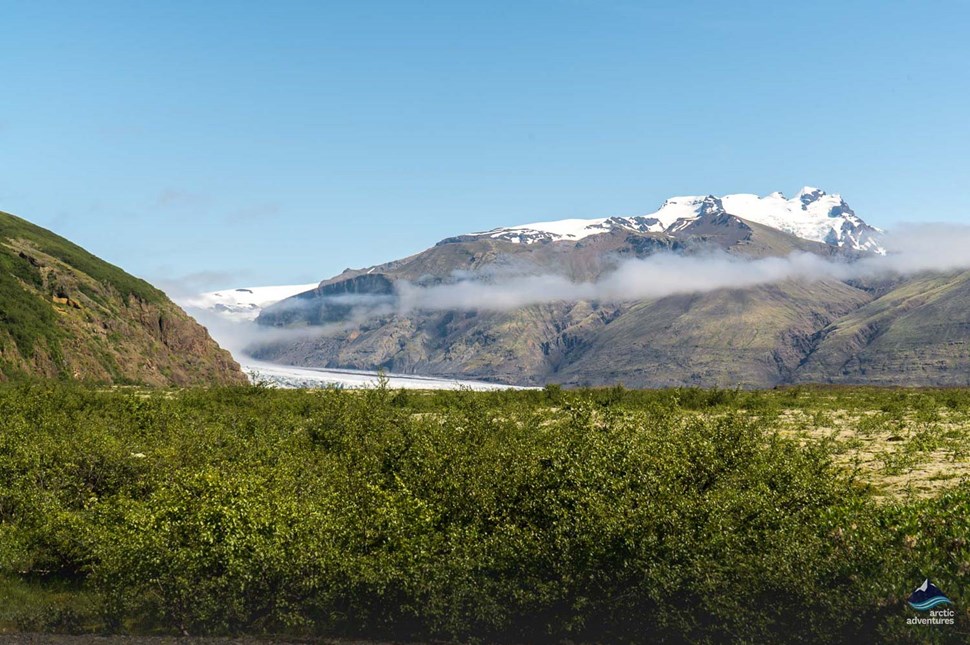 Skaftafell National Park main attractions: 
Svartifoss Waterfall
Hundafoss and Magnusarfoss Waterfalls
Baejarskadaskogur Forest
Oraefajokull Glacier Volcano
Hvannadalshnukur Highest Summit in Iceland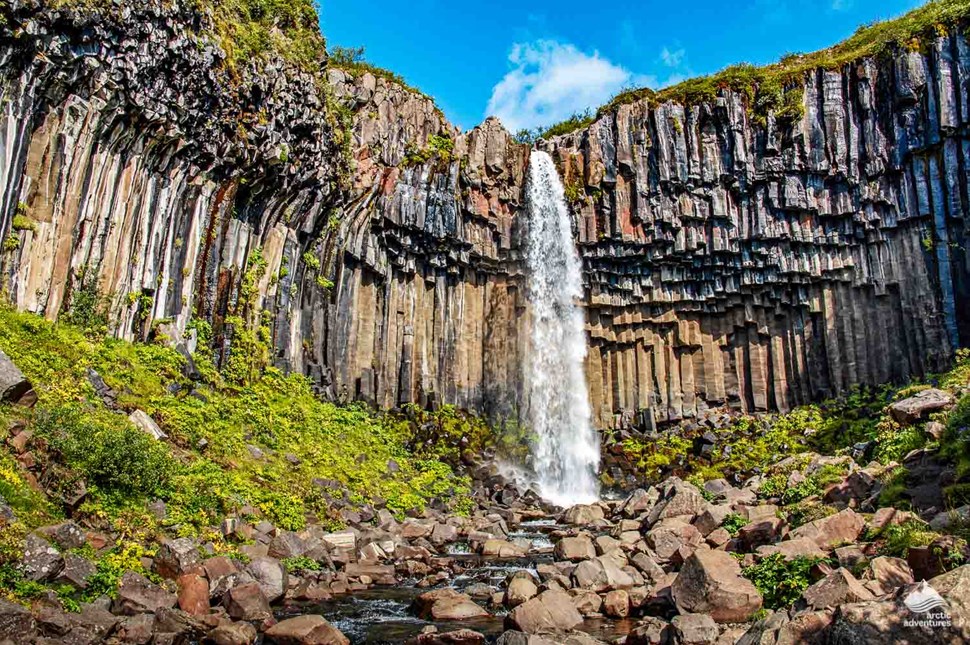 Skaftafell in Vatnajökull National Park boasts Hvannadalshnjúkur, the highest peak in Iceland at 2,110 meters (6,920 feet). This area contains dramatic and contrasting vistas shaped by great volcanoes and glaciers.
Glacier tongues from Vatnajökull reach into Skaftafell Nature Reserve, their peaks rising above the green and more protected areas of lower Skaftafell.
From easy to challenging, a network of hiking trails radiate out from the Skaftafell Visitor Centre. A short and easy hike will take you to one of the loveliest waterfalls in Iceland, Svartifoss, whose name means 'Black Waterfall.'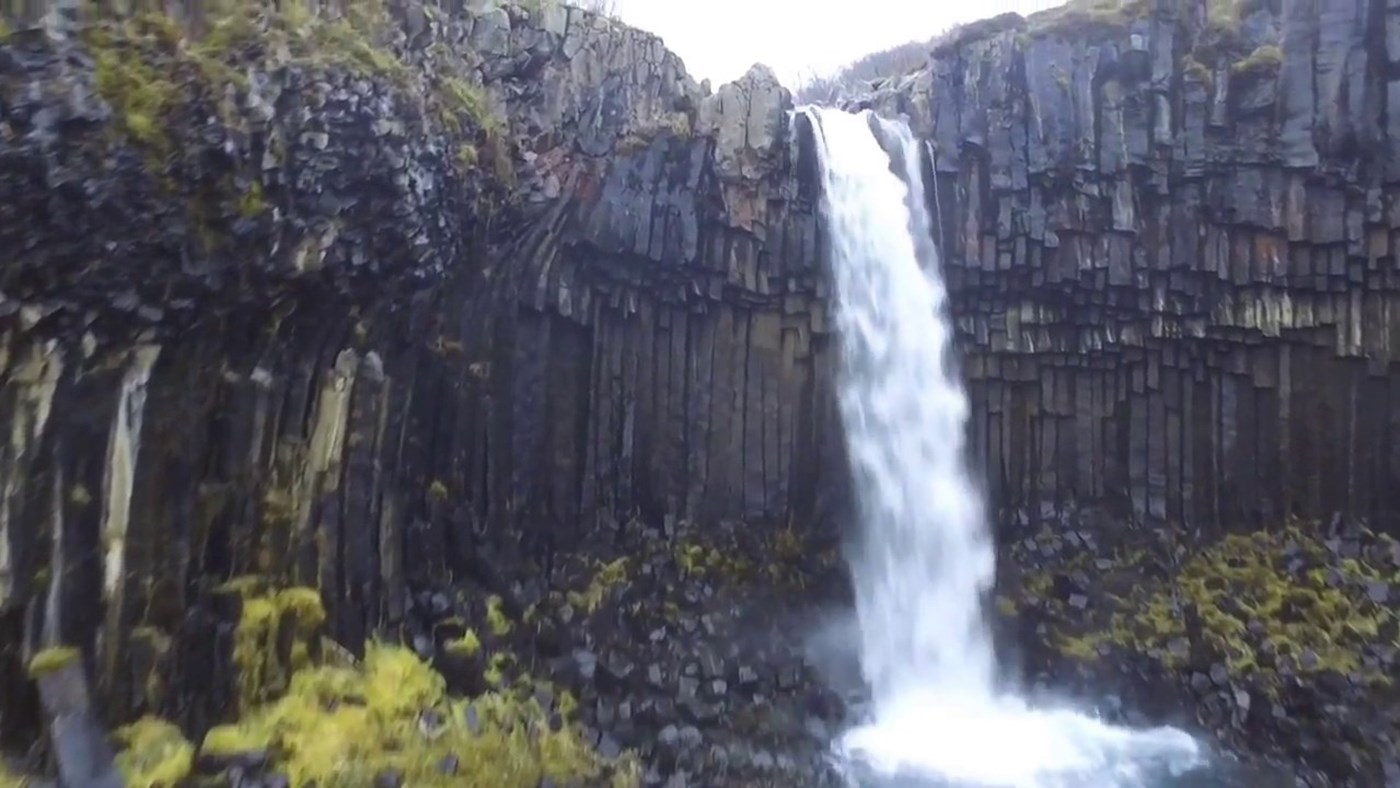 When you want to get your adrenaline flowing Skaftafell has plenty of thrilling activities. Want to go ice climbing and glacier hiking? Skaftafell Glacier tours tours offer sensational glacier experiences suitable for everyone.
Jokulsargljufur National Park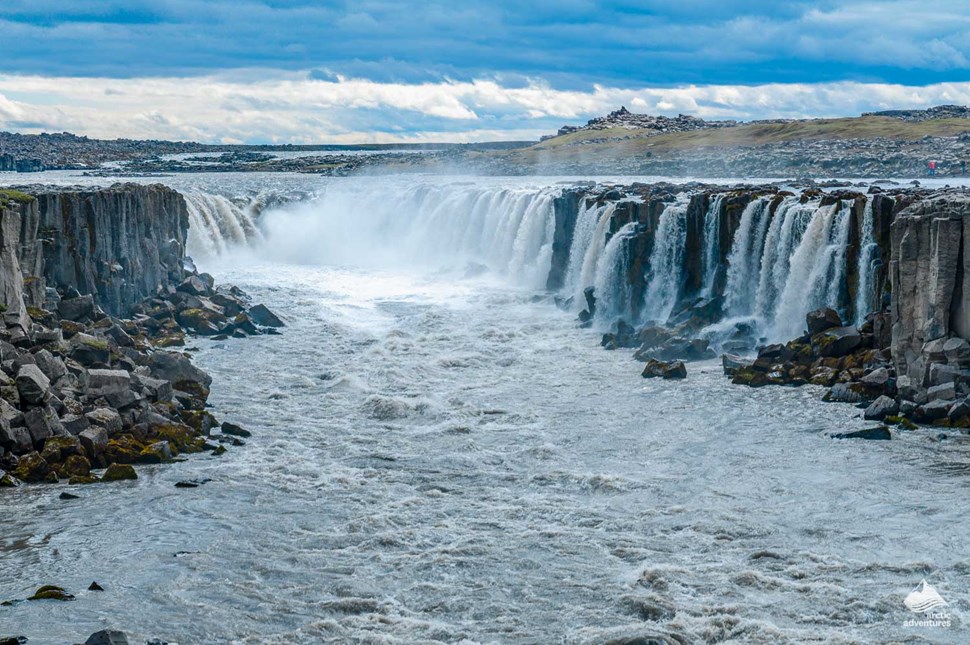 Jokulsargljufur National Park main attractions: 
Dettifoss Waterfall
Selfoss Waterfall
Réttarfoss Waterfall
Hafragilsfoss Waterfall
Ásbyrgi Canyon
Jökulsárgljúfur is a former national park now located inside Vatnajökull National Park, North Iceland. Although this park is small and geographically separated from the main area of Vatnajökull, Jökulsárgljúfur boasts incredible natural wonders.
The region offers some fabulous hiking trails and spectacular sights.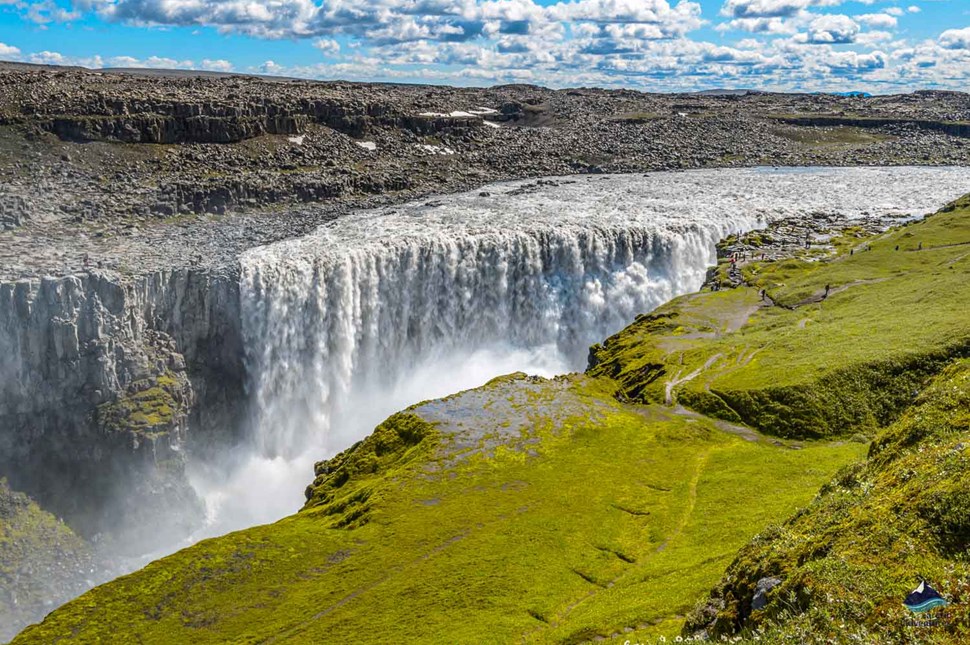 Jökulsárgljúfur means 'Glacial River Canyon' in English and the area includes Dettifoss, the most powerful waterfall in Europe. If you stand anywhere near this 100-m-wide torrent you can actually feel the earth quivering under your feet!
A few other waterfalls are situated along the Jökulsá á Fjöllum river including beautiful Selfoss, Hafragilsfoss, and Réttarfoss Waterfalls.
A marked hiking trail threads its way to the car park at Hljóðaklettar. This 14-km hike is challenging in places but also offers wonderful views of the rugged canyon. Also, you can take a short and easy walk between Selfoss and Dettifoss.
Interested in joining a guided tour? A six-day tour around Iceland would take you to Dettifoss and show you the most impressive sights and experiences in Iceland.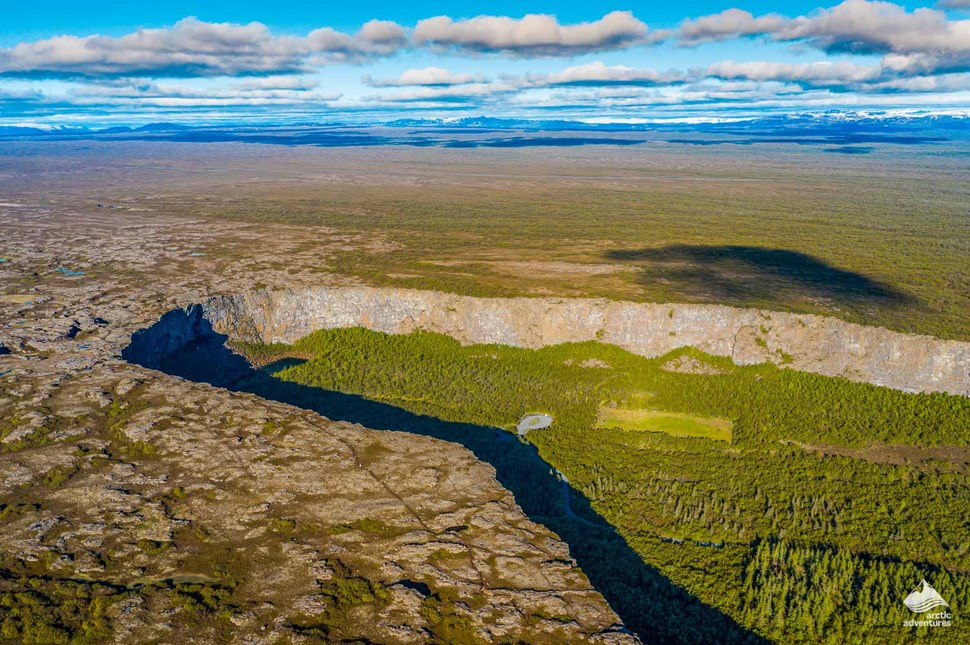 The Ásbyrgi canyon is in the most northerly part of Jökulsárgljúfur National Park. This incredible horseshoe-shaped gorge is one of the most extraordinary places in Iceland.
The most remarkable feature is the contrast between soft, green, almost oasis like scenery and the forces which created the canyon. Peace and great destructive forces co-existing side by side.
There were at least two floods, known as Jökulhlaups, that occurred in the area. One flood happened at the end of the ice age and another happened several thousand years ago. These vast torrents, unleashed from Vatnajökull, ripped out unimaginably large masses of rock.
The base of the canyon is very serene, protected by the up to 100 meters high cliffs of the canyon. The area's cultivated trees and wild summer flowers certainly add to the stunning beauty of Ásbyrgi.
National Parks in Iceland: Slow Travel at its Best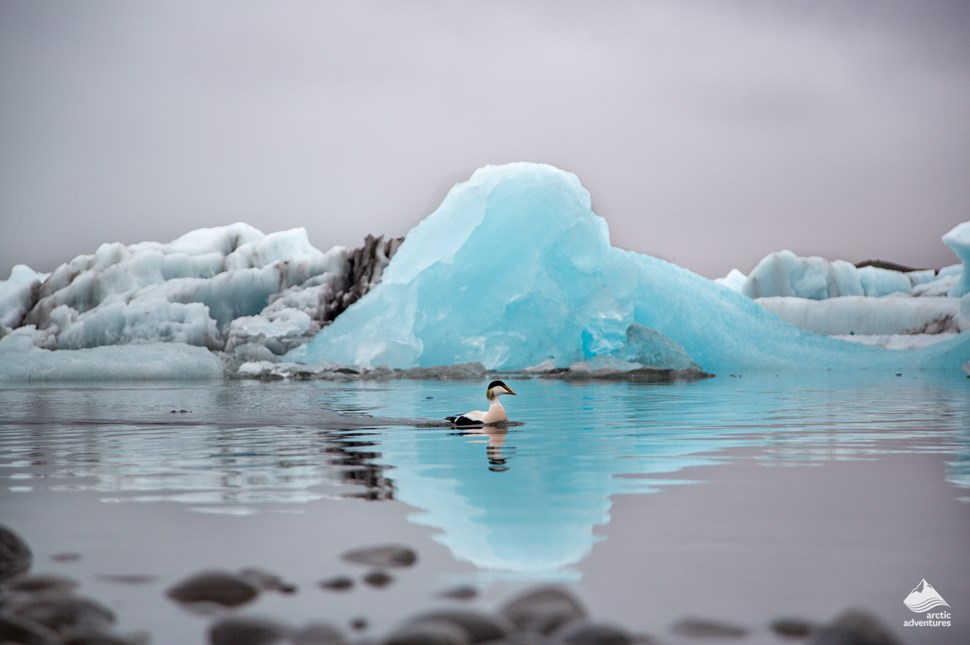 Slow travel is the best way to go if you want to get the best out of visiting Iceland's national parks. We urge you to really absorb all the views and every aspect of your experience.
You leave Iceland as pristine as you found it but you take away something very special and ineffable. Of course, if you are pushed for time you will still get a very special experience.   
We cannot say it often enough, stay on the paths, leave no trace and only take the most spectacular of photographs and best memories.
Parking Fees at National Parks in Iceland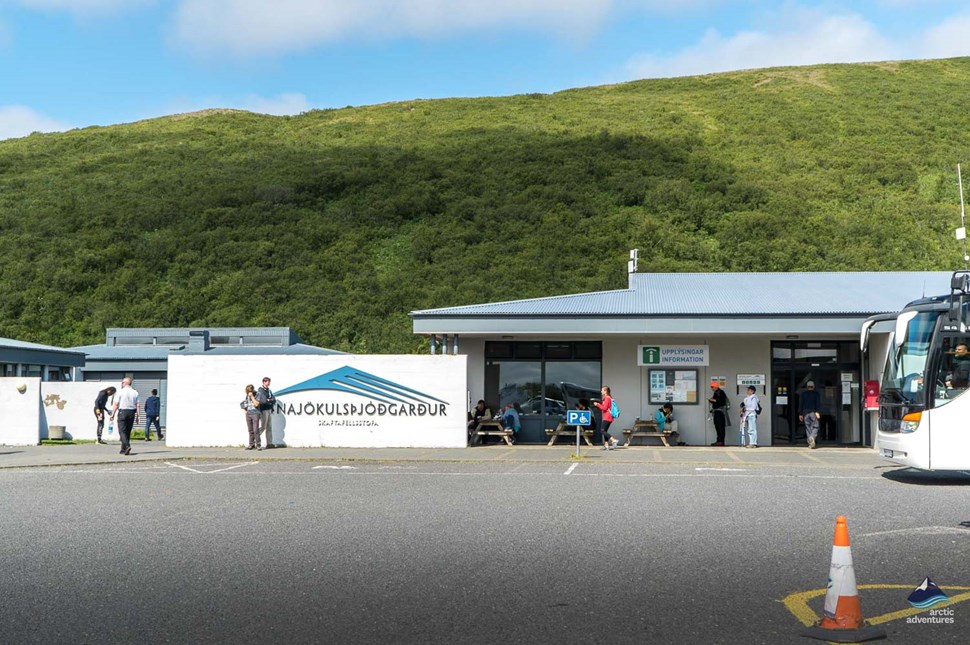 Many car parks are free. A few car parks charge a fee. The charge levied is never very large, 500 ISK (5 USD / 4 Euro) would be average, and the maximum fee would be 1000 ISK to park a regular car. Major credit and debit cards are accepted and normally your ticket will entitle you to park for the remainder of the day.  
At Þingvellir your ticket will be valid in any of the three pay and display car parks for the whole day. Even if you move between the Þingvellir car parks you will still only pay one small fee.
National Parks Qualifying Criteria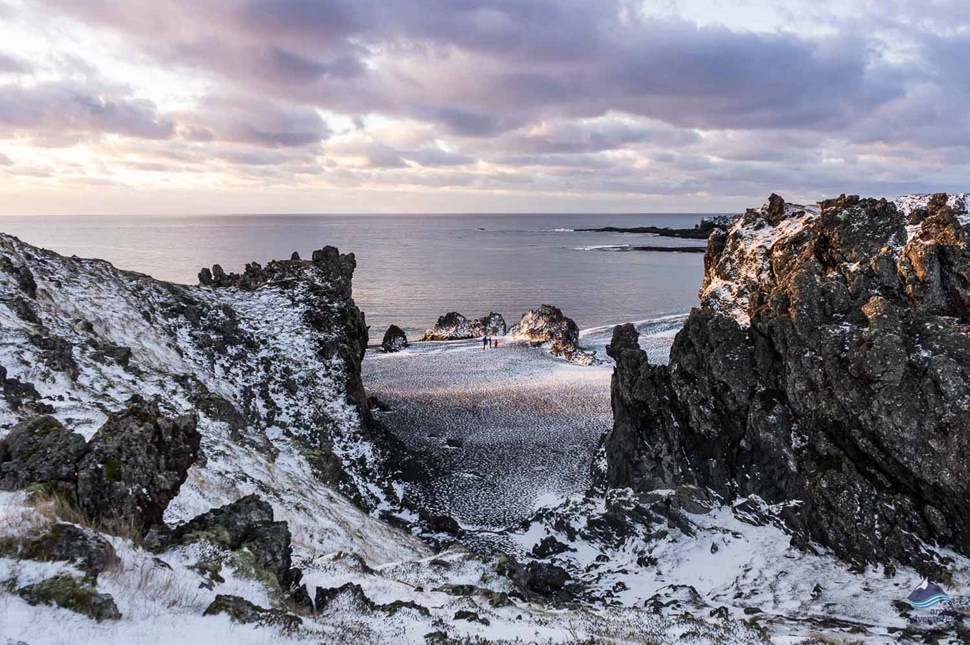 There is a huge diversity in the kind of areas protected even just within Iceland. In simple terms, to protect conservation and retain their status as national parks, nations must comply with the following requirements:
The area must be wilderness, semi-wild or minimally developed.


Ecosystems must not be changed significantly by exploitation or human occupation.

The highest authority in the land must enact laws to protect 

the designated area.

Future development plans must be very strictly controlled according to specific guidelines. 

Visitors must be allowed to enter 

for educational, inspirational and recreational experiences in areas of great natural beauty.
The understanding of sustainability issues, ecosystems and the interconnectedness between ecosystems has moved forward a great deal in recent decades. Iceland has often been at the forefront of such research and developments. 
National Parks in Iceland: A Global Perspective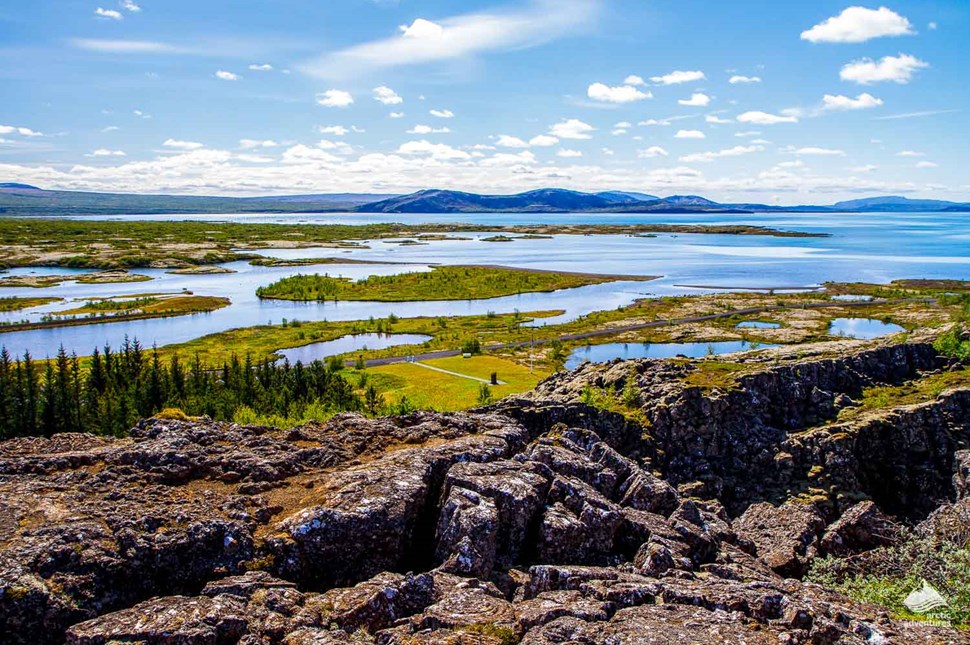 Iceland's national parks were formed to protect the country's unique natural heritage and diverse wilderness areas. Icelanders were strongly motivated to preserve these incredibly precious places and the experiences that can be enjoyed within them for future generations.
Within Europe, Iceland was considered to be forward-thinking when it created Þingvellir National Park in 1930. It was only later in the 20th century that other countries around the world started turning large swaths of land into nationally protected parks.