Raufarhólshellir is a fairytale-like lava tunnel found in the South West of Iceland, only 30 minutes driving from the capital on the road to Þorlákshöfn.  Surrounded by moss-covered lava, mountains, and craters, it lures visitors all year round. 
The cave is heavenly info form and color, and walking through it is a truly magical experience.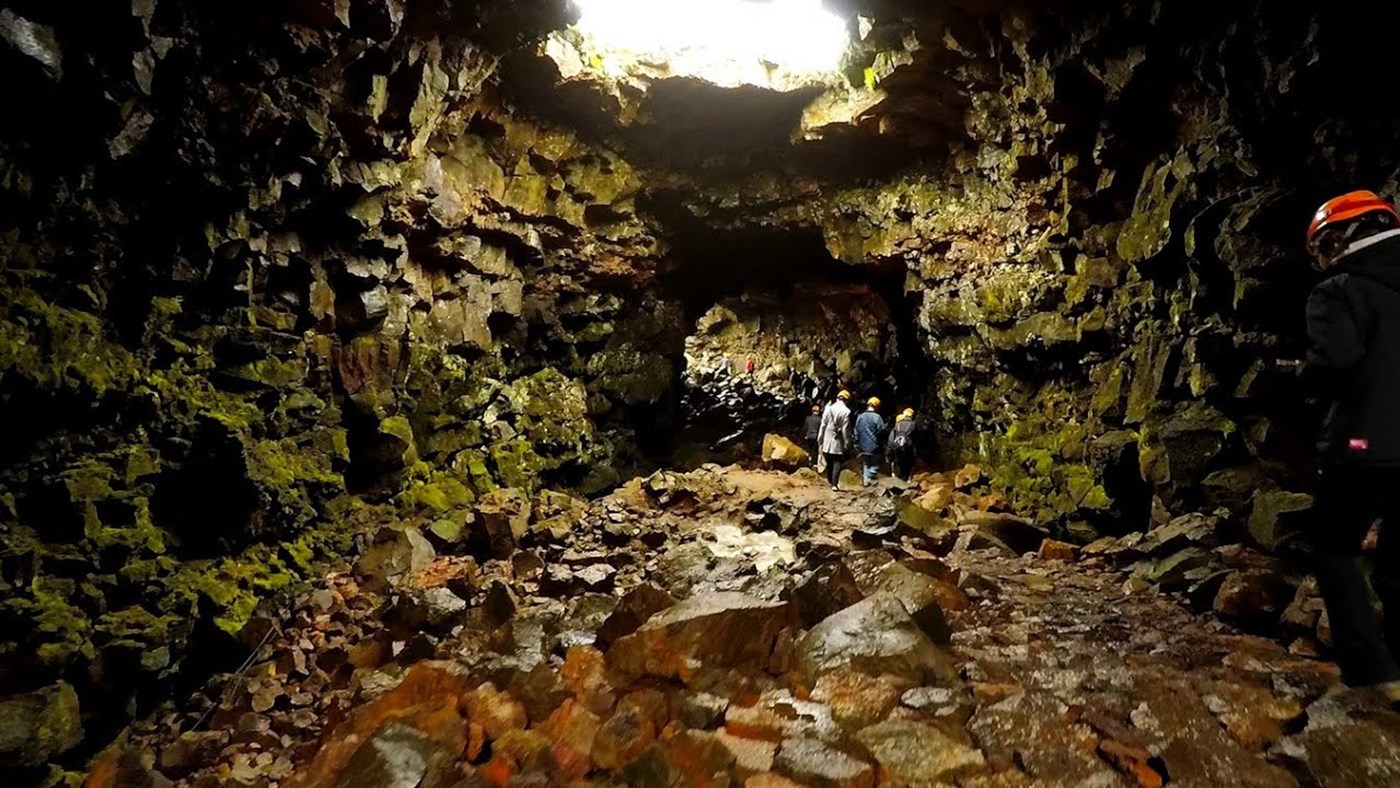 Raufarholshellir Cave is the fourth largest lava tube in Iceland, measuring 1360 m (4,461 ft) at length and 10-30 m (33-98 ft) wide depending on where you are standing.
The ceiling is high (up to 10 m/33 ft), making the cave one of the best caves to visit if you have ever experienced claustrophobia. The average thickness of the lava ceiling is about 12 m (39 ft).
This geological wonder shouldn't be visited without a guide or a lava cave expert. Raufarhólshellir Lava Tunnel Small Group Tour is one of the most budget-friendly experiences you can have in Iceland and our expert guides make sure to keep you safe and informed at all times.
The tour takes place only about an hour from Reykjavik so you can easily join the tour on a half-day mission out from the city. 
Fun Facts about Raufarholshellir
Raufarhólshellir is the 4th largest lava cave in Iceland.

Some parts of the tunnel actually go under the road to Thorlakshofn so when you are driving there you'll actually be driving over parts of the cave you will walk through later!  

The cave once housed a framed epitaph document and a cinerary urn with the remains of the last member of an Indian tribe from the Fire Island. Sadly, the urn was taken from the cave, and its location remains unknown. Your guide will tell you the full story.
The history of Raufarholshellir
The history of Raufarholshellir Cave starts with a volcanic eruption in the Bláfjöll Mountain Range about 5,200 years ago. The eruption, which is often referred to as the Leitarhraun eruption, created the scene you see today and with it an 11 km (7 mi) long crater row.
Lava tunnels are natural canals that form when active flowing magma starts to harden creating a thin lava crust on top. This lava crust then thickens as more lava flows and results in the formation of the lava tunnel roof. The hot running lava continues to flow through, but the roof stays solid.
When visiting the cave you'll be following the path of the lava, which flowed through the site a few thousand years ago.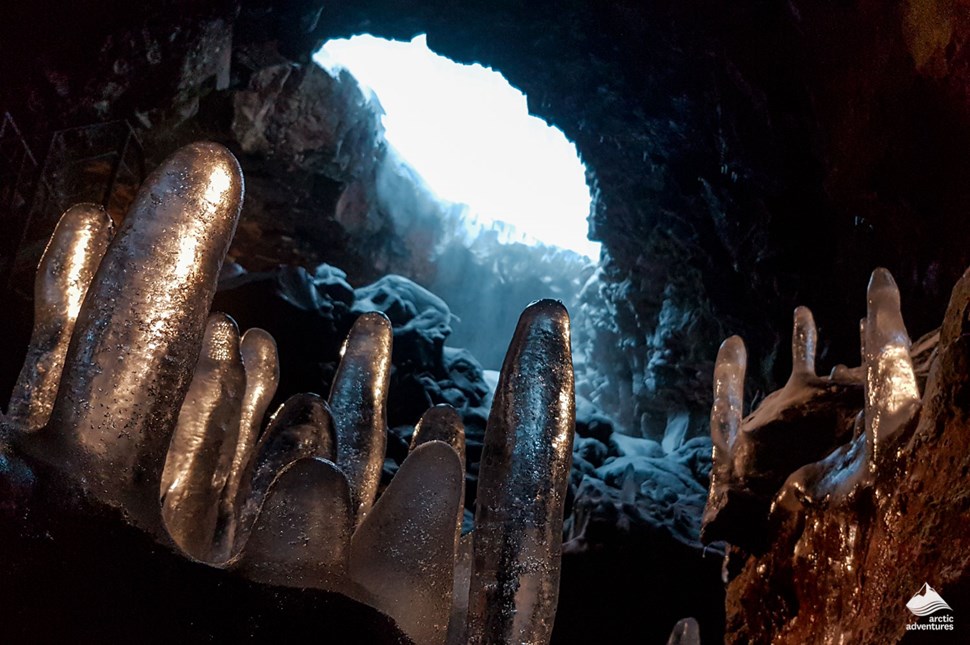 Joining a tour to Raufarholshellir is a truly unique experience!
What is there to see inside Raufarhólshellir?
A beautiful variety of moss-covered lava.

An incredible natural array of colors created in the volcanic formation of the tunnel. Each color beam tells you a little bit about the history of the cave. Join one of our tours to the cave, and you'll hear all about it!

The tunnel was filled with stalactites, but around the 1950s, when the cave started getting more and more popular they began to disappear. Today you can see only a few of them in the cave, but they are well worth the search. 

Incredible rock formations and naturally sculpted lava falls.

In winter see glistening icicles and ice formations all around the cave.
Where is Raufarholshellir located?
GPS Coordinates: 63.959753° N 21.312831° W
Raufarholshellir is located right off Route 39 which runs off the Ring Road. It's only about 41 km (25 mi) away from Reykjavik.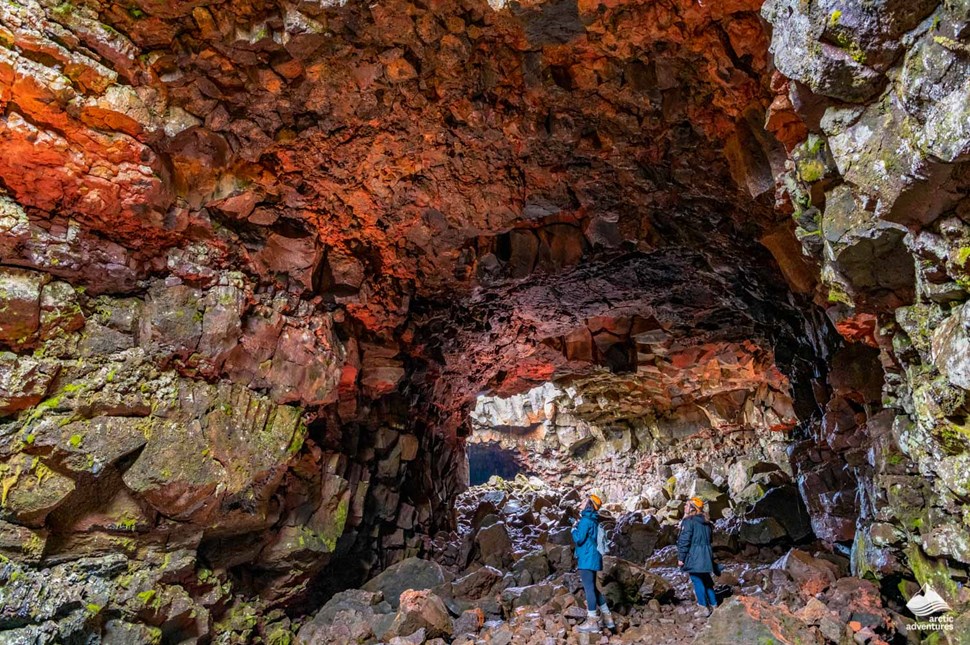 How to get to Raufarholshellir?
There are two ways of going about visiting Raufarhólshellir. You can purchase a pick up from us when booking the tour or you can rent a car and drive there on your own.
The drive from Reykjavík to Raufarholshellir is easy as the cave is located just 30 minutes away from the capital. 
Exit the city through Norðlingaholt via road 49 and turn right onto road 1. Continue on this road until you see a sign pointing to Þorlákshöfn, road 39. This is where you make a turn and drive for about 18 km (11 mi). There is a well-marked sign by the parking lot right off the road.
Raufarholshellir in winter
Raufarholshellir can be visited multiple times a day all year round and is definitely one of those tours easy to do even when the weather isn't perfect. Just remember to dress warm, wear sturdy shoes and if you aren't used to driving in Nordic winter conditions, you might want to consider getting the pickup service extra.
In winter you can see all sorts of magical icicles and ice formations scattered around the cave, some of them sticking right up from the ground but others hanging from the ceiling, a true winter paradise.
Where to stay near Raufarholshellir
Hotels
Hotel Hlid

Hotel Örk

Frost and Funi

Skyrgerðin
Guesthouses, B&Bs and Farmstays
Cora's House and Horses

Jonna Guesthouse

Black Beach Guesthouse

Varmi Guesthouse Apartments

Iceland's Guesthouse Axelhusi

Frumskogar Guesthouse
Hostels
Cottages and Cabins
Where to eat near Raufarholshellir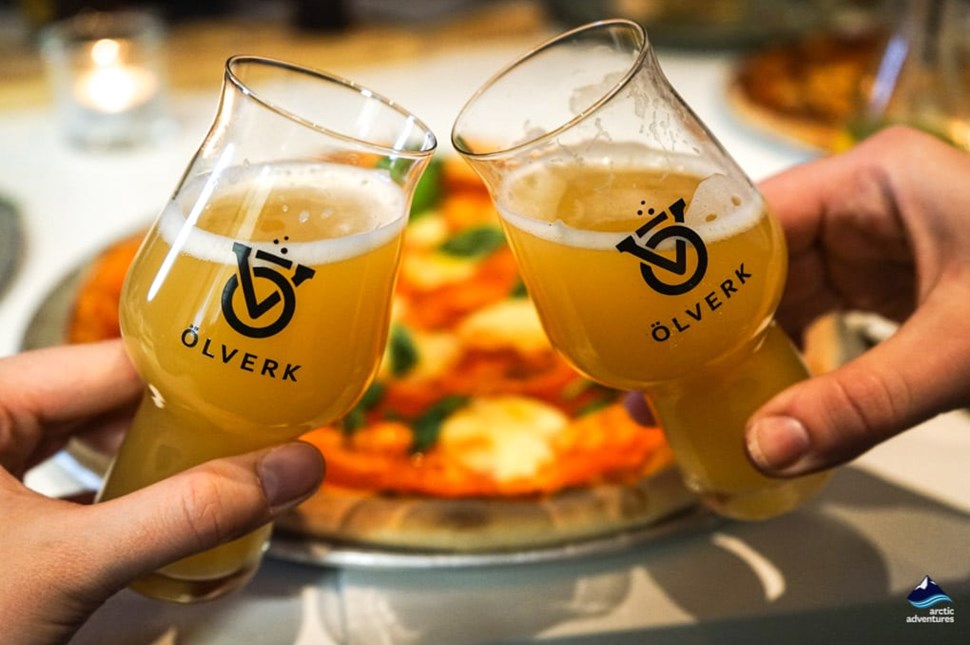 Where to eat at Þorlákshöfn and Eyrarbakki:
Hafið

 

– the highest-rated restaurant on Tripadvisor. A fabulous seafood restaurant with the most stunning ocean view.

Rauða Húsið

 

– a famous lobster restaurant in an old well kept house at Eyrarbakki. A fantastic stop to make.

Meitilinn

 

– a family-owned restaurant with great pizzas, burgers, and locally caught fish!

Hendur í Höfn

– a fresh and healthy menu in a charming setting. They have gluten-free and vegan options.
Where to eat in Hveragerði:
Ölverk

 

– a fantastic beer brewery and pizzeria. The only geothermally brewed beer in Europe, simply delicious!

Skyrgerðin

 

– great for some soup or a slice of delicious home-baked cakes.

Almarsbakarí – a lovely café/bakery with all the baked goods one might like.
Interesting places near Raufarholshellir
Bláfjöll Famous for Winter Skiing

Thorlakshofn Fishing Village

Thorlakshofn Winter Ferry to

 

Westman Islands

Rauðhólar Red 

Cluster of Pseudocraters

Hellisheidarvirkjun Geothermal Plant

Hveragerdi Town

The Bobby Fischer Center

Eyrarbakki Village

Stokkseyri Village

Olfusa River