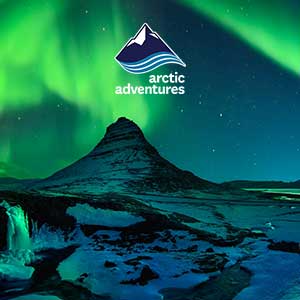 Explore a stunning crystal ice cave in Europe's largest glacier Vatnajökull.
A fantastic winter experience in Vatnajökull national park in the Southern part Iceland.
Just imagine, standing inside an ancient glacier and everywhere you look there are different shades of beautiful blue colors and natural creations. This stunning phenomenon is a must see for anyone visiting Iceland during wintertime.
If you wish to visit add a glacier hike to your ice cave experience see Into the Glacier tour.
Or if you are looking for a natural ice cave to visit in spring or summer see The Ice Cave Under the Volcano.
Availability

November 10th - March 31st
Suitable for most people in fair condition. You have to be able to walk on uneven surface and hike for at least 2 – 3 hours at a slow pace, with breaks. Trails are generally of good quality and glacier travel at a relatively low angle.
Departs from

Jokulsárlon Glacier Lagoon
Tour highlights

Crystal ice cave
Vatnajökull - Europe's largest glacier
Ride in a super truck to the glacier
Included

A guided visit to an ice cave
All necessary glacier gear needed
Guided tour in English
All ice caving equipment
Transfer to and from the Crystal Ice Cave
A visit to a crystal cave is a once in a lifetime experience. The blue light seeping through the dense ice is unique and it gives the cave an adventurous atmosphere. This is definitely a must see for all and especially photographic enthusiasts! We pick you up at Jökulsárlón Glacier lagoon and drive to the edge of the glacier where we gear up and get ready for the caving. Once inside the Crystal Cave, you will have about 45 minutes to explore its wonders at your own pace. You will be wearing a helmet so a smaller hat is definitely recommended for it to fit underneath the helmet.
After we have explored the cave we will start making our way back to the location where you were picked up.
Warm and preferably water-resistant clothing along with good hiking shoes are very important so you can enjoy the tour to its fullest.
We recommend that you spend the night in the vicinity of Vatnajökull because the road and weather conditions can be unpredictable during winter in Iceland. We also offer two and three-day tours with departure from Reykjavik that include the crystal cave.
The Crystal Ice cave tour departs from Jökulsárlón Glacier Lagoon which is located 379km from Reykjavik which means, at least, 4.5 hours drive from Reykjavik in best conditions. Staying close to the glacier lagoon for one night, either before or after you visit the ice cave is therefore not a bad idea.
Please make sure to follow weather and road conditions before you take off – the weather can be very different just out of the city. Safetravel gives warnings for the whole country.
What to bring: Warm and waterproof jacket and pants, hiking boots, headwear and gloves.
Please note
Check-in is no later than 15 minutes before the tour starts.
Disclaimer
All our tours are undertaken on the responsibility of its participants. Arctic Adventures does not assume any responsibility for accidents that are caused by its customers or can be traced to their own actions. Participants have to sign a waiver before undertaking all trips stating that they realize that all outdoor activities carry an inherent risk.
Book this tour
Price from 19.990 ISK per person.
"Amazing Crystal Ice Cave Tour"
The crystal ice cave was definitely one of the highlights of our winter trip to Iceland. And if you are here during the winter months this tour should be on your list of things to do. What a great experience. There were a few groups in the cave while we were there, but it was large enough that you never felt cramped. The tour guides allowed plenty of time for taking pictures and exploring the cave. So glad we included this as part of our trip. The Arctic Adventures staff were friendly and helpful. The booking process was easy. I would recommend them for this tour.
"Great!"
We did the crystal cave tour, and it was AMAZING. I hate tours, but this one was really worth the trip to Iceland. The guides were friendly and professional, the places breathtaking. The drive on the fresh snow was lots of fun, the ice cave one of the most beautiful things I have ever seen.