Dynjandi Waterfall (sometimes called Fjallfoss or "Mountain Falls") is actually made up of a series of 7 different waterfalls, measuring 100 m tall, 60 m wide at the base and 30 m wide at the top. On your way to the top, it's possible to walk behind Gongufoss, one of the cascades. All of the waterfalls can be seen from the shore, and the surrounding moor is perfect for photographing, hiking, and camping in the summer season.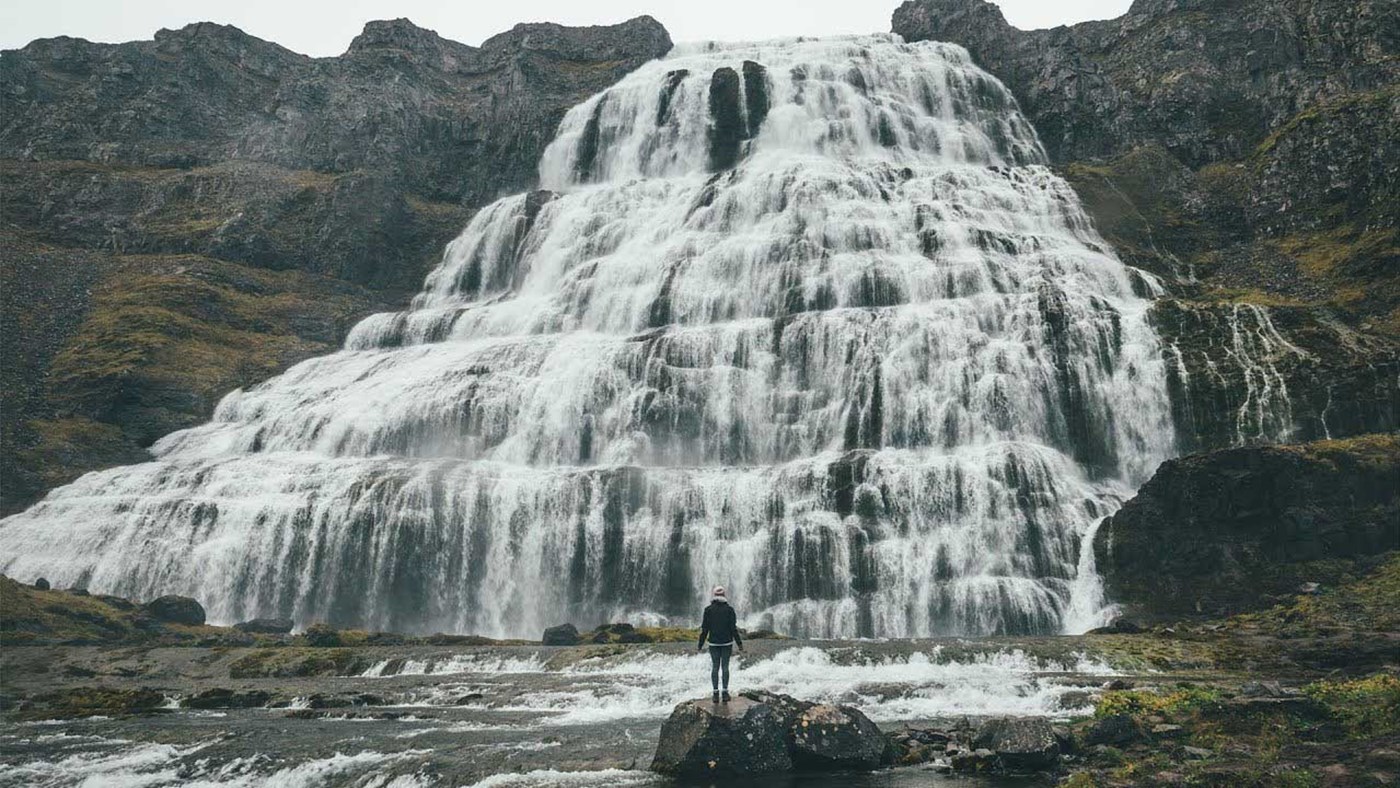 Where does Dynjandi Originate?
The original source can be traced to the upland from the river Dynjandisá. From the top, the water can be followed to the waterfall and other lakes and rivers. All of the waterfalls in Dynjandi come from Lake Stóra-Eyjavatn, which currently measures at 350 m above sea level. Dynjandisá River is a runoff river which has been known to suffer from seasonal floods in the springtime and in the winter, where the river volume can increase up to 10 times its resting state.
Where is Dynjandi located?
GPS coordinates of Dynjandi: 65.7328° N, 23.1998° W
Dynjandi is situated between Dynjandisvogur Bay and Arnarfjörður Fjord, approximately 85 km away from the port town of Ísafjörður.
Expect a scenic but winding route on your way there. Definitely not on the Ring Road and not recommended for self-drive tourists in winter seasons, it has to be said! Dynjandi is off the beaten track in the remote Westfjords region of Iceland. If you are in the area, Dynjandi is not to be missed if you want to witness what may be the most beautiful waterfall in Iceland.
That said, the waterfall is in a very rural location, so don't expect mass tourism and fancy facilities. A parking lot and a toilet block are all you will get.
How do I get to Dynjandi?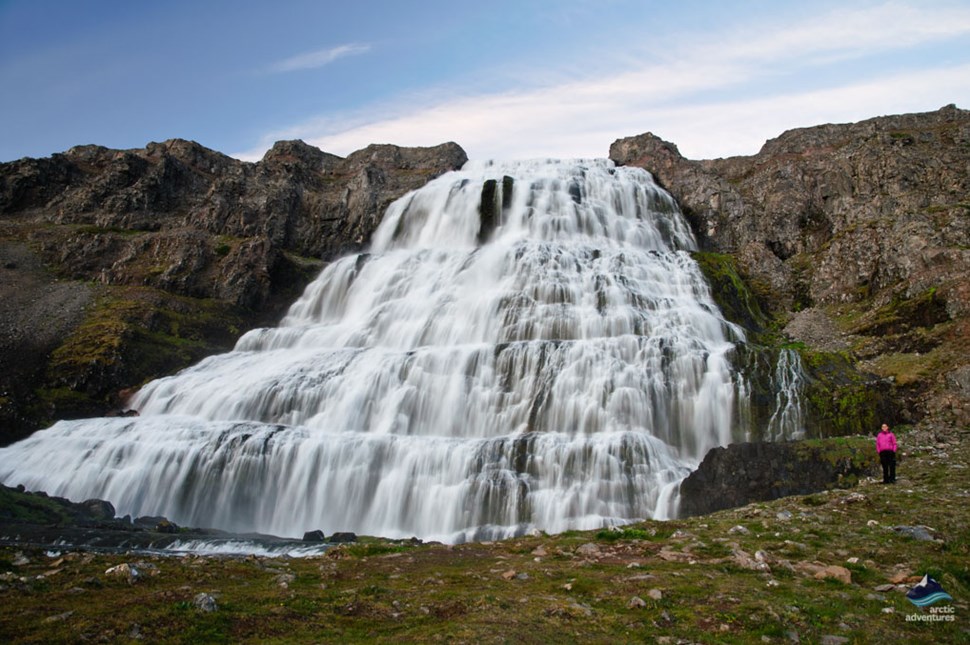 GPS N65° 44′ 11.214″ W23° 12′ 31.185″
Drive. And keep driving. Part of the adventure is the road trip through the Westfjords.
From Brjánslækur to Dynjandi the 40 km drive is only around 50 minutes, while the drive from Ísafjörður is slightly longer, taking about an hour and a half (85 km) via Vestfjarðarvegur and Vestfjarðavegur. Unfortunately, if you hate driving and you're in the capital, Dynjandi is approximately 355 km from Reykjavík, which takes about 5 hours via Vestfjarðavegur.
Alternatively, you could drive for 2 hours to Stykkishólmur, on the Snæfellsnes Peninsula, which is around 165 km and then take a 3-hour ferry ride to Brjánslækur, which is in the Westfjords, then do the 50-minute drive above.
However, we recommend the most common ways, which are driving the entire route or taking a domestic flight to the Westfjords airport and renting a car for the rest of the way.
Plans for Dýrafjarðargöng, a 5.6 km tunnel connecting Arnarfjörður to Dýrafjörður, are expected to be completed in 2020.
Is Dynjandi's climb difficult?
Not really. To properly appreciate Dynjandi, there's a relatively short but steep hike to the top – a combination of steps and slopes, totalling around 15 minutes if you do it in one. We recommend splitting it up into stages, which is a welcoming opportunity to admire all of the smaller waterfalls you will see on your way up. Each of the waterfalls is beautiful in their own right, but the further up you go, the better!
To get to the peak is a bit of a climb, but well worth it for the scenic panoramic view at the top!
What does the name 'Dynjandi' mean?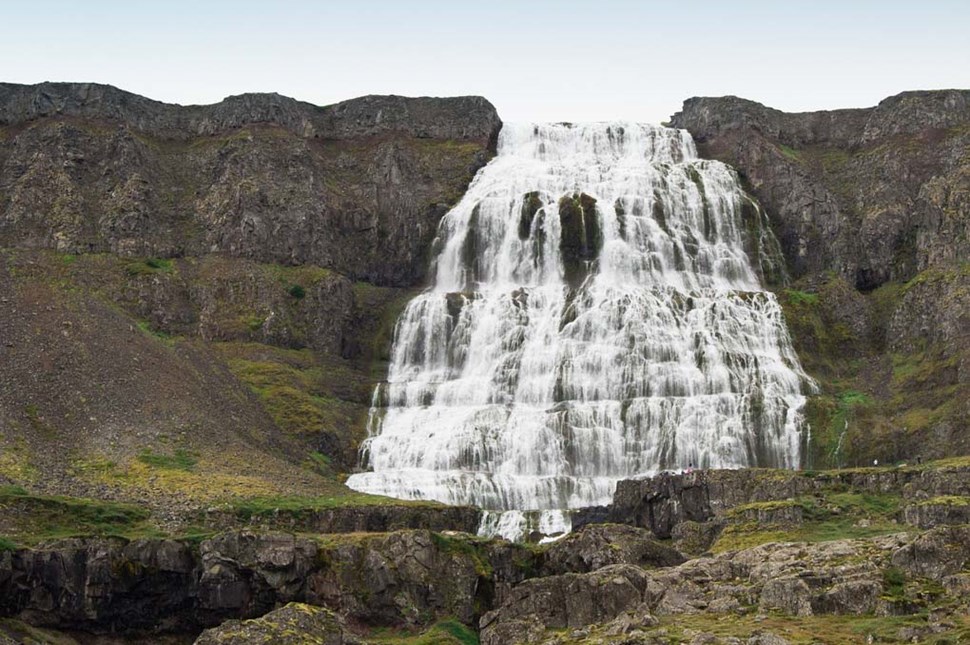 Dynjandi translates to "thunderous" or "booming" in English, which is an understatement if you look at the size and listen to the sound of it.
Dynjandi is the name of an abandoned farm below the waterfall.
Accommodation and Hotels Near Dynjandi
Most accommodation choices require a commute to get to the waterfall. So unless you are going as part of an organized tour, hiring a sturdy rental car is highly recommended. Please note that camping near Dynjandi is strictly prohibited.
Guest Houses
Hotels
Hotel Isafjordur

Edda Hotel Isafjordur

Hotel Latrabjarg

Hótel Flókalundur
Hótel Sandafell, Thingeyri
Campsites
Flókalundur
Thingeyri
Bildudalur
Safety Tips for Visiting Dynjandi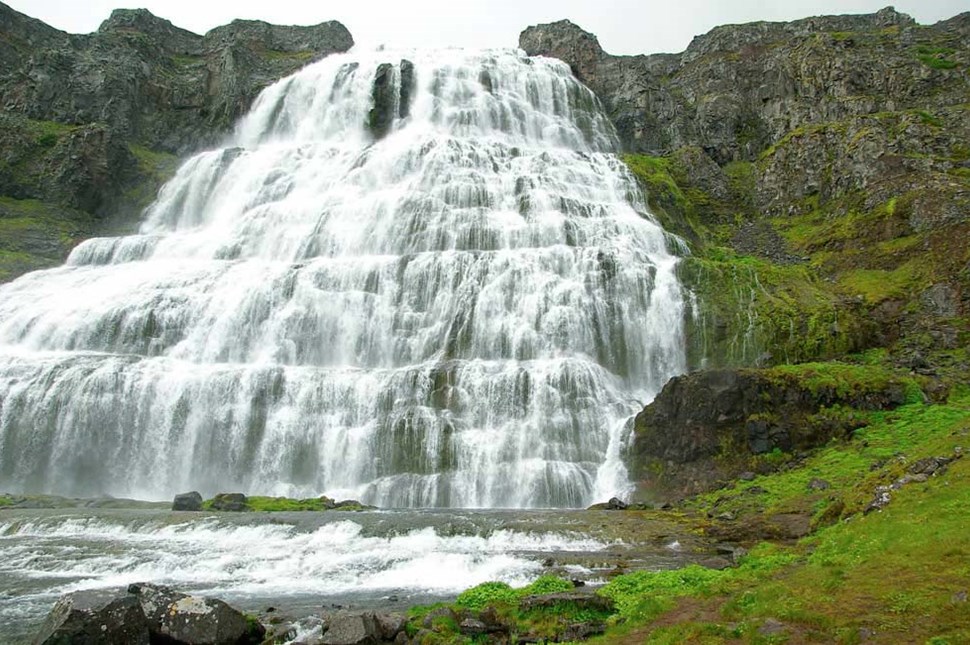 Park in the car park – the waterfall is easily accessible if you stop here and not on the road.

Don't go too close to the waterfall's drop, there are no guard rails – so be sensible! Stay on the paths that are there for a reason.

Dress accordingly. It can get pretty cold close to the waterfall because of the spray. Waterproof clothing is recommended for those planning to get near the action.

Keep to the marked paths when hiking. Don't go thinking there are shortcuts!

If you are traveling in winter make sure you have shoes with sturdy soles or ice spikes if it's slippery or icy.
What is Dynjandi like in Winter?
Dynjandi isn't quite the same once it's frozen over. The waterfall is fairly easy to find in the summer, but it's best to avoid driving anywhere near there in winter.
The Westfjords are best accessible in the summer months, from May to October.
In winter many roads, including the mountain road Dynjandisheiði, are closed due to deep snow and frequent avalanches. These roads are not maintained during winter but even the maintained roads can be dangerous and slippery. It's very easy to get trapped in the middle of nowhere. These extreme conditions are not suitable for rental cars.
Interesting Places Near Dynjandi
Hrafnseyri
Þingeyri

Bæjarhóll

Bíldudalur

Village

Sea Monster Museum

Haukadalur

Jón Sigurðsson Memorial

 

Museum

Simbahöllin Café
Dynjandi Waterfall and the rest of the Westfjords are quite isolated but for history buffs – around the base of the falls you can still find the remnants of an old turf house farm called Bæjarhóll (Farm Mound), and the ruins of what is left of a couple of outbuildings.
If you just so happen to be into your monsters, make sure to check out the nearby Bíldudalur Village, where you can visit the Sea Monster Museum.
If more conventional museums are more of your things, then there's the Jón Sigurðsson Museum, which is free and not too far away. The museum is dedicated to Jón Sigurðsson, the independence leader, as well as Icelandic history, consisting of a museum, traditional Icelandic house, and a church.