Nick
"Captain Light"
I get the name "Captain Light" as I not only run diving for Arctic but during our beautiful winters I also hunt for the Northern Lights. Diving and Adventure guiding for me has been my career now for 15 years and there is no greater joy than sharing an awesome environment both underwater, up a mountain or in a cave with like minded travellers. My commercial diving background combined with years of dive instruction in both cold and tropical countries gives me a great knowledge base to make sure you have a great time on your adventure here in our beautiful Iceland.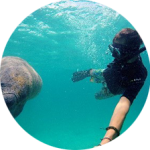 Steven
Lead Guide (Fat Boss)
Scuba Steve, our Resident Zoologist (British). After graduating with a degree in Zoology he has spent the last 10 years working on a variety of different research projects all over the world, ranging from identifying new fish species in African lakes to recording whale songs in the Caribbean. The leader of the pack, Steven will endeavour to make sure all your adventures at Silfra run smoothly and with that element of fun you need on a holiday. Don't forget to ask for Steven's animal fact of the day!
Koldo
Diving/Snorkeling guide
Hi, my name is Koldo and I'm from a small coastal city in the Basque Country. I've been diving since I was 15 years old. Our father taught me and my brothers how to dive at a very young age with the result that we all ended up becoming instructors. Always connected to the ocean, I've worked as a beach lifeguard, skipper in salvage RIB boats, commercial diver and finally as a recreational diving instructor around the Canary Islands. But when I first saw images of the crystal clear water from Silfra, I decided to change the salt water for this incredible landscape.
Giulia
Senior Guide/Diving Guide (Snorkel Queen)
I'm Giulia, 28 years old and I come from Italy where I grew up until 2012 when everything changed. After I graduated as a Graphic Designer, I got a job in Milan, but it didn't take me long to realize that my office can't have 4 walls. At that time, I was already a diver and the decision to abandon my "normal" life to come back to the ocean and have the possibility to travel was easy to take. I spent years traveling and working in different countries, mostly warm, before moving to Iceland where I have been living for over a year. I still don't know where my next adventure will be, but I know that there is a lot more to explore in this amazing country.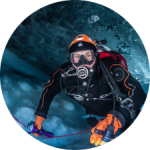 Kuba
Adventures Guide (Aquaman)
Wether it's inside Ice Caves, on top of glaciers, driving over geothermal fields and snowmobiling, Kuba is the man. With no vista unreachable, Kuba is our versatile around Iceland dive guide. Tough and with years of cold water experience under his belt you will enter the water safe and with that feeling of achievement that will have you high fiving Kuba on completion of your tour.
Peter
Adventures Guide
I am a Hungarian-born, professional diver and snowmobiling guide. I have gained a lot of experience in scuba diving and Search & Rescue missions, so I'm no stranger to harsh, cold and hazardous environments. Since I joined Arctic Adventures I've experienced first-hand the many wondrous sights of Iceland, which I believe all divers should experience on their adventures, so come and join me at Silfra or snowmobiling on the glacier sometime.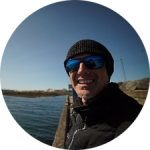 Goran
Dive Instructor & Suit Technician
Goran is a passionate diver and loves to get into a dry suit for extreme water sports, he is also our trusted man in the lab concocting strong glue mixtures to repair and maintain our very large fleet of dry suits. Mr. Fix-it, as we call him, will make sure you stay dry during your adventures in Iceland.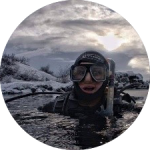 Ali
Diving Instructor
Our cold-water queen of the north, coming from Scotland. Ali brings with her a ton of cold-water diving experience and can handle even the coldest day like a pro. She will also entertain you at site with Celtic music, sure to make you dance a jig and stay warm.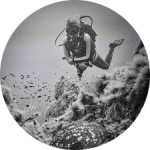 Eliska
Diving Instructor
I am an instructor from the Czech Republic, I have been working and diving in various places around the world for the past 6 years. But now I have decided to stay and explore Iceland. it's a wonderful place with lots of activities to try. You will always find me with a big smile ready and waiting to dive into the water with you!
Louis
Diving Instructor
My name is Louis and I've been staring at the edge of the water long as I can remember, never really knowing why. Scuba diving and tourism is my passion and working at Arctic Adventures allows me to make my passion a career! I get to meet new people and take smiling faces into the water every day and share with them what I love to do! The water might be cold here in Iceland, but the crystal clear 100-meter visibility makes you forget that you can't feel your face anymore. That's why I love my profession and that's why I love Arctic adventures.
Tom
Diving Instructor
Diesel Engineer to Dive Guide, Tom is a versatile dude from the UK who will guide you through our beautiful dive locations. Tom also helps us out with equipment repairs and just being an all-round nice guy.