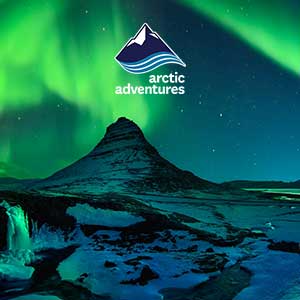 Discover the secret underwater canyon between continents that makes Iceland a most unusual snorkeling destination!!
The Silfra fissure is one of the world's most desirable snorkeling spots. Located in the heart of Thingvellir National Park, this narrow channel of blue water meandering through a giant lava field does not look like much on the surface. But below, supernatural shades of blue, perfect visibility and incredible rock formations make up a magical sub-aquatic paradise.
As if this wasn't alluring enough Silfra fissure is also the only place in the universe where you can go snorkeling in between the continental plates. Make your next big adventure a rare one!
This tour is a meet on location only. If you need a pick-up from Reykjavik please see one of our other tours Snorkeling in Silfra Fissure from Reykjavík
Duration

3 hours (45 min in the water)
Suitable for those in good condition who are able to walk for about 4 hours at a low or moderate pace. Trails are generally of good quality and glacier travel at a relatively low angle.
Departs from

Thingvellir National Park
Tour highlights

Þingvellir National Park (Thingvellir)
Silfra Fissure
Snorkeling in Iceland
North American and Eurasian tectonic plates
A unique experience
Included

Certified Dive Master guide
All necessary snorkeling gear including a drysuit
Silfra admission fee
Hot chocolate and cookies
Þingvellir (Thingvellir)
A historical site, national park in Iceland and a UNESCO heritage site. Originally known for being the place where Alþingi (the parliament) was founded in 930 this place had served a grand role in Icelander's saga since the settlers came. Still today you can find ruins of old stone shelters, the lakes and the Lögberg e. Law Rock. The park sits on a rift valley caused by the separation of two continental plates, with rocky cliffs and fissures like the huge Almannagjá fault. In this separation sits the amazing Silfra fissure.
Snorkeling in Silfra fissure
Enjoy an amazing snorkeling experience as you drift peacefully in the comfort of a warm drysuit accompanied by our highly skilled guides. Silfra, frequently rated as one of the world's top ten dive sites, is located between the tectonic plates of Europe and America so you will be snorkeling in between them. This is an experience like no other and Silfra is the only place in the world where this can be done. 
Take your Icelandic geology exploration to another level as you explore the crystal clear glacial water that runs from Langjökull glacier about 50 km away, water that has been filtering through lava for 100-200 years. Touch the moving lava rocks and get a feel for the power and uniqueness of Icelandic nature in complete calm.  The visibility at Silfra is without comparison reaching somewhere around 150 meters. Some have described the feeling of snorkeling in Silfra like flying and others experience an ultimate state of meditation. Snorkeling in Silfra fissure is often called the liquid mediation and you will understand why when you try it!
Silfra is truly a mesmerizing site and Into the Blue offers a relaxing but exotic trip in a highly unique and captivating environment. Whether you are an experienced snorkeler or a beginner this dive is an absolutely mesmerizing experience!
Our experienced and well-qualified specialist diving guides will ensure you are provided with all of the proper equipment and information you need. 
Meeting point: The meeting point is Silfra car park in Thingvellir National Park.  Please be ready in the Silfra car park to meet your guide 15 MINUTES before your tour is due to begin.
Pick up: If you need a pick up in Reykjavik see our Snorkeling in Silfra from Reykjavik

Remember to bring: Warm undergarments, preferably fleece/wool (no cotton!), warm woolen socks and a change of clothes (just in case). You will get a specially made suit to keep you warm and dry in the glacier water.
Requirements: Participants need to be comfortable in the water and be able to swim. You are unable to participate if you are pregnant, due to the small risk of cold water entering the suit.
Weight limit: 45-120 kg
Height limit: 150 cm -200 cm
Age Limit: 12 years old minimum. Guardian's approval needed for minors under 18.

Driving directions to the meeting location
If you are meeting us on location, the meeting point is Silfra car park in Thingvellir National Park. Click here for driving directions to where you can park your car (parking "Thingvellir P5"). To meet your guide: Walk 400m back along the road until you reach a smaller car park with all the snorkel and dive vans, and look for your guide. Please be ready in the Silfra car park to meet your guide 15 MINUTES before your tour is due to begin.
For GPS: 64°15'23.508″N 21°6'58.676″W
Please note
The national park charges a small fee of 500 ISK for parking, you can pay with cash or card.
Disclaimer
All our tours are undertaken on the responsibility of its participants. Arctic Adventures does not assume any responsibility for accidents that are caused by its customers or can be traced to their own actions. Participants have to sign a waiver before undertaking all trips stating that they realize that all outdoor activities carry an inherent risk.
Book this tour
Price from 13.900 ISK per person.
"AMAZING SNORKELING"
The snorkeling tour between the tectonic plates is worth the money! Sigfús Tina and Richard did a great job as our guides !
"Snorkel the plates"
Snorkeling between the two continental plates was one to cross off the bucket list. First, the staff, Steve, Taz, our driver (a super nice Greek man— I can't remember his name) and the nice Frenchman who helped dress me in my drysuit. They were phenomenal. Not only were they friendly but extremely helpful (I wish i had the chance to get to know them better, they were awesome people).

My friend had a rough time as it was her first time, Steve stayed with her for the entire dive so she not only felt at ease but was able to see the best parts of the experience. The dive itself was quick but gorgeous, the colors under the water were unforgettable. It is cold however the drysuit keeps you warm. I would highly recommend this excursion, I mean how many people can say they have snorkeled between two continental plates. Definitely book your excursion with Arctic Adventures, you will not regret it!
"Silfra Snorkeling."
We did the Silfra Snorkeling in mid February in a snow storm. It was AMAZING. The water is very cold, but very clear. Arctic Adventures provides all the gear you need to stay warm and drive during the experience. The guides were great and even took photos of us during the experience. I highly recommend this tour.
"Into the Blue Snorkeling tour!"
This was probably one of the best experiences of my life! The Arctic Adventures staff were all kind, hilarious, and extremely helpful. Carlos & Adam especially. I would recommend this to absolutely everyone! SO BEAUTIFUL!
Into The Blue from Thingvellir | Average rating: 5/5 based on 1 customer reviews
"Such a unique experience" |
By Jenny 26/01/2018
This snorkeling tour was such a unique experience! Even with the cold temperatures and strong winds, the dry suit kept me surprisingly warm. Our guide was very funny and made the experience even more enjoyable.