Explore these mesmerizing natural wonders on the South Coast of Iceland towards Jokulsarlon Glacier Lagoon.
INSTANT BOOKING CONFIRMATION
On this tour you will get to explore some of Iceland's most magnificent natural wonders, including the gleaming Jökulsárlón Glacial Lagoon, whose floating diamond-like glaciers are renowned across the world, the iconic Gullfoss Waterfall, where cascading water crashes over three lava steps, and the legendary Strokkur geyser, which propels violent bursts of molten water into the air every few minutes.
Suitable for most people in fair condition.
Tour highlights

The Golden Circle - Gullfoss, Geysir & Thingvellir
Jokulsarlon Glacier Lagoon
Vatnajokull Glacier
Skogafoss Waterfall
Seljalandsfoss Waterfall
Eyjafjallajokull Volcano
Dyrholaey
Reykjanes Peninsula
Solheimajokull Glacier
Skaftafell National Park
Silfra Fissure
Reynisfjara Black Sand Beach
Vík í Mýrdal
Skogar
Kerið Crater
The Diamond Beach
Included

Accommodation for 4 nights w. breakfast
Rental Car for 5 days (w. all basic insurances: Collision Damage Waiver, Personal Accident Insurance and Theft Protection)
Glacier Hike in Skaftafell Nature Reserve
Detailed Itinerary & Information Package
This self-drive tour allows you to create unforgettable memories in the land of fire and ice: a magical four/five-day journey filled with adventure and exhilarating fun. It captures the very finest things that Iceland has to offer, from glacial hikes to places of geological and historical significance, along with spectacular natural beauty.
On the tour you will receive a detailed itinerary, map and self-drive handbook, it has been tailor-made to give visitors the very best possible experience, of Iceland's legendary South Coast.
---
Detailed Itinerary Included
√ Detailed map of Iceland with all stops
√ Easily follow daily travel plans
√ Mobile friendly design
√ Descriptions & photos for all major stops
√ Print your itinerary or share with friends
---
Information for your rental car
Pick-up: Choose between pick-up locations at Keflavik International airport (KEF) or BSI Bus Terminal in downtown Reykjavik, at flexible times.
For the best experience, we definitely recommend that you pick your car up early on the day of arrival, and return it in the afternoon or evening on your last day.
Drop-off: By default, the drop-off location for your car will be at Keflavik International Airport (KEF), no matter which pick-up location you have selected.
You can, however, drop-off the car at BSI Bus Terminal in Reykjavik, on the last day of your tour. If you prefer this drop-off location you can change it afterward (details can be found in your confirmation email).
---
Accommodation
Comfort accommodation is included in this package. Great locations, breakfast is included and you will have a private bathroom.
---
Practical information
Remember to bring: Warm layers, waterproof clothing, headwear, scarf, gloves, hiking boots are essential, drivers license and some sunglasses.
What if I don't own all of these clothing items?
Don't worry, you can always rent sturdy hiking boots, waterproof jacket and pants in the booking process.
Please note
When booking for 2 or 4 persons you get twin / double rooms. When booking for 3 or 5 persons you get a combination of double/twin rooms and a single room.
To offer the best price possible, this self drive package is fixed and cannot be changed or altered. The package has been optimized for the best experience.
Day 1 - The Golden Circle
Day one begins with the collection of your rental car at Enterprise Office in either Keflavik Airport or Reykjavik, depending on which version you've chosen when booking a tour. Start your road trip with the scenic journey to Thingvellir National Park, a UNESCO World Heritage Site renowned for its geology and history. 
Thingvellir plays host to Althingi, where the first Icelandic Parliament was held in 930 AD. This makes it the oldest continuously operational parliament that is still operational today, although the Icelandic MPs have now moved to the warmer and more hospitable surroundings of the newly built parliament in Reykjavik. However, the parliament still keeps the name Althingi, which literally translates to 'assembly' in English, making it a fascinating place that everyone is bound to appreciate.
Thingvellir is also located on the Mid-Atlantic Ridge, meaning that it literally straddles the continents of Europe and North America. Visitors literally have the chance to gaze upon the gap that separates the two continents, alongside the chance to see a multitude of fascinating rock formations, which have been crafted by the unique volcanic conditions that Thingvellir experiences.   
From Thingvellir, the route takes you through the picturesque village of Laugarvatn, famed for its bubbling hot spring and geothermal spa, that is the perfect place to have a replenishing soak amidst incredible natural scenery (Laugarvatn is an optional extra and not part of the official itinerary.)
After that you will visit the legendary Geysir area, where there are several geysers that throw boiling streams of water into the air, every five or so minutes. The most famous of these is known as Strokkur, although the area is also home to the now dormant great Geysir, that gives all geysers their name.
The final stop on the tour is the magnificent Gullfoss Waterfall (golden falls), where rushing streams of cascading water crash over three stages of lava rock, into the luscious green valley below. The waterfall gets its name from the golden hue that the water takes as it passes over the rocks, while especially lucky visitors may see a vivid rainbow that sprays colour all over the already beautiful scene.
We will arrange accommodation somewhere around the Golden Circle, Hella or Hvolsvöllur areas.
Day 2 - Waterfalls & Reynisfjara Beach on the South Coast
Day two will take you to Iceland's legendary southern coast, taking you past the notorious and beautiful Eyjafjallajökull glacier, whose snow-carpeted icecap, grounded the majority of Europe's air-fleet, when it erupted in 2010. The joy of a self-drive tour is that you can stop wherever you wish, but we have a few recommendations to help you make the very most of it.
We recommend that you begin at the Seljalandsfoss waterfall, which is famous for its cylindrical jet of powerful water that crashes down into the valley beneath and the unique cave which allows visitors to travel behind the fall and enjoy it from a completely different perspective. The Skogafoss waterfall, is equally beautiful, and has a rushing cascade that vaults 60 meters down the cliff face into the pool below. A winding path is cut on the hill beside it, offering visitors the chance to climb the hill and be rewarded with a spectacular view of the surrounding area. Along this path are two fascinating rock formations, nicknamed the trolls, which local legend holds are two petrified trolls that were turned to stone by the sun.
As you continue on towards the mighty Solheimajokull glacier, we also recommend stopping off at Dyrholaey, a craggy rock arch that is like a deep blue window into the sea. Combined with the magnificent black beach at Reynisdrangar, where white-crested waves contrast beautifully with the dark volcanic sands, and the stunning basalt cliffs have been cut into incredible cylindrical rock formations that will leave you breathless. Another option is the picturesque village of Vik, nestled at the foot of a mighty glacier.
Next your journey will take you across the volcanic plains of Sólheimasandur, whose alien scenery and lonely abandoned plane, make it a favourite with everyone who sees it. Other interesting places to visit are the Skógasafnið Museum and Gljúfrabúi, a stunning waterfall situated amidst yet more gorgeous scenery.
Dyrholaey is especially good during the summer, thanks to the many puffins and artic terns that use it as a nesting site.
We will arrange accommodation for you somewhere close to Vík, Kirkjubæjarklaustur or Skaftafell.
Day 3 - Skaftafell & Jokulsarlon Glacier Lagoon
Day three begins with a traditional Icelandic breakfast, at your accommodation before you continue you your journey through Iceland's magical countryside. Our first stop is Skaftafell Nature Reserve inside Vatnajokull National Park.
We will give you directions to the place where you will meet your expert guide, who will give you all the equipment that you need and deliver a quick safety briefing. Then, we will head out onto the magnificent Falljokull Glacier, which extends like a tongue out of the massive Vatnajokull Glacier. It is an ancient body of ice, being more than 100 years old that is riddled with crevices and frozen ice streams. We will explore this glacial wilderness together, before continuing on through the majestic South Coast.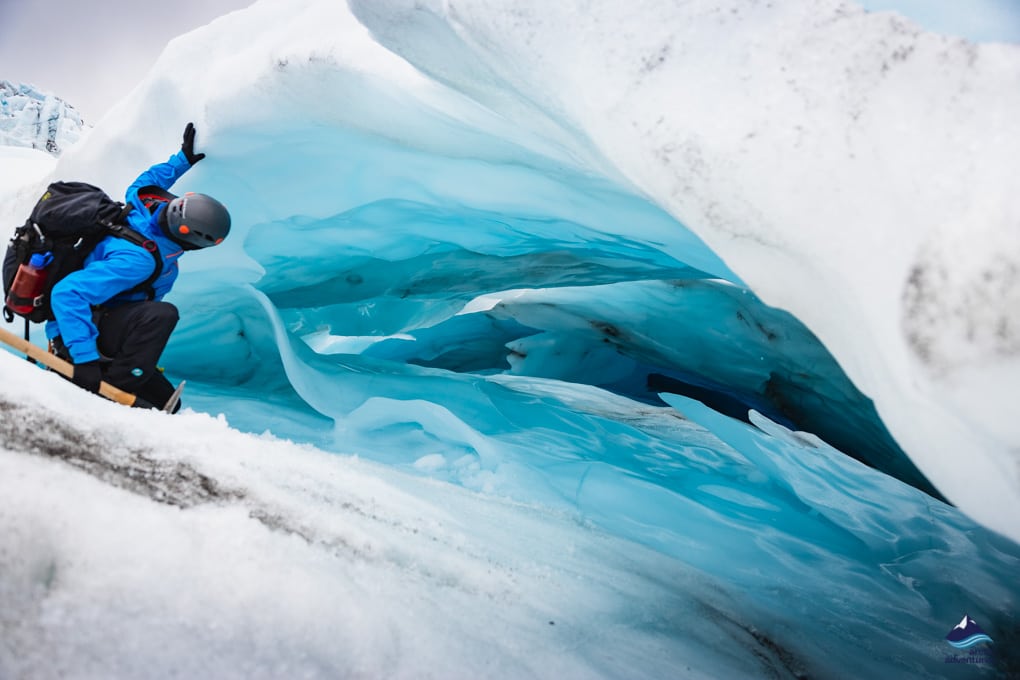 We strongly recommend making the short hike to the spectacular Svartifoss Waterfall, where a cylindrical stream of cascading water, crashes over round basalt columns into the luscious valley below. The stunning contrast of the frothing white water bouncing over the black basalt stone is a truly profound sight that will make your hair stand on end.
You will also be able to see the Skaftafellsjökull and Svínafellsjökull glaciers rising into the distance: massive chunks of gleaming ice and rock that stretch as far as the eye can see.
The next part of the route will take you to the legendary Jökulsárlón Glacier Lagoon, which is undoubtedly one of the most beautiful natural wonders in the entire world. It is renowned for the gleaming chunks of glassy ice that float across its turquoise surface, a spellbinding, jaw-dropping sight that words really don't do justice. Film buffs may recognize it from Die Another Day, Batman Begins, Tomb Raider and more. This incredible natural wonder might even be topped by the iconic Diamond Beach which lies just below it, where gleaming diamond-like icebergs sparkle like jewels on its dark black volcanic sands. An ephemeral glimpse into a world of exquisite beauty.   
We will arrange accommodation for you in either Kirkjubæjarklaustur, Skaftafell or Höfn area and recommend eating a traditional Icelandic dinner in one of the many excellent restaurants in the area.
Day 4 - Lómagnúpur Mountain & Katla Volcano
On Day 4, you'll explore even more of Iceland's stunning South Coast.  As you proceed down the road you will find the photogenic Lómagnúpur Mountain, which rises 690 metres above sea level and towers above a crystal-clear lake, before arriving at Núpsstaðir, famed for the grass-carpeted building that are literally built into the hillside.
Next on the itinerary is Dverghamrar (the Dwarf Rocks), a series of cylindrical basalt columns that stand on a lonely hill and are strangely beautiful. It is believed that they were formed at the end of the last Ice Age when sea levels were much higher, which would explain their strange location.
The next stop is Kirkjugólf, whose hexagonally shaped basalt stones are nicknamed 'the church floor' and despite their manmade appearance, were actually crafted by the elements, making them a natural wonder designed by the finest architect in the world. Stop by Systrafoss Waterfall nearby.
We also strongly recommend stopping at Fjaðrárgljúfur a vast river canyon that has been hewn into the landscape by the powerful waters that flow through it.
As you near the famous Icelandic highland region, you will see the capricious Katla, a powerful volcano that is hidden beneath the ice-cap of the Mýrdalsjökull Glacier. The road passes through Mýrdalssandur an otherworldly volcanic desert with magical alien scenery and the gargantuan Eldhraun lava field, which was formed after an eruption of 934 that produced the largest lava flow that the planet has ever seen.
For those who want to explore more of the places that surround Reykjavik, we suggest visiting the coast, with the idyllic villages of Stokkseyri and Eyrarbakki both excellent choices. Each one has a traditional design, with rustic painted wooden houses, that visitors are sure to appreciate. Another option is the seaside village of Þorlákshöfn, which gazes across the deep blue Atlantic Ocean and is steeped in authentic Icelandic culture.
We will arrange accommodation in Iceland's vibrant capital, Reykjavik, the perfect place to have a bit of fun after four days packed with fun.
Day 5 – Reykjanes Peninsula
The iconic Reykjanes area is conveniently situated near Iceland's International Airport. This combined with its stunning natural beauty, makes it the perfect place to end your stay in Iceland. It is packed with moss-carpeted lava fields, craggy volcanic craters, spectacular rock formations and the legendary Keilir, a distinctive cone shaped mountain, which has come to symbolise the entire area.  
Alongside this is Lake Kleifarvatn a dramatic crater lake, located in close to the Mid-Atlantic Ridge. It is the deepest lake in all of Iceland and reaches down more than 100 meters at certain points. It is also considered to be home to a strange mythical creature in Icelandic legend: a kind of Icelandic equivalent of the Loch Ness monster. There are several hiking trails that wind around the coal-black cliffs, making it a must-visit during your Icelandic visit.
The famous Gunnuhver hot springs, supposedly haunted by a vengeful ghost and the bridge that crosses the continents of Europe and North America are also well worth a look. Further to this is the secluded fishing village of Grindavik, ideal for those who really want to experience true Icelandic life or the coastal area near the Eldey, an island that plays host to a plethora of bird species, including: kittiwakes, fulmars, guillemots, cormorants and eider ducks.
If you have more time or would prefer a more relaxing final stop, then we heartily recommend soaking in the Blue Lagoon. Famous for being the world's finest natural spa, its milky turquoise, geothermally heated, waters are renowned for their healing properties, making them the ideal place to relax amidst some truly stunning scenery.
Please note that entry to the Blue Lagoon is not included within the quoted price for the tour, meaning that you will need to book in advance at bluelagoon.com. It's the ideal way to end your incredible Icelandic adventure.
Book this tour
Price from: 69.467 ISK
NO BOOKING FEES
FAST & SECURE PAYMENT
You have chosen: From KEF airport
Instant confirmation & Low Prices
Pick-up & Drop-off at Keflavik international airport. Note you can change the drop-off location to Reykjavik (see confirmation email for details, extra fee may apply).
You have chosen: From Reykjavik
Instant confirmation & Low Prices
Pick-up at BSI Bus Terminal in Reykjavik. Drop-off at KEF airport. Note you can change the drop-off location to Reykjavik (see confirmation email for details, extra fee may apply).