All about
ICELAND
Insider info to adventuring in Iceland
Top 12 Tours in Iceland | The Most Popular & Best Value
For travelers planning a trip to Iceland this question often comes to mind: Which tours are the most popular in Iceland and which tours give me the best experiences for the least amount of money?
This is the right place to be reading if you are looking for the best information on which nature and adventure activities you should join whilst in Iceland.
I am going to make the answer to this frequent question as simple as possible. This I will do by making a list (don't you just love lists?), a list of 12 tours in Iceland that are the most popular and best value for money activities.
The list will provide all the info you might need like when the tours are operated, age limit, approx. cost and an approx time frame. Some tours in Iceland are seasonal, the Northern lights for example only appear in winter, River Rafting is only done in the summer but others like the Golden Circle or Glacier hiking can be done all year around. I will be sure to provide you with all that info and so much more on each activity.
Feel free to leave comments below if there is any information you feel is missing from this blog. I will get right on it!
12. Whale Watching
Whales you can see in many places in the world but I am not sure that they play as big of a role in people's lives as they have done in Icelander's lives for centuries.
You might have heard about Icelanders hunting whales, as they are considered a delicacy and a real treat but the nation is split in two. There are the ones that eat them and then there are the ones that LOVE them.
Whale watching is how you can join the second group!

This is one of the most affordable activity you can do in Iceland, perfect for a couple of hours and can be done right from Reykjavík's harbor.
If you are looking to see more variety though, we suggest you head North. Dalvík is becoming THE place to spot whales and I swear they are showing up to show off! Seeing a whale up close and personal in their natural habitat is an experience you will never ever forget!
Age limit: No age limit, YAY!
Fitness level: This could be your first activity in 10 years, easy peasy lemon squeezy!
Cost: From 9.990 ISK to 15.990 depending on the boat and location.
Time: Usually around 3 hours but in a Rhib boat only 1,5 hours.
Season: From Reykjavík; All year From Dalvík; Middle of February to 1. December.
The best value version of a Whale Watching tour
The whale watching tours are just in general good value for money. But if you are looking to get the cheapest one go for the 3-hour standard boat tour going from Dalvík.
Nr 1. You are in Dalvík, the cutest little, charming fishing village.
Nr 2. You are more likely to see different type of whales than you are going from Reykjavík
Nr 3. You are out of the main tourist stream, more personal and smaller group experience!
Here is a link to the best value Whale Watching tour in Iceland.
11. Landmannalaugar hiking and hot spring bathing
Oh, Landmannalaugar, where to begin?
To get to this paradise on earth you need to start by driving the beautiful South Coast and then drive inland going past stunning waterfalls, mountains, lava fields and just basically anything having to do with amazing Icelandic nature!
After river crossing and other adventures, you are in Landmannalaugar, a multicolored geothermal paradise with natural hot springs you can bath in and epic mountains that give you views that you could only before picture in your dreams.
You might have realized this by now but I am seriously obsessed with this place and personally think that no one should visit Iceland without a trip here, not if you want to get the real experience. Landmannalaugar is the starting point for the Laugavegur trail and many like to stay for days there, so they don't miss out on anything but most join for a day tour. Here is the info for the day tour:
Age limit: 10 years for tours
Fitness level: You will need to be able to hike a little bit to enjoy the area to the fullest
Cost: From 12.990 ISK if you meet the group there but about 19.990 if you need transportation.
Time: A full day starting super early like around 7 am.
Season: Can be visited all year round with Arctic Adventures.
The best value version of a Landmannalaugar tour

For me, the best value tour would a Landmannalaugar day hike tour from Reykjavík because then you don't need to keep your eyes on the road. You can just enjoy looking out the window out upon the ravishing landscapes and natural wonders. When you arrive your guide will take on an about 4 hours hiking tour going up one of the surrounding mountains to enjoy forever memorable vistas. Be it Brennisteinsalda or Bláhnúkur they are both equally as beautiful and the views with is.
After breaking a little sweat you will be invited to soak in the natural hot pools the settlers joined for in the Viking times. Take in the extraordinary and incredible natural settings from the mountain tops and let it all sink in as you lay in a natural hot pool heated by the active lava field sitting right above, talk about an adventure!
10. Laugavegur Trail
Wanting to go further into Icelandic nature? Want to get the digital detox you so eagerly need and wish for? Laugavegur trail in Iceland is the answer to your desires!
Starting at the ever so lovely Landmannalaugar this trail will take you over rhyolite colored mountains, hills of the famous Icelandic moss and steamy hot springs, give you glacier and volcano views take you across historic lava fields. You will stay in rural remote huts or campsites in the highlands where you can breathe in fresh mountain air throughout the night.
Laugavegur trail is where many fall in love with Iceland for the first time and I am not talking a small love, I am talking big, huge, want to scream of the mountaintop love!
If you are into nature at all, if you like hiking, you really can't go to deny yourself of this experience. Trust me it's worth it!
Age limit: 8 years in the family version otherwise 15 years
Fitness level: Need to be pretty fit or at least used to walking/hiking for hours
Cost: From 155.990 ISK to about 235.990 ISK with the extra hiking days
Time: 4 days (can be up to 8 days with extra hiking days in Landmannalaugar and Thorsmork)
Season: Middle of June to middle of September
The best value version of the Laugavegur trail tour
You kind of can't do the Laugavegur trail without adding the famous Fimmvörðuháls trek to it. Fimmvörðuháls is where the Eyjafjallajökull eruption started in 2010 causing a full stop to all air traffic going across Iceland and making Iceland famous. You only have to dig a little bit into the eruption site's ashy fields to find the warmth still there.
So I suggest going for the 6-day version of the tour. It's only about 10.000 ISK more for two extra days (depending on if you go for the camping or hut option) so it's OH SO WORTH IT!
Here is a link to the camping version of Laugavegur trail in 6 days.
Here is a link to the hut version of the Laugavegur trail 6 in days.
9. Northern Lights exploring in winter time
I have seen these bizarre exceptional lights like a million times BUT every time they get me. All my life I have lived under these dancing dream-like waves in the sky but still, I stop the car if they show up, still I run out of my house if I stop them but enough about me now it's your turn! You simply must, at least once in your life stand under these breathtakingly beautiful lights that dance so magically in the dark winter sky. Joining a Northern lights tour will A) take you to a smart and well thought place to see them B) give you the chance to listen to experts explain everything about them C) leave the planning to someone else D) you won't get lost driving to the middle of nowhere on a dark Icelandic winter night.

Some of these tours have great add-ons and you can take so many different types of tours. You can go see the Northern Lights from Reykjavík by boat, you can join a Super Jeep Northern lights tour, you can explore the Northern Lights far away from the city light by joining one of our longer multi-day tours in winter, you can go on bus tours and you can do private Northern Light tours when budget allows.
Your options are endless, don't miss out!
Age limit: None to 10 years depending on transportation and activity added to the tour.
Fitness level: Very little fitness is needed for most Northern Lights tours.
Cost: Day Tours from 9.990 ISK and Multi-Day from 84.990 ISK.
Time: Anything from one evening to 5 days.
Season: Winter (September to April)
The best value version of a Northern Lights tour
For a day tour this question is easily answered, the best value one night tour will be the Northern Lights Super Jeep tour as it includes not only Northern Lights hunting but also a trip via Super Jeep which gives you such a bigger chance to see the lights as you can go where smaller cars can't. Then, there is the added wow factor including hot cocoa, cookies and a taste of the extraordinary Brennivín snaps.
This is a tour I would recommend to my best friends as well as my grandma!
8. The infamous South Coast of Iceland and Jökulsárlón Glacier Lagoon
The South Coast of Iceland is a must do. Skipping the South coast would be like going to Paris without seeing the Eiffel tower, but our Eiffels endless natural phenomenons including powerful waterfalls, mesmerizing black volcanic beaches, glittering glaciers, out of this world beautiful glacier lagoons and so much more. The South Coast can be done in one day with shorter stops at all the highlights but if you want to really explore it and include Jökulsárlón (which you should) then you are going to need more time, 2-3 days is adviced for the South Coast.
Age limit: Varies a lot depending on the tours, sightseeing is lower (6 years) than the ones that include glacier hiking (10 years).
Fitness level: This activity is easy but being able to walk for about an hour is good if you are going to the glacier hiking.
Cost: Day tours from 11.990 ISK and multi-day tours from 39.990 ISK.
Time: Anything from 10 hours to 3 days (even 6 days if you add other parts of Iceland).
Season: All year.
The best value version of a South Coast tour with a visit to Jökulsárlón Glacier Lagoon
The three-day version of the South Coast is an amazing deal. Included in the price 87.990 ISK is accommodation for 2 night, pick up and drop of in Reykjavík, the drive in between the location, a knowledgeable guide the whole time, The Golden Circle, all the ultimate best stops on the South Coast, a visit to the Jökulsárlón glacier lagoon, Natural Ice cave exploring and Glacier hiking!
Breakfast is included at the hotels and in the night time, you can enjoy the Midnight sun or the Northern Lights (depends on the season) away from the crowds. The only thing you need to worry about for 3 days is dinner and lunch. This is the ultimate bang for a buck!
7. The Ring Road of Iceland – Hringvegurinn
The people who organize the roads in Iceland had this almost childlike idea (seems at first) to have a full circle road going over the country and call it Road 1. This is no joke although witty.
Here is a photo to prove it :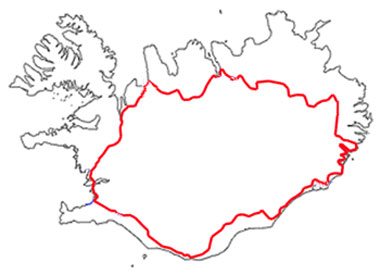 When driving the famous Ring Road you will see the best Iceland. Many describe the feeling of driving Road 1 as entering new worlds every 10 minutes. You are driving through endless lava fields and then all of a sudden purple, lupin areas, then ashy glaciers, next moss land and right after a steamy geothermal paradise. The fjords come in close so it feels like the mountains are hugging you and on the other side, you have the most magical ocean vista.
There is, it seems, no end to the diversity and everywhere you look exquisite waterfalls are gushing from the hills and animals are playing in the fields. The best way to do the Ring road is taking your time. Anything less than 4 days will make the experience unsatisfactory.
There are so many stops to make along the Ring Road and so many great tours that you can meet on location for. There are exceptional glacier hiking tour on the south coast, there are hiking tours going into the magical highlands, whale watching tours in charming little fishing villages, Jökulsárlón glacier lagoon, waterfalls exploring, hot springs to be visited, hot spring bathing and oh so much more!
The best value version of a Ring Road Tour
The best value Ring Road tour will have to be the 6 Days around Iceland Adventure. This conclusion is due to a few factors:
1. With a guide who knows the places inside out you will know what you are actually looking at, get insider tips and info and really get to know the place.
2. Will not miss out on anything – skipping that "aah maybe next time then"
3. The cost is only around 30,000 ISK a day with accommodation and breakfast included, all the driving, a guide the whole time, super cool sights, whale watching and glacier hiking with expert extra guides
4. You can look out the window the whole time, no need to stare at the road
5. No risk of getting lost, the guide knows the way. Precious time can be wasted while trying to find the right spots.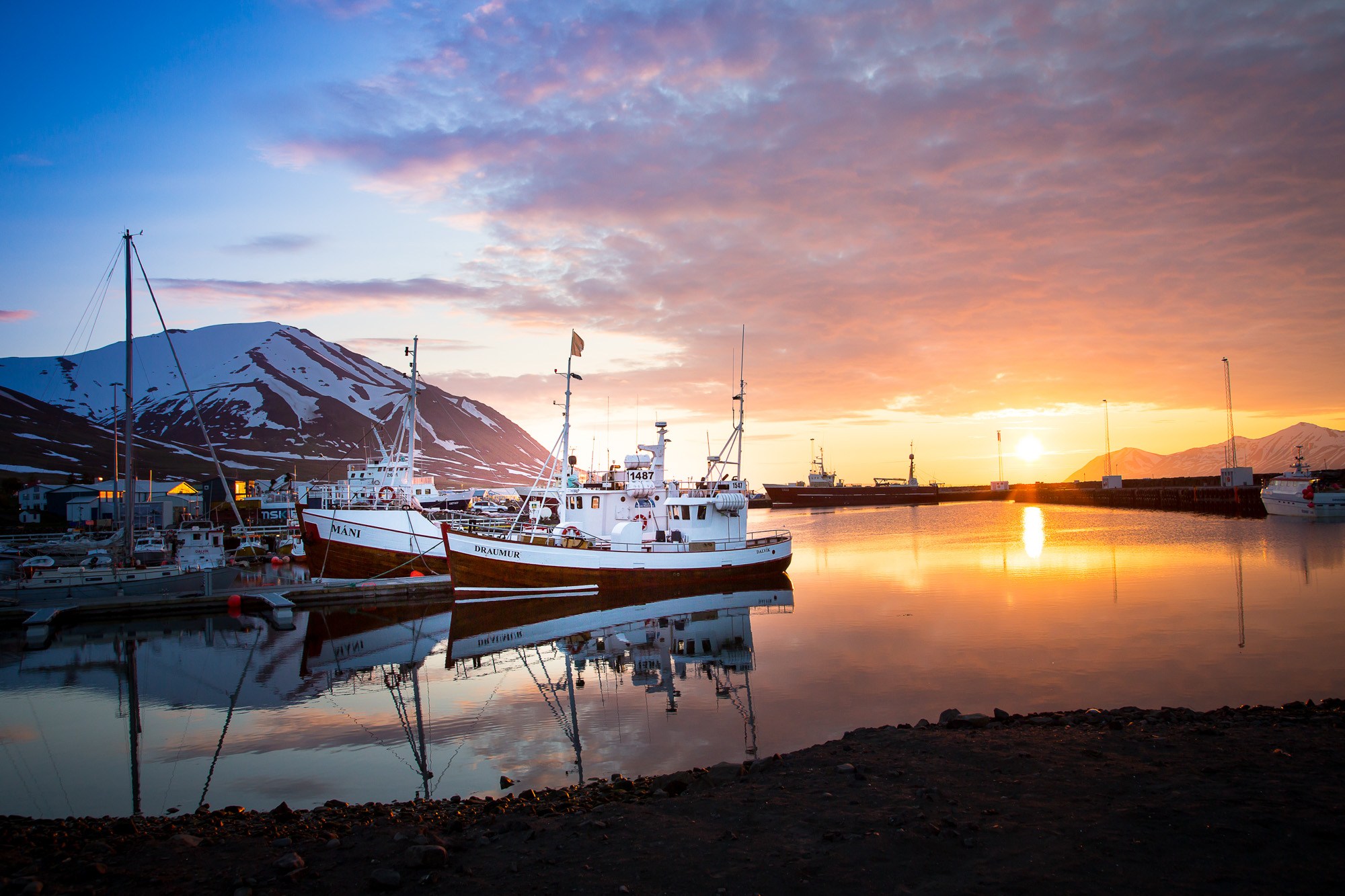 Age limit: 10 years
Fitness level: Easy, little walking but doesn't require you to be in great shape.
Cost: 189.990 ISK including all transport, amazing tours, knowledgeable guide, and accommodation + breakfast.
Time: Full 6 days.
Season: February to November
6. Inside a Volcano
Now this is an experience I can't really explain, I mean how can you? Going inside a volcano and actually paying for it?! It just sounds nuts but really it isn't!
The Þríhnúkagígur as us Icelanders like to call this unbelievable wonder is actually not filled with flowing hot lava, or bursting up every now and then. It's more the fact that a volcano has to be completely quiet for more than 4500 years for it to be considered dormant. Þríhnúkagígur last erupted 4000 years ago BUT there is nothing to be scared about. Just imagine if you were a Volcano scientist where would you move to? Of course Iceland! All of our volcanoes are being monitored and very well! We would never be going into a volcano if there was any movement. This just makes the story of going into the volcano cooler!
The Icelandic band Kaleo did an epic music video going inside the volcano, Þríhnúkagígur!
The real uniqueness about Þríhnúkagígur is thought to be that it's the only place in the whole wide world where you can go into a volcano. This is due to the fact that volcanoes usually fill up after an eruption, close up or just vanish. Somehow, magically this one didn't – when the eruption stop there was just this "empty" volcano hole and now you can enter through it!
It's super deep, so deep that you could fit Hallgrímskirkja and MORE in there!
And the colors!
I will have the pictures speak for themselves.

Age limit: 12 years
Fitness level: Moderate, there is a hike in a relatively straight lava field for about 45 min but it's 100% not a difficult one.
Cost: 42.000 ISK – sound like a lot but not really when you try it!
Time: approx. 6 hours
Season: Middle of May to Middle of October.
There is actually only one company who does the tour, one price, one company and you can only do it between May and October BUT it's so worth it and the company is actually fantastic so join!
I will keep this short for this reason but definitely, check it out!
5. The famous Golden Circle; Gullfoss, Geysir & Thingvellir national park
The Golden Circle is one of the things everyone does. It is, yes, a little touristy but you can't really come to Iceland without doing it. There is a GREAT reason why everyone is doing it, it is simply not to be missed.
Usually, the tour first takes you to the historic wonderland of Þingvellir. The name actually means Parliament fields and rightly so. Þingvellir is where Icelanders founded and held their parliament from the year 930 making it one of the ultimate first democratic parliaments in the word. It's also home to a stunning waterfall, the coin lake (where wishes are thought to come true) and the meeting of the tectonic plates!

Next up will be infamous Geysir in Haukadalur valley. This is actually THE Geysir – the one that ALL the other geysers in the world are named after. But there is a twist. It no longer goes off. There was an earthquake in 2000 that kind of turned it down BUT in supervention, his baby brother Strokkur gained power and now goes off every 4-10 minutes gushing into the Icelandic sky. Thank you, nature for this very efficiency show!

Last but definitely not least is the powerful, the great, the alluring Gullfoss waterfall. All hail the mighty! This place has been attracting crowds since before tourists started coming here. It's that impressive, don't miss out!
Age limit: 6 years for the easiest versions, then the age limit just depends on the activity you might add to it.
Fitness level: No real fitness needed for the standard Golden Circle, casual slow pace tour but if you add an activity this might change.
Cost: Best price is about 8.990 ISK (about 85 $) / with an activity starting at 11.990 ISK (about 112 $).
Time: Half a day
The best value version of a Golden Circle tour
The ultimate best version of the Golden Circle for the best price is without a doubt the Golden Circle and Secret Lagoon. Doing stops at all the most amazing Golden Circle highlight and ending the day with a soak in Iceland's oldest swimming pool in a 100% natural and geothermal filled setting. The smoky area and surrounding hot springs add to the charm of bathing in a natural hot bath and the feeling is amazing. You really can't visit Iceland without a soak in a natural hot pool, you just can't!
Age limit: 6 years
Fitness level: Easy!
Cost: 11.990 or 112 $
Time: about 9 hours in total
4. Blue Lagoon
Now we really couldn't talk about Iceland without mentioning the Blue lagoon, could we? The Blue Lagoon is for many the first thing they hear about in Iceland. This grand hot pool of magically blue water has become a symbol of Icelandic purity, energy, and beauty. Located in rugged mossy covered lava it synchronizes beautifully with its white silica mud and sharp light blue colors.
Soaking in there gets your skin covered with silica and algae which doctors have proven works wonders on your skin. Bathing in the lagoon actually started as an experiment of a man with intense psoriasis and it healed him!

Whatever people might think about this super popular location, be it touristy or not, you simply can't miss it. The vast lagoon makes it so you can't feel that much that others are in there with you AND there is a strict limit of people in there at a time so you don't feel like a sardine in a can.
Age limit: 2 years old
Fitness level: You can be as unfit as you wish!
Cost: From about 6800 ISK per adult or 64 $.
Time: You can stay as long as you like once you are in there but the pools are hot so don't overdo it and stay hydrated.The best value version of the Blue Lagoon
The Blue Lagoon is a privately owned company. You can, of course, have other companies book for you, it's always the same price but in the end, it's the same anywhere.
Saving tip: Go for the standard and just bring your own towel and shower sandals.
3. Natural Ice Caves
Just when you think the Icelandic glaciers couldn't possibly get more gorgeous they create ice caves, alluring blue crystal looking ice nooks that you can visit! There are a few different types of Ice caving tours going to different ice caves, which only makes choosing which one to visit more difficult. To name them there is first the man-made ice cave at Langjökull, it is amazingly beautiful but personally, I prefer natural ones and Langjökull actually has a natural one as well!
The natural Ice cave on Langjökull can be visited on an exciting snowmobiling tour. The pro to this tour is that it can be visited on a day tour straight from Reykjavík.
But if you are up for a little more traveling Skaftafell is the Ultimate glacier Ice Cave paradise. In Skaftafell you have two fascinating option of tours.

The Crystal Ice cave is the one you might have seen photos of, it's amazingly crystal blue and doesn't require any real hiking. It's at the bottom of the glacier and the roof is super thin making it easier for sunlight to shine through and light up the cave in magical blue colors. The only con is that because of this thin-ness and the low location of the cave its weather dependant. The colder it is the better the cave is so let's all pray for COLD winter!

Into the Glacier which is a glacier hiking tour on Falljökull glacier and then a visit to an ice cave up on the glacier, it's a little less blue BUT this one is less weather dependent, less cancellation and OH so pretty!
Age limit: Depends on the tour:
Langjökull Ice cave – No age limit
Snowmobiling and ice cave tour – 8 years
Crystal Ice Cave – 6 years
Into the Glacier – 10 years
Fitness level: Only the "Into the glacier" tour requires a moderate fitness level
Cost: The price is starting at 19.990 ISK or 188 $
Time: 3-4 hours without the transport
The best value version of a natural ice cave tour
This is a hard one, all of them are gorgeous but my first and runner-up would be Into the Glacier tour in Skaftafell and Snowmobiling and Ice cave exploring from Reykjavík on Langjökull glacier.
The Into the Glacier because you get 2 in 1 glacier hiking and ice caves in one tour. Saves time, maximize the experience and there are a lot fewer people in this cave. There is just one company operation this tour!
The Snowmobiling and Ice cave from Reykjavík because number 1 you also get to snowmobile, nr 2 because you can go in one day and number 3 because again this is the only company going there. It's amazing to experience!
2. Glacier hiking and/or glacier climbing
Glacier hiking is an eye-opening experience, you connect with nature at a new and exciting level and if you ever want to try it Iceland it the perfect playfield to do it at!
Iceland has the largest glacier in Europe and numerous others spreading over the highlands, West and Westfjords. You can take a short tour, longer tours, tours with glacier climbing, tours with natural ice caves visits. You can go straight from Reykjavík on a day tour or you can meet up on a Ring Road or South Coast exploring trip. The world (Icelandic glaciers) is your oyster. Just promise me one thing, don't visit Iceland without touching a glacier!
Age limit: The youngest you can go on a glacier is 10 years
Fitness level: All depends on the tour
Cost: From 9500 ISK or 90 $
Time: From 3-4 hours if you need on location to a whole day
The best value version of a glacier hiking tour
The best value tour would be the meet on location Blue Ice tour on Sólheimajökull glacier. You can meet for the tour at the glacier but also catch a pick up from Reykjavík. The tour is about 4 hours and one is spent glacier climbing. It's an active, fun and different way to spend your time in Iceland and you will be sure to have plenty of memories to last a lifetime! The glacier is absolutely stunning known for epic blue ice and amazing crevasses. Just imagine, this could be you! Go get you cool on (literally).
Age limit: 14 years
Fitness level: Moderate, the climbing is a bit of a challenge but it's optional so it all depends on how you do it!
Cost: From 19.990 ISK or 90 $
Time: From 3-4 hours if you need on location to a whole day
1. Snorkeling in Silfra – between the tectonic plates
When you hear about Iceland the first thing you think about is probably NOT snorkeling. Snorkeling is usually thought about when someone mentioned Fiji or the Maldives BUT my friend you are in for a surprise, a huge, wet, otherworldly surprise. In Iceland, we go snorkeling and it's even done in glacier water to add to the craziness but even though this might be starting to sound like all Icelanders must be insane I can assure you we are not! We simply wear dry suits and then you can't feel the cold you and you can enjoy the magical underwater vistas that await you in between the abnormal setting at Silfra fissure.
Silfra is where the tectonic plates not only meet but drift apart and when they do the crack gets filled by glacier water. The clarity is without comparison about 150 m! So the feeling is like flying. You can't really hear a thing so it's also a meditation of some sorts, a liquid meditation and even better no digital exposure. FULL DIGITAL DETOX + Amazing landscapes + One-time experience + glacier water + in between tectonic plates = The best tour ever!
Age limit: 12 years
Fitness level: Moderate, because you need to walk to a from Silfra, in full dry suit gear
Cost: 16.990 ISK or about 160$
Time: 3 hours in total but about 45 min spent in the water
Season: All year around
The best value version of a snorkeling tour in Silfra
The Black and Blue tour is the ultimate lava exploring tour here in Iceland. Iceland is one of the youngest countries in the world and volcanic activity present in the lives of the locals. The volcanic activity has shaped the country and there are endless caves and other exciting things found in Iceland where you can dig deep into the true natural source.
First, you visit a lava tunnel, going deep underground to explore the lava formations on foot. You can see how the magma ran through and the history is vivid. Next up there is the extraordinary Silfra fissure. Silfra is the only place in the world where you can go snorkeling or diving in between the tectonic plates and not no one's surprise it's awesome!
The water originates in Langjökull glacier about 50 km away and has been filtering underground through lava for 100-200 years before getting to Silfra. Silfra is where the Eurasian and North American tectonic plates meet but also drift apart and fill up with water. This feeling is unbelievable and the clarity is to intense that it feels like you are flying!
Don't let this one slip away!
Age limit: 12 years
Fitness level: Moderate, because you need to walk to a from Silfra, in full dry suit gear
Cost: 16.990 ISK or about 160$
Time: 3 hours in total but about 45 min spent in the water
Season: All year around
Itching for the vacation of your life? Get ready with our Guide on Planning Trips & Tours to Iceland!
Related blogs
Our three-day itinerary is perfect for those who are visiting Iceland in the summer, and who would like a good balance between hiking and sightseeing. It is great for those who want to go to both Landmannalaugar and visit the South Coast.
August 15, 2017 , By Sanna
What are the pros and cons to traveling to Iceland during summer? What is there to see, to know and to do? Inga takes on the Icelandic summer in an excellent way.
June 13, 2017 , By Inga
Iceland is a land of contrasts, of glaciers and hot springs, of darkness and eternal light. When planning your trip to Iceland you should ask yourself, what is the best time to visit?
August 9, 2017 , By Ragnheidur
The 7 wonders of Iceland, the land of Ice and Fire. This was not an easy choice, it took time, research and thinking but here it goes. The list of the lists, what you NEED to see while visiting Iceland. A tough choice but here goes, enjoy the ride!
July 14, 2017 , By Ragnheidur