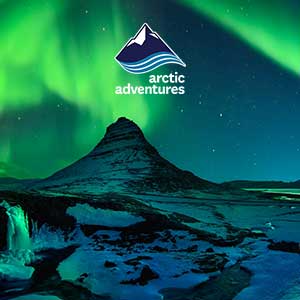 Glacier hiking and ice caving adventure in Vatnajökull glacier departing from Skaftafell. A grand tour on Europe's largest glacier.
INSTANT BOOKING CONFIRMATION
This Ice caving and glacier hiking adventure tour in Falljokull glacier is a fantastic choice for any adventure enthusiast. Ice caves are naturally formed and are for that reason ever changing, making them even more charming and unique. The cave you visit on this tour is located quite high up on the glacier so a glacier hike is needed in order reach it. This adds value to the whole glacier experience giving you two activities in one tour.
Unfortunately, this tour is not operated in the present time. If you are looking for an Ice cave tour, we highly recommend our Katla Ice Cave Tour from Vík. Please have a look at our glacier tours in the Vatnajökull Glacier area.
Suitable for most people in fair condition.
Tour highlights

Small Group Experience
Vatnajokull - Europe's Largest Glacier
A Visit to a Natural Ice Cave
A Guided Glacier Hike
Included

English Speaking Licensed Adventure Guide
Crampons and Other Necessary Glacier Gear
All Required Safety Equipment
Your glacier hiking and ice cave adventure starts at the Glacier Guides booking office in Skaftafell, located at the parking lot in Skaftafell National Park. Please note that you need to arrive at our booking office no later than 30 minutes prior to your departure time. Upon arrival to our booking office, our guides and staff will greet you and provide you with all the necessary gear for your glacier hiking and ice cave adventure before heading to Falljökull glacier tongue. Falljökull glacier is an outlet glacier from the magnificent Vatnajokull icecap, the largest glacier in all Europe. The drive to Falljokull from the booking office in Skaftafell is about 15-20 minutes. It is a scenic drive and you can almost feel the excitement on the bus. From the parking lot of the glacier, your certified glacier guide will help you gear up and provide you with a safety briefing before accompanying you onto the ice. Once on the ice, you start hiking in magnificent scenery to the naturally formed ice cave/ice tunnel where we spend approximately 15-20 minutes exploring all that the cave has to offer. After taking a photo or two inside the cave we hike back over the glacier, through an adventures landscape of rugged ice.

Ice caves are an ever-changing natural phenomena that are only accessible during winter when the temperature drops well below zero so the water from the rivers that run underneath the glacier freezes and leaves us with this phenomena to explore. Each year new caves are formed in different locations. We will visit one naturally formed ice cave during this tour and the cave we visit is chosen based on conditions and safety each time.
---
What to bring: Warm clothing,  waterproof jacket and pants, hiking boots, head-wear and gloves.
What if I don't own all of these clothing necessaries?
Don't worry, you can always rent the necessary clothing in the booking process.
If you are looking for an ice cave tour that includes transportation to/from Reykjavik please have a look at our South Coast Ice Cave and Jokulsarlon Ice Lagoon 2 day tour.
If you are looking for other options that include glacier exploration and transportation to and from Reykjavik please check out the Blue Ice tour or Glaciers & Waterfalls.  Please note that these are not ice cave tours.
Please note
You must arrange your transportation to the meeting point of the tour (Skaftafell is 4 hours east of Reykjavik). The bus schedule during the winter is very limited so it is highly recommended to rent a car and to stay in the area either the night before or after your tour. Driving times can be greatly affected by winter conditions so please be sure to give yourself enough time depending on winter road conditions.  Find out more about road and weather conditions. Bear in mind that you need to arrive no later than 30 min prior to your tour departure in order to not miss the tour.
Disclaimer
All our tours are undertaken on the responsibility of its participants. Arctic Adventures does not assume any responsibility for accidents that are caused by its customers or can be traced to their own actions. Participants have to sign a waiver before undertaking all trips stating that they realize that all outdoor activities carry an inherent risk.
Book this tour
From 19.990 ISK per person.
NO BOOKING FEES
FAST & SECURE PAYMENT
"Into the Glacier"
My son and I went on this tour on 1/15/17. We were a bit reluctant to go on the tour due to the rainy weather in the forecast. However, we were glad we did. The staff was very friendly. Our guide Murk was very knowledgeable and answered the many questions that were asked. The glacier is amazing. The hike not very hard if you are in decent shape. You wear crampons that keep you from slipping while walking, The cave was interesting to see. You need to wear some warm clothing and something to repel rain if it is in the forecast. The tour is definitely worth it. Enjoy!
Into the Glacier - Ice Cave & Glacier Hiking Tour | Average rating: 4.9/5 based on 16 customer reviews
"Wonderful and very fun!" |
By Sarai Blaschke 08/03/2018
Absolutely loved the Into The Glacier tour. It was very fun and our tour guide was excellent and informative. I did not have the appropriate shoes for the tour and I was able to rent my boots easily. It was all a very smooth experience! Our group was small and we all helped each other along. I plan to do the Crystal Ice Cave tour on another trip to Iceland! Arctic Adventures, you guys rock!
"Glacier walk 4/3/18 Amazing!" |
By Denika 11/03/2018
Marcus was very knowledgeable about the local area and the glacier itself which made the trip more interesting. He was very clear about the crampon instruction as this is something important and i'd never used them before. We had lots of time on the glacier for pictures and to experience it's amazing scenery and he was on hand to take pictures too. Overall an amazing afternoon with a great guide! I would highly recommend. Thank you. Denika & Liam (Manchester)
"The best tour ever!" |
By Gabriela Shaaban 19/03/2018
And the best Polish tour guide ever ;)
"Great Experience!!" |
By Amanda Fitzgerald 15/03/2018
My friend and I did this tour and were so glad we did! It was a great way to see the glacier and a cave, and probably much more worth it than paying the same amount of money to just see a larger ice cave as many of the other tours in the area offer. The ice cave was small, but still stunning and there was only our small group of 10 in it and we got cool pictures. Our guide, Simeon, was very knowledgeable about the glacier and Iceland. He also taught us some things about mountaineering and ice climbing. The hike was beautiful and I would definitely recommend it to anyone I know who enjoys hiking!
"Must do whilst in Iceland!" |
By T.Mak 15/03/2018
We arrived at the meeting point on time, and was greeting with enthusiastic staff members. They measure our feet for the crampons and checked that our footwear had adequate ankle protection. We then embarked upon the bumpy ride towards the foot of the glacier where we were assigned Oliver as our guide of the morning. Oliver was charming and friendly throughout the whole walk, he kept the group engaged with his energy and passion! We even had a guest appearance from his raven friends. Before approaching the ice cave, arctic adventure staff communicated well to inform each crew of the cave condition. We felt very safe in their hands. The ice cave was out of this world, it was such an amazing experience! Walking on the glacier was quite an experience too, we were taught how to put on the crampons and how to walk appropriately on the glacier. Oliver made sure each and everyone of us was safe, and encouraged us to go at our pace and he's always there to give us a hand if it was needed. All in all, had an amazing time, with a brilliant guide.
"All staff was efficient and worked together to get us on our tour on-time" |
By Jillian 20/03/2018
The check-in process was very well-organized. All staff was efficient and worked together to get us on our tour on-time. Our tour guide was great, but I wish there was a more local perspective. I wanted to know more about Iceland--its' history and geography, etc.
"Into the glacier" |
By Darren 04/03/2018
Tour guide Caroline was fantastic. Very spirited and knowledgeable. The tour was a bit lacking though. Too much time spent posing for fake climbing photos. I wish the trek on the glacier went longer. Its called a hike and this was hardly a hike. Still an amazing experience to be on the glacier though
"breathtaking experience for every level" |
By Taryn Erickson 05/03/2018
My traveling companion and I were originally booked on the "Crystal Ice cave" tour - we were emailed the day before and advised that our tour was cancelled due to the cave flooding. While initially being disappointed the email continued to read that we were put on the "into the glacier" tour. Which included a hike to a different cave and then to explore the cave. We had the most amazing time!! Our tour guide Ryan was knowledgeable and engaging, making us all feel capable and welcomed on the tour.... What started out as being a tour booked to just experience something new and take some cool pictures - turned into a breathtaking mini adventure. Highly recommend to everyone.
"Awesome experience !!" |
By Jonathan Flores Uribe 06/03/2018
We had booked the ice cave tour but due to a flooding it got canceled and we were offered the Glacier hike instead. We were amazed at all the beautiful scenery that we saw. Great landscapes and it was a very cool experience to walk on the glacier. We also got to visit a very beautiful ice cave and our guide Mike gave great explanations about everything we were seeing and enjoying. In the end we were very happy to have gone hiking in the glacier as we truly enjoyed it and would recommend people to try it out!.
"Thanks for a great adventure" |
By Sandra 07/03/2018
The overall experience was great! We've never been on a glacier before and were a little unsure about the hike, but felt very safe and well prepared the whole time. Our guide Chris was funny and yet very professional and answered all our questions competently. We'd recommend this experience to anyone, go see the glaciers of the world, before they're all melted!
"The best tour ever!" |
By Gabriela Shaaban 09/03/2018
The best tour ever! And the best Polish tour guide ever ;)
"Must-do adventure" |
By Kelly 22/03/2018
The glacier hike was an experience most do not get to have in their lifetime. It was an incredible experience to walk out onto the ice and climb and see these beautiful sights up close and personal. Walking through the ice cave was beautiful. I felt very safe with our guide and the spiked crampons. Learning about the glaciers and how the caves form and how they're melting was fascinating. I would absolutely recommend this tour for anyone looking for an amazing experience and adventure. And some gorgeous photos.
"Highlight of Trip" |
By Dorie 24/03/2018
While Iceland is a land of many wonders, and it's a hard to choose a favorite thing about my trip, this glacier walk and ice cave tour were hard to beat. Our guide was fantastic, we had a small group and the things we get to see were incredible. The ice cave was by far one of the most amazing things I've ever seen. I would totally recommend this company and the into the glacier tour.
"Very professional and fun tour" |
By Gonçalo 24/03/2018
Everything was great, but if I have to point anything out it would be the way you communicate urgent matters to your customers. In my case, I had my original tour replaced by another one 55km away and I only knew this by reading an email that I got on the previous day. It was only by chance that I had internet access in time of changing my travel plans. My suggestion: if you get no response from your customers using email, then call them. That's why we left our phone numbers with you in the first place.
"Our guide Michael was very entertaining and strict about safety" |
By Laura Väyrynen 02/03/2018
Our guide Michael was very entertaining and strict about safety (which is a good thing) but in a nice and humorous way. Great tour!
"This tour really exceeded my expectation" |
By Juan 23/03/2018
This tour really exceeded my expectation, it's was a very unique experience, small group. Our tour guide Pepe was great very informative and fun to be around.