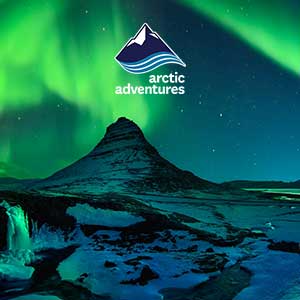 Combine two of Iceland's most exciting activities to explore Vatnajökull, Europe's largest glacier. Our glacier hiking and ice caving adventure departs from Skaftafell.
INSTANT BOOKING CONFIRMATION
Want to do this trip for free? Tag us @arcticadventures on your social media stories and photos during your trip and enter a chance to win a full refund. The winner will be picked once a month!
---
This Ice caving and glacier hiking adventure tour takes place on the mighty Vatnajökull, Europe's largest glacier.  Ice caves are naturally formed and are for that reason ever changing, making them even more charming and unique. The cave you visit on this tour is located quite high up on the glacier so a glacier hike is needed in order reach it adding even more value to the whole glacier experience giving you two activities in one. This is truly an awe-inspiring adventure, visiting a glacier and its ice cave on the volcanic island of Iceland.
Suitable for most people in fair condition.
Tour highlights

Small Group Experience
Vatnajokull - Europe's Largest Glacier
A Visit to a Natural Ice Cave
A Guided Glacier Hike
Included

English Speaking Licensed Adventure Guide
Crampons and Other Necessary Glacier Gear
All Required Safety Equipment
The tour starts at the Glacier Guides booking office in Skaftafell. It's a perfect tour for those looking for a stunning guided glacier walk with a visit to a mesmerising natural ice cave on the way- a fantastic all-around experience!
The drive takes around 20 minutes – we then hike for about 5 minutes up to Falljökull.  When we get to the glacier we gear up and get safety instructions from our skilled guides before setting foot on the ice. Afterward, we continue our hike over the glacier, through an adventurous landscape of rugged ice.
After a walk on the beautifully rugged glacier, we will explore a natural ice cave where you will have some time to explore the ice cave and take photos.  Ice caves are very popular during the winter- we may see other people there at the same time. A natural ice cave is definitely a must-see for anyone looking for a unique experience in Iceland!
The ice cave we visit is selected based on actual conditions each time. We will spend about 1,5 – 2 hours on the ice, including the glacier hike and the ice cave exploration. This tour is suitable for individuals who are able to comfortably walk for 2 hours outdoors across easy terrain.
If you are looking for a more extensive glacier hike in this area then the Glacier Explorer might be more suited for you.
This tour is highly dependent on conditions (including temperature, safety, and accessibility). Ice caves are ever-changing natural phenomena that are only accessible during winter when the temperature drops well below zero so the water from the rivers that run underneath the glacier freezes and leaves us with this phenomena to explore. Each year new caves are formed in different locations. We will visit one naturally formed ice cave during this tour and the cave we visit is chosen based on conditions and safety each time. The ice caves must be treated with the utmost respect.
---
What to bring: Warm clothing,  waterproof jacket, and pants, hiking boots, head-wear, and gloves.
What if I don't own all of these clothing necessaries?
Don't worry, you can always rent the necessary clothing in the booking process.
If you are looking for an ice cave tour that includes transportation to/from Reykjavik please have a look at our South Coast Ice Cave and Jokulsarlon Ice Lagoon 2 day tour.
If you are looking for other options that include glacier exploration and transportation to and from Reykjavik please check out the Blue Ice tour or Glaciers & Waterfalls.  Please note that these are not ice cave tours.
Please note
You must arrange your transportation to the meeting point of the tour (Skaftafell is 4,5-5 hours east of Reykjavik). The bus schedule during the winter is very limited so it is highly recommended to rent a car and to stay in the area either the night before or after your tour. Driving times can be greatly affected by winter conditions so please be sure to give yourself enough time depending on winter road conditions.  Find out more about the current road and weather conditions on road.is, vedur.is and safetravel.is
Due to limited daylight, the last departure of the day will be done partly in the dark during the darkest months.
Book this tour
Price from: 13.990 ISK
NO ADDITIONAL FEES - BUY
DIRECTLY FROM THE OPERATOR
FAST & SECURE PAYMENT
Loading...
"Into the Glacier"
My son and I went on this tour on 1/15/17. We were a bit reluctant to go on the tour due to the rainy weather in the forecast. However, we were glad we did. The staff was very friendly. Our guide Murk was very knowledgeable and answered the many questions that were asked. The glacier is amazing. The hike not very hard if you are in decent shape. You wear crampons that keep you from slipping while walking, The cave was interesting to see. You need to wear some warm clothing and something to repel rain if it is in the forecast. The tour is definitely worth it. Enjoy!
Vatnajökull Ice Cave Tour With Glacier Hike | Average rating: 4.8/5 based on 89 customer reviews
"Professional" |
By ruizi 06/04/2019
We really like this adventure! The equipment is professional, most of them are for protecting our safety. The tour guide was so nice, he was expert in finding danger. We got experienced everything that the website's introduction promised.
"Great Tour into the Glacier" |
By Eric Arwed Mesenholl, M.Sc. 05/04/2019
We went on the Tour with our Tour Guide Kish! That was just great! We had a great time and would do it again.
"Excellent" |
By Kaylee Vos 04/04/2019
Our glacier cave hike was an experience of a lifetime! Our tour guide Kish was EXCELLENT. We learned lots and the views were breath-taking -- it was definitely the highlight of our time in Iceland.
"Great tour" |
By Raymond li 03/04/2019
Very nice tour and we enjoyed it
"Fantastic, could not recommend highly enough" |
By Angela S 01/04/2019
Into the glacier was an incredible experience and certainly a highlight of our trip. Our tour guide, Adam, was an absolute delight. We dare say that not even the northern lights shine as brightly as his sparkling enthusiasm and passion for glaciers. A truly unique and awe inspiring experience of nature. Only wish the tour had been longer.
"An absolute must" |
By Lisa 31/03/2019
If you're visiting the area around Skaftafell, you absolutely have to go on a tour like this. It's worth every penny and is an unique experience!
"Wonderful glacier experience!" |
By Lauren Straub 30/03/2019
My friends and I had a wonderful time hiking the glacier with Tony as our guide. We were constantly in awe of our surroundings, and felt safe every step of the way. Thank you so much, Tony and Arctic Adventures!
"Amazing!" |
By Mark Paul 26/03/2019
Trully amazing tour. Amazing tour guide! I forget the gals name but she was a little Irish girl in for just the winters. Very knowledgable and amazing person. I would highly recommend this experience to anybody and everybody!
"Such a great tour!" |
By Kristi 25/03/2019
Went on a hike the previous day to see the glacier from above and wished I was one of the people on it and the next day I got my wish. The tour was great- spending time in the ice cave and walking around the glacier- I didn't think we would get as much time walking on the glacier as we did. The guide was super friendly and enthusiastic. Would definitely recommend to anyone who wants to experience walking on a glacier and using crampons!
"Great Experience" |
By Alaina Atkinson 23/03/2019
Very good overall your. It was safe but exciting and the hot chocolate on top of the glacier was a nice touch. Well done
"Awesome" |
By Ross 22/03/2019
Tony was our tour guide on a Thursday morning to visit Vatnajokull. Tony was friendly, focused on our safety, conversational, and extremely knowledgeable about Iceland, the life cycles of glaciers, local wildlife, history, and language. I felt like I was getting a guided tour from a mountain-climbing historian and glaciologist. The caves and glacier themselves were gorgeous, and Tony's explanations of the ice structures were very engaging for me. I would absolutely recommend him and Arctic Adventures generally to anyone visiting Iceland.
"Amazing view and fun activities" |
By Zac 21/03/2019
First of all, the whole experience is super fun, and with all these gears, you will look like a professional in pictures. On top of that, the view is just out of this world, snowy mountain peaks, miles long glaciers, sapphire blue ice. Highly recommend this tour to all adults, it is not that challenging. And big thanks to our guide Kesh(I might spell it wrong), very friendly, knowledgable, professional with sense of humor as well, he even provided us hot chocolate, which makes the whole icy tour not so icy. 5 stars!!
"Ice Cave and Glacier Walk" |
By Orsolya Both 19/03/2019
We took the glacier Walk and Ice cave tour with my mother and boyfriend in March. Our guide was very nice and he put us on the front of the line just behind him so I can translate to my mother who does not speak English well and ask if I did not catch everything. The tour was amazing, the ice was blue in the corridors and in the cave. It was an unique experience.
"AMAZING TOUR GUIDE AND COMPANY" |
By Paul Hong 11/03/2019
A buddy and I embarked on a glacier tour just a week ago (early March) and had an absolute blast. Our guide, Tony, was super knowledgeable and friendly. He shared with us how he discovered his passions for outdoor activities and made us feel comfortable during the entire trip. Would recommend 11/10!
"Would do it again!" |
By Paige K 11/03/2019
"We debated over a few different glacier tours, but wanted to do something that showed us the most natural ice cave, so we landed on this one & I'm so happy we did! We did this hike on our last day in Iceland, & it was a great way to end the trip - you can't understand what the glacier looks like until you're actually standing on it, or in it. Our tour guide was great! Fun, friendly, kept things light, made sure we stayed safe, & taught us a lot about the history, the changes, etc. Have already recommended this tour to others I know headed to Iceland."
"Tour guide Maxim" |
By Nikita Korcagins 10/03/2019
We had amazing tour guide, wish you to have more guides like Max. Everything was perfect! Hold on and keep on making such interesting tours -️
"Awsome Pawsome." |
By Furkan Serhatlıoğlu 05/03/2019
Great Great Great guide. He was so helpful. He was talking so fluent. Me and my girlfriend couldn't enyoj a glacier tour more than this. Great tour and great adventure. Thank you Arctic Adventures!
"Nice walk" |
By Joey S. 28/02/2019
Went in late February of 2019 with my two twentyish boys. Staff was friendly and knowledgeable. It isn't a hard walk with the crampons they provide. The ice pick is to give you the "experience". The weather was actually warm but we peeled off layers. The cave is small but you'll appreciate it. The glacier is about 4 hours from Reykjavík but the scenery made the trip quick. I'd definitely recommend it.
"Amazing experience!" |
By Mel 28/02/2019
I am not athletic but this tour has taught me that I need to work on my cardio! I loved our tour guides Christian and Maxim! They were informative and made us laugh throughout the whole tour. They slowed down for us when we needed a break (cause trust me I needed it). Christian even brought us hot chocolate! I would totally recommend them! Had an amazing time and the glaciers were beautiful. 10/10!!!
"Very good guide, very incredible tour" |
By Jean-Yves Léger et Chloé Lepers 27/02/2019
"Thanks you so much Jen, our english guide, and all the arctic adventures team, it was a marvellous tour for us, anyway the glacier show us the consequences of the human activity on earth. Thanks too for it. We can recommend Arctic Adventures to all our friends. JY"
"Wonderful." |
By Teddy 27/02/2019
Well conceived and well organized. Thank you!
"Raw nature in all its splendour" |
By Martijn 25/02/2019
Wonderful experience from start to finish. Great guide who told us all about the glacier, ice cave and surroundings. We were very lucky with the weather too, so had a blue sky, which made the walk all the more picturesque.
"Do it again!" |
By Bernadet 22/02/2019
"It was awesome. A tour with an amazing guide. Max is competent and funny. We were four. Everyone have appreciate. If i come back in iceland, i'll do it again. Ps : sorry for my approximative english, i'm french."
"Best Experience!" |
By Sean Russell 20/02/2019
The glacier hike and ice cave tour was my best experience while visiting Iceland. Highly recommend if you're in this part of the country!
"Amazing experience!" |
By Sanda 18/02/2019
A definite highlight of our visit to Iceland. Our guide Maxim was excellent! He made sure our safety was first above all else but he kept us ahead of schedule so we were able to see more during our hike. His instructions were clear and he made sure we got the most out of our day with him. Highly recommend this tour!
"The best experience!" |
By Amy Weatherley 11/02/2019
I had the best time hiking over the glacier! Our tour guide was brilliant and was really knowledgable. I met some really amazing people in my group too. It was an all round amazing experience!! Not everyday you can climb a glacier!!
"Amazing glacier walk and ice cave experience!" |
By Jessica 10/02/2019
My husband and I just did this hike last week and we're so glad we did! I was a little nervous being 4 months pregnant but the staff were very knowledgeable and explained everything thoroughly. Our guide Orla was outstanding, patient, well informed, and personable. I felt safe and in good hands following her instructions. We learned a lot and saw breathtaking beauty. Booking, directions, and price were all great. I would definitely recommend this to others and unless you have mobility challenges or are really out of shape, I would think it's miles better than riding out in a super Jeep.
"Best Day of My Life" |
By Taylor Deely 10/02/2019
Our guide was the greatest. Her name is Either Orla or Orna. She was knowledgeable, friendly, and had great energy. My friends and I got to explore a glacier that will no longer exist in 30 years, and the guided tour was even better than we could have imagined. Thank you to our guide, and to Artic Adventures, for connecting people to nature with minimal impact and protecting Iceland's natural wonders.
"Awesome!" |
By Toni Rachel 08/02/2019
We had Jen as our tour guide and she was amazing. She was so friendly and helpful as well as patient with all of us going on the tour. Jen was very informative about the Glacier and I felt like I learned a lot during the experience. Tony was also helping all of us put on our gear and he was extremely helpful and friendly. Thanks again!
"Perfect Tour with a perfect guide" |
By Nicole Comtesse 08/02/2019
We made a tour onto and into the glacier. Out guide Jen was perfect. She told us a lot about the glacier and took us to very beautiful places on and in the glacier. Also there was the perfect weather for the Tour with sun and a blue sky. A very interesting and beautiful adventure, you shouldn't muss in your trip to iceland.
"Magical place" |
By Mario 07/02/2019
"We loved the entire experience. Erik was both knowledgeable and friendly. We felt safe throughout the visit to the glacier and inspired by everything we saw and touched."
"Into the Glacier" |
By Gautam Gala 07/02/2019
The tour was amazing. The tour guide was informative. Hot chocolate served during the glacier walk was a good touch.
"Orla is the best" |
By Thomas 03/02/2019
We did the glacier hike with an ice cave tour and our tour guide Orla made it an absolute delight. She's informative and funny and made the experience fantastic. Thanks Orla!
"We want to repeat!" |
By Tamara 01/02/2019
Such a great experience and Alpo, our guide, made the hike so easy. We were fully equipped and the hike was completely safe. We would repeat for sure!
"it was the highlight of our journey" |
By Niki Szabo 30/01/2019
In one word, it was brilliant :). This hike was our first ever hike and we have really enjoyed every minute of it and I am sure if we return to Iceland we would like to try more tours/hikes of yours. Special thanks to Orla, our guide She is an excellent guide and she looked after us very well.
"Great Tour" |
By Sanjay Nagarakatti 28/01/2019
This was an excellent tour overall. Very Good safety gear and procedures. Nicholas was very knowledgeable about the glaciers, Iceland' geography, politics, environmental issues and movies, answered all our questions. Did the tour at very good pace, not too fast or slow. The added bit of humour and hot chocolate made it extra special.
"Best experience in Iceland" |
By Miguel Chapela 25/01/2019
"We did the hiking tour and visit to the visit to the cave and was the best experience from our trip around Iceland. 100% worth it. Surely we were lucky with the weather, but I think we would enjoy it in any condition. Also, our wide, Ollie (not sure if his name qas written like that), the english guy, was extraordinarily nice and helpful, and explained about the enivroment."
"A Great Experience!" |
By Rochelle Robinson 24/01/2019
Last week a group of friends and I went on the glacier hike and ice cave tour with Procop (spelling?). Other than having to wait a little while a few other group members and leaving a little late, we had a really great tour. Procop was a fun guide with a great personality, and shared a ton of very interesting information about the glacier and surrounding area. Thanks again for a great experience!
"10/10" |
By Jannik 24/01/2019
Very friendly guides who simply love their job. Everything was very professional and our guide, Oli, was passionate about informing us about the glacier and the nature. He even had to help a girl, who was a bit afraid of heights, overcoming her fears, and he did it with patience and expertise. Overall a recommended experience! :)
"A-M-A-Z-I-N-G" |
By Ariane Boyczum 23/01/2019
The "Into the Glacier" was absolutely amazing. Don't hesitate, it is the best choice if you want to see an ice cave AND do some hiking on the glacier. Our guide (Jennifer) was perfect, the tour was perfect, we don't feel rush, it is really a small group experience and we had the chance to visit a cave without any other group. I would recommend it to anybody who wants to live a magical experience. Thumb up to Artic Adventures for this adventure.
"Beautiful hike!" |
By Monica Brown 21/01/2019
This was a great way to spend an afternoon in Iceland. Beautiful, even on a cloudy, gloomy day. The ice cave would have been incredibly if the sun was out but was still cool even in the gloom. Make sure you do wear layers as we actually got warm from the hiking and had to take a few things off. Sturdy, waterproof hiking boots are a must, even though they give you crampons. Our tour guide was wonderful and obviously passionate about the glacier.
"Great fun, great guide." |
By Sara Whittaker 20/01/2019
"We did this tour as a group of four female friends in our late 20s. It was not strenuous and safety was taken seriously. Our guide, Nikolas, was friendly, knowledgable, and pulled out a flask of hot chocolate at the end! There was no snow on the day we did our glacier walk, and the ice is crystal clear, so there were amazing moments when it was almost like walking on a glass ceiling. The ice cave was perhaps not as big as expected, but that's the nature of the changing (melting) landscape I suppose. I would thoroughly recommend this experience."
"Into the Glacier" |
By Chloé Rodrigues 20/01/2019
"That was lots of fun, and skaftafellsjökull is beautiful. Very competent and nice team of professional guides. The tour is complete (glacier and Ice cave), and you get to learn a lot about glaciers. I definitely recommend that tour, and look forward discovering other tours from Arctic Adventure."
"Highly recommended" |
By Tiffany Park 17/01/2019
My partner and I were thrilled to take part in this tour. Glacier hiking and seeing an ice cave was much more enjoyable than we could have ever imagined! To top it off, the views are absolutely incredible. Alpo, our tour guide, was fantastic and we would highly recommend this experience to everyone visiting Iceland!
"Great Iceland experience" |
By Melissa 08/01/2019
The tour was fantastic, very informative guide who showed us great parts of the glacier. Ensured our safety at all times and made sure we got lots of pictures. Also had a small group which was great, would highly recommend!
"Jen is the best!" |
By Leigh Creech 03/01/2019
Jen was our guide and she was amazing! This trek was the highlight of our whole week in Iceland and Jen was a big part of that. Thanks for an amazing experience!
"Friendly tour guide" |
By ENG SZE YEE 30/12/2018
Great tour and very friendly and knowledgeable tour guide.
"First Time Glacier Hike" |
By Sara 27/12/2018
My boyfriend and I really enjoyed our tour and our guide, Alpo, was great (very knowledgeable and friendly)! We got really lucky and had our tour on a day where the weather was perfect! We were able to explore a good portion of the glacier, but we would have liked to have explored it a bit more because we are both more advanced when it comes to outdoor activities. The hot chocolate on top of the glacier was a nice treat as well! Lastly, the ice cave was interesting, but it was a bit of a let down. Overall, I would recommend this tour to someone as their first glacier hike just like this was for us.
"Glacier walking" |
By Safak ozturk 18/12/2018
This is the most exciting and amazing adventure in my life and I Recommend this adventural tour to all extreme lovers
"First time tour" |
By Albert Moreno 16/12/2018
The guides and staff that we met at the lodge near the visitor center were all incredibly helpful. Our guide was Simeon, and he was very knowledgeable throughout the experience. The walk on top of the glacier was amazing, however the ice cave itself was a bit underwhelming. As there were many tours happening at the same time, there was a lot of traffic around the same ice cave which was unfortunate. Overall, it was a great experience and our guide Simeon was outstanding.
"Awesome adventure" |
By Thomas 14/12/2018
The Tour was awesome and perfectly organized. The guide was amazing and very professional (a young guide from Scotland). We highly recommend!
"Amazing!" |
By Abra Nowitz 12/12/2018
We loved our glacier hike! Our tour guide, Jen, was amazing, patient and knowledgeable and made sure everyone was safe and comfortable. Would highly recommend to anyone going on an adventure in Iceland.
"Great Time" |
By Wayne H 12/12/2018
"We had an awesome time with Nickolas on the glacier. He was very professional and taught us many points of interest about the glacier. Our group was only 6 including Nickolas, which was very nice."
"Beautiful" |
By Jade Barry 10/12/2018
I enjoyed this and my tour guide was fantastic (I do not remember her name, but I do remember she is from Scotland).
"Have you ever licked a glacier?" |
By Michael Ruf 08/12/2018
We had a great time on the glacier and in the ice cave. Maka? the British Guide was funny and entertaining and made sure that everybody was safe and had a good time. There were quite a few groups on the glacier, but the guides timed well and make sure that it doesn't feel crowded. The small group (12) bonded quickly and a couple of us decided that everybody can walk on a glacier - but licking one would be the icing on the cake. On this tour, you will hike to the glacier, learn how to put on your gear. Get introduced to glacier-safety. Visit an ice cave, walk on the glacier and into crevasses and experience the mesmerizing blue of the glacier. You also get introduced to how glaciers work and you can ask as many questions as you like. We were out for about four Hours.
"We really liked the tour..." |
By Sarah 08/12/2018
We really liked the tour, but expected it to be a little bit more ambitious. We stopped almost every 2 minutes for pictures - of course this is good but our expectation was to walk further more into / on top of the glacier... so more hiking instead of wandering around would have been even nicer.
"Into the Glacier" |
By Sheila 28/11/2018
I dont like We have to wait to get access to the cave, because all the groups go at the same time, while fortunately the guide was very friendly and explain the glaciar creation story and then we walk around the cave :)
"Glacier adventures" |
By Andrew Seagrove 28/11/2018
I had a great time exploring the glacier and a nearby ice cave. It was truly breathtaking to explore something so massive. Easily one of the highlights of my holiday!
"Into the glacier - eric" |
By Lucius Clay 22/11/2018
All around it was great. The only disappointment was that eric did not have a thick Swedish accent. I feel that would have made it much better.
"Great day!" |
By Sean Backers 13/11/2018
We had great weather for our adventure. We met our guide, Alpo while walking to the glacier from the office. He was very friendly, knowledgable and had a great sense of humour. Once we reached the glacier, we fitted our crampons (spikes over our shoes to grip on the ice) and were given a demo on how to walk while wearing them. The ice cave was not quite as spectacular as I imagined but it was still an amazing to see. After the cave, we spent a good amount of time walking on the glacier. It was quite spectacular! All up we were out for about 4 hours. The trip was not difficult though, one of the girls was a little 'precious' and required some extra assistance from Alpo. She made it through without any issues. I highly recommend Arctic Adventures. A great team of people who obviously love what they do. Thanks for a great time!
"Great experience" |
By Antonio RC 12/11/2018
Great experience!! The hike was ok and the views awesome. The explanations algo were really good. Maxim was the best! Hugs from Spain
"Excellent tour!" |
By Manuel Mendoza 11/11/2018
Very nice tour! The guide was excellent and the tour was incredible, the guide really explain a lot of things, from the glaciers to the ice cave!
"Good experience - Great guide" |
By Ken Kenlon 10/11/2018
Actually getting to go into a glacier is a nearly unique experience. Arctic Adventures makes it do-able for everyone. Our guide Orla made is very enjoyable and informative. She is a font of knowledge. She was very caring and took special pains with us old-timers. Thank you, Ken & Jan
"Great tour guides who know what they're doing" |
By Julia 01/11/2018
The tour guide was really friendly, knowledgeable, and fun! My only disappointment was that we did not get to explore more of a cave. Other than that, everything was great! The hot chocolate on top of the glacier was a plus too :)
"Great Experience!" |
By Bethany Turner 07/04/2018
Our group had a great experience with Bee! She was a fantastic, happy guide with lots of wonderful information to share. We were disappointed that the Crystal Ice Cave tour needed to be switched (water in the cave, unsafe) to the Into the Glacier tour -- but I think ITG was better overall and a lucky switch! We really enjoyed the experience of hiking on ice that likely will not exist in 5 years. It was humbling, heartbreaking and breathtaking. I would 100% recommend these guides and this tour.
"Beautiful Ice Cave" |
By Ana Maria Andre Jorge 11/04/2018
I really enjoy the experience. It was beautiful to enter the ice cave and drink the water from the glacier. I was just expecting more walking. It felt very short walking so we just stayed in the periphery. I would have preferred to adventure further ahead. The guide was very friendly.
"Our ice cave tour..." |
By Grace 31/03/2018
Our ice cave tour was cancelled due to the cave flooding so we were moved to the into the glacier tour at no extra cost. The team were incredibly helpful and let us hire shoes at no extra cost. Simon our tour guide was amazing - he's only been working there a short while but he was very knowledgeable and he taught us all the safety requirements so we felt confident on the glacier. Most of all, he was incredibly friendly, cracked a good few jokes, made sure we got the best out of the experience (that glacier water is really good) and he's pretty good at taking photos too. Thanks for a great experience
"Must do!" |
By Dwarakesh Jayaram 31/03/2018
If you are visiting Vatnajokull national park in skaktafell, this is a must do! The guides at Artic adventure/Glacier guides are knowledgeable and patient, helping you along the way. Anybody can do this activity and is super enjoyable. We had an Australian guide. She was awesome and would recommend her, for some reason I can't remember her name. Cheers
"Into the Glacier" |
By Mohamad Cherry 31/03/2018
As our only tour booked during my recent trip to Iceland I was very pleased with the entire experience. Our guide, Michael, was knowledgeable, funny, and very entertaining during the tour; only downside was the ice cave... As lovely as it was to be inside one of nature's marvels, I expected more of the cave itself. All in all my brother and I enjoyed our day thoroughly and would definitely use Arctic Adventures in the future.
"Small group experience" |
By Cherie 30/03/2018
I was hesitant due to price but I'm glad we went. This tour combined glacier walking and ice cave tour and there were many groups but all were small and nicely spaced out so you didn't feel part of a crowd in the glacier. The ice cave was small/short but that's not their fault. Did see lots of blue ice. Be sure to have boots with stiff ankle support or be prepared to rent a pair. Bite the bullet and don't miss this great experience!
"Fantastic experience" |
By Raga 30/03/2018
Our guide was funny, knowledgeable and showed us amazing locations in the glacier. Highly recommend this tour.!
"Spring break 2018" |
By Lori Ballinger 28/03/2018
I wanted to give my 10yr old son an educational experience. The tour, guide, and overall adventure exceeded anything he imagined. And that made everything perfect! Thank you
"Wonderful and very fun!" |
By Sarai Blaschke 08/03/2018
Absolutely loved the Into The Glacier tour. It was very fun and our tour guide was excellent and informative. I did not have the appropriate shoes for the tour and I was able to rent my boots easily. It was all a very smooth experience! Our group was small and we all helped each other along. I plan to do the Crystal Ice Cave tour on another trip to Iceland! Arctic Adventures, you guys rock!
"Glacier walk 4/3/18 Amazing!" |
By Denika 11/03/2018
Marcus was very knowledgeable about the local area and the glacier itself which made the trip more interesting. He was very clear about the crampon instruction as this is something important and i'd never used them before. We had lots of time on the glacier for pictures and to experience it's amazing scenery and he was on hand to take pictures too. Overall an amazing afternoon with a great guide! I would highly recommend. Thank you. Denika & Liam (Manchester)
"The best tour ever!" |
By Gabriela Shaaban 19/03/2018
And the best Polish tour guide ever ;)
"Great Experience!!" |
By Amanda Fitzgerald 15/03/2018
My friend and I did this tour and were so glad we did! It was a great way to see the glacier and a cave, and probably much more worth it than paying the same amount of money to just see a larger ice cave as many of the other tours in the area offer. The ice cave was small, but still stunning and there was only our small group of 10 in it and we got cool pictures. Our guide, Simeon, was very knowledgeable about the glacier and Iceland. He also taught us some things about mountaineering and ice climbing. The hike was beautiful and I would definitely recommend it to anyone I know who enjoys hiking!
"Must do whilst in Iceland!" |
By T.Mak 15/03/2018
We arrived at the meeting point on time, and was greeting with enthusiastic staff members. They measure our feet for the crampons and checked that our footwear had adequate ankle protection. We then embarked upon the bumpy ride towards the foot of the glacier where we were assigned Oliver as our guide of the morning. Oliver was charming and friendly throughout the whole walk, he kept the group engaged with his energy and passion! We even had a guest appearance from his raven friends. Before approaching the ice cave, arctic adventure staff communicated well to inform each crew of the cave condition. We felt very safe in their hands. The ice cave was out of this world, it was such an amazing experience! Walking on the glacier was quite an experience too, we were taught how to put on the crampons and how to walk appropriately on the glacier. Oliver made sure each and everyone of us was safe, and encouraged us to go at our pace and he's always there to give us a hand if it was needed. All in all, had an amazing time, with a brilliant guide.
"All staff was efficient and worked together to get us on our tour on-time" |
By Jillian 20/03/2018
The check-in process was very well-organized. All staff was efficient and worked together to get us on our tour on-time. Our tour guide was great, but I wish there was a more local perspective. I wanted to know more about Iceland--its' history and geography, etc.
"Into the glacier" |
By Darren 04/03/2018
Tour guide Caroline was fantastic. Very spirited and knowledgeable. The tour was a bit lacking though. Too much time spent posing for fake climbing photos. I wish the trek on the glacier went longer. Its called a hike and this was hardly a hike. Still an amazing experience to be on the glacier though
"breathtaking experience for every level" |
By Taryn Erickson 05/03/2018
My traveling companion and I were originally booked on the "Crystal Ice cave" tour - we were emailed the day before and advised that our tour was cancelled due to the cave flooding. While initially being disappointed the email continued to read that we were put on the "into the glacier" tour. Which included a hike to a different cave and then to explore the cave. We had the most amazing time!! Our tour guide Ryan was knowledgeable and engaging, making us all feel capable and welcomed on the tour.... What started out as being a tour booked to just experience something new and take some cool pictures - turned into a breathtaking mini adventure. Highly recommend to everyone.
"Awesome experience !!" |
By Jonathan Flores Uribe 06/03/2018
We had booked the ice cave tour but due to a flooding it got canceled and we were offered the Glacier hike instead. We were amazed at all the beautiful scenery that we saw. Great landscapes and it was a very cool experience to walk on the glacier. We also got to visit a very beautiful ice cave and our guide Mike gave great explanations about everything we were seeing and enjoying. In the end we were very happy to have gone hiking in the glacier as we truly enjoyed it and would recommend people to try it out!.
"Thanks for a great adventure" |
By Sandra 07/03/2018
The overall experience was great! We've never been on a glacier before and were a little unsure about the hike, but felt very safe and well prepared the whole time. Our guide Chris was funny and yet very professional and answered all our questions competently. We'd recommend this experience to anyone, go see the glaciers of the world, before they're all melted!
"The best tour ever!" |
By Gabriela Shaaban 09/03/2018
The best tour ever! And the best Polish tour guide ever ;)
"Must-do adventure" |
By Kelly 22/03/2018
The glacier hike was an experience most do not get to have in their lifetime. It was an incredible experience to walk out onto the ice and climb and see these beautiful sights up close and personal. Walking through the ice cave was beautiful. I felt very safe with our guide and the spiked crampons. Learning about the glaciers and how the caves form and how they're melting was fascinating. I would absolutely recommend this tour for anyone looking for an amazing experience and adventure. And some gorgeous photos.
"Highlight of Trip" |
By Dorie 24/03/2018
While Iceland is a land of many wonders, and it's a hard to choose a favorite thing about my trip, this glacier walk and ice cave tour were hard to beat. Our guide was fantastic, we had a small group and the things we get to see were incredible. The ice cave was by far one of the most amazing things I've ever seen. I would totally recommend this company and the into the glacier tour.
"Very professional and fun tour" |
By Gonçalo 24/03/2018
Everything was great, but if I have to point anything out it would be the way you communicate urgent matters to your customers. In my case, I had my original tour replaced by another one 55km away and I only knew this by reading an email that I got on the previous day. It was only by chance that I had internet access in time of changing my travel plans. My suggestion: if you get no response from your customers using email, then call them. That's why we left our phone numbers with you in the first place.
"Our guide Michael was very entertaining and strict about safety" |
By Laura Väyrynen 02/03/2018
Our guide Michael was very entertaining and strict about safety (which is a good thing) but in a nice and humorous way. Great tour!
"The tour was good overall..." |
By Dom 24/03/2018
The tour was good overall, but can be improved. We found it to be a very slow pace and would have liked to cover more ground of the glacier. Often times we were stopped and the tour was on hold for the guide to work on creating stairs in the ice. We were keen to see much more! Thank you for the experience, great time overall.
"This tour really exceeded my expectation" |
By Juan 23/03/2018
This tour really exceeded my expectation, it's was a very unique experience, small group. Our tour guide Pepe was great very informative and fun to be around.