South Coast, Waterfalls & Glacier Hike
Reynisfjara Black Sand Beach, Skogafoss, Seljalandsfoss & Solheimajokull Glacier Walk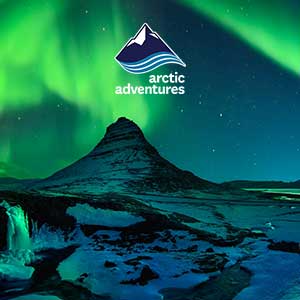 South Coast Waterfalls and Glacier Hike from Reykjavik is sightseeing at its best. Visit waterfalls, walk on a glacier, stroll on Reynisfjara black sand beach and more.
INSTANT BOOKING CONFIRMATION
Want to do this trip for free? Tag us @arcticadventures on your social media stories and photos during your trip and enter a chance to win a full refund. The winner will be picked once a month!
---
South Coast, Waterfalls & Glacier Hike is an easy sightseeing day trip with an adventurous twist.
Get your chance to walk behind the 65-meter cascade of Seljalandsfoss Waterfall and admire Skogafoss Waterfall up close. Stroll onto a volcanic black sand beach overlooking the Atlantic Ocean. Join our certified glacier guides on an action-packed hike out onto a 700-year-old glacier tongue!
Discover the Land of Fire & Ice on this full-day expedition to the best of the South Coast.
Suitable for most people in fair condition.
Tour highlights

Small Group Experience
Seljalandsfoss Waterfall
Solheimajokull Glacier
Reynisfjara Black Sand Beach
Reynisdrangar Basalt Sea Stacks
Skogafoss Waterfall
Eyjafjallajokull Glacier / Volcano view
Hekla Volcano view
Gljúfrabúi - The Hidden Waterfall
Included

Pick-up & drop off from Reykjavík
Guided Tour to the highlights of the South Coast
Glacier Walk on Sólheimajökull
Certified Glacier Guide
Specialized Glacier Gear
Small Group Minibus Tour
Free WiFi on Board Your Bus
Join us for a memorable journey along Iceland's South Coast, Waterfalls, and Glacier Hike visiting all the major sites of the area and hiking on a glacier.
South Coast Waterfalls
Our first stop of the day is at Seljalandsfoss waterfall one of Iceland's greatest attractions. Here you have the opportunity to walk behind the magnificent wall of water and feel the power generated by the fall. Seljalandsfoss is an excellent place for a memorable photoshoot. We will visit the hidden waterfall, Gljúfrabúi and enjoy a short hike between the two waterfalls.
Volcano Views
Experience all those incredible places as we pass through the fertile farming lands and small villages of south Iceland, an area rich of Viking history and heritage, watched over by the infamous Eyjafjallajökull and Hekla volcanoes. On clear days, you'll have an excellent view of these renown volcanoes along with the Westman Islands just off the coast.
Glacier Hike & Reynisfjara Black Sand Beach
Next step on our journey is a giant step for those that have never set foot on a glacier. Hear the ancient ice crack as you safely enjoy your hike on the glacier tongue with our certified glacier guide. After the thrill of the glacier, we head for Reynisfjara where you can leisurely stroll along the black sand beach known for its famous basalt columns and caverns. Witness the Reynisdrangar cliffs and basalt rock stacks that rise from the sea which Icelandic legends say are mischievous trolls turned into rock by the rising sun.
Skogafoss Waterfall
We end this great day tour with a stop at the majestic Skógafoss Waterfall. Here you can walk right up to the 60-meter high thundering waterfall and feel the spray on your face. You can even walk up the 527 steps to gain a bird's eye view of the cascading water and rainbows.
---
Practical Information
Pick up: Pick up starts at 08:00 am. You will be picked up from your selected Reykjavík pick up location and please note that it can take up to 30 minutes for us to arrive. You will be picked up in a bus and will have an Arctic Adventures glacier guide during the tour.
Available pick-up points: Arctic Adventures's pick-up list.
Remember to bring: Warm outdoor clothing, waterproof jacket and pants, headwear and gloves. Good hiking boots are recommended.
What if I don't own all of these clothing necessities?
Don't worry, you can always rent sturdy hiking boots, a waterproof jacket and pants in the booking process or on location. Booking these items in advance is recommended.
Please note
This tour has a small group guarantee, meaning that the tour is always operated in a minibus giving you a more personal experience. Arctic Adventures reserves the right to alter the itinerary if the weather is too bad to go on the glacier walk. If this cancellation occurs a part refund is given for missing the glacier hike.
Book this tour
Price from: 15.990 ISK
NO BOOKING FEES
FAST & SECURE PAYMENT
You have chosen: CLASSIC TOUR
Loading...
You have chosen: WITH NORTHERN LIGHTS
Loading...
"So good!"
Did the Glacier and Waterfalls tour and definitely got our money's worth. The tour guide George was super-friendly and more than willing to pull over whenever we wanted to take photos. (There were only six people on our tour, which was really cool too, and a nice break from the giant bus full of tourists.)

George was also nice enough to take us on a couple detours.

Had a great time and would recommend this tour and tour company to everyone.
"Amazing day tour with Gilli"
We took the South Coast, Waterfalls and Glacier hike tour and it was beyond expectations. In my opinion it was better than the Golden Circle as there was a greater variety of landscapes. The waterfalls are amazing! Also the glacier hike was easy and fun. The glacier hiking guide was really friendly and funny. Also the trip was even more fun thanks to our bus driver/tour guide Gilli who went our of his way to make our trip unforgettable. Thank you so much once again!
"Highlight of our Icelandic trip--Glacier hike and waterfalls!"
Our driver Michael picked us up at our hotel at 7:30am with a bus of 16 people. He was communicative, fun spirited and did a great job driving and navigating the roads around the city and out in the countryside. At the glacier, the staff helped us strap on our gear and our guide Kat lead the way up the glacier. She is extremely knowledgable about the trail and the landscape, providing us with a great picture and lesson on Iceland's geological history and future. We felt extremely safe with Kat and the staff of AA. The glacier walk was one of the most extraordinary thing I've ever seen! And the waterfalls we visited were as equally breathtaking!
South Coast, Waterfalls & Glacier Hike | Average rating: 4.9/5 based on 27 customer reviews
"South Coast Tour and Glacier Hiking" |
By Mandy 27/01/2018
This tour was my favorite one of all, out of the 3 tours I've taken for my four days here. Our tour guide Yanis (?) was funny, friendly, and informative. We went to Skógafoss and Seljalandsfoss waterfalls, black sand beach, and a glacier hike. Our guides for the glacier hike Pepe (and I forgot the other guys name) were funny and informative as well. They offered to stop and take pictures for everyone because they didn't want people to get left behind while taking photos. I recommend bringing your own lunch as it is not provided and put on sunscreen as well because I got sunburned on my face from the glacier hike (snow reflects the sun onto your face). I did put on sunscreen earlier in the morning but the glacier hike was our second to last stop and by then, it needed to be reapplied.
"Loved this tour!" |
By Eefje 27/01/2018
Loved this tour!
"We really had a wonderful day with Arctic Adventure" |
By Laurine De Menna 22/02/2018
We really had a wonderful day with Arctic Adventure. The guide was really friendly and gave us a lot of information concerning Iceland. Thank you very much for your professionalism!
"We did the South Coast day tour including glacier hike" |
By Christine 27/02/2018
We did the South Coast day tour including glacier hike but had to miss the hike as I was unwell. Our guide Johan was very kind and helpful and he made sure we were fine. The bus was a bit of a bone shaker which was even more uncomfortable as I wasn't feeling well. Great tour, fabulous scenery.
"We had an amazing tour to waterfalls and glaciers" |
By Nicole Bateman 03/03/2018
We had an amazing tour to waterfalls and glaciers with Becca. She was very knowledgeable and shared many stories. Our glacier guide Piedro was really great and took us all the way across the top of the glacier and the view was breathtaking! Very well organised and efficient tour company! Thank you so much!
"The tour was great" |
By Ulrike Reisenhofer 06/03/2018
The tour was great! My sister and I had a perfect day. Especially our guide Thomas was very kind and our glacier guide Simon the cherry on top! Awsome adventure!
"We really had a great time" |
By Brenda DeVine 07/03/2018
We really had a great time. Enjoyed our guide, Simon. He had a great sense of humor. My husband and I loved walking on the glacier. We had never done this before. We would like to do it again someday.
"Great tour" |
By Barna Mumtyan 09/02/2018
It was a great tour, with a really entertaining, and knowledgable guide. Although from the pictures, looking at the equipment: crampons, helmets, ice picks, climbing harness I got the feeling that we do some climbing as well, but the harness was given only for safety reasons.
"Very nice, i want again!!!!!!" |
By Francisco Gustavo Araújo de Souza 22/02/2018
Dear Arctic, Thanks for the attention and patience of Martin my guide (was that his name?) And Chris the guide of the hike, because I am not an expert in English, and I decided to travel alone to Iceland, my first flight and I chose internationally, to know the nature glacial. Many thanks and I plan to return with the English better or not hahahahah. Success wish forward to all of you.
"Fab" |
By Melanie Osborne 27/02/2018
Had a fab day on this tour. Tour guide was ace-down to earth, comical and very informative. The points of interest were explained in enough detail, the stops were well timed and the glacier element was ace. The staff there were excellent, very patient and engaging. Thank you!
"Terrible day, excellent tour guide" |
By Ilse 28/02/2018
The day began with a 4-hour delay, because roads were closed due to weather. The glacier hike was canceled, because it was too dangerous—extremely disappointing, but out of anyone's control. Linus was fabulous! We enjoyed all his commentary; learning a lot about the Icelandic lifestyle and current events. Linus kept our minds off the fact that we couldn't see any of the landscape because of poor visibility. And we really appreciated his extra stop in Vik, so we could photograph the church with the red roof.
"South Coast and Glacier Awesomeness!" |
By Sally Curren 01/03/2018
We booked with Arctic Adventures to get a more personal tour on a smaller vehicle. And we weren't disappointed. Great tour guide, lots of information and the trip was amazing. The South Coast is full of breathtaking natural beauty and the final treat hiking up on the glacier. I would thoroughly recommend Arctic Adventures if you are booking a trip.
"Lovely day out" |
By Ange 04/03/2018
The tour was a really good day's out with lots of interesting sights. As a very active person, I found the glacier hike aspect quite gentle, but the scenery still made it special and worthwhile. I really liked the group size - just a small minibus, so I felt that we were quite a bit more flexible than the large coach tours. Our guide was knowledgeable, funny and spoke excellent English.
"Amazing" |
By Claire Jayne 07/03/2018
Absolutely loved this tour! The glacier hike was incredible.
"Great time on the beautiful south coast" |
By Lorna 09/03/2018
We really enjoyed the whole tour - the scenery was amazing, and our guide, Ricky, told us a lot about Iceland as well. The only thing I would improve would be to pick up customers at their accommodation - with such small groups, and the fact that everyone was travelling in pairs, it didn't seem like it would have been too difficult to stop by everyone's hotels/ flats.
"Fabulous tour" |
By Andrea 18/03/2018
The trip was fantastic, a holiday highlight. The sights were amazing and the glacier walk was once in a lifetime. The tour guide Gunni was so enthusiastic it was contagious. He went out of his way to make the trip extra special with multiple additional stops for picture opportunities and to stroke Icelandic horses. Our glacier guide Maria was extremely charismatic and engaging throughout the walk and added to the experience greatly. I would definitely recommend Artic Adventures to anyone.
"Glacier walks and water falls" |
By Kirsten kingsley 22/03/2018
Eagle, our tour guide, was excellent! He was a great ambassador for Iceland, fun to listen to and a great leader. Would love to have done more of the activities offered.
"Great experience" |
By Hairudin 14/03/2018
We did the solheimajokull glacier hiking plus south coast. The minibus was clean and comfortable. Each stops at south coast was sufficient. We had great driver cum guide who call himself the viking warrior. Even it was a long day trip and he was the only driver cum guide, he always try to tell us stories and history of the places. He was quite funny and very helpful to contact the hiking guide to lend my wife gloves as she had lost one of her gloves at skogafoss. Maria was our hiking guide. She was funny and always ensure our safety during the hike. The glacier hiking is a great experience and one of the highlights during our Iceland vacation. Overall a good and professional company.
"A long day but definitely worth the effort!" |
By Alsops 24/03/2018
Excellent tour. Pick up happened within timings advised. Good explanations of what we were going to see, time scales to expect, when we could access a loo/ food .....with interesting information supplied re the places we were driving past. The tour locations we visited were excellent/ impressive. Good instruction re how to put on & use crampons for the uninitiated.
"South Coast and Glacier Hike" |
By Devin Walker 24/03/2018
We absolutely loved this tour! Each stop was beautiful and our tour guide, Giannis, gave us ample amount of time to walk around and take photos. He was also very knowledgeable about Iceland and kept us very entertained while driving between destinations. The glacier hike topped off this already awesome tour! We would 100% recommend this tour to anyone visiting Iceland!! It was the perfect mix of beauty and adventure! Thank you Arctic Adventure!!
"Yannis was a fantastic guide" |
By Jovita Sofia Jiz de Ortega 01/02/2018
Yannis was a fantastic guide. You can tell he is really passionate about what he does. He was knowledgeable and always made sure to make us feel safe and accommodated. Thank you!
"Such a great day!" |
By Mollee Montano 28/03/2018
We loved our tour, especially our tour guide Hjalti! He was awesome and informative and even did a couple of extra stops for us. We learned alot about Iceland and got to see some really spectacular stuff :)
" I would highly recommend this tour." |
By Pam 28/03/2018
when my daughter told me she booked a glacier tour I must confess I was nervous, but what an awesome experience. Our guide Josh did a fabulous job making the climb informative and fun. The Viking push-up was a blast. I would highly recommend this tour.
"Great!" |
By Ashley 19/04/2018
Great price for everything we got to do! Pickup was easy and the tour was organized allowing enough time at each location. Our tour guide was also very informative!
"Glacier hike tour" |
By Mason Dancey 24/04/2018
What an incredibly great place Iceland is, you are spoilt for choice in the wonders of the natural world to explore. On our long weekend we choose the waterfall, black beach and glacier hike, we certainly were not disappointed the sights and experiences were incredible and thanks to artic adventures these sights and experiences were made better with knowledge and insight and personal tales from our guides.
"Great time on the beautiful south coast" |
By Lorna 09/03/2018
We really enjoyed the whole tour - the scenery was amazing, and our guide, Ricky, told us a lot about Iceland as well. The only thing I would improve would be to pick up customers at their accommodation - with such small groups, and the fact that everyone was travelling in pairs, it didn't seem like it would have been too difficult to stop by everyone's hotels/ flats.
"Fantastic way to see the sights" |
By Peachy 27/04/2018
Tour guides were knowledgeable and these tours are an excellent way to see the main sights in Iceland. The glacier hike is a must! The buses are clean and comfortable. Everything ran exactly on-time without any hassles. Highly recommend