Glacier hiking, Volcanoes & Waterfalls
Glacier Hiking and South Coast Classic from Reykjavik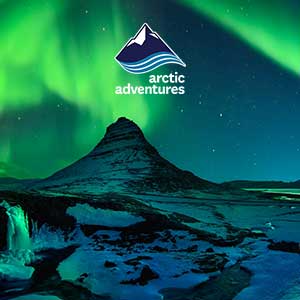 South Coast tour from Reykjavík including an easy glacier walk on Sólheimajökull glacier in a small group setting. Visit Skógafoss waterfall, Seljalandsfoss waterfall, Reynisfjara black sand beach and more.
Glacier hike, Volcanoes & Waterfalls is an easy South Coast tour with an adventurous twist. The sights are breathtaking, the grandeur unforgettable. Where else in the world can you stand on 700 years old glacier ice overlooking volcanoes, walk behind a 65 meters high waterfall and stroll along a volcanic black sand beach in one day? This tour is for those who would like to experience everything that the amazing South Coast has to offer in a small group.
Suitable for most people in fair condition. You have to be able to walk on uneven surface and hike for at least 2 – 3 hours at a slow pace, with breaks. Trails are generally of good quality and glacier travel at a relatively low angle.
Tour highlights

Seljalandsfoss waterfall
Solheimajokull glacier
Reynisfjara black sand beach
Skogafoss waterfall
Eyjafjallajokull glacier / volcano view*
Hekla volcano view*
Included

Guided tour to the highlights of the South Coast
Glacier walk on Sólheimajökull
Certified glacier guide
Specialized glacier gear
Small Group minibus tour
Join us for a memorable journey along the south coast visiting all the major sites of the area and hiking on a glacier. Our first stop of the day is at Seljalandsfoss waterfall one of Iceland's greatest attractions. Here you have the opportunity to walk behind the magnificent wall of water and feel the power generated by the fall. Seljalandsfoss is an excellent place for a memorable photo shoot. Next step on our journey is a giant step for those that have never set foot on a glacier. Hear the ancient ice crack as you safely enjoy your hike on the glacier tongue with our certified glacier guide. After the thrill of the glacier, we head for Reynisfjara where you can leisurely stroll along the black sand beach known for its famous basalt columns and caverns. Witness the Reynisdrangar cliffs and basalt rock stacks that rise from the sea which Icelandic legends say are mischievous trolls turned into rock by the rising sun. We end this great day tour with a stop at the majestic Skógafoss waterfall. Here you can walk right up to the 60-meter high thundering waterfall and feel the spray on your face. You can even walk up the 527 steps to gain a bird's eye view of the cascading water and rainbows.
Experience all those incredible places as we pass through the fertile farming lands and small villages of south Iceland, an area rich of Viking history and heritage, watched over by the infamous Eyjafjallajökull and Hekla volcanoes. On clear days, you will have an excellent view of these renown volcanoes along with the Westman Islands rising steeply from the ocean just off the coast.
Pick up: Pick up starts at 08:00 am. You will be picked up from your selected Reykjavík pickup location and please note that it can take up to 30 minutes for us to arrive. You will be picked up in a bus and will have an Arctic Adventures glacier guide during the tour.
Available pick-up points: Arctic Adventures's pick-up list.
Remember to bring: Warm outdoor clothing, waterproof jacket and pants, headwear and gloves. Good hiking shoes are recommended.
What if I don't own all of these clothing necessaries?
Don't worry, you can always rent sturdy hiking shoes, waterproof jacket and pants in the booking process or on location. Booking these items in advance is recommended.
Please note
This tour has a small group guarantee, meaning that the tour is always operated in a minibus giving you a more personal experience. Arctic Adventures reserves the right to alter the itinerary if the weather is too bad to go on the glacier walk. If this cancellation occurs a part refund is given for missing the glacier hike.
Disclaimer
All our tours are undertaken on the responsibility of its participants. Arctic Adventures does not assume any responsibility for accidents that are caused by its customers or can be traced to their own actions. Participants have to sign a waiver before undertaking all trips stating that they realize that all outdoor activities carry an inherent risk.
Book this tour
Price from 18.900 ISK per person.
"So good!"
Did the Glacier and Waterfalls tour and definitely got our money's worth. The tour guide George was super-friendly and more than willing to pull over whenever we wanted to take photos. (There were only six people on our tour, which was really cool too, and a nice break from the giant bus full of tourists.)

George was also nice enough to take us on a couple detours.

Had a great time and would recommend this tour and tour company to everyone.
"Amazing day tour with Gilli"
We took the South Coast, Waterfalls and Glacier hike tour and it was beyond expectations. In my opinion it was better than the Golden Circle as there was a greater variety of landscapes. The waterfalls are amazing! Also the glacier hike was easy and fun. The glacier hiking guide was really friendly and funny. Also the trip was even more fun thanks to our bus driver/tour guide Gilli who went our of his way to make our trip unforgettable. Thank you so much once again!
"Highlight of our Icelandic trip--Glacier hike and waterfalls!"
Our driver Michael picked us up at our hotel at 7:30am with a bus of 16 people. He was communicative, fun spirited and did a great job driving and navigating the roads around the city and out in the countryside. At the glacier, the staff helped us strap on our gear and our guide Kat lead the way up the glacier. She is extremely knowledgable about the trail and the landscape, providing us with a great picture and lesson on Iceland's geological history and future. We felt extremely safe with Kat and the staff of AA. The glacier walk was one of the most extraordinary thing I've ever seen! And the waterfalls we visited were as equally breathtaking!
Glacier hiking, Volcanoes & Waterfalls | Average rating: 5/5 based on 1 customer reviews
"South Coast Tour and Glacier Hiking" |
By Mandy 27/01/2018
This tour was my favorite one of all, out of the 3 tours I've taken for my four days here. Our tour guide Yanis (?) was funny, friendly, and informative. We went to Skógafoss and Seljalandsfoss waterfalls, black sand beach, and a glacier hike. Our guides for the glacier hike Pepe (and I forgot the other guys name) were funny and informative as well. They offered to stop and take pictures for everyone because they didn't want people to get left behind while taking photos. I recommend bringing your own lunch as it is not provided and put on sunscreen as well because I got sunburned on my face from the glacier hike (snow reflects the sun onto your face). I did put on sunscreen earlier in the morning but the glacier hike was our second to last stop and by then, it needed to be reapplied.