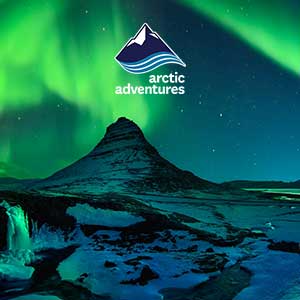 Escape the big tour buses and go off-the-beaten-track to hunt Iceland's magical Northern Lights. We pick you up and drive you around in stylish and comfortable Super Jeep!
INSTANT BOOKING CONFIRMATION
Want to do this trip for free? Tag us @arcticadventures on your social media stories and photos during your trip and enter a chance to win a full refund. The winner will be picked once a month!
---
Our Northern Lights chase on a super jeep is the ultimate experience for space lovers. Adventure off the beaten track in the super jeep grants you exclusive access to the best spots in Iceland to admire the dancing lights in all their glory. We'll drive where big buses can't get to, away from the crowds and light pollution. Wrap yourself in a blanket and enjoy a cup of hot cocoa while gazing up at the Aurora Borealis in the heavens!
Your guide will tell you all about this natural wonder and take free photographs so you can always keep the memory alive!
Availability

Sept. - Apr.
Suitable for most people in fair condition.
Tour highlights

Small Group Experience
The Northern Lights
Super Jeep Ride
Icelandic Countryside
Included

Pick-up & drop off from Reykjavík
Northern Lights Photos
Guided Tour in a Super Jeep
Hot Chocolate & Biscuits
English Speaking Tour Guide
Free WiFi on Board Your Super Jeep
The Northern Lights in Iceland
Each winter, we welcome an ever-growing number of cosmic fans coming to Iceland in search of the famous Aurora Borealis. Just a smidge below the Arctic Circle, Iceland is among the world's best places to see colors dance in the Northern Hemisphere.
This natural phenomenon occurs when particles from the sun, also known as the solar wind, enter the Earth's magnetic field. As electrically charged particles start to collide with gaseous particles in the earth's atmosphere, something here about "creates auroras". Be prepared to be awestruck by swirling curtains of light in the dark sky!
Hop on a Super Jeep from Reykjavik
You'll be picked up at your selected pickup location in Reykjavik, in a custom-built 4×4 super jeep by our expert Northern Lights guide. Once everyone is on board, we will leave the city lights behind and head into the darkness for our adventure.
On the search for the Aurora Borealis, we might travel past some of Iceland's most spectacular natural sights. Though shrouded in darkness, your guide is sure to point out what the night is hiding. The super jeep gives us the flexibility to go off-the-beaten-path on roads the big buses and regular 4x4s can't reach. Heading out on country roads gives us a greater chance to enjoy the Northern Lights and the wonders of the night sky without the discomfort of big crowds.
Soak in the Aurora Borealis
Once we find the perfect spot, all we have to do is wait and let the spectacle evolve. Usually, the Northern Lights appear about 100 km (60 miles) above the Earth's surface. Witnessing a light show emerge above the north magnetic pole is an experience that defies description. It's as if space is trying to suffuse the Earth with color. Just don't forget to dress warmly! On a cold night, there's nothing like a fleece sweater to keep you warm. We'll also serve you a tasty cup of hot chocolate. Brave souls can even add some Icelandic Brennivín to theirs!
Our guides take photos every time the Northern Lights are spotted, so you can be sure to get your picture taken with the aurora. See photos from previous tours here.
Kindly note that the Northern Lights are natural phenomena that are difficult to predict, but our guides do everything in their power to make sure you see the lights.
---
Practical Information
Remember to bring: Warm outdoor clothing, waterproof jacket, and pants, headwear and gloves. Good warm shoes and woolly socks. Northern Lights tours require you to watch the skies and that means you will be outside at night in Iceland in winter. Dress warmly, there is no such thing as too many layers of clothes on our Aurora tours.
---
Pick-up Information
For the Northern Lights adventure, pick up is at either 20:30 (8:30 p.m.) or 21:30 (9:30 p.m.), depending on the season. You'll find the actual pickup time in the booking process and on your final voucher. Picking everyone up can take up to 30 minutes, your patience is much appreciated. Available pick-up points: Arctic Adventures's pick-up list.
---
Please note
As the success of the Northern Lights Explorer tour is heavily dependent on weather conditions, we reserve the right to cancel departures until 18:15 on the day of the tour. A refund is not available if the tour goes ahead and no northern lights are seen but we do offer you the chance to join a Northern Lights Minibus tour free of charge. Note that you need to contact us to re-book.
Book this tour
Price from: 17.990 ISK
NO BOOKING FEES
FAST & SECURE PAYMENT
Loading...
"Northern Lights Super Jeep Tour!!"
We loved this tour!! After a rainy/cloudy few days, we didn't expect to see the northern lights very well. We were very lucky, however, and saw them immediately at the beginning of our tour. Our tour guide, Klemence, was very funny, kind, and informative. We learned a lot and he took AMAZING pictures of us with the lights. The hot chocolate was a nice touch too on a chilly night. Thank you, Arctic Adventures!!
"Northern Lights Superjeep Tour"
We originally booked to go on the Friday but it got cancelled due to bad weather. We rebooted on the Monday and did go hunting for them but with no luck. If you don't see them then you get to go again so we booked for the Tuesday. It was our last night so had everything crossed and we managed to see them!! Such a fantastic experience. The superjeep was amazing as it allowed us to go off-road and to places coaches would not be able to go, increasing our chances of seeing them. We stopped near a lovely beach and were given shots of Brennivin, an Icelandic snapps to try. They also provided hot chocolate and biscuits which was a nice touch. The guides knew exactly how to find the lights and did everything they could to track them down. We were not disappointed. Clemi also took some brilliant photos on his camera for us!!
"Northern lights tour"
Absolutely over the moon with our tour for the Northern Lights. We were picked up by a very happy, enthusiastic gentlemen (I believe his name was Clemby) who greeted us in a friendly fashion. We were then taken to the super jeeps which were very cool! Clemby was a great tour guide, had us laughing the whole way there and back. We were taken to an abandoned house in the middle of no where (great to see the lights) where we met up with the other two super jeeps. The team laid out a shot for everyone and kept track of when they thought the northern lights would appear. Sure enough we saw them exactly when Clemby predicted. He set up his camera to take a free photo of anyone who wanted one (We have an amazing photo of us with the lights in the background which we would never have achieved ourselves!). We were then given a hot chocolate to keep us warm. On the journey back to the hotel, Clemby gave us lots of history of Iceland which is very interesting.
Overall it was a fantastic experience and would definitely recommend doing this trip wirh Arctic Adventures.
Northern Lights Super Jeep Tour In Iceland | Average rating: 4.8/5 based on 13 customer reviews
"Northern lights tour" |
By Edmund 26/01/2018
Thank you Simon for being such a fantastic guide! Informing us when the northern lights appeared while we hid in the bus to escape the cold. And he was eagerly ensuring everyone had a photo with the northern lights.
"Fun Night" |
By Julie 16/02/2018
We didn't get to see the lights on our trip and were leaving the next day so we couldn't re-boook for another try but we still had a great time. It was nice being out in the cold we were given hot coco and vodka if anyone wanted. We had fun with the guides asking them questions and spending time with them. We know the lights aren't a guarantee so we just had a nice evening instead. Thank you!
"We enjoyed the tour" |
By Jen Chesnut 22/02/2018
We enjoyed the tour and were so excited to see the Northern Lights, we got lucky and the lights were out right away. However, I booked with this company because they say they take pictures. We posed for 2 different pictures with the lights behind us, and neither of them were uploaded. I have emailed the office a few times and have been offered very little help, and there is many days between responses. Seeing the lights may be a once in a lifetime experience and we so badly wanted to have the picture. Not sure if I would suggest a friend to take this tour or not. While the guide there was great, overall I am left feeling sad about the photos we were told we would get the next day.
"Northern Lights Superjeep tour" |
By Nuala Morris 22/02/2018
This is a great experience and definiteky worthwhile doing with these guys. They take you out for about 4 hours and we were very fortunate to see the Northern Lights. My only suggestion would be to make it slightly shorter if possible as we got back at 1pm when midnight would have been ample.
"Wonderful experience" |
By Kirsten 10/03/2018
Wonderful experience, fun guides, and I definitely recommend springing for the super Jeep over a bus. We were able to go where the busses could not, and it was really fun to ride in. Seeing the Northern Lights was incredible! I really appreciate how the tour group gave us the option to reschedule when weather wasn't ideal for the Northern Lights. They sent out an email in advance and rebooking for another night was quick and easy.
"We got to see the northern lights" |
By Lin Lefevre 16/03/2018
We were so lucky as we got to see the northern lights. The super truck was great fun too.
"Super" |
By Aleksandra Czesak 18/03/2018
Worth every penny.
"The best northern light" |
By Dwi Widayana 14/03/2018
Thank you for the best northern light I've ever saw! Eventhough the forecaster said the activity was low, but the sky was exploded with the bright aurora. It was my first active dancing aurora. Thank you again for allowed us stay a little bit longer that night!
"Awesome Northern Light Trip with Super Jeep" |
By Artika S. Prianti 02/04/2018
Awesome Tour, The uber cool super jeep picked us up from the hotel, we were just driving around 25 minutes from Reykjavik and suddenly we saw an opening at the sky. At first, I thought I was hallucinating, until Benny our tour guide told us that we were lucky cause the Aurora is happening... very unforgettable experience and they also took photos of us with Aurora background and the result was awesome. A very recommended northern light tour!!!! Thank you!!!
"New experience in a wild country over a super jeep!" |
By Daniel Benjumea 15/04/2018
"I booked the tour for the northern lights with Arctic Adventures in April and who was our guide, Simon, was explaining to us a lot of anecdotes about the northern lights and other stuff. The travel was inside of a super jeep, going through a country road until we reached a place with non-light pollution at all. Simon gave his best for taking us to a good spot for watching them although unfortunately, they were not too strong, even that happened, to see the sky like that night, was completely worth it. For finishing the tour, he invited us to hot chocolate, some biscuits, and a nice Icelandic drink! Thank you very much, Simon!"
"Great trip - must do the Super Jeep" |
By Eric Greenshields 15/04/2018
Great tour. Saw the lights and got great photos. Riding in the Super Jeep alone was worth the trip. Our guide, Simon, was excellent. Very nice and knowledgeable. Answered our questions on everything from the lights, astronomy, geography, history to the camera set-up and mechanics of the Super Jeep. Made sure we all had great pictures and took great care of us. Great fun.
"Good experience" |
By Ita 21/04/2018
"Our guide name is Ivor (not sure the spelling is correct). He is funny and keep us awake. He is very informative. He took pictures of us a lot. He is very good. Overall I have a good experience. I think the super jeep is the way to go to see the northern light."
"Amazing life experience" |
By David Haghighi 15/10/2018
Great trip out to see the Northern Lights. Our tour guide Omar was amazing - went above and beyond to make sure everyone had a great time and got great pics. We were fortunate enough to have a great light show. That aside, it was a great experience being out there, seeing the skies as clear as glass (saw 3 shooting stars!!!), with Omar and the team keeping the schnapps and cocoa flowing. Great times.